Heeeyho Readers! This is a case of a failed success!
---
Read this before you attempt this recipe! Seriously, this is a case of something wrong that turned out right. Let me explain. I was researching what the pro cyclists eat during long rides when a rice cake recipe popped-up. The original recipe should look like a cereal bar; or at least have a consistency that you can hold while cycling. Get it? Well... mine turned out kinda soggy, like risotto. It failed.
Should I disregard the recipe? For a rice cake, yes. However, it's still a delicious pre-workout dessert, full of easy-to-digest carbohydrates.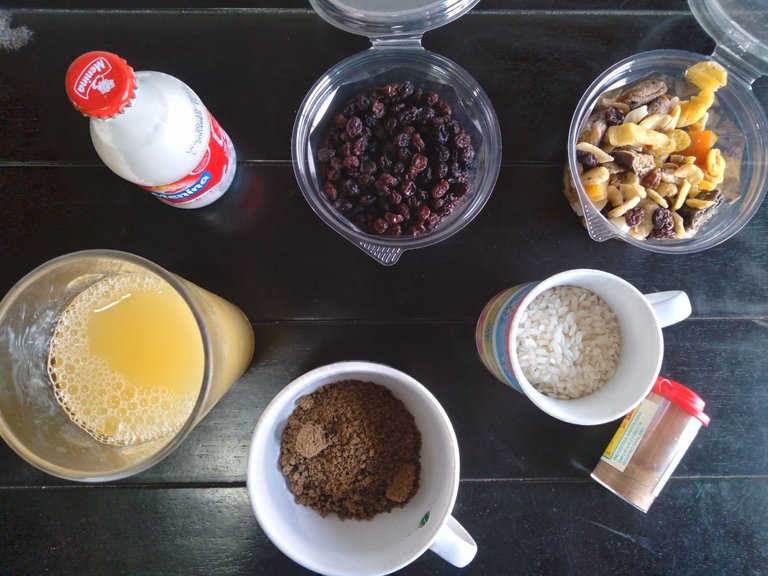 Turbo nitro dessert
---
I'm still unsure what went wrong during the process to achieve a 'drier' consistency. Perhaps too much juice; or too little cooking time. Anyways, if you also fail, consider the result a rice pudding and rejoice yourself with the appey flavor.
Ingredients
Apple juice (one cup)
Coconut milk (a small cup)
Water (one cup)
Raisins (per liking)
Dried fruits (per liking)
Brown sugar
Cinnamon
Rice (I used risotto rice; one cup)
Salt
Preparing
First we need to cook the rice. In a pan: throw one cup of apple juice, coconut milk, one cup of water, and a cup of rice. Let it cook at a mild temperature until all the water dries. If the rice is not cooked until the water is gone, add more, put the lid and leave it to cook longer.
Don't forget to stir so it doesn't burn on the bottom.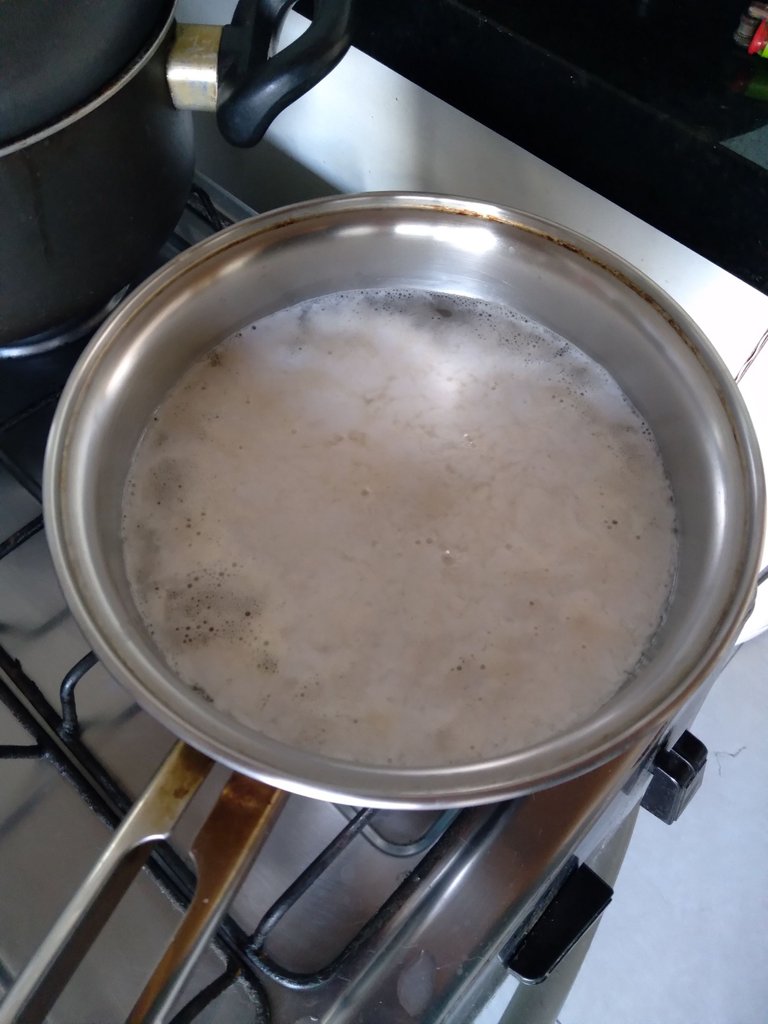 Add mentioned ingredients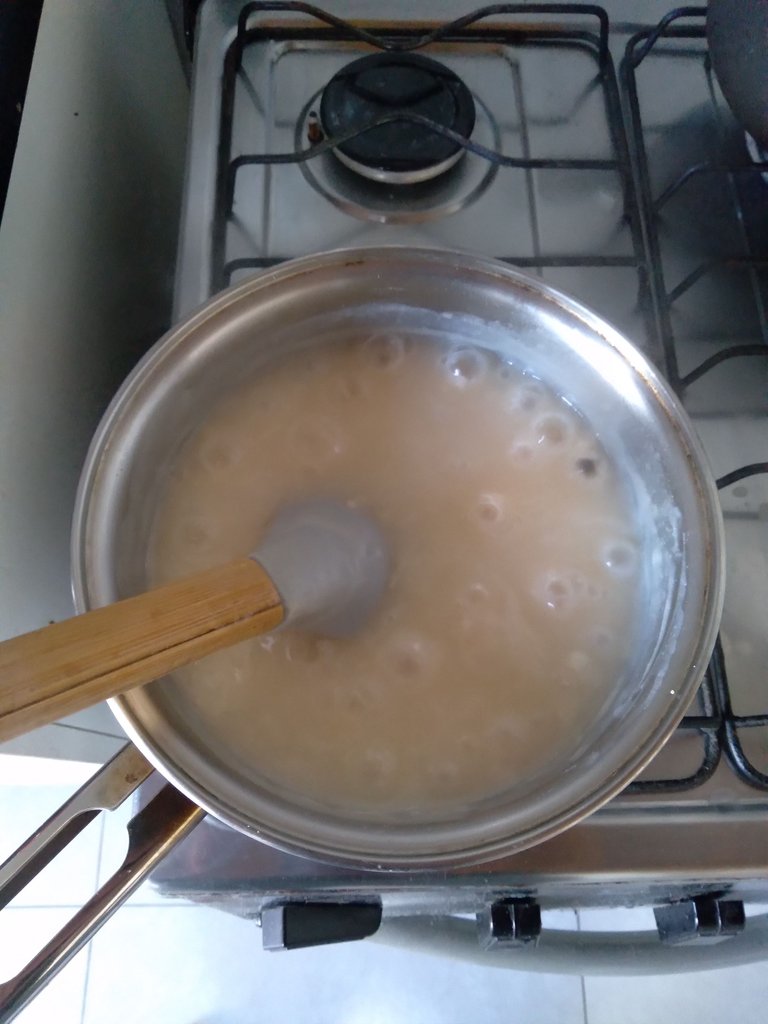 Stir
---
The cooked result for rice cakes should look drier than mine. If you are looking to make rice pudding, the final product should look kinda soggy as seen below.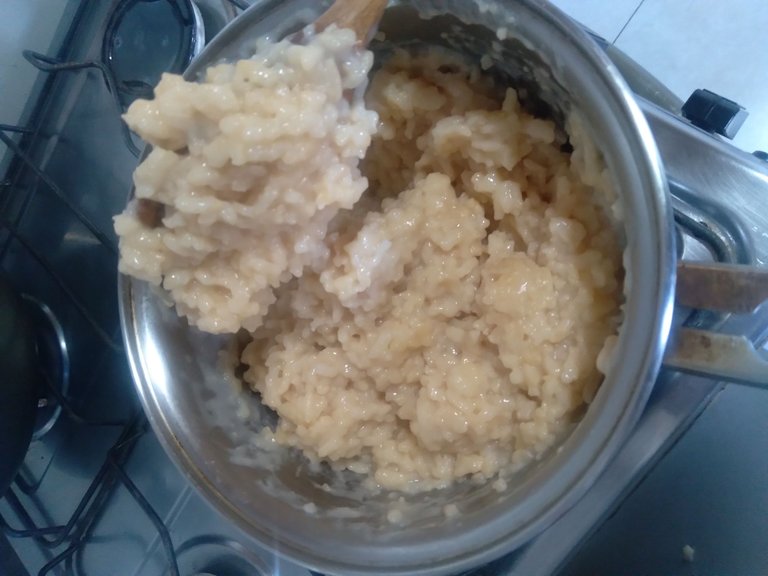 Cooked rice result
---
The flavor by now is pretty insipid, tasting of apples and nothing more. Turn off the oven and let's add the remaining ingredients. I moved the rice to a bowl so it's easier to mix. If your pan is big enough, there's no need.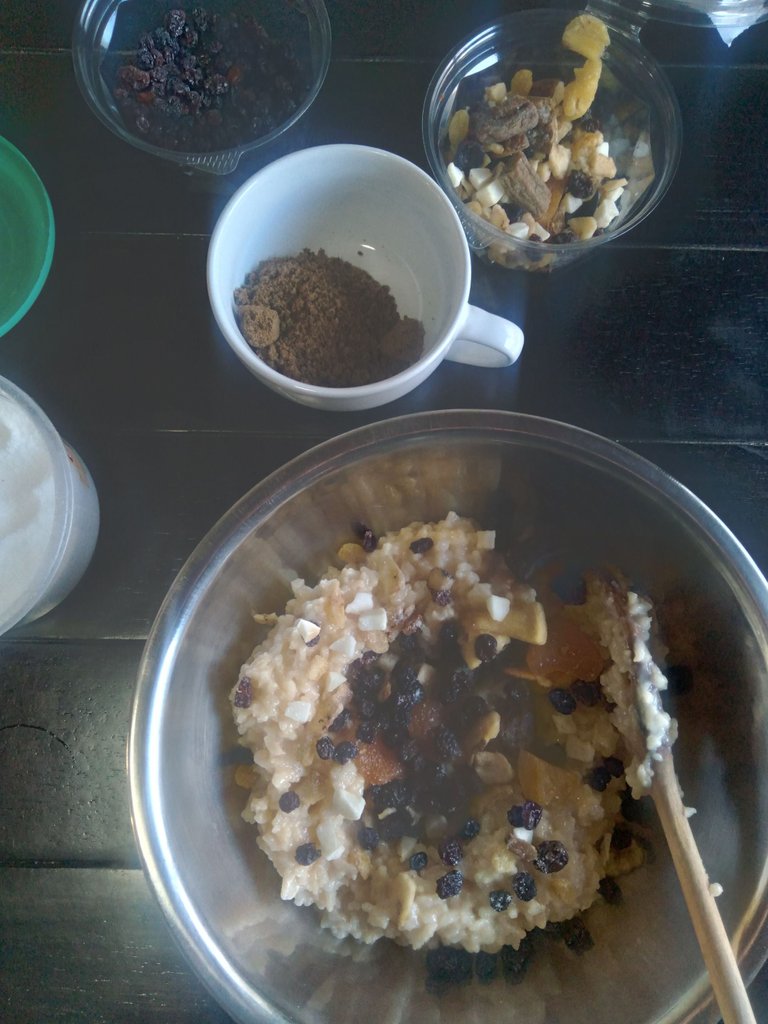 Adding dried fruits and more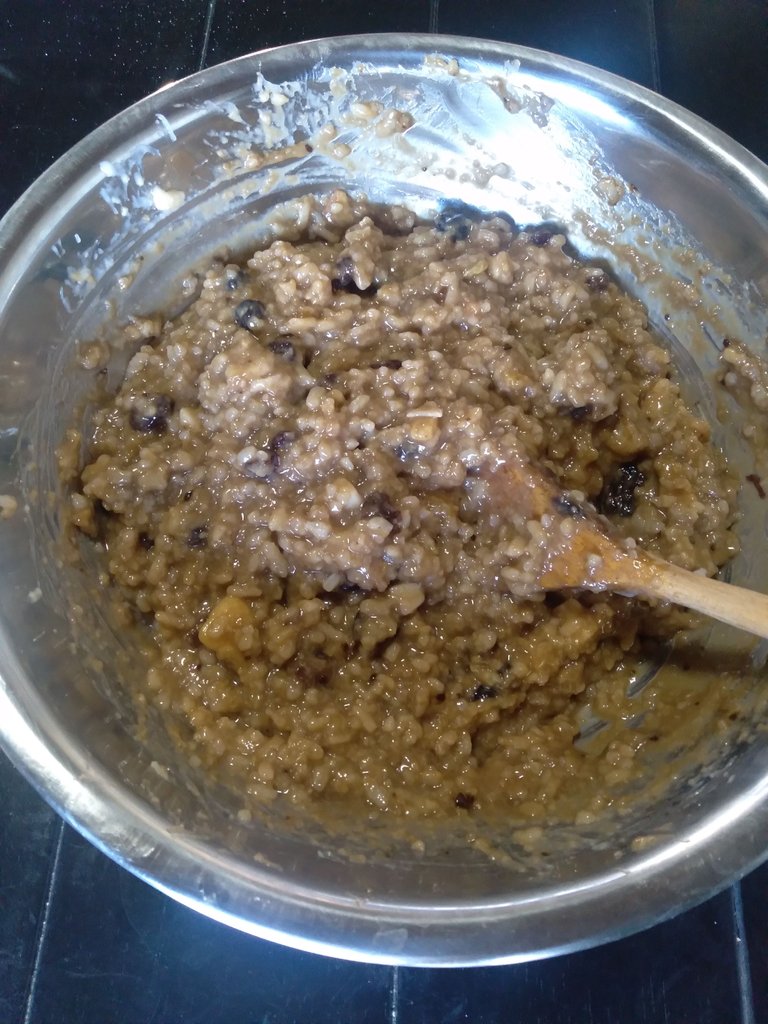 Mix
---
Raisins, brown sugar, and dried fruits are added according to liking. I added a handful of raisins and dried fruits, and a little bowl worth of brown sugar. Mix it well with the rice. Also add a generous pinch of salt to bring up the flavor. Mix again.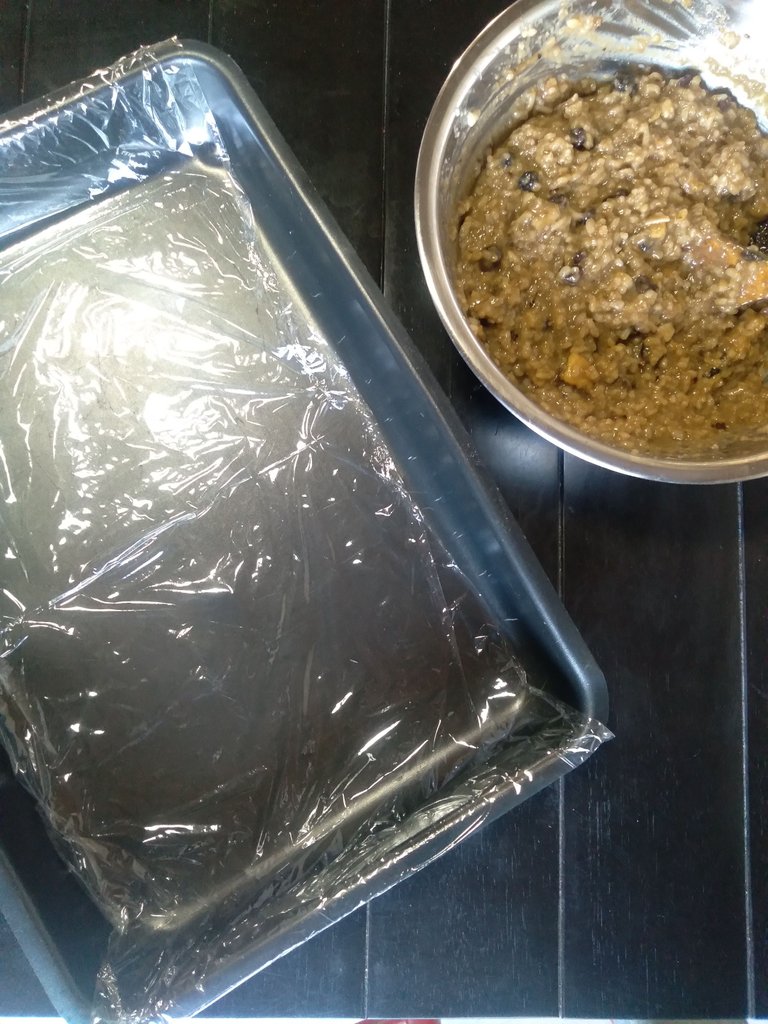 Preparing a baking tray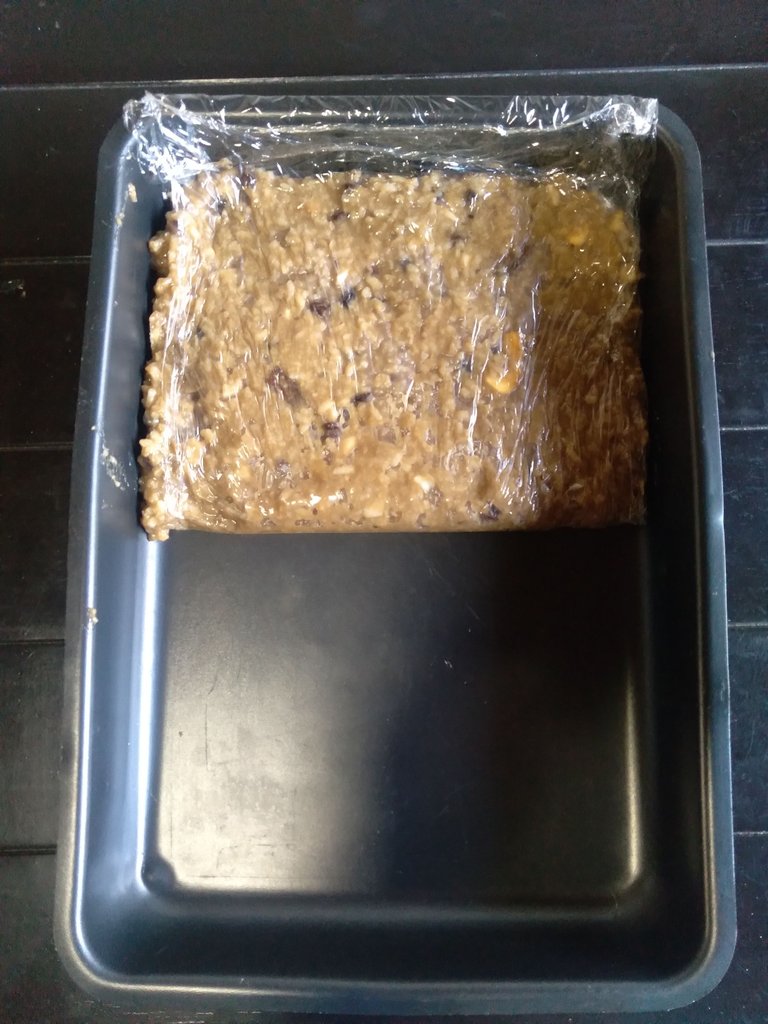 Spread
---
Last step is to move the rice to a baking tray so it can go in the fridge. I spread the rice the same thickness as a normal cereal bar. As you may already know, I couldn't cut the rice in the form of bars because it turned out soggy — that wasn't a problem for a pudding result. It's best to put it in the fridge over night.
Result
There's two possible outcomes. The cooked rice dries up so that you can cut it into bars. Or its consistency approaches that of rice pudding. Either way the Turbo Nitro Rice-o-mama is one incredible fruitey carbohydrate bomb.
This recipe is a great pre-workout meal or an mid-cycling carbo fuel (if it has the right consistency). I personally ate a bowl of this as rice pudding two hours before a race and felt energetic.
If you try it out let me know!
Peace.
---
Did you know that I have a book out? Check this!
Access Link: https://www.amazon.com/dp/6500272773?

---
If you enjoyed this post consider leaving your upvote for a hot coffee.
~Love ya all,

---
Disclaimer: The author of this post is a convict broke backpacker, who has travelled more than 10.000 km hitchhiking and more than 5.000 km cycling. Following him may cause severe problems of wanderlust and inquietud. You've been warned.
---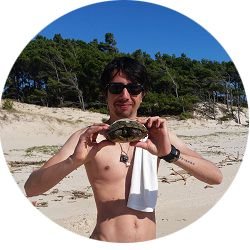 I'm Arthur. I blog about Adventure Stories, Brazil, Travel, Camping, & Life Experiences.
Follow me to stay tuned for more craziness and tips.
a