there is a fruit of irresistible appearance, pleasant smell and enchanting taste, which is at the same time very healthy and even medicinal, it is undoubtedly strawberry.
Strawberries belong to the family Rosaceae (roses), which have three serrated leaves on a long stalk. It is interesting to mention that strawberries are the only fruit whose seeds are not hidden inside the fruit, but are located outside.
Apart from being beautiful to the eye and tasting perfectly, strawberries are also very healthy, and they don't have too many calories.
MEDICINAL PROPERTIES:
The beneficial nutritional composition of strawberries makes them an excellent source of vitamins and minerals, and they are highly recommended for consumption.
Vitamin C supports the immune system, is important for the creation of collagen and healthier skin, and thus slows down the formation of wrinkles.
If you eat strawberries after a meal, the body will find it easier to maintain a healthy blood sugar ratio.
This fruit is also an excellent source of fiber, which helps digestion, and is important for maintaining a good balance of healthy bacteria in the intestines.
One serving of strawberries is enough for a quarter of the daily need for manganese, a mineral that is necessary for the formation of collagen, for healthy skin and bones.
The season of this delicious fruit has started, it lasts until late spring, they are already available on the market, so I took the opportunity to make strawberry jam, although I also use them in various desserts.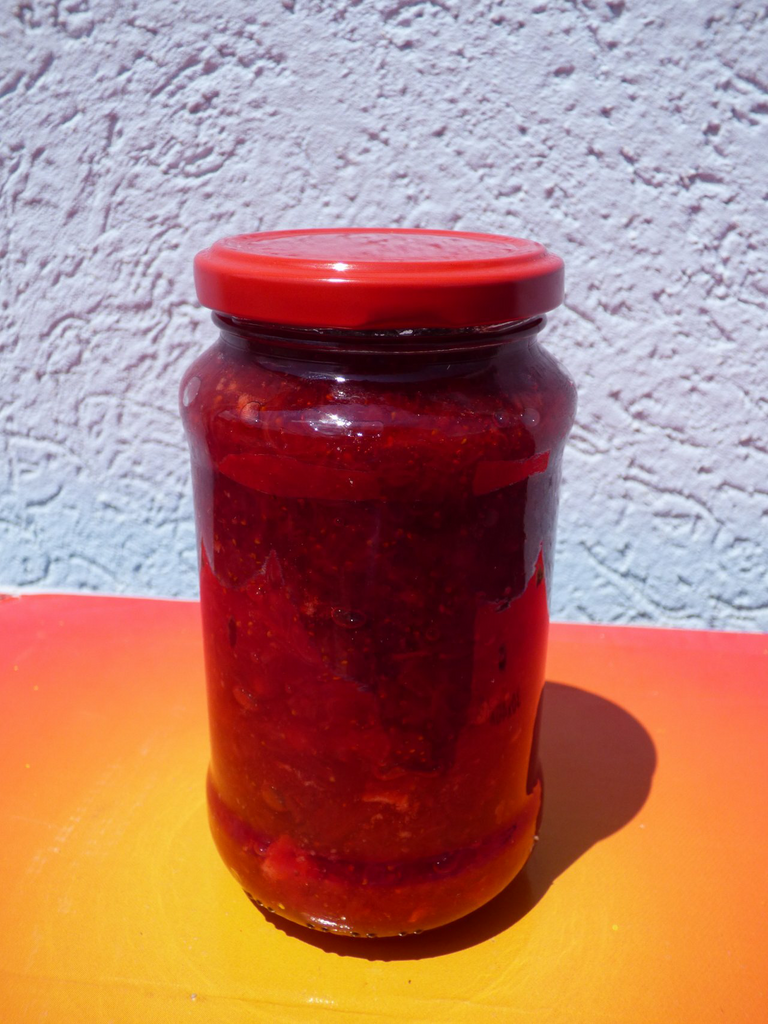 INGREDIENTS:
3 kg of strawberries
1 kg of sugar (maybe more depending on how sweet you like it)
2 jamfix Dr.Oetker
Bottles in which we will put jam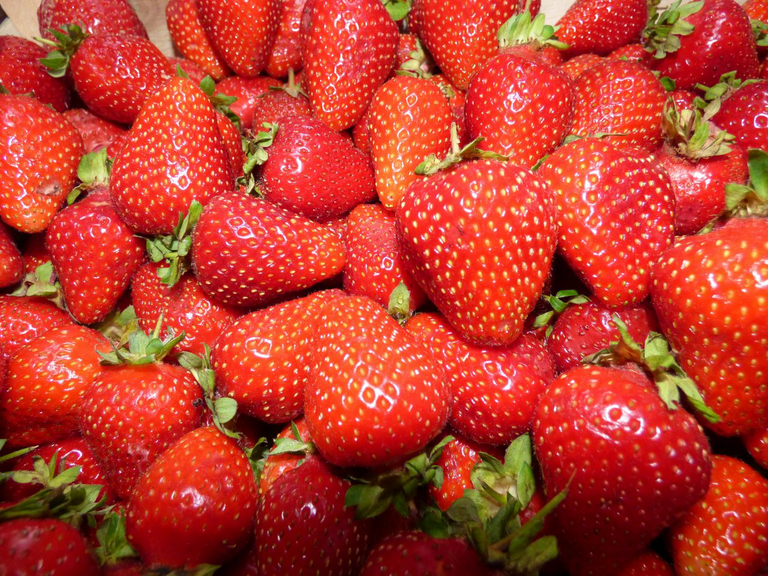 PREPARATION:
Wash the strawberries well, remove the green stalks and put them in a larger pot.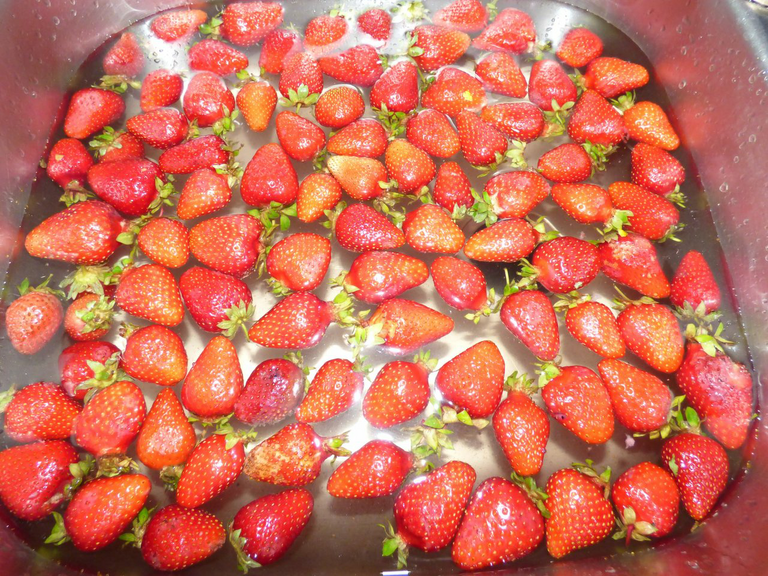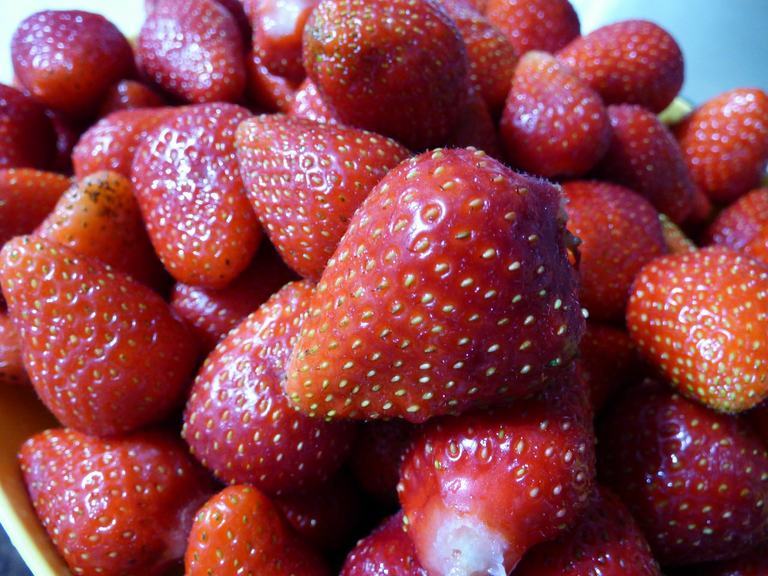 When you have prepared them in this way, add sugar to them and cook slowly over a low heat.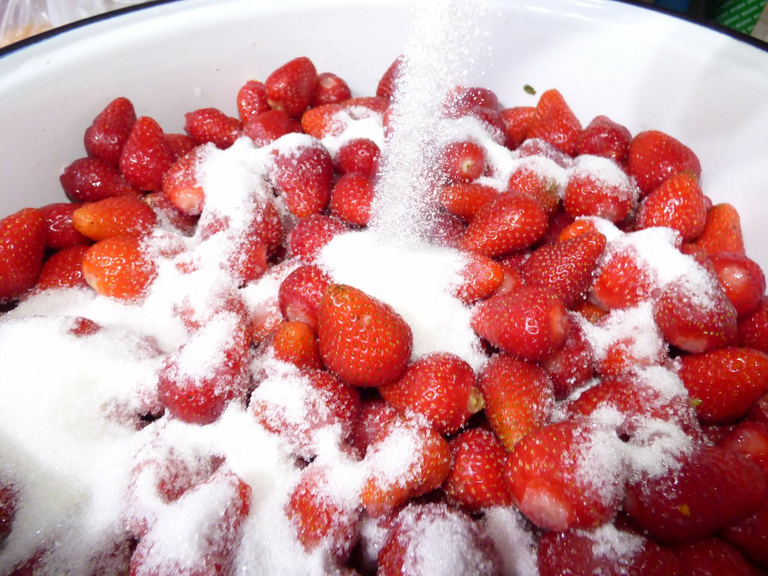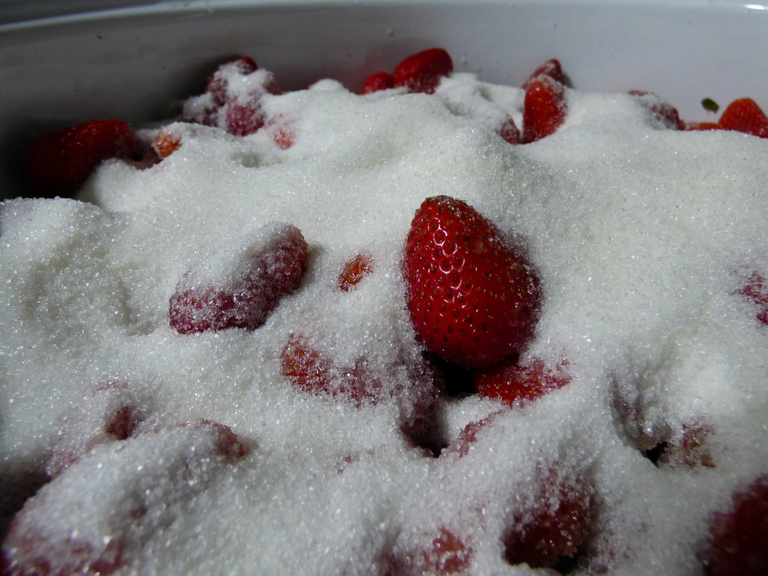 If you want to feel small pieces of fruit in the jam, mix it lightly, strawberries have a delicate structure, so they fall apart quickly.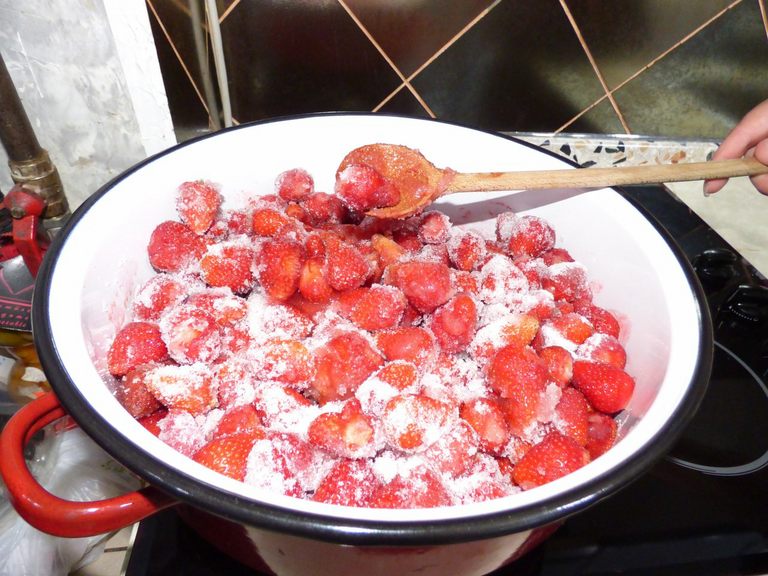 They should be cooked on low heat for about half an hour. Meanwhile, put the fixing jam in a small bowl and mix in 2 tablespoons of sugar.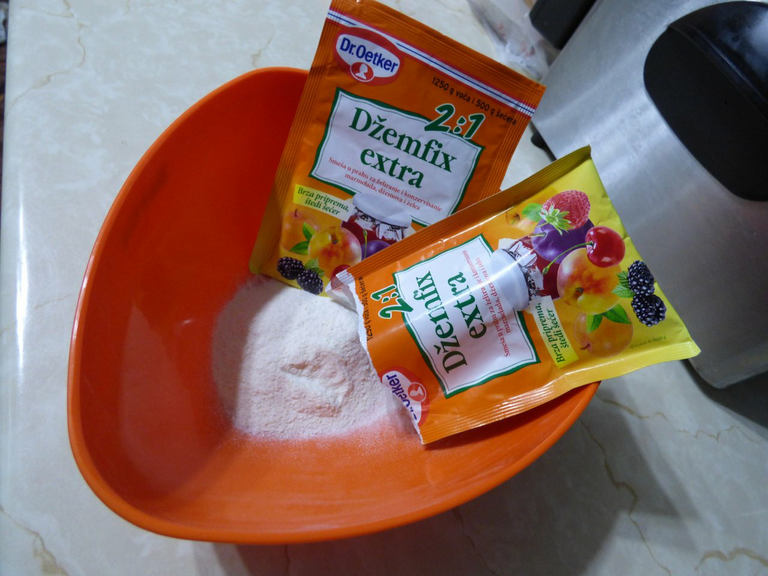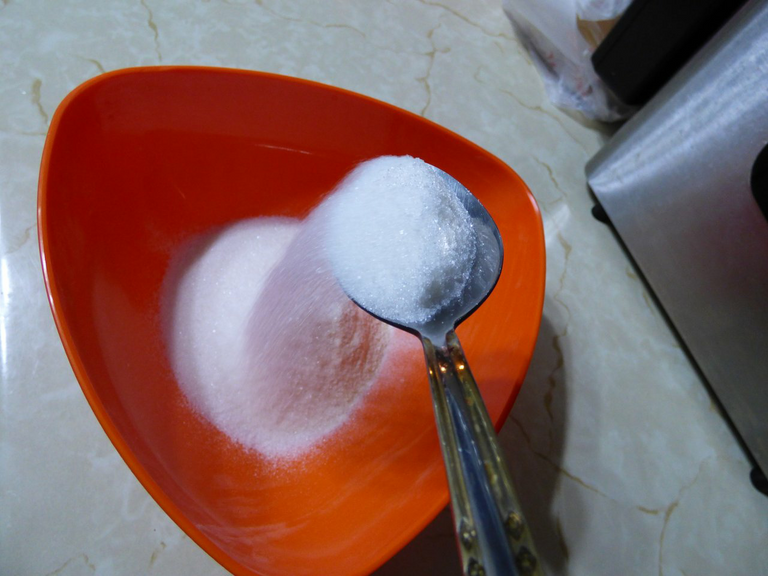 When you prepare the jam fix, add it to the strawberries that have already been lightly cooked, stirring gently.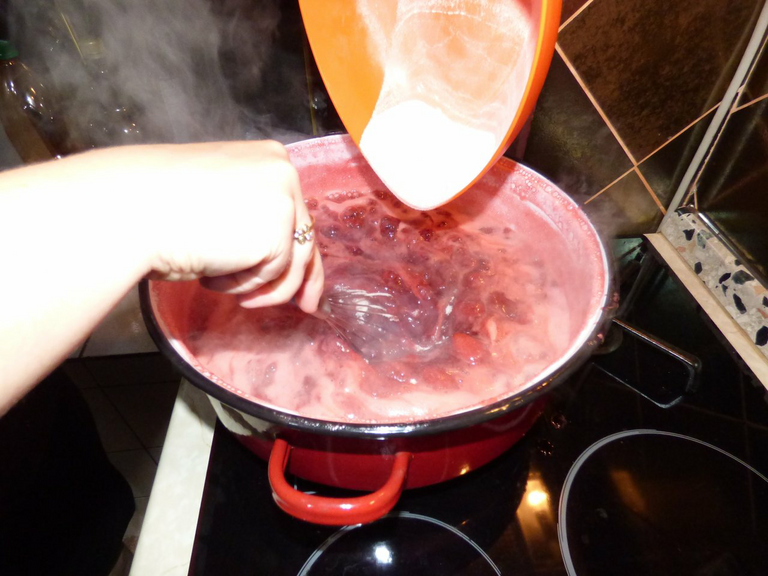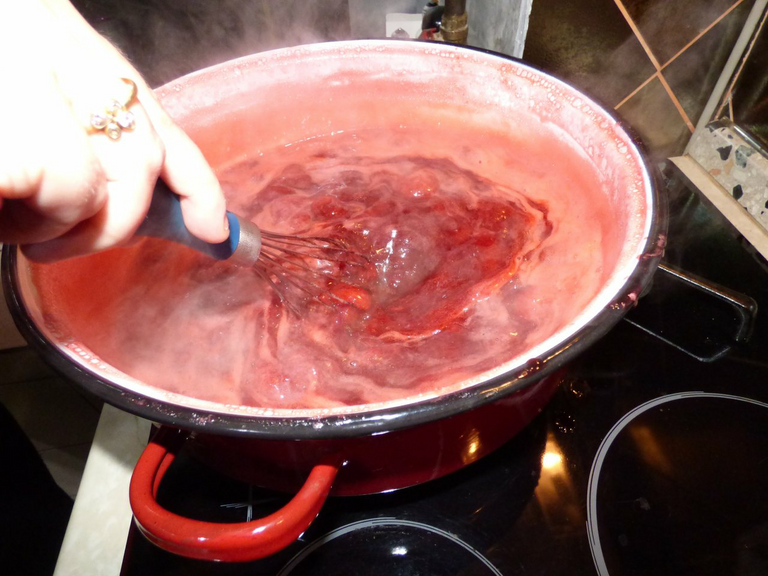 Cook everything together for another fifteen minutes, you will get a fine, thick structure of jam.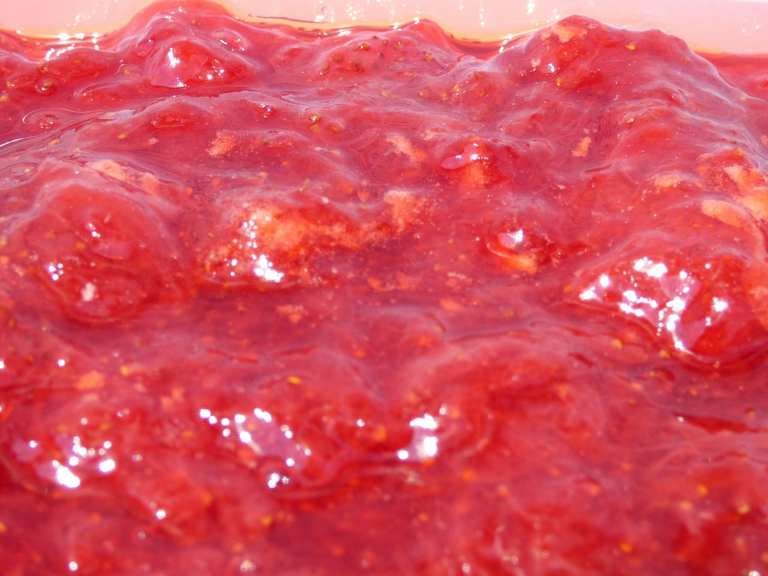 The jam is ready, leave it to stand for 10 minutes, then put it in pre-distilled bottles.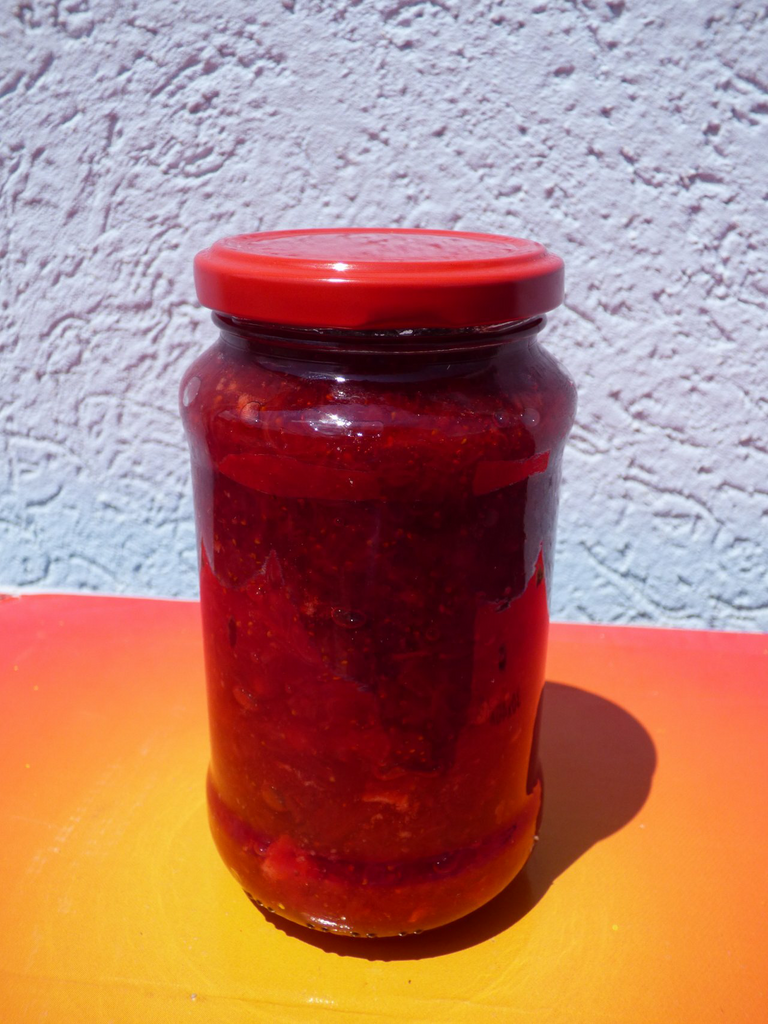 You can serve delicious red fruit jam with pancakes, donuts or some other dough, sometimes breakfast is ideal, as a spread on bread. I like jams that are not completely smooth, they have pieces of fruit. I also like when they are not very thick. This one has both of the features mentioned.
Your Maya
Friends, English is not my first language, so I'm sorry if there are any discrepancies. Hope you understand it ;-)
(The content of the text, as well as images, videos, and other media, are my own personal and private data.)
---
My profiles on all Decentralized Hive Blockchain Platforms (DSBP):
[eSteem App] [D.Tube] [Vimm.TV] [DSound.audio] [DLike.io] [Musing.io] [SteemHunt.com]
As on all other Decentralized Blockchain Platforms (DBP):
BitRadio
Support me by hearing your favorite radio stations and earn money too!
Bitradio is a community driven webradio website.

Our free radio service brings together more than 200.000 radio stations on a single platform.
You get Bitradiocoins (BRO) while listening to your favorite radio station.

You can exchange them to Bitcoin or hold them to own a share of our websites and services.
| BitTube App | Support me by installing BitTubeApp |
| --- | --- |
| | Install this new, amazing add-on for your Browser - and your time spent surfing the Net, anywhere, on any site or site, will be paid out in Tube Krypto-Currency. Monetize your future surfing and your valuable time on the Net. |
PreSearch
Support me by registering and using Presearch search engine
Everything you search for on the internet - is paid to you.
This is a groundbreaking project that you can use for daily search.
Namely, it uses all possible big and famous search engines sites,
it is only for you to choose the word or phrase you want,
with which search engine to search, and you can add
your own favorites, sites , etc.

The cryptocurrency of this project is "Presearch", or abbreviated "Pre".