---
Hi Hi.!
👩‍🍳
Today is a special day, "Father's Day" is celebrated, I am unaware if it is something spread throughout the world and for the same date. However, congratulations to all.
---
For my entry today, I will introduce you to a version of a healthy breakfast, consisting of some oatmeal pancakes and a fruit salad.
It is an easy, delicious and special breakfast. Undoubtedly an excellent option that you can make for a different gift.
---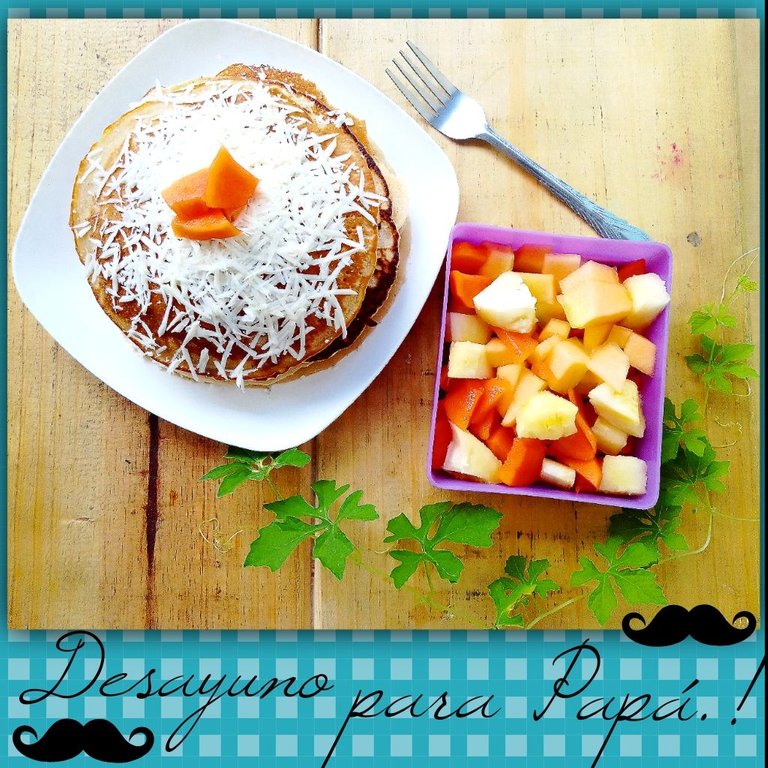 ---
From my side, oat pancakes have been positioned as my favorites. They have a delicious flavor, as well as a lot of fluffiness. They are characterized by that beautiful light brown color and, in addition to this, they develop a flavor similar to a popular cereal industrially called "cerelac" when cooked.
---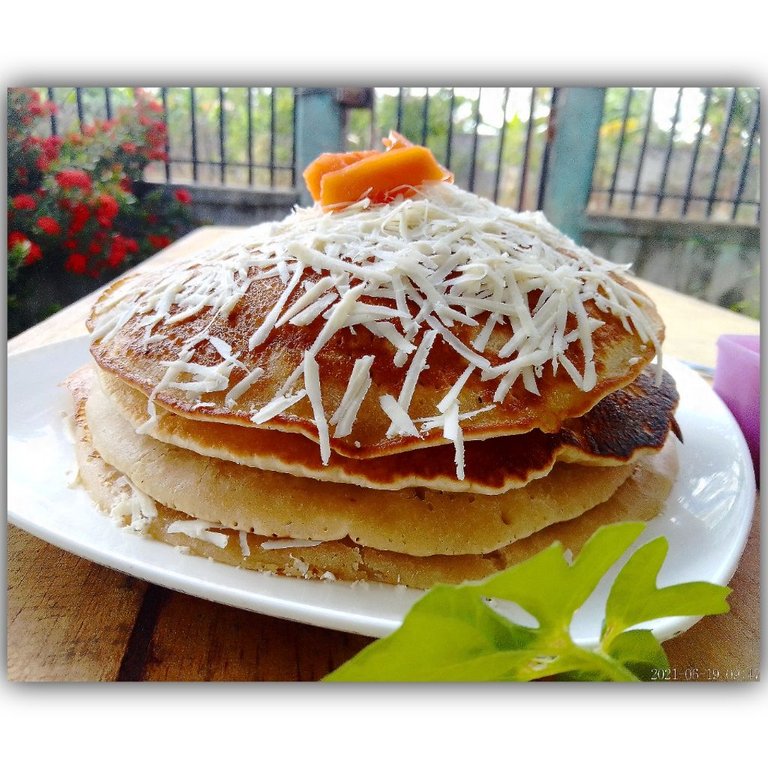 ---
Let's go step by step!
🙌🙌🙌🙌
---
👩‍🍳👩‍🍳👩‍🍳👩‍🍳👩‍🍳👩‍🍳
Ingredients:
For the pancakes:
📌 400 ml of water.
📌 8 tablespoons of milk.
📌 200 g of oatmeal.
📌 1 egg.
📌 Sugar to taste.
📌 Vanilla to taste.
To serve: grated cheese and pieces of fruit.
For the salad:
📌 Milky.
📌 Melon.
📌 Pineapple.
---
👩‍🍳👩‍🍳👩‍🍳👩‍🍳👩‍🍳👩‍🍳
Step by Step:
Let's prepare the salad:
A.- Cut the pieces to be used from the fruits, remove the shell and wash well.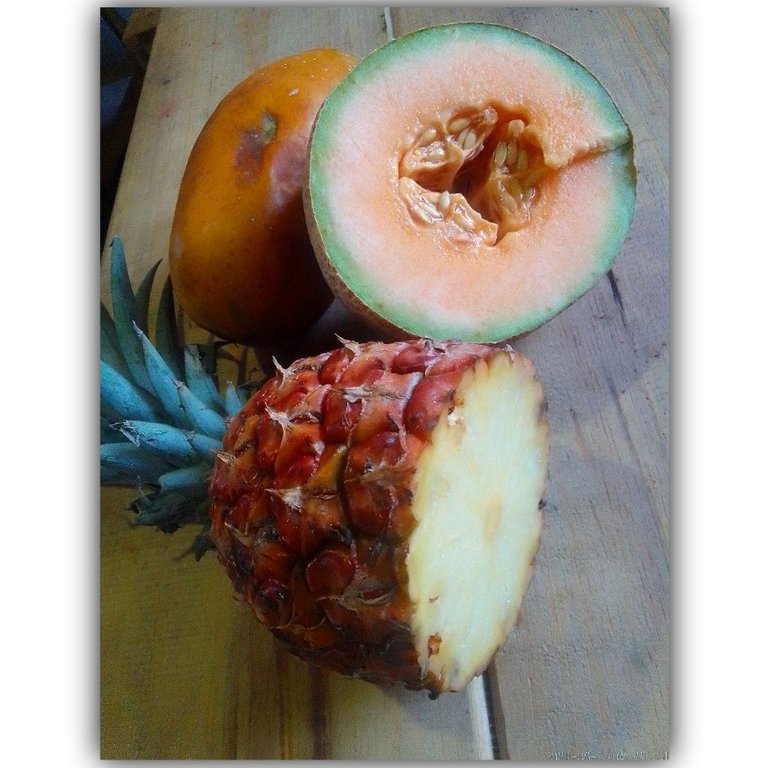 B.- We cut each one into squares.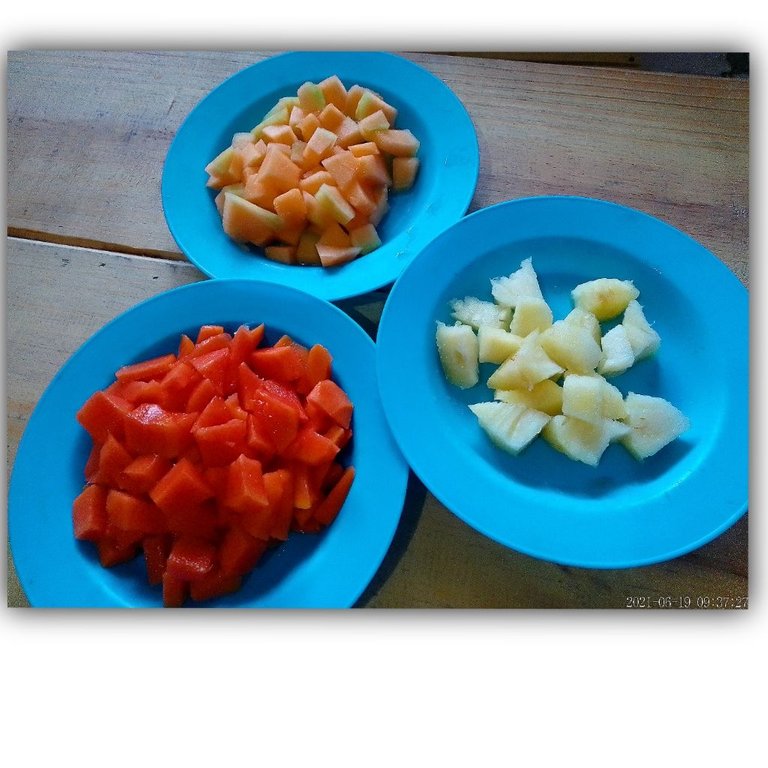 C.- We mix the fruit squares in a cup. We can add sugar or leave it like that, since the sweetness of the fruits is enough.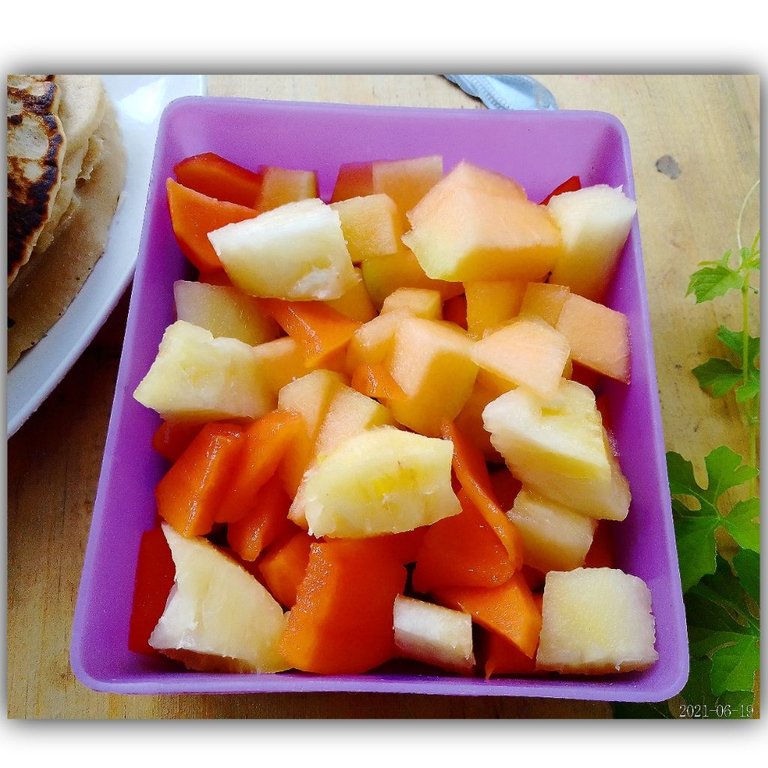 ---
Let's prepare the pancakes:
My grandmother always told me that to make them, the first thing was water. Based on the amount of water, you will have calculated the number of pancakes.
A.- Then we place the water in a large cup, add the milk and the egg. We beat. See figures 1 and 2. We add the oatmeal. See figure 3. The mixture should be somewhat thick, if you see that it lacks consistency you can add more oatmeal. We now add sugar and vanilla. See figure 4.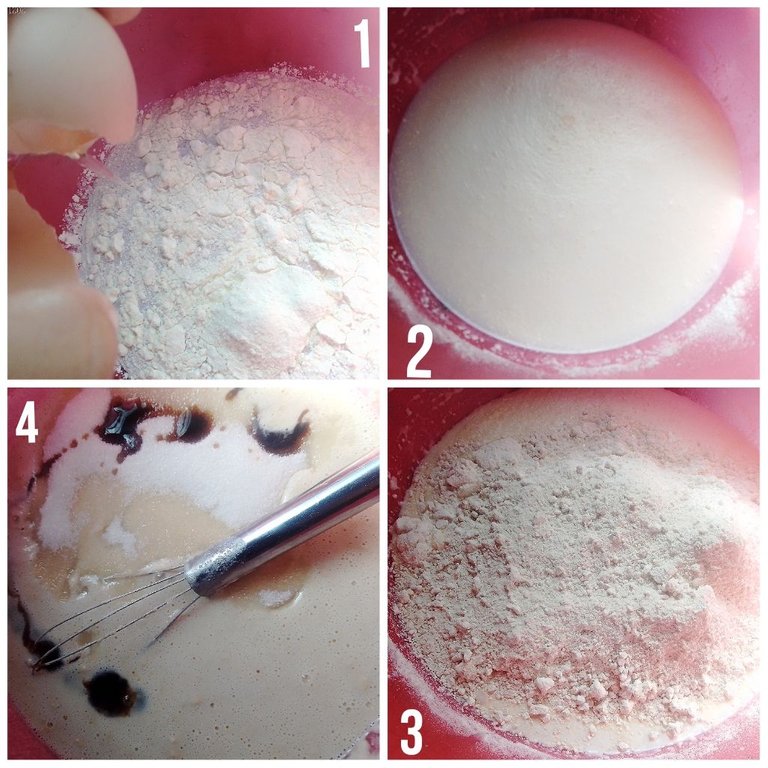 B.- Mix well until a homogeneous mixture is achieved. See figure 5. Let it rest for a few minutes while a frying pan is heating up. To this, I have put a layer of vegetable oil, so that my mixture does not adhere there. Add part of the mixture, see figure 6. When it is more turbid, with the help of a trowel we turn. See figure 7. They should have that light brown color.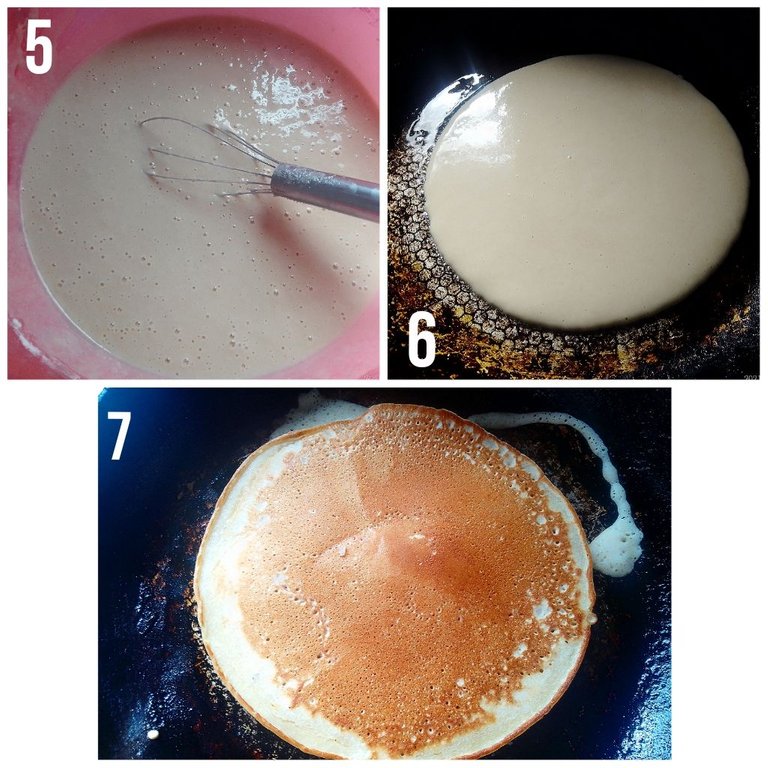 We repeat the process until the mixture is finished. To serve, I have placed a tower of pancakes and on top I have placed grated cheese and pieces of fruit.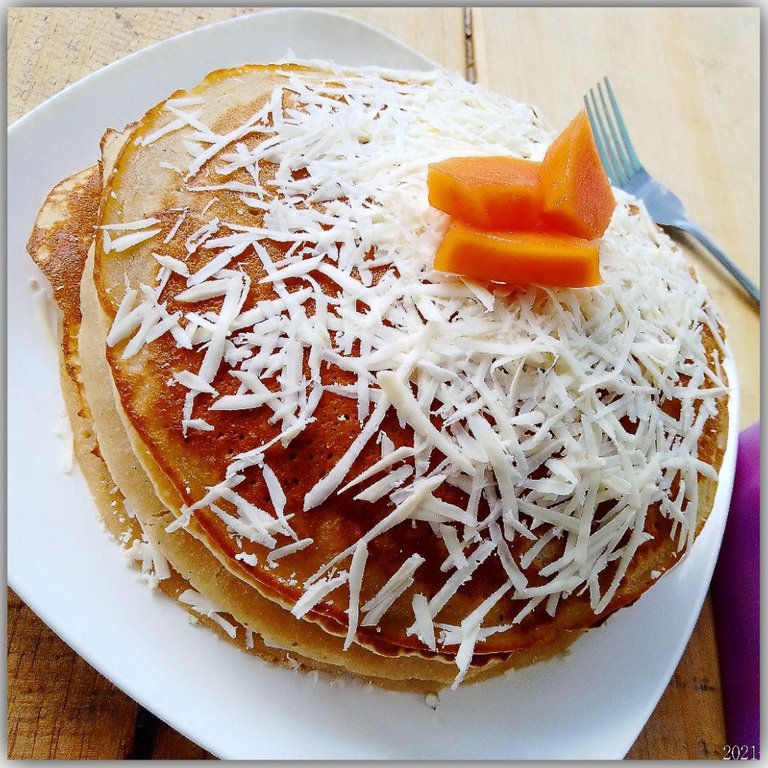 ---
Being ready, take a look: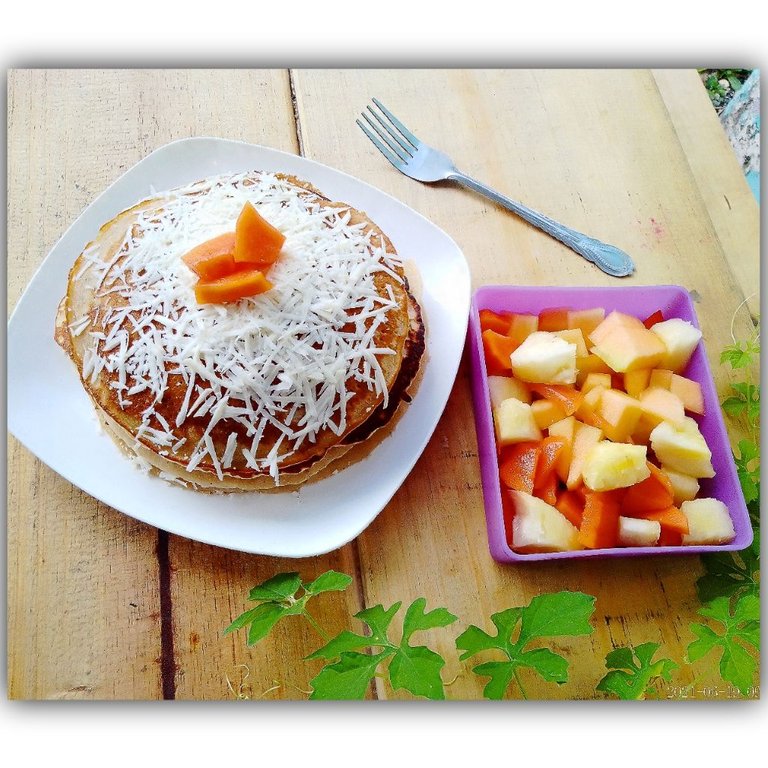 ---
Pancakes are a wonderful option as a breakfast or snack, they are so versatile that we can put different accompaniments and decorations.
Many people who have eaten my pancakes have asked me the secret for you. It happens that yes, there are a few tips that you should take into account when preparing the pancakes and thus obtain a good result. Here are some secrets:
✅ The pancake mix should not be too runny, it should be of a thick consistency.
✅ Beat well with a balloon whisk, so we incorporate air into the mixture. This helps the final fluffiness of the pancakes.
✅ Milk and egg, wonderful ingredients to provide smoothness, homogeneity and flavor.
✅ Before pouring the mixture into the pan, check that it is hot and well oiled.
✅ You must be very aware of cooking, I think this secret applies to everything in the kitchen. Everything has its perfect cooking time and indicators to determine it. As for the pancakes, to give it the first turn, you must see which first is more turbid and multiple air holes have been signed in the pancake. This is when gently with the spatula you will begin to take off. After it's peeled off, you quickly flip the pancake over.
---
I hope these tips are extremely useful, from my side these are the aspects that I take into account when preparing.
---
Thanks for your attention, kindly: Ana Pialejo, under my username: @pialejoana.
---
Do you like to cook? 👩‍🍳
I invite you to share in Foodies Bee Hive your experiences in the kitchen, recipes, tricks, trials and errors.
---
⭐⭐⭐⭐⭐⭐
Versión en Español:
---
Hola, hola.!
👩‍🍳
Hoy es un día especial, se celebra el "Día del padre", tengo desconocimiento si es algo propagado a lo largo del mundo y para la misma fecha. Sin embargo, felicidades a todos.
---
Para mi entrada de hoy, les presentaré una versión de desayuno saludable, compuesto de unas panqueques de avena y una ensalada de frutas.
Es un desayuno fácil, delicioso y especial. Sin dudas una excelente opción que puedes hacer para un obsequio diferente.
---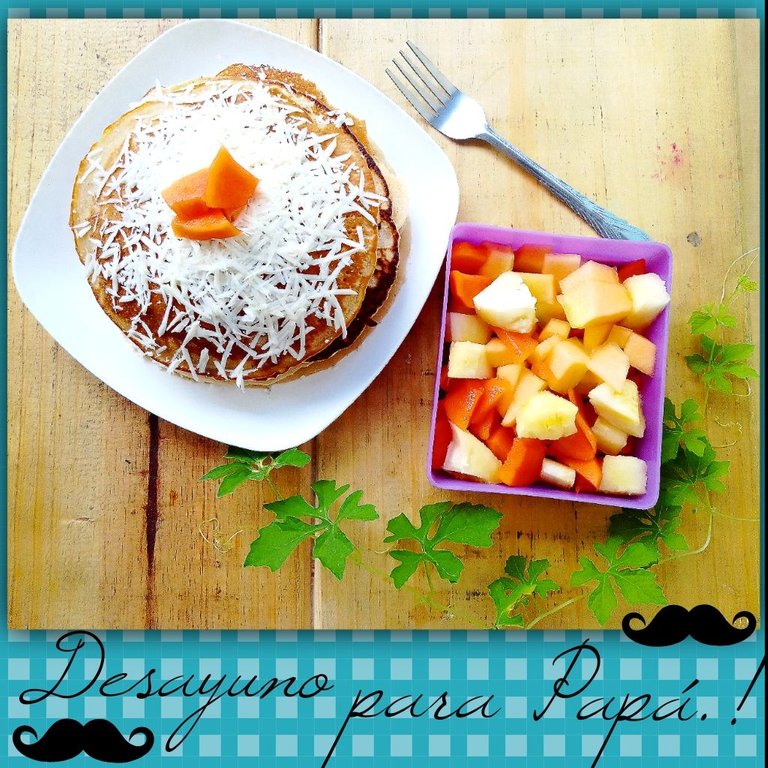 ---
Desde mi lado, las panqueques de avenas se han posicionado como mis favoritas. Tienen un sabor delicioso, además de mucha esponjosidad. Se caracterizan por ese color marrón claro tan lindo y aunado a ello, desarrollan al cocinarse un sabor similar a un cereal popular llamado industrialmente como "cerelac".
---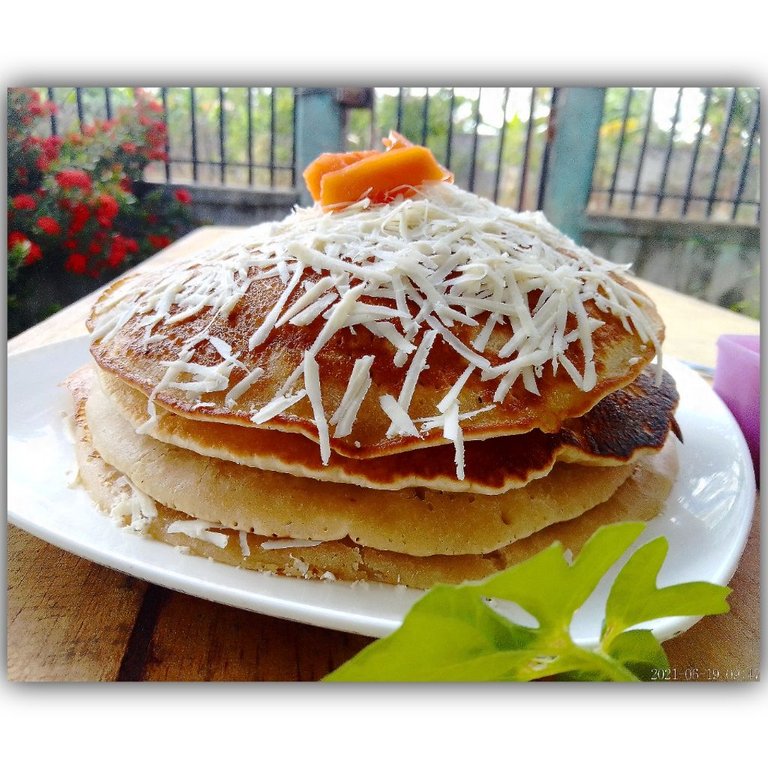 ---
Vamos al paso a paso!
🙌🙌🙌🙌
---
👩‍🍳👩‍🍳👩‍🍳👩‍🍳👩‍🍳👩‍🍳
Ingredientes:
Para las panqueques:
📌 400 ml de agua.
📌 8 cucharadas de leche.
📌 200 gr de harina de avena.
📌 1 huevo.
📌 Azúcar al gusto.
📌 Vainilla al gusto.
Para servir: queso rallado y trozos de frutas.
Para la ensalada:
📌 Lechosa.
📌 Melón.
📌 Piña.
---
👩‍🍳👩‍🍳👩‍🍳👩‍🍳👩‍🍳👩‍🍳
Paso a paso:
Preparemos la ensalada:
A.- Cortamos de las frutas los trozos a usar, retiramos la concha y lavamos bien.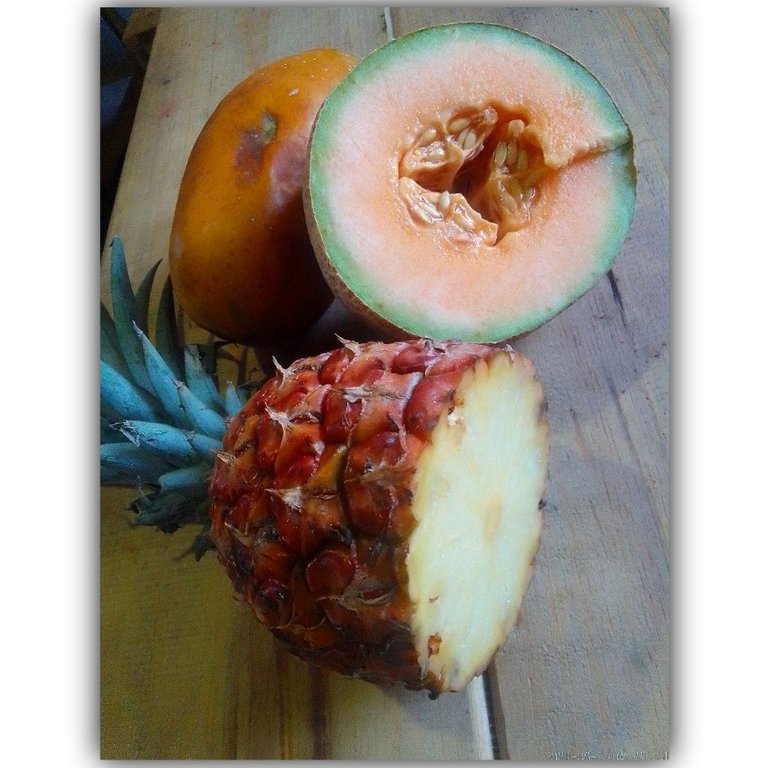 B.- Troceamos cada una, en cuadros.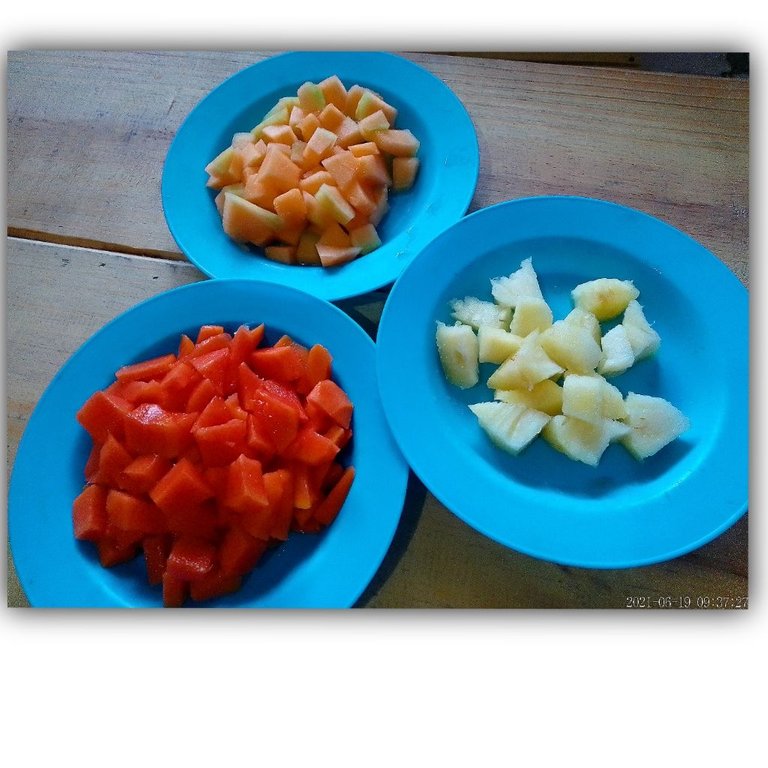 C.- Mezclamos los cuadraditos de fruta en una taza. Podemos agregar azúcar o dejar así, ya el dulzor de las frutas es suficiente.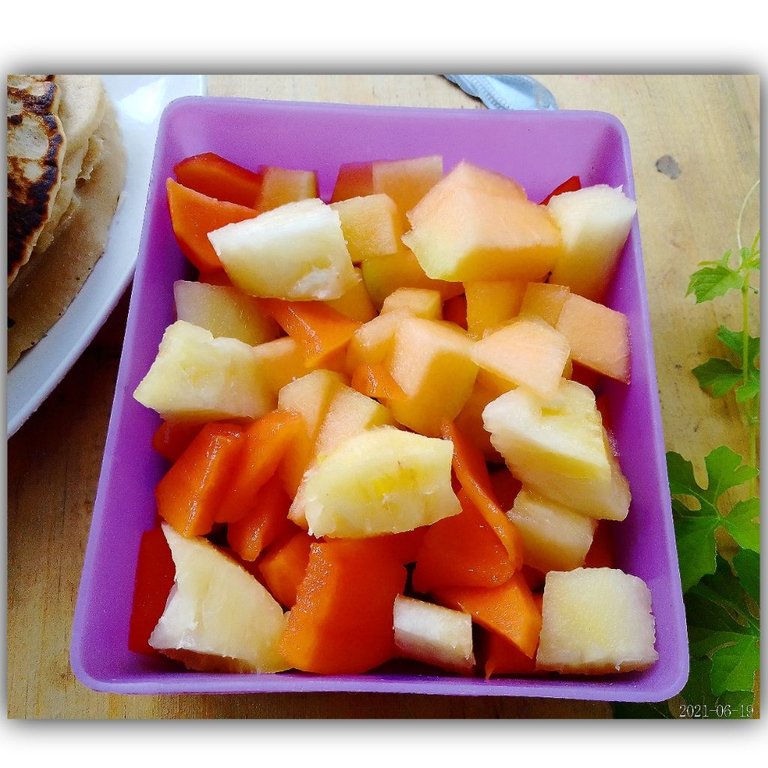 ---
Preparemos las panqueques:
Mi abuelita siempre me decía que para hacerlas, lo primero era el agua. En base a la cantidad de agua es que habrás calculado la cantidad de panqueques.
A.- Entonces colocamos el agua en una taza amplia, añadimos la leche y el huevo. Batimos. Ver figuras 1 y 2. Agregamos la harina de avena. Ver figura 3. La mezcla debe ser algo espesa, si ves que le falta consistencia le puedes agregar más harina de avena. Añadimos ahora azúcar y vainilla. Ver figura 4.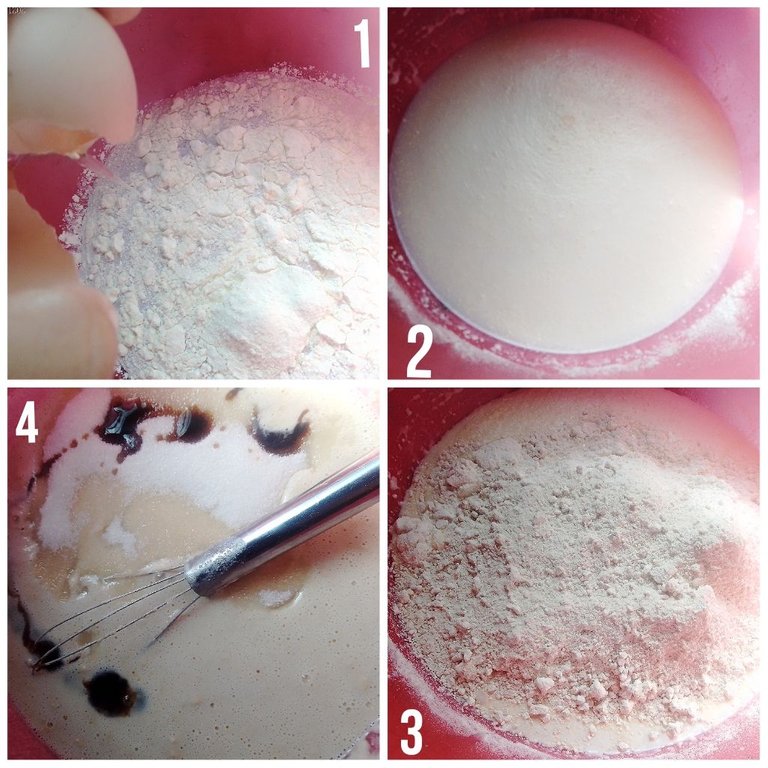 B.- Mezclamos bien hasta lograr una mezcla homogénea. Ver figura 5. Dejamos reposar unos minutos mientras se calienta un sartén. A éste, le he colocado una capa de aceite vegetal, para que no adhiera mi mezcla allí. Añadimos parte de la mezcla, ver figura 6. Cuando está se ve más turgida, con ayuda de una paleta volteamos. Ver figura 7. Deben tener ese color marrón claro.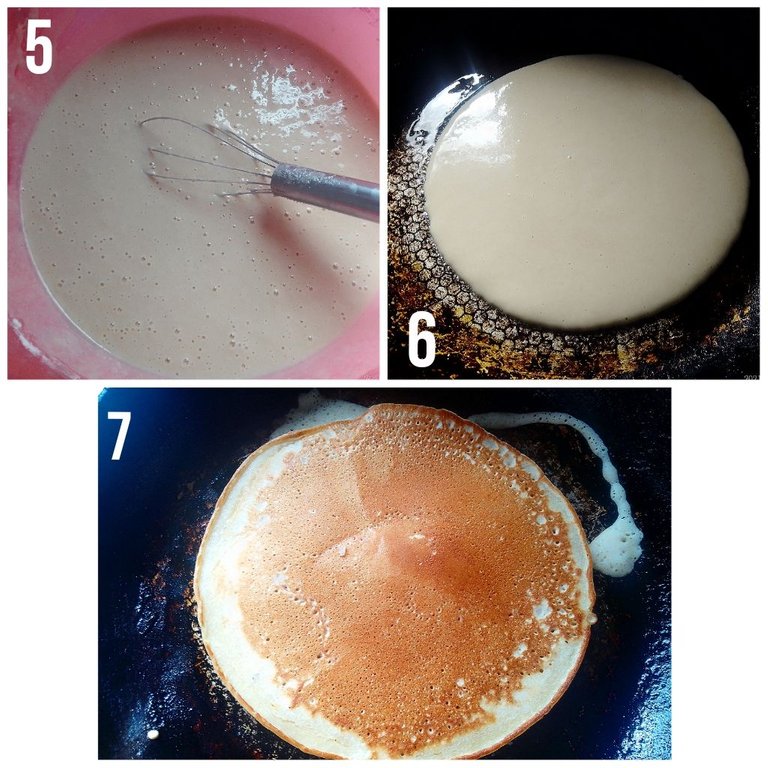 Repetimos el proceso hasta que la mezcla se nos termine. Para servir, he colocado una torre de panqueques y encima he puesto queso rallado y trozos de frutas.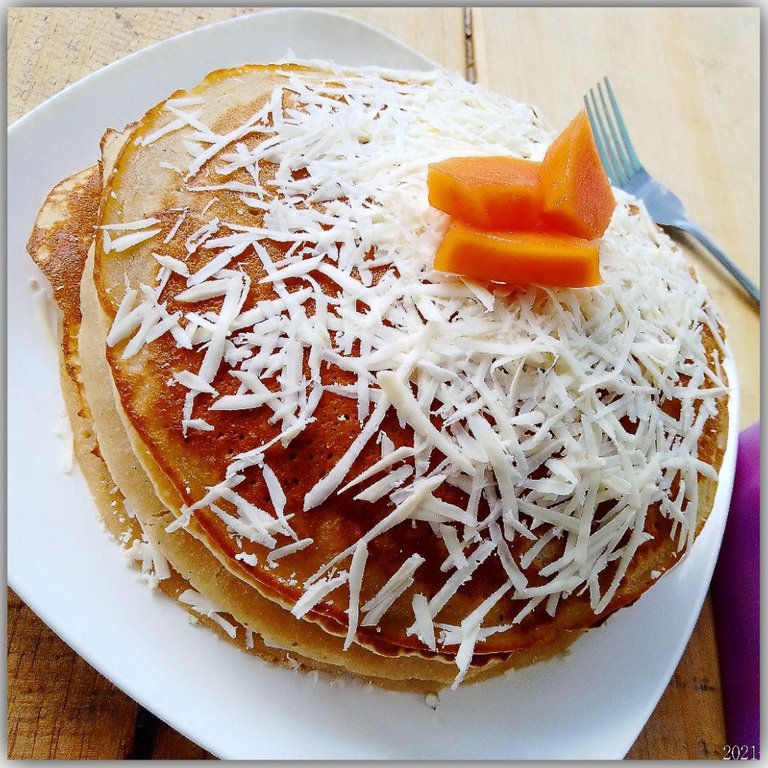 ---
Estando listo, da un vistazo: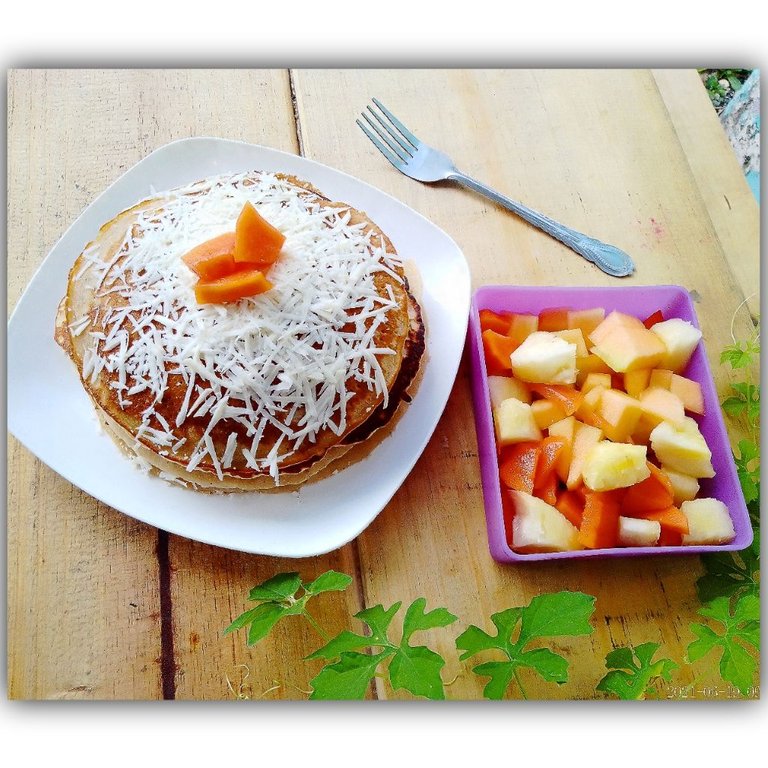 ---
Las panqueques son una maravillosa opción como desayuno o merienda, son tan versátiles que le podemos colocar diversos acompañantes y decoraciones.
Muchas personas que han comido de mis panqueques me han preguntado el secreto para estás. Sucede que si, hay unos cuantos tips que debes tener en cuenta al momento de preparar las panqueques y así obtener un buen resultado. Aquí te dejo algunos secretos:
✅ La mezcla de panqueques no debe ser muy líquida, debe ser de una consistencia espesa.
✅ Batir bien con un batidor de globo, así incorporamos aire a la mezcla. Esto ayuda a la esponjosidad final de las panqueques.
✅ Leche y huevo, maravillosos ingredientes para aportar suavidad, homogeneidad y sabor.
✅ Antes de verter la mezcla en el sartén, verifica que éste se encuentre bien caliente y bien aceitado.
✅ Debes estar muy pendiente de la cocción, creo que este secreto aplica para todo en la cocina. Todo tiene su tiempo perfecto de cocción e indicadores para determinarlo. En cuanto a las panqueques, para darle la primera vuelta, debes ver qué primero está se encuentre más turgida y se hayan firmado múltiples huequitos de aire en la panqueque. Allí es cuando suavemente con la espátula empezarás a despegar. Después de que este despegada, volteas rápidamente la panqueque.
---
Espero y estos tips sean grandemente útiles, desde mi lado son esos los aspectos que tomo en cuenta al momento de preparación.
---
---
Gracias por su atención, atentamente: Ana Pialejo, bajo mi usuario de : @pialejoana.
---
¿Te gusta cocinar?👩‍🍳
Te invito a compartir en Foodies Bee Hive tus experiencias en la cocina, recetas, trucos, ensayos y errores.