Few days ago, I've come across a post by zord189 encouraging people to share a recipe with beef as main ingredient. The contest is a collaboration with foodiesunite.
>> Hive Creative Contest | The Moooo (Contest Details) <<
I was thinking of sharing about beef caldereta but upon checking my gallery, I found out the meat we had for that recipe was pork. Thought I couldn't join anymore until the other night, I saw my mother making bulalo.
That's right. I don't cook because first of all, people at home don't trust the kitchen with me. 😂 But there were few times when I show my presence in there and assist my mother.
So the other night, I visited the kitchen before taking a bath and saw the beef meat in the boiling pot. Ding! Guess I could join after all!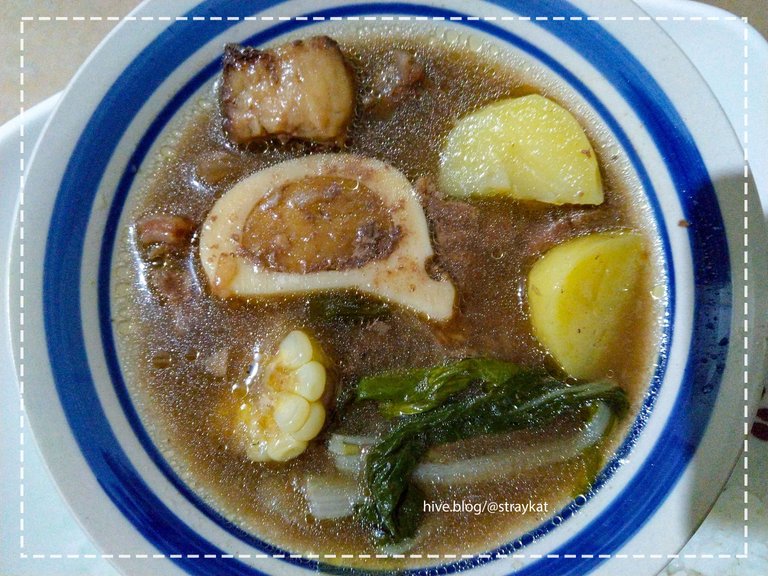 Bulalo or Beef Marrow Stew is a simple yet delicious Filipino dish, easy to cook but may take some time to tenderize the meat. This recipe consists of beef, vegetables and spices. Bulalo is a common dish in the country. Recently, meat prices here recently are crazily expensive, eating meat seems like a luxury right now. My mother complained that this beef meat she bought was around Php 500 per kilo. I wonder if those plant-based meat being made are cheaper, if so, they should start making it more accessible for everyone. This may sound contradicting and ironic to this post but I hope one day, we could successfully lessen the killings and consumption of animals. Let the pigs, cows, chickens live a longer life.
Going back, I sat beside my mother and asked her how she cooked the Bulalo. Well, for a daughter who doesn't cook, asking about a recipe is shocking. Like it was a top secret info, I was met with a one word question that is not easy to answer. WHY?
Long story short, I passed the excruciating interrogation and got the top secret info I needed. Now I will disclose to you the secret to the delicious Filipino Bulalo.
| | BULALO TOP SECRET INGREDIENTS | |
| --- | --- | --- |
| ♥ Beef Shank | | |
| ♥ Banana Saba | | |
| ♥ Corn | | |
| ♥ Cabbage or Bok Choy | | |
| ♥ Potatoes | | |
| ♥ White Onion | | |
| ♥ Onion Leaves | | |
| ♥ Black Peppercorn | | |
| ♥ Salt | | |
| ♥ Ginger | | |
PROCEDURE
#1 Boil the beef shank with the chopped ginger in a sufficient amount of water. Do not drain the water. This will be your soup and it's delicious.
#2 Add chopped white onion, onion leaves, salt, and black peppercorn. There is no exact amount of measurement of the spices. Some like the dish to have strong flavor while others prefer it mild. Adjust the taste according to your personal preference.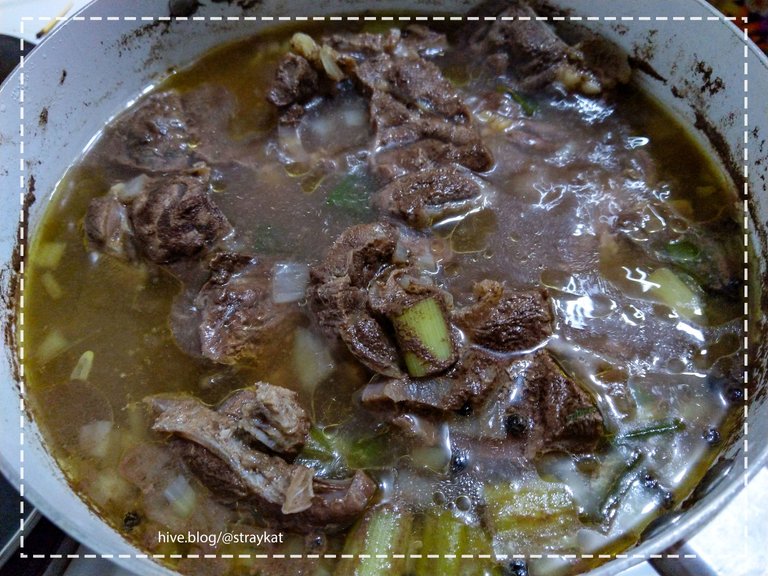 #3 When the meat is already slightly tender, add the sliced potatoes, banana, and corn.
#4 Then add the cabbage or bok choy last, after the meat has completely become tender.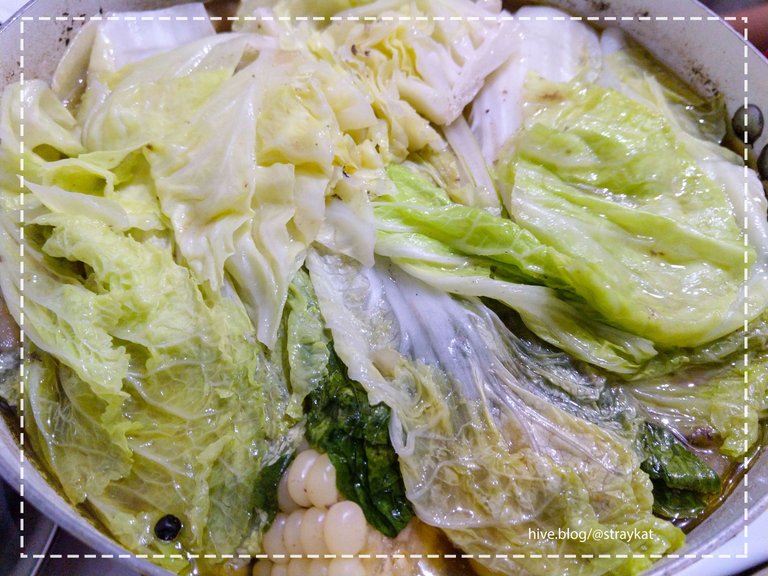 ---
#5 Serve in a bowl and some rice. Enjoy!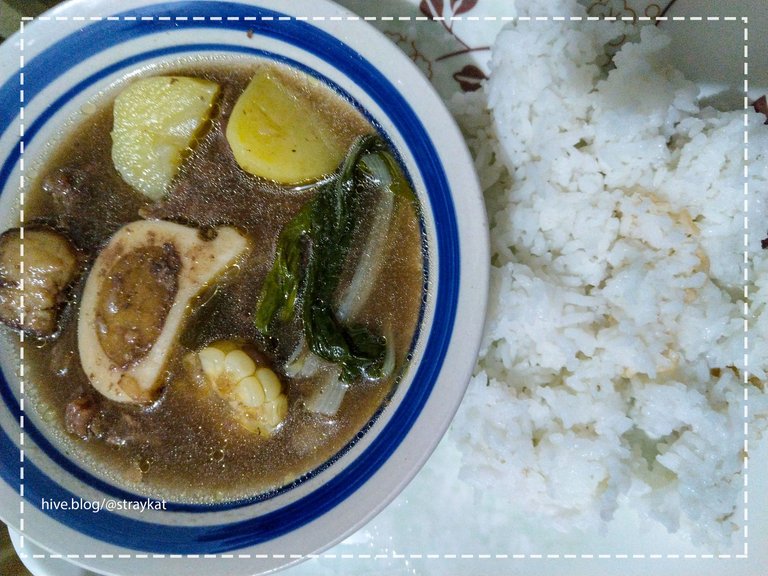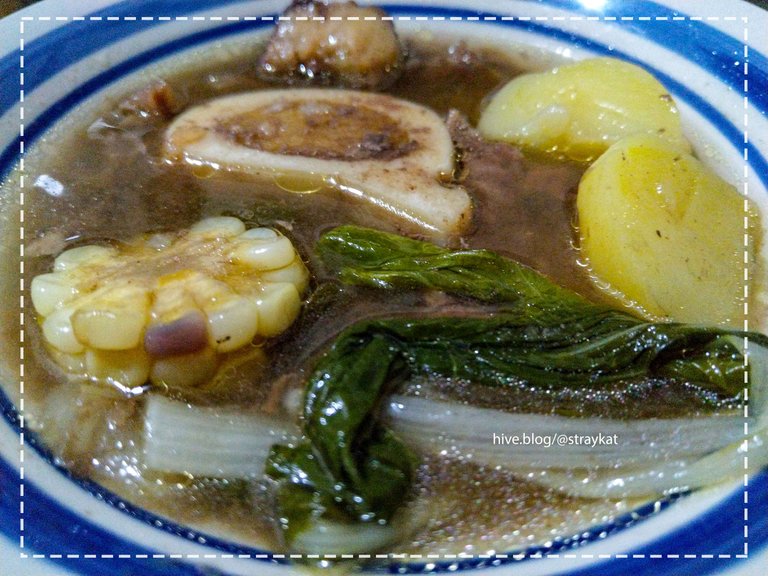 ---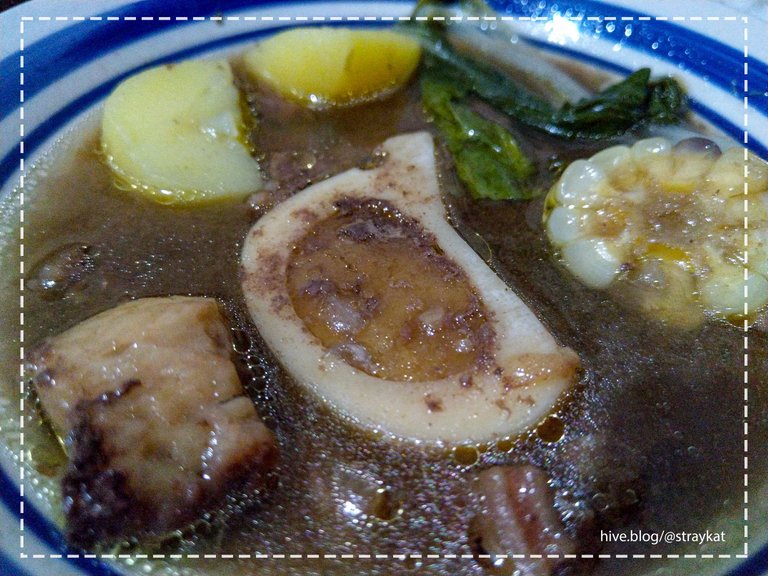 The Bulalo dish is very popular during rainy season and on cold places because of its warm savory soup that is delicious to sip during cold weather. The soup is oily but yummy. Lol. Another thing that makes Bulalo popular is the bone marrow fat. This is also my favorite part of the dish. It's soft and melts in the mouth. Most would say the bone marrow fat is unhealthy to eat but one doctor told otherwise. He swears on organic foods as treatment and diet for his patients and one that he hugely recommends is the cow's bone marrow.
Health Benefits of Bone Marrow
Well, that's all. Bulalo is a classic dish loved by many Filipinos but the only thing that I dislike about eating it is when some meat gets stuck in my teeth! And that's why I prefer eating this dish at home.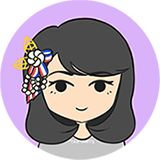 Hi, I'm Straykat! :)