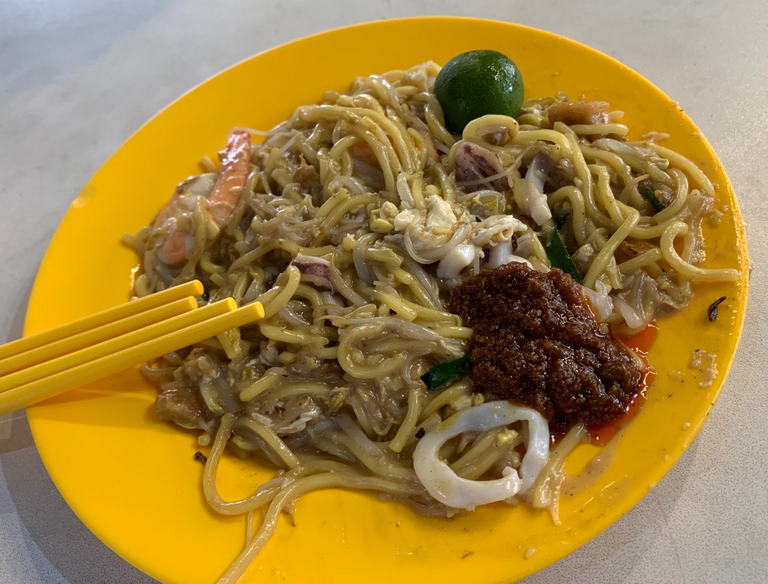 Hey Hive!
Now that a lot of people here have already gotten vaccinated, I'm very happy to hear that Singapore is now allowing in-house dining again but obviously you have to be vaccinated. But since there aren't any restrictions this allows us to try out different food places again!
So the other day we were in the east side of Singapore running errands and had read about this really good Hokkien Mee stall nearby and decided to go and find it and try it for ourselves! Apparently it's quite a famous stall but we hadn't heard about it until recently.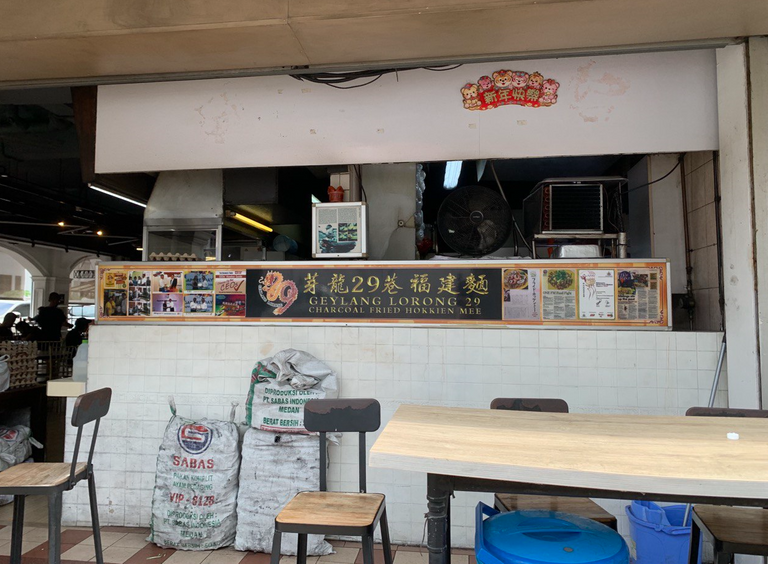 The hawker center that it was in was actually quite a small neighbourhood one, with only a few stalls. But it looked quite modern and well furbished and there was even another girl there taking photos that I assume is for social media as well.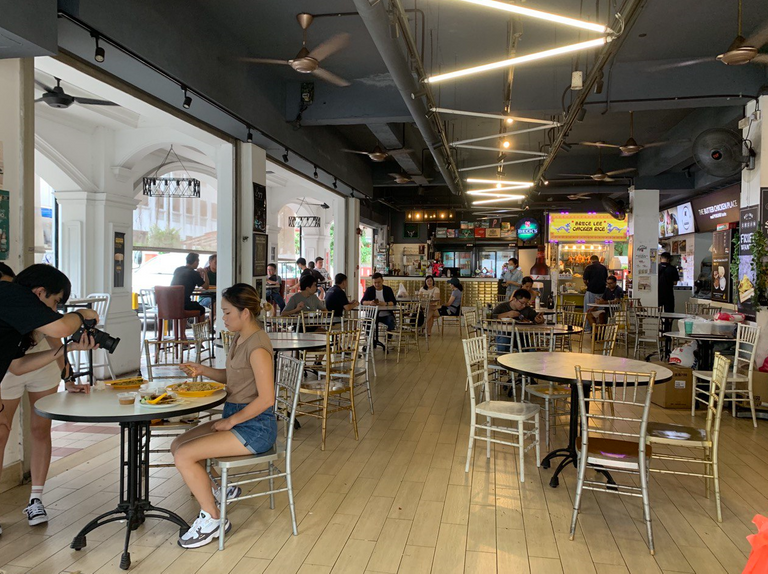 There were a few other stalls there that looked pretty interesting but half of them were closed and since we had a big breakfast we weren't super hungry to try anything other than our target Hokkien Mee!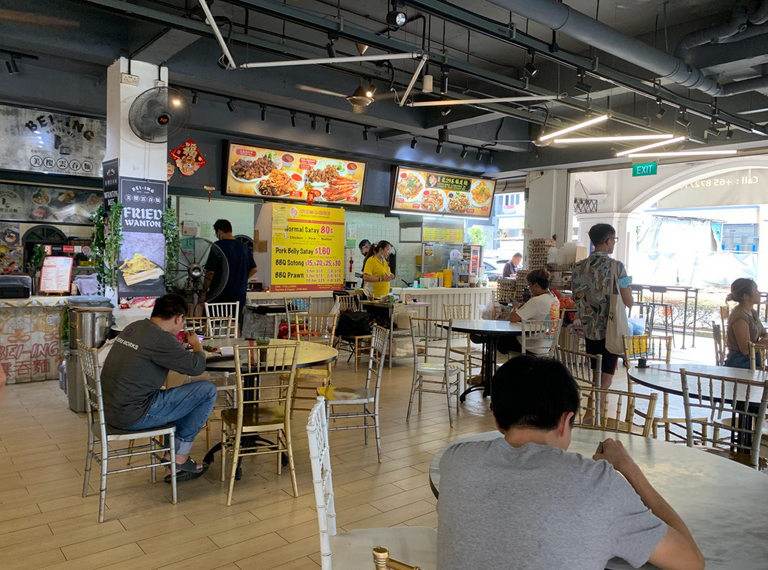 This was the stall in question, called Geyland Lorong 29 Charcoal Fried Hokkien Mee!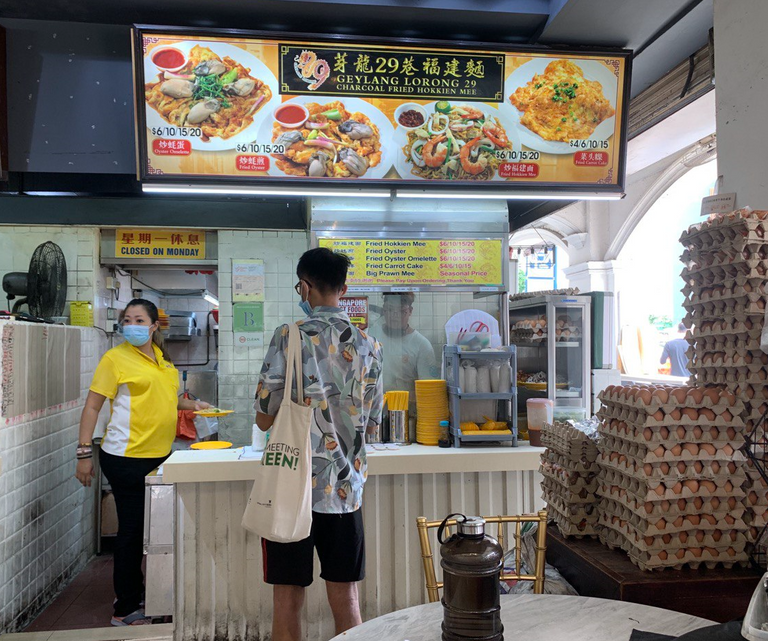 If you've never had Hokkien Mee before, it is from China's Fujian province (hence the literal translation from Fujian Noodles) and in Singapore it consists of egg noodles and rice noodles stir-fried with egg, slices of pork, prawns and squid.
Similar to other Hokkien Mee stalls, this one also sold oyster omelette, carrot cake and fried oyster, which I'm actually not too sure how it differs from the oyster omelette tbh. We ordered a $10 portion of the Hokkien Mee and a small portion of carrot cake, since it's one of my favourite hawker dishes.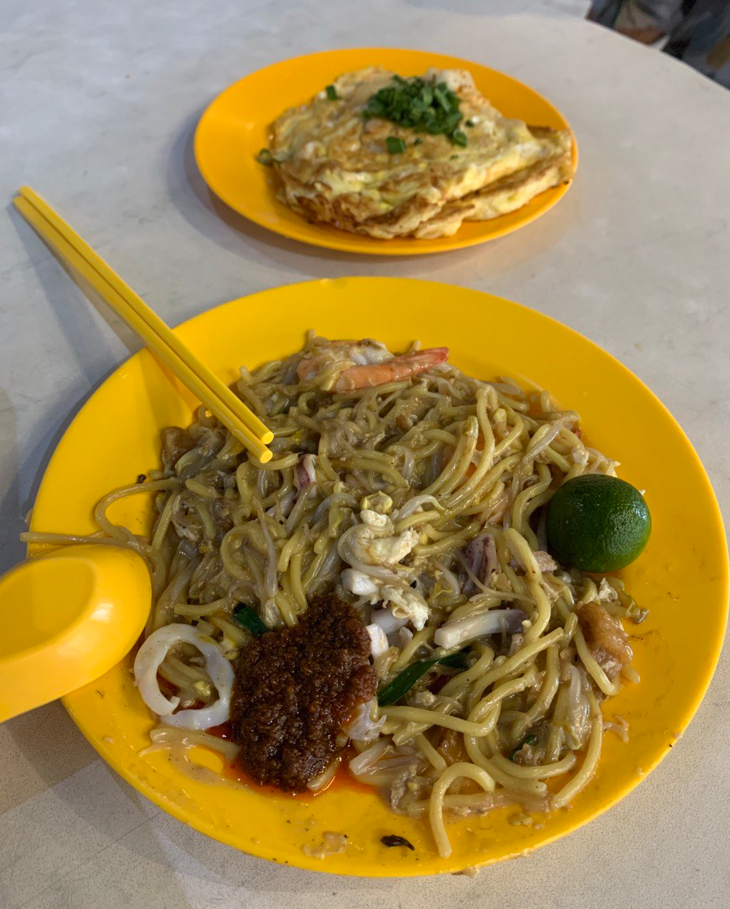 The carrot cake was kinda meh tbh. Nothing fantastic and it didn't have enough chili or seasoning for me. The egg was nice and a little crispy at the edges but other than that it was below average imo.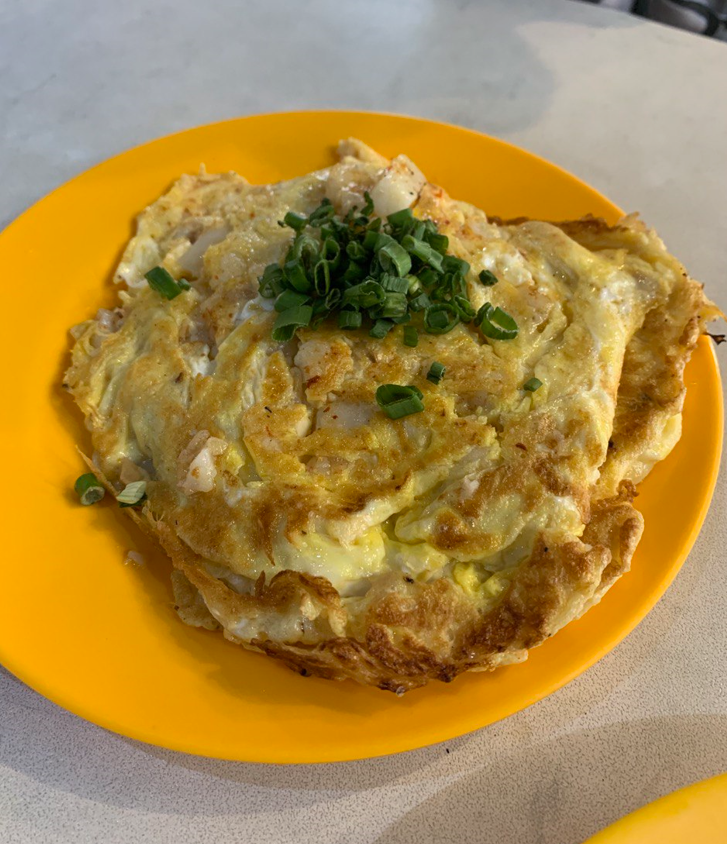 It's quite a shame but I still ate it anyway. It definitely could've used more lard and chili because it was rather plain. The texture was good though.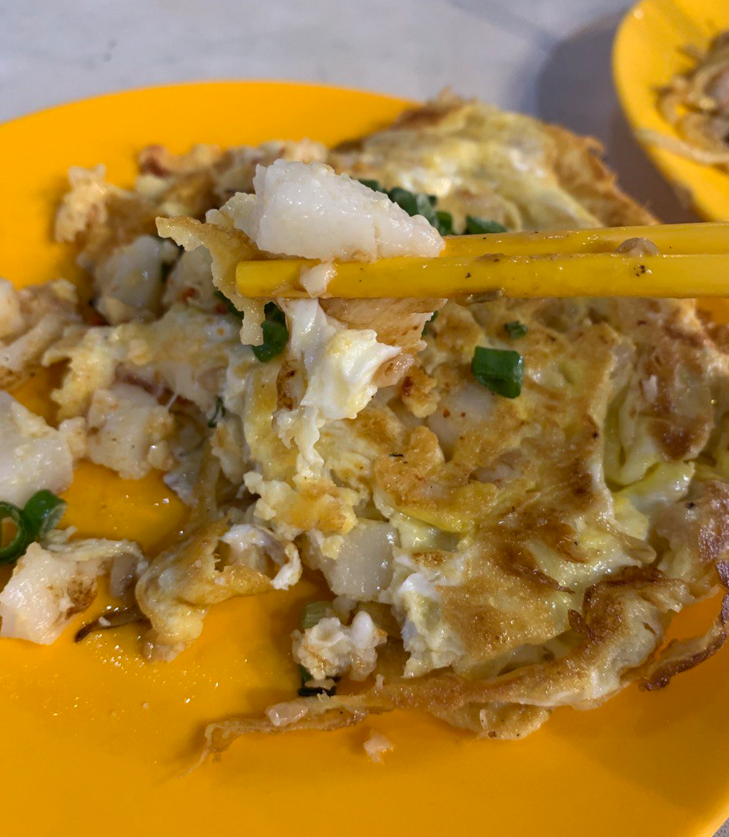 But the Hokkien Mee definitely blew us away! The aroma of the prawn stock soaked-yellow noodles and thin bee hoon, wok-fried over charcoal fire was so strong and intoxicating! The moment you started eating it you just couldn't stop!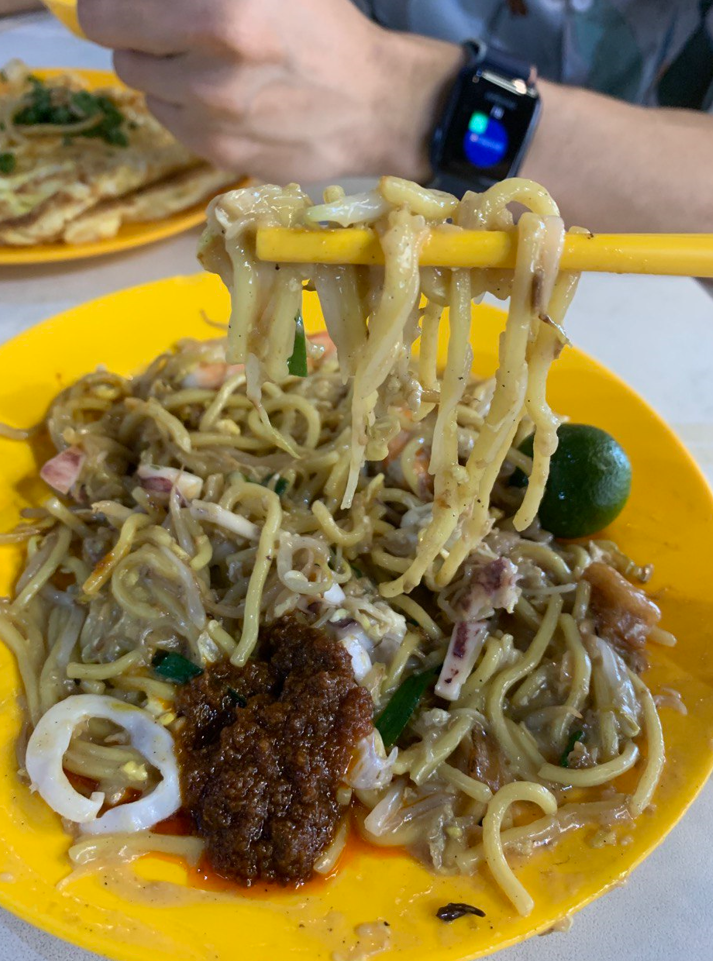 The seafood was alright with a chewy texture but most of the flavour and seasoning was definitely from the noodles. This was probably one of the few times I could eat Hokkien Mee without the chili! Granted, the chili was indeed good and added some spice to it as well, but the noodles and gravy had so much umami and wok hei it didn't need anything else!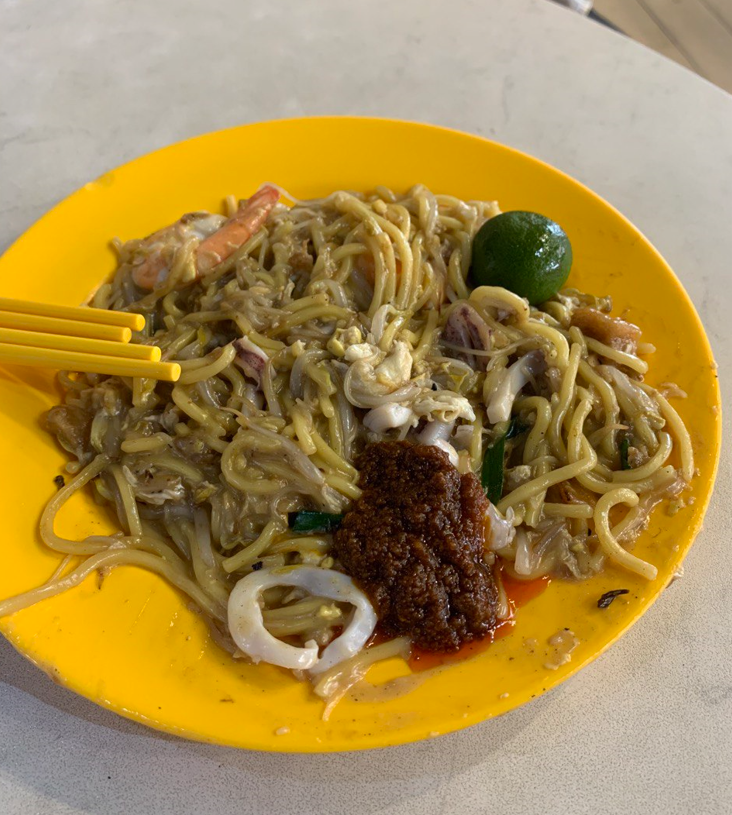 We actually regretted buying the carrot cake when we could have just bought a bigger portion of the Hokkien Mee or 2 small portions because it was just so good! I was tempted to order yet another plate but we were already pretty full and Sean was satisfied so we left it at that.
I read that the founder of this stall, known as Uncle Alex, actually passed away quite recently, unfortunately. He had been struggling with declining health, and was diagnosed with multiple myeloma — a form of blood cancer caused by malignant plasma cells in the bone marrow — a few years ago.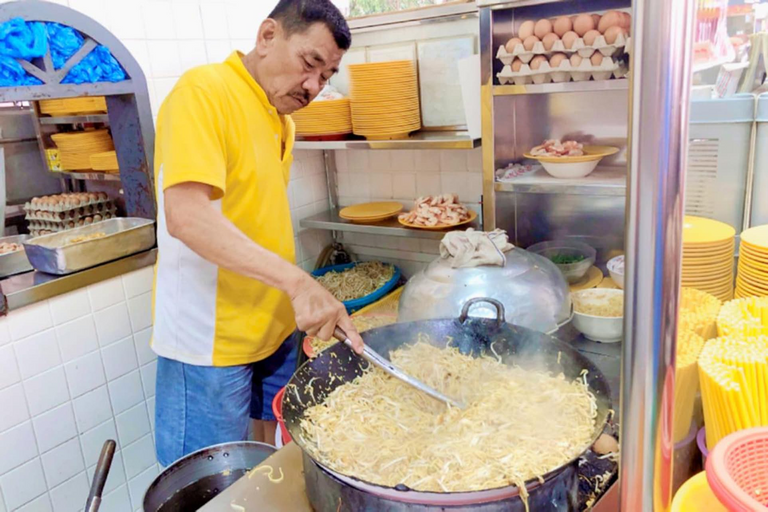 Source: 8days
Now his youngest daughter, Penny, who started helping her parents at their stall in 2003 is running it with her husband. They have both mastered how to cook her father's famous Hokkien mee and I think when I was there it was probably cooked by her husband.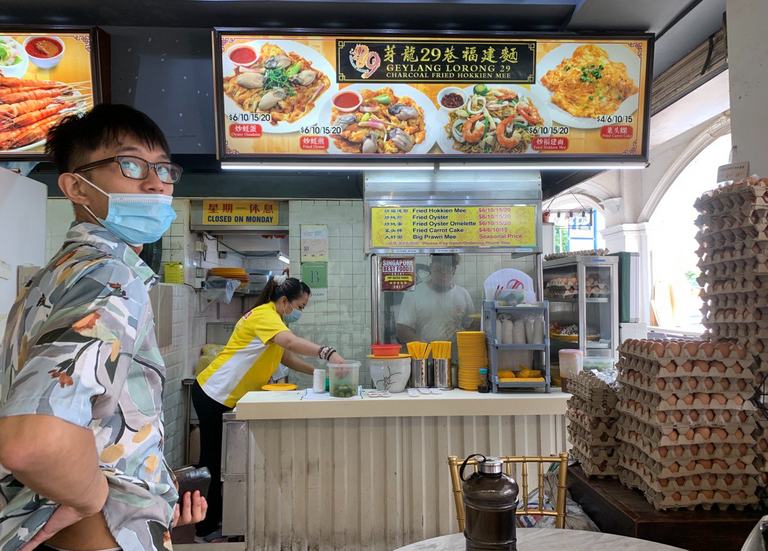 Although I don't have a frame of reference, the tastee was still phenomenal. And they are still being featured in many articles online so I'm sure their father is very happy to have passed the mantle. They said he passed peacefully and is now in a better place, so I'm sure he can rest happy that the family's culinary legacy will live on.
I think this is now our favourite place for Hokkien Mee and although it's a little out of the way, I would highly recommend this place! Definitely check it out if you can!
Thanks so much for reading!

To find out more about me, check out my intro post here!
---
[//]:# (!pinmapple 1.30885 lat 103.91172 long d3scr)
Check out my previous post in this series!
TacoCat's TrEats #149: Enjoying Oishii Conveyor Belt Sushi! 🍣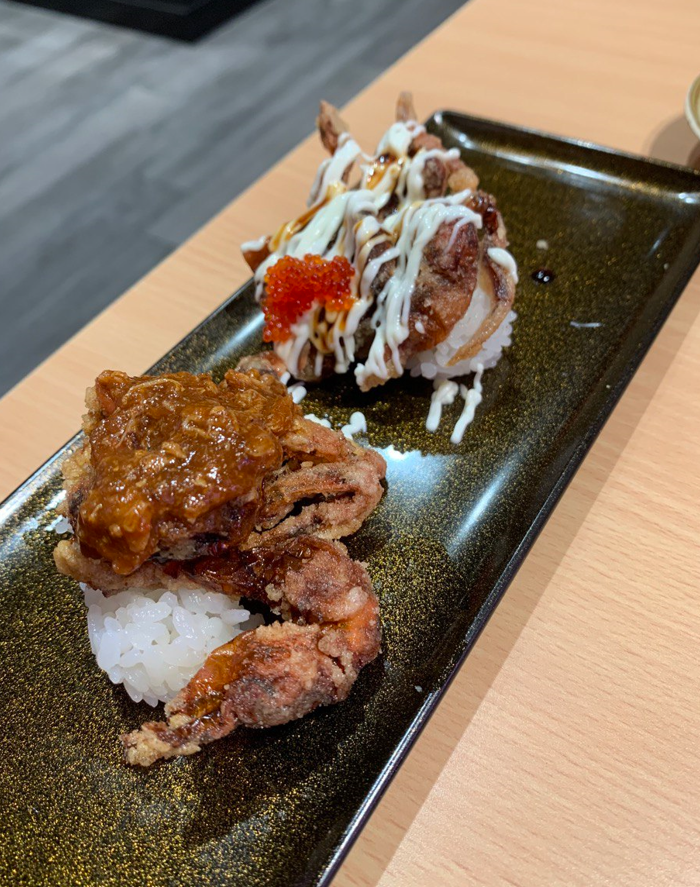 ---
Posted via foodiesunite.net