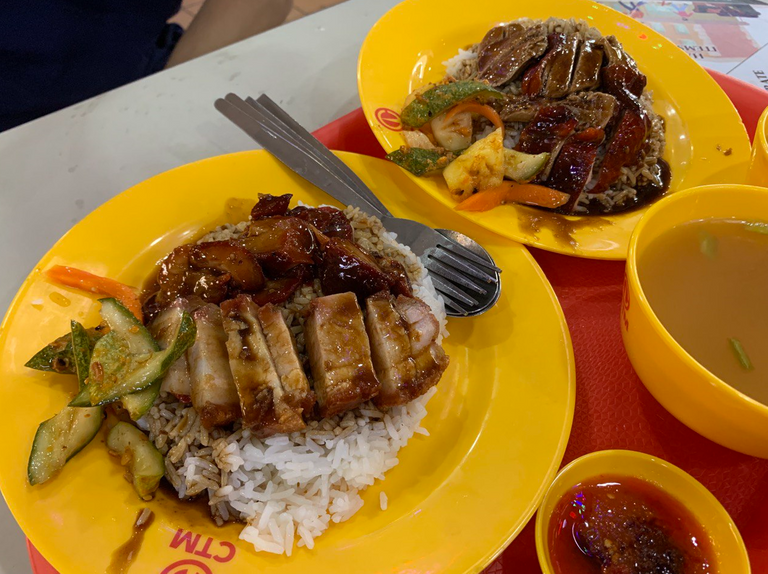 Hey Hive!
Now that a lot of people here have already gotten vaccinated, I'm very happy to hear that Singapore is now allowing in-house dining again but obviously you have to be vaccinated. But since there aren't any restrictions this allows us to try out different food places again!
We're back with more of our hawker adventures - trying out different stalls in different hawker centers to find which are our favourites!
If you've never patronised a hawker center before, they are typically non-air conditioned buildings that house all kinds of food stalls specialising in one or two signature dishes. They're ubiquitous here in Singapore and Malaysia and are known for delicious and affordable food - the perfect combination!
This particular one we went to was because there was a pretty famous roasted meat stall that Sean's mum reminded him of the other day. Back when they used to go to the temple to pray, they would patronise this stall afterwards and Sean still remembers it fondly to this day. This was the temple in question: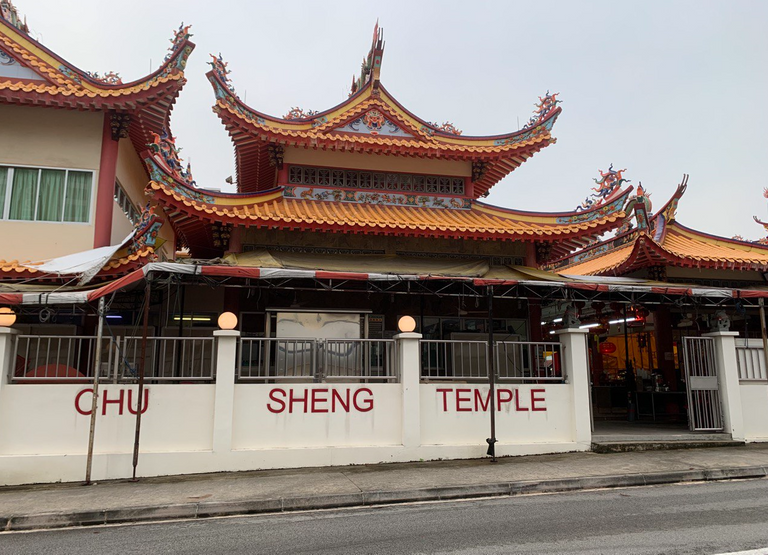 And this was the hawker center just down the road from it! I think it also doubles as a wet market since there are typical market stalls there as well.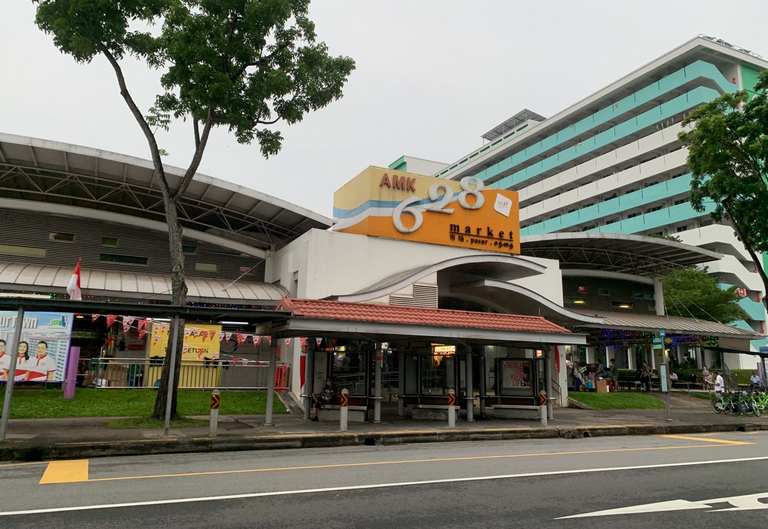 It was my first time visiting this hawker center but it looked pretty decent! It was quite spacious and had plenty of tables and seats and stalls on either side. I guess the market stalls were in the back but they typically only open in the daytime.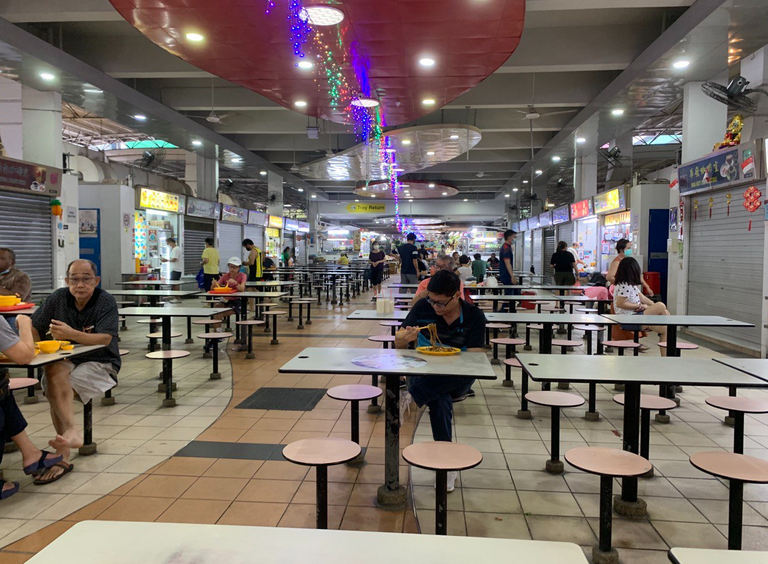 There was another aisle of shops and tables on either side of the center aisle. But unfortunately most of the shops were closed at the time. Quite unusual since we went around 6pm almost peak dinner time, but I guess they cater mostly to the day crowds.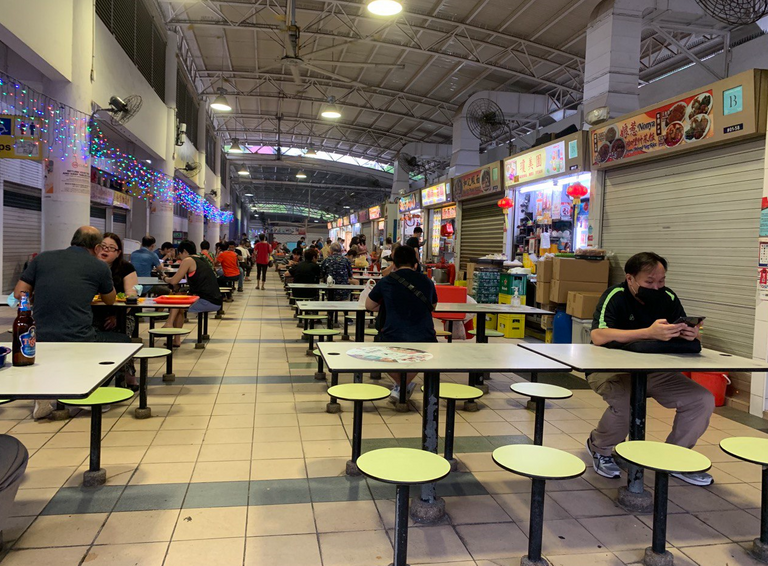 Thankfully the roasted meat stall we came here for was open and there was quite a queue for it too! Typical Singaporean logic dictates that any time there's a queue for a food stall it means it must be good!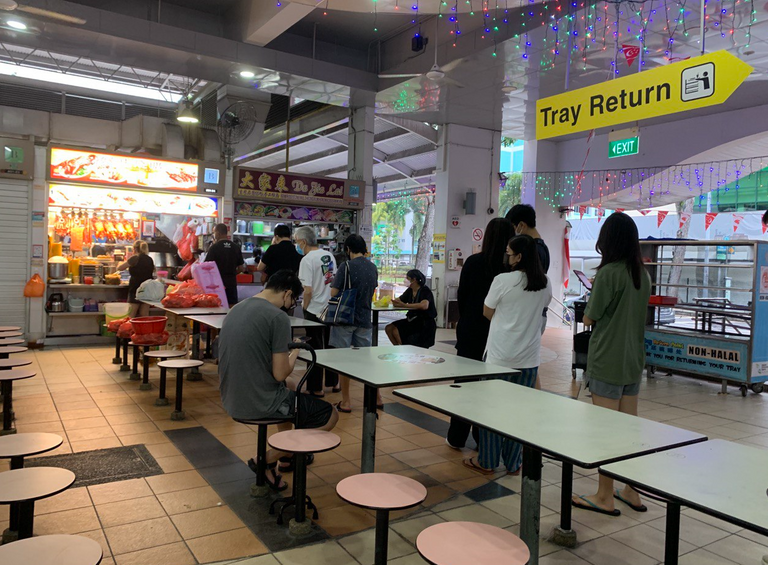 We don't normally care for queues but since we did come all the way down here just for this and we weren't super hungry yet, we decided to queue and see how long it would take.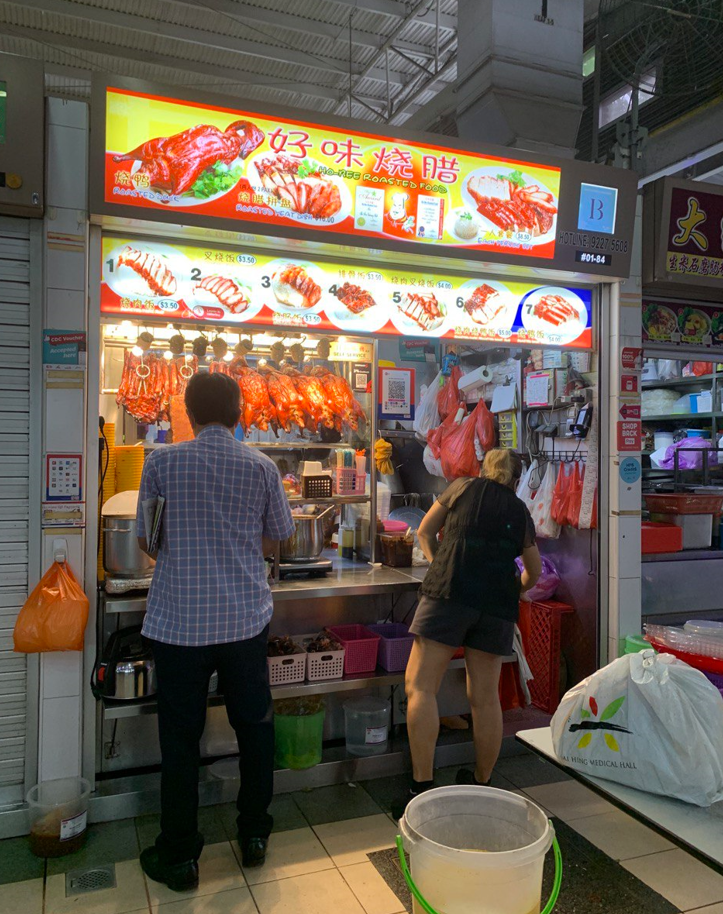 The shop is called Ho Bee Roasted Food, and they specialise in Cantonese style roasted meats like pork belly, duck and char siew (barbecued pork). It's one of our favourite rice dishes to order in hawker centers! They have quite a few different sets including some with different meats, so we decided to try them so we could taste all three types of meat.
It looked like the main focus of this stall was not just the meat but also the sauce they topped with each dish! The pictures on the board don't do them justice because there is a huge pot of sauce at the counter that the lady scoops copious amounts of onto each plate/packet!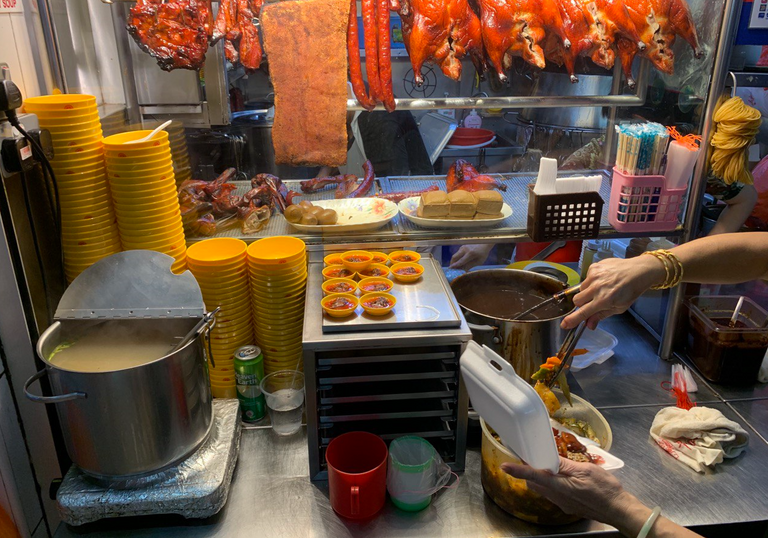 There's also a boiling pot of soup which is the standard clear soup you get with this kind of dish.
But after about 20 minutes or so, we finally got our order! Sean decided to try the Roast Meat and Char Siew Rice ($5), while I went with the Roasted Duck Rice ($4) since the duck looked too good to pass up! Each plate comes with a side of achar (pickled mixed vegetables), chili sauce and soup!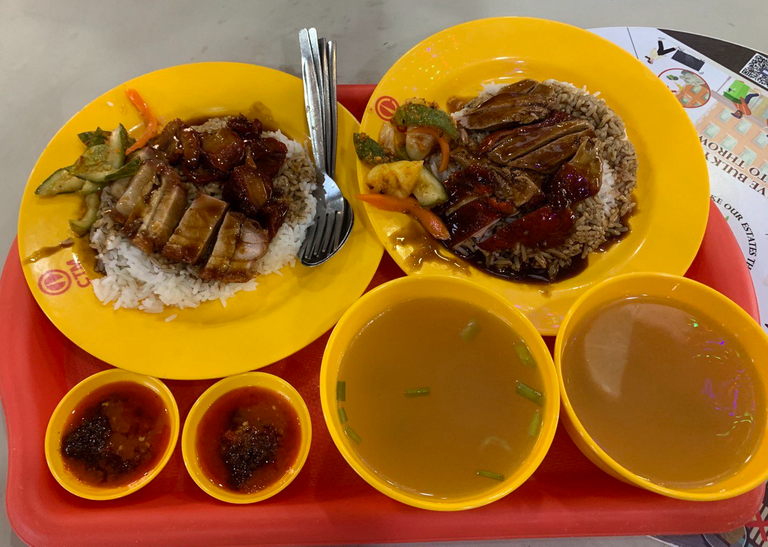 It looked and smelled soo good! And just look at how much sauce I had on my plate! Even the chili sauce looked legit with two types of chili mixed together. I'd never seen anything like that before but it definitely looked promising.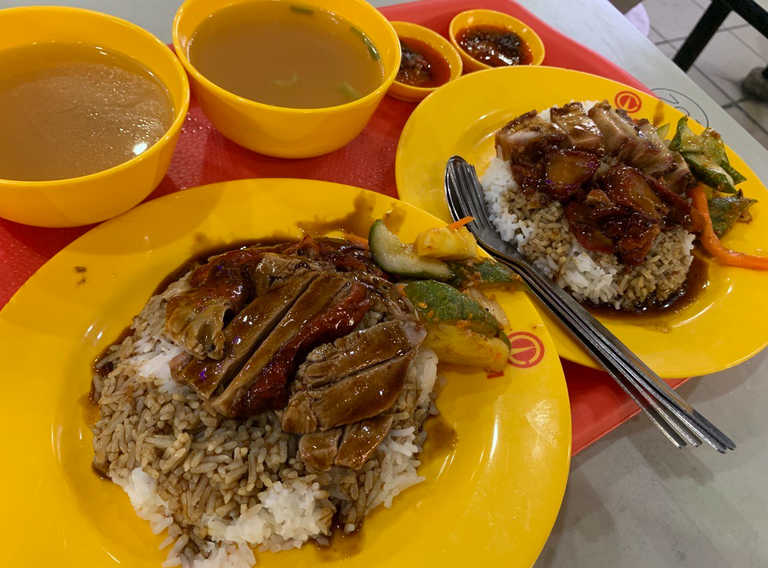 After a few more shots, we couldn't wait to dig in! Here's a closeup of the roast duck, which was mouth watering! The meat was nice and tender, the skin had a slight crisp to it and it had soaked up the sauce so it was so flavourful!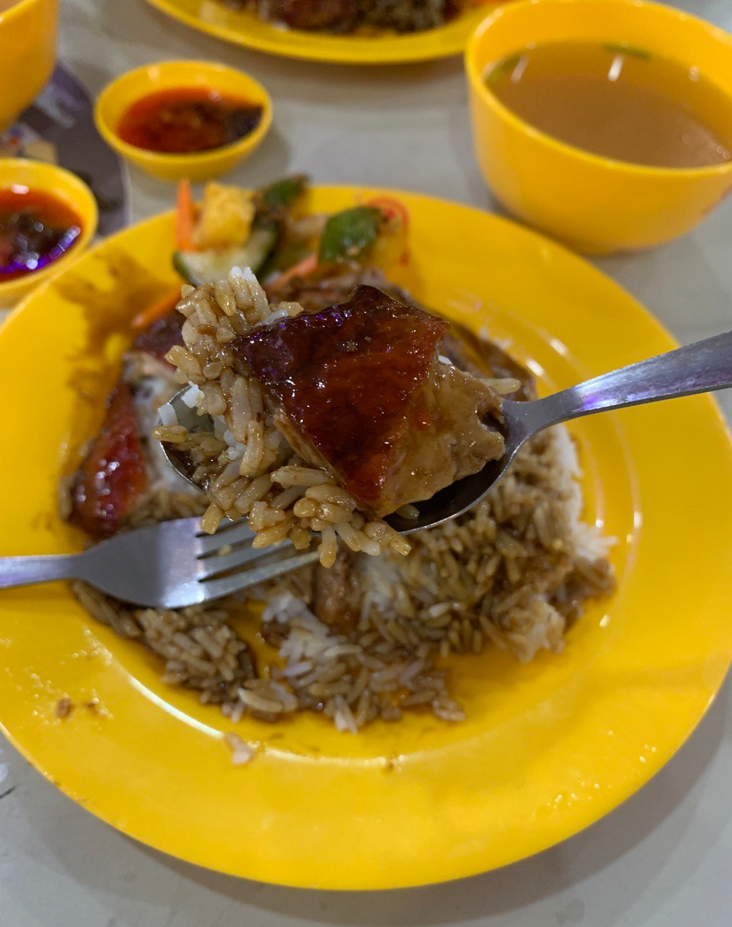 The char siew was pretty average imo; it wasn't too sweet and was a reasonable tenderness but not the best we've tried. It was okay but I don't think I would order it again.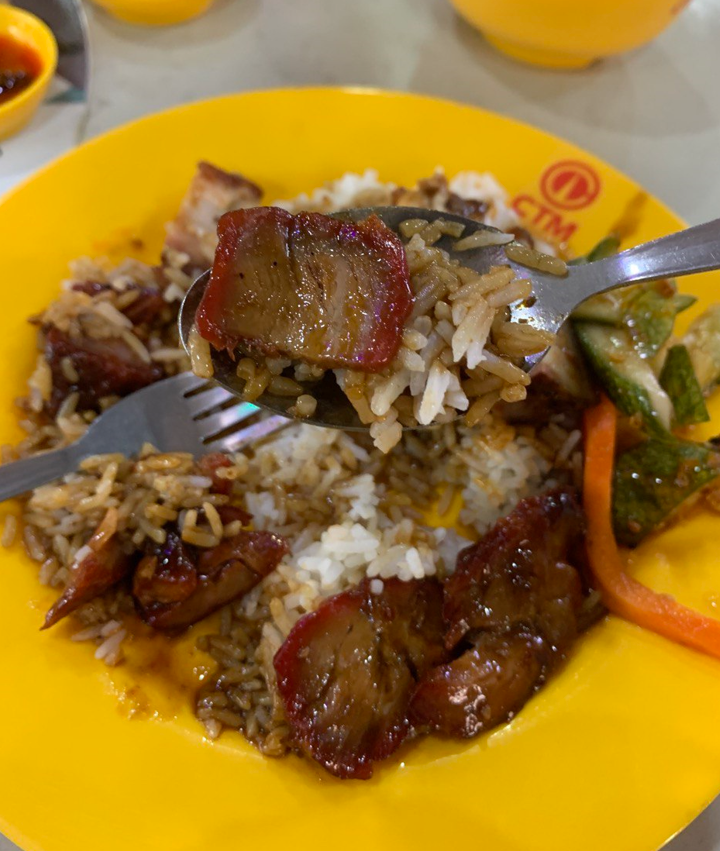 The roasted pork belly was also quite good; it had a nice crispy skin, juicy layer of fat and tender meat. It wasn't the crispiest pork belly we've had but still pretty good nonetheless.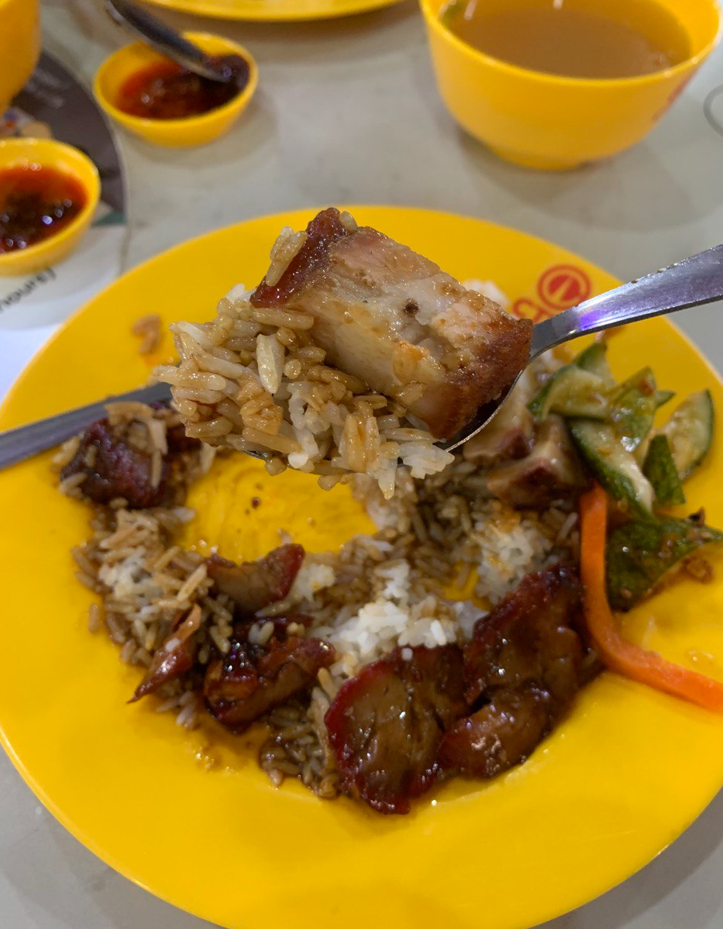 I think the key thing about this was definitely the sauce! Aside from the meat that was my second favourite thing about this dish. It was flavourful without being overpowering and complemented the meat and rice really well. Typically roast pork rice doesn't come with much sauce if any, so this was definitely unique.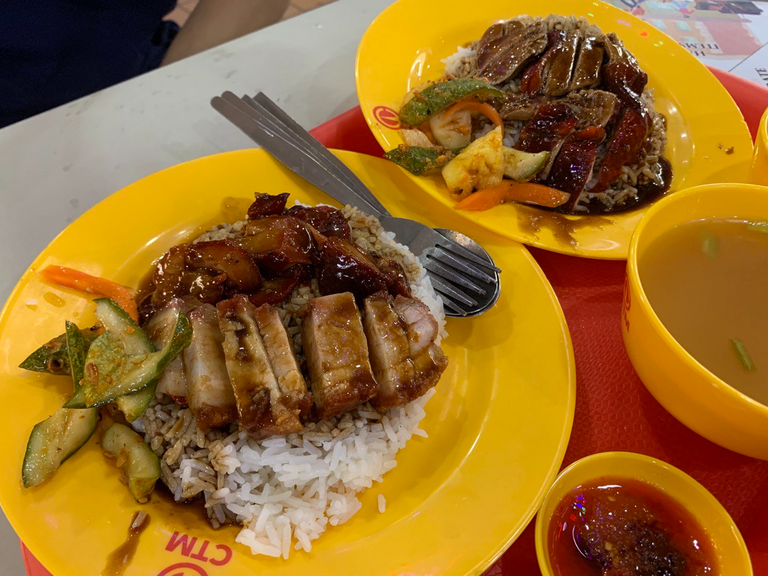 The chili sauce was also really good! As we thought from looking at it, it was spicy and salty but not overly so. Of course I only put a little bit so it wouldn't be too spicy and overpower anything else but it did give a nice kick of spice. I'm normally not a big fan of acar but I did eat it all for the sake of having veggies and it was pretty okay too.
All in all, I'd say this quickly became one of our favourite roasted meat stalls! It's pretty affordable for how much meat there was and it was really tasty! I'd definitely recommend visiting Ho Bee Roasted Food!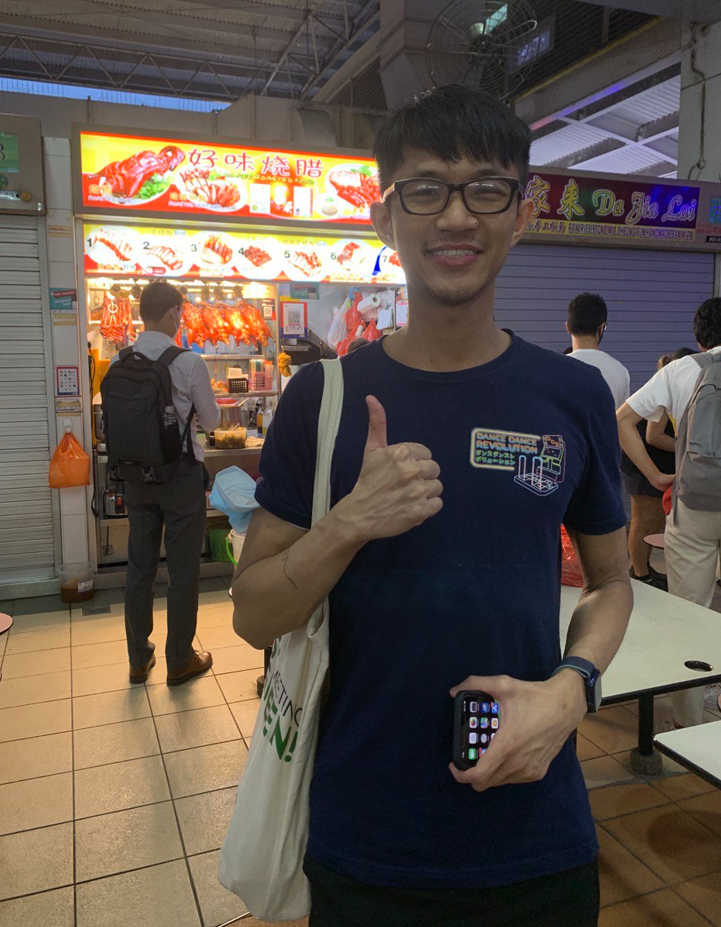 For a quick dessert we went to the stall on the opposite side of the aisle and got kueh tutu, which is a Malay steamed rice flour cake with filling.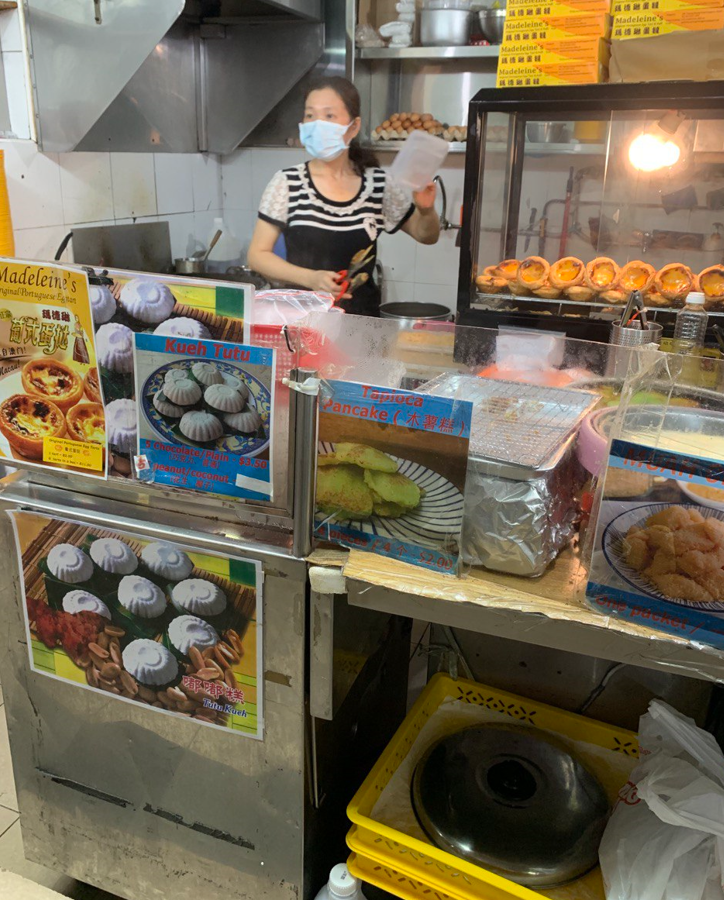 It has a unique mould that looks like a flower and is served on a piece on pandan leaf.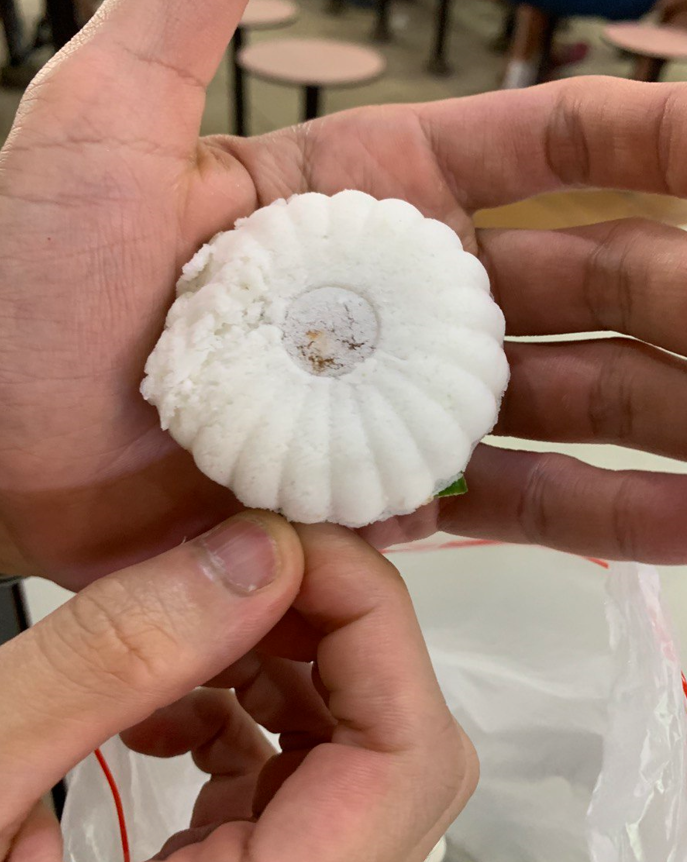 The lady was selling 5 pieces for $3.50, and there were 3 different fillings so we mixed them. This was the peanut filling, which was pretty good and average.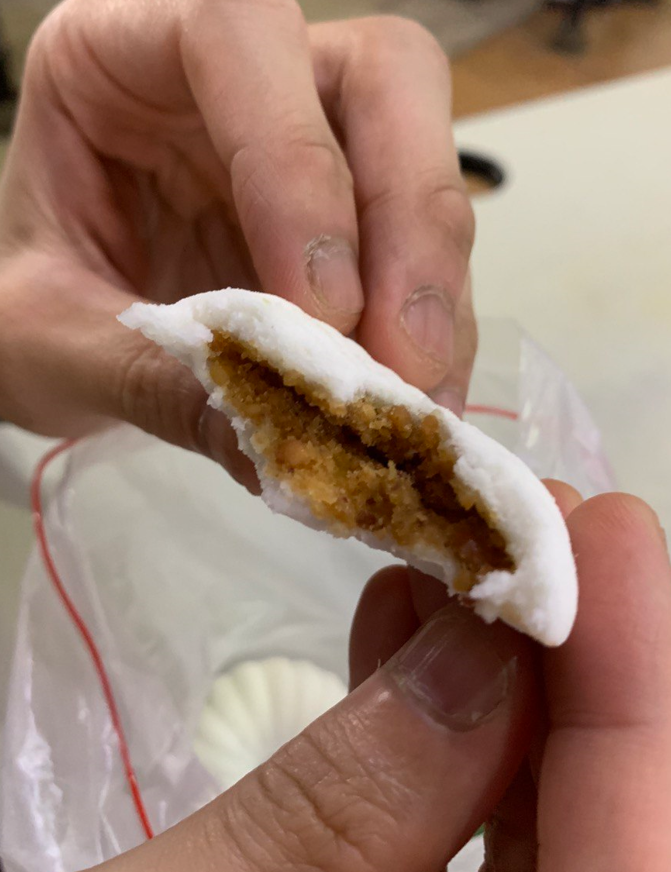 This was the coconut filling which I thought was a little dry.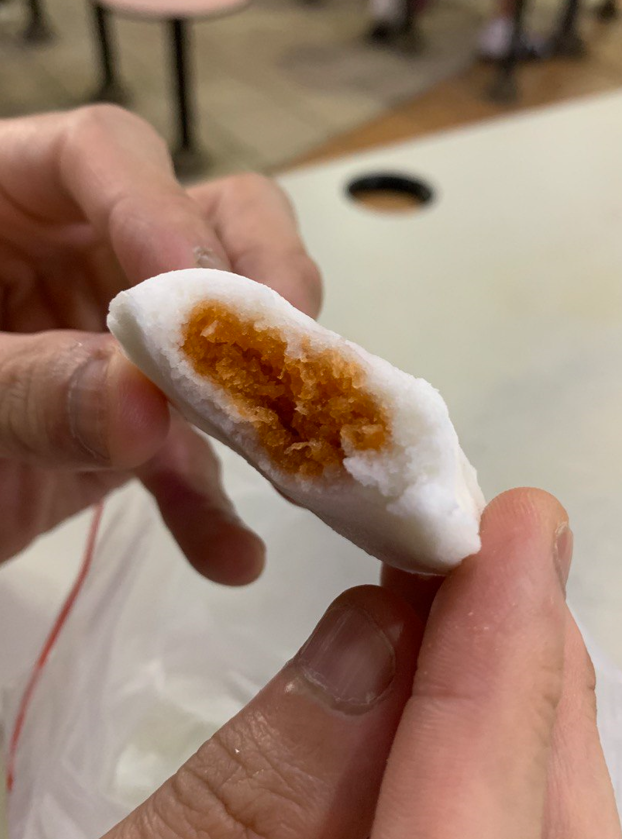 And this was the chocolate filling, which I've never tried before but surprisingly it works! The chocolate is liquidy which contrasts with the relatively dry and plain rice flour cake and it was hot and melty inside!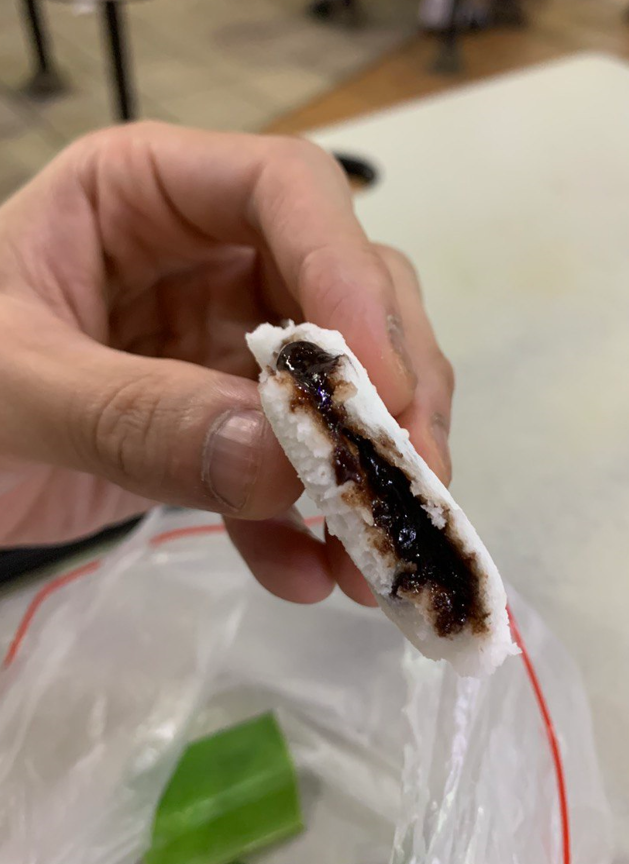 To top off the meal we bought my favourite drink - soy milk with grass jelly, and it came with this very cute topper!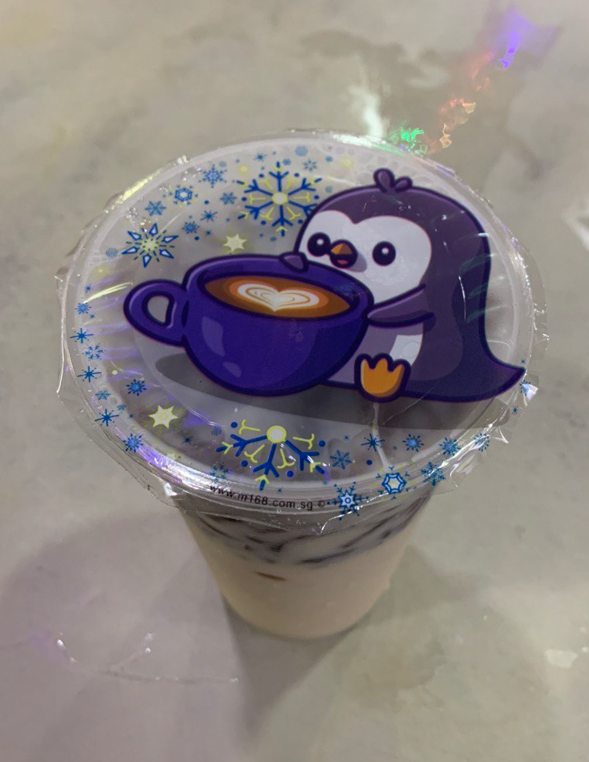 Overall, a nice end to a delicious meal! We'll definitely go back for more!
Thanks so much for reading!

To find out more about me, check out my intro post here!
---
[//]:# (!pinmapple 1.38097 lat 103.84063 long d3scr)
Check out my previous post in this series!
TacoCat's TrEats #150: The Tastiest Charcoal Fried Noodles! 😋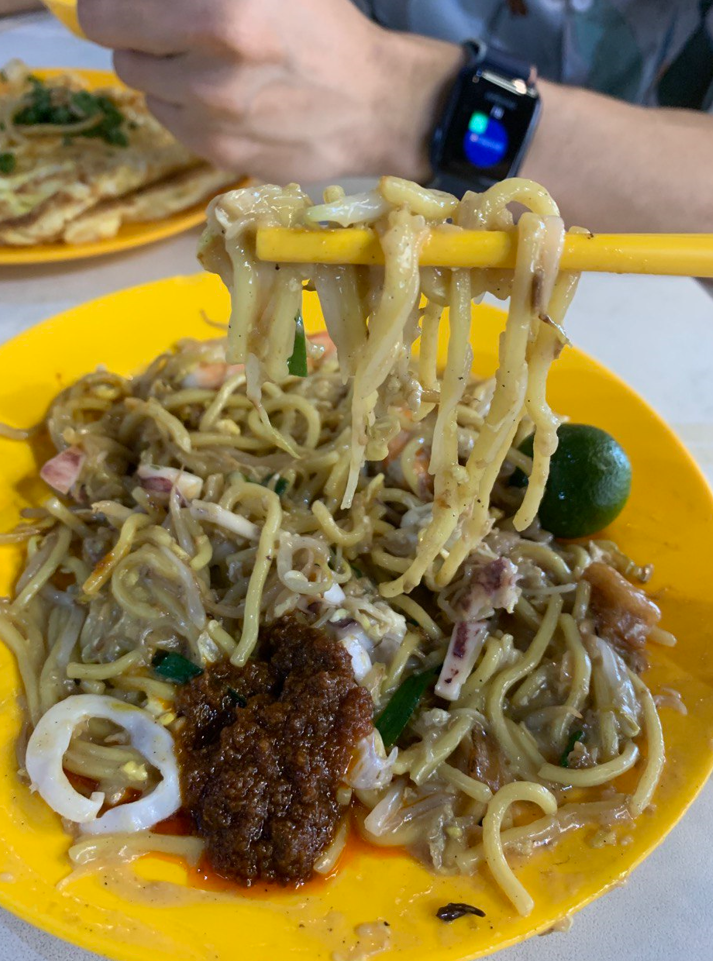 ---
Posted via foodiesunite.net