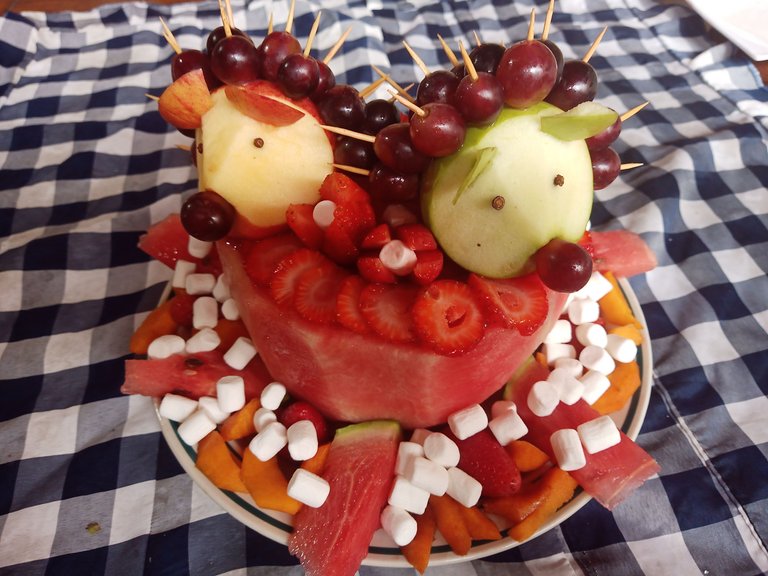 ---

---
¿Cómo hacer un divertido postre de frutas?. Una presentación diferente de un plato marca la diferencia, hagamos especiales los momentos con un poco de creatividad para sorprender a los invitados. Utilicé patilla,fresa, durazno, manzana verde, manzana roja y uvas e hice un "Erizo" en frutas. Espero les guste esta nueva idea y lo disfruten estimados amigos de #FoodiesBeeHive.
How to make a fun fruit dessert? A different presentation of a dish makes a difference, let's make the moments special with a little creativity to surprise the guests. I used watermelon, strawberry, peach, green apple, red apple and grapes and made a "Hedgehog" out of fruit. I hope you like this new idea and enjoy it dear friends of #FoodiesBeeHive.
---
🍴¡GRACIAS POR SEGUIR MIS RECETAS! / THANK YOU FOR FOLLOWING MY RECIPES!🍴
---

---
Ingredientes / Ingredients: 🍇
---
- 1 sandia, 1 manzana verde, 1 manzana roja, 3 duraznos, 1 taza de fresas, 1 taza de malvaviscos, 1 taza de uvas, palillos de madera.
- 1 watermelon, 1 green apple, 1 red apple, 3 peaches, 1 cup of strawberries, 1 cup of marshmallows, 1 cup of grapes, wooden chopsticks.
---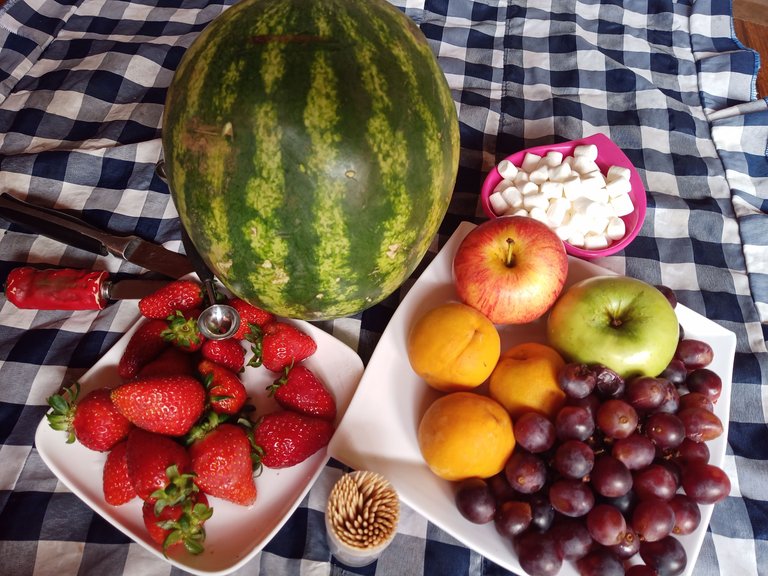 ---

---
Preparación / Preparation: 🔪
---
- Hacer un corte plano a la sandia para que sostenga en el plato.
- Make a flat cut to the watermelon for it to hold on the plate.
---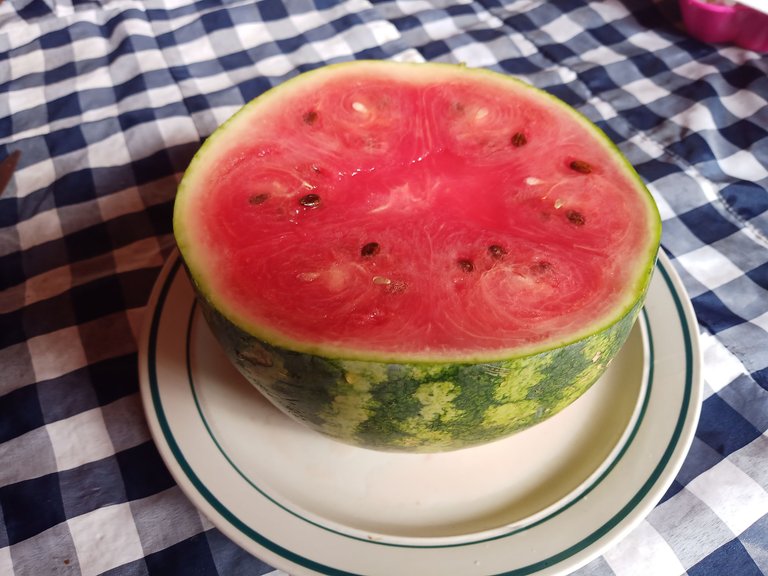 ---
- Hacer otro corte plano en la en parte superior.
- Make another flat cut on the top.
---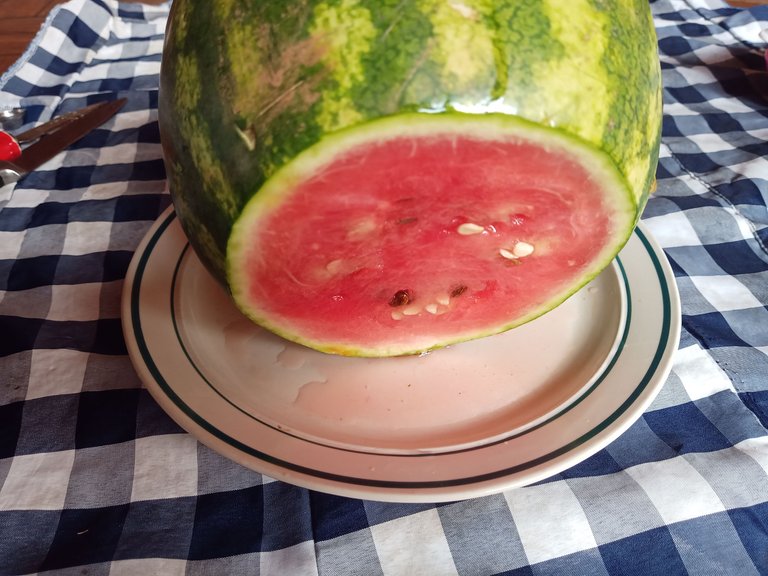 ---
- Retirar la concha verde del alrededor.
- Remove the surrounding green shell.
---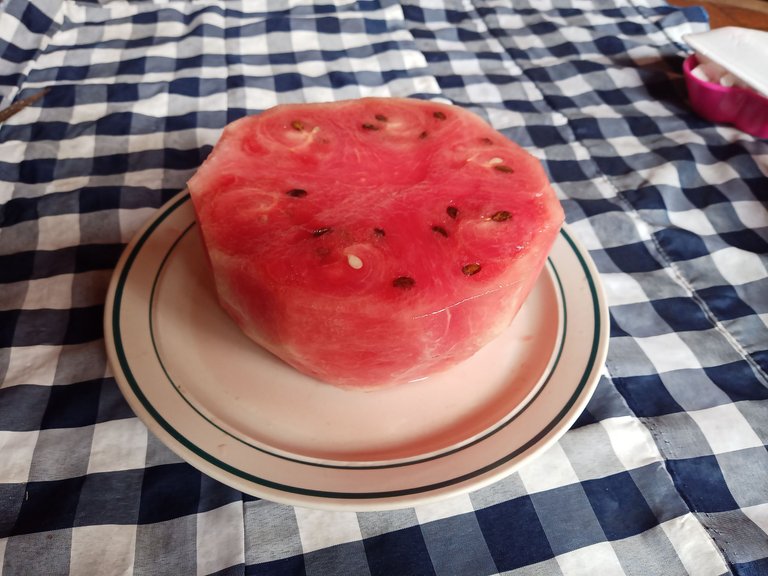 ---
- Pelar los duraznos y cortar en tajadas.
- Peel the peaches and cut into slices.
---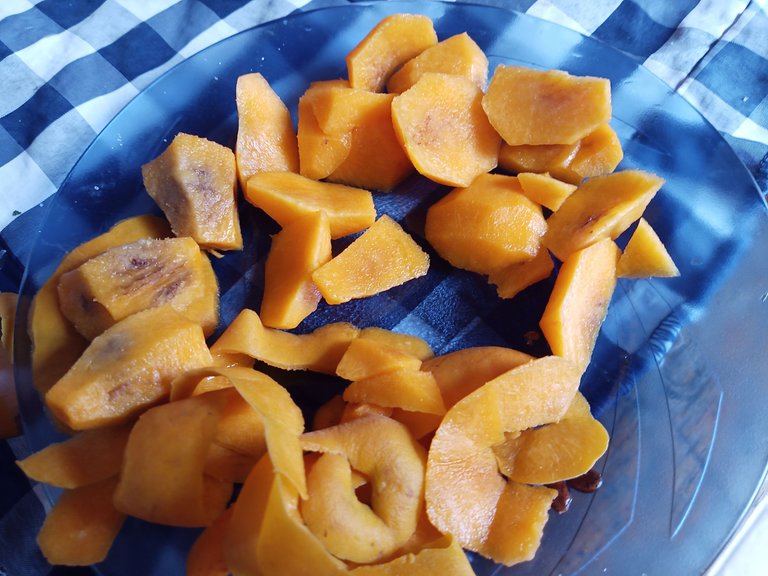 ---
- Colocar alrededor del plato trocitos de patilla, fresas y tajadas de duraznos.
- Arrange small pieces of watermelon, strawberries and peach slices around the plate.
---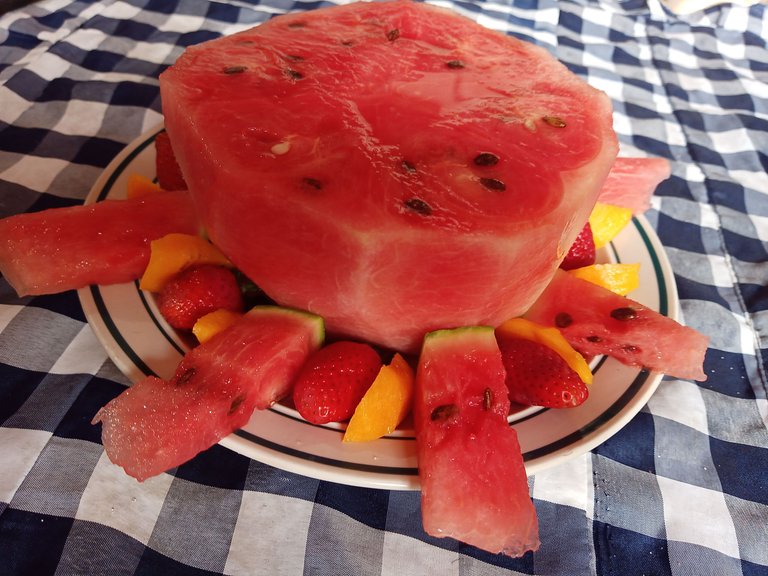 ---
- Cortar el resto de las fresas en rodajas.
- Cut the rest of the strawberries into slices.
---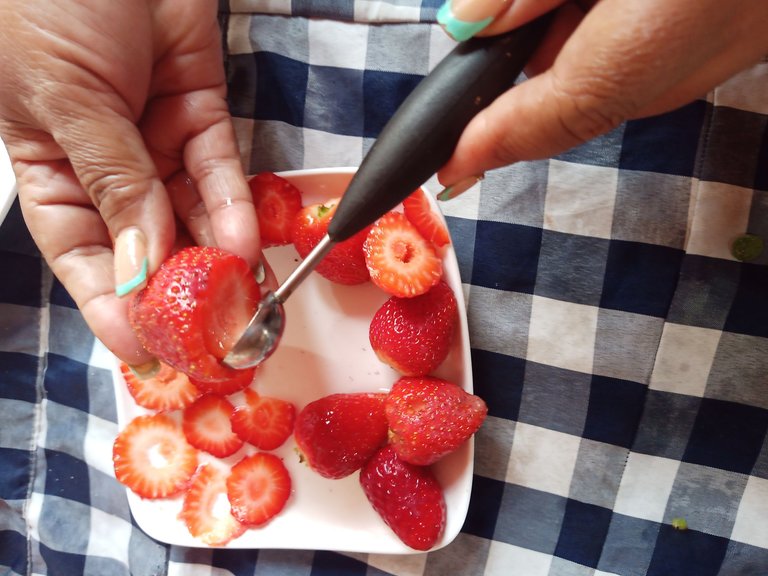 ---
- Hacer un corte plano a las manzanas y 3 cortes en la parte del tallo, de manera que quede más angosto.
- Make a flat cut to the apples and 3 cuts in the stem part, so that it is narrower.
---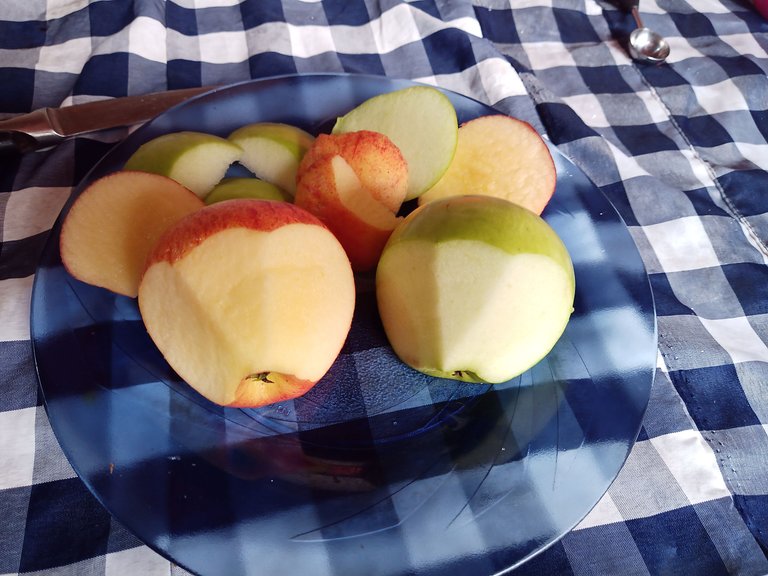 ---
- Para hacer la nariz pinchar la uva con el palillo, para los ojitos utilicé los mismos tallos de las uvas, para las orejas del sobrante de los cortes.
- To make the nose, prick the grape with the toothpick, for the eyes I used the same stems of the grapes, for the ears of the leftover cuts.
---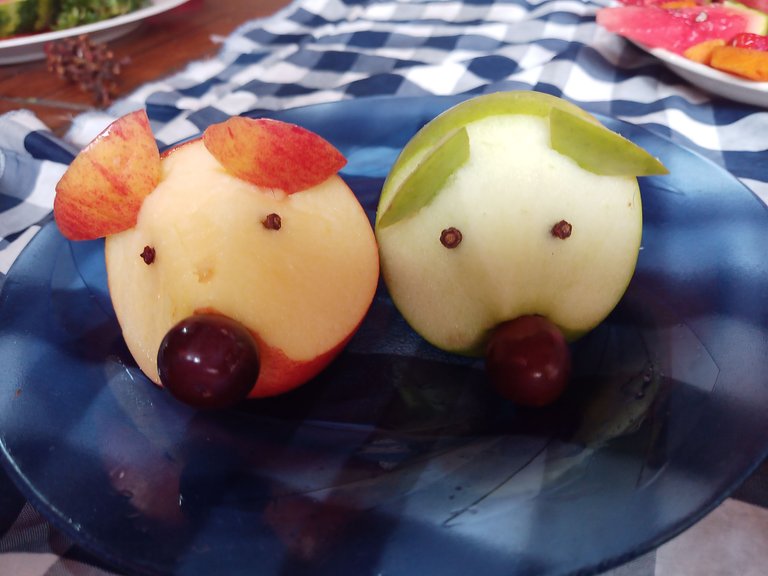 ---
- Pinchar las uvas en las manzanas con los palillos de madera.
- Prick the grapes into the apples with the wooden sticks.
---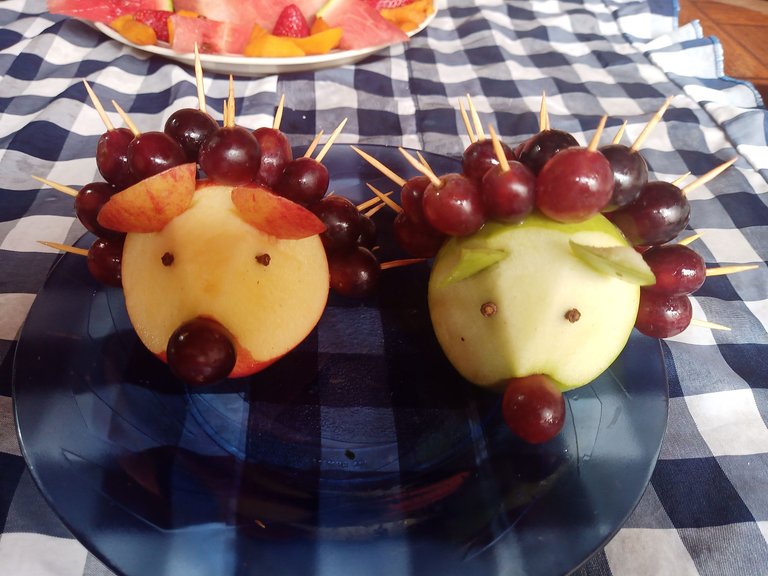 ---
- Colocar los erizos sobre la patilla.
- Place the hedgehogs on the pin.
---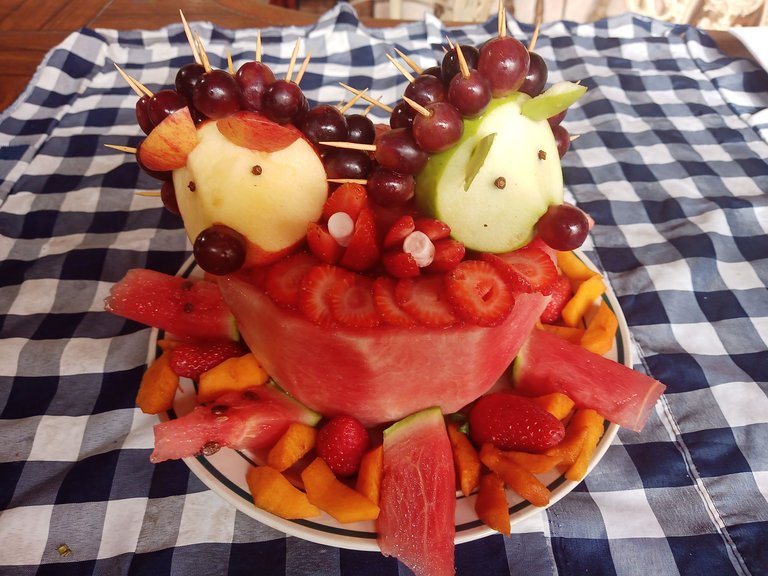 ---

---
¡ADORNAMOS CON LOS MALVAVISCOS Y A DISFRUTAR!
---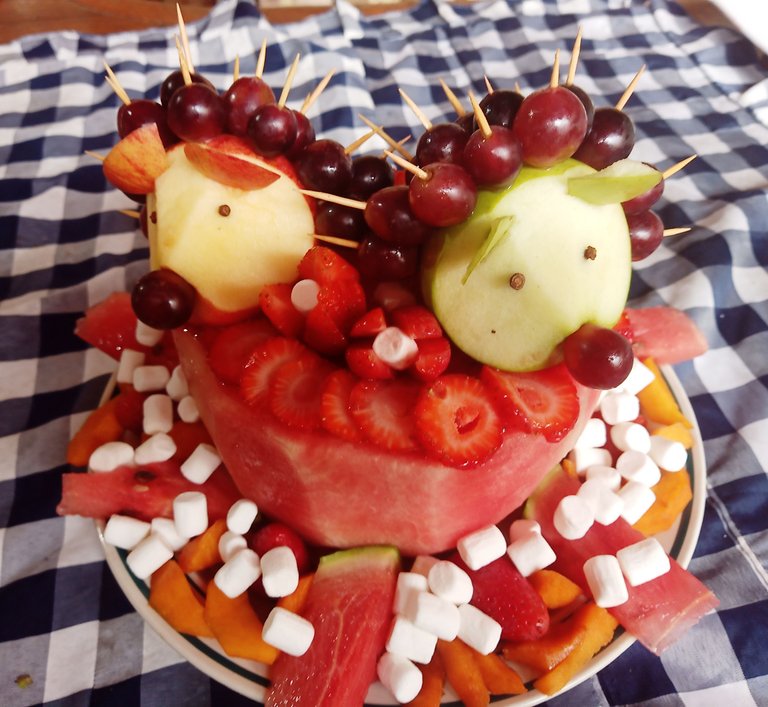 ---
DECORATE WITH THE MARSHMALLOWS AND ENJOY!
---

---
Otras de mis publicaciones/Other of my publications
---
---

---
Las fotos son de mi propiedad tomadas con mi celular Blu Smartphones G60
---
The photos are my property taken with my Blu G60 Smartphones cell phone
CONTENIDO 100% ORIGINAL
100% ORIGINAL CONTENT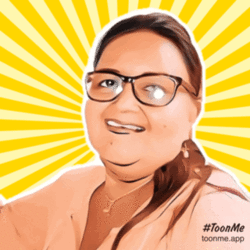 Los gif fueron creados por el programa ToonMe.app y EzGifMaker
The gifs were created by the ToonMe.app program and EzGifMaker