Deutsch °
English °

Deutsch
Am Sonntag fuhr ich von zu Hause ins ca. 250km entfernte Skigebiet Jungfrau Mürren - Schilthorn.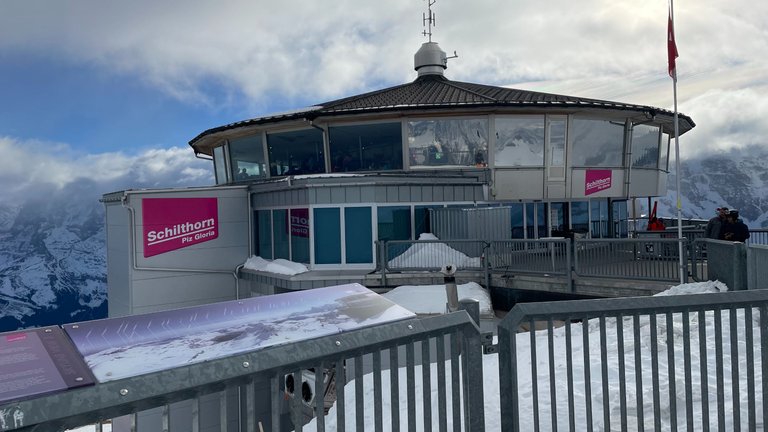 Um etwa 09:50 Uhr kam ich auf dem höchsten Punkt, der Aussichtsplattform auf dem Schilthorn auf etwa 2970m, an. Hier spielte übrigens der James Bond "Im Geheimdienst Ihrer Majestät".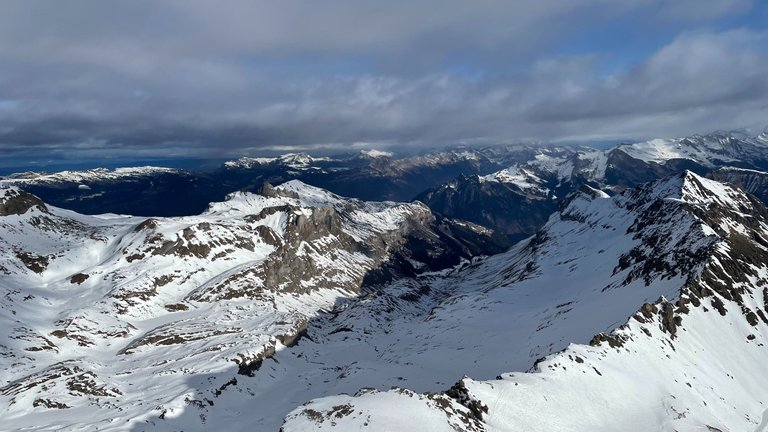 Die Aussicht war trotz des noch recht bewölktem Himmel klasse 🙂.

Dann war es aber Zeit für die erste Abfahrt. Von hier oben hat man keine Wahl zwischen blauen, roten oder schwarzen Pisten. Es gibt genau eine Abfahrt, die ist schwarz und mit 75% Gefälle nicht gerade flach 😅.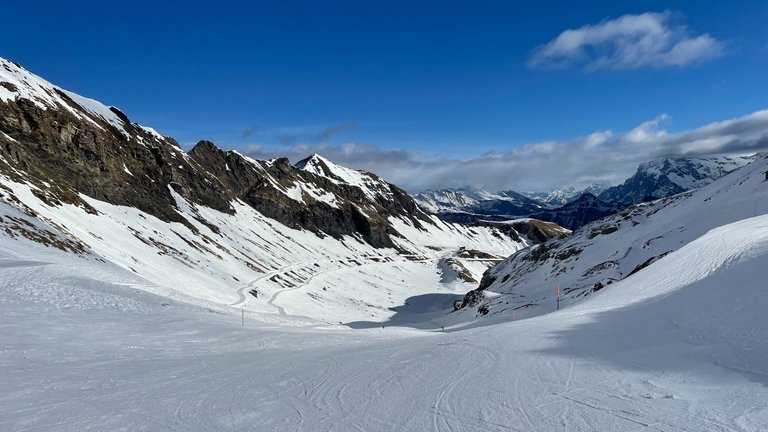 Im späteren Verlauf wird die Piste blau und lädt - wenn es die Situation zulässt, sprich wenig Leute unterwegs sind - zum schnellen Carven ein 😀. Deshalb habe ich hier auch erst einmal einige Abfahrten gemacht.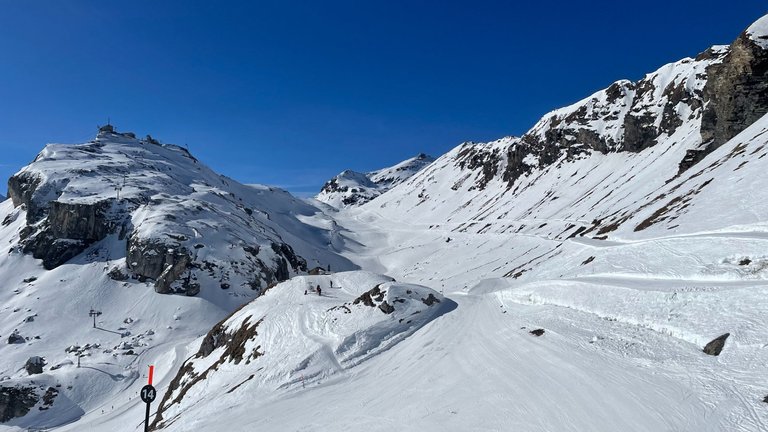 Mittlerweile war der Himmel strahlend blau und die Sonne lachte einem stetig ins Gesicht 😎 - Kaiserwetter halt, wenn ich unterwegs bin 😅.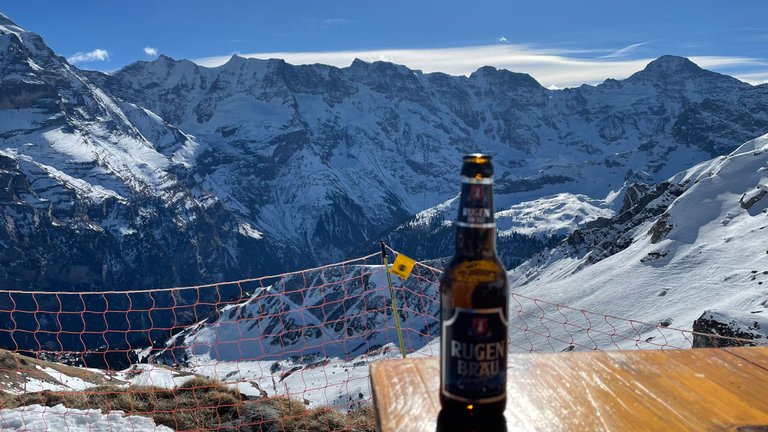 Ne kurze Pause und ein alkoholfreies Bier für läppische 5 Schweizer Franken darf natürlich nicht fehlen. Lecker war's...
Danach bin ich noch einige Abfahrten quer durchs ganze Skigebiet, habe natürlich auch noch lecker Mittag gegessen und zu guter Letzt habe ich mir auf der zweitletzten Abfahrt noch das Knie verdreht.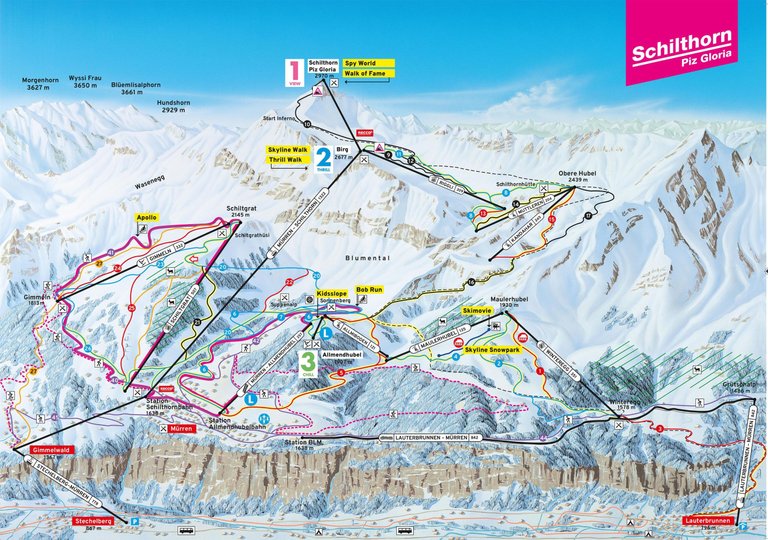 Quelle: https://www.bergfex.ch/muerren-schilthorn/panorama/
Der Unfall ereignete sich auf der Abfahrt vom Schiltgrat (links oben). Die Unfallstelle habe ich mit einem roten Pfeil markiert.
Beim verdrehen des Knies spürte ich auch ein plötzliches "knallen" im Knie. Manche wissen jetzt vielleicht schon, was das bedeutet. Da es nach solchen Verletzungen sehr wichtig ist, schnellstmöglich zu kühlen, legte ich mich erst einmal hin und machte Schnee auf das schmerzende Knie. In der Zeit fuhren sicherlich über 20 Skifahrer an mir durch. Ihr dürft gerne mal raten, wie viele sich davon nach meinem Zustand erkundigten. Unter allen richtigen Antworten verlose ich ein HSBI 😉.
Einige Minuten später fasste ich den Entschluss, nicht die Pistenrettung zu rufen, sondern bis zur Station Schilthornbahn runter zu fahren, d.h. ich musste die komplette 20 hinunter. Anfangs war noch sehr geringes Gefälle. Das konnte ich gemütlich carvend bewältigen, ohne das rechte Bein (Knie) zu belasten.
Später wurde das Gefälle aber wieder stärker und die Schneeverhältnisse waren sulzig, bucklig und teils vereist zugleich. Ab hier musste ich mich am rechten Pistenrand immer in kleinen Seitsteps zur Piste drehen und konnte dann auf dem linken Ski eine große Rechtskurve fahren, bis ich wieder am rechten Pistenrand war. Das wiederholte ich unzählige Male bis ganz unten... 🤣
Unten angekommen, musste ich dann nur noch stehend in der Gondel bis zum Parkplatz und von dort aus 250km nach Hause fahren 🙄.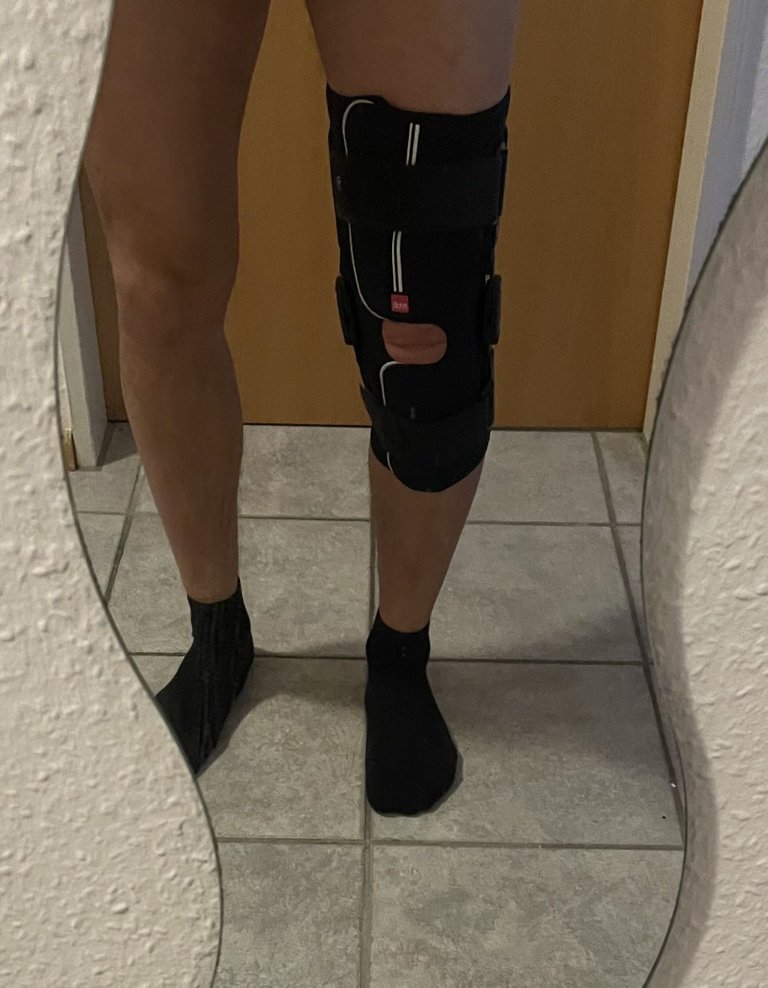 Seither laufe ich mit einer Orthese rum. Diagnose: zu 99% vorderes Kreuzband angerissen lt. Arzt. Zur Sicherheit habe ich aber am Donnerstag noch ein MRT. Dann sehen wir weiter...
Das ganze hielt mich übrigens nicht davon, gestern - direkt ein Tag nach dem Unfall - wieder zu trainieren. Ich wurde zwar öfters blöd angeschaut im Fitnessstudio, aber das war mir egal. Ist ja nur ein Körperteil, das defekt ist. Den Rest konnte ich trainieren 💪
---
Die Fotos wurden von mir mit meinem Iphone 12 gemacht.

---
---
English
On Sunday I drove from home to the Jungfrau Mürren - Schilthorn ski resort, about 250km away.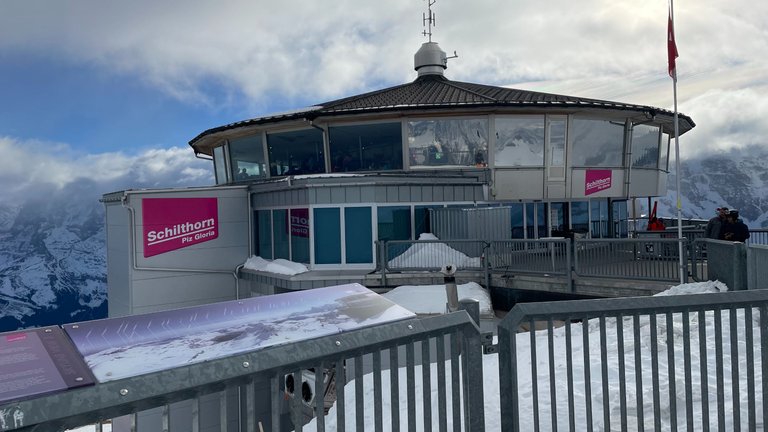 At about 09:50 I arrived at the highest point, the viewing platform on the Schilthorn at about 2970m. By the way, this is where the James Bond "On Her Majesty's Secret Service" played.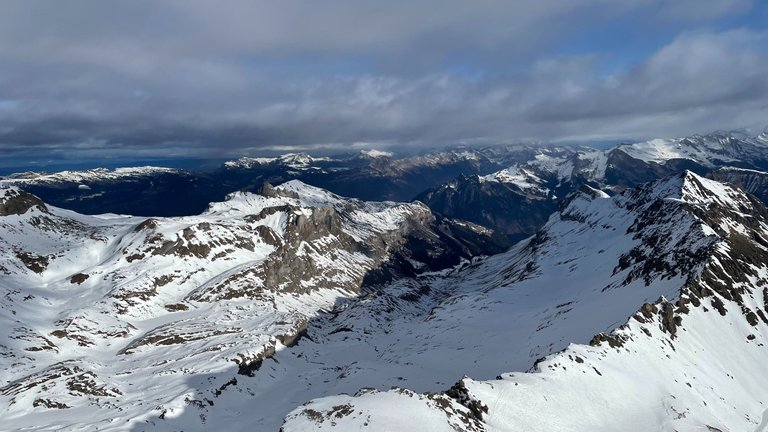 The view was great despite the still quite cloudy sky 🙂.

But then it was time for the first descent. From up here you have no choice between blue, red or black slopes. There is exactly one downhill run, which is black and not exactly flat with a 75% gradient 😅.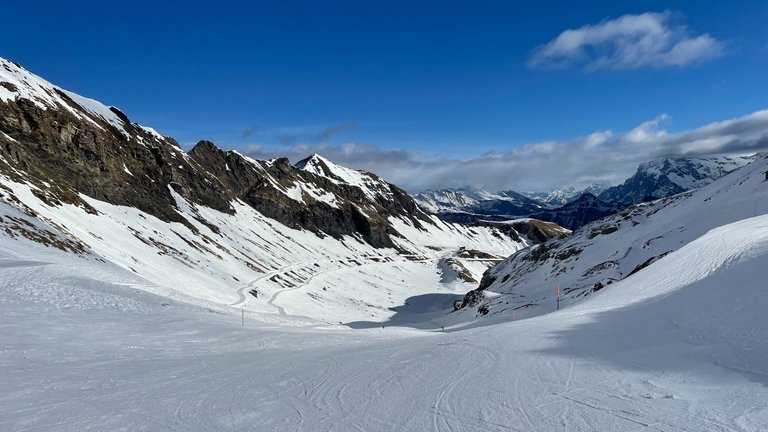 In the later course, the slope becomes blue and invites - if the situation allows, that is, few people are on the road - to fast carving 😀. That's why I also made a few downhill runs here first.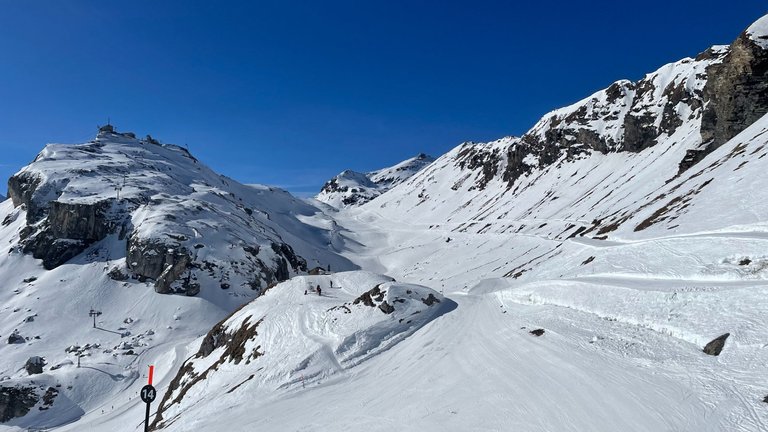 Meanwhile, the sky was bright blue and the sun laughed steadily in the face 😎 - Kaiserwetter halt, when I'm on the road 😅.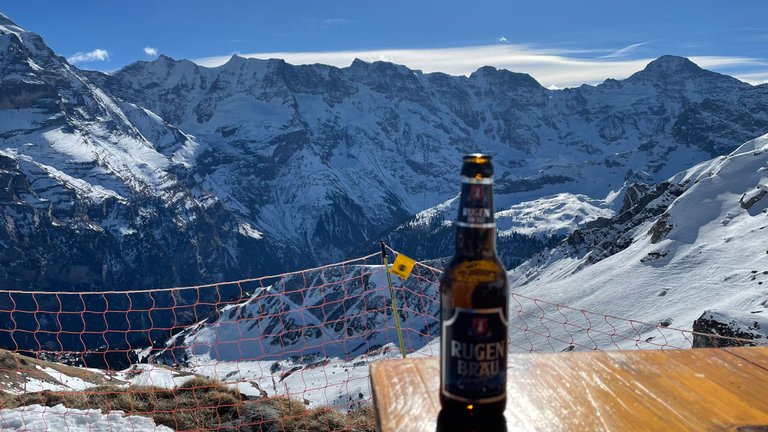 A short break and a non-alcoholic beer for a paltry 5 Swiss francs may not be missing, of course. It was delicious...
After that I'm still some descents across the whole ski area, have of course also tasty lunch and last but not least I twisted my knee on the second to last run.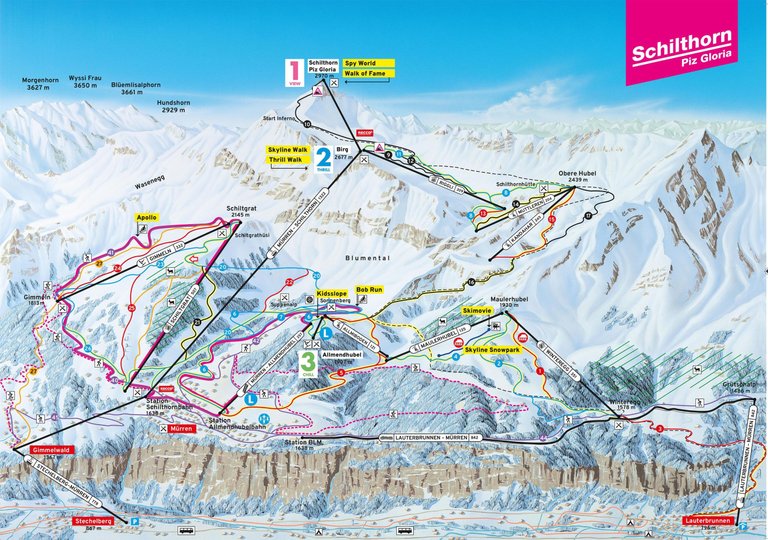 Source: https://www.bergfex.ch/muerren-schilthorn/panorama/
The accident happened on the descent from Schiltgrat (top left). I marked the place of the accident with a red arrow.
While twisting the knee, I also felt a sudden "pop" in the knee. Some may already know what this means. Since it is very important to cool down as quickly as possible after such injuries, I first lay down and made snow on the aching knee. In the time surely more than 20 skiers passed me. You are welcome to guess how many of them inquired about my condition. Among all the correct answers I raffle a HSBI 😉.
A few minutes later, I made the decision not to call the piste rescue, but to go down to the Schilthornbahn station, which means I had to go down the entire 20. At the beginning there was still very little gradient. I could manage that comfortably carving without straining the right leg (knee).
Later, however, the slope became steeper again and the snow conditions were slushy, humpy and partly icy at the same time. From here on, I always had to turn in small side steps to the slope at the right edge of the slope and then I could make a big right turn on the left ski until I was back at the right edge of the slope. I repeated this countless times all the way to the bottom.... 🤣
Arrived at the bottom, I had then only standing in the gondola to the parking lot and from there 250km home 🙄.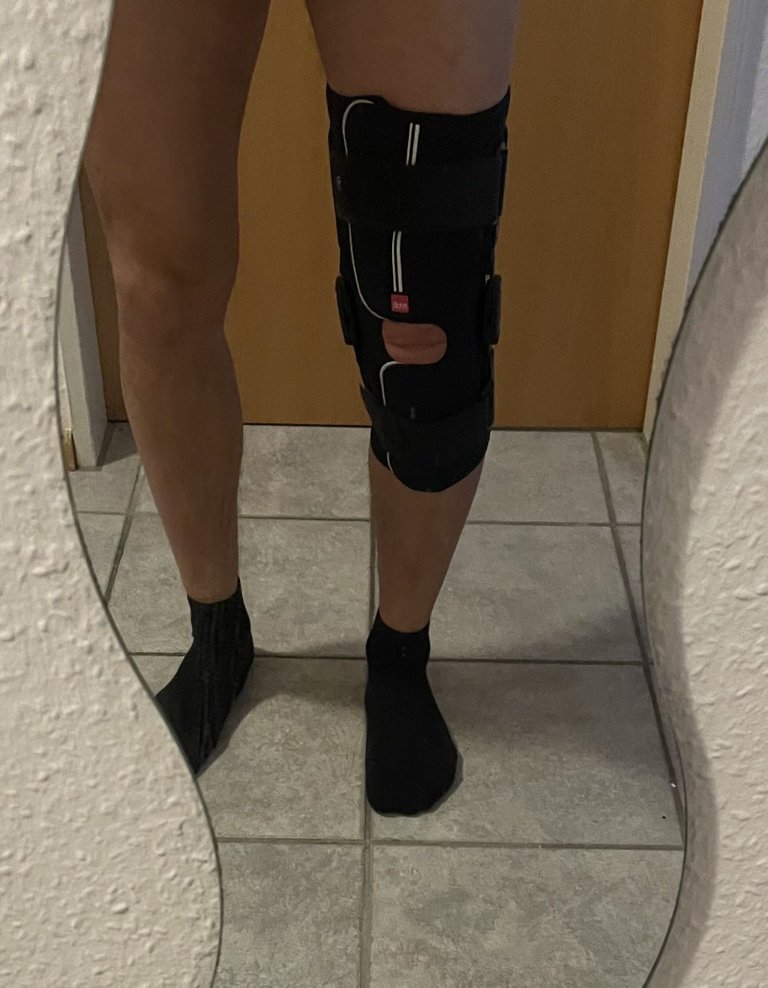 Since then, I've been walking around with an orthosis. Diagnosis: 99% torn anterior cruciate ligament according to the doctor. To be on the safe side, I will have an MRI on Thursday. Then we see further...
By the way, the whole thing didn't stop me from training again yesterday - directly one day after the accident. I got some stupid looks in the gym, but I didn't care. After all, it's only one body part that's defective. The rest I could train 💪
---
The photos were taken by me with my Iphone 12.
Mostly translated with DeepL Translator (free version)

---
---