Hallo liebe Hive Freunde Hello dear Hive friends :))
Heute zeige ich euch, wie ich ein Wasserkefirgetränk zubereite. Today I show you how I prepare a water kefir drink.
Das ist der Wasser Kefirpilz. This is the water kefir mushroom.
Achtung !! Er darf nicht mit Metall in Berührung kommen, das mag er nicht. Darum verwende ich ein Plastiksieb und einen Plastiklöffel.
Attention !!! It must not come into contact with metal, it doesn't like that. That's why I use a plastic sieve and a plastic spoon.
Ich tue im Messbecher 1 Liter Wasser abmessen und gebe ein bisschen Wasser in ein Glas, wo ca. 1 Liter Wasser reingeht und tue 50 g Zucker rein und schüttle es. Dann gebe ich das restliche Wasser rein.
I measure out 1 litre of water in a measuring cup and put a little water in a glass, where about 1 litre of water goes in and put 50 g of sugar in and shake it. Then I put the rest of the water in.
Wenn du kein so großes Glas hast, dann kannst du auch zwei kleinere Gefäße nehmen und überall die Hälfte reintun.
If you don't have such a big jar, you can also take two smaller jars and put half in each.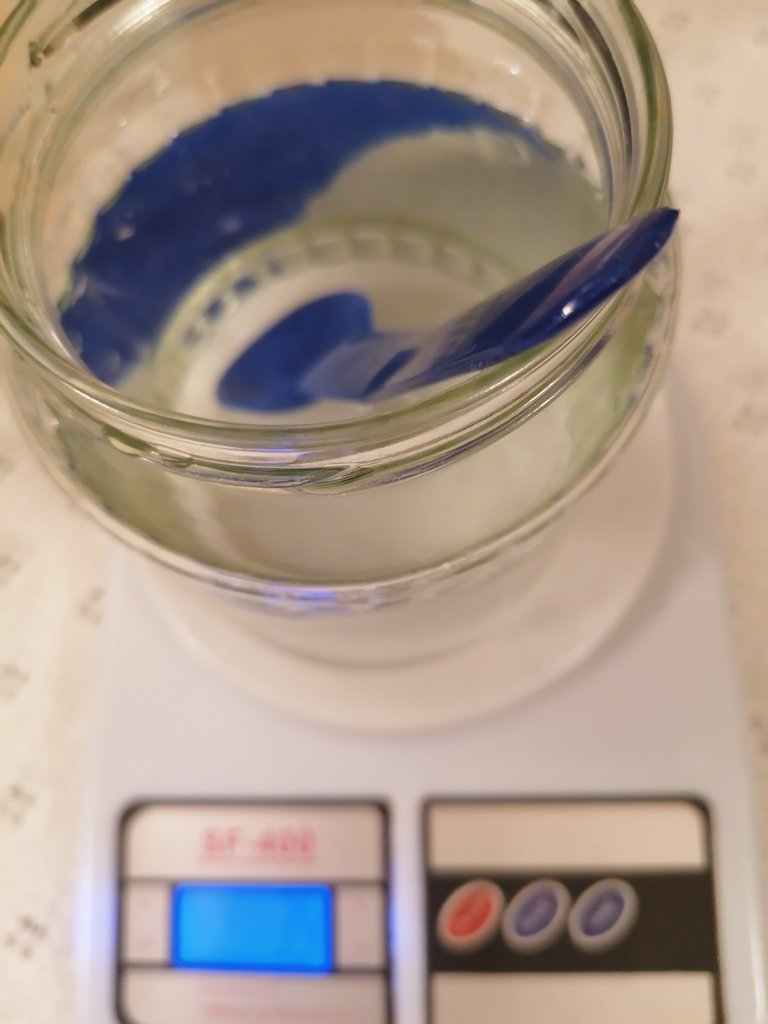 Dann spüle ich den Wasserkefir im Plastiksieb mit Wasser aus und gebe ihn in das Zuckerwasser. Then I rinse the water kefir in the plastic sieve with water and add it to the sugar water.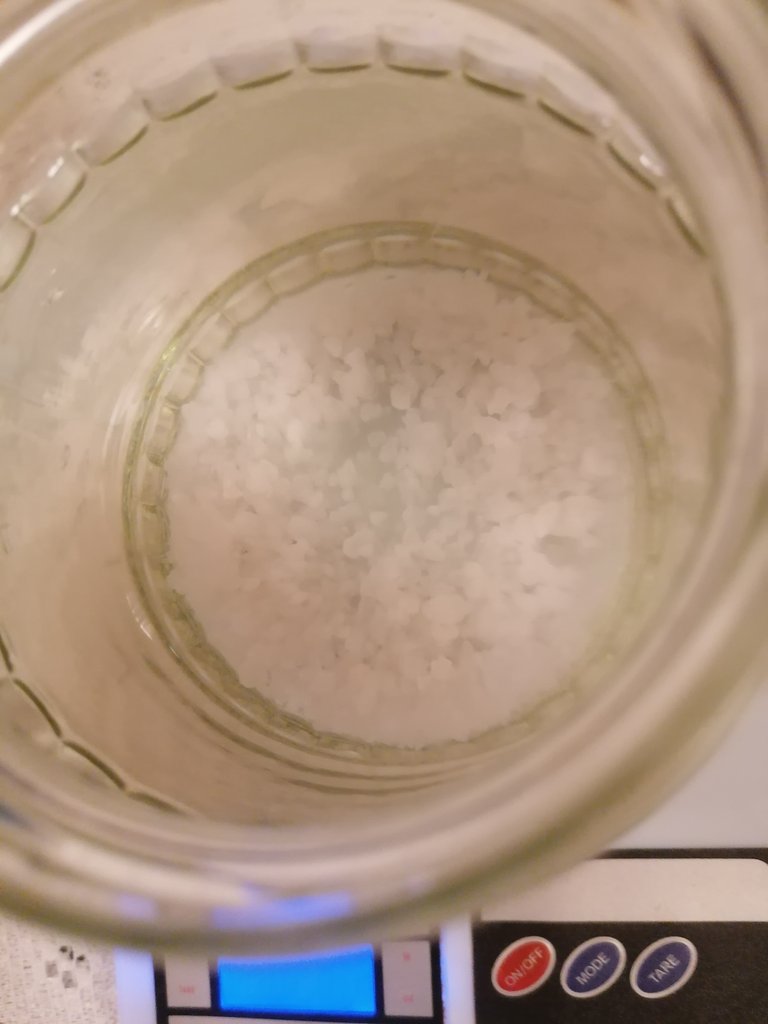 Dann wasche ich Trockenfrüchte mit Wasser, hier nehme ich ca. 10 Aroniabeeren und gebe diese in das Glas, wo Zuckerwasser und Wasserkefirpilz drin ist.
Then I wash dried fruits with water, here I take about 10 aronia berries and put them in the jar where sugar water and water kefir mushroom is in it.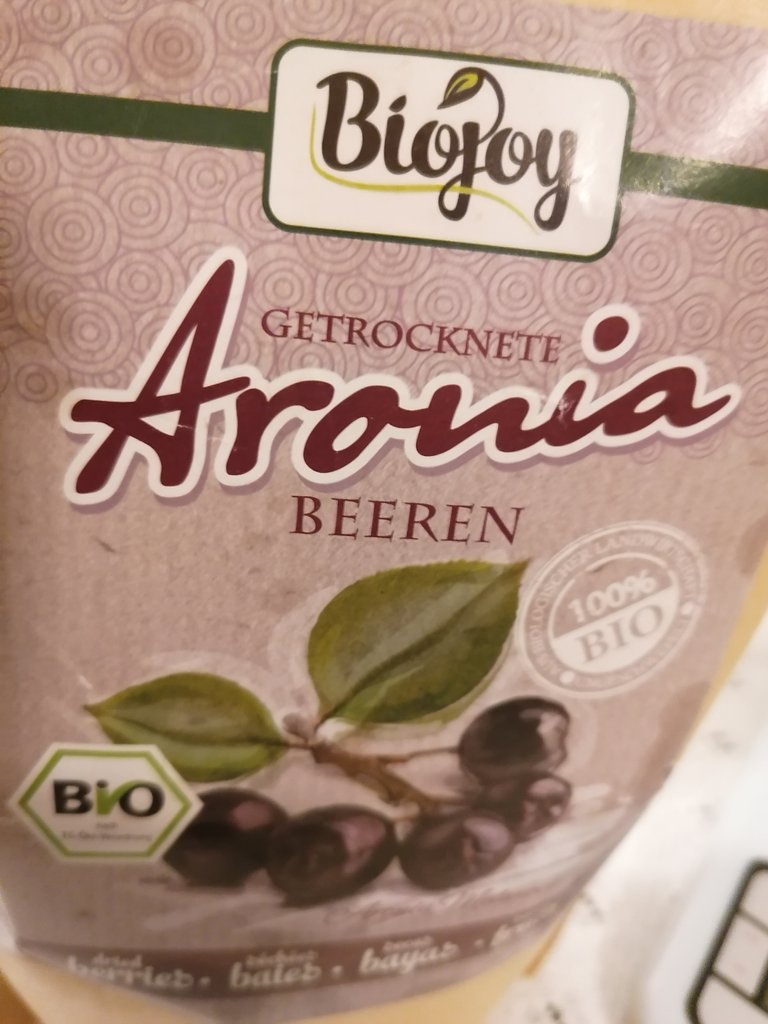 Als nächstes tue ich eine halbe Biozitrone in kleine Stückchen dazu und quetsche sie ein bisschen.
Next, I add half an organic lemon in small pieces and squeeze it a little.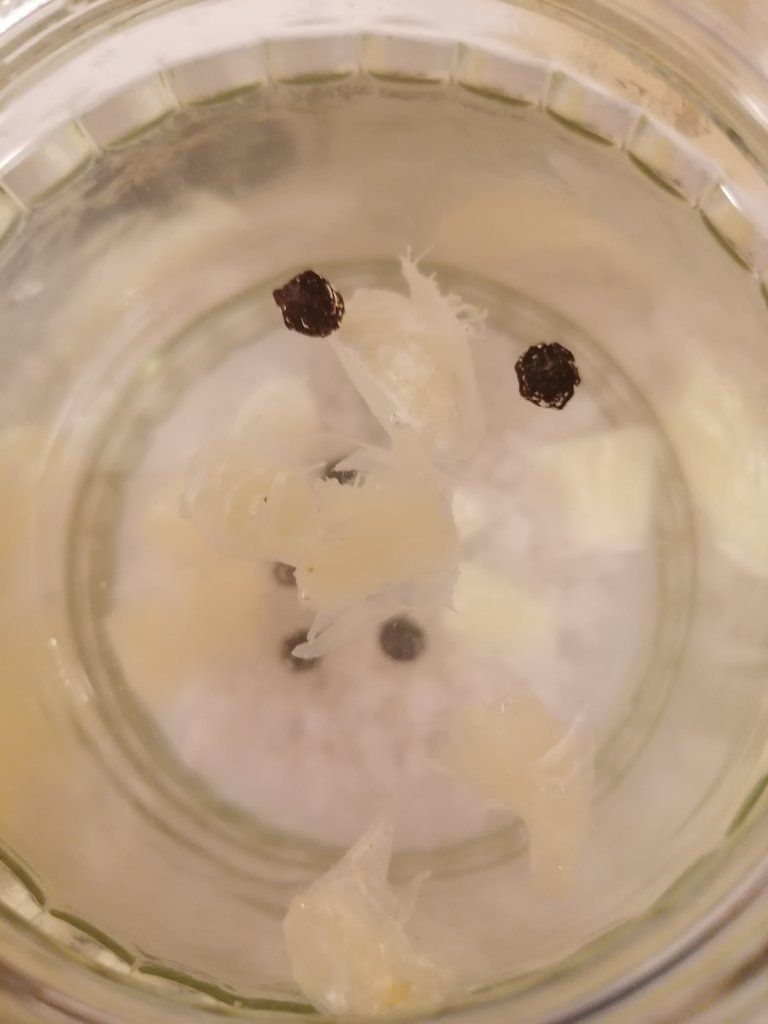 Dann tue ich Küchenpapier darüber und tue einen Gummi darüberstülpen. Den Gummi sammle ich immer, wenn ich Radieschen kaufe, diese werden immer mit Gummis zusammengehalten.
Then I put kitchen paper over it and put a rubber band over it. I always collect the rubber when I buy radishes, they are always held together with rubber.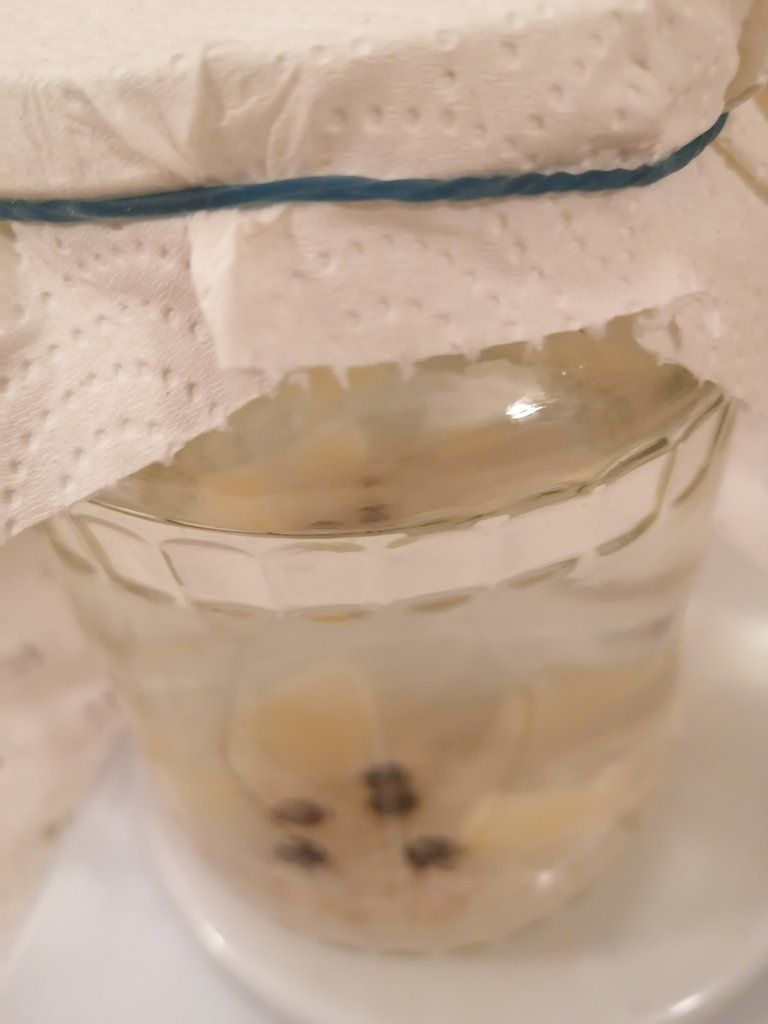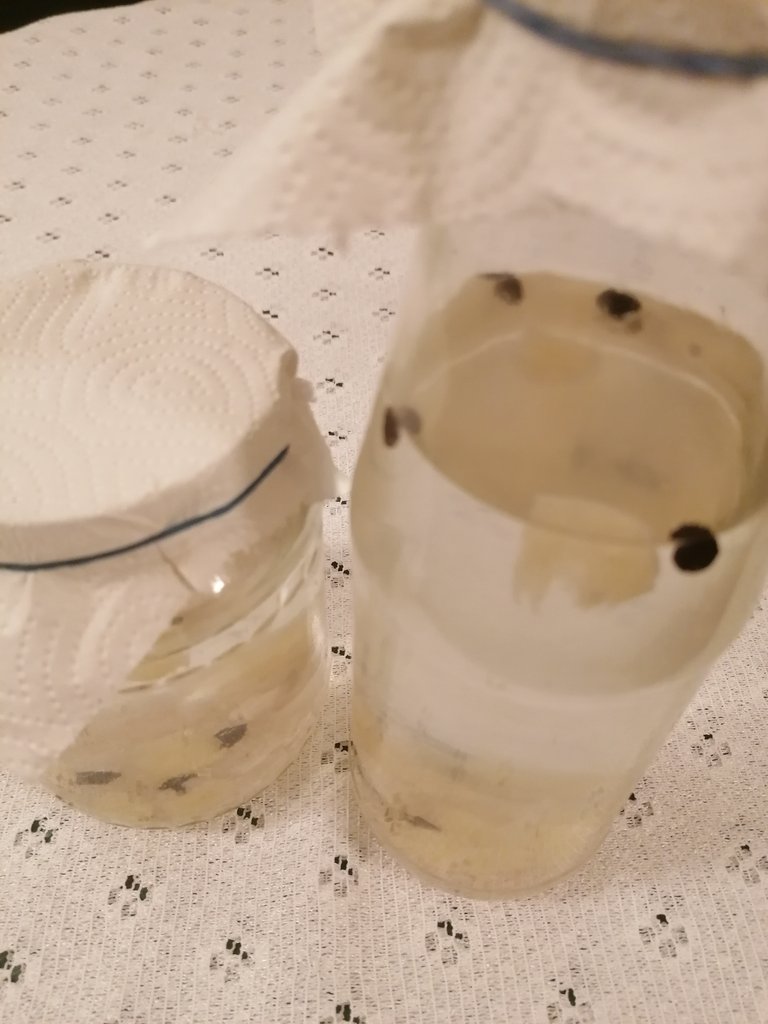 Dann lasse ich das Wasserkefirgetränk 2 Tage lang einfach an einem bisschen lichtgeschützten Platz stehen. Then I just leave the water kefir drink in a bit of a light-protected place for 2 days.
Dann siebe ich erstmal das Wasser Kefirgetränk mithilfe eines Plastiksiebs solange in ein oder zwei frische Gläser, bis man Aroniabeeren und Zitronestückchen im Sieb sieht, nicht zu viel, weil sonst der Wasserkefir, der am Boden schwimmt, mit raus geht und es schwer wird, diesen von den Früchten zu trennen.
Then I strain the water kefir drink with a plastic sieve into one or two fresh glasses until you can see aronia berries and lemon pieces in the sieve, not too much, because otherwise the water kefir that floats at the bottom will go out with it and it will be difficult to separate it from the fruit.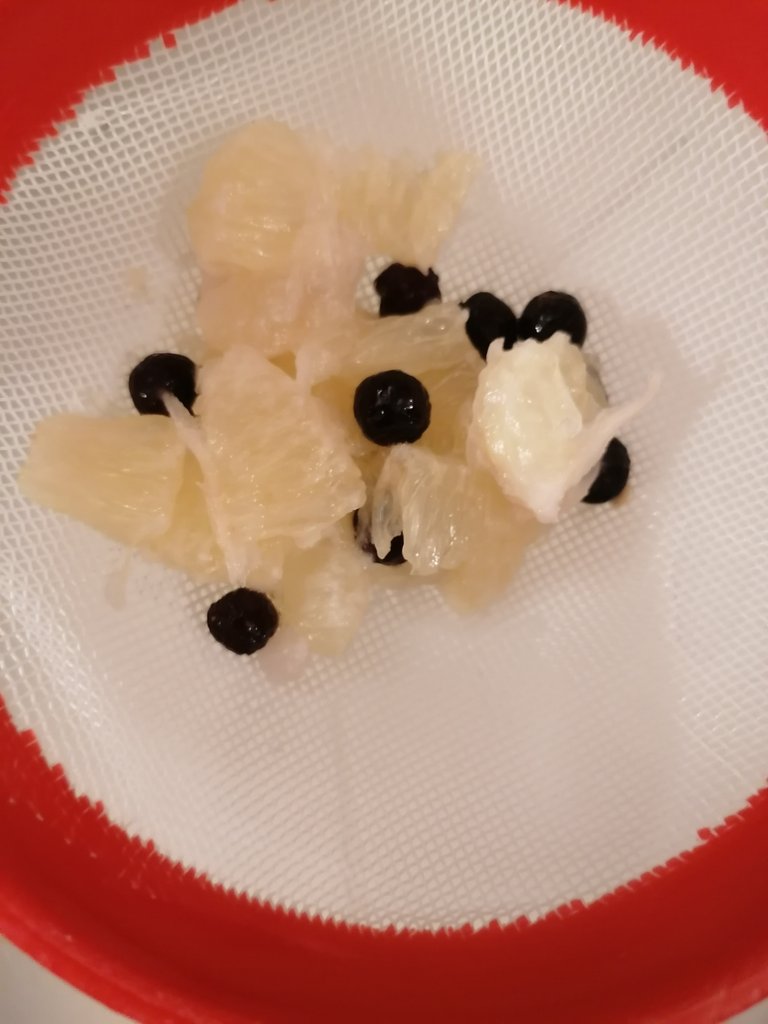 Dann tue ich die Früchte in ein Schüsselchen und tue das morgen in den Smoothie mit rein.
Then I put the fruit in a bowl and add it to the smoothie tomorrow.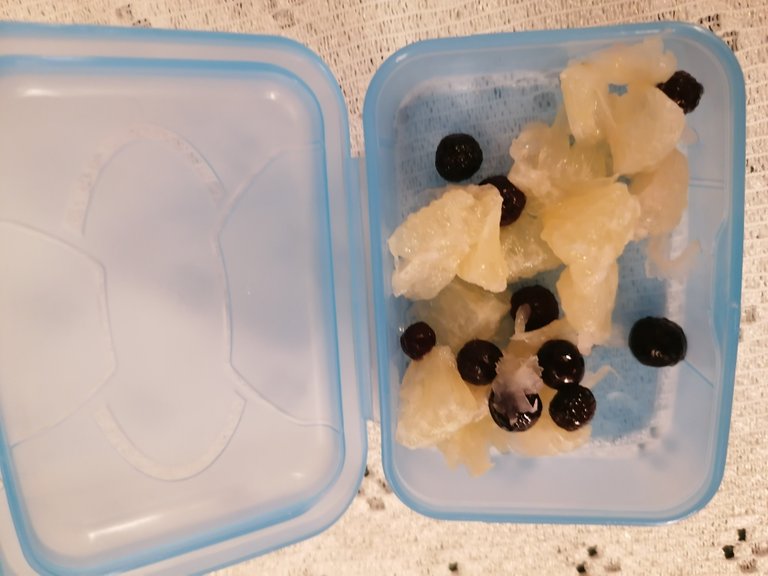 Als nächstes schütte ich das restliche Wasser mit Wasserkefirpilz mithilfe des Plastiksiebs in das oder die Gläser.
Next, I pour the remaining water with water kefir mushroom into the jar(s) using the plastic strainer.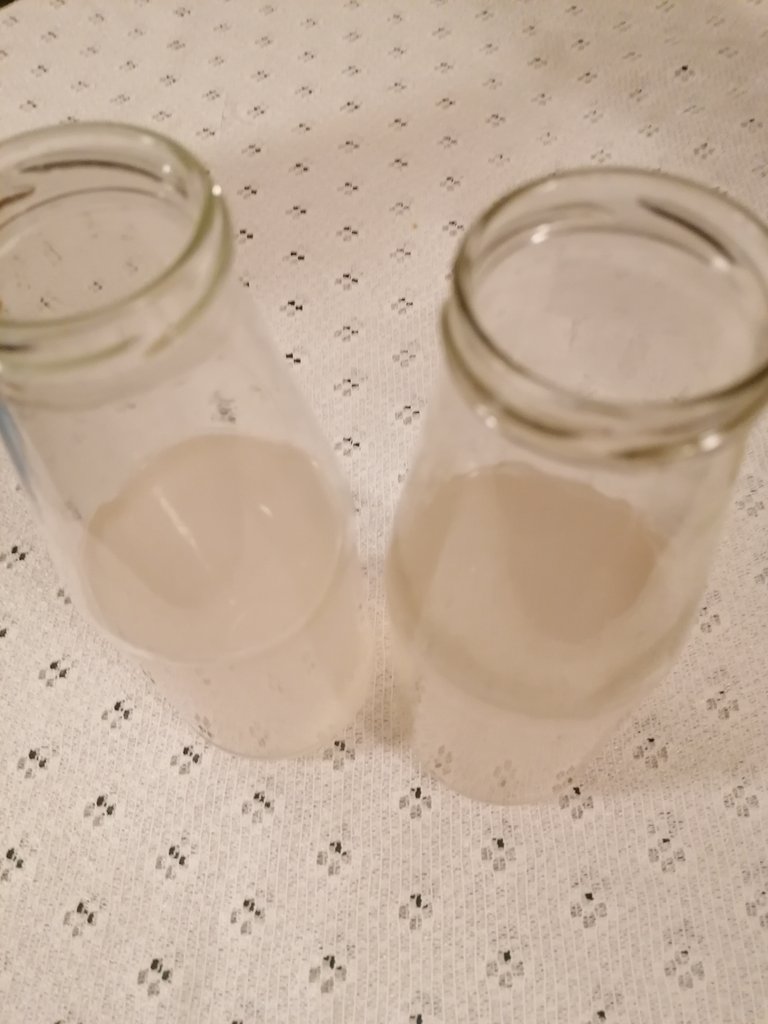 Und da ist wieder der Wasser Kefirpilz, der wieder mit frischen Wasser, Zucker, Zitrone und z. B. Aroniabeeren aufgesetzt werden kann, siehe oben.
And there is the water kefir mushroom again, which can be made up with fresh water, sugar, lemon and, for example, aronia berries, see above.
Das war die 1. Fermentation.
Das abgeschüttete Wasser Kefirgetränk kann man noch mit Früchte ansetzen, ich habe schon viele Früchte ausprobiert, Kirschen, Erdbeeren, Weintrauben, Wassermelone, Orange und Banane, da hat mir Erdbeere am besten geschmeckt.
The kefir drink can be made with fruit, I have tried many fruits, cherries, strawberries, grapes, watermelon, orange and banana, I liked strawberry best.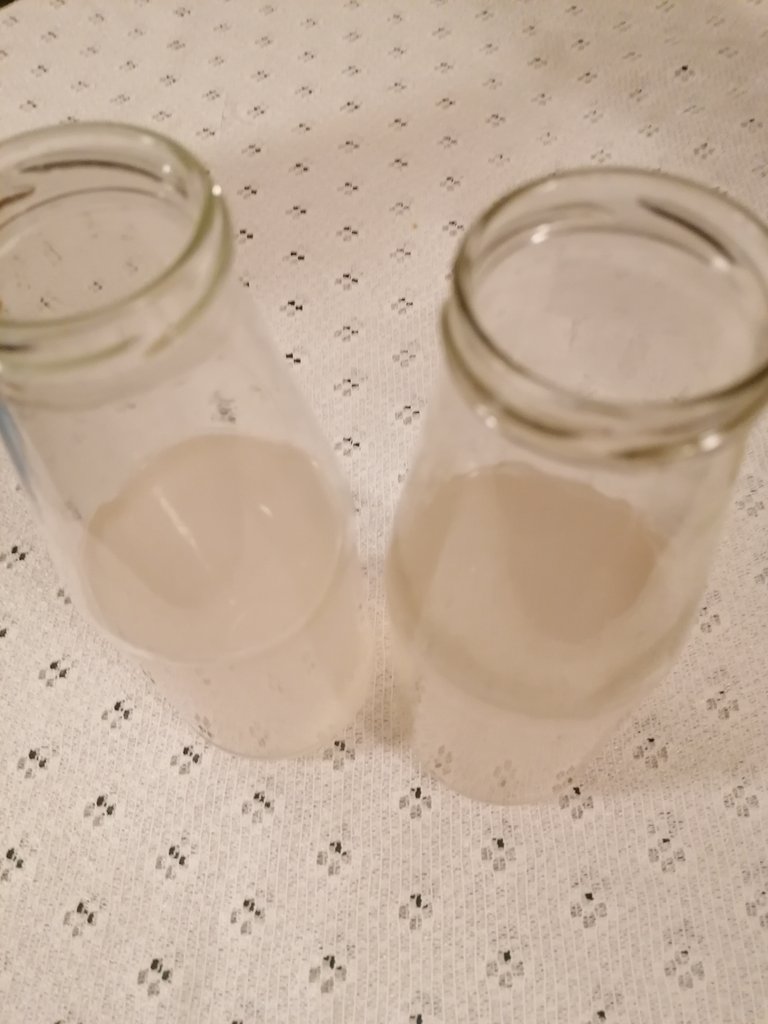 Hier habe ich Erdbeeren reingetan, die tut man 2 Tage lang stehen lassen.
I put strawberries in here, and you leave them for 2 days.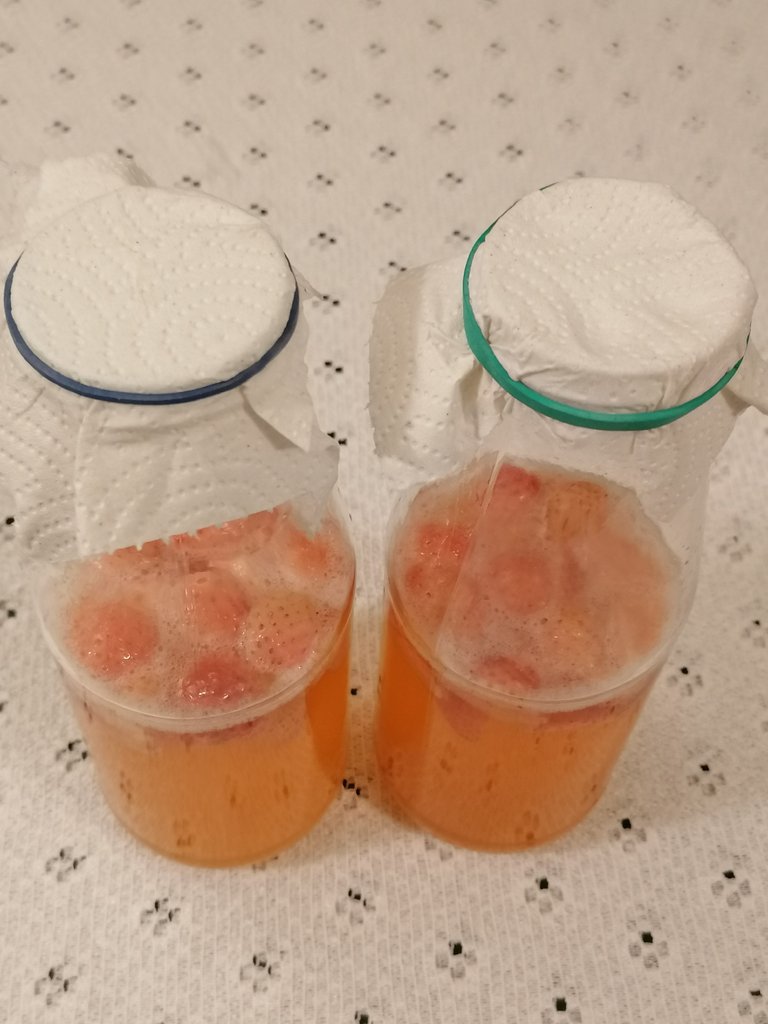 Das ist die 2. Fermentation. This is the second fermentation.
Dann siebe ich die Erdbeeren oder die anderen Früchte ab. Then I sieve the strawberries or the other fruits.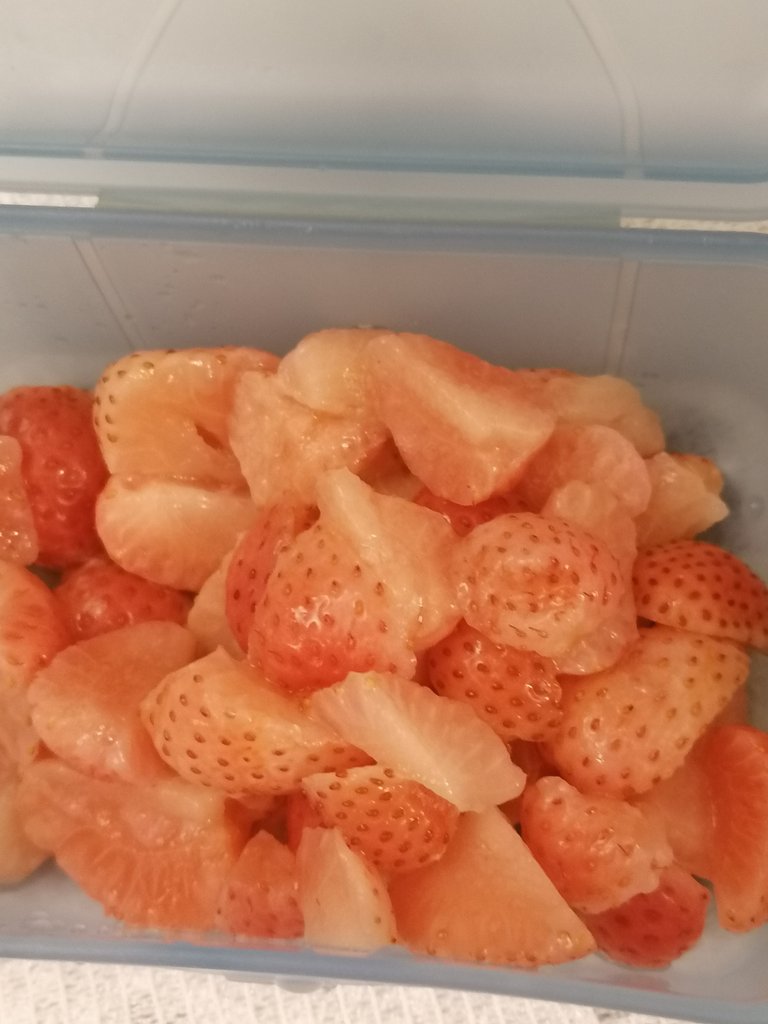 Die Erdbeeren tue ich in den Kühlschrank und tue sie auch in den Smoothie rein.
I put the strawberries in the fridge and also put them in the smoothie.
Das abgesiebte Getränk kann man schon trinken, ich tue ein bisschen probieren und ich tue es dann aber nochmal 2 Tage in den Kühlschrank stellen.
You can already drink the strained drink, I do a little tasting and then I put it in the fridge for another 2 days.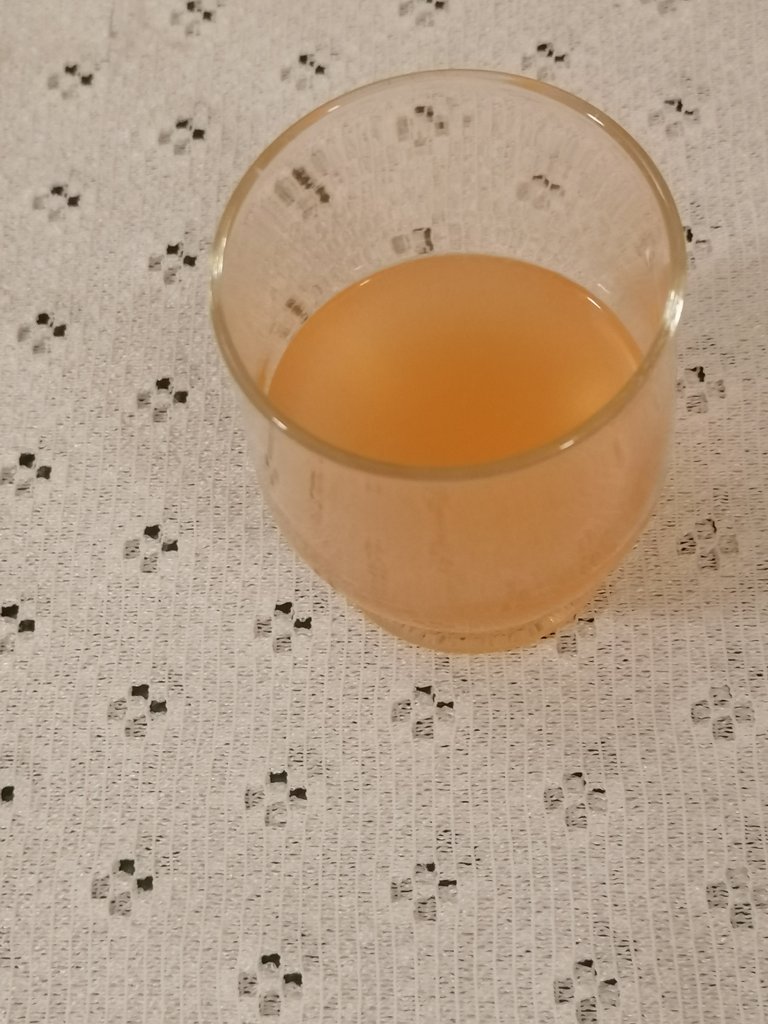 Keine Ahnung, warum es so gelborange aussieht, es war roter, aber im Bild wollte es nicht roter sein.
I don't know why it looks so yellow-orange, it was redder, but it didn't want to be redder in the picture 🤨.
Das Wasser Kefirgetränk hat zwischen 0,2 und 2 % Alkohol. The water kefir drink has between 0.2 and 2 % alcohol.
Prost 😊
https://revolutionfermentation.com/en/blogs/water-kefir/5-scientific-benefits-of-water-kefir/