Große Neuigkeiten von der Wiener Börse. Bitcoin und Ethereum an der Wiener Börse kaufen, ist keine Utopie mehr, sondern seit 1. September 2020 mit zwei Kryptowährungs-basierten Produkten möglich.
Die Exchange-Traded Products (ETP) des Schweizer FinTechs 21Shares bilden jeweils die Wertentwicklung von Bitcoin und Ethereum 1:1 ab und hinterlegen die Kryptowährungen auch "physisch".
Der Vorteil ist, dass traditionelle Anleger das erste Mal über die Wiener Börse in Kryptowährungen investieren können, allerdings hat man keinen direkten Zugriff auf die Kryptos und es fallen auch so wie bei anderen Finanzprodukten Managementgebühren an. Auch steuerrechtlich gibt es Unterschiede.
Einen Schritt weiter mit dem Handel von Kryptowährungen ist die Börse Stuttgart in Deutschland, die bereits den direkten Handel mit Kryptowährungen mit einer eigenen App (Bison App) unterstützt.
Was sagt ihr zu den Neuigkeiten aus Wien? Ist so ein Finanzprodukt vorteilhaft oder besser direkt in Kryptos investieren?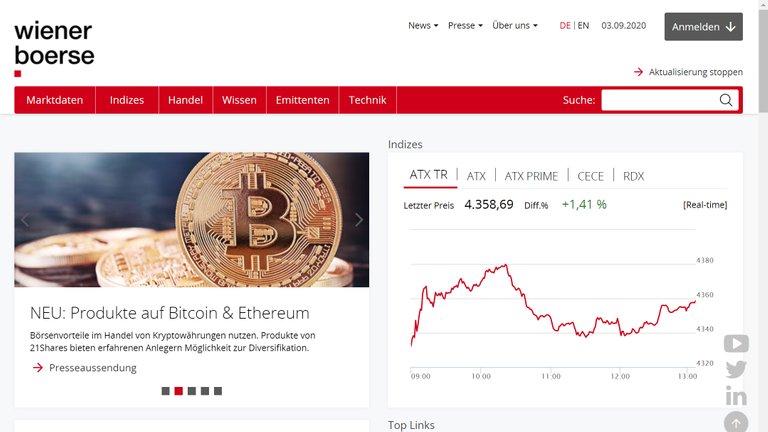 English
Big news from the Vienna Stock Exchange. Buying Bitcoin and Ethereum on the Vienna Stock Exchange is no longer an utopia, but is possible since September 1st, 2020 with two cryptocurrency-backed products.
The Exchange-Traded Products (ETP) of the Swiss FinTech 21Shares each reflect the performance of Bitcoin and Ethereum 1:1 and "physically" store the underlying cryptocurrencies.
The advantage is that traditional investors can more easily invest in cryptocurrencies for the first time via the Vienna Stock Exchange. However, there is no direct access to the cryptos and there are also management fees like with other financial products. Also, how earnings are taxed might be different.
A step further with crypto trading is the Stuttgart Stock Exchange in Germany, which already supports direct trading with cryptocurrencies with its own app (Bison App).
What do you think about the news from Vienna? Would you recommend such derivative financial products or is it better to directly invest in cryptos?
Sources
[1] https://www.wienerborse.at/news/wiener-boerse-news/21-shares-erste-produkte-krypto-waehrungen-und-ethereum-geregelter-markt/
[2] https://21shares.com/
[3] https://bisonapp.com/
Live your Secrets and Hive Prosper 🍯
xx Viki @vikisecrets