Etwas sehr Seltsames ist wieder auf Twitter passiert, wie @theycallmedan in diesem Video berichtet. Und zwar ist sowohl sein Like als auch sein Retweet auf den historischen Tweet von John McAfee zur feindlichen Übernahme von Steemit Inc. verschwunden.
Und jetzt haltet euch fest. Ich schwöre, dass ich den Tweet von McAfee letztes Jahr auch geliked habe und mein Like ist ebenfalls verschwunden. Habe das heute kontrolliert und der Like war weg. Habe den Tweet jetzt erneut geliked.
Bis jetzt ist der Like noch da, aber der legendäre Tweet hat nur 935 Likes, was mir auch nicht ganz richtig vorkommt.
Auch wenn ich Jack Dorsey den Chef von Twitter für sein Krypto-Engagement sehr schätze, zeigt dieser Fall doch die Schwachstellen von zentralisierten Social Media auf. Es gibt einfach keine Möglichkeit zu kontrollieren, wie die Software dahinter funktioniert, wie der Content gerankt und gefiltert wird. Twitter ist nicht Open-Source und einzelne Tweets und Accounts können jeder Zeit verschwinden.
Das ist übrigens auch @splinterlands vor Kurzem passiert. Splinterlands war Wochen lang auf Twitter gesperrt, konnte aber den Account irgendwie wiedererlangen.
Was sagt ihr dazu? Ist euer Like auf den McAfee-Tweet ebenfalls verschwunden oder ist euch so etwas Ähnliches schon aufgefallen?
Like removed, is Twitter suppressing Hive?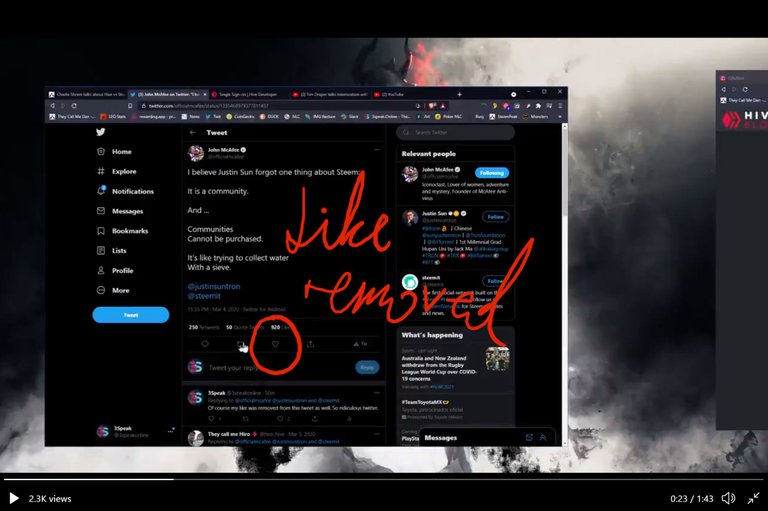 Original McAfee Tweet
English
Something very strange has happened again on Twitter, as @theycallmedan reports in this video. Namely, both his like and retweet on John McAfee's historic tweet on the hostile takeover of Steemit Inc. disappeared.
Now brace yourselves. I swear I also liked McAfee's tweet last year and my Like has also disappeared. Checked it today and the like was gone. Have now re-liked the tweet.
So far the Like is still there, but the legendary tweet only has 935 Likes, which doesn't seem quite right to me either.
While I appreciate Jack Dorsey the head of Twitter for his crypto engagement, this case does highlight the shortcomings of centralized social media once again. There is simply no way to verify how the software behind it works, how content is ranked and filtered. Twitter is not open source and individual tweets and accounts can disappear at any time.
Incidentally, that's what happened to @splinterlands recently. Splinterlands was blocked on Twitter for weeks, but somehow managed to recover the account.
What do you guys have to say about this? Did your Like on the McAfee tweet also disappear or have you noticed something similar?
Sources
[1] @threespeak Proof that Twitter is suppressing Hive?