Anime:
Anime is Japanese 2d series or to be precise world-wide called Animation series.
Unlike other countries animation-industry, Japan has a knack and special industry including world-wide fanbase and community in admiration of those ANIME.
Previously, around 2010/11, when internet was not very available the Anime-community outside Japan was not very renowned (at least in our country we had a very small community)
However, now it can be seen almost everywhere and it's vast which should be. The brilliancy and excellency in the making specially their themes and plots are one magnificence of kind.
Anyway, I wanted to drop a short overview, as today I wanted to talk about an Anime.
Bleach
First I better drop some jargons for better understanding the theme-
Shinigami- Shinigami in literal word is a Death-god or Grim-reaper. They are represented in various way sometimes as angels, sometimes monsters. But either way they connected with soul-sorting be it helping the soul or devouring or manipulating!
Soul Society- The world of dead or soul or afterlife, where souls dwell after being dead.
Ryoka- Invaders/ intruders of the soul society who are absolutely forbidden regardless the reason. Ex- if any living human somehow reach soul society they will be targeted as Ryoka.
Zanpakuto- The sword of the Shinigami. It has the capability to cut the spiritual beings specially used to fight against hollow and corrupted spirits.
Shikai- It is the 1st fledged form of Zanpakuto
Bankai- Final & ultimate form of Zanpakuto
Shinigamis are the inhabitants of the Soul-society.
They collect souls after death from the world and transport the souls into the soul society. They also keep the order and fight against the Hollow (bad spirit or corrupted souls) However, even though there task seems simpler, but it is not. They too have many complexity amidst the maintenance of the world.
Short summary
Ichigo Kurosaki is normal high school student but with an exceptional ability to see souls/ghost. His life was changed upside down when by chance of fate he meets a Shinigami, Kuchiki Rukia.
Shinigamis often fight with the hollow of human world as well. And while saving Ichigo's family Rukia gets hurt. In desperation she offers her power of being a shinigami to Ichigo.
Which curved a divine punishment in her fate, execution of the shinigami after she was taken back to her world.
But with the little power Ichigo got,he went to the journey with his frineds to save Rukia from the execution.
Now here we are talking about a mere human, who accidently became a Shinigami (Substitute soul reaper) without neither having the understanding of the power or has accomplished the depth of it, went on fighting whom?
The world of Shinigami!
Where lives a A Shinigami leader, under whom works 13 Squadron Captains and their 13 lieutenants, who were born, trained and grown up to become a Shinigami for years with full fledged Bankai!
Needless to mention the other Shinigamis of that world exist as well.
let us see how far Ichigo and the group can proceed.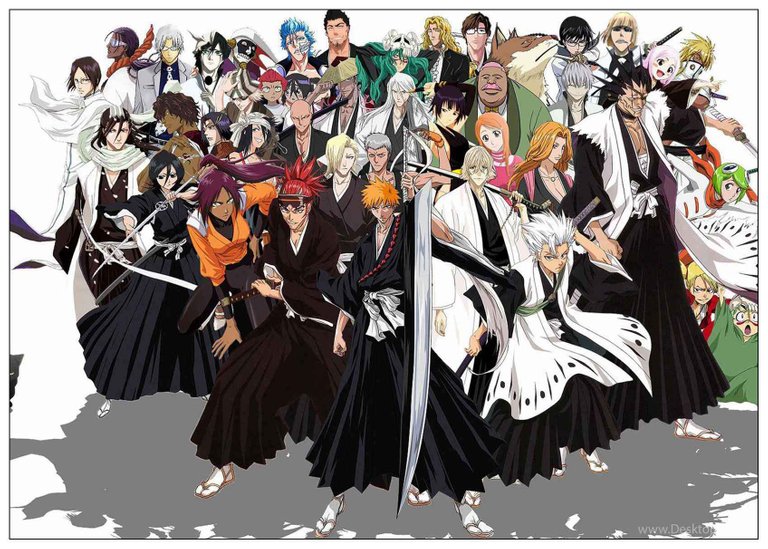 Bleach Poster
The Plot & Theme:
In this Anime, the plot is rather smaller than the theme.
The story take place in between 2 realms. World of living and Soul society.
However, even though the story starts with such triviality and simple story, it keeps gliding towards the peak as if a never ending story.
And when you finish 1/3 of the story as it unfolds slowly but gradually, you'll understand amazing of a piece it is.

Precipice of defeat
This music send chills in my spine even after years.
And you will feel it with your bones once you hear it from Anime and relate the harmony!
It has been my ringtone for many years!
I had started watching it not because of Ichigo rather A squadron Captain of Soul society called Zaraki Kenpachi!
And I was very much looking forward to the battle between Ichigo and Zaraki Kenpachi also the awakenning of Ichigo's Bankai!
After that, I had dropped it but picked up recently again!
Enjoying equally!
Well guess I would brag about him some other day!