This week CineTV Blog is asking about a favorite young lead. This is an interesting one to pursue as I have been really bugged about how every adaptation of the novel Dune has cast adults in their mid to late 20s in the roles of Paul (age 15 at the start and described as small for his age, and later about 17-18 years of age) and Chani (described as girl-child, age 13 at the start and roughly 15-16 at the end of the novel). So now I can talk about some performers who were age appropriate for the roles they played (mid-teens). To learn more about this contest - https://peakd.com/hive-121744/@cinetv/cine-tv-contest-31-favorite-movie-with-a-young-lead
Research notes at the end of the article.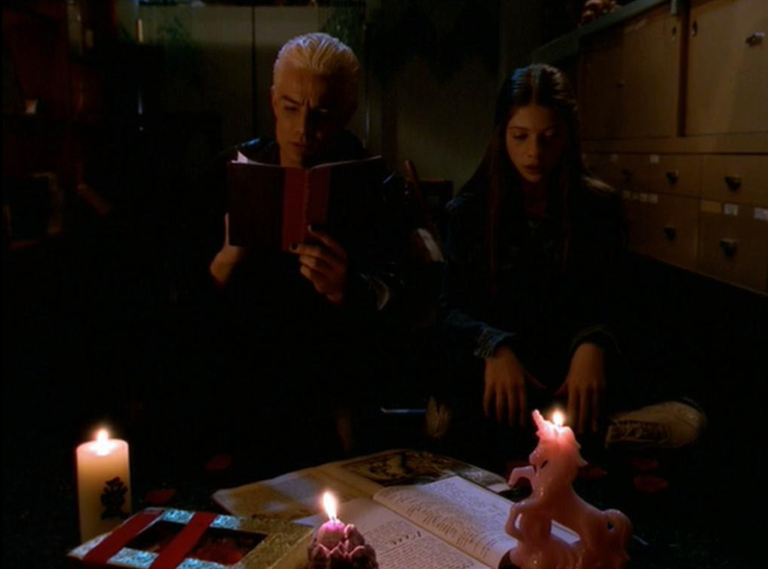 Spike and Dawn - Blood Ties - IMDB
First up, Michelle Trachtenberg as Dawn Summers, Buffy the Vampire Slayer Season 5. Dawn summers is a teenager, about 14-15 years of age, and Trachtenberg was that age when she took om the role, getting teenage angst right on the nose. She performed brilliantly throughout the season, and her character was central to the story arc for the entire season. A couple of episodes to highlight are when she is trying to figure out why her family and the Scoobies are so secretive around her, and discovers her true nature, and why The Big Bad of the season, Glory, is after her. Another important scene is when Buffy tells her that their mother, Joyce, had died, and Dawn completely breaks down, pulling at the emotional strings of the audience, making us feel the pain she was feeling at her loss. In the final episode of Season 5, with Buffy having sacrificed herself to not only save Dawn, but also reality as we know it, there is a very emotional scene that really pulls one's strings at the loss that Dawn feels.
Second up, Franco Zeffirelli's Romeo and Juliet (1968) featuring Olivia Hussey as Juliet, filmed when she was fifteen. Early in the film, Romeo and friends crash a party at the Manor of the Capulets. There, we see Romeo encounter Juliet, and, during the song What is a Youth" (sung by Bruno Filippini)they both seek each other out, and thus begins their romance. Both Olivia Hussey and Leonard Whiting (Romeo) perform this scene quite well, and Juliet is portrayed with a bit of innocence and curiosity at the start of what would be their courtship.
Balcony Scene from Romeo and Juliet (1968) -
youtube.com
Leonard Whiting also performed brilliant throughout the film, and was seventeen at the time. He plays out well opposite Olivia Hussey in the aforementioned scene, as well as the later balcony scene, and again, later, when he encounters Tybalt (Michael York), who kills Mercutio (John McEnery – and delivers a heck of a great death speech), resulting in the full tragedy in motion as Romeo seeks out Tybalt and kills Tybalt in a duel. Back to the balcony scene, where Romeo and Juliet exchange a great deal of dialogue, including their love for each other. Performing Shakespeare is challenging enough as an adult, and Olivia and Leonard were in their mid-teens when they took on the main roles in Romeo and Juliet, and they did quite well under Zeffirelli's guidance.


Podcast and Phoebe from Ghostbusters: Afterlife (2021) - IMDB
Finally, I am going to wrap this up with a look at Ghostbusters: Afterlife (which I watched over the weekend with my Bonnie Bride, our daughter, and a close friend who is frequently at our house for Saturday movie night) featuring a fine performance by Mckenna Grace as twelve year old Phoebe Spengler. Grace was 13 when filming started, and she had, and delivered, some of the best lines of the film. Phoebe is a very nerdy and science knowledgeable kid, who is unaware of her family history, and she plays the nerdy kid quite well, even with the delivery of science jokes ("Why can't you trust an atom? They make up everything"...I think I got that quote right...maybe). Phoebe is also portrayed as being as spunky and gutsy as she is brilliant. One of the best scenes where Mckenna Grace shows her acting chops is when she calls Ray Stanz (Dan Aykroyd) trying to learn more about who her grandfather, Egon Spengler, was, and why the Ghostbusters disappeared. This scene takes place shortly after tearing up the town Phoebe and her family moved to after Spengler had died.
I am also including a bonus note on Ghostbusters: Afterlife as another young actor, playing opposite Mckenna Grace: Logan Kim as Podcast. He is a goofy and nerdy boy who knows a lot about the area where the film takes place and about the paranormal. When Podcast and Phoebe test out the refurbished particle accelerator with great success, he wants to have a turn with it. Doesn't get the chance. Podcast provides some comic relief and you can tell the Logan Kim is having a blast performing in Afterlife. One kind of wishes that Podcast really is doing paranormal podcasts. And if there was, my daughter would be listening to it.
After writing this article, I have to say both movies and Buffy Season 5 are all deserving of much longer and in-depth posts. Maybe I'll get to them sometime. And all are worth watching. Plus the performers I took a look at in this article did a top-notch job in their roles that I featured her.
Thanks for stopping by.
Research Notes:
Buffy the Vampire Slayer season 5 - https://en.wikipedia.org/wiki/Buffy_the_Vampire_Slayer_(season_5), https://en.wikipedia.org/wiki/Michelle_Trachtenberg
Romeo and Juliet (1968) -
https://en.wikipedia.org/wiki/Romeo_and_Juliet_(1968_film)
Ghostbusters: Afterlife (2021) -
https://en.wikipedia.org/wiki/Ghostbusters:_Afterlife,
https://en.wikipedia.org/wiki/Mckenna_Grace