Ugh! Who would wanna come to a morning class, right? How about if I could make you spend time with your friends and learn the way you want to learn... Would you be open to that?
Hello, Hivers (especially in the Education community)! NomNomNoodle is here with you today to share one of my English classes with me aka #nomnomteacher. If you're new here, I work as a teacher here in Thailand and for this project, I get the chance to work with UNICEF (the United Nations International Children's Emergency Fund). Here is one of the classes that I teach underprivileged kids English on a weekend in an area called "Klongtoey", located in Bangkok.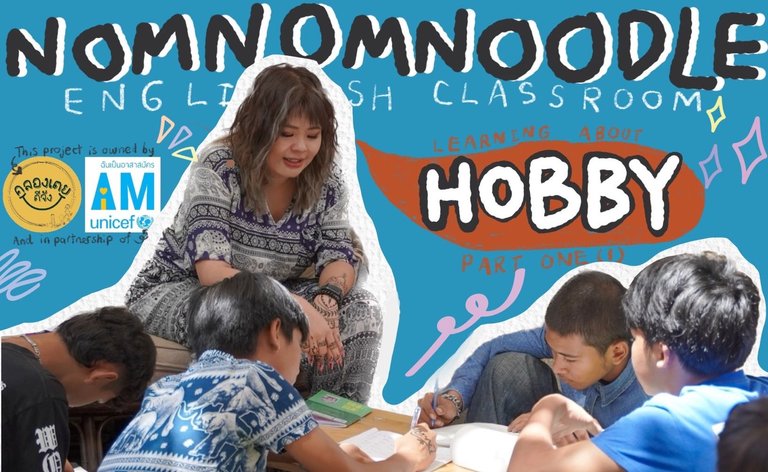 The purpose of the project is that we want the children to learn about English and dare to use it in daily life, so every week would have a different theme. This week's theme is to learn about `Hobbies and things that they like to do´ This class is actually the class that we taught them grammar and vocabulary before we took them to the board games English class, which, by the way, you can check them out here.
---
In the morning class, I arranged a session called "intensive grammar practice" for students, who come to the morning class. I sorted the students into groups of their knowledge of English and I assigned my TA (teacher assistant) to tend to them.
Starting with the smallest group, learning about the English alphabet and easy vocabulary.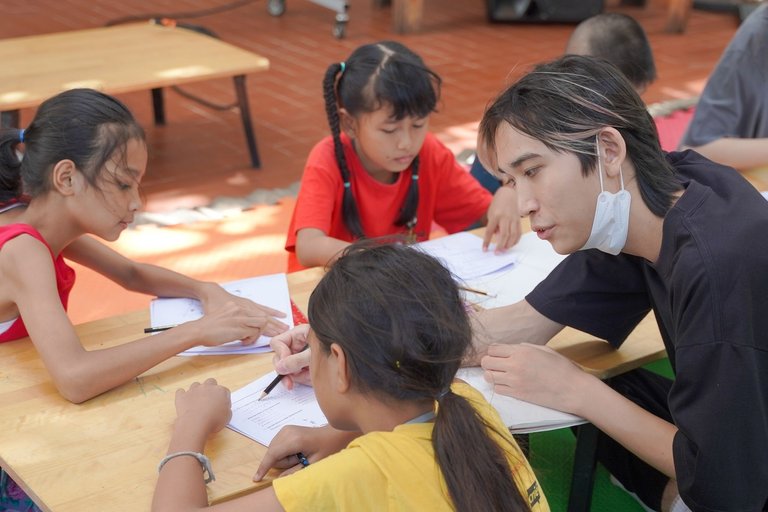 Come on, ABC!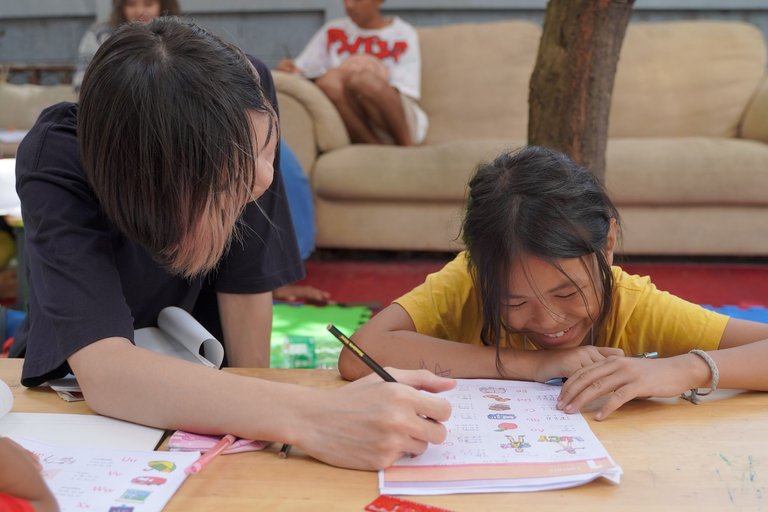 Writing is still hard for our smaller children, so we need to help push them a little.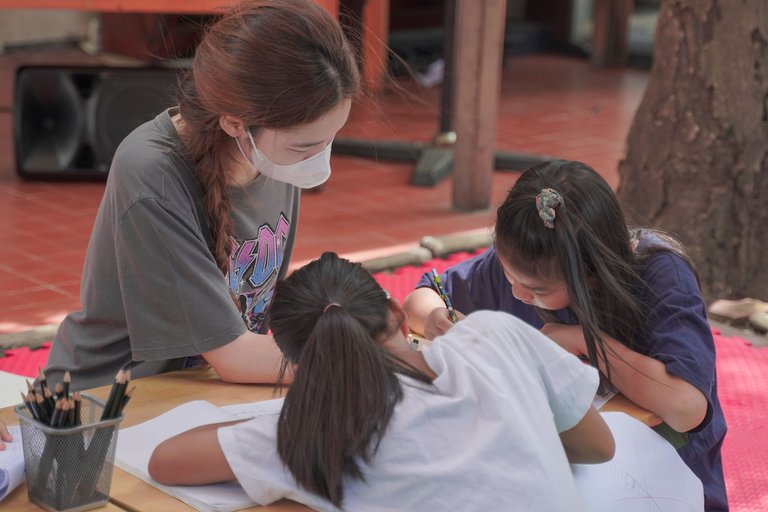 As you can see, our class is outdoorsy with moving tables and everybody just sits on the floor, covered with spongy mats. There's a TV and a whiteboard for the teachers, so we can use it to show the presentation and write down stuff.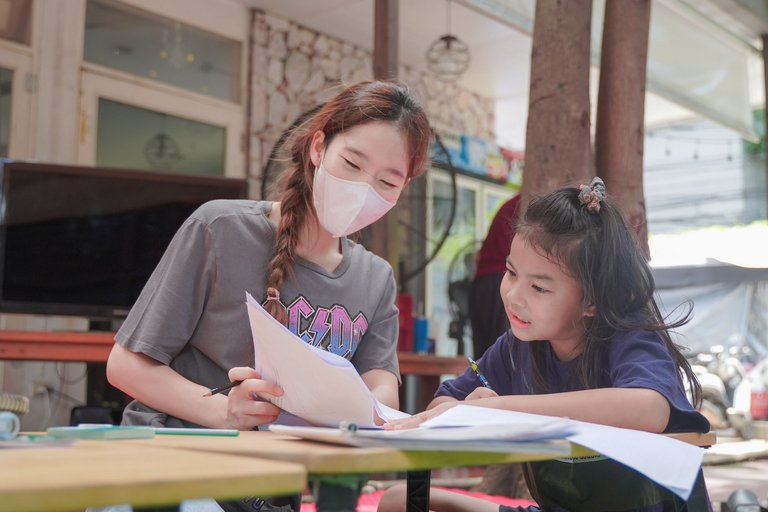 Here they're playing Hang Man on the board.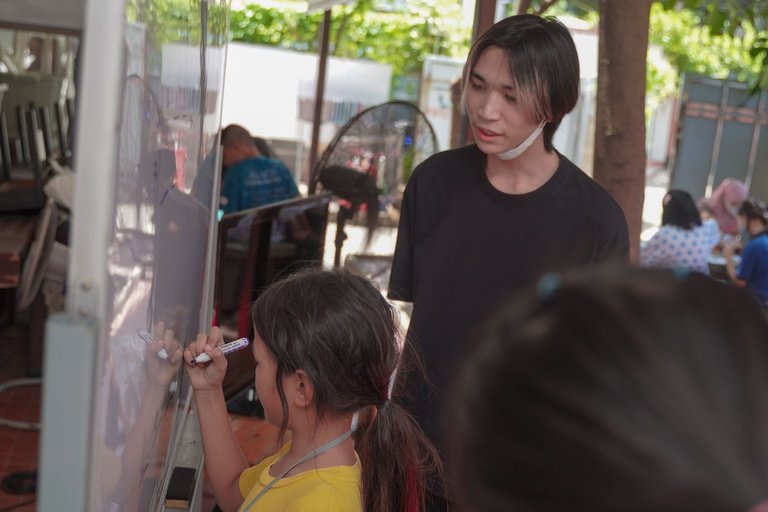 Next is the group of 2 girls are in around grade 8, learning about grammatical notes about pronouns. I, you, we, they, he, she and it.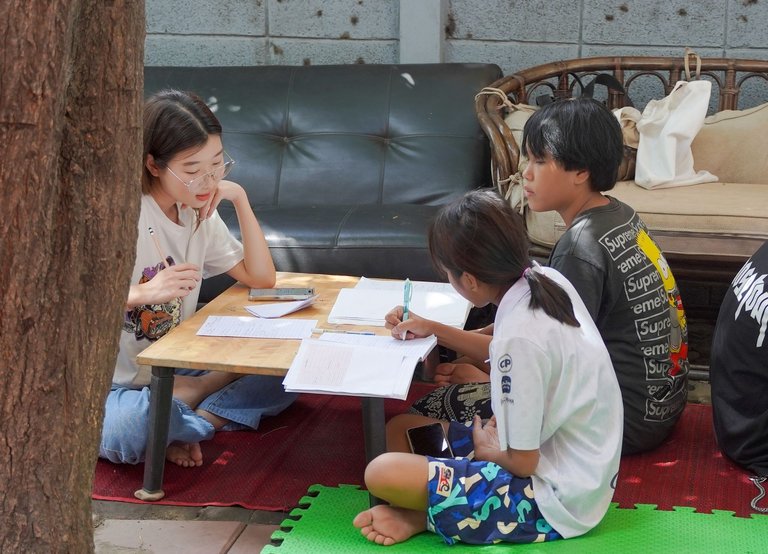 This is the worksheet, we prepared for them. If you're interested, I could get you some to practice too.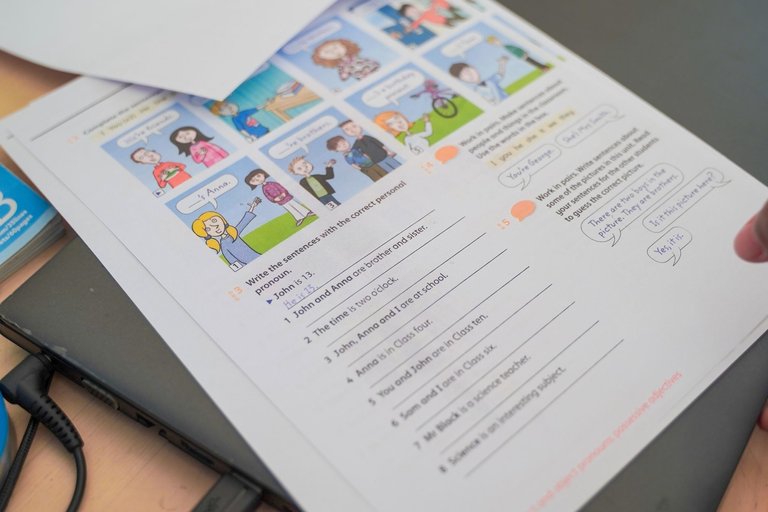 I was responsible for the next group of middle-high school students. I did a review with them on phonetics, reading vocabulary, and grammar.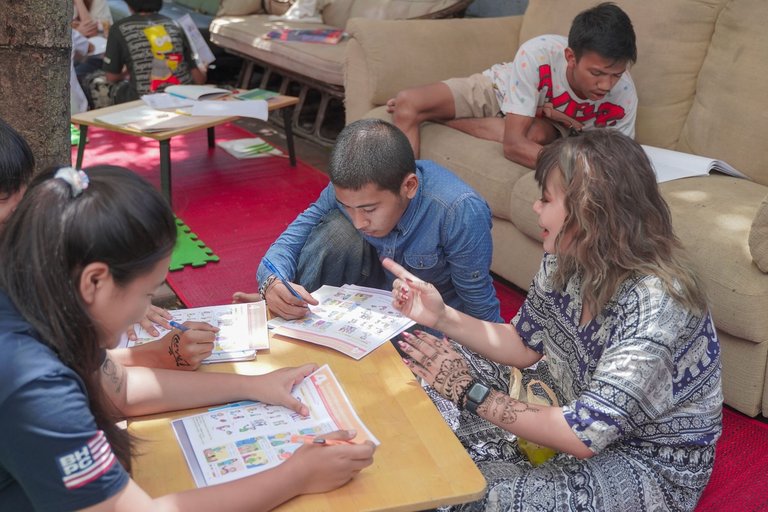 I love handling the worksheets and helping correct them one by one because I believe in personal development.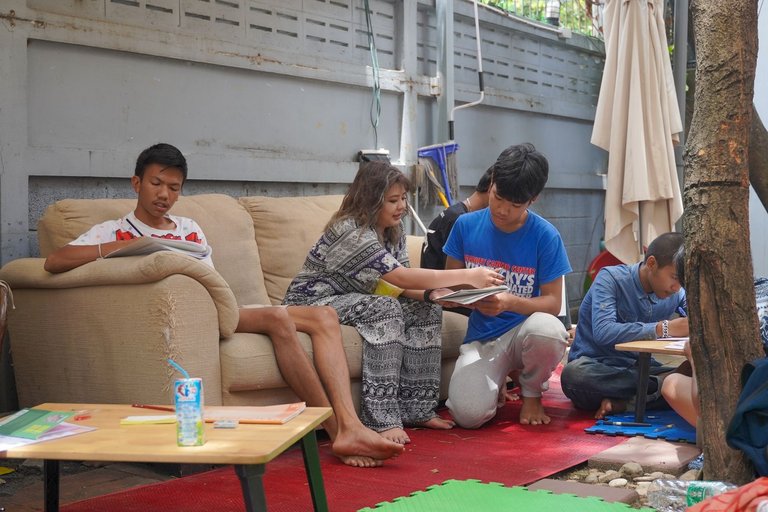 But also I let them work together to help each other. This way they could learn from each other, both the grammar and how to work with others.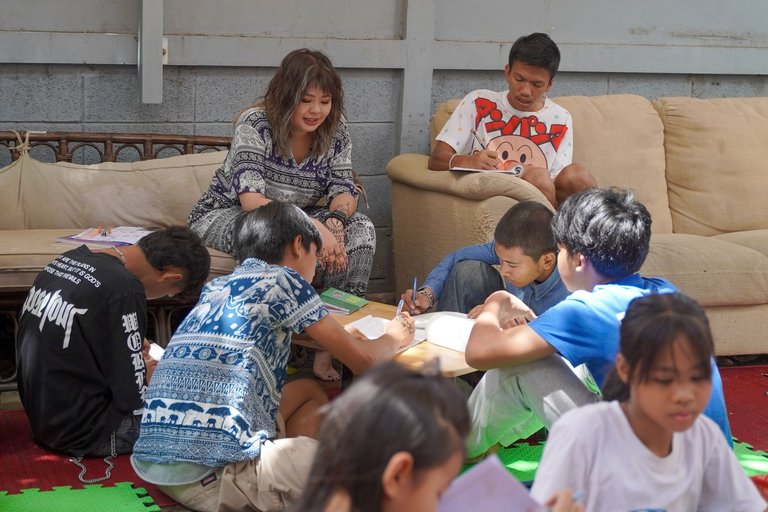 Seems like someone was happy when I left them to do the exercise on their own. lol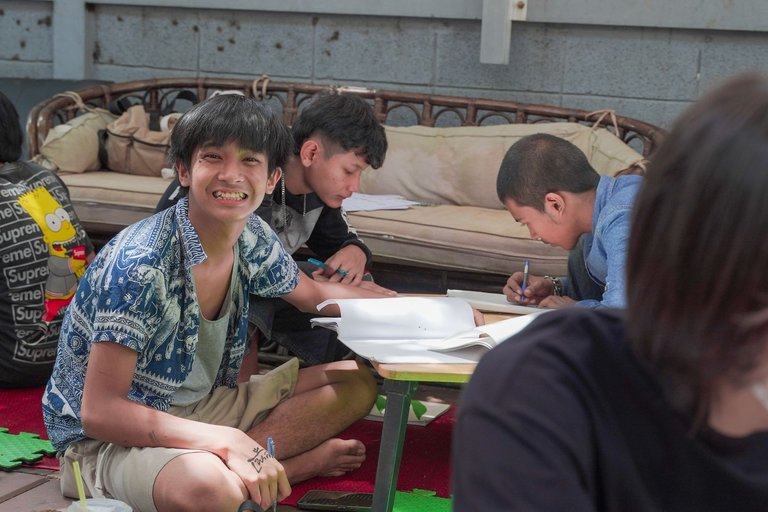 The last group we had that day, I'll call them the advanced group for the students who're really good with reading and can do the more difficult level of grammar.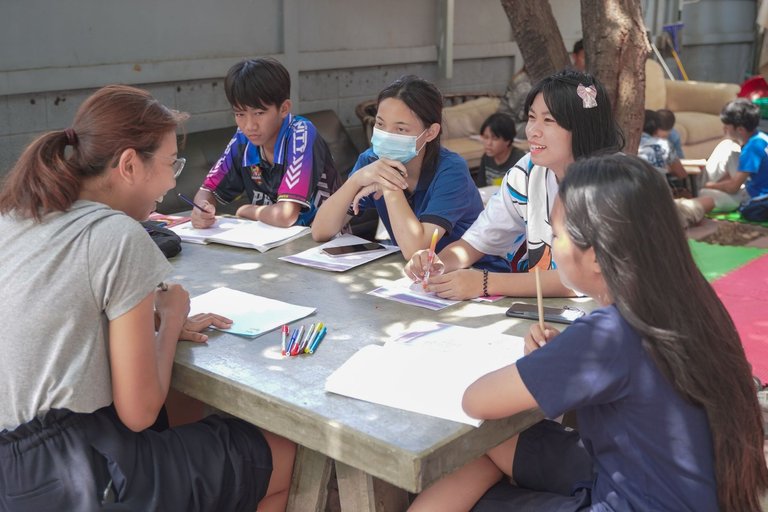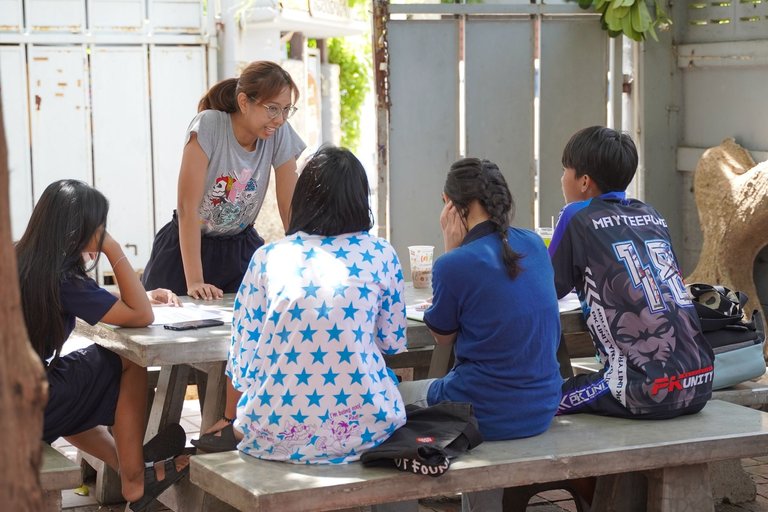 "Teacher.. Can we go on break now? pleasee"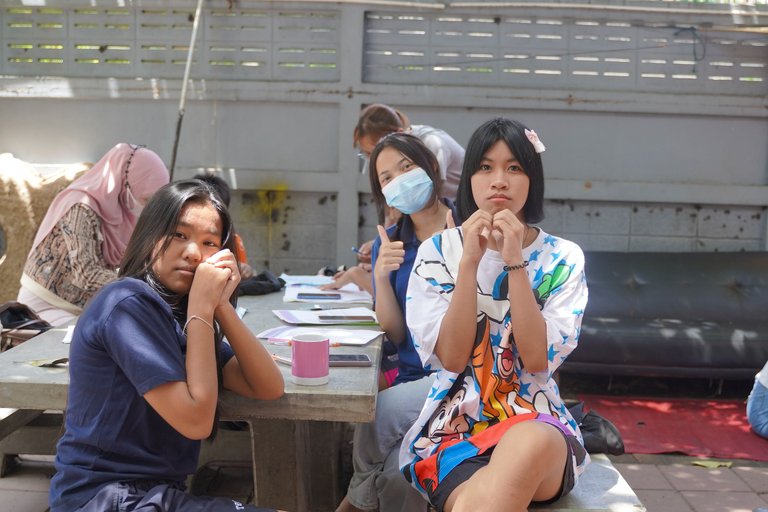 Well, then... Asked and you shall receive. I'll leave this post for now and I'll continue on the next day what happened in the afternoon, when things would get louder, messier but most importantly... more fun! I hope I'll get to see you guys answer my title and join me for the next part and until then...
Stay fresh and always keep learning, guys!
Khob khun kaa,
Nomnomnoodle 🍜