There is a mental illness spreading around the world. It has many facets and we have labels we toss around that frame aspects of this illness. It is bigger and more insidious than even that framing.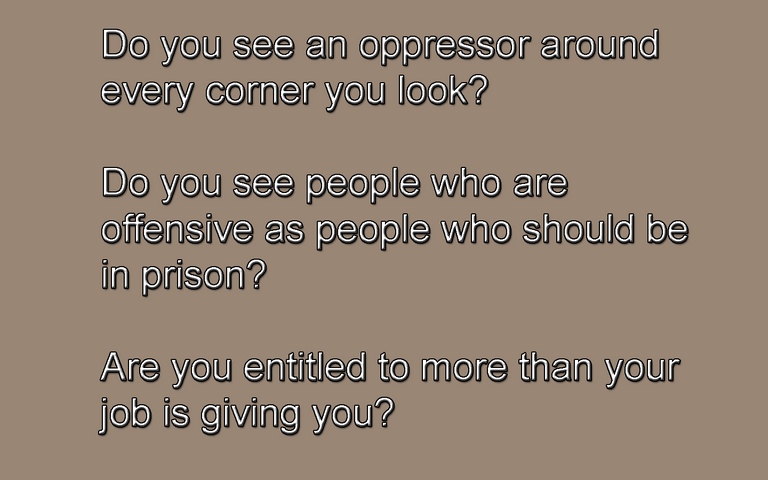 One of the framing words we hear is woke. That frame refers to the people constantly looking for things to be offended by even if it is being offended on the behalf of other people. One of the easiest ways to do that is to view the world through a lense of oppressed and oppressors. That is a very narrow scope because it makes it hard to see when it isn't an oppressed/oppressor dichotomy. Because the false dichotomy is the mental prescription they have prescribed themselves they don't see the world clearly and they have a very limited set of responses.
These responses end up being divisive and ultimately destructive. They are like a mental cancer that is metastasizing and spreading out of control to consume all aspects of their mental life.
If someone is oppressed then they are entitled to something. Now you'd think it is the oppressors that should provide the compensation indicated by that entitlement. These days it often doesn't matter once entitlement has been chosen. They will cast a wide net and demand those that are not even part of the oppression circumstance provide the compensation.
Perhaps they feel they need free services. They will demand it from the government. The government in turn will tax all of us more to provide that "free" service. Perhaps it is a service you yourself would never need yet you still pay for it. Kind of like a biological male who identifies as a female demanding a gynecological exam and expecting to get it for free. No problem. Our taxes will pay for this service that is only occurring due to a mental perception and is not something that physically makes any sense at all.
If you speak up against it you are oppressing them.
If you are challenging the imaginary world this illness promotes in ANY of the many guises it appears in you are an oppressor.
In other words, if you are using reason and logic and that counters something these people CHOOSE to believe is real you are oppressing them.
It is a new cult. I'd call it the cult of the woke but it goes so much farther than this.
It is a quite insidious (as I've indicated before) mental illness.
The entitlement demands don't have an end...
Do you perhaps have a job where you knew what the duties were when you accepted the job, and you've worked that job for many years yet suddenly you are complaining because you are "entitled" to something more?
Is the company doing less than was agreed to? No. Yet suddenly there is this new perceived entitlement. If you don't agree to it then perhaps you are oppressing them.
There is a new topic I keep seeing reference to and it appears to be a very real thing.
Quiet Quitting.
It seems to be real. I say it is an aspect of this rotten mental ideology. This cult of mental illness.
If I call you out for what I perceive as stupid I am not oppressing you. I am calling you stupid.
If that offends you. Guess what? I don't care. Being offended is a CHOICE you make. You can choose not to be offended. You can choose to change.
Instead you are offended so you demand the change happen in others besides you...
No.
Grow up. Become an adult. Quit throwing tantrums.
---
To the jobs that have such people. Warn them. Try to get them to wake up. If they don't then fire them.
To those that think these fired people are entitled to live well while not working. No. No they are not.
That too is part of the problem.
Helping people in need should NOT result in a comfortable situation for those people you are helping. It should keep them alive and encourage them to stand on their own two feet.
If they are comfortable then you are encouraging them not to work and just to use the rest of us as their slaves.
They expect us to work so they can feel comfortable.
When those of us that work get overwhelmed and burned out we are at risk of entering this cycle. Will we become the next quiet quitter that became jealous of people we know that don't have to work yet seem to be living a nice life?
I won't.
I also am becoming less inclined to even consider helping these people. Sink or swim people. If you show me you are interested in standing on your own two feet but you need help for a little bit I am more than happy to help you. If you don't want to have to work, and you think you are entitled to comfort then I don't care if you sink. At the moment it is people that should be sinking that are dragging EVERYONE down.
Wake up people. Stop being part of the problem.
Stop the woke nonsense.
Quit looking for things to be offended by.
Quit looking for an oppressor around every corner.
Quit thinking you are entitled to more with regards to things you agreed to already.
---
EDIT: Added to state what I thought was obvious...
Pointing out a problem and criticizing something is not the same as being OFFENDED.
I am not offended. They did not hurt my feelings. They did not attack me personally and I chose to be offended by it.
It is not uncommon for someone to read something like what I wrote here and other articles a few days ago and call me a hypocrite. Nah. If you pay attention to the actual meaning of words and you don't knee jerk and look at ways to see how I am attacking you then you'll realize that nothing I wrote above is about me being offended.
The knee jerk reaction and attributing things that people implied though they didn't say it is another aspect of the illness these days. Often people will comment as though I or someone else said things that were not even written. It is like you need a secret decoder ring to read between the lines. Nah. I don't do that. I say what I mean. If I didn't say it then don't assume I meant something else. That occurred in YOUR mind not mine. If I want you to try to find some secret meaning I'll let you know. Usually that happens if I am writing poetry or something.