Many Republicans have lately stepped up to promote "peace with Russia," which, when translated to a common language means "expanding the Eurasian block and handing Ukraine to the Kremlin."
Example: McCarthy Warns GOP May Cut Back Ukraine Aid If Party Wins House - Bloomberg
Link: https://www.bloomberg.com/news/articles/2022-10-18/mccarthy-warns-gop-may-cut-back-ukraine-aid-if-party-wins-house#xj4y7vzkg
Regardless of how logical the idea of not sending any money to Ukraine might sound at the moment, long-term speaking, it is in the interest of the USA and the EU to help Ukraine achieve victory.
Fear is one of the best tools for the control of the masses. For that reason, western supporters of Russia and Mr. Putin often talk about the Russian nuclear arsenal. One of the fear-mongers is Mr. Donald J. Trump, who is still the frontman of the "Republicans."
I want to take you through some of the Trump-Putin connections.
Mr. Donald J. Trump Trump has a habit of representing himself as a super-successful flamboyant businessman. In reality, during the 1990s, he filed for bankruptcy six times. None of the big banks would lend him. The only way he was able to finance his financial resurrection was with the help of cash flow from Russia, and other former-USSR Republics, such as Kazakhstan. His first visit to Moscow was in 1987. Before running for President, Mr. Trump wasn't hiding the reality that his business partners were "Russians."
"I've done a lot of business with the Russians. They're commies (communists), they're smart and they're rough." Donald J. Trump, Letterman show, October 2013.
And neither was his son holding back from honest talks about the Russian money:
"Russians make up a pretty disproportionate cross-section of a lot of our assets. We see a lot of money pouring in from Russia." - Donald Trump Jr., Moscow, 2008.
Link: https://www.businessinsider.com/donald-trump-jr-said-money-pouring-in-from-russia-2018-2
Perhaps, that's the reason why Mr. Trump is publicly called "Russian partner" by Mr. Alexander Dugin (Putin's ideologist) and by Russian propagandists via the Russian national TV channel "Russia 1":
Mr. Donald J. Trump and Mr. Vladimir Putin have many friends in common. I'll talk about the most prominent figures concerning wealth and influence (i.e. oligarchs).
Mr. Lev Avnerovich Leviev, the so-called "King of Diamonds."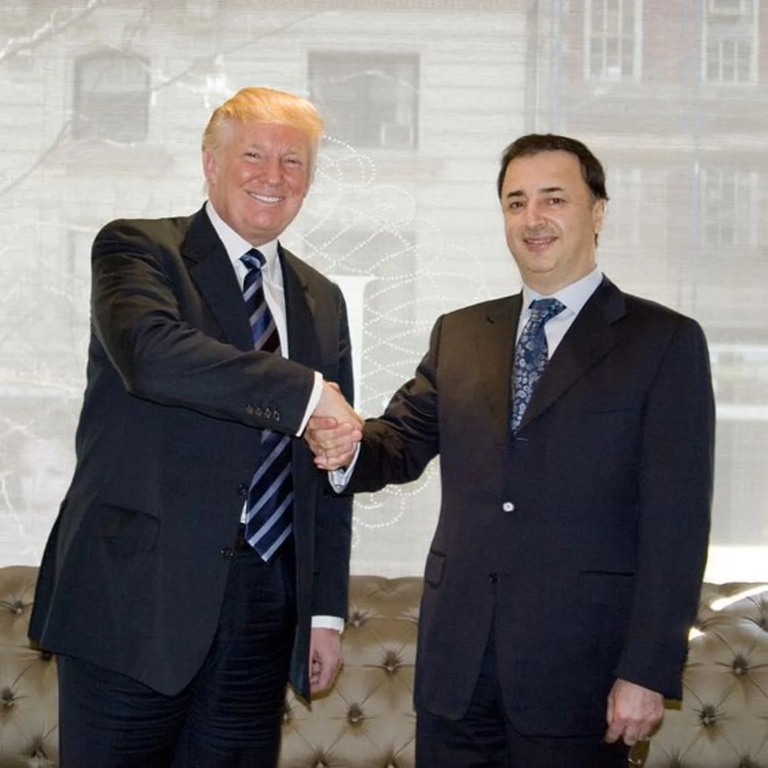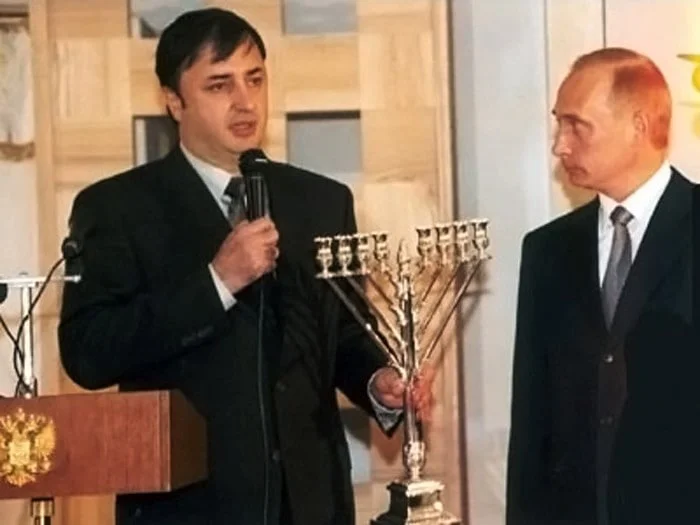 Mr. Lev was born in 1956 in Samarkand, Uzbekistan. His parents were prominent members of the Bukharian Jewish community.
Mr. Lev attended Chabad Yeshiva in Israel, where he started doing business with diamonds. In the early 1990s, he returned to Russia. After the fall of the USSR, the Russian government gave him a share in the diamond and gold industry. Today, he has an excellent connection with the Russian government, particularly Mr. Putin.
Mr. Lev is a member and a supporter of Chabad Lubavitch. Lev yearly donates $30 million to Chabad, making him the largest donor. His ally is the Chief Rebbe of Chabad, Shlomo Dov Pinchas Lazar.
His millions do not only go to Chabad. Lev is also funding Israeli settlement organizations responsible for settlement construction in different parts of the west bank.
(Hi there, Palestinian supporters of Putin)
Mr. Leviev is related to gross violations of human rights (research: Angola Bloody Diamonds). Long story short: in the mid-90s, during the Dos Santos era, Leviev became a part owner of the largest diamond mine in Angola, and the official diamond sale organization (ASCORP), with Dos Santos' daughter. Angola is one of the poorest countries in the world. Angolans often look for diamonds themselves, but the government made it illegal for them to sell those diamonds to any entity except ASCORP.
Leviev has also done business with the North Korean regime via the 88 Queensway Group. American Department of Defense issued the report, confirming Lev's connection with the 88QG.
Leviev owns a real-estate business, "AFI," which used to own a building in central Manhattan, formerly owned by the New York Times. A few years ago, AFI sold a part of that building to Jared Kushner, Ivanka Trump's husband.
Leviev's daughter is a good friend of Mr. & Mrs. Kushner.
"Good morning to a New America. Congratulations to the most fabulous first daughter- Ivanka, and Jared - both of you were such an immense part of this historical election." - Chagit Leviev Sofiev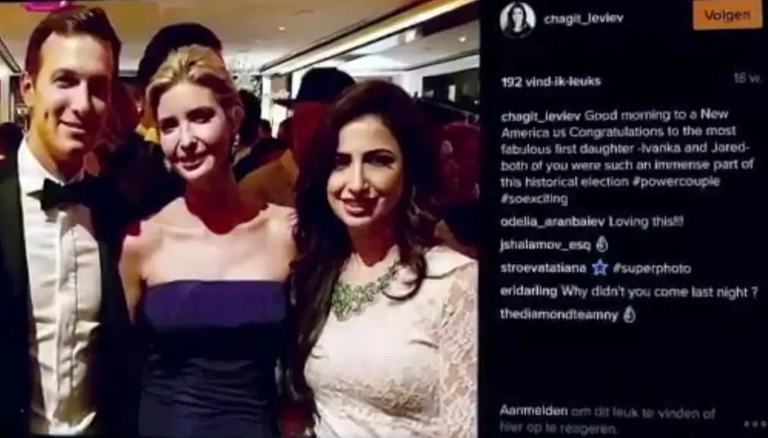 ---
Mr. Felix Sater, the "Syndicate Crime Boss."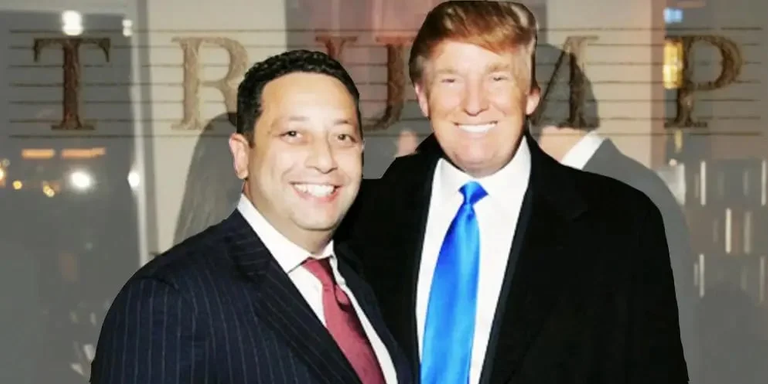 Mr. Felix Sater is the most critical link in the Trump-Putin chain. Sater was born in 1966 into a Jewish family. His family emigrated to the USA in the early 1970s. Sater's father worked for one of the most infamous Russian criminals (Jewish Semion Mogilevich, one of the top 10 FBI fugitives).
Mr. Felix Sater was "somewhat" problematic. The FBI nicknamed him "Syndicate Crime Boss." The FBI proposed him a deal to escape imprisonment by becoming the informant of the FBI and the U.S. intelligence services. Needless to say, he accepted the offer.
In 2016, for SNOB magazine, he stated, "I became managing director of Bayrock. We had an office at Trump Tower, one floor below Trump." During the 2016 elections, Sater worked with Michael Cohen, the former attorney for the Trump Organization.
According to Mr. Swalwell, Mr. Felix Sater was also a Soviet official and an advisor to the Trump Organization.
Just like Mr. Arif, Mr. Machkevitch, and Mr. Tevfik Arif, Mr. Sater is also a prominent member of Chabad Lubavitch.
Felix Sater - Man Of The Year: Chabad of Port Washington:
Link: https://www.chabadpw.org/templates/articlecco_cdo/aid/1260452/jewish/7-23-10.htm
To this day, Mr. Donald J. Trump denies any connection to Mr. Felix Sater (https://www.npr.org/2017/03/01/517988044/trump-denies-links-to-russian-american-businessman), even though they took numerous pictures together, especially when Felix was Trump's senior advisor.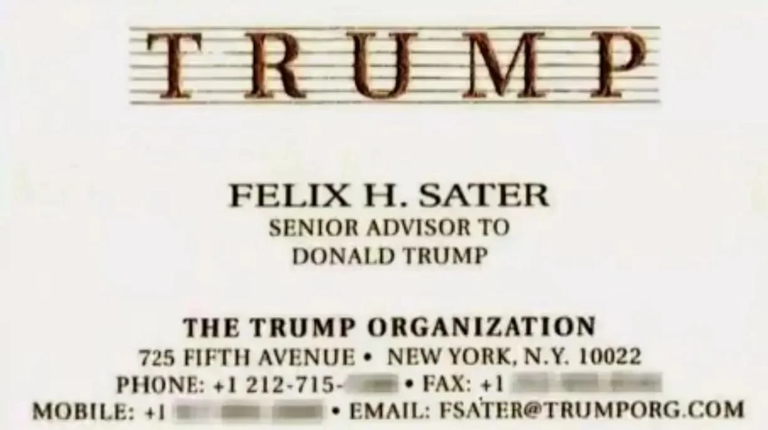 According to Politico, Mr. Felix Sater also escorted Mrs. Ivanka Trump and Mr. Don Jr. around Moscow
Link: https://www.politico.com/magazine/story/2017/04/the-happy-go-lucky-jewish-group-that-connects-trump-and-putin-215007/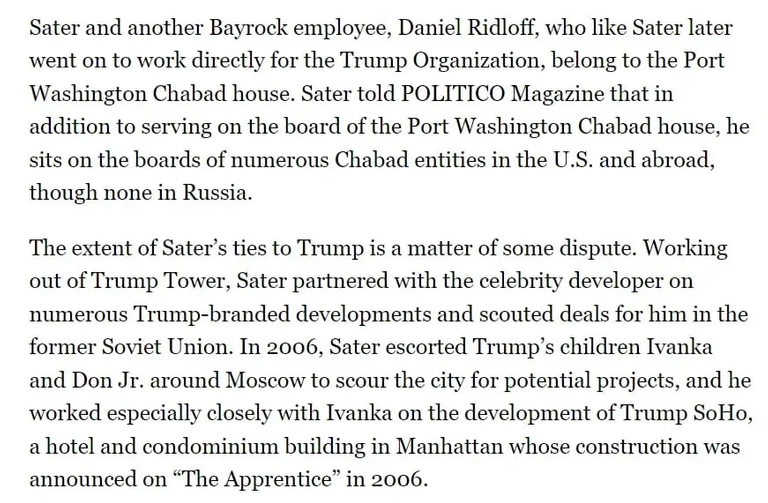 "Our boy can become president of the USA, and we can engineer it. I will get all of Putin's team to buy in on this. I will manage this process." Felix Sater (Link: https://www.gq.com/story/trump-russia-associate-our-boy-can-become-president)
---
Mr. Tevfik Arif, the mastermind behind the Bayrock.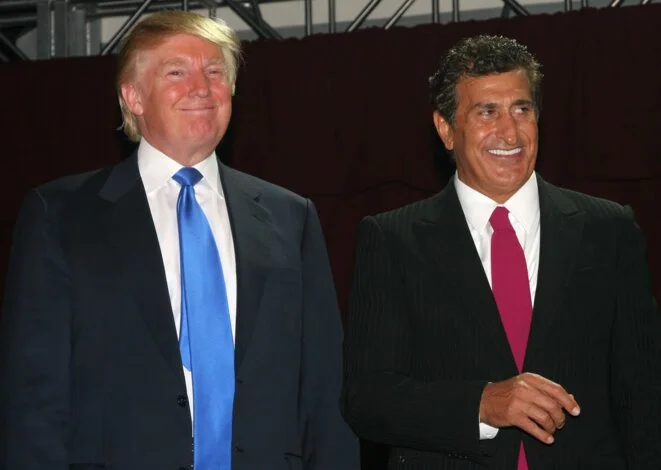 Mr. Arif is a Russian-Turkish oligarch. In 2001, Mr. Arif set up Bayrock LLC and became a business partner of Mr. Donald J. Trump. Bayrock's HQ was in Trump's tower (NYC). Mr. Arif co-funded Trump's SOHO (246 Spring Street).
Despite not being Jewish, Mr. Arif is a loyal member and one of the largest donors of Chabad Lubavitch (Link: https://en.wikipedia.org/wiki/Tevfik_Arif)
Ronald Perelman, Lev Leviev, and Tevfik Arif Among Wealthy Donors to the Chabad Movement: https://newswire.net/newsroom/pr/00108133-ronald-perelman-lev-leviev-and-tevfik-arif-among-wealthy-donors-to-the-chabad-movement.html
Mr. Tevfik Arif is a friend of Mr. Alexander Machkevitch, the most active representative of the Jewish community and one of the wealthiest men in Eurasia. He was born in Bishkek in 1954 into a Lithuanian-Jewish family.
Link: https://knowtechie.com/alexander-machkevitch-achievements-of-the-jewish-community-in-charity-in-the-cis-countries/
In honor of his mother, Mr. Machkevitch built the synagogue "Beit Rachel – Chabad Lubavich," the largest synagogue in central Asia.
In 2010, Mr. Arif and Mr. Machkevitch made headlines when the Turkish SWAT team raided a luxurious yacht (Savarona) and found them onboard with underage Russian and Ukrainian models.
"They (Turkish special forces) detained 14 people on board, including foreign businessmen and underage girls brought to Turkey from Russia and Ukraine for high-cost prostitution through foreign modeling agencies, reported Turkey's Hurriyet newspaper." Los Angeles Times
Musa Yusupovich Bazhaev, Tevfik Arif (Donald Trump's business partner), Kanat Bekmyrzauly Saudabayev (who was at that time the Head of OSCE and Kazak Foreign Minister), and Alexander Machkevitch can be found on a list of detained "foreign businessmen."
REMEMBER: "underage girls brought to Turkey from Russia and Ukraine for high-cost prostitution through foreign modeling agencies"
Newspaper articles:
TURKEY: Pimps, underage prostitutes seized in raid on an alleged vice boat: https://www.latimes.com/archives/blogs/babylon-beyond/story/2010-09-30/turkey-pimps-underage-prostitutes-seized-in-raid-on-alleged-vice-boat
Superyacht Savarona Seized In Prostitution Scandal: HTTPS://MEGAYACHTNEWS.COM/2010/09/SAVARONA-SEIZED-PROSTITUTION/
The Guardian: https://www.theguardian.com/world/2010/sep/29/turkey-ataturk-yacht-sex-parties
10 people go on trial over sex scandal on a historic Turkish yacht: https://www.dailysabah.com/turkey/2010/12/21/10_people_go_on_trial_over_sex_scandal_on_historic_turkish_yacht
Machkevitch and his colleagues used connections to avoid imprisonment. They escaped the country. Arif was the only high-profile person to face the arrest but was not found guilty. The blame was put on his colleagues. Arif was soon set free.
Mr. Kanat Bekmyrzauly Saudabayev (the Head of OSCE and Kazak Foreign Minister) and Mr. Viktor Khrapunov were members of the First Massimov Cabinet, the 7th government of Kazakhstan.
Mr. Viktor Khrapunov is a Russian oligarch, who served as a Kazakh Minister of Emergency Situations and a mayor of Almaty.
Mr. Khrapunov is on Interpol's wanted list for money laundering and organized crime. In 2007, Mr. Khrapunov set up a business in the Netherlands through frontmen. At the same time, Bayrock (Tevfik Arif, Felix Sater & Trump) set up a mailbox in Amsterdam (Bayrock B.V.). Bayrock and Khrapunov joined the business in Amsterdam. In 2013 he bought three apartments in Trump's SOHO.
Mr. Rudy Guliani (the former mayor of NYC) organized the Dutch structure. Guliani was also one of Trump's confidants for years, and the mayor of NYC, suspected of high treason in the case of 9/11.
I do not know if Mr. Guliani is a member of Chabad, but he definitely is one of their supporters: https://www.lubavitch.com/photo_gallery/former-mayor-rudy-giuliani-visits-chabad-kingston-ny/
Despite being "Roman Catholic," Mr. Guliani calls himself "A Jew greater than George Soros."
"Modeling agencies" and "teen models" is something Donald J. Trump is familiar with. Mr. Donald J. Trump owned the Miss Universe Pageant and is a good friend of John Casablancas, the founder of "Elite" modeling agency. Mr. Casablancas was accused of sexual abuse of 15 years old models.
Read more:
#1: https://www.latimes.com/archives/la-xpm-2002-dec-12-wk-moore12-story.html
#2: https://www.billboard.com/articles/news/73174/strokes-singers-dad-named-in-sex-abuse-suit
"Perhaps one reason why Ivanka managed to enter the ever-daunting world of modeling without much difficulty is because her father and Elite had been close over the years. For instance, The New York Times reported that the founder of the model management company, John Casablancas, was a friend of Ivanka's father." (Link: https://www.bustle.com/p/ivanka-trumps-modeling-photos-show-how-much-her-interests-have-changed-12796940)
Keep in mind that Mr. Trump founded the Trump Model Management (later shortened to T Management) in 1999.
"underage girls brought to Turkey from Russia and Ukraine for high-cost prostitution through foreign modeling agencies" Los Angeles Times - sheer coincidence?
I am not saying that Mr. Donald J. Trump is a pedophile. I am saying that his friends are pedophiles (especially Mr. Epstein and Mr. Billary Clinton.)
In an interview with Real Estate Weekly after the Miss Universe pageant, Mr. Donald J. Trump confirmed he held meetings with Russian oligarchs for Trump Tower Moscow project.
The article was removed from the website sometime after Mr. Trump became president, but it is still available on the Wayback Machine.
Link: https://web.archive.org/web/20180826053644/http://rew-online.com/2013/11/12/hotel-trio-aims-to-bring-manhattan-to-moscow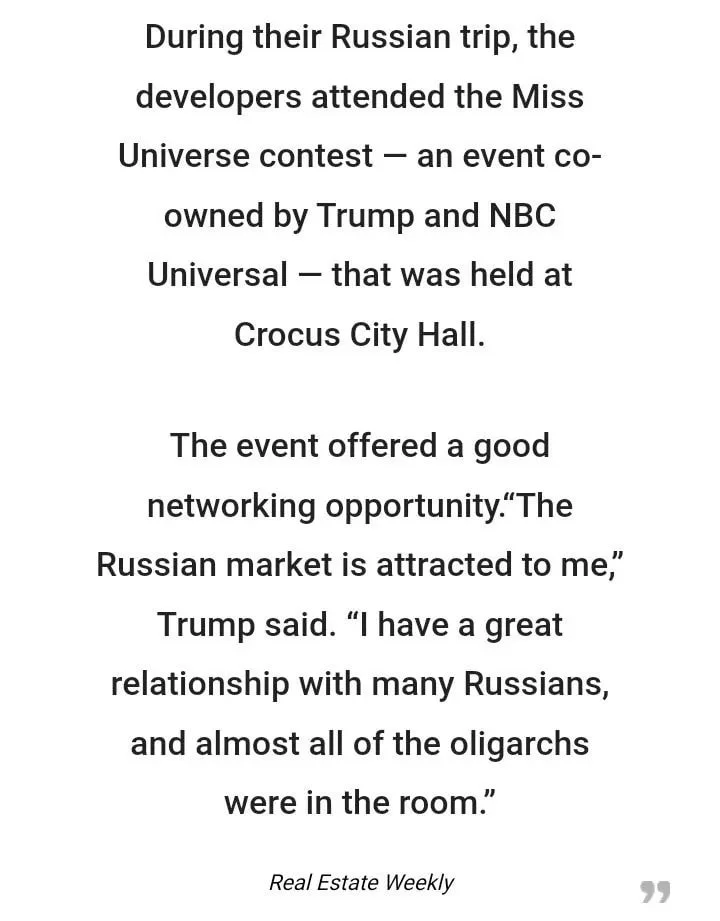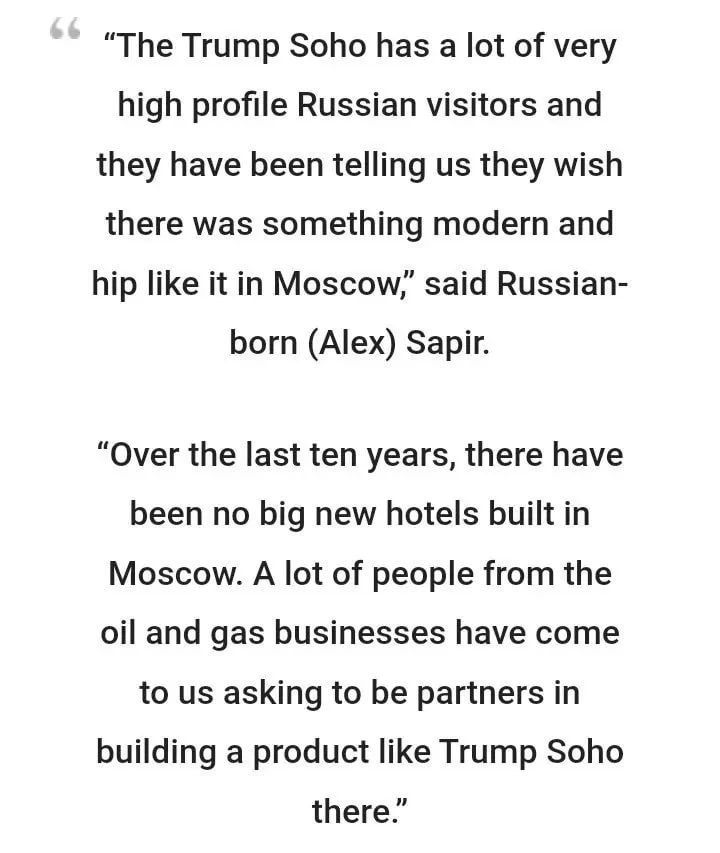 Twitter- June 18th, 2013 - 10:17 pm
"Do you think Putin will be going to The Miss Universe Pageant in November in Moscow - if so, will he become my new best friend?" - Donald J. Trump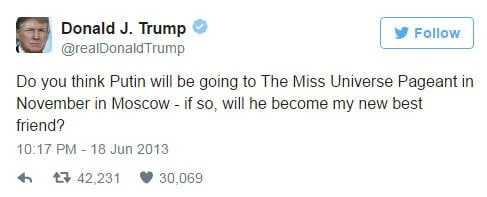 In an interview with C&B From Mar-A-Lago, Mr. Donald J. Trump stated, "I got along with Putin great. I knew that he always wanted Ukraine. We used to talk about it at length."
Link: https://www.clayandbuck.com/president-trump-with-cb-from-mar-a-lago/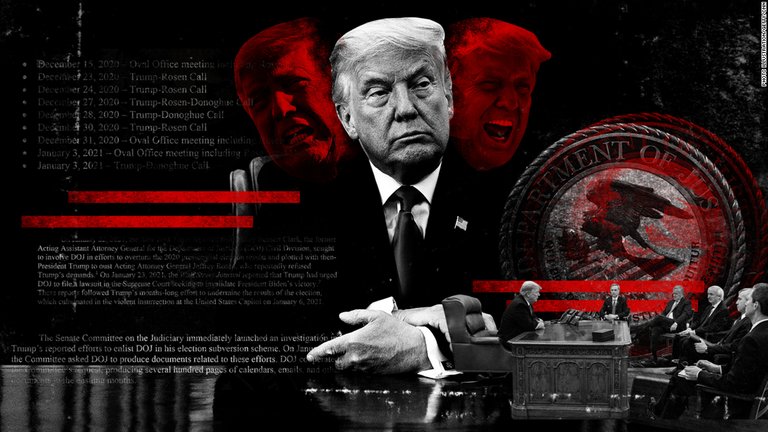 Birds of a feather flock together, don't they? I won't make any audacious claim. Instead, I'll let you decide whether or not Mr. Trump is a Russian asset.