This account was created by @DRutter to gather HIVE donations for Freedom Convoy 2022, the grassroots movement in Canada started by truckers against Covid vaccine mandates. It will also establish a presence for the organizers here on our blockchain, and promote Hive to millions of people in the growing freedom movement who really need to know about it! As tyrannical governments seize Gofundme and Givesendgo donations left and right, cryptocurrency provides the financial freedom to receive and spend donations outside the legacy fiat system!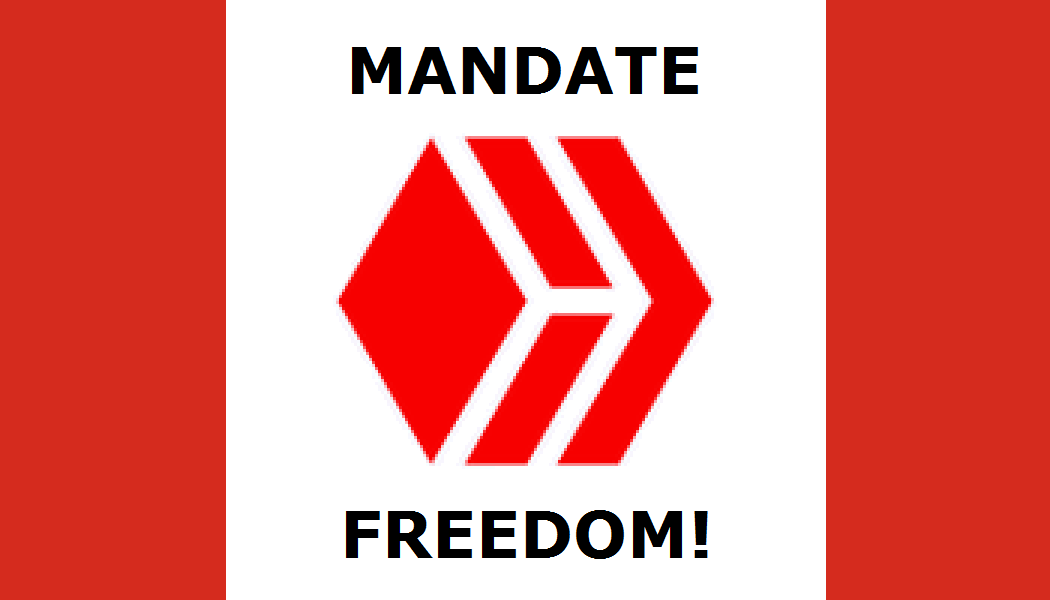 All donations sent to this account (and payouts) will be kept liquid, except the original 100.000 HIVE @DRutter donated and powered up.
Any donations sent to @DRutter will be forwarded to this account.
The private keys are held by me (DRutter). If at any time, I am able to personally get in touch with the head organizers of Freedom Convoy (like Tamara Lich), I will securely transfer the keys to them. This is more likely to happen if we're able to gather a large amount of HIVE and/or generate a buzz.
As @ackza mentioned here, the Hive blockchain has everything we need to crowdfund crypto donations for any cause! The donations are visible to the public (which is perfect) and security is built in. There are no fees, so accepting and managing donations is efficient and clean. Donor location (Canada or otherwise) does not matter and can't be used against the cause.
As a reminder, I successfully crowfunded close to 10000 HIVE over 18 months for my cause Mission: Agua Possible, to bring clean drinking water and irrigation to a family farm and neighborhood in Venezuela. That was during the long downward fall from $8 to 10c, so we had trouble reaching our goal quickly, but eventually we showed that it's possible. During a sideways (or bull) market, it would be exponentially easier to raise a powerful amount of HIVE.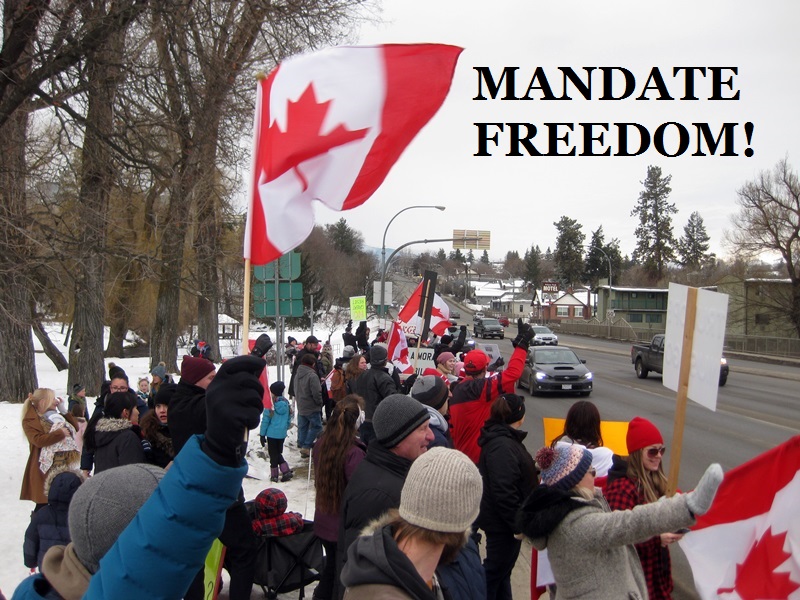 A donation fund to hold Bitcoin for the truckers very quickly hit its goal of 21 BTC a few days ago. It was set up after the Gofundme account was stolen then refunded, and the Givesendgo account was mandated frozen and then hacked. I covered it here and Bitcoin.com did a good writeup on it as well. The truckers needed those funds for their ongoing mission, including legal costs. Losing access has had the intended consequence of putting a damper on the movement.
With the keys secured, Hive accounts are very difficult to hack, freeze, mandate, etc. Funds sent here will be available when needed! If we're successful in generating some momentum, it's possible the blockchain will see increased use among people wanting a safe way to donate to Freedom Convoy. Another bull market (back to $3) would multiply the potency of our donations.
How you can help
Upvote this post - all payouts will be liquidated and added to the donations received.
Share this post - reHive, link some friends/family, share on social media, make your own promotional posts linking here, etc.
Send donations of HIVE - they will be kept liquid and ready for spending.
Familiarize yourself with the important Freedom Convoy information reHived by this account.
Comment with suggestions, info, and motivation!
---
This account will use the following images for profile pics: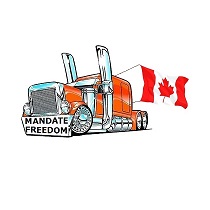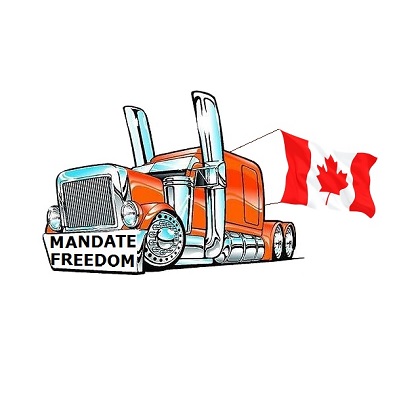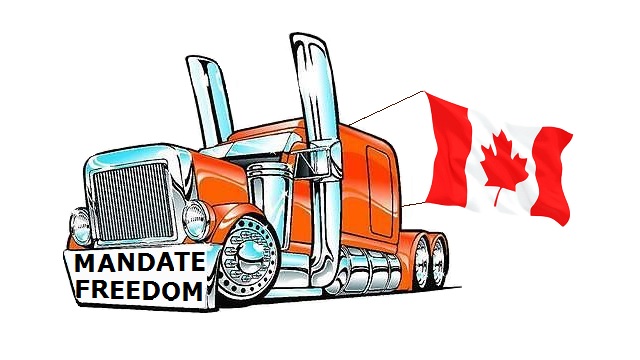 ---
Goals
Everybody wants to end Covid mandates and restrictions in Canada, now that Omicron has infected most of the population despite our high injection rate. Our government has doubled down on their failed strategy and refuses to listen to the protests of the people. Freedom Convoy arose out of this intense frustration less than a month ago, bringing hope and inspiring freedom-fighters like wildfire around the world.
There is massive need for funds, and massive desire to provide them. The dollar funds received millions per day at the peak, and the BTC fund pulled in a million worth in a matter of hours. Hive is a lesser-known cryptocurrency, but I believe we can raise several thousand or even tens of thousands of dollars very quickly. That would be enough to make it worth the time of the organizers in Ottawa to communicate with us, learn how to use our blockchain, and take control of the account.
Another way I can get donations where they need to go is directly. For more than a year I've been attending weekly freedom rallies locally here in BC. As I've reported extensively in recent weeks, my local group put together a convoy of trucks and people and supplies, called "Freedom Convoy Okanagan", and launched on Saturday for the BC/USA border!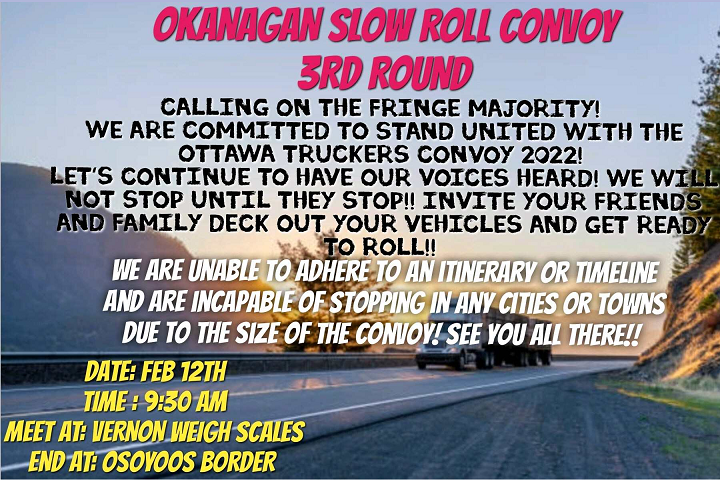 ( The flyer circulated to promote the group's last action. )
They arrived at the Osoyoos border crossing and were joined by convoys from Princeton and other small towns in the region. Please have as skim through this 40 minute video for a general idea of how it looked:
I don't know the dude in the black cowboy hat, but I see many familiar faces in the crowd there, and the singer is my friend Jacquie. I was so proud to see them reach their destination safely, and close the border crossing. Peaceful mass non-compliance is how we can topple tyrants! The global elites really did not see this coming. There are now several crossings in Canada affected.
More such actions are planned, but they aren't free. Many of the participants have the resources to be there on their own, but we can increase the number of people and vehicles by providing additional funds for fuel, food, equipment, accommodation, fees, and other costs. I know some of the organizers directly involved in the project, and I'm certain ANY funding we come up with will be greatly appreciated and put to good use. This is a time for being generous, because freedom is one of the greatest causes there is, and this may be one of our best chances to come along in quite a while. If we continue to apply peaceful consistent pressure, in greater and greater numbers, we will defeat this evil!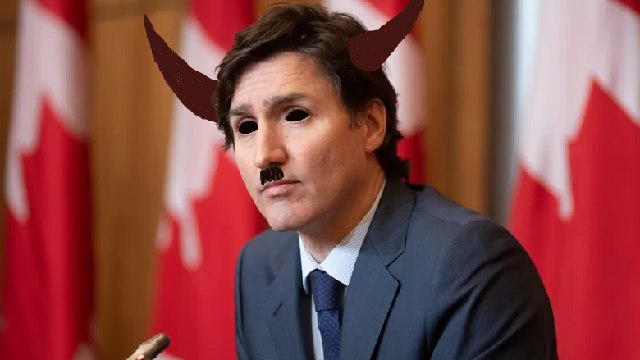 I have started us off with 100 HIVE (about $133 CAD currently), and would love to see us quickly reach several thousand. This would help propel the campaign to potentially larger donations from big donors. But we need to be quick. Trudeau declared martial law this morning and is threatening to use every method available to stop the protests. Crypto is fast enough to make a difference when it's needed! With the dollar funds frozen and hacked, now is our time to shine!
Total donations:
Timeline?
Sooner the better, but if you want to power down so you can make a sizable contribution, there's time. The next 10 days or so is a general ballpark. More convoys are organizing and looking for funding now.
Personal note: My second child is about to be born, so I won't be personally joining the convoy. My contribution is helping them with funding. To be extra clear, I won't be spending any of the funds on myself. The HIVE account and wallet will be handed over to organizers (either here in BC or over in Ottawa) of Freedom Convoy directly. Until then, my role is to promote the cause, and regularly report on our progress. All the money will go to Freedom Convoy participants.
Thank you so much for your generous support. Once you've sent in your donation, make sure you follow this account for updates. You can email @DRutter directly: drutter (at) protonmail (dot) com. Questions asked in the comments here will be answered. Let's restore freedom to Canada, and show the world how it's done!