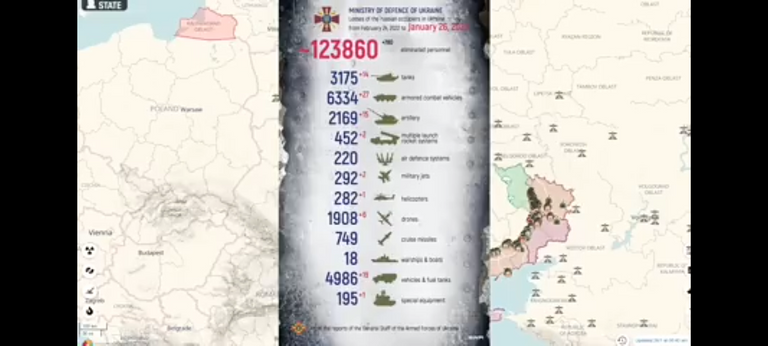 Day 337
123,860 Kia.
That means $780 souls perished on the Russian Red army side.
14 tanks!
27 armored personnel carriers.
15 artillery holy cow this actually is heating up in some pretty phenomenal ways as you were watching Ukrainian forces getting a little bit more frisky with the firepower as all of these military assets are being worked over. Absolutely phenomenal day. Congratulations.
Russian missile strikes across Ukraine.
20 missiles alone were launched towards the capital of Ukraine in another incredible expenditure of military ordinance towards civilian infrastructure.
In the central section of the front line Russia shot off 55 missiles which 47 were shot down. Counting this to be an 85% kill ratio which is radically better than anything else we see in this conflict from the Red army side.
And another reported 20 or so Iranian drones were reported being launched off as well so again this is just an entire international situation that needs to be taken care of.
So basically what this means is Putin is throwing a tantrum and launching the last available stores of what equipment he has left in a possibility and chance that for some miraculous reason hitting civilian targets will make the rest of the world tremble and capitulate.
Adeevka
Hot fighting as well as some phenomenal hits on equipment have added to the overall equipment list count in this section. Extremely expensive day for the Red army in this area.
Volodar
Hopefully I didn't misspell that. And we're going to see a minor push by Russian forces in this section.
T14 TANKS
Bunch of experimental prototypes apparently are going to get shipped to the front lines. However where it is that they aren't actually going to see any fighting because there's only like 14 or so of these tanks and they're just way too valuable to be lost on the battlefield and might want to be Captain reserved just in case Russia uses the entire rest of it's tank battalions in these useless attacks against Ukraine.
Unfortunately Russia cannot replace any of these if they get lost. Making them extremely priceless to the Russian military let alone just like the flagships of the black fleet should they get within range of Ukrainian weapons we're going to see them get destroyed. Which is going to really upset Russia. And it's not like there is massive amounts of these tanks being unleashed in this war. And in fact production of these tanks has hit a bald neck because you can't get the proper technology and equipment to build these tanks properly. It seems like it is easier to retrofit existing Cold war era tanks until those stockpiles run out because trying to build modern-day technologically advanced tanks is an impossibility for the Red army. Don't forget these are also called parade tanks because apparently they don't even work and drive necessitating being towed through the streets of Moscow in parades. Lol. What a joke and a lack of prep.
Kherson
A Turkish vessel was hit in the port by Russian forces which there's been about 12 different vessels being trapped at this port during the entire conflict happening and right now with the act of war zone being on that doorstep it's pretty difficult to evacuate these cargo ships. Nobody was hurt however this might make for a little bit of an issue with turkey. I'm not sure that turkey is going to be very happy however at least nobody was killed or injured in this Russian strike. And it just really seems that Russian forces really can't get a break. There's definitely exemplifies the fact that Russia doesn't know what it's Target is when it shoots it's guns. And getting to find out that you have hit the ship of a different country just might continue adding in even more diplomatic situations and issues until internationally you have gone too far and the rest of the world gets really upset. So Russian just continues to make even more situations that can't clean up. And Russia really needs to be careful turkey happens to be a black sea fleet and they actually control the port to the Mediterranean. Yep that's right the straits that have spilled over allowing the Black Sea to swell and be connected with the rest of the world has now ended up getting closed with Russian forces being unable to sale from other parts worldwide and fight in this conflict. Russian forces are actually locked out of the entire Black Sea conflict. Basically rendering the entire naval might of Russia split into a small black sea fragment.
Belarus
Apparently a bunch of Belarusian army forces are now training right next to the Ukrainian border with a bunch of armored personnel carriers making for what seems like a rejection of peace terms and denial of a non-aggression pact that Ukrainian government officials recently extended over to belarus. I guess it is only reasonable to assume by these actions that Belarus is prepping up for joining the Russian military in glorious suicidal front long charges. However conspicuously absent happens to be the massive amount of Russian tanks however I am sure that a couple of the t14 Armada parade tanks can be towed close to the front lines for Ukrainian forces to use as target practice.
NATO tanks
The United States says that operational training for Ukrainian forces on the m1 Abrams tank weapon systems will start within weeks circumventing a massive long logistical training cycle waiting list.
Germany is also sending more tanks seeing other NATO compliant country starting to shift and revolve stocks and ship off a bunch of these tanks not will consolidate the Ukrainian forces engine pretty phenomenal ways to end this conflict which hopefully can save millions of lives and avert a nuclear conflict.
An incredibly the number has actually swelled up to now being roughly 100 tank total donation by the entire world. I'm going to guess this is about 1% worth of the entire NATO stockpile for tanks. And in fact actually supply issues have been completely and totally solved with every single part being standardized as well as numbered so that you can instantly order in parts and repair and refurbish these extremely technical pieces of equipment. War is really costly especially when you were talking about extremely expensive tanks so the supply lines as well as Western military logistics systems NATO Stock Number.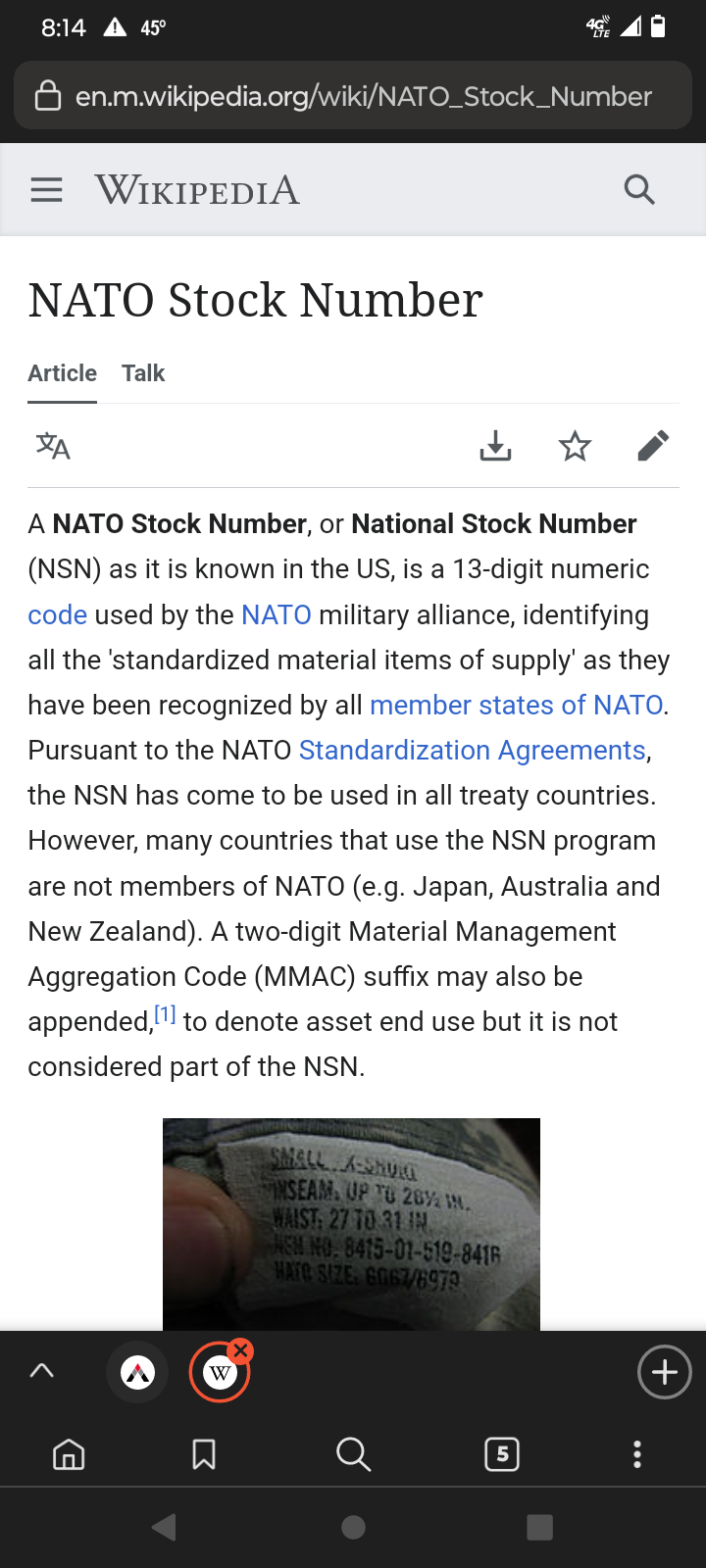 https://en.m.wikipedia.org/wiki/NATO_Stock_Number
Basically all parts and supplies that a military is ever going to need for all of its war fighting equipment is neatly and completely noted down with an NSN NATO stock number or national stock number. This came out of the United States organizing lend lease for world war I and two I do believe. Organizational skills for military logistics and supply have come a long way. These new supply contacts really expand the capabilities of getting the proper equipment to repair depots in a timely fashion without over straining and over working the logistical system in wartime. The proper equipment at the proper time.
Wow Russian forces got a supreme order to conserve and protect ammunition stores as North Korean artillery shells are going to start running out here pretty soon with only a limited amount of the North Korean stockpile being shipped to the red army. In the meantime we are seeing international efforts to jumpstart and begin wartime production levels to be able to supply Ukrainian forces with proper amount of shells that are needed to conduct operations within their own country. Let alone the fact that it's going to just continue making Russia Fall apart while it extends its entire military fighting force uselessly.
Crimea
I haven't heard about this however apparently for the third time Russian forces have completely lost control of the information space. Apparently Ukrainian separatists have figured out a way to hack everybody's TV signals. Basically replacing the live feed of every one of these signals with Ukrainian and European news and propaganda about the war. Making a very start contract too the massive amount of bias with Russian State media.
---
Speak the truth Ukraine update.
Out of the 55 missiles being shot ate actually landed so he starts off with the Russian military and ineffectual waste of ammunition. However he does point out the high effectiveness of NATO coalition air defense systems. Which actually are an amazing blessing that is going to help save thousands of lives of the Ukrainian people every single day.
You got a lot of countries hopping on the entire tank bandwagon and he goes down through a list of 14 of this 14 of that and continue listing out of stockpile donations really is going to shift the entire conflict. Don't forget Ukrainian forces have only continued to get more tanks during this conflict as they are able to steal and refurbish a massive amount of Russian captured tanks however the additional high quality optics targeting computers and capabilities of NATO weapon systems is just going to ensure for the piece after Ukraine text back it's entire territories. Once again we've also heard that Ukraine is an interested in taking any Russian territories and didn't pursue invasion forces coming into Ukraine from Belarus as well as Russia and allowed them to safely escape over a little line on the ground. Which was extremely gracious and gentlemanly of Ukrainian military forces because they really could have just continued pushing the retreat all the way to Moscow. Again should the Russian front line collapse there really is no Russian military supply or reserve left for Russia to be able to defend its cities and homeland. Especially with the fact that it's entire military capability is currently sitting on one tiny little border of one of its neighbors.
Oh yeah and pedophile President Biden decided to finally get off the fence and send over 31 Abrams tanks. I already talked about that and it's pretty awesome to see the United States army fast-tracking Ukrainian tank crews for immediate quality instruction on how to use the M1A Abrams in combat to the most of its abilities. Which this tank absolutely needs to get involved in this conflict and military contractors as well as the military industrial complex really needs the rod data of how NATO forces perform against the best of the Russian army. well wait let me say what is left of the Russian army because with massive destruction of tanks in the past 24 hours do they even have any stores left. Well any stores of modern day current technology tanks. And that modern day current technology tank only counts if it can drive and operate on the battlefield without getting towed through a parade ground. Lol parade tanks... Omg...
So apparently a big huge spring offensive is coming out so a bunch of Bradley vehicles are going to go out to stabilize the front lines and apply a massive amount of pressure to the Red army while here very shortly the spring offensive is getting put together and you're about ready to see a big huge push. However I'm going to say that that spring offensive might get turned into a timeout and wait until midsummer because of course of all the mud. Apparently until it freezes or dries the mud is the best natural obstacle the Russian military faces. And I really don't think that enough trained armored Cruise can show up on the front lines cold weather.
And apparently Russia is also getting really super scared because if NATO depleted uranium penetrator rounds are sold that are actually extremely lethal and incredibly capable, so apparently brushes trying to complain however obviously Russia has used a depleted uranium, which apparently in their eyes now means that if you couldn't even gets these weapon systems as well as high quality munitions that Russia is completely and totally justified in using nuclear weapons. Which is a massive stretch however I'm going to say this is just a continued temper tantrum by Russian State media and blatantly encouraging the entire idea of a nuclear war. I am sure that the continued temper tantrum is just going to infuriate the rest of the world and at the conclusion of this conflict even that different hosts have acknowledged they will be held accountable for the words and rhetoric they have used. And actually threatening to Nuke the entire rest of the world for multiple months and nearly an entire year? Yeah I could absolutely see why and how these individuals would worry about repercussions coming from their involvement.
And absolutely depleted uranium is bad for the environment however the complete and total destruction of these different Ukrainian cities by massive amounts of toxic high explosives as well as the environments being littered with unexploded ordinance.
Crimea offensive!
Yep actually with the huge advocacy for shipping over tanks, we are actually going to see the reality for a Ukrainian lightning war II start taking back massive amounts of territory and set up the complete and total loss of the Southern territories as well as pushing all the way through crimea. Which this is going to start a Cascade of failure throughout the Red army and start really isolating the northern front. At that point resources and assets are free enough for the northern push that is going to have an extreme isolation of force on a very much smaller front line against the degraded Russian Red army. Basically this means that there is very little chance for Russian forces to continue holding on to any Ukrainian territories without continuing to incur phenomenal casualties.
In the north we're going to see a big huge offensive as we've seen months of brutal fighting and very little Frontline movement yes there's been a little bit of flex but overall massive gains really have alluded the Russian forces.
In the southern front we have maritime operations by Ukrainian special forces that have been able to Target military command facilities as well as bases in an incredible attack. It is reported they took some pretty severe casualties however were able to complete the mission successfully. The massive success of this entire Maritime operation that was able to see Ukrainian forces successfully deploy across this huge River and strike such a large military base and deliver such incredible amounts of damage to the Red army command structure and the entire base is another one of those stories that I'm sure we're going to hear a massive amount about after this conflict has been completed. And I can only imagine the amount of international legion support as well as retired special operations commandos that are currently in the Ukrainian military.
Ukrainian special forces apparently were able to use three boats and were hit by incoming artillery fire by the Russians as they landed. This wasn't a full invasion no matter what the Russian military says however this probing attack is just going to become a bigger sign of things to come in this conflict.
Russian forces are extremely worried about these probing attacks and are starting to express some major public outcry over what could possibly happen.
Russian Media
Apparently this is a Russian holy war a patriotic war against 50 satanic countries that are unjustly supplying Ukraine. It is kind of ironic how fearful he is as well as the extreme condemnation and attempt at demonizing Russia as well as isolationism. Of course try to take the spiritual high ground and pretend you are the aggrieved party even though you invaded the neighboring country is kind of interesting delusional thinking. I'm not sure the media spin can cover the facts properly.
Apparently this News host wants to declare every country that sends tanks as well as military assistance to Ukraine as being an active wartime participant in this war. Which I really don't think he wants to actually happen because the entire world against Russia would not end well. Russia can destroy the entire rest of the world however from now on the rest of the world is now going to demand Russia completely and totally demilitarized as well as hand over all nuclear weapons. The fact that you can't trust Russian to be responsible with the nuclear weapons that they have? This creates major political situation. In fact I see this as being one of the most important steps for the world's population to take. The United States eventually can decommission our nuclear weapons capabilities on our planet. Actually getting to use all of the nuclear weapons to protect our planet instead of destroy ourselves would be a much better use of that technology. However the desperation of threatening the entire world with destruction over the fact that a special military operation failed is pretty funny. I mean Russia won't even admit this is a war let alone a war that they are losing.
The West actually has really helped Ukraine contain the conflict and now we're starting to look at a secondary phase that is ongoing where Ukrainian forces are able to push Russian forces out of Ukraine which now is starting to become a reality which is really making Russian military officers get scared. Having current generation NATO tech showing up on the battlefield that completely and totally outclasses Russia means that Russia is going to lose Crimean and as a result a major amount of ports as well as military bases that they built. This is really going to cut off and to limit Russia from accessing the Black Sea as well as hampering it's naval operations. Which honestly is something that they should have thought of and negotiated a little bit better with Ukraine instead of just invading because now there's quite a bit of animosity so I really don't see Russia getting preferential treatment from Ukraine anytime soon for its naval fleet. Oh I mean what remains of the Black Sea Russian naval fleet. Because of course they are missing quite a few of their ships from that fleet including the two flagships. And Russian Navy personnel need to be really careful to stay extreme range over the fact that Ukrainian forces have an amazing capability to attack naval vessels not only with drones from the air but drones from the sea as well as anti-ship missiles. So the desperation only grows.
Incredibly the individual speaking on Russian media starts to prove that only an idiot would threaten to use nuclear weapons and the United States was a nuclear power that lost in Vietnam which of course Russia did participate in in ironically pretty much the exact opposite of what happened in ukraine. So we're looking at karma. And military fact. Then also the United States was preceded in Afghanistan by Russia who lost of course and then the United States the United Kingdom France and the European Union forces lost Afghanistan.
Of course his intelligence is completely countered by Russian media idiot advocating that not using nuclear weapons is a dangerous trend.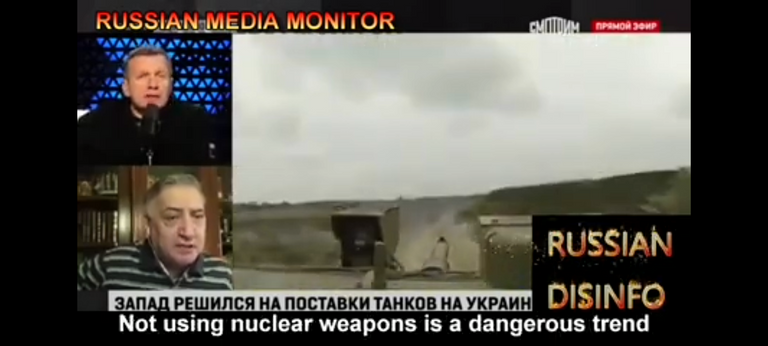 Once again Russian State media just cannot get away from the entire idea that they need to justify some reason to commit nuclear war against the rest of the planet and destroy all human beings just because they can't conduct a proper war.
Absolutely Russian forces need to build a highly trained highly capable military and supply them properly however that time has passed and that ship has sailed a long time ago Russian forces are currently wandering into this conflict after buying the cheapest crappiest made in China airsoft equipment. Russian forces are using makeshift body armor plates that have absolutely no ballistic protections. Russian forces are extremely short on military equipment and orders now to conserve military equipment as well as artillery shells because the Red army is running critically low on gear and equipment is undermining any chance of success that the Red army could have.
Against tactical nuclear weapons because,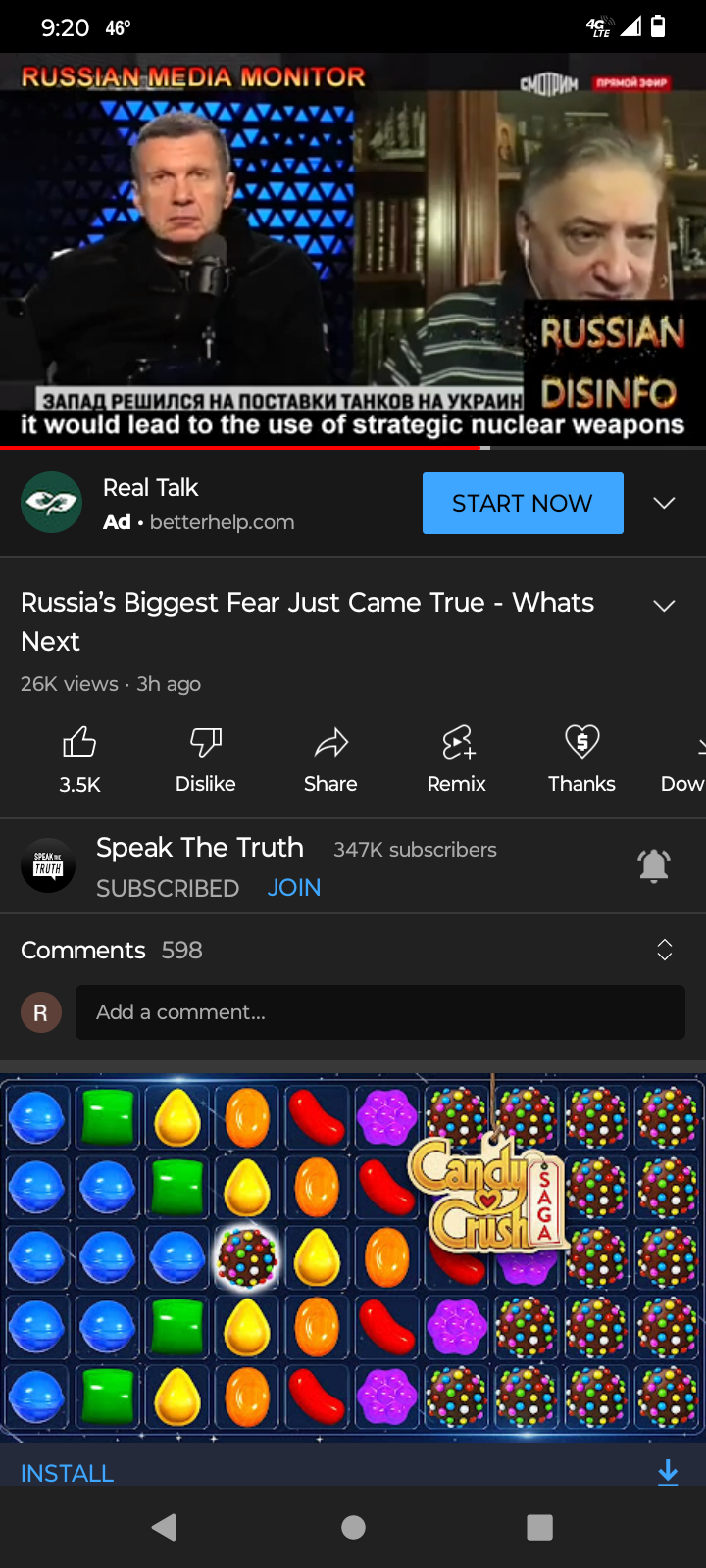 I really have to agree with this individual on Russian State media use of tactical nuclear weapons are only going to result in strategic nuclear weapons being used. As well as the fact that Russia continues to threaten to use it when they do it is going to be received by international condemnation. So we're going to look at very minor gains at a huge risk of alienation of the Russian federation from the entire world with one strike. Even a small tactical nuclear weapon being detonated on the battlefield in Ukraine is going to justify every single NATO tank that is donated. And technically because Russia did invade in clear violation of the Minsk agreement that means NATO is obliged to support and defend Ukraine because Ukraine gave Russia back all the nuclear weapons that it possessed. So Russia does have these nuclear weapons however they technically can't use them until they have been invaded or attacked themselves as per the Constitution of Russia and their ideas of laws.
---
Denys!
Love his updates.
---
---
---
---
---
And I'm gonna do the promotion tag line!
Budo brothers!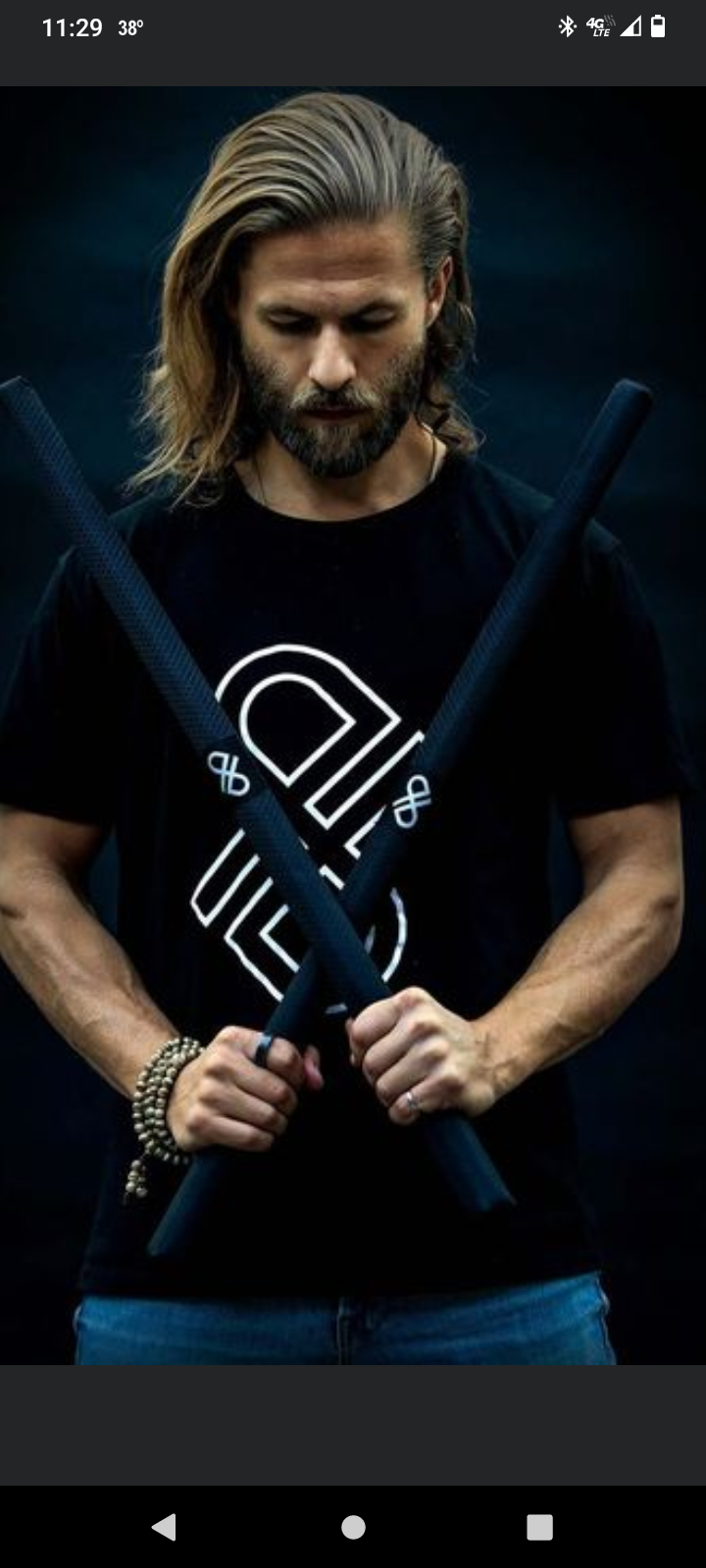 I'd definitely like to promote them. They are sending me a pair of these sticks. So in return I'd love to promote them here on the blockchain. Cool gear and martial arts videos that are phenomenal.