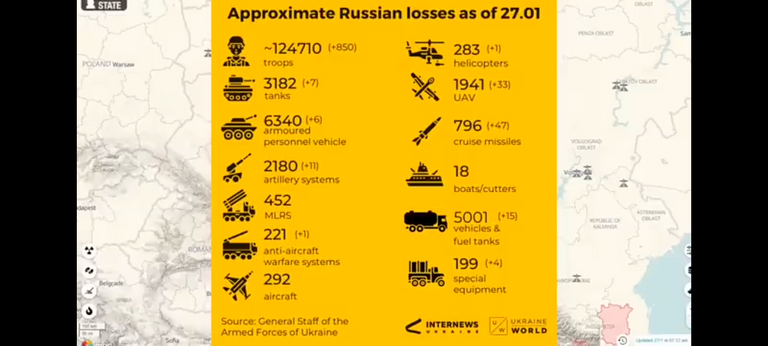 It's been a bloody day as well as extremely busy once again with a huge number of casualties.
124,710 souls have been lost in this conflict so far. Making this the most bloody war of our century so far. Losses just do not stop and continue to skyrocket. Seven tanks six armored personnel carriers have ended up getting destroyed.
11 artillery systems getting hit is not going to help this conflict at all on the Russian side. In fact it starts to look like Russia is in some really deep crap. The fact that Ukrainian forces are only getting better and Russian forces continue to amaze the entire world with operational losses skyrocketing continuously.
Losing in their defense system as well definitely isn't going to solve the problem Russian military forces have.
One helicopter getting lost is not an easy day.
However 33 drones being lost and 47 cruise missiles being lost? You're watching the last of the stockpiles being ran dry. Russian forces really are starting to scrape the bottom of the bucket when it comes to military equipment they have left. And of course the fact that the overwhelming Western air defense systems are racking up phenomenal amounts of losses.... Is just completely and totally shedding this entire conflict down. And basically this massive amount of destroyed equipment is only recently being counted today as they were destroyed yesterday however it did take some time to confirm combat losses.
Don't forget the four special purpose vehicles! Those could be anything from command post to electronic warfare platforms which none of those are cheap. Looking into this entire thing it just seems pretty clear that Russian forces are getting worked from all sides. Yep that's right the entire rest of the world is shocked to see the Red army making every strategic as well as tactical mistake possible in this war yet they continue to fight.
Because Russian forces have been continually pounding Ukrainian civilian electric power infrastructure pretty much everywhere you see a bunch of gas generators that have been donated from countries around the world to help Ukrainian forces as well as Ukrainian civilians survive the huge destruction of the electrical power grid.
Northern front.
Russian soldiers are being ordered to attack without adequate support. Apparently these soldiers are calling it a criminal waste of human resources to be executed on the front lines. In fact absolutely it is and I fully support these soldiers bravely speaking up about the unethical and inhumane treatment by the Red army and the callus disregard of lives by Russian military commanders. Which of course should absolutely have repercussions at the end of this war. The fact that Russian forces have really been left without any command in the northern front shows in that there is only been small fighting and a general disorganization to Russian forces. There's no cohesion no combined assets and definitely no major offensives from the Russian forces that have retaken portions of the territories they just lost.
Krimeena
Reports another Russian base was hitting this area with most likely red army officers being targeted in this continued campaign to decapitate the Russian Red army.
Bakhmut
Heavy fighting has been reported all across this front line and the continued slow Russian bloody advance has continued slowly taken even more territory in an incredible useless waste of military capability.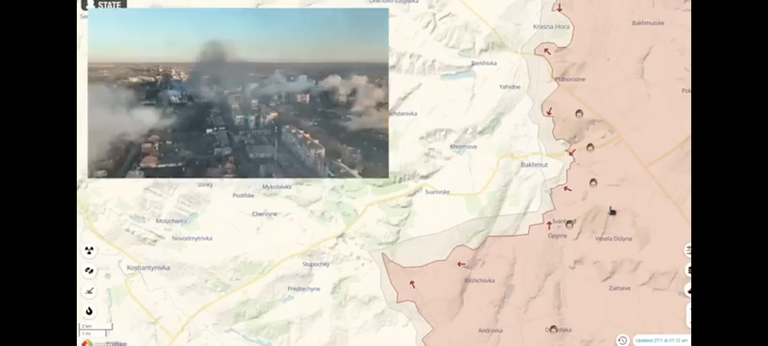 Incredibly it seems that Russian forces now have put themselves in such a position that they are actually in danger of getting encircled.
Voledar
I really successful Russian attack suddenly ran into this major problem when Ukrainian forces decided to counter attack using anti-tank guided missiles which absolutely caused a huge amount of destruction and losses for the Russian forces as well as completely disrupting and eliminating the excellent successful military operation that they were currently conducting. Watching these forces being able to successfully give a little bit of ground and allow Russian forces to walk into an ambush that incredibly takes advantage of not only defensive in placements but also Red army hubris to achieve a tactical success that adds up into a strategic tsunami for the Ukrainian armed forces. Reported losses include a t72 as well as a t80 Russian tank. Which should actually be quite a interesting and lovely gift for the Ukrainian people to rebuild as all that quality scrap metal will be able to provide quite a bit of steel that is needed to repair the massive damage that has been incurred with this conflict going down. And actually it's pretty incredible that I just barely got done talking about it yesterday about how Russia was hiding all of its tanks and all the sudden it breaks a bunch of them out and pushes them forward only to incur phenomenal amounts of losses. I guess we found out where all the tanks are and apparently Red army tanks are an endangered species.
Zaporizhzhia
Also we have in this area the exact same thing that happened next door with Ukrainian forces being completely capable of disrupting Russian combat operations on the front line. Little bit no movement on the front lines being reported however on going fighting hasn't slowed.
---
Russian State media immediately targets Germany and I don't think that we're going to be able to see Russian leadership be able to settle this. In fact I think it's looking like start declaring well war upon European nations over simply supplying aid. Which actually has been something Russian propaganda and military have been screaming about.
The German pig has declared war on Russia as well as calling Germans Nazis and apparently now equating support for military action is definitely going to make quite a change in the way Germany relates to this entire conflict. Don't forget the entire overthrow of the German government was part of a Russian connected group that actually had contacted Russia for support and military assistance thinking that somehow someway Russian spies as well as Russian military forces would be able to ensure a transition of the German government into a pro-russian dictatorship. The fact that we are seeing such violent rhetoric is over fears and how scared we see Russian forces getting.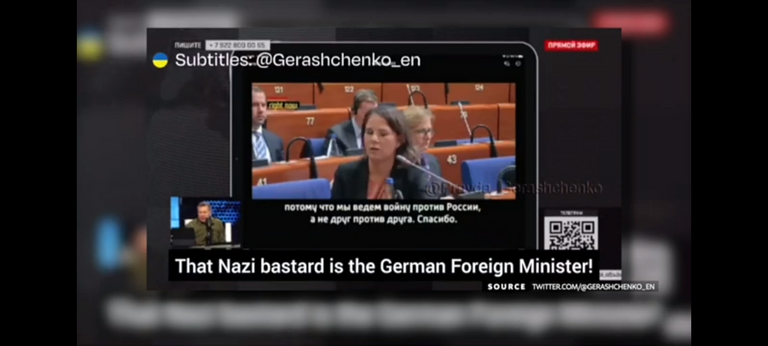 Only Russian State media would be so reckless as to publish this kind of rhetoric once again. It seems like Russian forces can only do crazy things like cry one piss moan and get upset over the fact that countries from around the world are supplying its neighbor with enough military and equipment for them to do the job.
Kherson
Ukrainian forces apparently took down the entire cell phone network or most likely just did a complete denial of service as well as information blackout I am going to bet that this was done in response for Russian military to be unable to call in backup and assistance during the special forces assault on the South Bank by Ukrainian special forces personnel.
And then on top of it more reports of Russian friendly fire on its own troops as there is no properly skilled forward artillery observers working with infantry units to be able to call in and correct artillery fire. So that is going to be an incredibly demoralizing event happening to the Russian Frontline troops to know that the artillery that's supposed to protect you can at any time be Misdelivered.
Tanks
Apparently a large number of t72 main battle tanks are going to be transferred to Ukraine bipolar and a good half of those have been completely and totally modernized with digital firing computers upgraded electronics and of course these things have all been taken care of and service.
And 14 leopard 2 tanks from Poland in an immediate delivery!
Canada says it's going to send in four leopard 2 tanks! Party!
Ukraine is also going to get Challenger 2 tanks from the UK. 14 of those and incredibly these gigantic and incredible pieces of machinery are absolutely going to be the undisputed Kings on the battlefield.
Germany 14 leopard tanks by the end of this quarter so that means it is only a very short amount of time until they land.
While Ukraine can compile and send all of these in a big huge wave I think that they're going to be formed into very specific brigades and battalions and then very specifically allocated to certain fronts about half of these will go to the southern front and set up an overwhelming opportunity for the Red army to collapse itself in completely retreat out of the Southern portion of Ukraine and crimea..
Spread across the front line this is going to back up the entire front and it seems like careful military planning and strategy now means that the Abrams tanks can sweep the entire South while the Challenger or two in the north is going to pin down and keep this entire front in line. Spreading a bunch of these leopards across the front line and integration with these mobile weapon systems to be able to also deliver precision artillery fire in close support of soldiers and troops is going to absolutely change the game. Let alone the fact that NATO main battle tanks are going to completely and totally dominate the battlefield.
The only thing missing is close air support like some a-10 warthogs as well as f16 multi-role aircraft. We really don't want to destroy all this equipment without having the Ukrainian army be provided with adequate air assets to maintain airspace dominance as well as protect these main battle tanks.
Which Boeing actually said that it is extremely prepared to ramp up production of f-16s and will be able to supply adequate numbers of f-16s to Ukraine. Which actually is setting the stage for all this to happen however it really needs to happen a lot quicker than what has been going on.
Russian military mobilization blunders continue.
A bunch of the satellite states with Russian citizenship are prevented from leaving Russia and urged to fight in ukraine. Basically any able-bodied individual that can be sent to the front line is getting recruited. However the Russian economy is having quite a bit of problems with massive amounts of sanctions and losing a massive amount of equipment and capability every single day is u only being a major marketing point against individuals wanting to accept a position in the Red army at the current moment. I mean you really don't want to join the losing army. As well as the army that's taking phenomenal amounts of casualties.
So yes the men of Central Asian countries that come to Russia and two of acquired a Russian passport cannot leave the country.
Apparently reports have gone back to their respective countries that they have been refused to leave the country. As well as also being included in Russian military mobilization lists. So most likely we are going to see a big huge amount of these individuals in the casualty count list here pretty soon.
Russian State media also apparently demands to take over Germany and then apparently share the technology and wealth of Germany to supporting Nations like Iran as well as North Korea even though these nations have some of the highest and strictest sanctions in the entire world which has only been recently eclipsed by Russia turning itself into a pariah state.
Chechen disent!
Apparently Russia is attempt to reprofessionalize its soldiers from the current bedraggled mob and alcoholics that it has on the front lines into shaving soldiers is getting a massive amount of pushback from its own Russian federation allies. Apparently one of the leaders got upset and went on a temper tantrum. However again this shows the lack of discipline in the Russian forces as well as the lack of leadership in the red army.
---
Special forces right on the other side of the huge Dnipro river that Russians can't cross.
According to Ukrainian forces actually the command post was completely infiltrated and a bunch of valuable intelligence was stolen from Russian forces. All sudden a huge incredible fire fighting zoos and I'm guessing Ukrainian forces then immediately retaliate with artillery.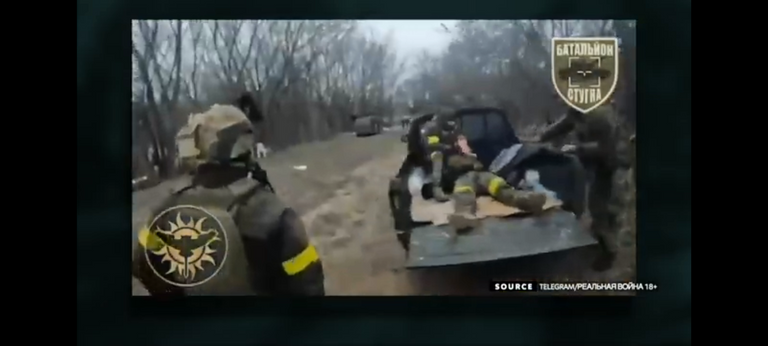 And even the video confirms Ukrainian forces did take casualties and you can see Russian forces the lighting up the entire area trying to deny the special forces team the chance to extract however luckily being in the river save them from shrapnel with a lot of those artillery hits being extremely close to those small little rubber rafts that were using to exfiltrate with. I didn't see any night vision goggles. However a special forces unit might not have wanted to get compromised and captured with all that expensive gear on hand and decided to do the old school thing by, letting your eyes adjust!
Watching the extremely quick exfiltration out of contact as well as having drone oversight is pretty incredible. The entire operation being captured on video is going to get broken down by historians for decades to come.
Another pretty incredible amount of news is that the infamous and legendary AZOV Regiment as officially been the third independent assault regiment incorporated into the Ukrainian army. And their motivational video is pretty incredible paying homage to the ancient Viking heritage and also showing a bunch of the drills and combined assets training that they've done. High quality weapons high quality training as well as extremely capable armored vehicles including armored Humvees and what looks to be t72 tanks as well as armored personnel carriers. These forces are now stationed on the front lines of Bakhmut clear challenge as well as threat to the Russian army that is so fearsome Wagner private military forces had to abandon the fight in this area and allow the Red army to get demolished. These legendary troops are so particularly fearsome that Ukrainian forces know it. Watching combat operations in their area you notice very distinctly that this entire line has held pretty firm even though multiple attempts to push only result in minor gains along with fierce Ukrainian counter attacks. This unit is responsible for a massive amount of the Red army casualty counts however the fact that they are repelling the Red army should now count them among some of the elitist of world combat forces. These Ukrainian soldiers have absolutely and totally earned the respect of not only the Red army but also the rest of the world for their combative capabilities. The fact that they can integrate organize and combine assets has been pretty cool.
In a side note because of this now on Facebook has been forced to reverse its policy as any mention of this group would immediately get your stuff flagged and you get into trouble. It's only taking a year now Facebook has reversed that policy.
---
Denys the pilot!
He immediately goes on to the central pocket large push and apparently Russian forces really want to encircle themselves while some people see this as a situation and something to worry about I see this actually as an incredible opportunity should Ukrainian forces want to exploit it. Allowing those Russian forces to extend out and open up its Frontline is a disaster waiting to happen because now this projection is itself in circled. While you've got some bulges to the line north and south of a hotly contested City on the South side here Russian forces really aren't paying attention to anything other than the demand to take more territory. Which then sees this unstable projection coming out of the front line. Which again Ukrainian forces continue a very careful fall back in the front wow continuing to set up ambushes as well as pre-targeted artillery solutions.
The host is a little bit stressed on the pressure endangering the city. However I see this actually as the last flailings and complete reduction of Russian Red army.
Of course even if Russian forces are able to push forward and take control of the city it really isn't anything more than just a small inconsequential gain of territory with no strategic significance.
---
---
---
---
---
---
---
---
---
And I'm gonna do the promotion tag line!
Budo brothers!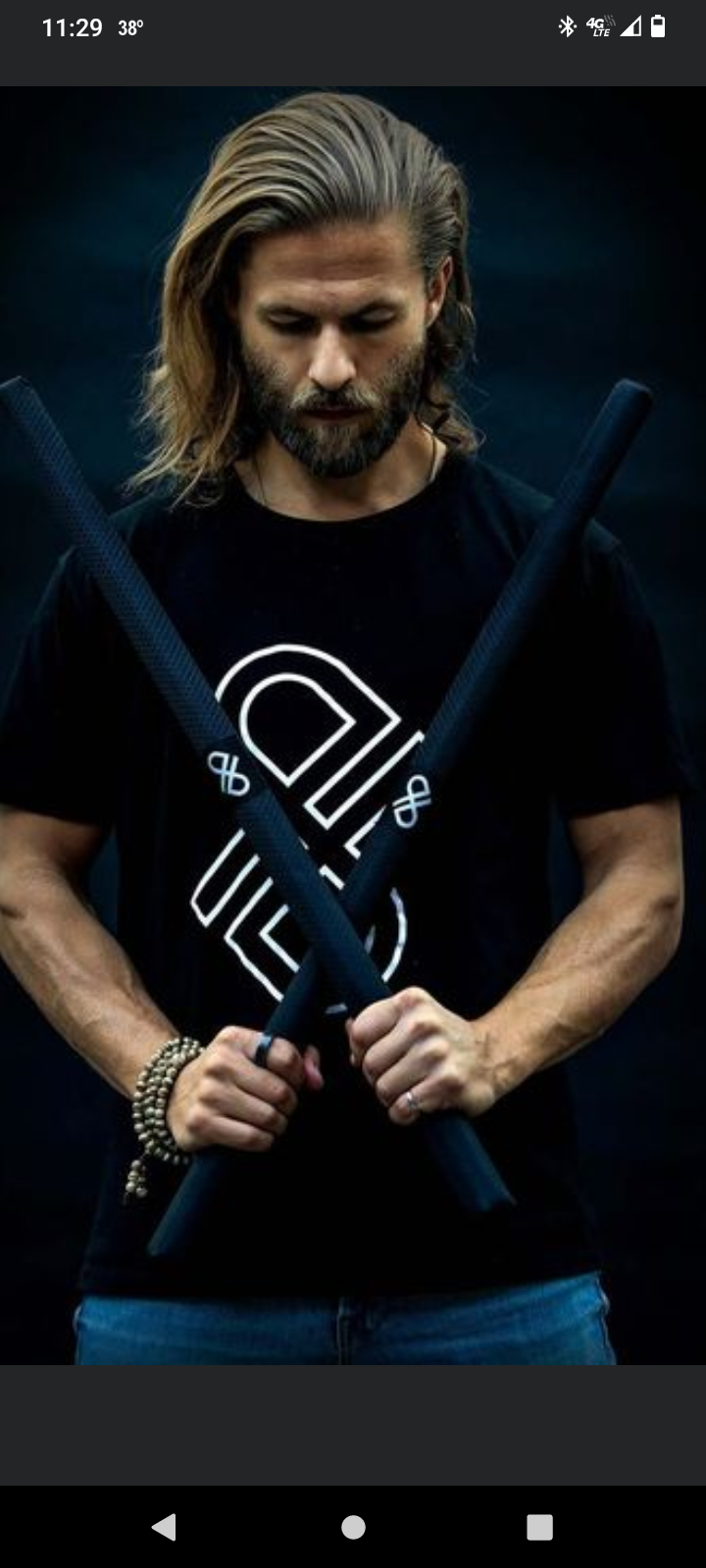 I'd definitely like to promote them. They are sending me a pair of these sticks. So in return I'd love to promote them here on the blockchain. Cool gear and martial arts videos that are phenomenal.