As we enter the next phase of the Global corporate-fascist takeover we can be sure that the poster-girl for this phase will be the CO2 visualising human-shield Greta Thunberg.
She has recently made a strong media comeback in the face of a Guardian front cover in which she is unveiled as a participant in the great NWO "black goo" initiation.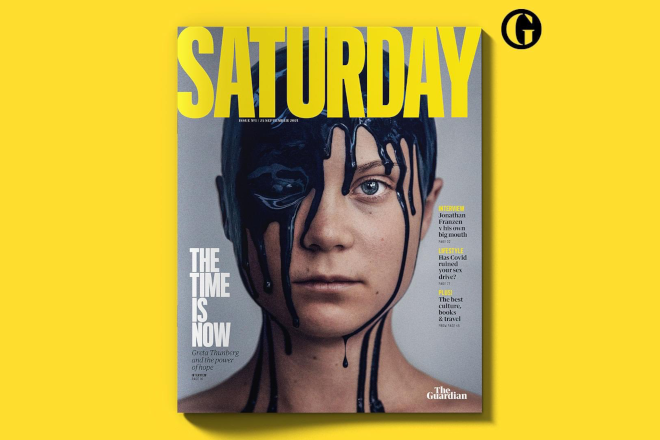 As #GoodGlobalCitizens we are still expected to believe that a young girl can simply stroll into the UN, repeatedly "grab" the microphone and pretend to be a grass-roots activist holding power to account. It would be wildly hilarious if it wasn't such a ridiculously stupid concept. But alas, it's one that most have fallen for, which, based on the last years events, isn't particularly surprising.
Just listen to this speech, probably penned by someone with neon coloured hair and a propensity for pronouns who receives monthly checks from George Soros' son:
I wish Greta no harm or ill-will, she's likely an abuse victim, or at the very least a product of a wildly disturbing upbringing, but she appears very emboldened and slightly giddy during this speech, perhaps acutely aware that her prominence and "importance" is likely to become ramped up to the extreme in the coming years ahead.
It can't be long now before we start to hear about the next cycle of hurricane events, global fires and the general breakdown of society, with the blame solely lying at the door of one of life's key resources (CO2) which we need to eliminate through the process of giving more of our money to the powers that (should not) be and generally living in serfdom, because that's literally the only solution right?
Billie Eilish is another "black goo" inductee and general poster-girl for degeneracy, she could be considered a sidekick to the "Greta worldview", and joins a whole host of celebrity nutritionally deficient vegan "activists" who wish to rid the World of animal agriculture and replace our diet with one that is in line with Bill Gates investment strategy and the UN's "sustainable development" goals, because that's literally the only solution right?
"EAT THE BUGS"