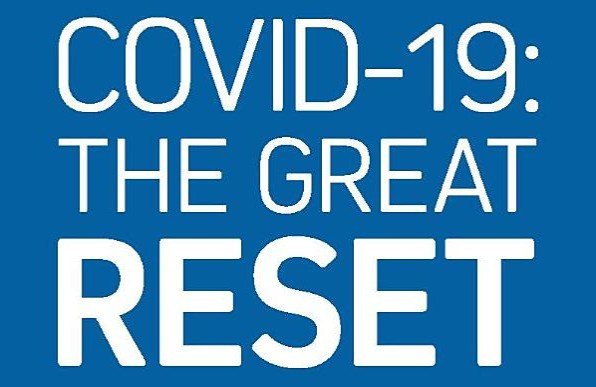 The conspiracy is now openly promoted as inevitable and unique solution to your completely broken way of life. Yes, YOU are responsible for bringing the World to the brink of collapse, not the megacorporations which ruthlessly and systematically destroyed it for profit. And therefore, YOU will pay for the Great Reset…


If you are tired of 24-7 Covid-19 torture, you must have asked yourself "When is it going to be over?" Well, the fascist who was one of the inspirers of the conspiracy, well known World Economic Forum leader Klaus Schwab gave an explicit answer in his book COVID-19: The Great Reset
At the time of writing (June 2020), the pandemic continues to worsen globally. Many of us are pondering when things will return to normal. The short response is: NEVER. Nothing will ever return to the 'broken' sense of normalcy that prevailed prior to the crisis because the coronavirus pandemic marks a fundamental inflection point in our global trajectory.
NEVER. No more normal life for you. Completely bluntly said, and also fully reiterated in the special issue of the Time Magazine, fully dedicated to the Great Reset:
Furthermore, they are keen to show you their vision of YOUR life, that THEY are going to shape – for your own good, of course. But they are not going to ask you about it, because you are just a bunch of idiots that really should only listen to the masters. They have described a part of that future in 2016, announcing World Economic Forum's Annual Meeting 2017. And they gave 8 predictions for the world in 2030:
Duration: 1:33
Notice how dislikes under this video were blocked after a thousand of them, with only 182 likes (Nov. 17th 2020).
Not mentioned in these eight predictions, and you will need to read a book for that, is an open call for global governance and "heightened cooperation between the 'private sector' and the 'public sector'", ie. between private interests and government, which is by definition – a fascism. Just read the comments below the book at Amazon.
Probably the best short description of this conspiracy and its leading group, gave a health care journalist Peter Barry Chowka, who called this obvious takeover of our supposedly democratic political process by unelected & unaccountable administrative state medical bureaucrats – 'A flu d'état'. He pointed the synergy of 'solutions' for Covid-19 and climate crisis, in function of the Great Reset and the Fourth Turning. More details on this topic you can get with James Delingpole, 'Spectator' columnist, in his text for Breitbart, and his statement for the Sky News Australia:
Duration: 4:57