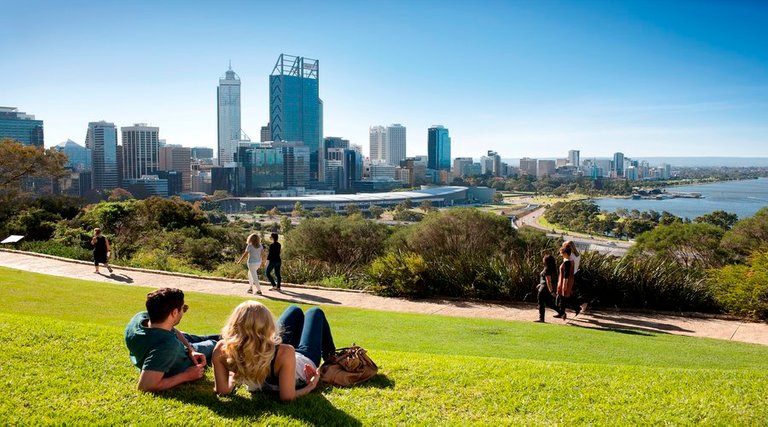 source
In an unprecedented move by the Western Australian government, we are expected to go into lock-down with just a few hours notice.
If you need to get some perspective on the actual usefulness of lock-downs to stop a virus - a quick duckduckgo search will suffice - https://duckduckgo.com/?q=lock-downs+don%27t+work
Come on Western Australia! Are we really this stupid? No vote, no choice by the people - just the assumption that fear will gird us! Oh look, a mildly sick person that 'may' have something we could be afraid of... let's LOCK-DOWN the economy and destroy the livelihoods of everyday people! Is that common-sense to you?! Lockdowns don't work. Having the news media repeat the mantra of lock-downs and cases does not make it any more true - it makes you brainwashed (quite literally).
Here is an article in the West Australian - https://thewest.com.au/news/health/perth-to-enter-five-day-covid-19-lockdown-ng-s-2047537
Some quotes from the above article:
Metropolitan Perth and two nearby regions will enter a five-day hard lockdown after a hotel quarantine security guard attended more than a dozen venues while infected with COVID-19.
Authorities believe the man in his 20s, who worked at the Sheraton Four Points hotel in Perth's CBD, has likely contracted the highly contagious UK variant of the virus and have urged anyone to get tested if they have symptoms.
The article first states that the 20 year old security guard who worked at a hotel used for quarantine purposes definitely has COVID-19. What tests? Where is the data? How was the viral load measured? What were the cycles on the PCR test? I want to know these things because we should know these things. We don't just hand our livelihood onto donkeys backs who walk off cliffs on a regular basis... no that would be insanity. Well that's basically what a lockdown does... Hey 2021, how you doing?
The article then states 'authorities believe' - not authorities know because of cold hard fact - 'has likely' - not just 'has' - contracted the UK variant of the virus... It first states plainly that he has it - then it states that assumed people of authority believe that someone likely has a more dangerous something - enough to lock-down an area of under two million people and disrupt all trade and movement for a week.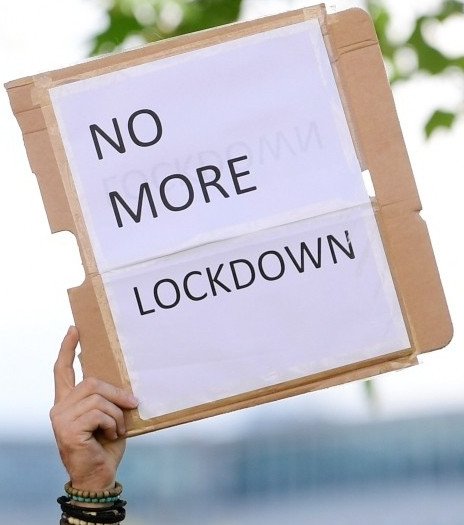 And how long will this week last? Will it last as long as a UK week?
Another article dictates:
Western Australia has imposed a five-day lockdown in metropolitan Perth, the Peel region and the state's South West amid fears a hotel quarantine worker who has tested positive to Covid-19 has contracted the highly contagious UK variant.
Funny how this one is worded it states within the sentence, "a hotel quarantine worker who has tested positive to Covid-19 has contracted the highly contagious UK variant." While it relates only to fears. If you've studied NLP you'd know that putting a statement within a sentence which affirms something is true even with disqualifiers is registered in the mind of the receiver as the affirmed statement. For example, even saying something isn't something causes the person to think of that thing and can then be used to lead their thoughts. I'm not talking about conspiracy here, pick up a text book on Neuro Linguistic Programming - commonly used for sales techniques. Derren Brown does a great job of utilizing this power of suggestion.
So we should react to these fears! of the possibility of someone testing positive for the highly contagious UK variant - so which is it? He has it or he hasn't? Or he 'has likely' or is it just based on the belief of assumed authorities? Where is the data?
Well, apparently we won't know until Tuesday. lol
What is the test that will be used? Where is the proof of the 'genome' coming from a sick person that will be used to verify the sample? Again, how many cycles were used in the original PCR test? Why is it not stated that testing positive does not mean that you actually have it? Testing positive does not constitute an infection! Why are we locking down an entire city in a matter of hours for this?
Fun fact: Did you know that people got sick with the same symptoms of COVID-19 before COVID-19 existed?
It continues later saying:
But the premier said that based on current information "it appears possible that this new positive case has the highly transmissible new UK variant".
So now 'it appears possible' whereas we were told before there were 'fears' he has the new UK variant. This is all wishy-washy cloud talk that is backed up by nothing solid! Why are we reacting to fears? Are politicians not aware that reacting to fears in this way constitutes a major fuck-up?
Also the first article states that he also works for a rideshare company -
Police Commissioner Chris Dawson said the man of overseas descent also had a second job as a rideshare driver but had not worked in that role since January 22
Yet, the second article states -
The man is also believed to have worked as a rideshare driver.
Without the extra information that he hasn't worked it from the 22nd - leaving it all up in the air. He was meant to have been 'infectious' from the 26th of January.
It's pathetic journalism - fear based propaganda trollop!
Why did we ever believe it was a good idea to give the control of the state to bloated fears that verge on hypochondria?
Back to the bobble-head print in the first article...
Authorities believe he has also contracted the UK variant but genomic testing results won't be known until Tuesday morning.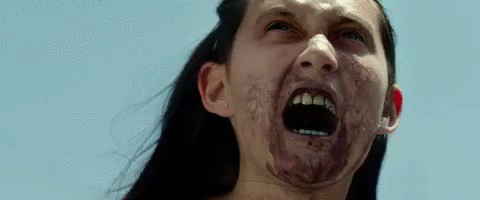 Fear! Fear! Fear! Believe! Believe! Believe! What are we? A fucking cult?! I need to see data! I need to see facts if we are to remove my livelihood! I don't need to 'believe' what the assumed authorities are believing in order to justify the shutdown of an economy which people's lives are dependent upon!
Yet another article states:
Based off the variants present in the hotel where the man worked, the case may well be of the highly contagious UK variant, which was present on the same floor where the man worked, Mr McGowan said.
You would think that if this variant was really that dangerous, that there would be stricter measures than putting a mid-twenties security guard on the same level as these people. What the hell do you think mid-twenties security guards do in their spare time? Well many of them love to go and party! That would be a simple assessment - I would have made - as a non-medical professional to put them in stricter measures with stricter security protocols provided this new boogey-man strain is really as dangerous as they purport. This entire thing is a bloody joke! The script couldn't have been written by a monkey on acid. (But was probably written by a possum on emu bitter.)
And considering the danger of the 'new variant', this mainstream article states - https://theconversation.com/coronavirus-new-variant-genomics-researcher-answers-key-questions-152381
there was no evidence to date that this variant alters disease severity, either in terms of mortality or the seriousness of the cases of COVID-19 for those infected. Work is underway to confirm this.
The fear angle used with this variant is its apparently greater ability to spread.
Yet going by the same stats as the previous variant we lockdown for a virus that still has a 99+% survival rating...
0-19: 99.997%
20-49: 99.98%
50-69: 99.5%
70+: 94.6%
The original strain was also apparently so infectious that asymptomatic spreaders were such a danger to society we locked everyone up in the belief everyone has an invisible thing they can't know they have.
Regardless of this narrative breaking truth....
New's Flash! Apparently stricter measures IS what they put in place... a month ago.
Here is an article that states that three people with the UK variant were in the hotel. https://www.abc.net.au/news/2021-01-05/new-uk-coronavirus-strain-found-in-perth-hotel-quarantine-system/13032066
This article from the 5th of January states,
The cases all arrived from London between the 16th and 20th of December 2020, and have recovered and since left hotel quarantine.
Well, what gives? The premier reassures us that the
precautions to prevent the strain from spreading are "very strong"
Putting a 20 something year old party bomber on as security... wow, that's magnum. And now suddenly it pops out of the hotel... and we must shut down the economy. No, let's NOT lock-down - lets sack the government for threatening to remove constitutional rights and for making up a myriad of lies to cover their shortcomings.
In my opinion, they're simply looking for a way to make this variant testable in Australia. It's a big fear campaign. With more testing using unreliable testing methods, means more false positives and more reason to lockdown, shutdown the economy, collapse small businesses and remove our rights.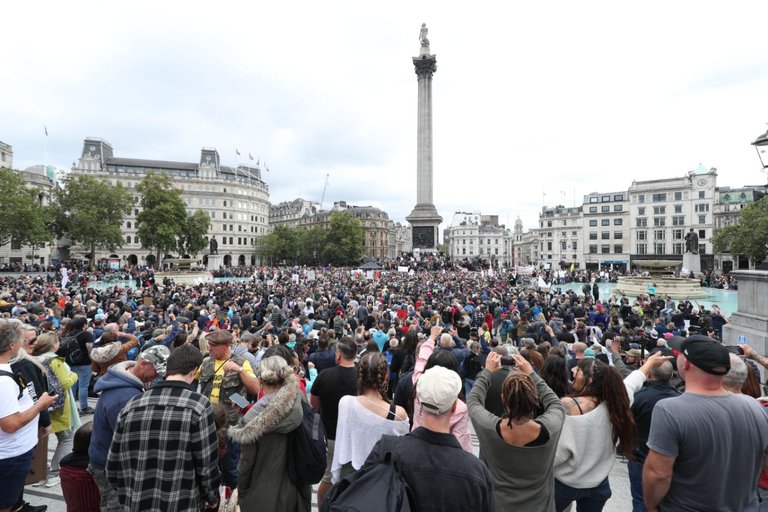 Berlin stands against lockdowns
Let's use our brains on this one and look at how this is going down in the rest of the world: https://peakd.com/hive-122315/@lighteye/a-boiling-pot-eng-srp-lonac-koji-kljucha
Let's see where they got their 'genome' from. Let's see what tests they are using and if it's a PCR test again let's see what cycle threshold they are using to get those results. Let's actually see what's going on! Let's make all the data transparent every step of the way so all can see through it and see if it actually constitutes reliability.
No, not all of us are 'experts' - but guess what, we've all been busy educating ourselves this last year because we're so crash hot on our rights at the moment. And you know what? We've also got a bunch of friends who are experts that can help us out. Hell, I made a new one the other day who works in pathology doing those pesky PCR tests.
So no, oh government, we are not stupid. We have the ability to make a solid assessment of the data. Show us what you've got so WE can decide whether we go into lock-down. Why do we not just trust you? Well, why the hell would you just trust any government? I mean really, come on!!
Back to the original article:
WA Health has released a list of 15 venues, mostly in Maylands but also including the Perth Convention Centre and a GP practice in Nedlands, that he attended from January 25 to 30.
Anyone who attended those venues must get tested at a COVID-19 clinic and isolate until their results are available.
He's apparently been to 15 venues in a couple of days, wow this guy really gets around.
Increased testing over paranoia of the virus means more false positives. Just look at the cases rise as testing increases, it doesn't necessarily mean that the people are sick because PCR tests are not definitive and nor are they a useful or effective tool in screening for the virus.
See this great video on PCR tests by Sam Bailey for more information - https://peakd.com/hive-181335/@nonewabnormal/khimkrbj
This five day lockdown will likely go on for months - I will not be at all surprised if they find all these new 'cases' and use it as a means to push the vaccine agenda as they have in other parts of the globe.
I really thought Perth would do better than this.
It's not about a virus anymore. I just hope that Western Australian's will see that before they agree to have ALL of their freedoms revoked - in the name of 'safety'.
Face masks were handed out to media as they awaited the premier's press conference.
For the first time in WA everybody - the looming threat of the mandatory mask - how ever did we think we would miss out?
Remember - Tom Cruise double masks - why not go one better and put a plastic bag over your head???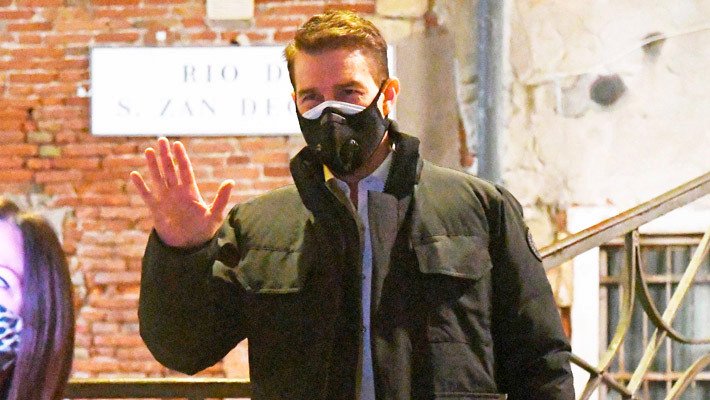 source
I've a new heavy metal band name: Mandatory Suffocation
It goes with another that I developed with a friend: Convenient Amnesia
The tittle tattle continues its pratter:
Prime Minister Scott Morrison backed WA to crush the spread of the virus.
"The coming days will be difficult for many Western Australians but we're confident WA will be able to get on top of the current outbreak," he posted on Twitter.
The presumption here is that the people are making this choice to go into lock-down. It says he 'backed WA' - as if the people have made this choice (are making this choice) and he is simply serving the will of the people.
This backwards governance has no end. The assumption is that fear is the ruler and that we simply submit because we are assumed to agree with this fear because the 'facts' that are repeated in the media from assumed authorities are assumed to be correct while dissenting voices are censored. The only way this fear can have a footing is by our acquiescence.
And because we fear the disapproval of others if we outwardly disagree with a mandate - we keep each other in line. It's a perfect system of self-governance.
Oh but the fear of the 'new variant'! We must all fear! Get under your beds everyone! Get inside and never come out until nobody dies ever again!
The UK is on indefinite detention. We have to really consider the implications of allowing this lock-down to go forward and allowing our rights to be swindled so quickly from us with nothing more than fear!
I predict the coming MONTHS will be difficult because this ONE week will be used as an excuse to reduce the entirety of the Western Australian economy to naught, extending lock-downs due to this unseen and elusive threat indefinitely - just like it's been used around the globe.
Except of course the iron mines owned by BHP Billiton which that dastardly queen of the english land is the majority shareholder. Surprise! So much money here in the West! Those are of course 'essential services'.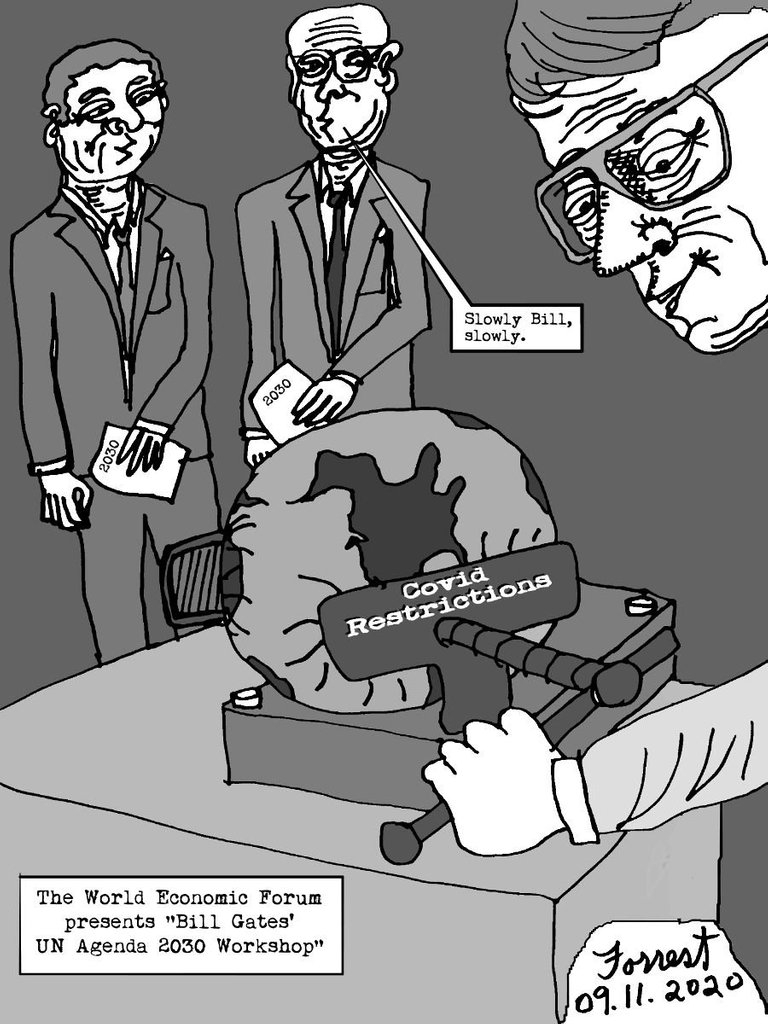 Thanks @artgrafiken for the artwork!
I have often wondered why they've been so long on pushing Western Australian's through the lock-down torture device. So many people believe that they can keep living their 'normal' lives - that's just it, unless we face the threat of looming totalitarianism head on and see it for what it is - we can never live any semblance of what we have considered to be normal ever again. Unless we stand up directly for our rights and say 'ENOUGH'! There will be no end to these encroachments on our freedoms because that is the end game!
Remain strong fellow people! We keep the fire of hope alive in our hearts through self-empowerment, no matter how alone the horizon may feel! There are others out there and there are more that are waiting within. There will be mass action by the people - we need only ask when!
Stand with the rest of the world Australia! Stand up against the fear.. stay open! https://peakd.com/health/@activistpost/the-great-reopening-on-january-30
Start conversations. Create a culture of activism. Activate people with your mind. Encourage self-empowerment and self-awareness. Look for ways to develop community outside of government control.
Be a part of a 'greater reset' to usurp the 'great reset' that is being foist upon us without our consent - https://peakd.com/hive-181335/@dbroze/bymuwjig
In love,
Monty