We've got to give credit where credit's due. So, even when I often criticize the right wing YouTuber Ben Shapiro, and even if I still believe he's a terrible human being because he's the mouthpiece of the capitalists that keep us down, today I take my hat off to the fast talking "cool kid's philosopher".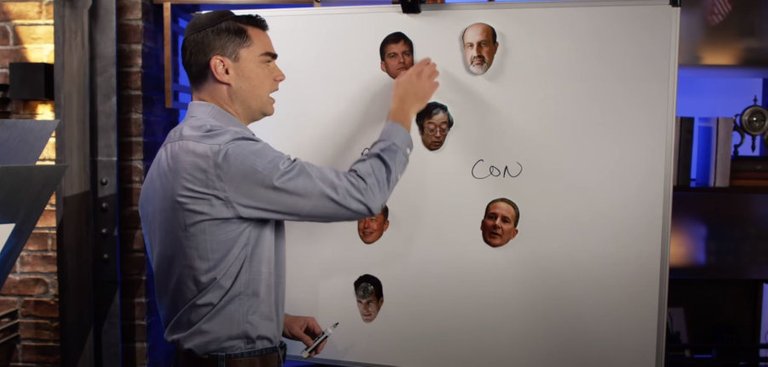 source: YouTube
I'm not going to spend a whole lot of words on this post; you can watch the video to see with your own eyes and hear with your own ears why I was so pleasantly surprised, for a change, with what mr. Shapiro has to say. For once he doesn't whine about Dr. Seuss, mr. Potatohead or some other "culture war" meme the political right whines about and hides behind. For once he acts like the libertarian he professes to be and gives praise to bitcoin, blockchain technology and other cryptocurrencies. And he even does it all in an intelligible way, explaining why decentralized currencies are preferable over government-issued fiat currencies.
I'll even say "thank you, mr. Shapiro", for he's one of the most successful YouTubers with a large following. That's something I can't really grasp, for most of the time he gives his audience blatant misinformation, but I'm opportunistic enough to be grateful for that on this occasion; the more people are convinced of bitcoin's and cryptocurrencies' many benefits, the sooner we arrive at mass adoption and the sooner we can begin to realize a much fairer economy. It won't solve any of the problems inherent to capitalism itself, but it will transfer a lot of the power invested in governments and multinational corporations back into the hands of regular people. It will give access to the economy to the many millions of "unbanked" people all over the world. Well, we're all here on a blockchain-based social platform, so I don't have to explain all this to you, dear reader.
Bitcoin is the GREATEST Asset in Human History (Michael Saylor Interview Part 1)
So, I invite you to feast your eyes and ears on a Ben Shapiro that makes sense for once, even if this is also a subject he flip-flopped on as he has been known to talk badly about everything bitcoin. This is a recent development, with people who previously didn't want to know anything about cryptocurrencies, who vilified them as being the preferred method of payment for criminals now joining us. It's almost as if they're starting to realize that the fiat money Ponzi scheme is coming to an end. In fact I'll link another video above of a recent interview with Michael Saylor. He explains exactly why major businesses and institutions will now join us here in the crypto-sphere. Also, keep an eye on that space, as tomorrow part two of that interview will be published on the same YouTube channel. Enjoy! :-)
BITCOIN: The Future of Finance or Fool's Gold?
---
Thanks so much for visiting my blog and reading my posts dear reader, I appreciate that a lot :-) If you like my content, please consider leaving a comment, upvote or resteem. I'll be back here tomorrow and sincerely hope you'll join me. Until then, keep safe, keep healthy!

Recent articles you might be interested in:





Thanks for stopping by and reading. If you really liked this content, if you disagree (or if you do agree), please leave a comment. Of course, upvotes, follows, resteems are all greatly appreciated, but nothing brings me and you more growth than sharing our ideas.