The first cryptocurrency I encountered is SolarCoin
In 2008, I started a company to develop a carport with a photovoltaic roof, the iliopark. A few years later, Solarcoin offered a solution to reward people who install photovoltaic panels, the initial ambition was for SolarCoin to reach the price of 1 Mwh ​​of electricity, or around € 60 at the time.
The value of cryptocurrencies is extremely fluctuating, it is not enough to declare, my token is worth so much for this prediction to come true!
The fluctuations in the price of Bitcoin inform us about the many possibilities for speculation. A single tweet from a celebrity is enough to evaporate a few billion euros.
Solarcoin would mainly reward large photovoltaic farms if they requested it, to the detriment of small producers.
The current estimated price of SolarCoin on Coinmarketcap seems to indicate that this currency never succeeded in resolving this initial contradiction, let alone the problem of identifying solar power generation.
A few years later, I invested a few tens of euros in Ecobit. a magnificent project to preserve a natural park in Malaysia and to finance the organic production of spirulina. Ecobit taught me that the number of users of a currency is a fundamental factor. If you fail to convince at least a million people to use your currency, you cannot close the loop in the economy and a farmer who sells his agricultural products in Ecobit cannot find a buyer at the level of his suppliers. The system is limited and so are the investors.
EverGreenCoin was a large-scale project that encompasses many aspects of environmental protection: solar, waste collection, recycling, tree planting, support for associations. Unfortunately the crypto crash in 2018 sent EGC's value to the abyss.
CLEANPLANET has also created its token on Hive-engine to reward people who collect waste in nature. And you can increase the reward for your posts on Hive by burning PLANET.
SEEDS is the fastest growing project, to my knowledge, in the world of environmental protection today. SEEDS offers a new business model that can regenerate the economy. My role as ambassador for the Rhône watershed region confronts me with all the difficulties that remain to be overcome for a cryptocurrency to reach an important level: legal environment, ease of access to tools for a greater number of people. users, availability of marketing tools in different languages ​​etc… I invite you of course to join this magnificent adventure.
CLEANPLANET has obtained funding for 500,000 Seeds from the citizens of SEEDS which allows us to reward eco-citizen acts of cleaning nature up to 500 Seeds. The price of Seeds keeps going up and your litter pickup will be worth maybe $ 500 soon. This is not investment advice but a call to participate in new company projects that are flourishing in many areas.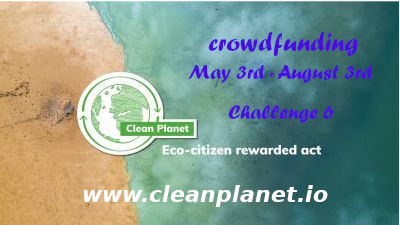 Challenge 6/9
What is your favorite green cryptocurrency?
Answer this question and earn some tokens.
Previous challenges:
Take part in our campaign:
Payment in cryptos:
The Hive CLEANPLANET account is @cleanplanet.
The D.tube CLEANPLANET account is @cleanplanet.
The Seeds CLEANPLANET account is clean4planet.
BTC address: 1N9mvXdUVp6FKc7uZtsz6hpkc9BbauMVJr
Ethereum address: 0xC0b92055Aa0CE4c4727dE5104a78cA52c1Dc5030
Payment in $, euro or CHF:
Use the Paypal app on https://www.cleanplanet.io and the address [email protected]
Join us on Discord https://discord.gg/qdUR4KA
Thank you and see you soon for a new challenge!