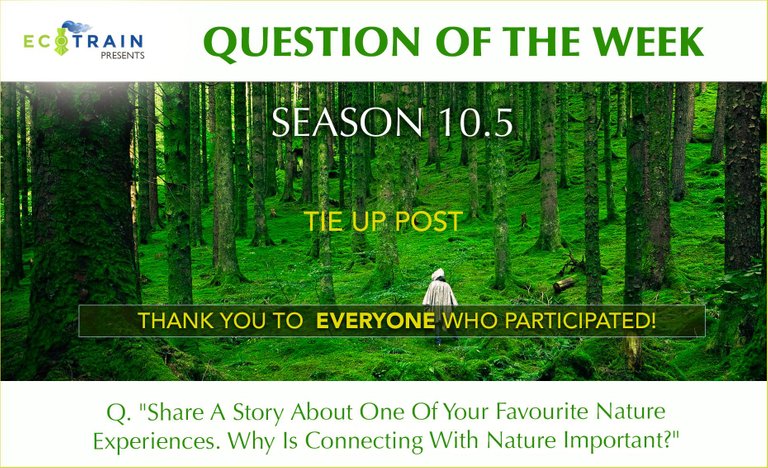 The #qotw feed has been full of beautiful images and stories this week as you all share your posts about one of your favourite nature experiences! Thank you to everyone who took part, and also to Dreemport for collaborating with us on this question of the week! The date for Dreeemport submissions has passed, which was last Friday, and Dreemport will announce the winners on Monday.. so good luck to those of you who entered their curation contest. If you missed it then don't worry we will be back with the next question tomorrow and you can all take part again! It was great to see your photos, and also to read the many stories behind them.. I think nature is one of the greatest gifts that most of us have been touched by at one time or another. Its also so nice how today we all have such amazing cameras in our hands and can take the most amazing photos of our experiences like never before. There were so many amazing posts it was hard to choose, but in the end i found a lot of gems that i want to share with you all.
So this weeks tie-up post shares a handful of hand-picked posts from the many posts we had! A few of the people here did forget to use the #qotw tag but luckily i spotted them all, i hope!, So please do remember to put #qotw as one of your tags in your post. I mostly focussed on posts that had pictures you have taken yourself, as as well those posts with personal and interesting stories to go along with it. So a special thanks to the following Hivers in the ecoTrain community for sharing such great content with us. Amazing job!!!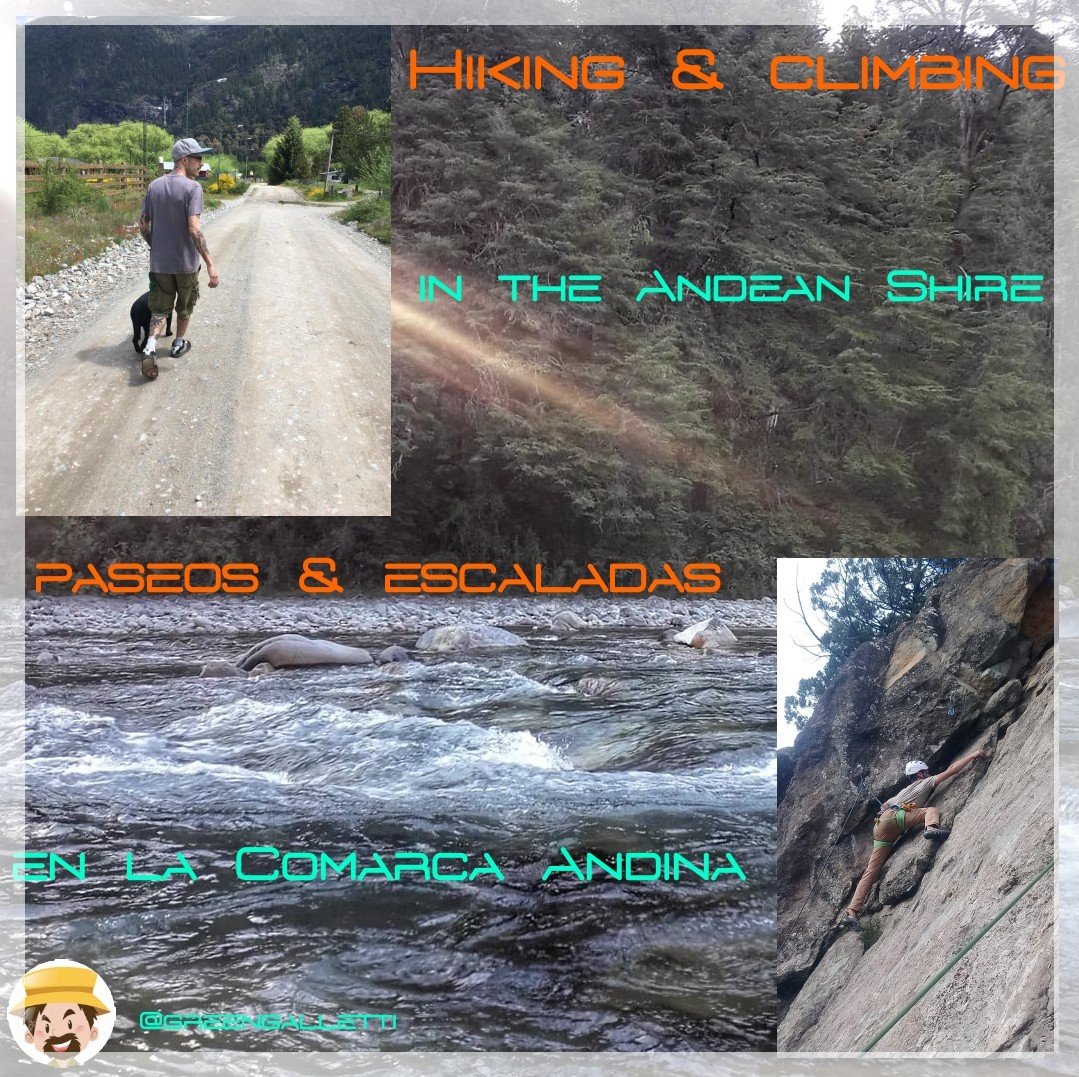 Most of the time living in contact with nature is more for personal reasons than for real needs. It is a choice about how to live, often renouncing certain "pleasures" of worldly life, the invasive technology that has penetrated our homes and our lives to choose a healthy way of life for body and mind. The benefits are innumerable, but perhaps the one that I am most proud of in the area where I live (Comarca Andina, Patagonia Argentina) is the reduction of stress, especially in those people coming from the big cities and the possibility of developing creative and artistic activities in a region that lends itself especially for it. It is not in vain that it is the cradle of artisans, especially in wood. But, apart from these "spiritual benefits" there are others directly related to our health, such as eating organic products from the area, strengthening our immune system.
I have two favorite pastimes to enjoy my free time in this beautiful area of valleys and mountains, surrounded by Andean lakes of infinite beauty. The first one is to go for long walks with my faithful friend Tomy, a dog that I picked up from abandonment, and that since then has shown me a love and loyalty that are not usual. Long walks through Patagonian forests and trails that intertwine with rivers, streams and lakes where I never tire of admiring the beauty of a spectacular landscape. Sometimes I carry a book, sit on a log on the shore of a lake or river or in a clearing in the forest and I lose track of time, there is only Nature around me, my dog and me. The rest of the universe remains as if isolated and it helps me to listen and look at myself, in a kind of introspective look at the human condition.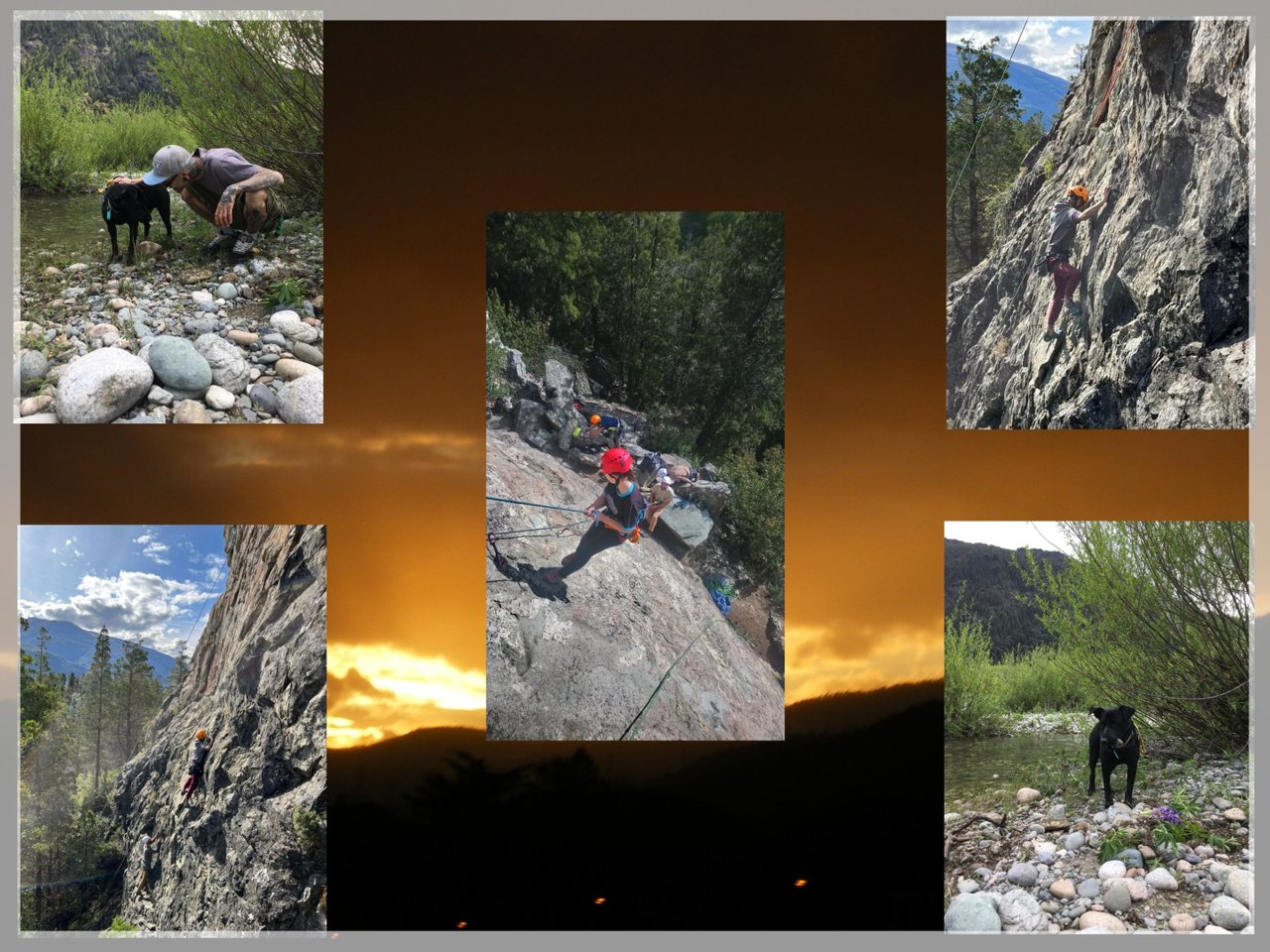 ---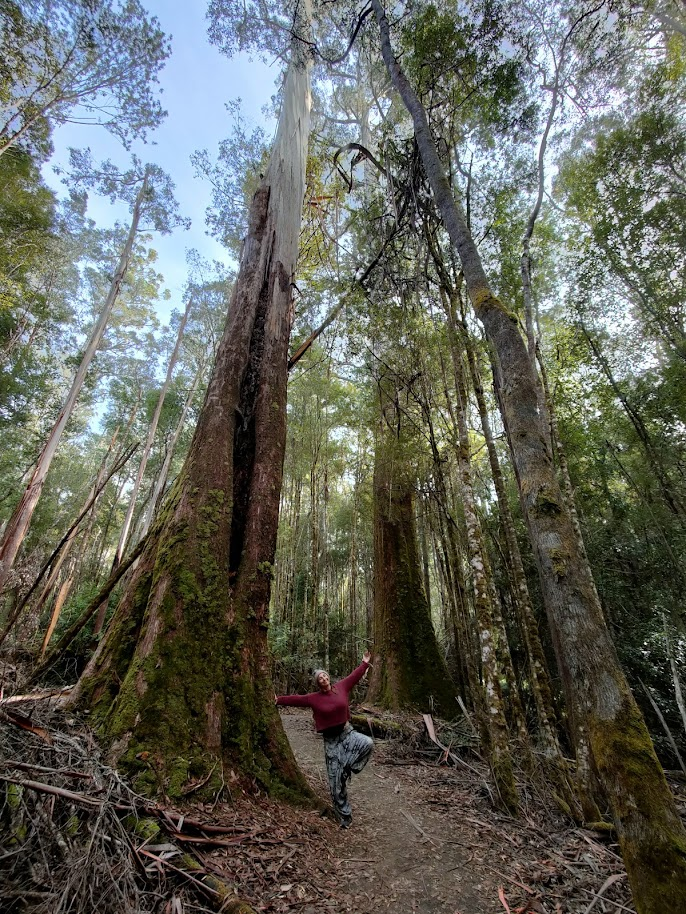 As much as I loathe quoting Einstein - it feels a little too easy - the smart man was on the money with these words. There's nothing nature can't teach you about life, the universe and everything. Go to the woods, the mountains or the sea, my friends - no matter, as long as you are walking with the wilds. It is in these spaces where you find the real answers.
This week's question of the week for Ecotrain is about connecting with nature - and why it's important. Nature is everything, for all of us - not in a woo hoo I love trees kinda way but in a very essential way that somehow we've forgotton, in our rush to defy and overcome and tame nature in some idea of progress. Somehow money means more to us than the natural world which truly sustains us. Even the wilderness is packaged and sold as an experience.
When I step into the natural world I feel as if I become one with all things. I don't know how to explain this in a less woo woo way. But when I'm crouched at the edge of a pine forest with wet knees identifying a mushroom, I feel as if I'm part of a larger web of life. I cut the mushroom at it's base and the spores, often invisible, float into the air, settle in the ground, beginning new mycellium which entwines with the roots of trees which spread out across the forest, which nourish them so that they fruit for the birds to eat, to spread the seeds so that more trees grow, onwards toward infinite pathways of life. Seeds, tree, root, fungal hyphae. And if you are one with all that, you are just as important as every single other thing in this system. That thought has a way of removing despair. You're important. I'm important. And at the same time, we are no better than any other living thing on this earth. How can you harm the world, the creatures upon it, if you are the same as them?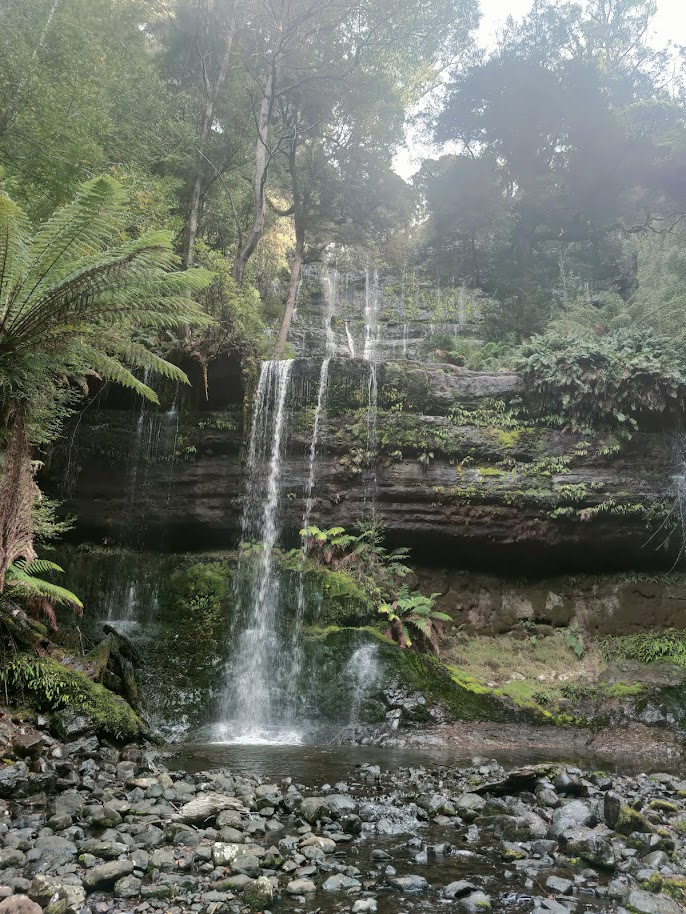 ---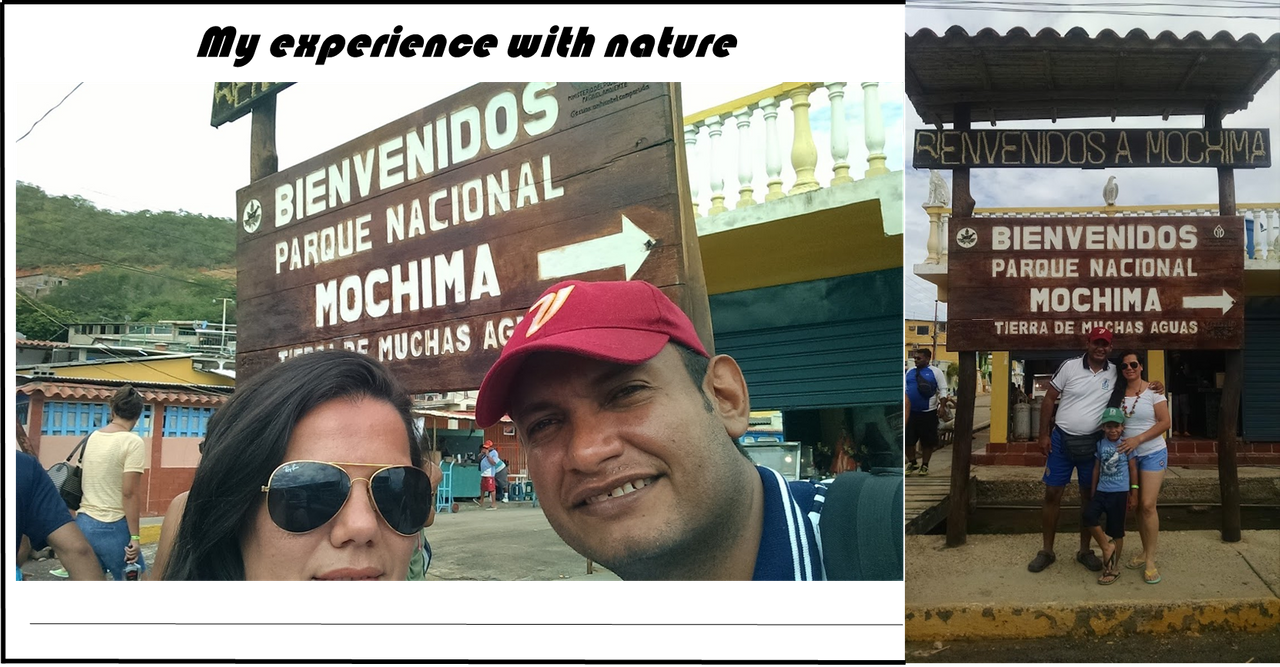 Dear readers, the @ecotrain community has been implementing for a long time an initiative known as the question of the week, which I find interesting since they address aspects related to nature, so I invite you to participate and leave your contributions. In this opportunity I will share with you one of my experiences with nature. I will begin by pointing out that one of my favorite spaces or ecosystems is the mountain or spaces where tranquility is combined with the sound of biotic or abiotic resources of nature, although one of my most satisfying experiences was when I visited one of the most beautiful parks in my country Venezuela, known as Mochima National Park, of which I will leave a brief written and photographic review.
As I mentioned before, I am a lover of terrestrial ecosystems, but in August 2015 thanks to a vacation plan organized by the university institution where I teach, I had the opportunity to visit what I consider the most beautiful aquatic ecosystem of my country, I must admit that I was captivated, observing how the beaches were surrounded by mountains allowed me to enjoy a beautiful natural landscape.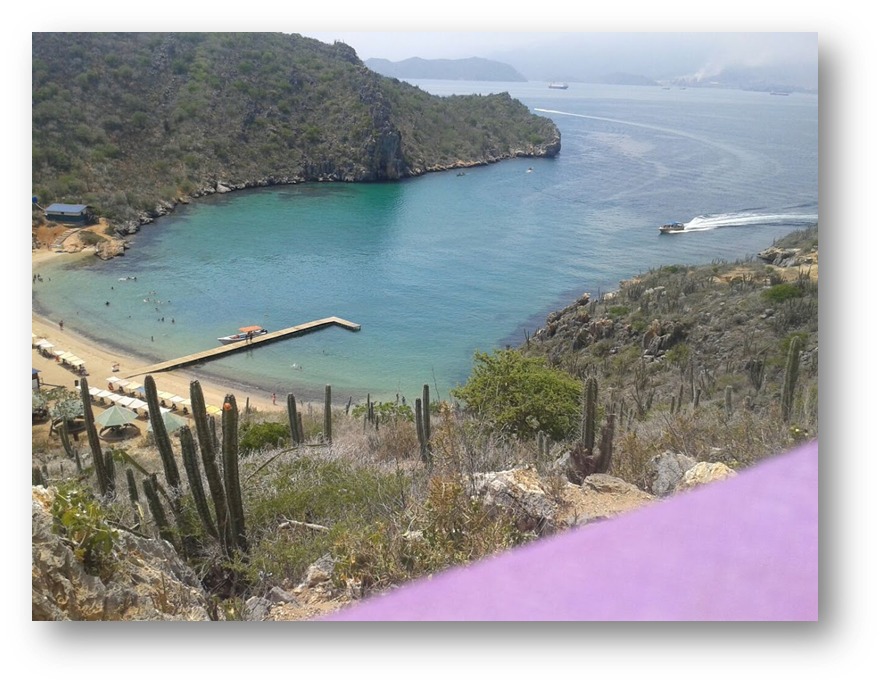 ---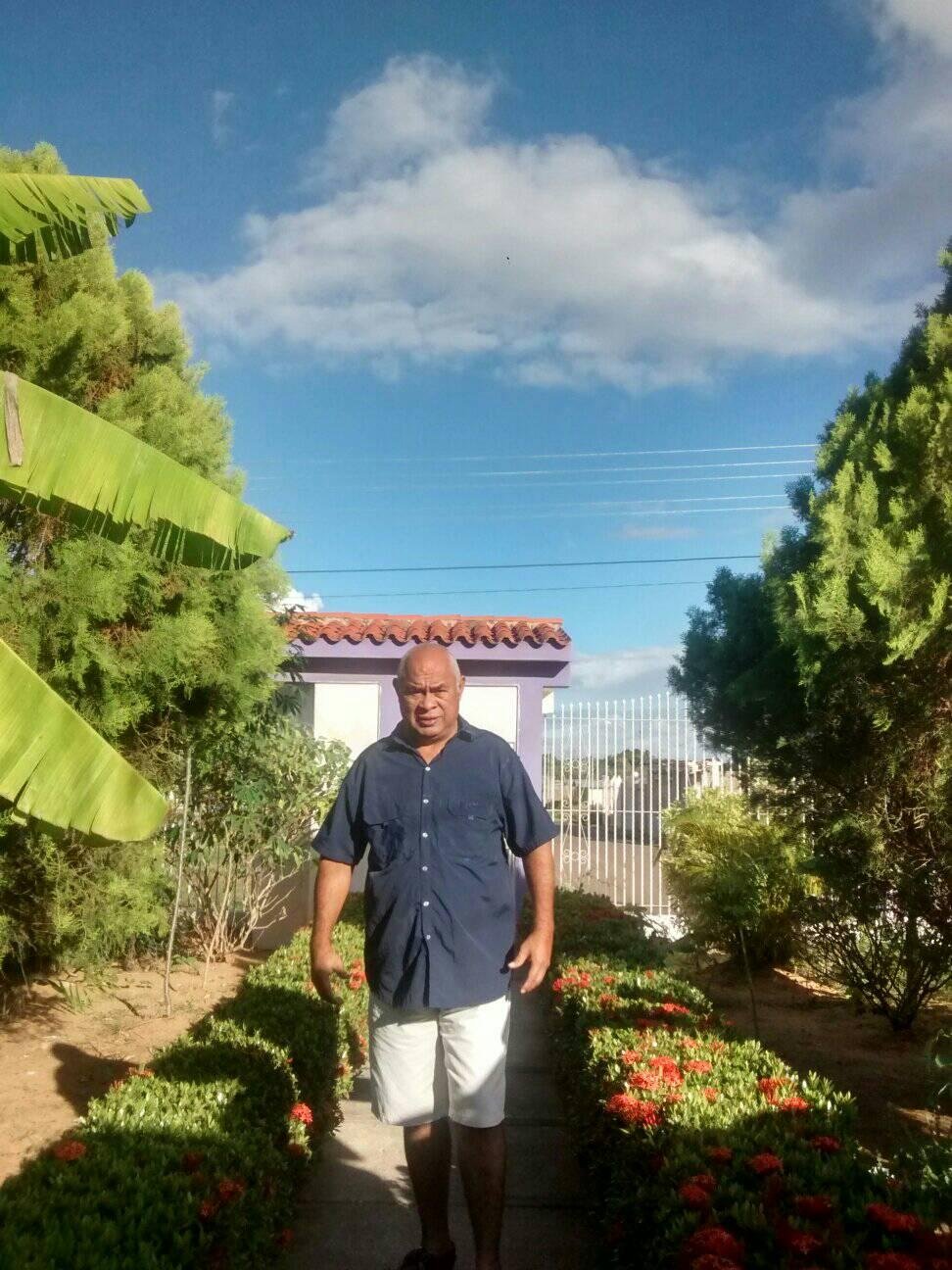 Wonderful initiative of the week. Sharing experience about contact with nature is something fun and uplifting to the imagination and creativity. Connecting with nature elevates us to the most natural and spiritual sense of life. In my family garden, there are the most fascinating stories of recreation, inspiration, planting and intimate connection with nature. My day-to-day life begins with a short walk around the entire garden area of my home. I place myself in the center of the garden and begin to contemplate the most beautiful plants, especially the ixoras, which in their beauty give a touch of beauty to the garden and then I let my sight roll all around my elegant home garden.
When I come in contact with nature in my home garden, my whole body relaxes and stress is reduced. Creativity and imagination soar. In the morning, I take advantage of the freshness of the garden to relax my spirit and concentrate on a good Bible reading. Reading the word of God or any other book in contact with nature helps a lot in concentration and memorization. It has a lot of benefits when we spend a beautiful time reading an interesting book surrounded by a natural environment.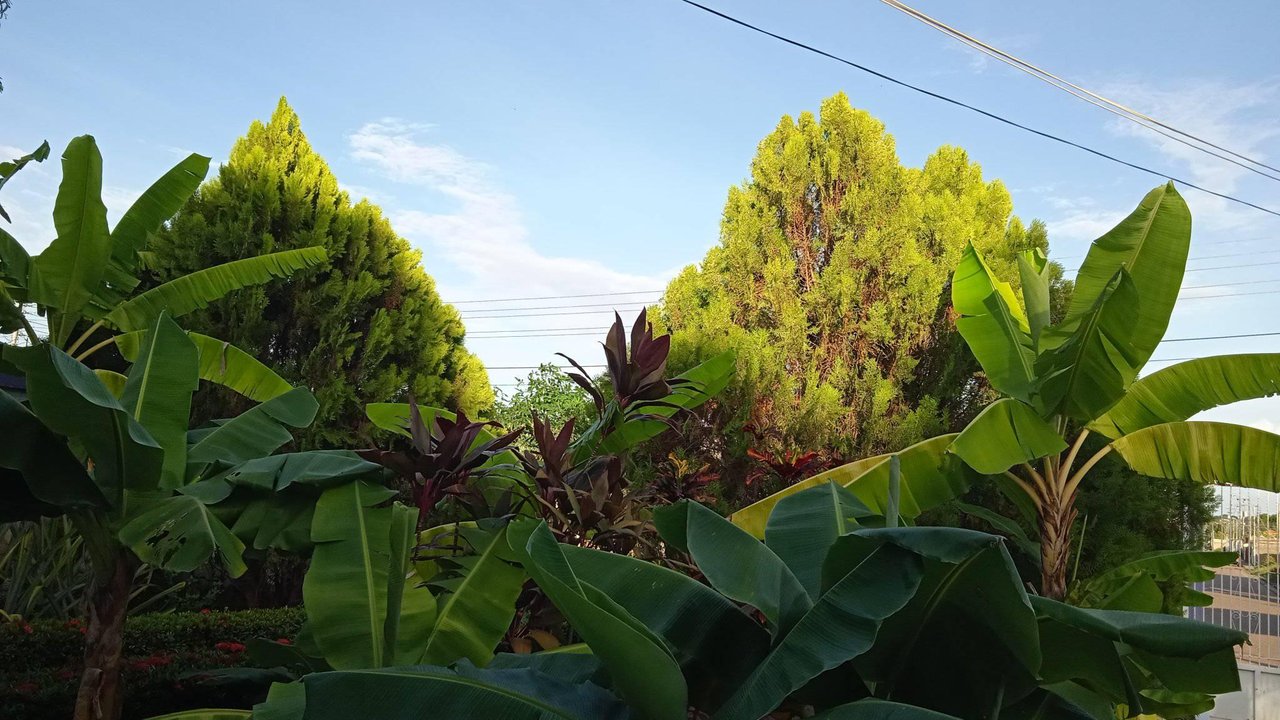 ---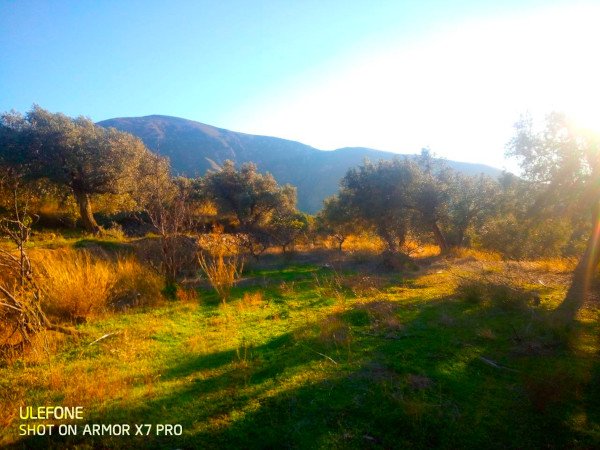 I awaken each morning, to the sound of birdsong. I take a few minutes to bask in their morning chorus, before I rise from my bed and venture outside. Then I open my door, to the view of the Lujar, the mountain that sits opposite to where I live. Sometimes she is clothed in clouds, as though she is wearing a skirt, other times she is glistening in green, after a glorious rainfall. Each day, the view of her, brings me so much joy.
I take a few more steps, until my bare feet touch the earth. I pause to stretch my arms out, my greeting to the world, as I focus on my breathing, allowing my body to reconnect with nature, imaging roots extending from my feet, deep into the earth. After a few moments, I take a walk behind the caravan and i am greeted by a carpet of lush green grass and wild flowers, which are dispersed between the olive and fig trees. This is how I start my day, earthing myself and immersing myself in my surroundings.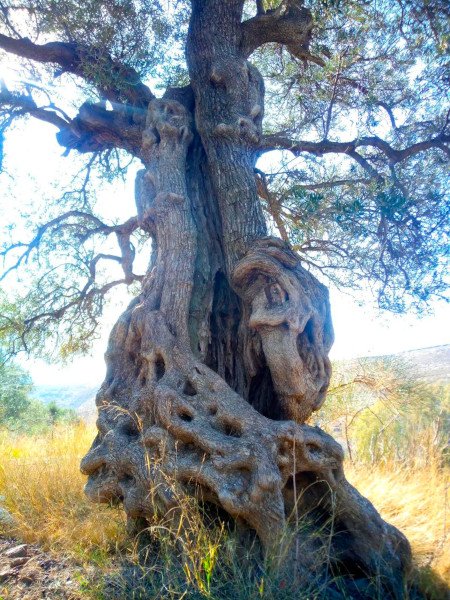 ---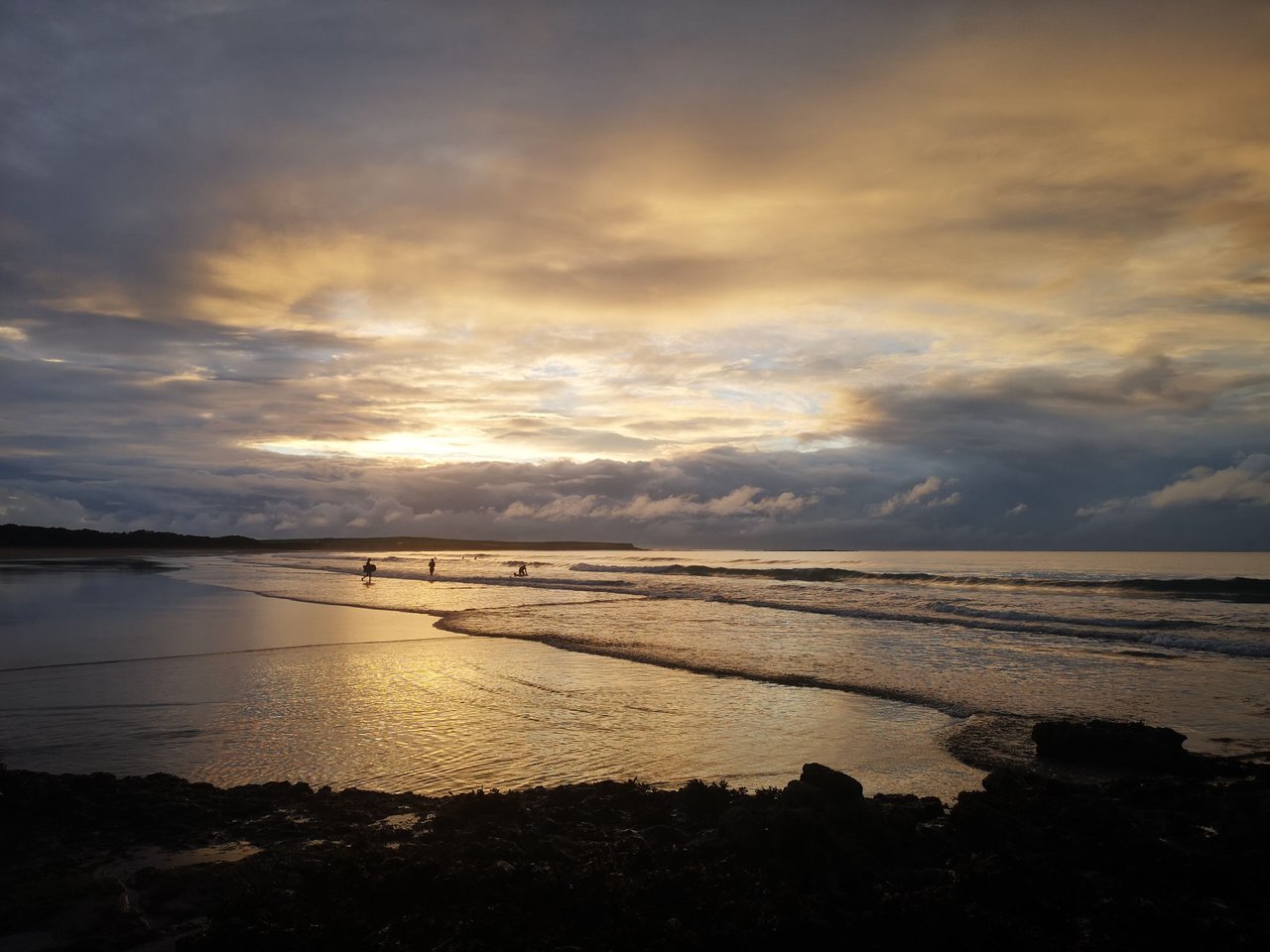 The Beach from Aughris Head, Co. Sligo, Ireland
I started horseback riding when I was quite young. Around the age of 5 or so. As a child, I always dreamed of owning my own pony or horse one day. I learned riding not by going to classes in the beginning. My father always 'knew people' and this time he knew a farmer who had two ponies my sister and I could ride. There was no saddle, only a blanket. Now, I feel that's the way to learn because it makes for a natural posture, without all the bells and whistles. Not that a whistle would be a good idea on a horse hehe. Later, I actually did get lessons but nothing beats direct contact with the horse's back without the saddle. My favorite experiences on horseback was when I would bring a horse out on my own and just ride in the dunes near where we lived. Only me, the horse and nature mattered. Very therapeutic I must say. All worries just disappear.
When I was in my twenties, I learned natural horsemanship, which was actually very close to what I had learned as a child. Natural horsemanship is all about mutual respect and friendship. The horse's willingness to trust the rider without any pressure or force, like whips, pieces of metal in the mouth of the horse or anything, and vice versa the rider's trust in the animal. It's amazing once you've experienced this! There's no other way for me. Eventually, I got my own horse but that's a whole other story. Maybe one day I will tell you all about it. One day, I hope to own a horse here in Mexico, and gallop along the coast. Till then, being on and in the water will have to do...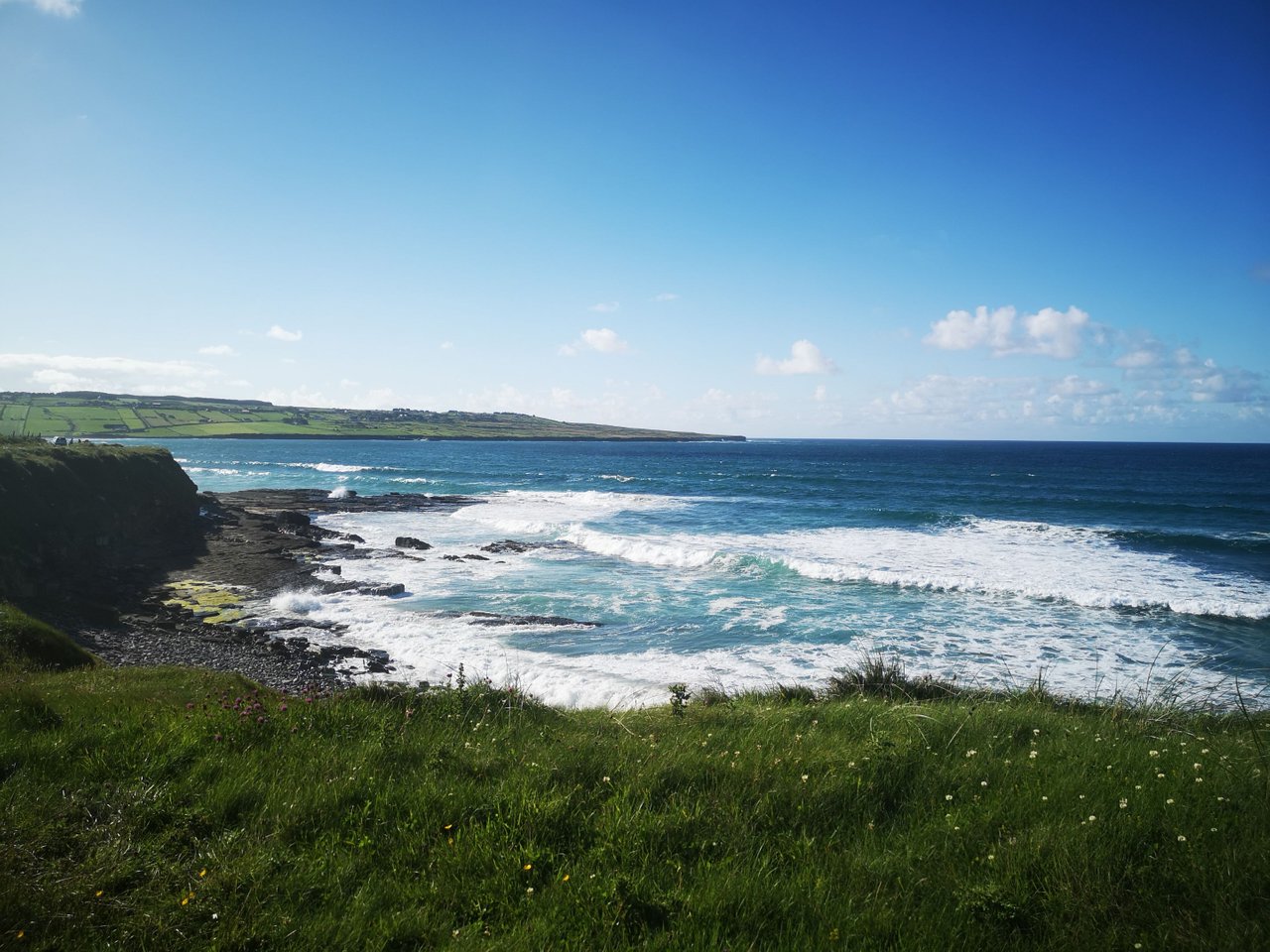 ---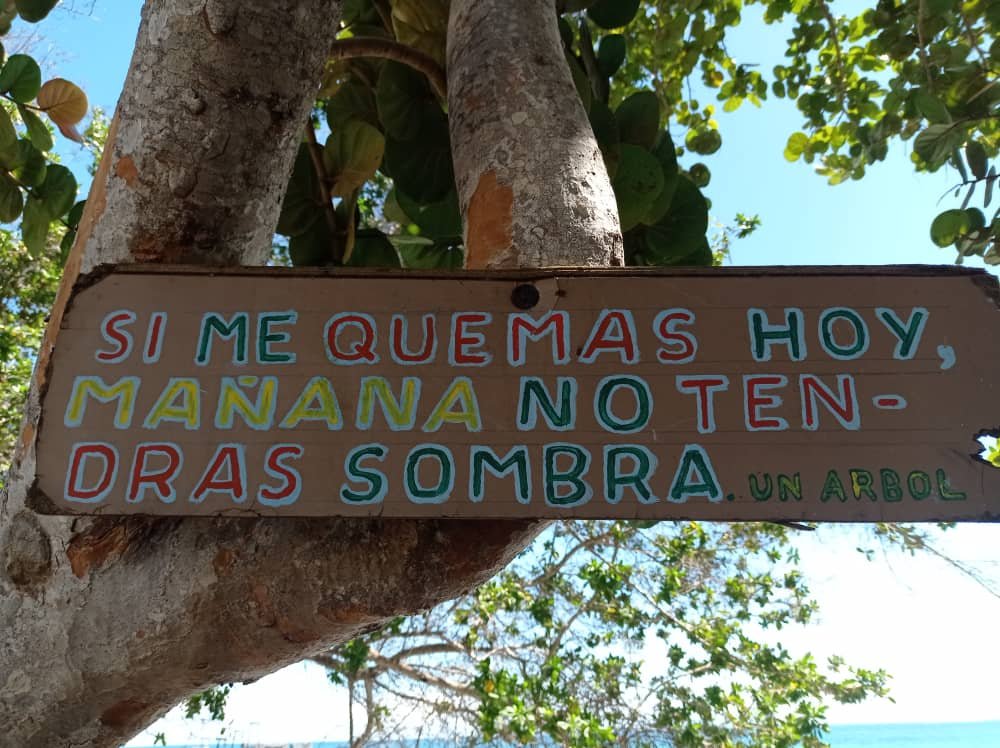 One of my most recent experiences with nature became part of my favorites, it was a visit to an ecological park on the beach, perhaps because we may believe that maybe the beach is only a place to go swimming but in this scenario there can be other types of environments. For example in this experience we visited this ecological park on the shore of the beach, beautiful place where the trees are the protagonists, because under its shade has created a different recreational park. The uveros are so loyal that they open their leaves making a green sky as a prelude to the blue of the sea.
It calls the attention, the seats, the distribution, they are diverse trunks arranged so that the visitors can sit down to spend some time in family, or alone, it is a place without a doubt a pleasant place where the natural thing creates a structure that the nature has allowed for our experiences. There are also some additional, for example, some ropes have been hung, where recycling is the protagonist, using some old tires have been created swings for the little ones and even adults who dare the adventure of hanging on them.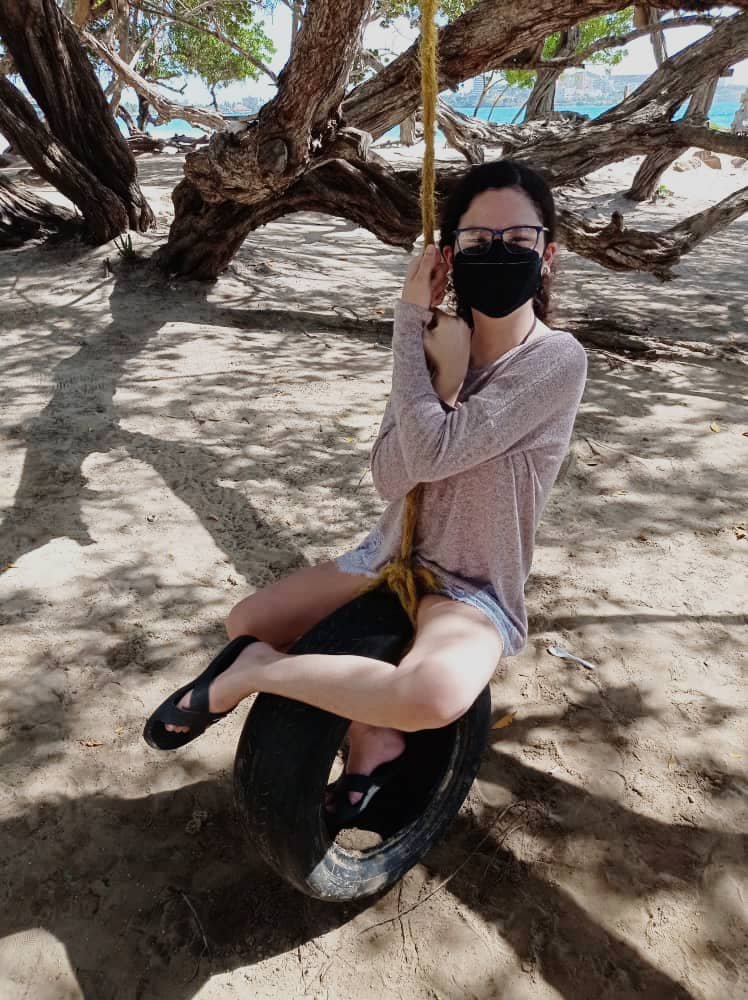 ---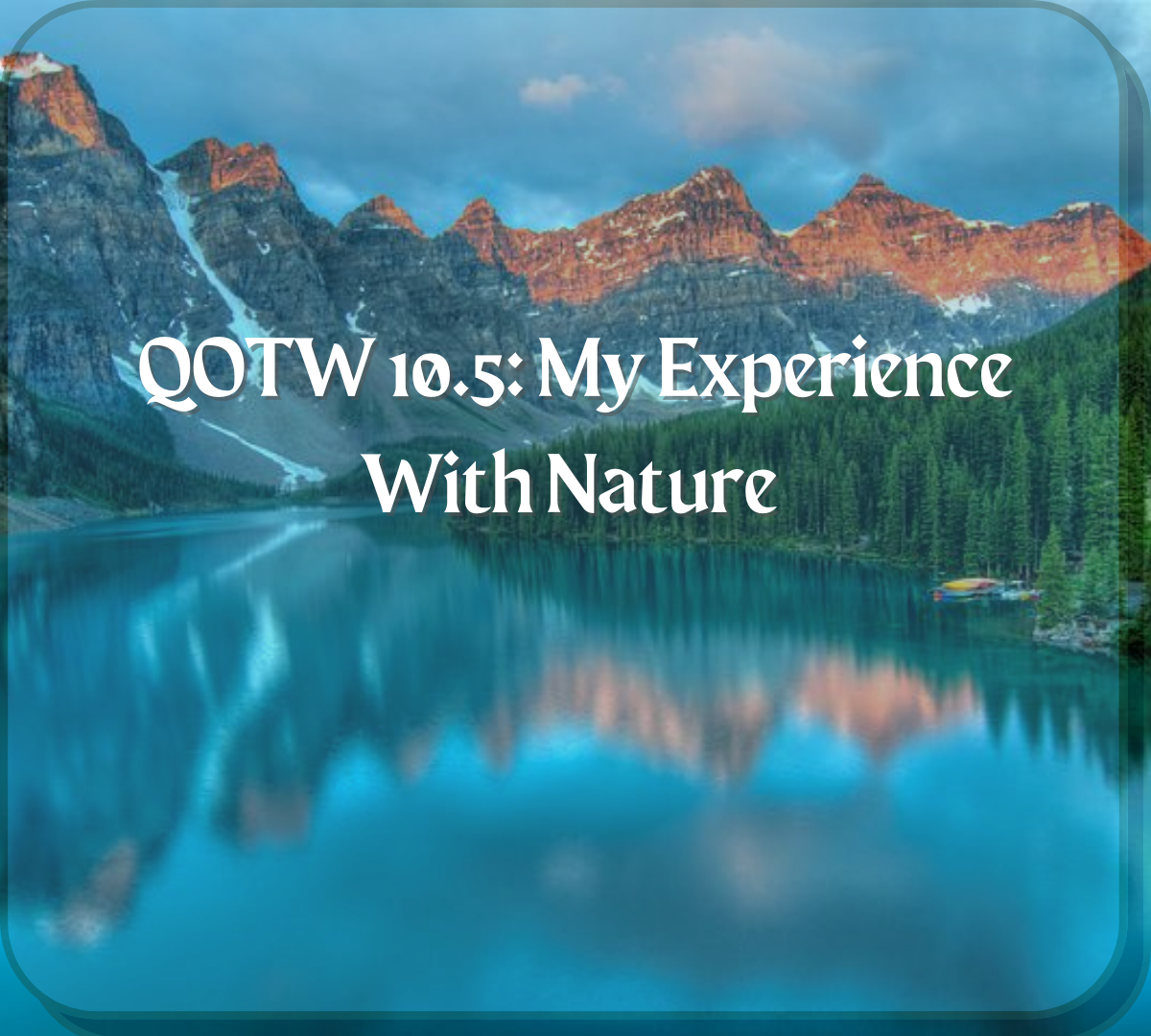 Ecotrain and Dreemport will be doing a collaboration challenge together for the next three weeks. To read about it and participate click here. My experience with nature is something I would describe as magnificent. As a child I grew up around nature, surrounded by its warmth and energy, but after seventeen years I wasn't anymore. The peace found in nature is priceless and amazing. I've had a lot of amazing experiences with nature since I was a child because my mother made it possible with her little garden. Back then we grew lots of plants, flowers, and also food plants. Then after a while she monetize her garden. All the time, if I am not found at home, I would be in the garden playing with the sand there and also the plants disregarding every insect bite.
The garden was my safe place that I began to eat there sometimes. 90% of my time was spent there, reading and sleeping. The amount of time I spent there helped me recover, helped me self-evaluate, helped me find peace, and helped me move past my dark days.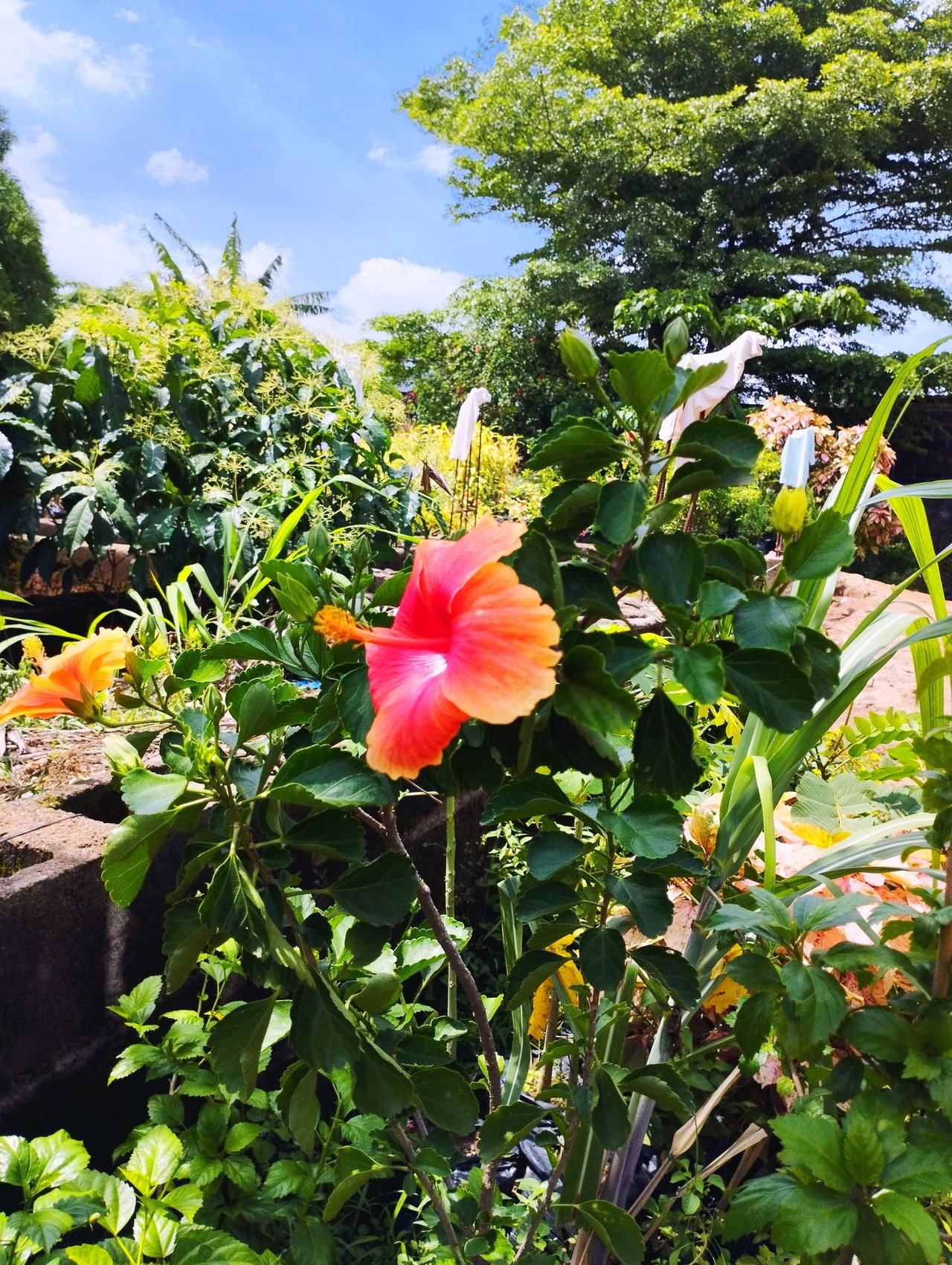 ---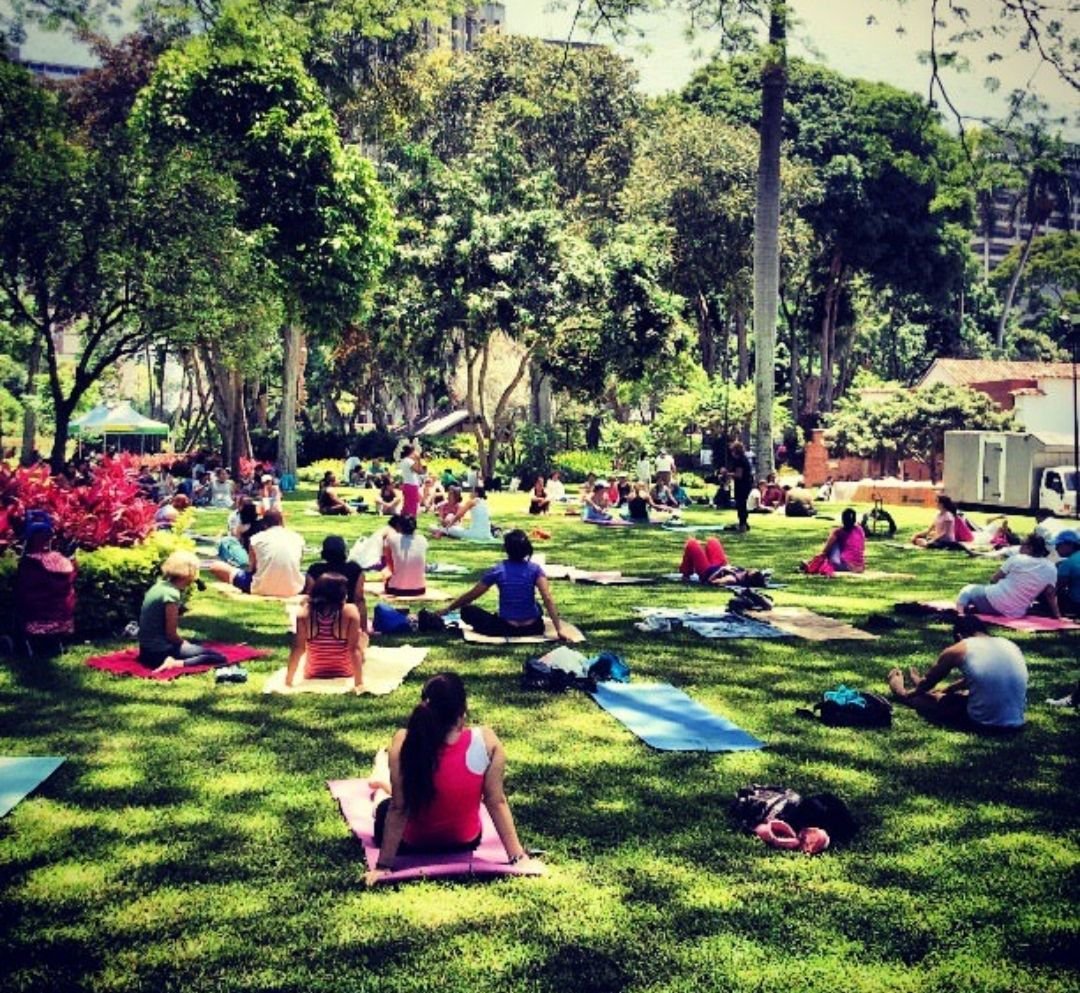 Good morning fellow members of the great Eco Train🌿 community, I am very excited to be able to join this great initiative with which I feel totally identified. I have to start by saying that being in touch with nature, more than a simple taste or need, is an obligation that we all should have as human beings and an important part of this planet. Connecting and appreciating nature, feeling part of it and taking care of it is a very special way to give back all that it offers us. There are many ways and places to connect with nature, from parks, forests, the beach, the river, the mountain to the garden we have at home. Why is it so important to connect with nature? Well, I think the reason is very simple, it makes us happy, gives us peace and therefore improves our mental, physical and above all spiritual health.
Since I was a child these were the natural spaces that I always enjoyed, but as I mentioned before, in our childhood we enjoyed these moments in a very different way than in our adulthood, it's been a long time since I went to a river, but you can't imagine how I miss it, I would like to go but also to enjoy it as a child, appreciate all the good it offers me, feel in a more conscious way those poses with the warm water, the soles of my feet stepping on the stones, lie down on a big rock and feel those jets of water currents. And then simply thank God for these wonderful natural spaces that we often do not know how to appreciate.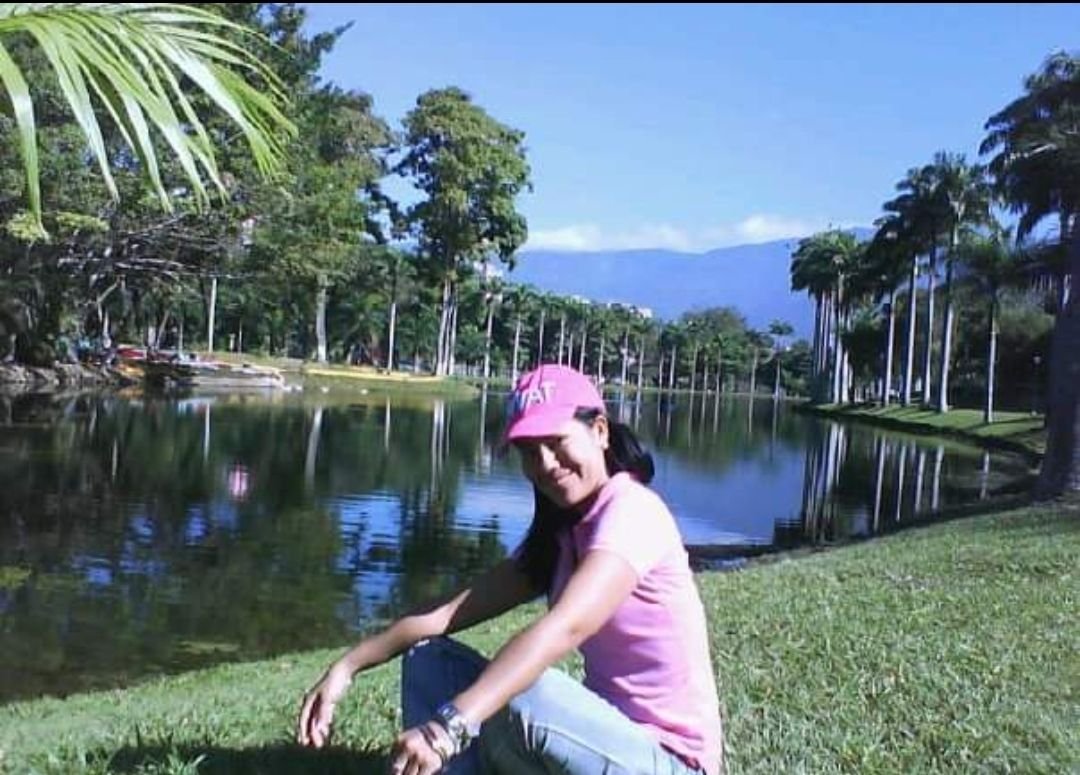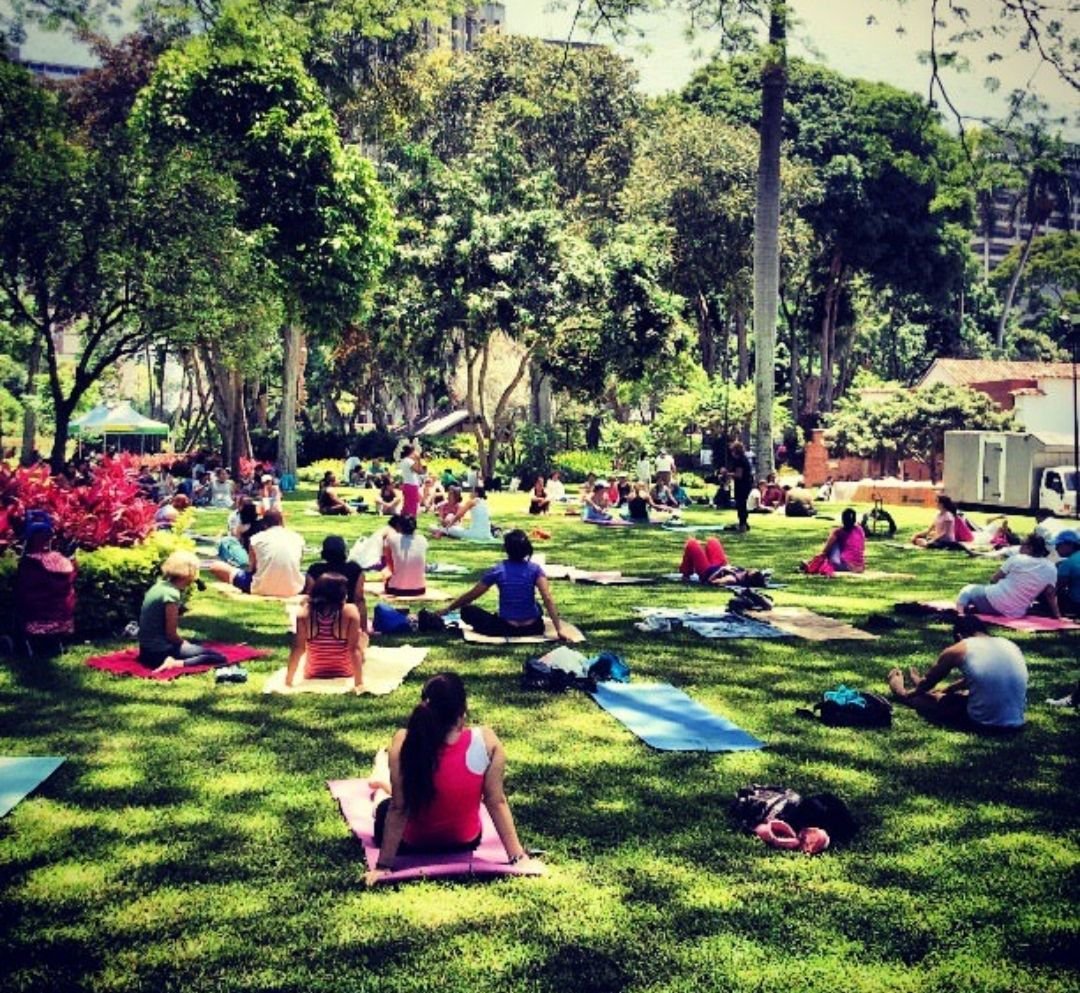 ---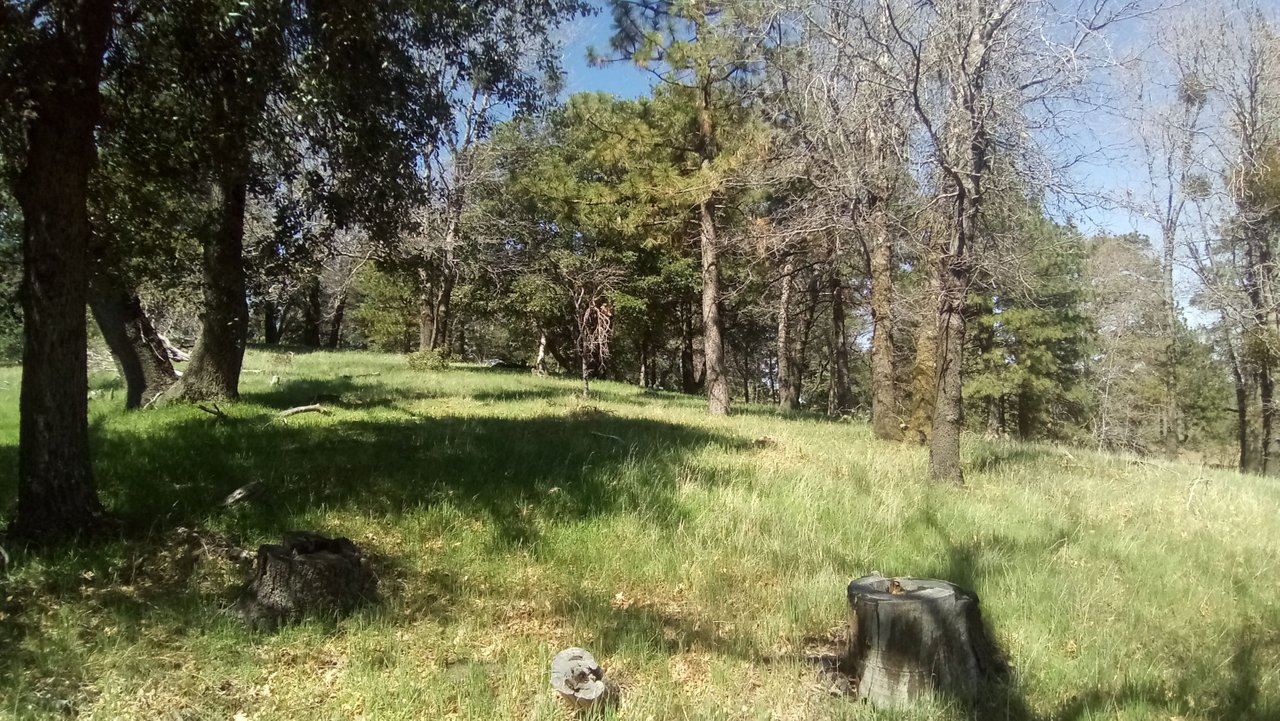 Nature Keeps Me From Going Crazy At least that's how I feel these days. The reason why I'm here is a mix of unforeseen circumstances, and seizing the opportunity to get some good work done. So here I am, sitting in front of the computer, and being creative all day (mostly). Actually, it's the best kind of work for me: no stress, no pressure, being entirely in charge of when, how much, and how intensively I want to work, so in a way it's a dream come true. Still, after a few hours I feel ready to just go outside and clear my head.
To be honest, it is not just clearing my head that I look forward to, but to exploring the numerous mountain paths, dirt and gravel roads, hiking trails, and deer tracks that criss-cross the surrounding landscape here. They all lead somewhere, even if that somewhere is simply a meadow in the woods, or even if the trail decreases gradually only to disappear and leave me finding my own way between the trees. Fortunately, the woods around here are pretty sparse, so I don't have to crawl under bushes or through thick vegetation.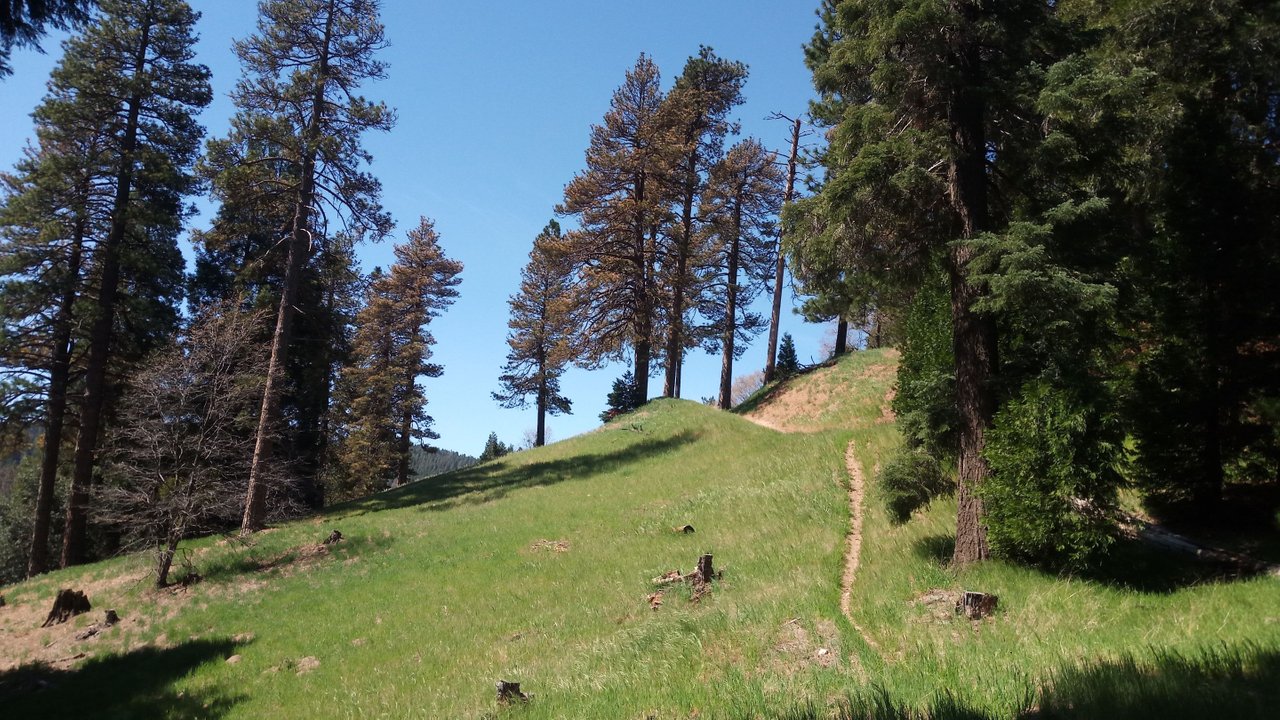 ---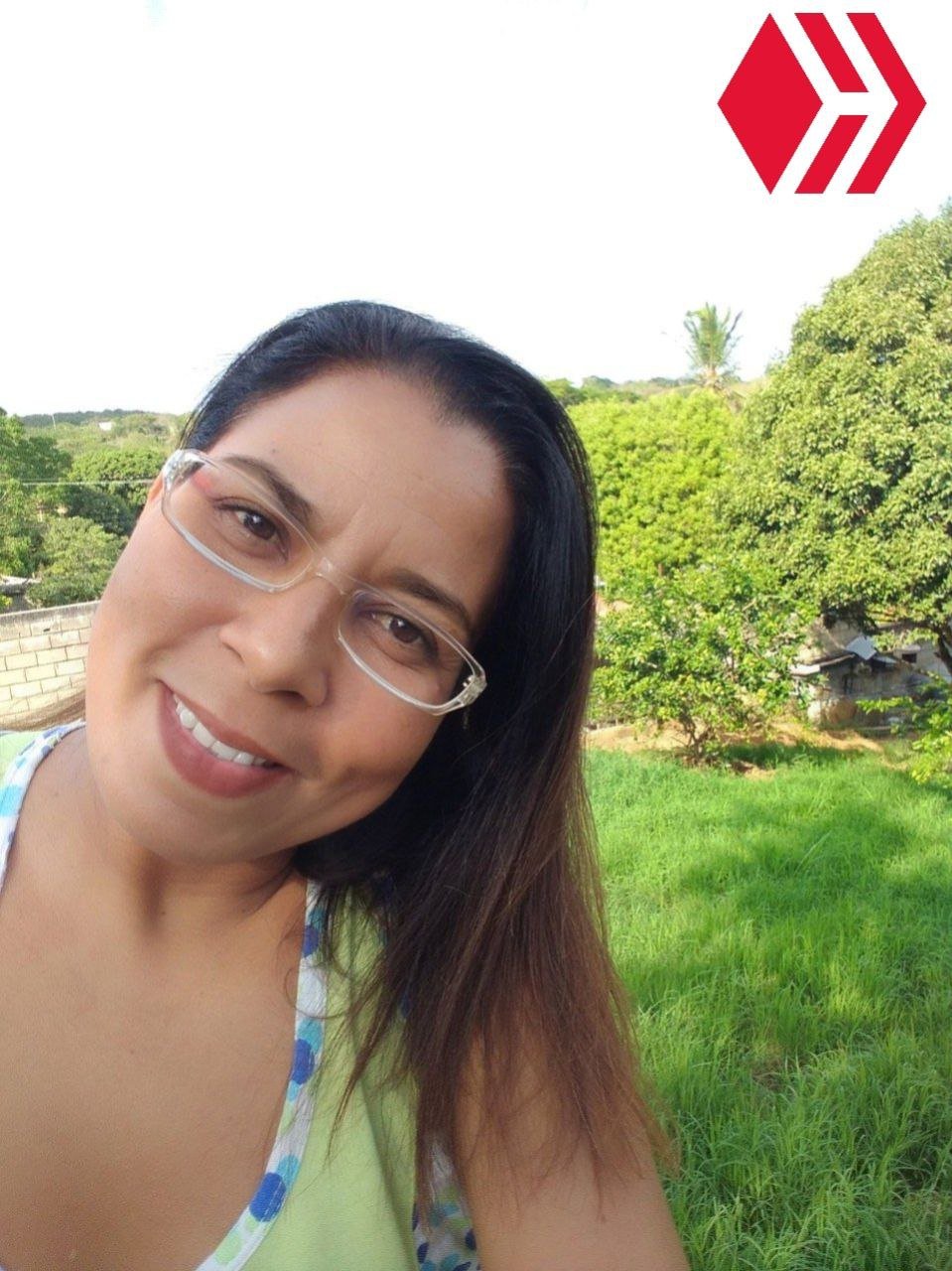 Greetings to my friends of this hive, thank you for this contest that for me, is the subject that I am most passionate about, to tell you my experiences lived in a natural environment, which is my favorite, a recognition to QOTW, Dreemport and @dreemsteem who give their contribution to this contest. I have always been intrigued by the way nature makes me feel, that connection that lifts me spiritually to another plane, that of ultimate contemplation. Certainly, I have visited many places where nature is the protagonist, places where my inner being connects immediately, giving me that feeling of wanting to stay there forever, every time a place captivates me for its landscapes always gives me that feeling of well-being.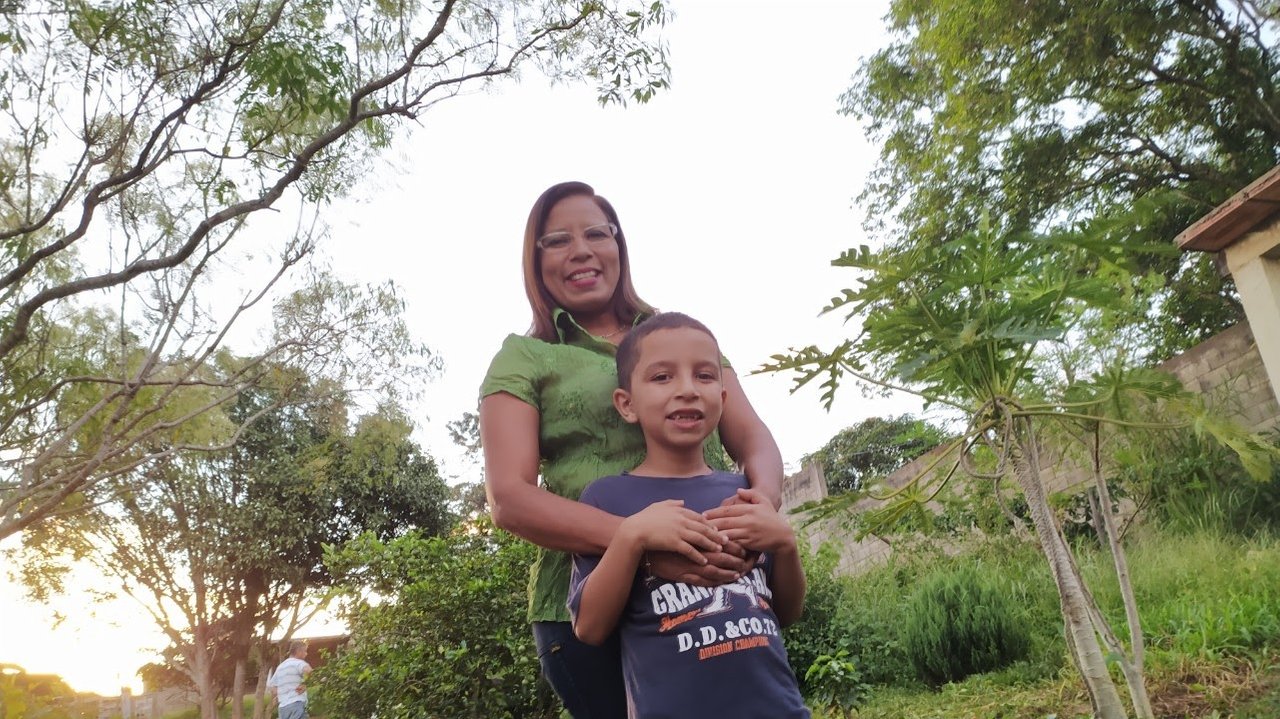 ---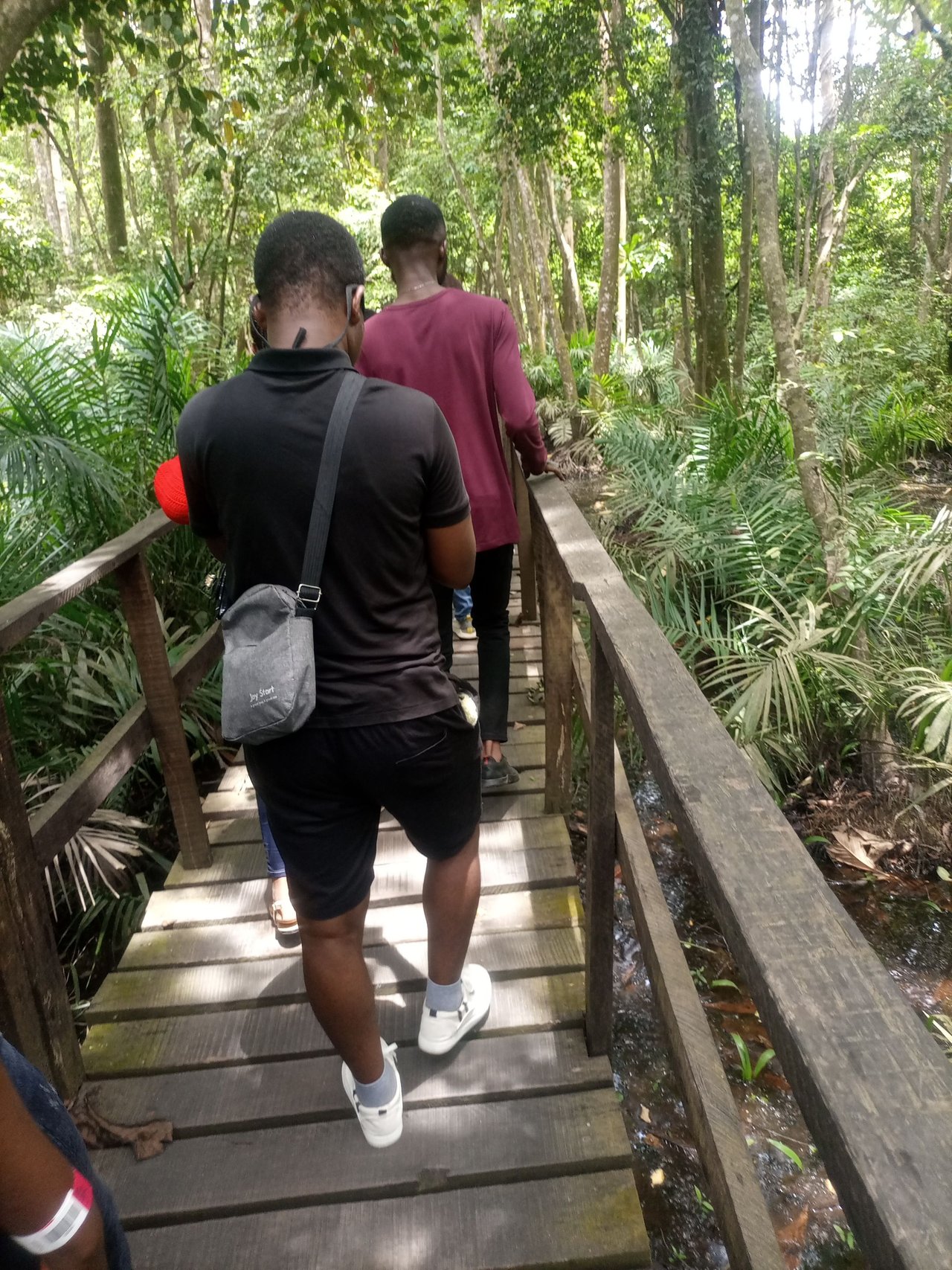 We connect to nature in different ways and one connection I enjoy with nature is the connection of sitting calmly in a treehouse enjoying the cool breeze the height has to offer and enjoying different beautiful views from all angles I love sightseeing, seeing the beautiful views nature has to offer, and soaking myself in the calmness of the breezes is a nice and sweet feeling.
My love for sightseeing made me visit a natural reserved area to enjoy nature at its best view. The reserved area is reserved to see and enjoying nature at its best, connecting with nature, and experiencing the good things it has to offer. The important reason for my visit was to experience all these. It was on a weekend I decided to visit a reserved area just to have access to a treehouse to enjoy a nice view and the calmness the height has to offer. A good way to unwind from all the stress and work of the week is having a quiet time with nature with a gentle breeze on your skin.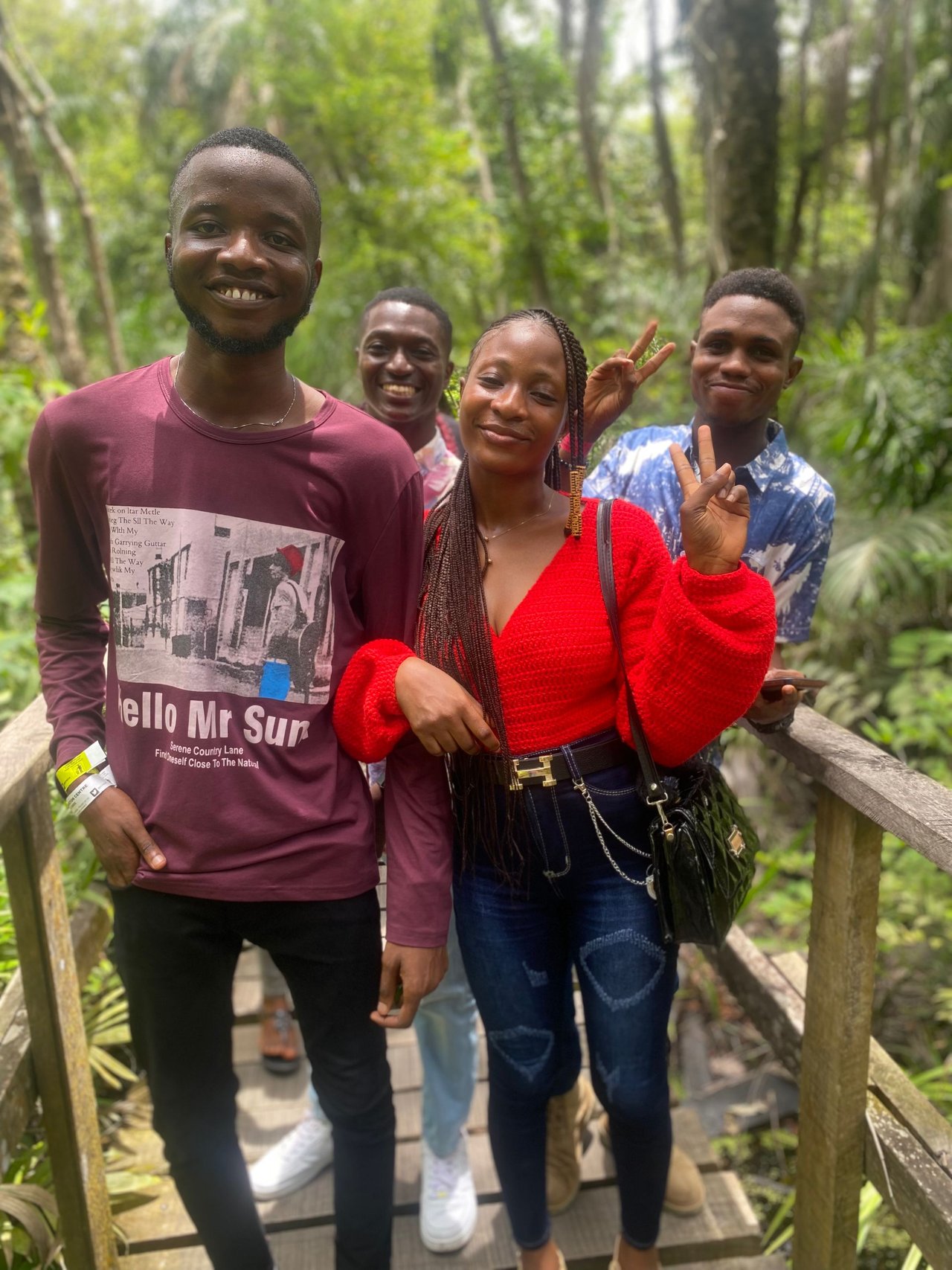 ---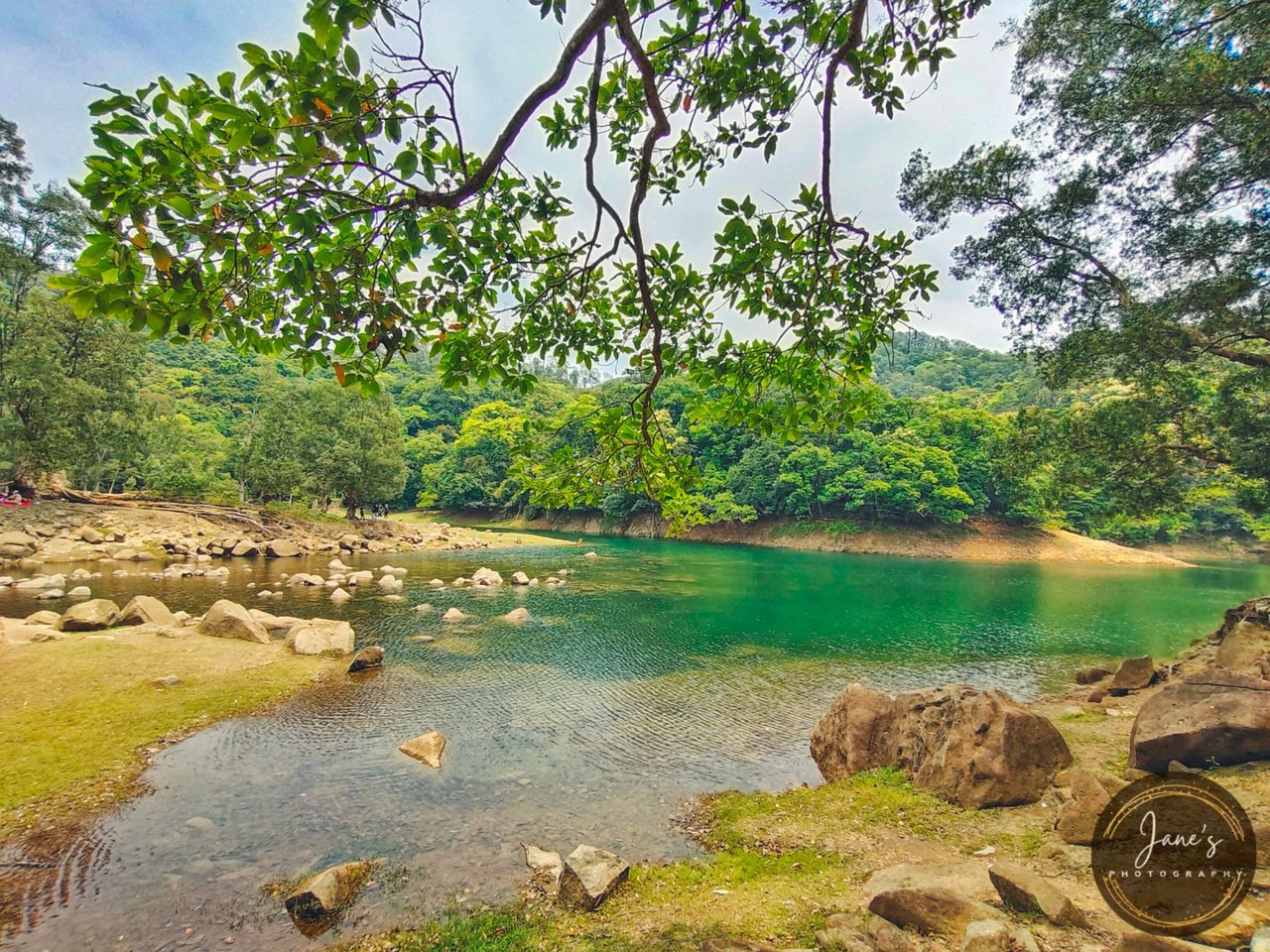 A Hodophile, a nature lover, a wanderer, I guess that's what you can see in my profile banner. Who doesn't like traveling anyway? Especially visiting amazing landscapes of nature. Others probably would like to go out to cities, but a person like me would prefer to go to tranquil places, smell the fresh air, capture the amazing landscapes, and if possible, wait for the dawn there. It's another beauty to behold. Perfection for me.
Some probably would say that traveling just to connect with nature costs a lot and is a hassle journey. But I believe there are no worth it rewards without hardships, just like seeing a tranquil and scenic view after an arduous climb. It doesn't cost a lot as well because nature is just everywhere, and wherever you are, either in a city or a province, you can definitely connect with nature. Just putting a pot of flowers in your room is the simplest way. Planting different flowers and plants in your garden is indeed a great way. I suddenly missed my home as we have a lot of plants inside and outside because of my green-thumbed father and plant-lover mother.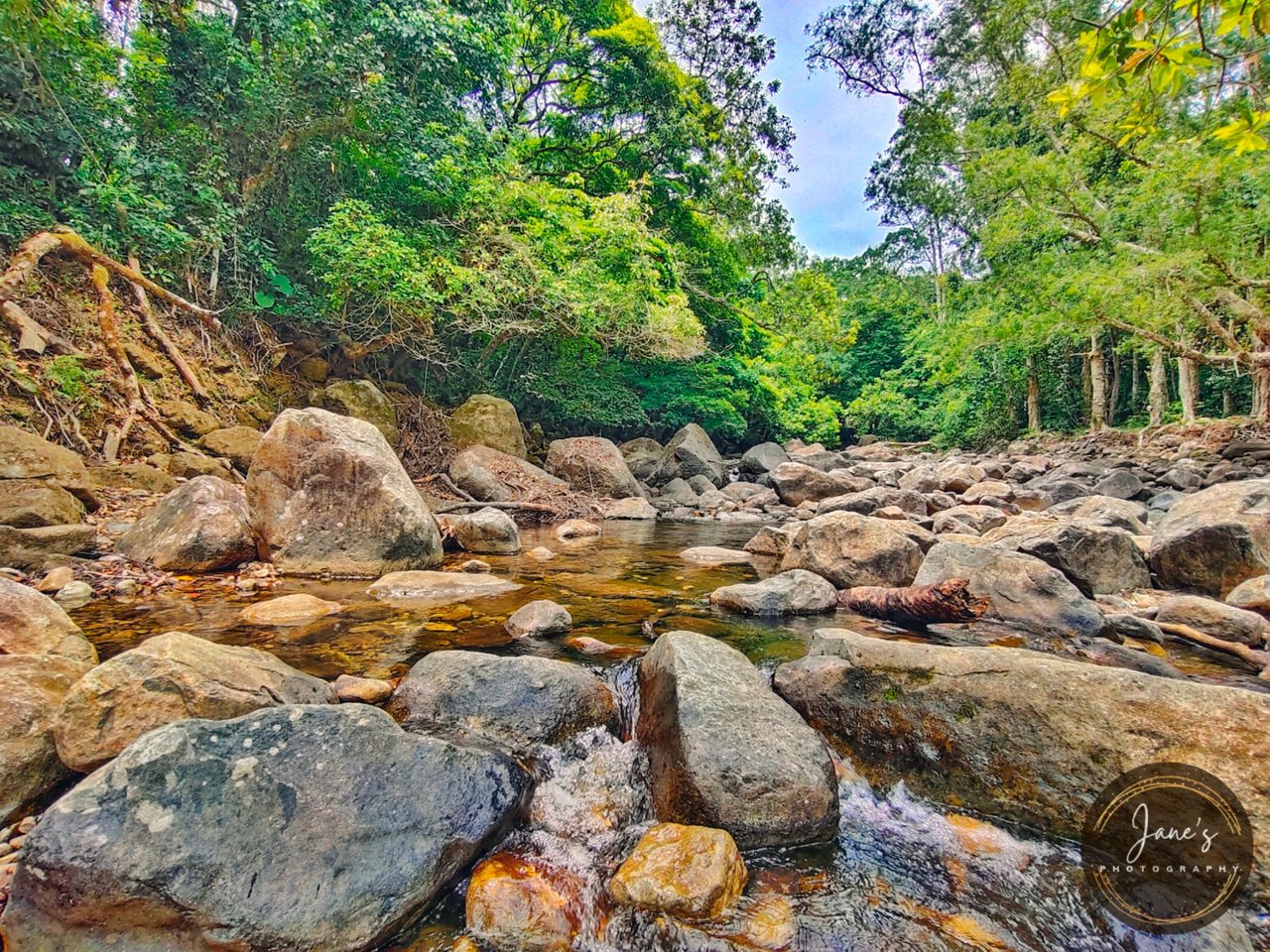 A SPECIAL THANK YOU TO OUR TEAM OF CURATORS AND COMMENTORS!
This post has the following beneficiaries
CHECK OUT OUR PREVIOUS QUESTIONS OF THE WEEK
SEASON 10
IS THE WORLD OVERPOPULATED AND WHAT CAN WE DO TO SOLVE THE ISSUE?
https://peakd.com/hive-123046/@ecotrain/ecotrain-qotw-tie-up-post-is-the-world-overpopulated-and-what-can-we-do-to-solve-the-issue
WHAT HABITS OR ADDICTIONS, BOTH GOOD AND BAD, HAVE YOU DEVELOPED?
https://peakd.com/hive-123046/@ecotrain/ecotrain-qotw-tie-up-post-what-habits-or-addictions-both-good-and-bad-have-you-developed-and-which-you-would-like-to-get-rid-of
WHAT ASPECTS OF SUSTAINABILITY AND HOLISTIC LIVING ARE IMPORTANT TO YOU?
https://peakd.com/hive-123046/@ecotrain/ecotrain-qotw-tie-up-post-what-things-could-we-do-differently-to-reduce-climate-change

WHAT THINGS COULD WE DO DIFFERENTLY TO REDUCE CLIMATE CHANGE?
https://peakd.com/hive-123046/@ecotrain/question-of-the-week-tie-up-post-what-aspects-of-sustainability-and-holistic-living-are-important-to-you



SEASON 9
IF YOU COULD ASK GOD ONE QUESTION AND GOD WOULD GIVE YOU AN IMMEDIATE ANSWER WHAT WOULD THE QUESTION BE AND WHAT ANSWER WOULD YOU WANT TO HEAR?
https://peakd.com/hive-123046/@ecotrain/ecotrain-qotw-tie-up-post-season-98-if-you-could-ask-god-one-question
WHAT DOES SUCCESS LOOK LIKE FROM A SPIRITUAL PERSPECTIVE?
https://peakd.com/hive-123046/@ecotrain/ecotrain-qotw-tie-up-post-what-does-success-look-like-from-a-spiritual-perspective
WHY IS IT SO HARD TO MEDITATE?
https://peakd.com/hive-123046/@ecotrain/ecotrain-qotw-tie-up-post--why-is-it-so-hard-to-meditate
DO YOU BELIEVE IN DESTINY OR KARMA? CAN BOTH BE TRUE?
https://peakd.com/hive-123046/@ecotrain/ecotrain-qotw-tie-up-post-95-do-you-believe-in-destiny-and-karma-can-both-be-true
CAN SPIRITUALITY AND TECHNOLOGY LIVE TOGETHER?
https://peakd.com/hive-123046/@ecotrain/ecotrain-qotw-tie-up-post-can-spirituality-and-technology-live-together
HAVE YOU EVER WITNESSED A MIRACLE?
https://peakd.com/hive-123046/@ecotrain/ecotrain-qotw-tie-up-post-have-you-ever-witnessed-a-miracle
IF THERE IS A GOD WHY IS THERE SO MUCH SUFFERING IN THE WORLD?
https://peakd.com/hive-123046/@ecotrain/qotw-92-tie-up-post-wow-what-a-response-from-150-people-if-there-is-a-god-why-is-there-so-much-suffering-in-the-world
WHAT DOES SPIRITUALITY MEAN TO YOU?
https://peakd.com/hive-123046/@ecotrain/ecotrain-qotw-season-91-awards-post-what-does-spirituality-mean-to-you
---
SEASON 8

WHAT DO WE FEAR, WHY DO WE FEAR?
https://peakd.com/hive-123046/@ecotrain/ecotrain-qotw-awards-post-what-do-we-fear-why-do-we-fear
WHAT PREVENTS ACTION?
https://peakd.com/hive-123046/@ecotrain/ecotrain-qotw-awards-wowwwwwwwwww-what-a-response
WHAT IS THE BEST KIND OF ACTION?
https://peakd.com/hive-123046/@ecotrain/ecotrain-qotw-awards-post-season-85-what-is-the-best-kind-of-action
IF NOT YOU THEN WHO? IF NOT NOW THEN WHEN?
https://peakd.com/hive-123046/@ecotrain/ecotrain-qotw-awards-post-season-84-if-not-you-then-who-if-not-now-then-when
WHAT ACTION DO YOU THINK NEEDS TO BE TAKEN TO COMBAT CLIMATE CHANGE?
https://peakd.com/hive-123046/@ecotrain/ecotrain-qotw-awards-post-season-83-what-action-do-you-think-needs-to-be-taken-to-combat-climate-change
WHAT ACTIONS DO YOU THINK ARE NEEDED IN YOUR LOCAL AREA?
https://peakd.com/hive-123046/@ecotrain/awards-post-ecotrain-question-of-the-week-season-82-what-actions-do-you-think-are-needed-in-your-local-area
WHAT ACTIONS HAVE YOU TAKEN IN YOUR LIFE THAT LED TO POSITIVE CHANGES?
https://peakd.com/hive-109038/@ecotrain/ecotrain-question-of-the-week-awards-post-season-81

Supporting People Who Help
Make The World A Better Place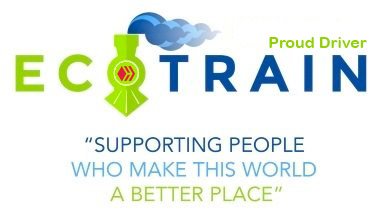 CLICK HERE TO SUBSCRIBE TO THE ECOTRAIN COMMUNITY