This is the piece that has inspired me to make my own sewing machine organizer. I was this about a week ago and could not get it out of my head. Unfortunately the table I'm working on is not big enough for everything, so I need to be creative. An organizer like this not only looks classy but it's helpful and useful too. So I finished the bag I was working on and got to work.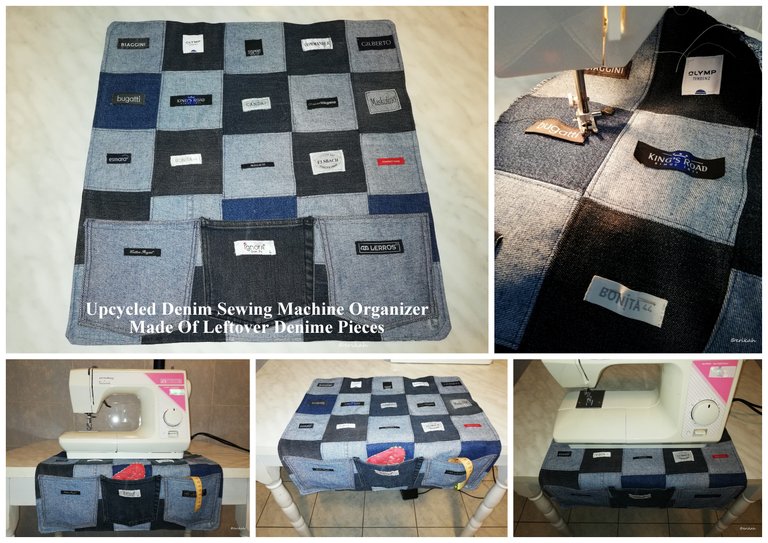 The whole thing is made of #recycled denim and fabrics. The denim pieces are leftovers from the bags I'm creating and the lining (what's on the other side) is what's left of the shirts I'm making the linings.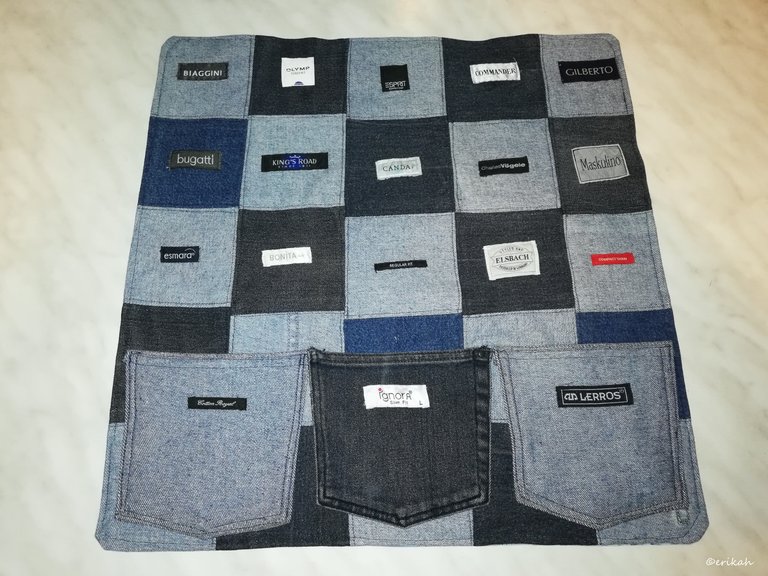 These have been sitting in a bag, waiting for me to use them for something, to #upcycle them.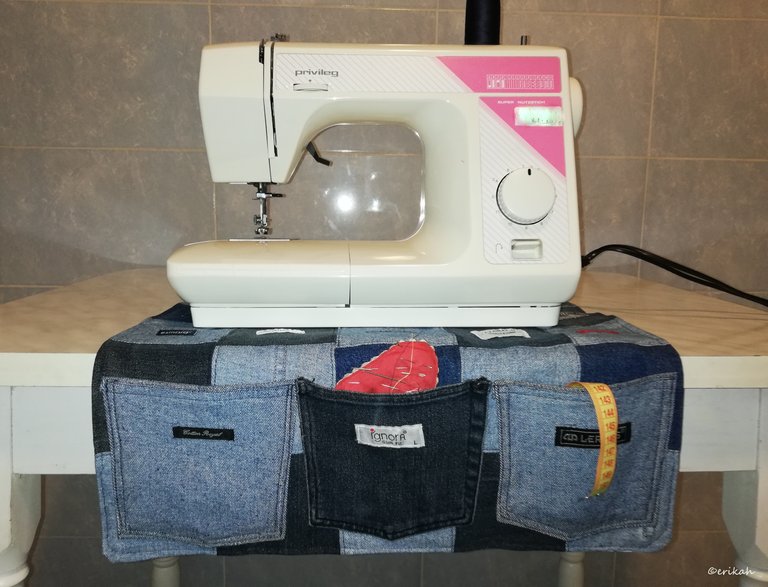 I've been using an old pillowcase under my sewing machine as I don't like to place it directly on the table and I'm hoping it muffles the noise as well, not that my sewing machine is too noisy. This was just a temporary solution and looks like it came the time to replace it.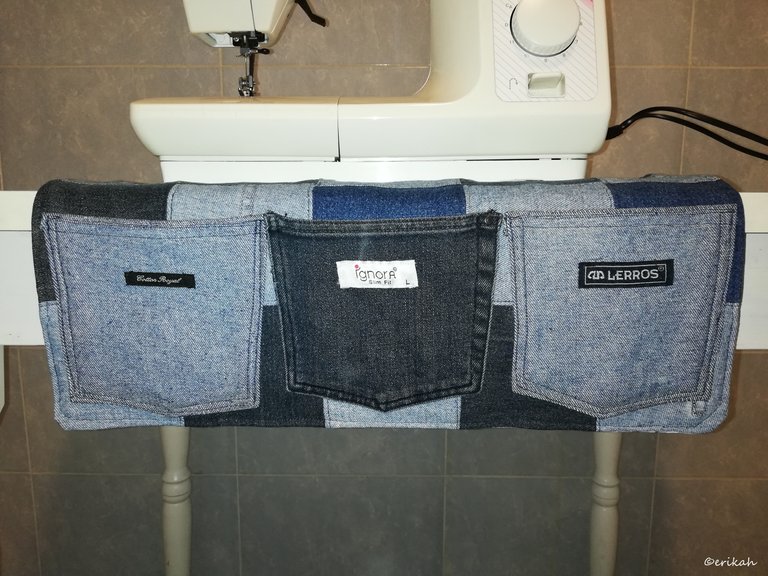 I'm trilled to have this to be honest. I've been making bags for the last month or so but those will be sold at one point. This however is mine, mine alone, mine to enjoy it every day I'm working with my sewing machine. The other good thing is that I've been able to recycle some denim that maybe would have not been used otherwise.
The Beginning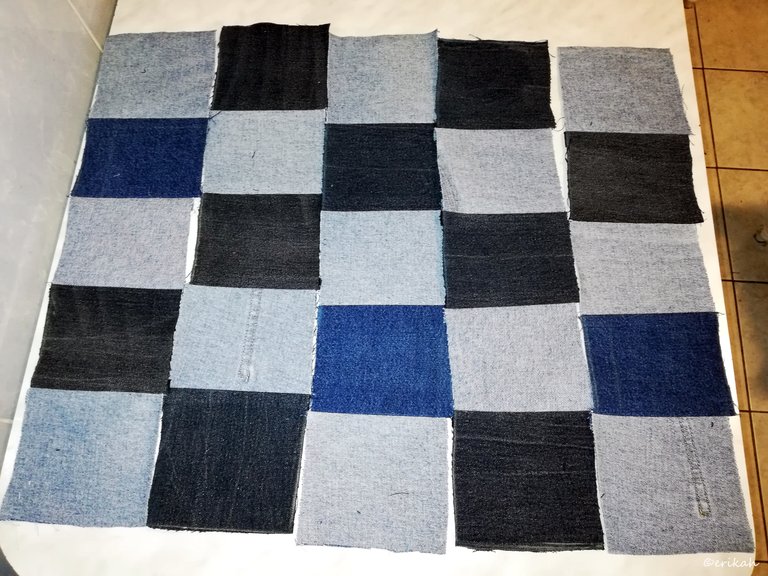 First I had to calculate how big or small I wanted my organizer to be, then decide on the size of the squares. 12cm x 12cm looked like perfect. So here there are 25 squares. This was like a big jigsaw puzzle.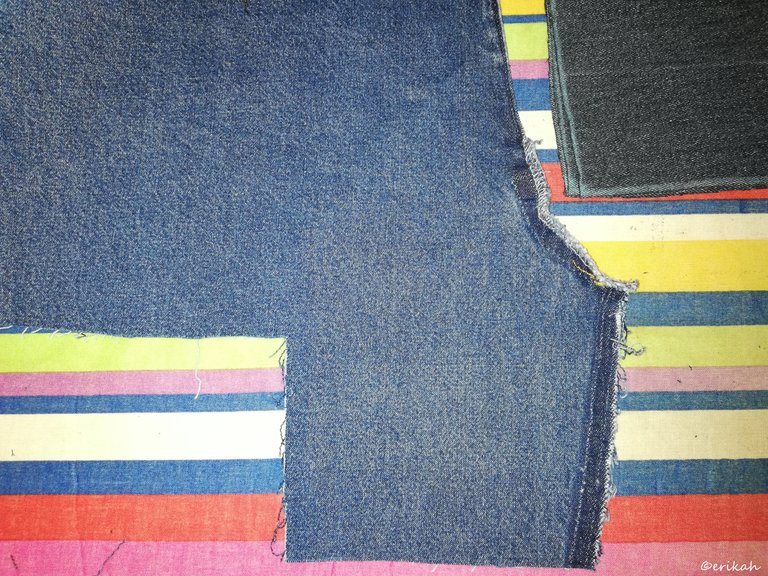 This is one of the jeans I used. Good thing I'm not wasting fabric when I tailor, I like to maximize the use of fabrics. That's how there's still a lot left of a pair of jeans after making the bag.
As I said, this was like a big jigsaw puzzle, not without difficulties. I've done a few granny square bed covers and know from experience how important is to respect the order in which to sew together the pieces, otherwise you mix them up and get a very different result from the original.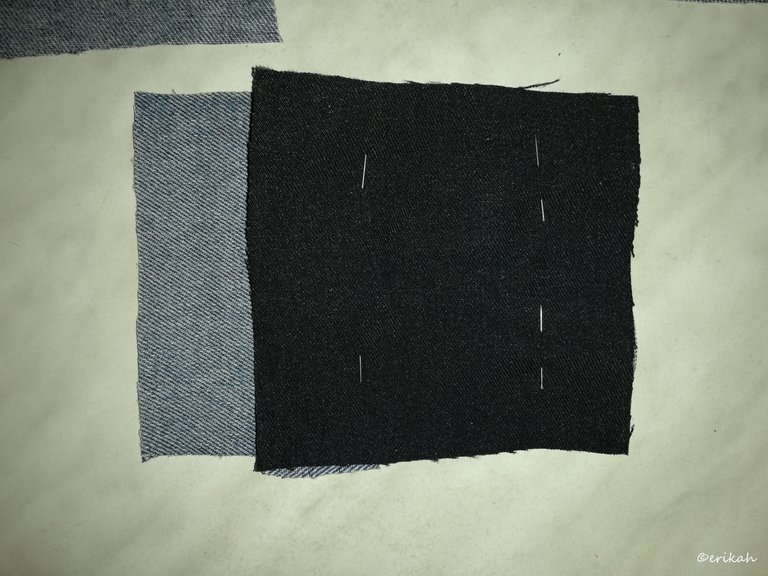 So here's how to cheat, aka make your job easier. You just need to pin together the pieces in the right order.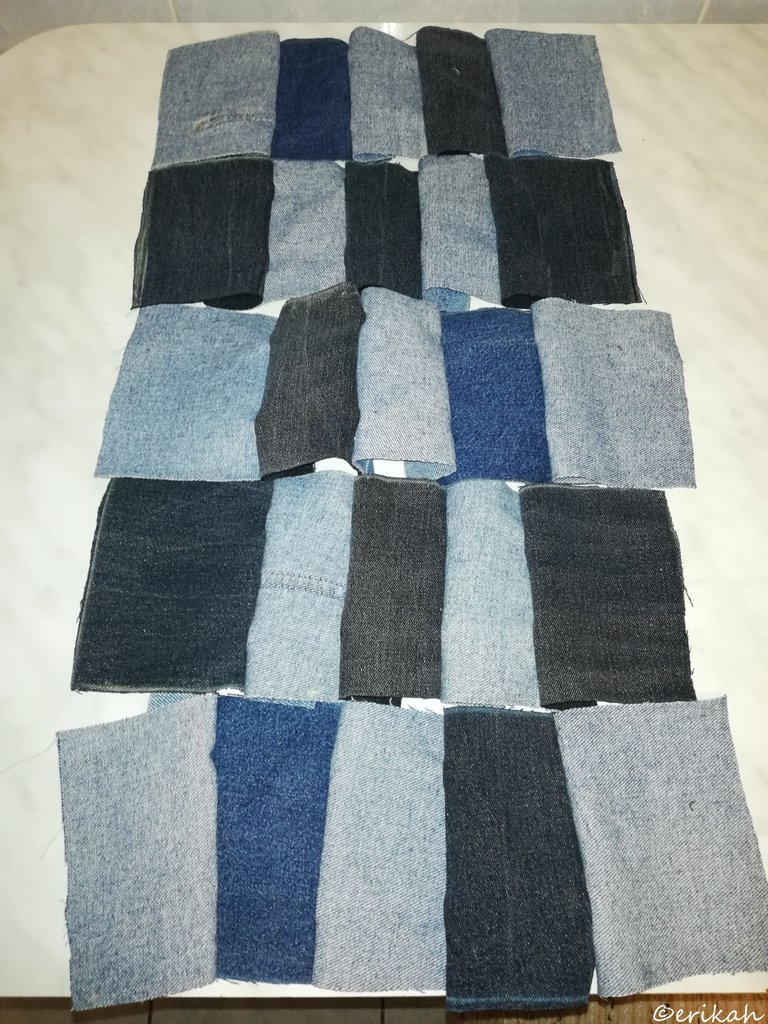 And here it is, roughly pinned together.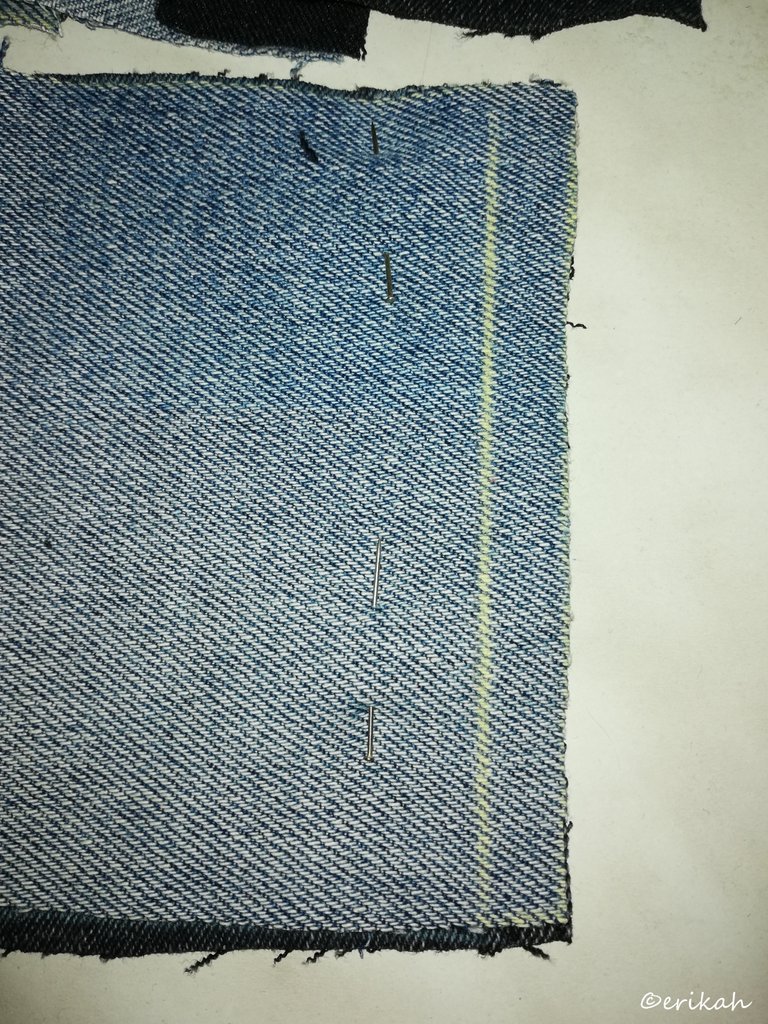 Another cheating method is to mark the sewing line. The reason I chose 12cm x 12cm size squares is because I thought I lose 1cm with the sewing on each size, (there's a term for that but I don't know it, sorry, there's still a lot to learn), and the final size of the square would be 10cm x 10cm. But to be sure, I needed to mark the lines. Did I succeed in getting the 10cm x 10cm squares? More or less, more less than more 😁. The result is far from perfect but I'll tell you about the problems I encountered later.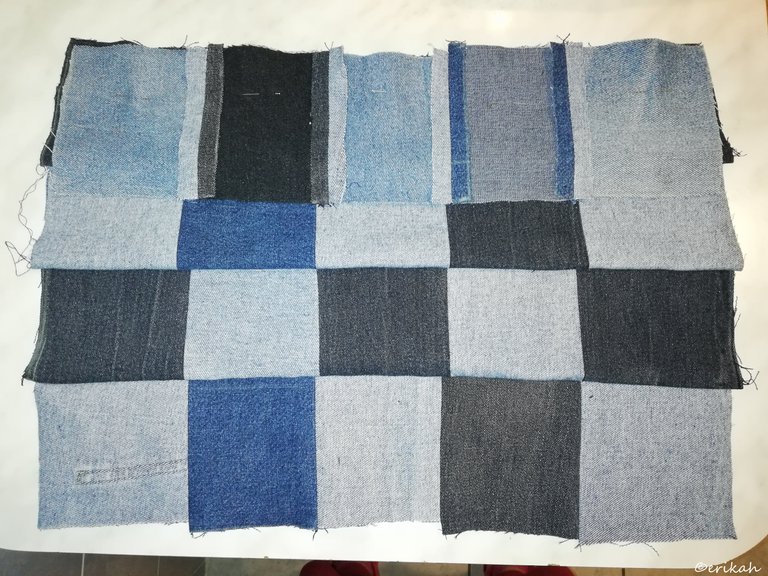 Almost done, only the last row left.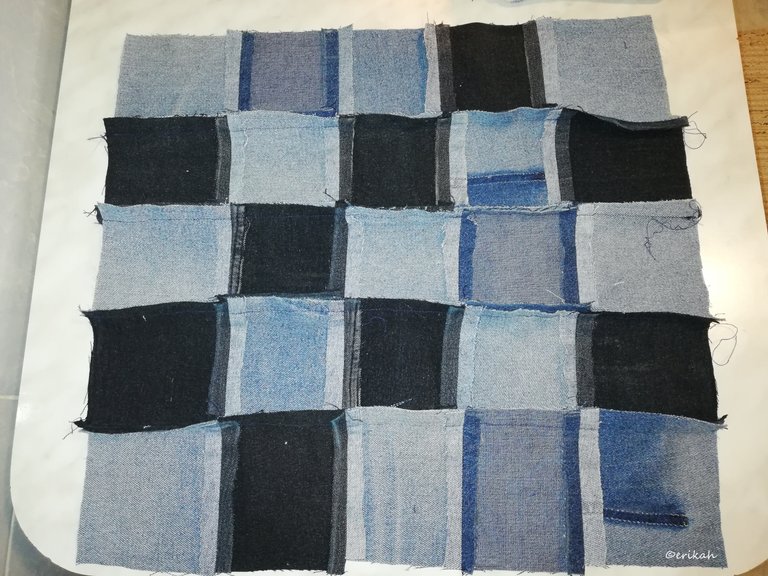 This is the back (the wrong side), before ironing. I have the habit of pressing almost every piece as it helps my work. Working with denim, which is a thicker fabric requires pressing.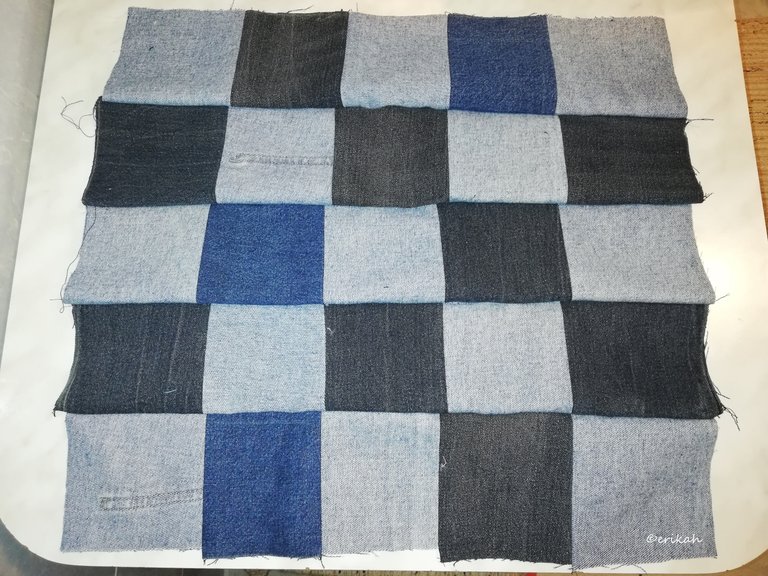 Problems
This is the right side, also before pressing. Now you can see how well I've done with getting 10cm x 10cm squares. Terrible 😁, yes, terrible! The problem was the darker denim, that was the elastic type. This was the reason I've chosen this one. It's not suitable for making bags, so I thought I'd use it here. I don't feel bad about it as it's for me and for home use but I know now not to use this kind anymore.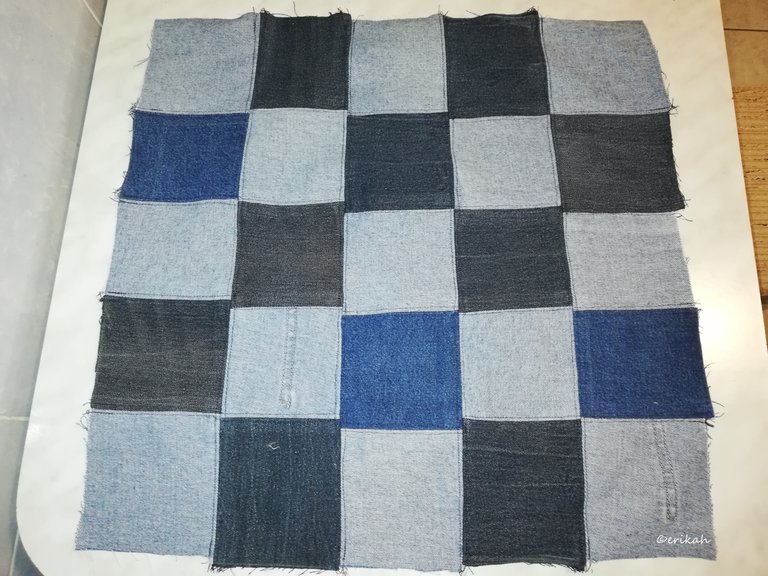 This looks better, it's already ironed and lines done. There are a few problems but I'd say it's not so bad.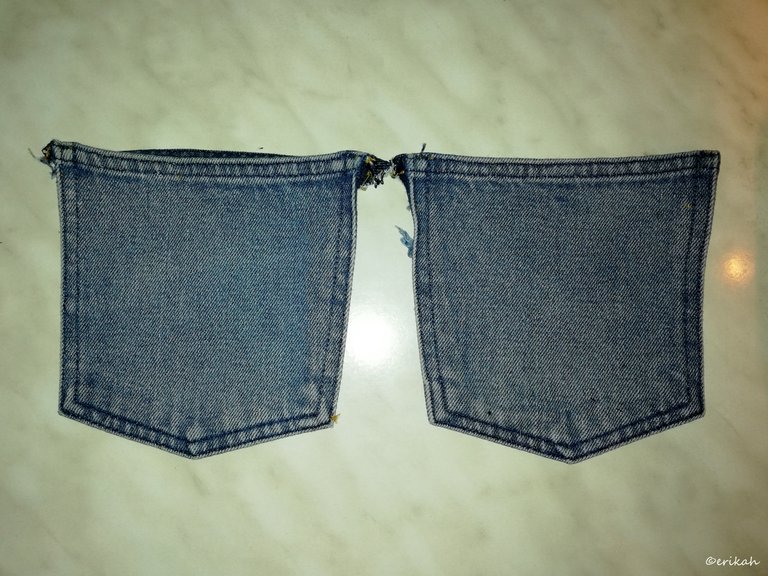 Pockets
There were these two ugly pockets available but no way I can use these. So what can I do then? Turn them inside out and use the other side which looks great.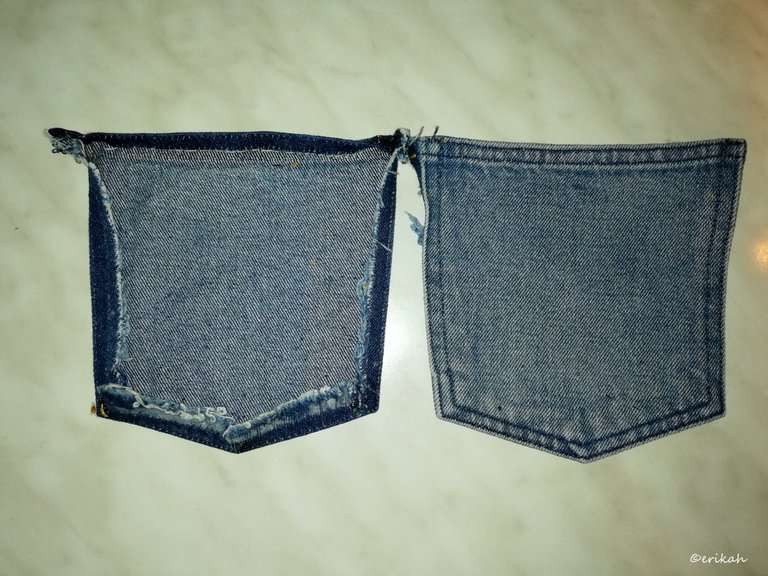 Take a look and tell me which side is better? Besides, all the light color pieces are from the same jeans but there are the wrong side, the same as the back of this pocket. You're going to see later in this post how the new pocket looks like.
The Lining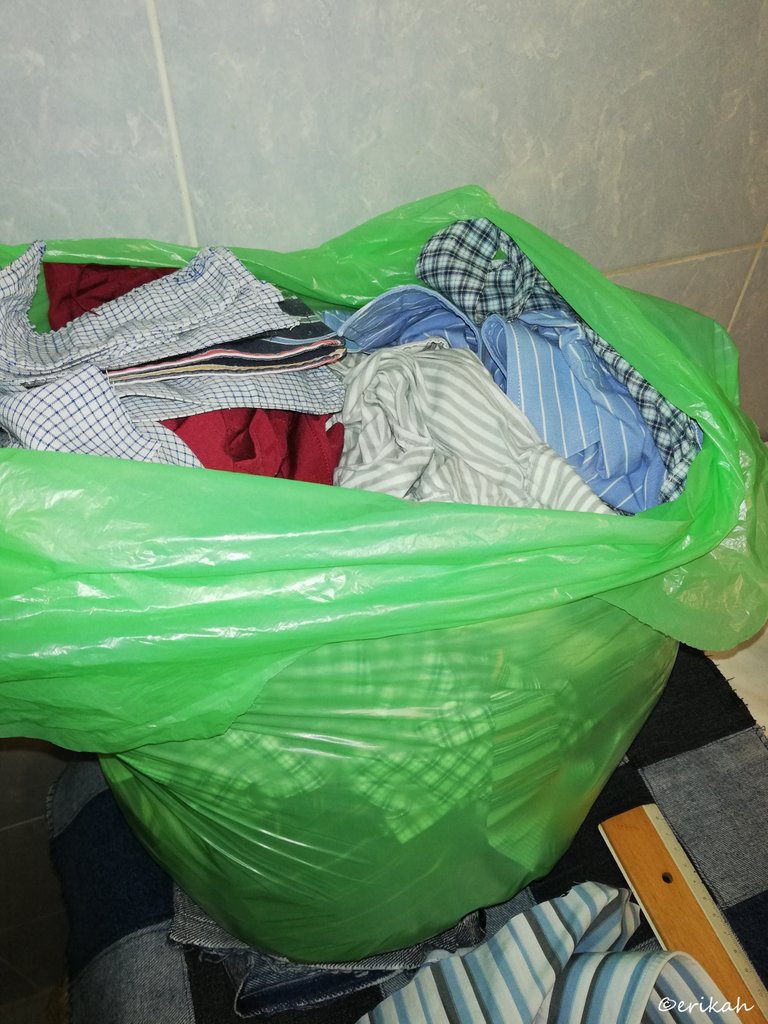 The obvious choice would be a brand new fabric, picked by your taste but that's out of the question for more reasons. Firstly because all the shops selling fabric are closed, secondly because my goal was and is to #recycle #upcycle, #reuse, #repurpose, stop waste and try to give things a new life.
Look at that bag full of fabrics left from the shirts I have used for linings. There were plenty there I could use, so I picked a few and combined them. It looks different, not like one piece but who cares, it's for me and besides, that's the wrong side, no one is going to see it.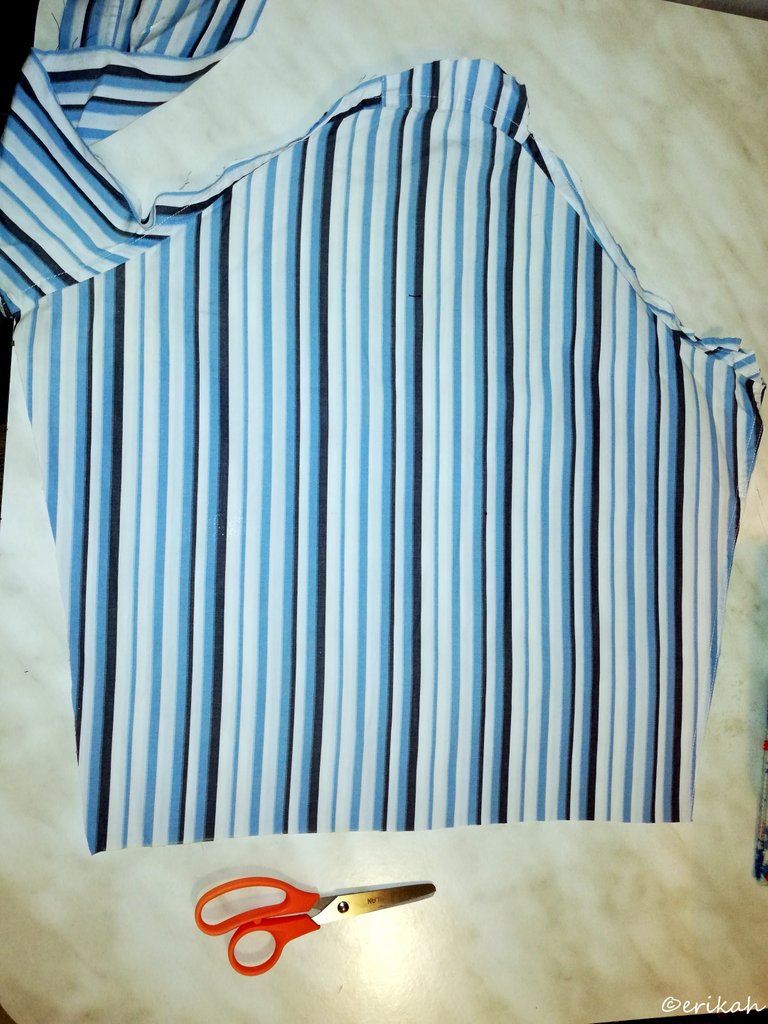 This was the sleeve of a shirt, or what's left of it, perfect for the job. I see no point in throwing it away.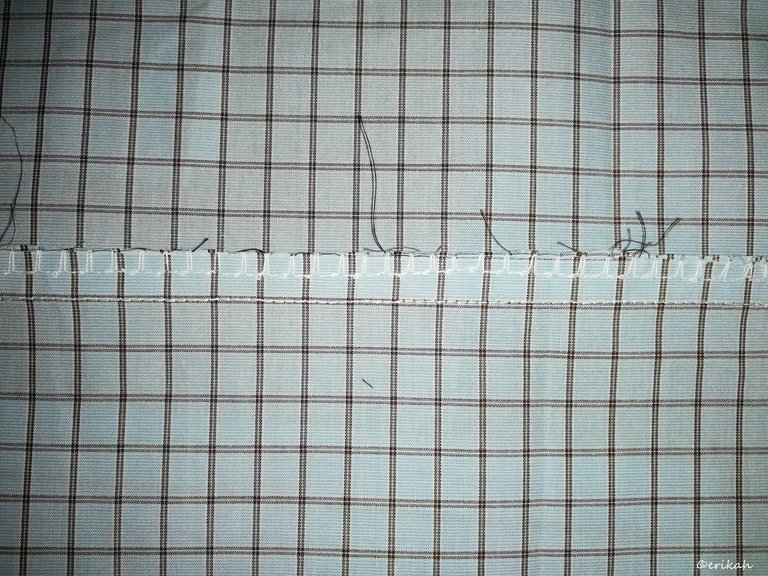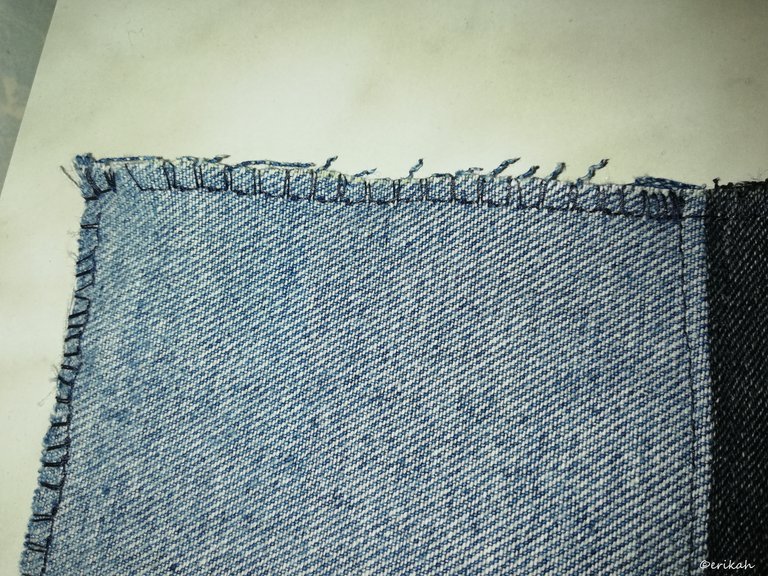 This also has a name but don't know what it is in English. Purl stitches? I did this to protect the edges in case I want to wash it.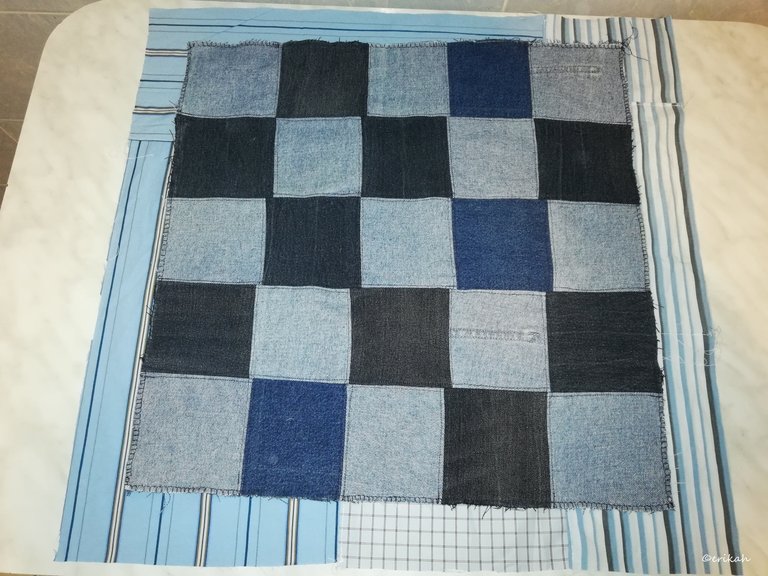 Change Of Plans
This is what happens when you change your mind about the design on the go. At first I wanted the lining to cover the edges of the right side but then I changed my mind and the lining became to big, so I needed to adjust the size.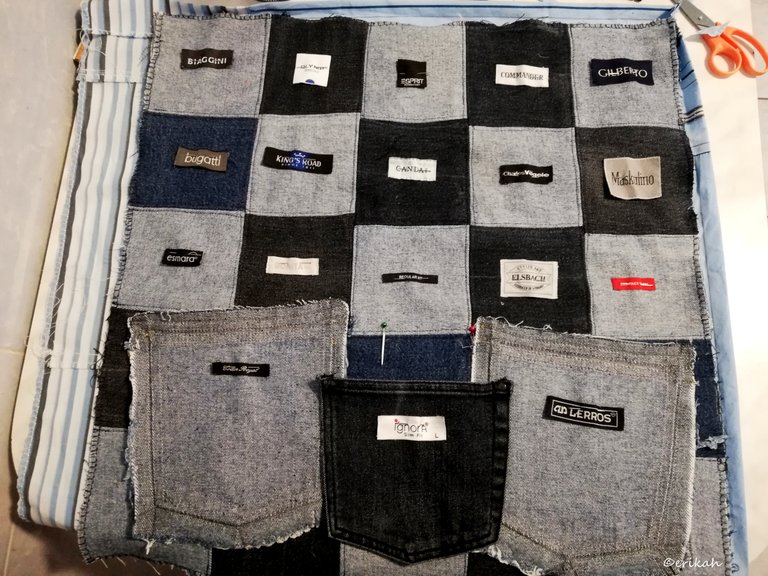 This is the reason I changed my mind about the design. I thought why not use the labels I've been collecting to decorate it. I wanted the focus point on the labels, not on the lining.
Attaching these was also a challenge.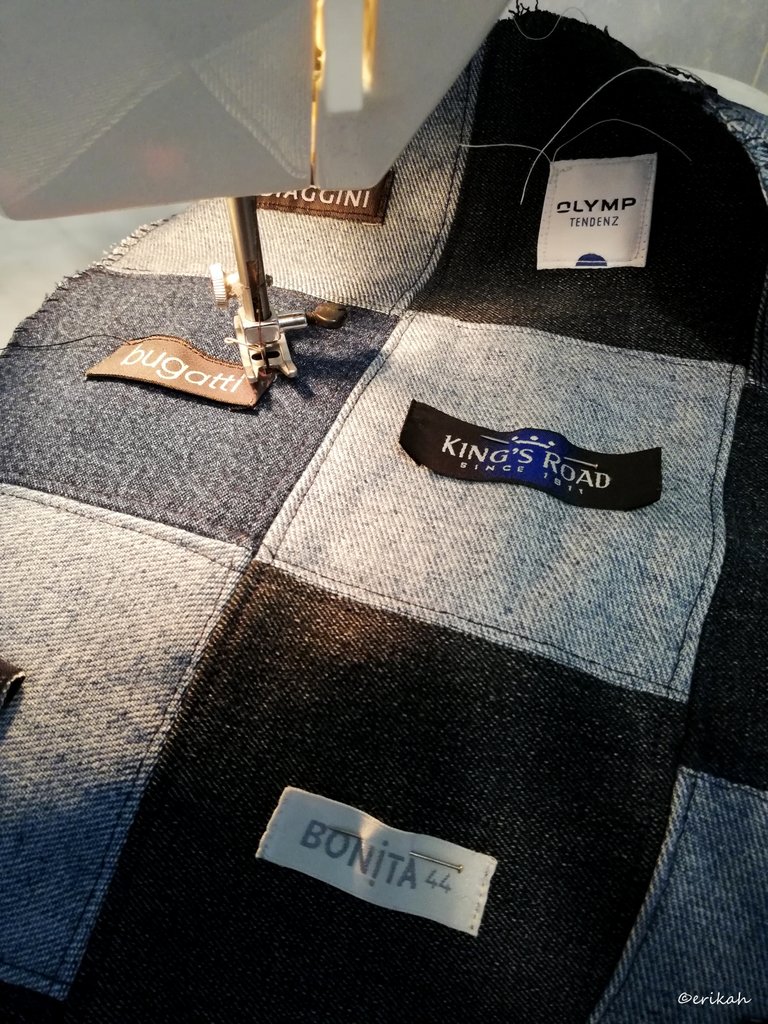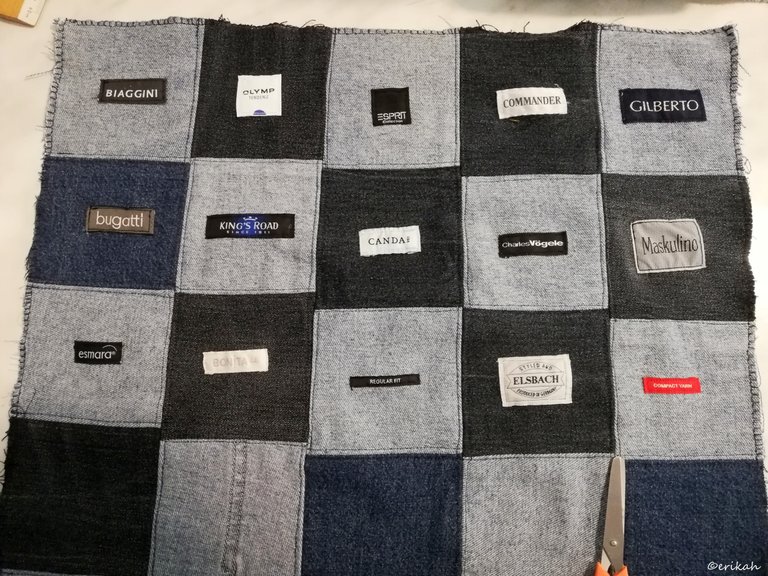 Most of them are not straight 😁, I know 😜.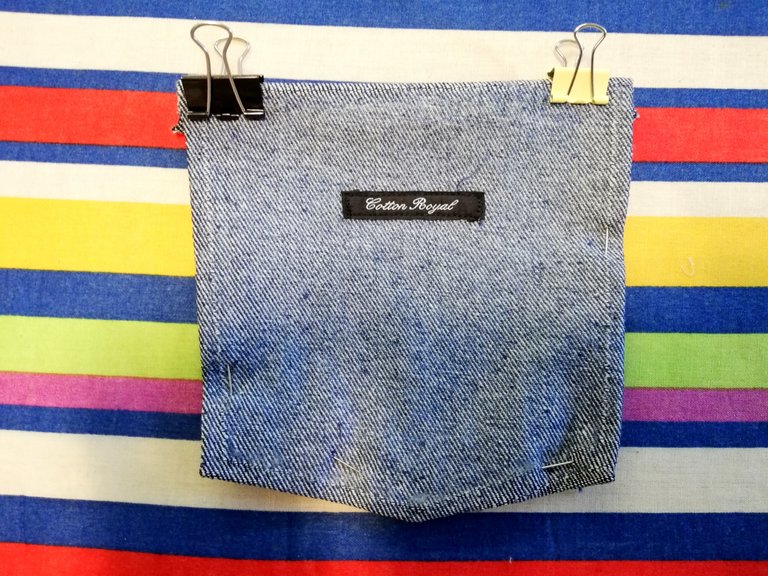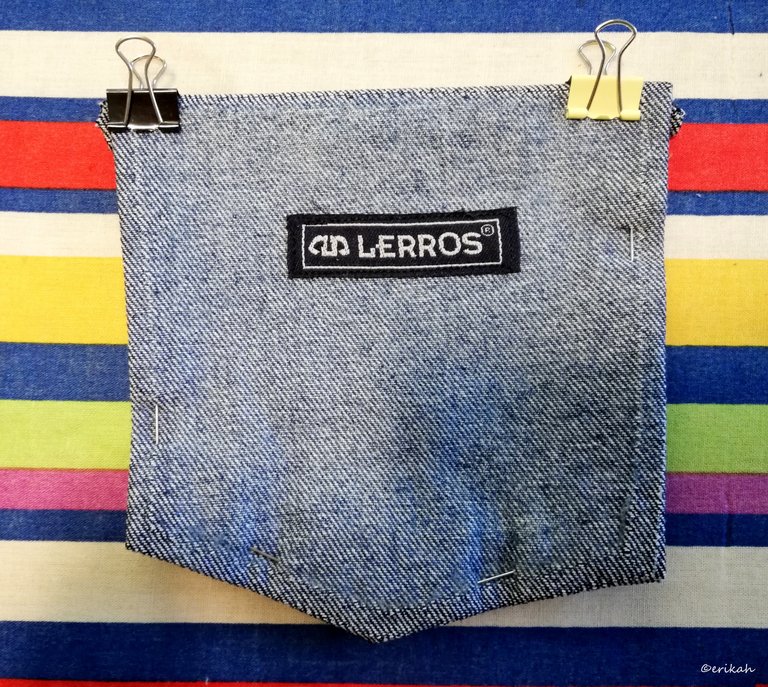 These are the new pockets I created by changing sides. It looks way better in my humble opinion.
The Result
And here it is, my very first and most precious sewing machine cloth and organizer, which I'm very proud of! It took me two days (with my usual daily activity) to finish it and tomorrow I can use it.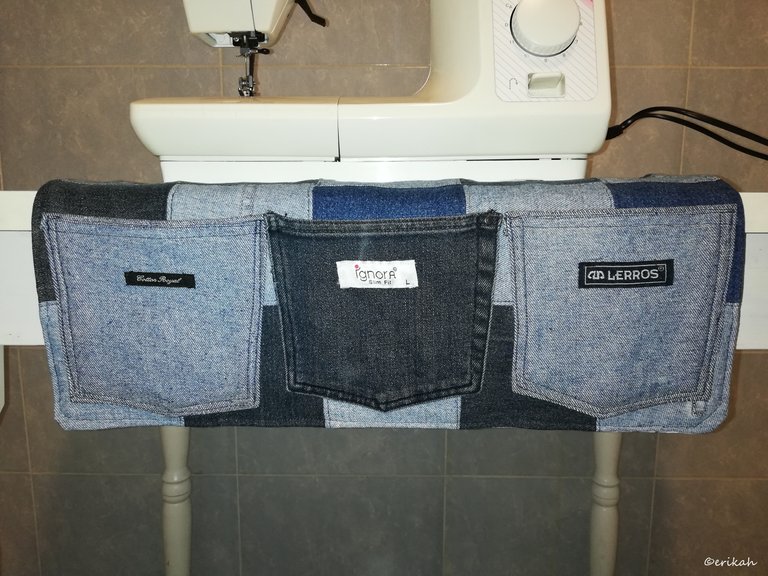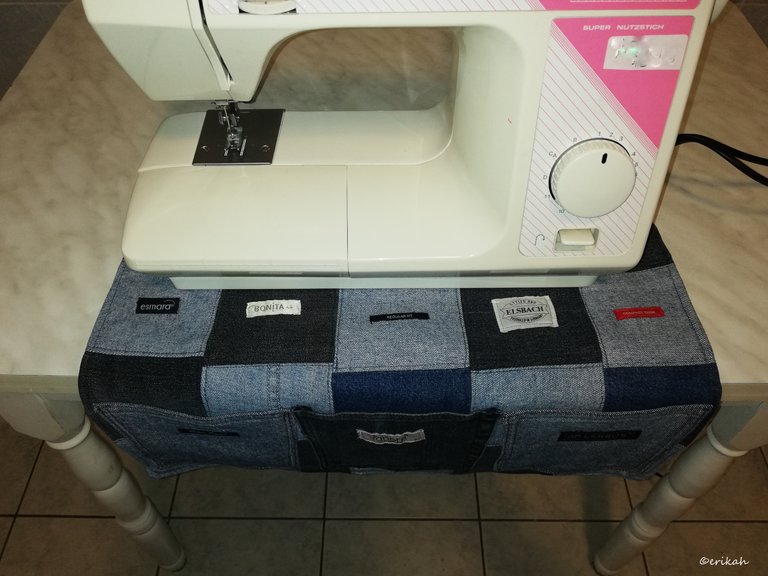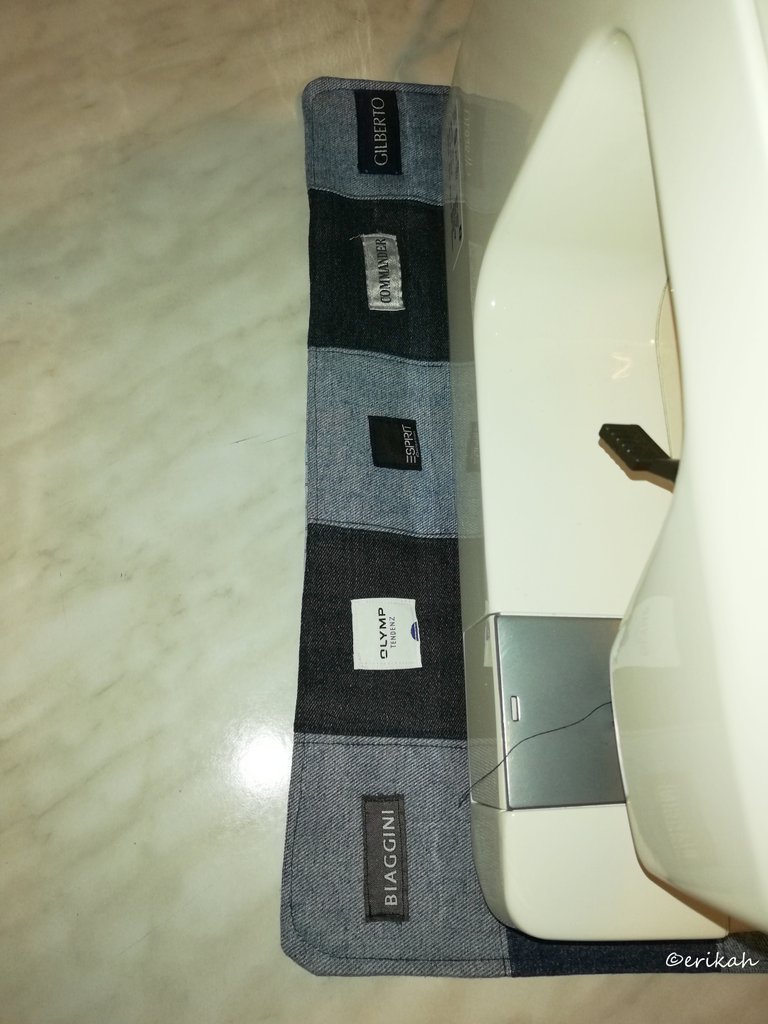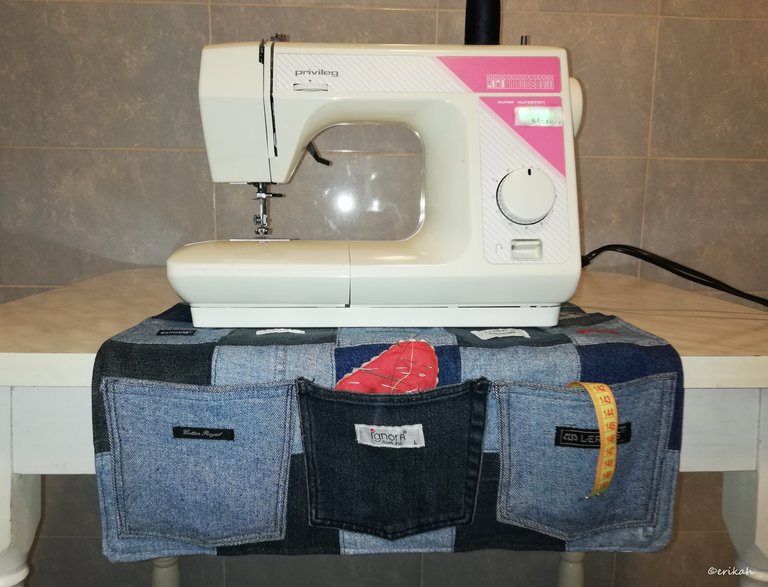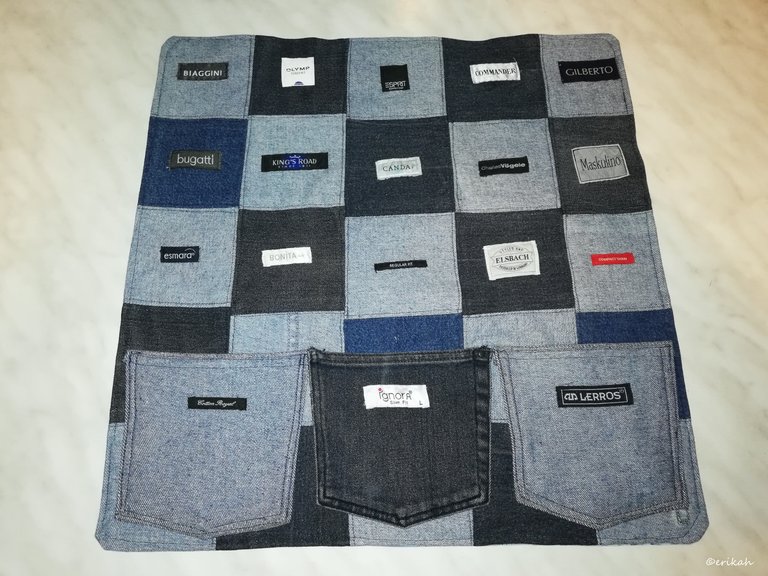 At the end of the day I'm happy I could recycle the denim pieces left from my bags and the lining as well, to create something nice and useful for myself. I could do a couple of these and sell them.

Check out my other sewing posts: