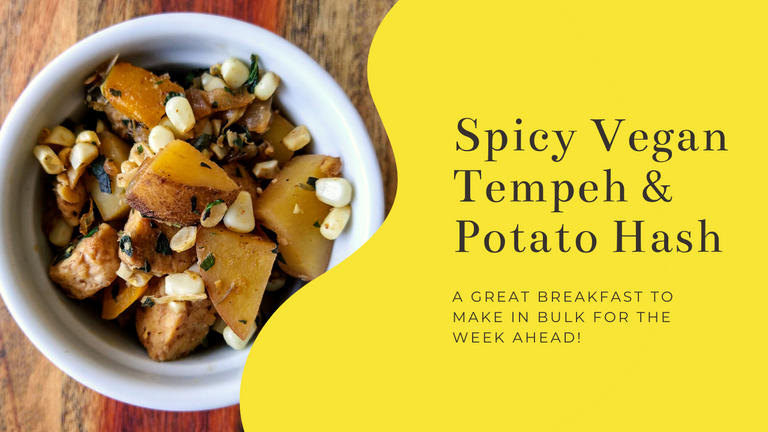 I have been in the kitchen for a good portion of the afternoon, as per my usual meal prepping Sunday routine. After missing last week's market, I loaded up on plenty of goodies yesterday to make up for it. There are still plenty of glorious late summer fruits and veggies hanging on for a bit longer, and the start of the autumn bounty, as well. We are quite lucky here in my part of the world that the growing season is quite long so it is rare to not be able to fill our plates with mostly locally grown, fresh produce.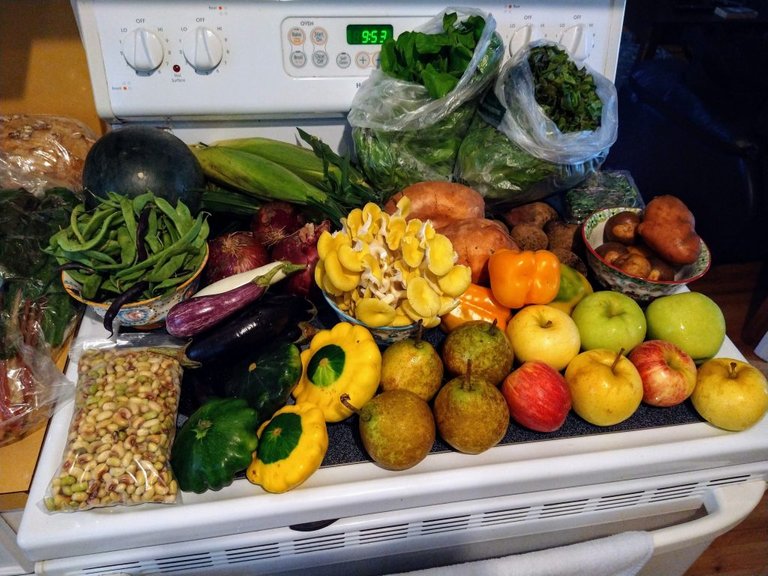 While I sometimes (often) blow my budget on the amount that I buy at the market, in general most of my meals are quite budget-friendly as a whole, especially since I flesh out my market purchases with bulk items from the store. Dried beans, lentils, whole grains and nuts can be so much cheaper when buying in larger quantities. When you think about the higher percentage of nutrients you get in fresh-picked local produce, even if you spend a bit more on certain items, you generally get more for your money as many nutrients start to degrade the longer the fruits and veggies sit on the shelf! Not to mention more of your dollars go straight to the hard-working farmers.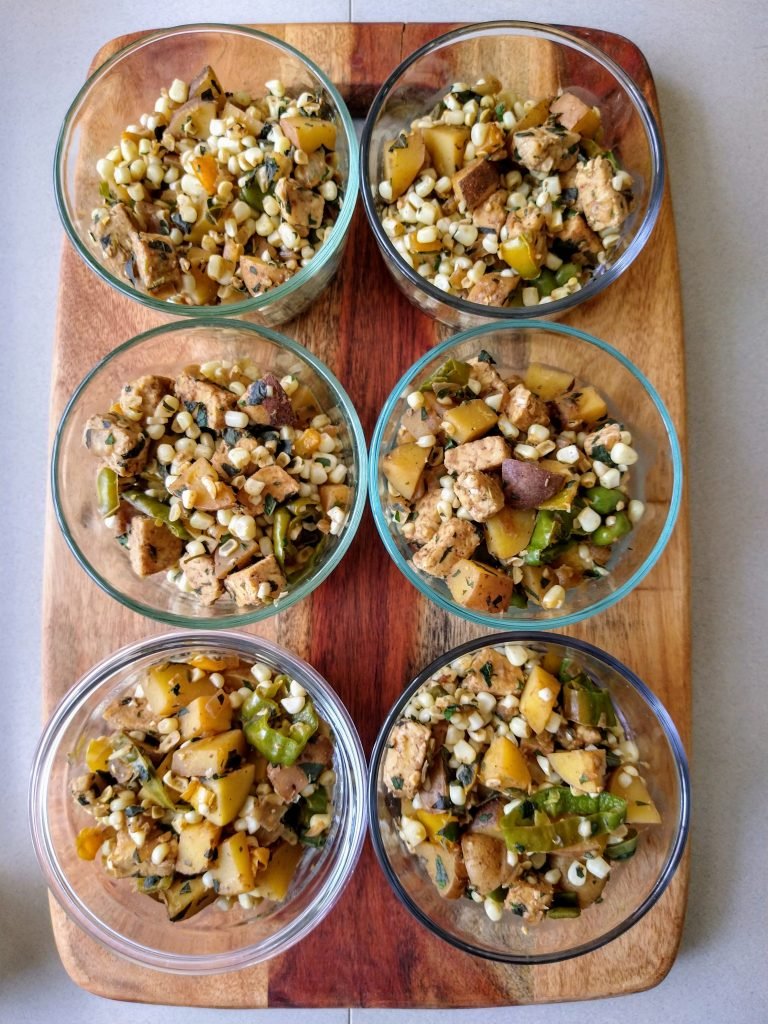 Portioned out and ready to go!
The other trick that often saves me money and time (as time is money, right?) is prepping my meals in bulk, too. Breakfast is one I especially enjoy preparing ahead of time so all I have to do is grab and go to start out the day on a healthy note. Or I'll often start the day with my favorite go-to of avocado toast and fruit, then when I'm hustling back after my early work shift and working out I have the prepped food ready for second breakfast. Yes, I do love breakfast and tend to prefer eating more early in the day and tapering off my caloric intake in the evening to have my longer fast overnight. This week I opted to make a yummy and slightly spicy vegan hash for my breakfasts, or second breakfasts. 😉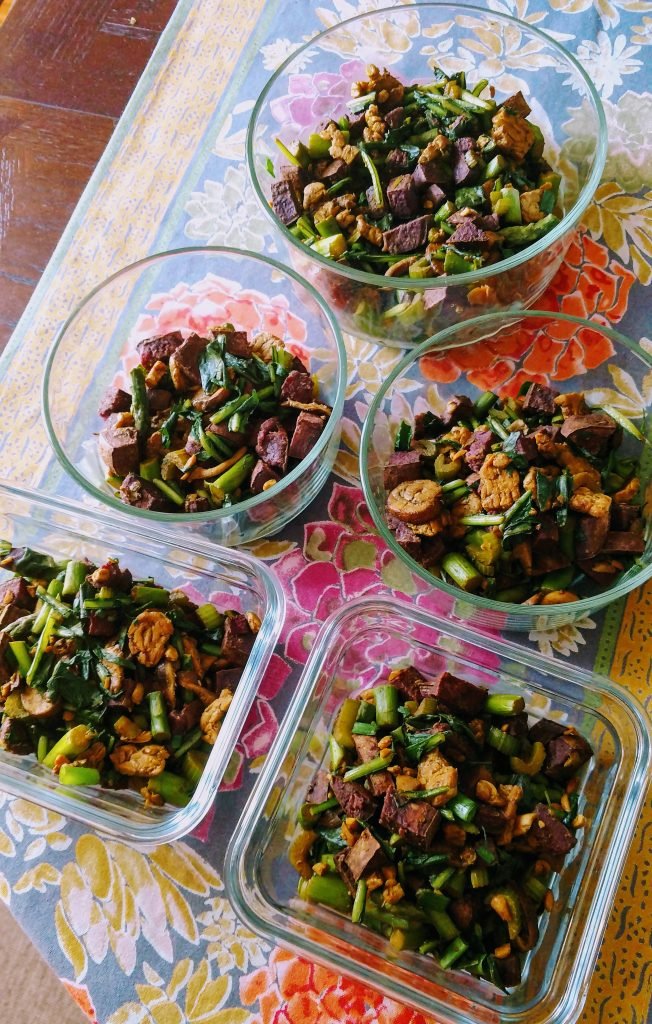 A similar creation from 2017!
Somewhat coincidentally, I realized that this time three years ago I was typing up my first recipe blog post (or the same post on the Hive chain for my crypto peeps), which was also tempeh and potatoes! I suppose it shouldn't have surprised me too much. I tend to try to cook with the seasons, so I often find myself making similar dishes at the same time each year. Though I figured it was a nice way to also comment briefly on my three years as a blogger.
I started both my plantstoplanks.com site and also a profile on what is now the Hive blockchain in August of 2017. As I have shared before, my goal with starting up my site was really just to give my clients, friends and family a spot to go if they wanted to see what I was cooking in my kitchen. After going plant-based 7 years ago, I really got into creating meals from scratch with all of the wonderful vegetables, beans and grains that I was using to try to keep my vegan plate full of variety, for both my health and to enjoy the new style of cooking. Changing up my diet was the best thing I could have ever done to improve my cooking as it opened up the door to so many different types of cuisines that I had never tried before. My blog has been a way to share that joy of the journey, though it has also become a way for me to share many other aspects of my life as a trainer and plant-based fitness enthusiast!
I definitely have ups and downs with how much time I have to create new recipes or share posts, but as long as I continue to enjoy the process I will keep it up when I can. I have also gotten to meet so many amazing people all over the world through their own blogging endeavors, so for that above so many other benefits, I am truly grateful. As an introvert my circle tends to be small, but it has widened considerably over the last few years. I can safely say I have people I would gladly meet on almost every continent! To all my wonderful friends, both near and far, thank you for each and every small bit of encouragement as I have gone on this fun ride of sharing bits of my life with you. Alright...back to the food!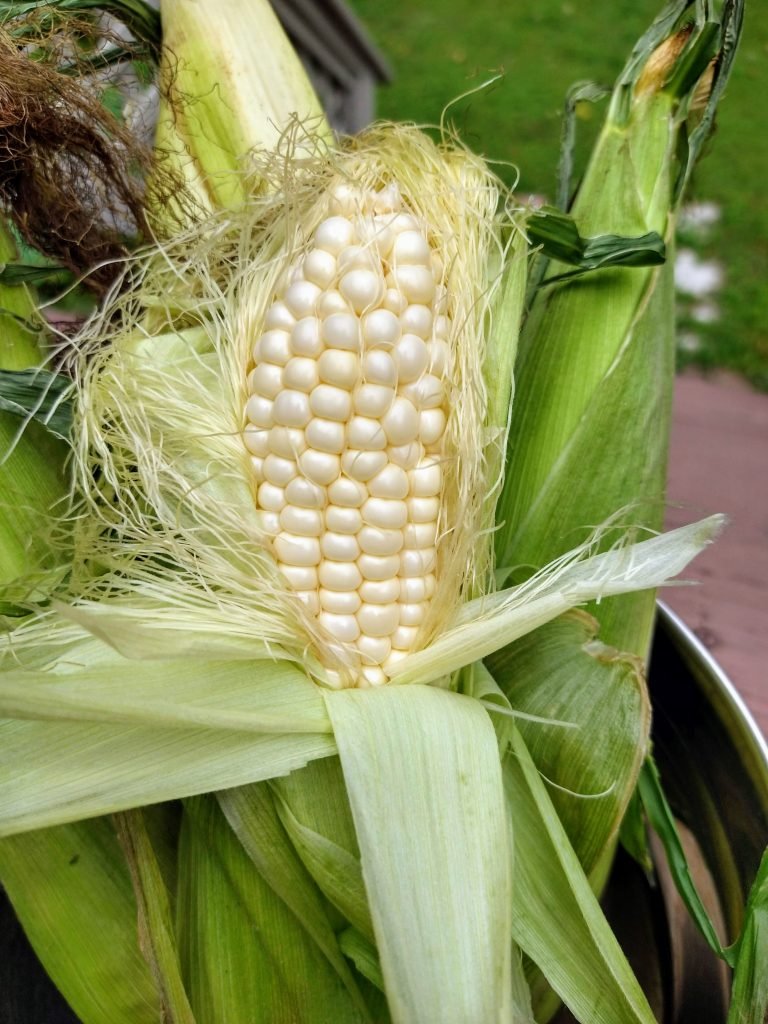 Though tempeh and potatoes are the main stars of this particular bowl of goodness, the local sweet corn I picked up yesterday adds such a delicious layer of texture and flavor, as well. You can easily find organic corn in the freezer section of your grocery store to use in this dish if you don't have access to fresh. Shucking corn on the back porch continues to be an activity that brings up memories of cookouts at my late grandmother's house, so I try to get some each season in her honor. Plus I think the cob is so pretty when you expose those tasty morsels from the husk. The shishito peppers I had left over from the week before and needed to use them up, but you could easily omit them or add a bit of extra bell pepper if you wish.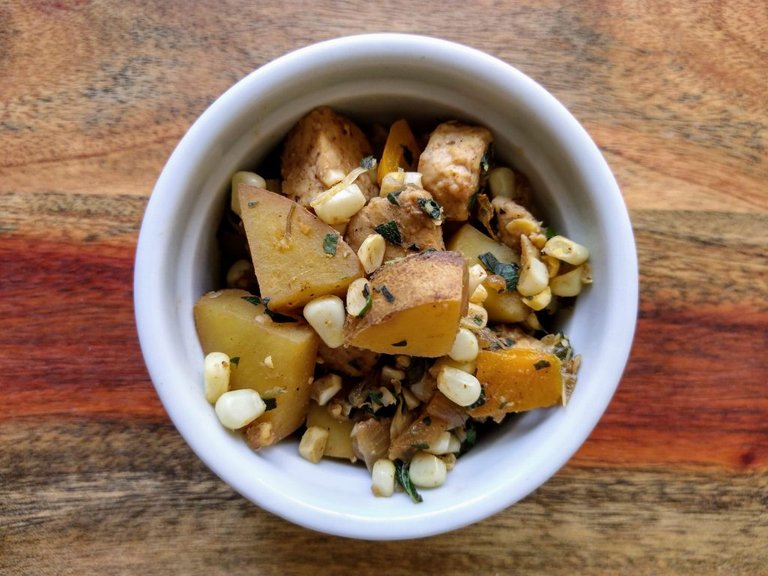 Spicy Vegan Tempeh and Potato Hash
Makes 6 servings
1/2 large sweet onion, peeled & chopped
1 sweet bell pepper, seeded & chopped
5-6 shishito peppers, stem removed & sliced (optional)
1 jalapeno pepper, seeded & finely chopped
1/2 teaspoon chili powder
1/2 teaspoon cumin powder
sprinkle of cayenne (optional)
1 pound red or Yukon gold potatoes, cut into bite-sized pieces
1 (8-ounce) package tempeh, cut into bite-sized cubes
4 ears of fresh sweet corn, husk removed and cut from the cob or 1 (10-ounce) bag of frozen
2 teaspoons liquid aminos or low-sodium tamari
1 teaspoon vegan Worcestershire sauce
Chopped fresh oregano or other herb of choice to serve
Heat a large skillet over medium heat. Add the onions and peppers to the pan. Cook, stirring occasionally, for about 5 minutes or until the vegetables start to soften. Stir in the spices to toast before adding the potatoes.
After mixing in the potatoes, let cook untouched for 5 minutes to let them start to brown. Add a bit of water as needed to prevent scorching, but not so much that they start to steam. Continue cooking for an additional 10 minutes, stirring once or twice before adding in the tempeh.
Cook for another 10-15 minutes, or until the potatoes are just about done. Stir in the corn, aminos and Worcestershire. Turn down the heat to low and cook for 5 minutes before removing from heat and mixing in the fresh herbs. Taste and add any additional seasoning as you see fit! A bit of fresh salsa on top would be an excellent way to serve this up each morning.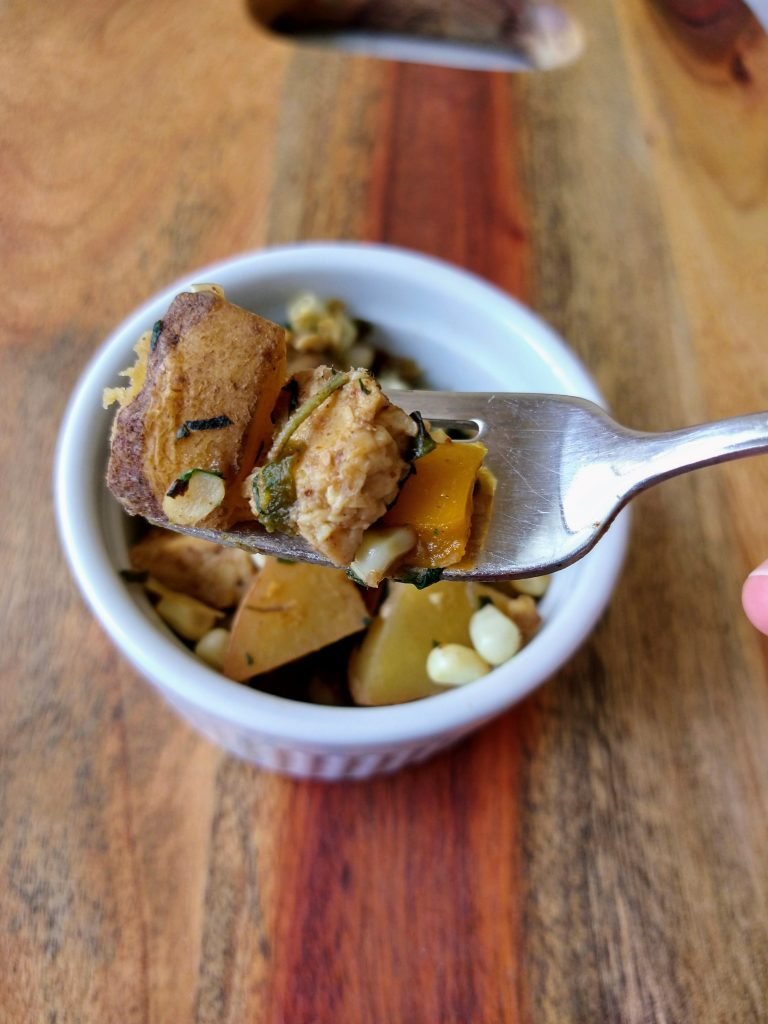 I had just enough extra to enjoy a bit of a taste test for lunch today. Delicious! The final product had just enough heat to make it spicy, but not so much that it overpowered the subtle flavor of the corn. I don't think I'll ever be a fancy chef, but I have learned over the years what I enjoy eating and making. The kitchen takes some experimenting to find your groove, but it is so worth it to be able to create home-cooked, wholesome meals for yourself and your family. I feel very grateful to have the time and opportunity to explore this side of my creativity and be able to share it with you all.
Cheers to many more years on this delicious journey!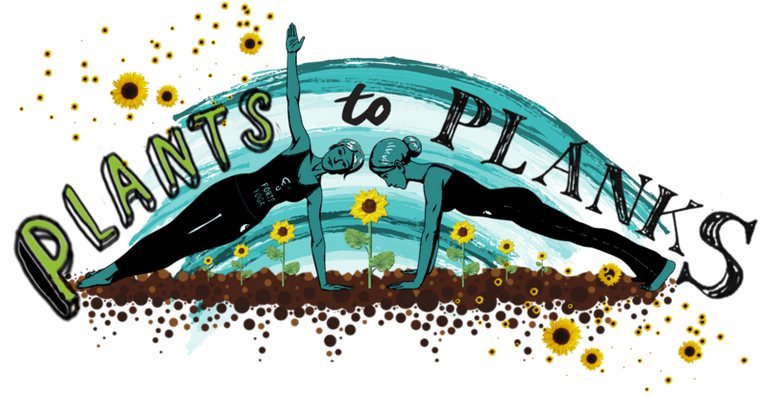 Banners by @woman-onthe-wing and @dksart

Join The Best Natural Health Community on Hive
---
Posted from my blog with SteemPress : https://plantstoplanks.com/spicy-vegan-tempeh-and-potato-hash-3-years-blogging-ecotrain-simple-vegan-cooking-on-a-budget-month/
---