A story about bitcoin, crypto, blockchain, and life.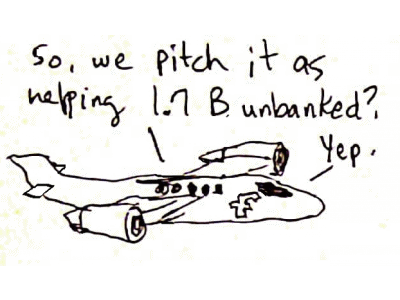 Bitkenstan has a running story line.
Earlier episodes can be viewed on the Hive blockchain at https://peakd.com/@bitkenstan

bitkenstan.com

Transcript
person 1 in private jet: So, we pitch it as helping 1.7 B unbanked?
person 2: Yep.
person 1: Mr. Unbanked, we're gonna help you with cryptocurrency.
Mr. Unbanked: Bitcoin?
person 1: No, Libra.
Mr. Unbanked: Can I run my own node to validate tx and form consensus?
person 1: No, but big corps have paid $10 M to do it for you. They've got your back. brb.
person 1: (speaking to The Man) 1.7 billion. They're in.
The Man: Exactly as I have foreseen. Proceed with the Go! button.
Originally posted June 29, 2019 at