A story about bitcoin, crypto, blockchain, and life.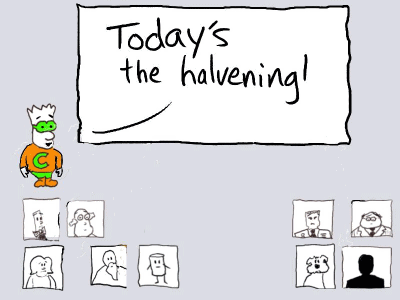 Bitkenstan has a running story line.
Earlier episodes can be viewed on the Hive blockchain at https://peakd.com/@bitkenstan

bitkenstan.com

Transcript
Captain Crypto: Today's the halvening!
The Man: Huh?
Captain Crypto: Everybody split in half.
Hilda: You have to be more clear...Captain Crypto.
Captain Crypto: Okay. Class, split in half. (nothing happens) By actually, physically, moving. (nothing happens). Now. (the class separates left and right)
The Man: Ok. We split. Why?
Captain Crypto: Because today we halve. It's the halving. A happening. The halvening! (Captain Crypto runs in place)
The Man: Was that the running man?
Captain Crypto: Maybe. Doesn't matter. And...It's a party!
Creator: LaDiDaDi We like to party.
Originally posted May 11, 2020 at
---
Official NFTs have arrived to Bitkenstan! It's possible to actually own each episode. View the NFTs at https://wax.atomichub.io/explorer/collection/bitkenstanxx
Want to get started with NFTs? http://nefties.com gives a simple overview and http://nefties.com/free gives you a free NFT.
---
Bitkenstan is the webcomic that became the world's first NFTcomic on bitcoin, cryptocurrency, blockchain, and life.
It began with @bitkenstan on Twitter and is now upgrading over to the Hive blockchain. (join Hive)
Visit @bitkenstan on Twitter, @bitkenstan on Hive at https://peakd.com/@bitkenstan, or learn more and see the playlist at bitkenstan.com