A story about bitcoin, crypto, blockchain, and life.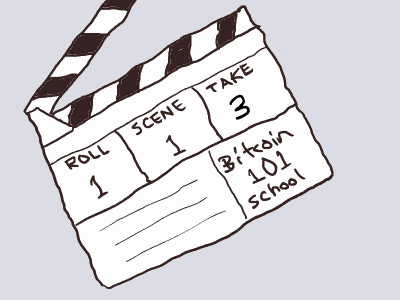 Bitkenstan has a running story line.
Earlier episodes can be viewed on the Hive blockchain at https://peakd.com/@bitkenstan

bitkenstan.com

Transcript
Clapperboard: (Roll 1, Scene 1, Take 3) Bitcoin 101 school
Captain Crypto: Let's try again. The problem with digital money has long been double-spending. You just copy/paste money forever?!
Mr. Dumas: And how's that bad?
Captain Crypto: Oh, it's bad. 'Cause it's worthless. Bitcoin solves this. The most crucial thing in bitcoin is...the ledger.
Dr. Haufenmist: Is that a person on a cliff's edge?
General Kellimahl: That'd be a "cliffer". A ledger stands on a ledge.
Dr. Haufenmist: Same thing.
Gen. Kellimahl: Meh. Slight difference.
Mr. Dumas: How does a person on a ledge stop double spending?
Captain Crypto: No. Not a person. A ledger book. (pause)
Mr. Dumas: I get it! Dude's on a ledge, holding a book... He pays for the book, but then he falls off the cliff and dies!
Dr. Haufenmist: So now, he can't double spend!
Gen. Kellimahl: Finally someone is making sense in here! (silence)
Creator: So did he fall off a cliff or ledge?
Originally posted May 14, 2020 at
---
Official NFTs have arrived to Bitkenstan! It's possible to actually own each episode. View the NFTs at https://wax.atomichub.io/explorer/collection/bitkenstanxx
Want to get started with NFTs? http://nefties.com gives a simple overview and http://nefties.com/free gives you a free NFT.
---
Bitkenstan is the webcomic that became the world's first NFTcomic on bitcoin, cryptocurrency, blockchain, and life.
It began with @bitkenstan on Twitter and is now upgrading over to the Hive blockchain. (join Hive)
Visit @bitkenstan on Twitter, @bitkenstan on Hive at https://peakd.com/@bitkenstan, or learn more and see the playlist at bitkenstan.com