Bitcoin is likely to explode higher in the next 48h.
The obvious target is 20k. With this EW Triangle coming to an end, it might happen sooner than you think.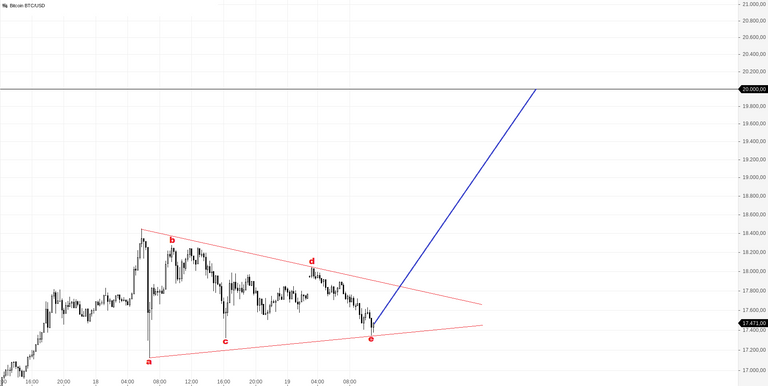 This count is invalid if wave e closes below wave c. That's a stoploss of only 50 Points! The risk to reward ratio (1:53) is insane!!!
If BTC breaks below the wave c low, we will likely see a quick drop ($500-$1000) and then it bounces back. Same 20k target applies in this case.
BTC is already moving up while I am writing this...
UPDATE: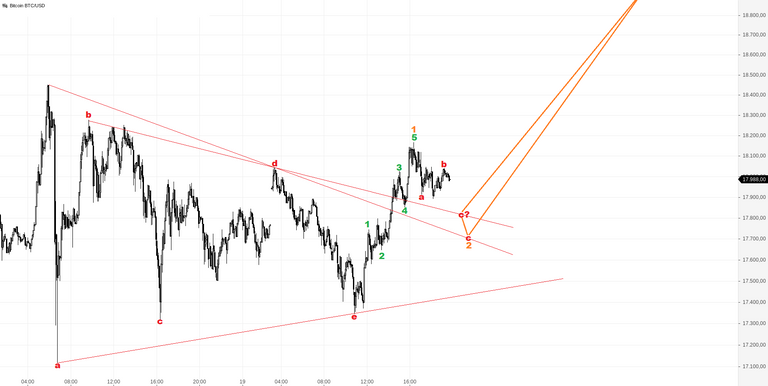 UPDATE 2:
The small ABC correction is likely already done! Expect upward momentum.


Feel free to use and share my charts, but please mention me, @ew-and-patterns as the author. Otherwise it is considered plagiarism and I will flag you and advise my friends to do the same.




Please consider leaving a comment, like or rehive, if this post entertained you or helped you see things differently...
Have a nice day :-)


#bitcoin #btc #crypto #cryptocurrency #cryptocurrencies #steem #sbd #ethereum #eth #ripple #xrp #bitcoincash #bch #eos #litecoin #ltc #stellar #lumen #xlm #digibyte #dgb #cardano #ada #iota #tether #neo #tron #trx #omg #verge #xvg #bitshares #bts #nano #monero #xmr #dash #ethereumclassic #nem #binance #binancecoin #vechain #tezos #omisego #steemit #money #life #altcoin #altcoins #trading #investing #investment #investments #forex #forextrading #market #finance #gold #silver #commodity #commodities #stock #stocktrading #stockmarket #facebook #fb #apple #aapl #spx #xau #xag #usdjpy #usd #amazon #amzn



Updates will only be posted on HIVE !!!