A month has passed since I decided to have a try on Publish0x and open a blog there.
Publish0x is a "Publish0x is a Crypto agnostic platform where both authors and readers earn in Crypto.", very similar to HIVE in the idea but substantially different because Publish0x does not work on top of a blockchain, so it is not decentralized, and it has not its own token but rewards authors and readers/curators with three different tokens instead.
Those tokens are DAI, BAT and LRC and they are used for tipping the authors. If you are a reader you can tip someone's post and receive also part of the tip... easy peasy, isn't it?
I am still understanding from which sources the rewarding pool of Publish0X is coming... it seems that, the available rewarding pool is filled from earnings of the platform obtained by advertisement services. The amount, if I am not wrong, is unknown, thought...
As I said, I did try Publish0x during the past month and everything went fine since the beginning, I mean, the signing process was very easy and clear. Then, there are certain things you have to take into account, for instance, you cannot Tip (upvote) the same author two times a day or, you have to wait for 10' between tippings...also, posts can be tipped always, there is no limit of time for a post to be rewarded as it is so on HIVE which I think it is a good advantage.
Many of the problems that we suffer on HIVE as autovoters, bid-bots, selfvotes etc... seem to be fixed on that platform but...it is no decentralized and there is always someone(the owner) on top judging you.
As Blogging website it is quite good, you can do well if you build your network and maintain a certain level of quality.
However, it looks to me that the level of engagement in the platform is really scarce.
I have the feeling that very few people used to comment on some of the posts and that limit themselves to "tip" you without interaction.
Regarding rewards I obtained there? well, I did replicate some of the posts I did write on HIVE, basically copy-pasting myself and I managed to get

2.26 USD in crypto earned in a month from which 1.59USD have come from blogging and 0.67USD from tipping/curating.
I have to say, that most of the earnings arrived later in the month because I started to get more followers as well.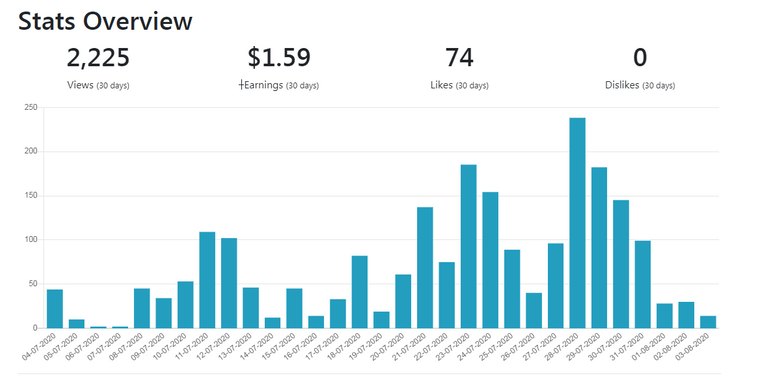 Obviously, the comparison in terms of rewards with HIVE is impossible, I am not the best blogger here and I am not an expert on curation "anymore", my style of curation is mainly on "manual mode" as it is in Publish0x but the rewards I get on HIVE are 47 times higher...

Besides, on HIVE I have more engagement, I control the way I reward people in a better manner than on Publish0x because I know the voting power I have in every moment. I can do a variety of actions in the HIVE blockchain as playing games or launch/participate on a decentralize poll.
Communities is also an advantage as a blogging platform but, on top of anything, you can develop whatever you can imagine on this blockchain.
I am going to keep posting on Publish0x, at the end of the day, it is free-money and another way of being rewarded for your content. Much, much better than the other traditional social platforms which do not reward you but use your data to do business.
If you want to give a try to Publish0x, use my referral https://www.publish0x.com?a=YQdJ6WOKdO
and I will follow you there as well so we can help us each other.
If you want to create a HIVE account, let me know and I will help you in anything you need.