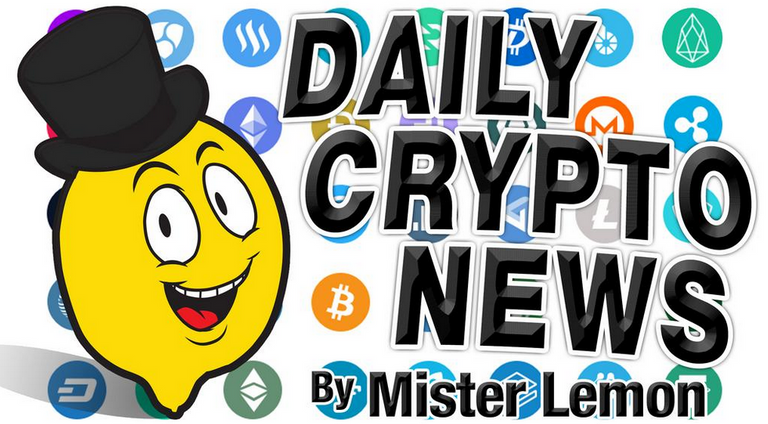 Bitcoin Price Charts Hint at the Most Exciting Breakout in Over a Year ;
P2P Bitcoin Trade Volumes and Inflation in Latin America Are on the Rise ;
Bitcoin vs. Modern Monetary Theory ;
Record CME BTC Open Interest Shows Institutions Bullish on Bitcoin Price ;
Crypto.com Rolls Out Visa Card to 31 European Nations ;
🗞 Daily Crypto Calendar, May, 18th 💰
Bitcoin Trading Update
Welcome to the Daily Crypto News: A complete Press Review, Coin Calendar and Trading Analysis. Enjoy!
The price of the top-ranked cryptocurrency by market capitalization, Bitcoin (BTC), is set to explode in the coming week providing the weekly candle opens above $9,200. This would signal the end of a 46-week descending channel that BTC/USD has been locked in since it nearly tapped $14,000 in the summer of 2019.
So is this the time to expect a new all-time high from the leading digital asset?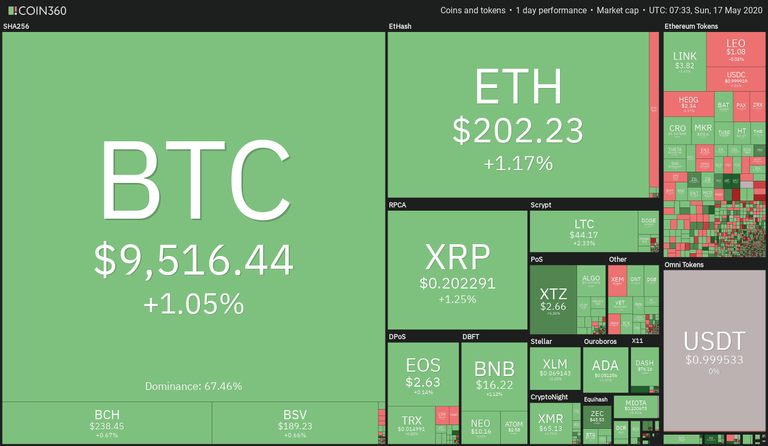 The weekly view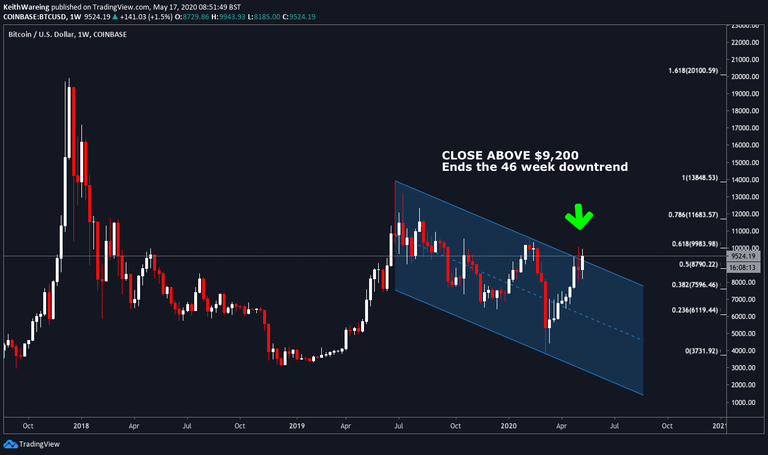 At the time of writing, the price of Bitcoin is currently trading over $9,500. It almost seems inevitable that closing above $9,200 is a sure thing. But there are no definite results when it comes to Bitcoin.
During the last two months since the March 12 crypto market rout, otherwise known as 'Black Thursday,' demand for cryptocurrencies seems to be on the rise in certain regions in Latin America. Various reports published this week have noted that countries like Colombia, Venezuela, Argentina, Chile, Brazil, and Mexico have seen significant bitcoin trade volumes. However, other reports show that even though the volumes are high in these specific countries, they are hard to measure due to inflation or hyperinflation.
Trade Volumes Spike in Countries Like Brazil, Mexico, Venezuela, and Argentina, But the Region's Fiat Currencies Are Also Stricken by High Inflation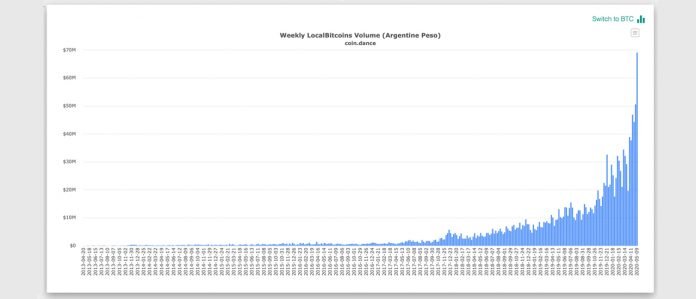 We are about the experience "the worst economic downturn since the Great Depression," according to International Monetary Fund (IMF) Chief Economist Gita Gopinath. The coming economic downturn will be the result of the lockdown measures that were put into place by governments around the world to combat the spread of the Coronavirus.
As several central banks are switching on the printers in an attempt to stimulate the economy with a fresh round of quantitative easing, economic theory is brought into the forefront of public policy.
In this article, we discuss Modern Monetary Theory in today's world and how Bitcoin (BTC) relates to it.
MMT supporters, however, believe governments cannot default on their debt because they can print more money to pay for it. Additionally, they believe that inflation can be combatted with policy actions (such as taxation) and that it only really becomes an issue once "real resources" such as labor, capital, and natural resources have been fully exhausted.
Former Federal Reserve Chairman, Alan Greenspan, once famously said: "The United States can pay any debt it has because we can always print money to do that. So there is zero probability of default."
As most Bitcoiners prefer Austrian Economics, it should come as no surprise that MMT is not a big hit among Bitcoiners.
Bitcoin vs. MMT
As most Bitcoiners prefer Austrian Economics, it should come as no surprise that MMT is not a big hit among Bitcoiners.
Bitcoiner and partner at Castle Island Ventures, Nic Carter, wrote in a blog post that MMT is "a delightfully accelerationist atrocity [...] according to which the State can ostensibly purchase unbound quantities of any good available for sale in its own currency, consequences be damned."
Bitcoin's (BTC) options markets are finally taking off at CME. This week Cointelegraph reported that the combined volume traded over the last ten days surpassed $140 million, as institutional investors delved in call options.
The buyer of a call option can acquire Bitcoin for a fixed price on a predetermined date. For that privilege, this investor pays an upfront premium for the call option seller.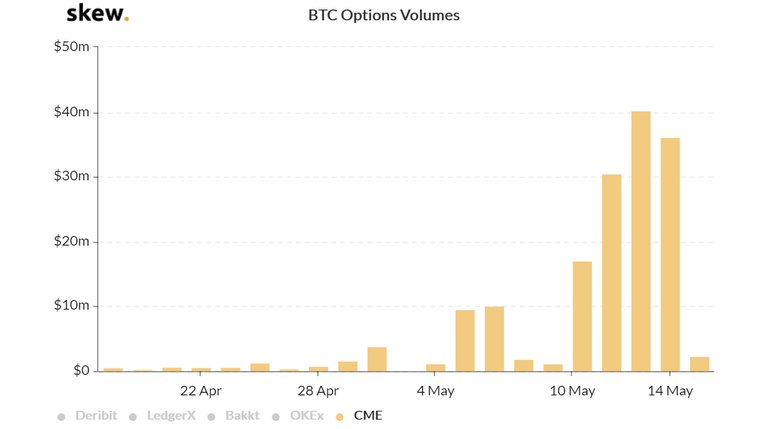 As halving uncertainties became less of a risk, institutional investors began mounting bullish positions. Despite being more complicated then futures trading, options markets allow investors to leverage their positions without liquidation risk.
Open interest is a more relevant metric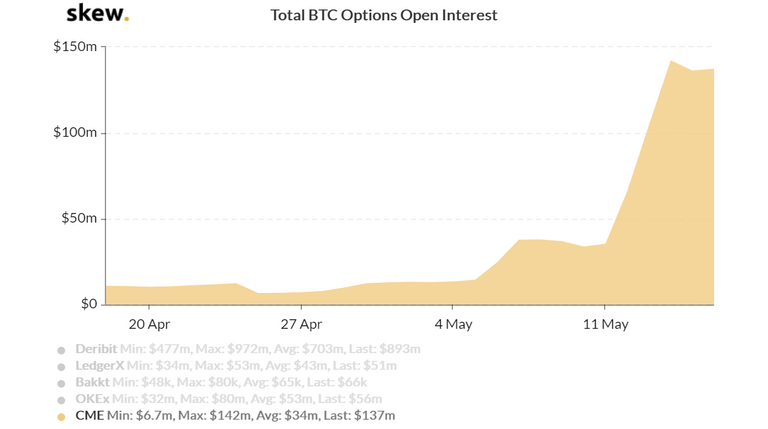 Crypto.com said Friday it has begun shipping its crypto-to-fiat card, the MCO Visa, across the European Union.
In total, 31 European countries, including the EU's 27 member states, now have access to the card that lets users pay in crypto, it said in a blog post. The Hong Kong company received approval to bring the program to the European market in October.
Crypto.com claimed in a blog post it already had "thousands of reservations" from EU consumers lined up for the MC Visa card and further claimed its user base was over two million.
🗞 Daily Crypto News, May, 18th💰

"We're having an #AMA w/ @Bluestitch_, @PundiXLabs Community Manager, on 18/05, 13:00 UTC"
Azbit team will destroy native coins based on profit until 10% of the initial supply remains on the market.
"TomoDEX — the Relayer run by TomoChain Pte. Ltd — will also be launched at 3:00 am UTC on Monday, May 18th, 2020."
"On Monday, May 18, our OMG-USD and OMG-BTC order books will enter transfer-only mode"
New core software ZEND 2.0.21 to be released for May 18th.

Here is the chart of my last analysis :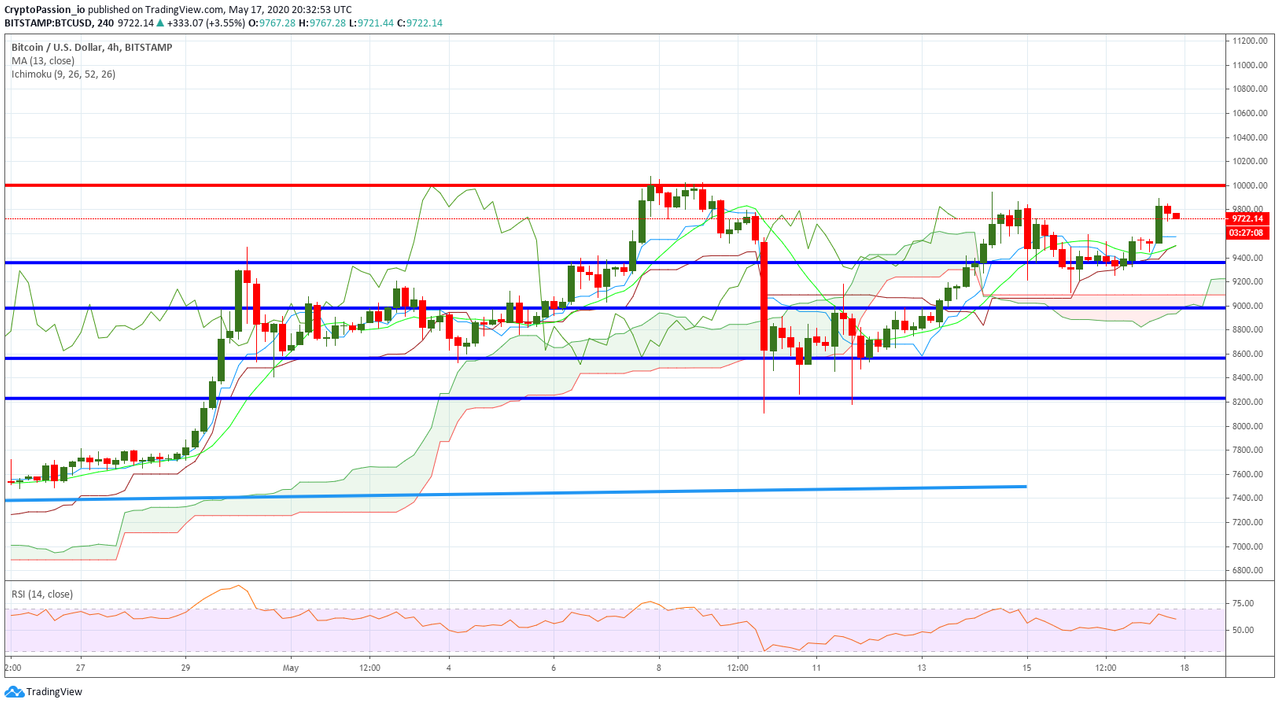 Here is the current chart :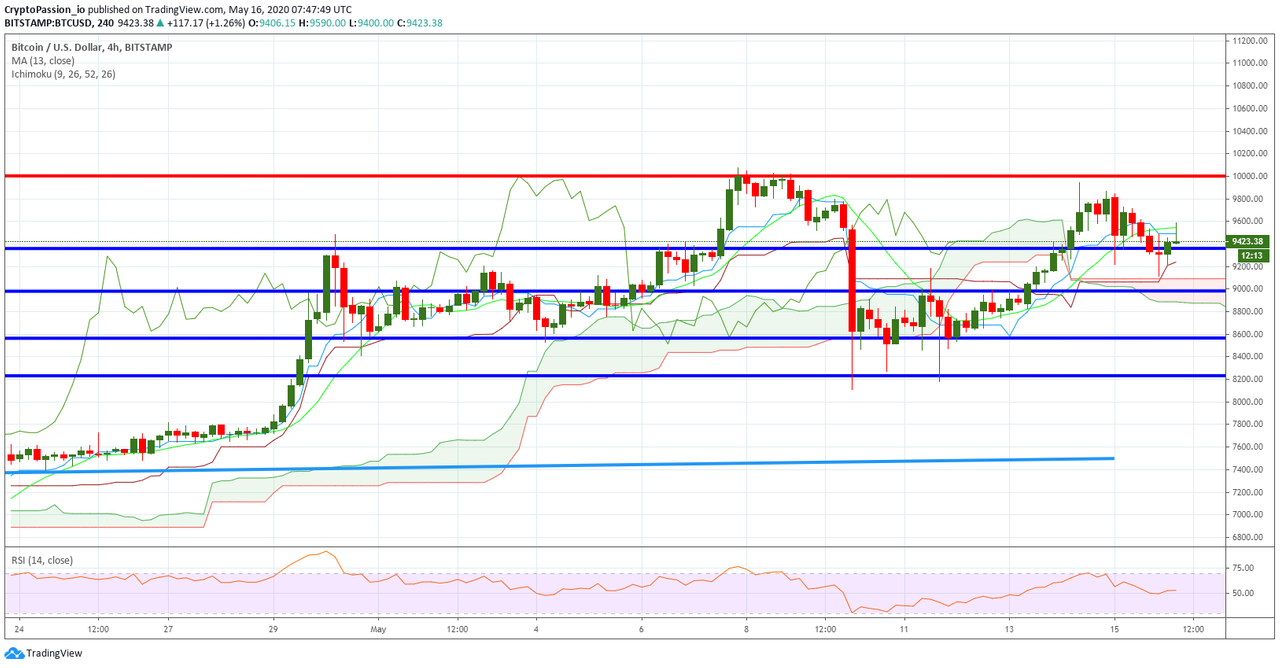 Nice bounce on the BTC today to go again in the direction of the 10k$ resistance line. We are now doing a little pause before the next move and we should go test again the 10k$ resistance line. Will it be the good time to break it or will we be rejected again. keep an eye on that move because a break should make a nice and powerfull UP move !
Last Updates


➡️ UpTrennd: https://www.uptrennd.com/user/cryptolemon
➡️ Publish0x: https://www.publish0x.com/@Crypto_Lemon?a=Jrb2k7DAdW
➡️ Hive: https://hive.blog/@vlemon
➡️ Twitter: https://twitter.com/VinnieLemon
➡️ Facebook: https://www.facebook.com/DailyCryptoNewss/
Proud member of: