This publication was also writen in SPANISH and PORTUGUESE.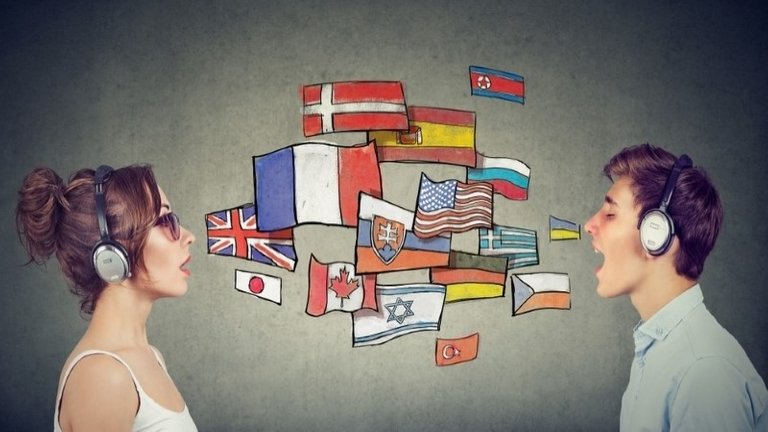 Bootcamp
Communication is a fantastic skill. I am not referring here only to the act of thinking, putting words together and speaking sentences with (or without) the intention of establishing a prolonged communication... But, mainly, the idea of being able to navigate between several different languages and being able to feel the immersion of the words explode in your mind.
My adventure around Europe is almost coming to an end and I still have little more than a week left to travel and discover some more countries. However, I can already say that knowing how to speak English is certainly not enough to have trouble-free communication around the world. So, you need to know a lot more.
However, it is clear that with English as a base one can travel anywhere and maintain a minimal dialogue with anyone (as long as the language is understood by both parties of course), but at specific times this is not as evident as I thought it would be before starting this journey of multiple ideas.
Personally speaking, I had some communication problems in Berlin, Prague and Paris. I'm a long way from speaking German, Czech or French and I confess that I felt a bit "powerless" in relation to the fact that I didn't understand practically anything that is said in these languages. This is a funny fact, and at the same time, weird.
Expectation vs. Reality works very well within this communicative context. In Brazil, the idea of learning to speak English works as a perfect marketing tool for language schools, but living this reality while in certain countries requires more patience than you can imagine. I think the time has come to go much further.
---
El deseo de aprender un nuevo idioma.
La comunicación es una habilidad fantástica. No me refiero aquí sólo al acto de pensar, juntar palabras y pronunciar frases con (o sin) intención de establecer una comunicación prolongada… sino, principalmente, a la idea de poder navegar entre varios idiomas diferentes. y poder sentir la inmersión de las palabras explotar en tu mente.
Mi aventura por Europa está llegando a su fin y todavía me queda poco más de una semana para viajar y conocer algunos países más. Sin embargo, ya puedo decir que saber hablar inglés ciertamente no es suficiente para tener una comunicación sin problemas en todo el mundo. Entonces, necesitas saber mucho más.
Sin embargo, está claro que con el Inglés como base uno puede viajar a cualquier lugar y mantener un diálogo mínimo con cualquier persona (siempre y cuando ambas partes entiendan el idioma, por supuesto), pero en momentos específicos esto no es tan evidente como pensaba. sería antes de emprender este viaje de múltiples ideas.
Personalmente, tuve algunos problemas de comunicación en Berlín, Praga y París. Estoy muy lejos de hablar alemán, checo o francés y confieso que me sentí un poco "impotente" en relación a que no entendía prácticamente nada de lo que se decía en estos idiomas. Este es un hecho divertido y, al mismo tiempo, extraño.
Expectativa vs. Realidad funciona muy bien dentro de este contexto comunicativo. En Brasil, la idea de aprender a hablar inglés funciona como una herramienta de marketing perfecta para las escuelas de idiomas, pero vivir esta realidad en ciertos países requiere más paciencia de la que puedes imaginar. Creo que ha llegado el momento de ir mucho más allá.
---
O desejo de aprender um novo idioma.
A comunicação é uma habilidade fantástica. Eu não me refiro aqui apenas ao ato de pensar, juntar palavras e falar sentenças com (ou sem) a intenção de estabelecer uma comunicação prolongada... Mas sim, principalmente, a ideia de poder navegar entre diversos idiomas diferentes e poder sentir a imersão das palavras explodir na sua mente.
Minha aventura ao redor da Europa está quase chegando no final e ainda me resta pouco mais de uma semana para viajar e conhecer mais alguns países. No entanto, eu já posso dizer que, com certeza, saber falar Inglês não é o suficiente para ter uma comunicação sem maiores problemas ao redor do mundo. Então, é preciso saber muito mais.
No entanto, é claro que tendo o Inglês como base pode-se viajar para qualquer lugar e manter um diálogo mínimo com qualquer pessoa (desde que o idioma seja compreendido por ambas as partes obviamente), mas em momentos específicos isso não é tão evidente quanto eu achava que seria antes de começar essa jornada de múltiplas ideias.
Pessoalmente falando, eu tive alguns problemas de comunicação em Berlin, Praga e Paris. Eu estou muito longe de falar Alemão, Tcheco ou Francês e confesso que eu me senti um tanto quanto "impotente" em relação ao fato de não entender praticamente nada do que é dito nesses idiomas. Esse é um fato engraçado, e ao mesmo tempo, esquisito.
Usar o Google Tradutor em alguns momentos para tentar estabelecer uma comunicação rápida me ajuda muito, mas isso depende muito da outra pessoa. Infelizmente, nem todo mundo que não fala Inglês é tão paciente, então é quase como ter que achar a pessoa certa, no momento certo e poder fazer as perguntas necessárias para ir onde eu quero.
Expectativa vs. Realidade funciona muito bem dentro desse contexto comunicativo. No Brasil, a ideia de aprender a falar Inglês funciona como um marketing perfeito para escolas de idiomas, mas viver essa realidade estando em determinados países requer mais paciência do que se pode imaginar. Acho que chegou a hora de ir muito mais além.