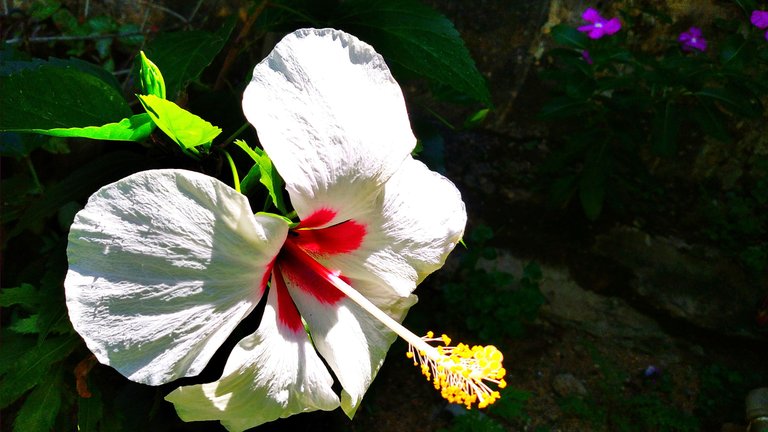 ---
Saludos amantes de la fotografía y la naturaleza
Greetings photography and nature lovers
---
La Hibiscus rosa-sinensis L, es un arbusto de 2 a 3 m de altura, de tallos ramificados. Sus hojas son alargadas y puntiagudas con los bordes aserrados. Las flores solitarias, tienen forma de campana y se presentan en varios colores. Es originaria del sureste de Asia y está presente en climas cálido, semicálido y templado, por lo que es cultivada para ser utilizada como planta ornamental, alimentario y medicinal.
The Hibiscus rosa-sinensis L, is a shrub 2 to 3 m high, with branched stems. Its leaves are elongated and pointed with serrated edges. The solitary flowers are bell-shaped and come in various colors. It is native to Southeast Asia and is present in warm, semi-warm and temperate climates, so it is cultivated to be used as an ornamental plant, food and medicine.
Según sus características, las flores son grandes, rojas, fuertes y generalmente carecen de aroma, sin embargo existen varios tipos e incluso híbridos, con diferente presentación de color de los pétalos, desde el blanco, amarillo, naranja, rojo y rosa; dicha coloración dependerá de los componentes del suelo donde se desarrollen, además de tener pistilos llamativos. Tal es el caso de la variedad que les muestro en las fotografías, que se conoce como Cayena Blanca.
According to its characteristics, the flowers are large, red, strong and generally lack aroma, however there are several types and even hybrids, with different color presentation of the petals, from white, yellow, orange, red and pink; such coloration will depend on the components of the soil where they develop, in addition to having striking pistils. Such is the case of the variety that I show you in the photographs, which is known as White Cayenne.
---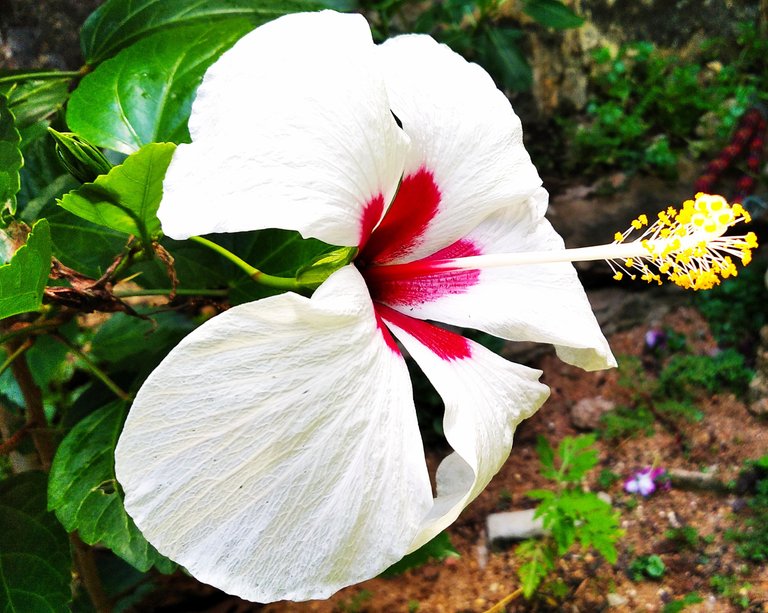 ---
Tiene múltiples nombres que cambia según él país donde se encuentre: Peregrina o Rosa China en Ecuador; Sangre de Cristo o Cayena en República Dominicana; Curcada Norte de Chile y Perú; Amapola, en Costa Rica; Papo en Panamá; Flor de Cayena en Venezuela; Obelisco o Tulipan en Mexico y Fonche o Cayena en Colombia.
It has multiple names that change according to the country where it is found: Peregrina or Rosa China in Ecuador; Blood of Christ or Cayenne in Dominican Republic; North Curcada in Chile and Peru; Amapola, in Costa Rica; Papo in Panama; Cayenne flower in Venezuela; Obelisco or Tulipan in Mexico and Fonche or Cayenne in Colombia.
---
Taxonomic Classification
Scientific name: Hibiscus rosa-sinensis L Common name: Hibiscus, China Rose, Cayenne, San Joaquin, Pacific, Cardinals, Kissing Flower, Curcada, Poppy, Obelisk, Fiche, Tulipan Class: Magnoliopsida Family: Malvaceae Genus: Hibiscus
Clasificación Taxonómica
Nombre científico: Hibiscus rosa-sinensis L. Nombre común: Hibiscus, Rosa de China, Cayena, San Joaquín, Pacífico, Cardenales, Flor del Beso, Curcada, Amapola, Obelisco, Fiche, Tulipán Clase: Magnoliopsida Familia: Malvaceae Género: Hibiscus
---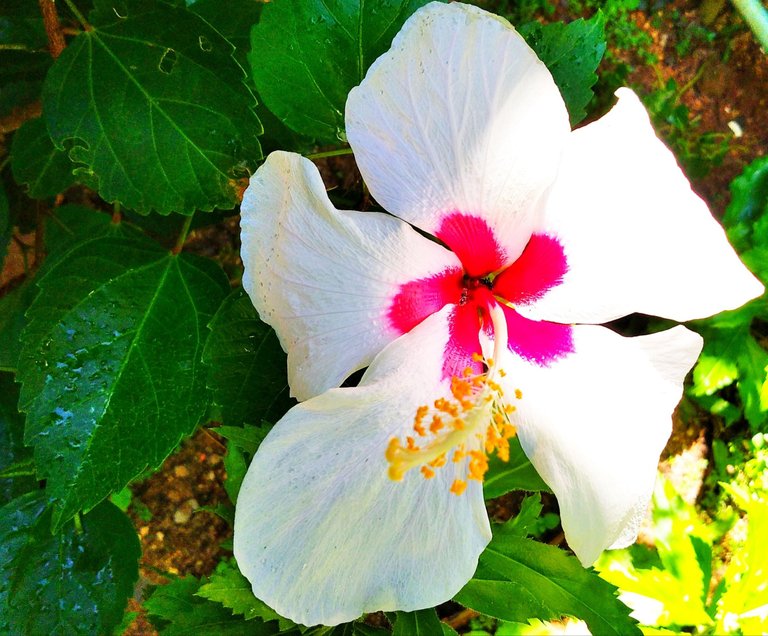 ---
Lo interesante de esta flor es que durante muchos años se ha utilizado por sus diversas propiedades medicinales, por lo que se ha determinado a través de un estudio de cromatografía de gases los diferentes componentes fitoquímicos que contribuyen a la actividad medicinal de la planta, entre los que se encontraron: el 2,3 hexanediol; el ácido n-hexadecanoico (ácido plamítico); el ácido 1,2 benzenedicarboxílico (ácido ftálico) y el escualeno.
The interesting thing about this flower is that for many years it has been used for its various medicinal properties, so it has been determined through a study of gas chromatography the different phytochemical components that contribute to the medicinal activity of the plant, among which were found: 2.3 hexanediol; n-hexadecanoic acid (plamitic acid); 1,2 benzenedicarboxylic acid (phthalic acid) and squalene.
---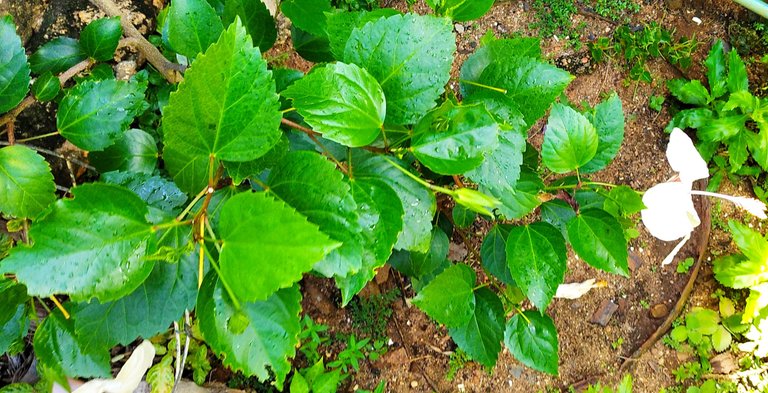 ---
Entre los otros compuestos descritos se encuentran los flavonoides cianadina, quercetina y riboflavina, así como la niacina (vitamina B3) y el ácido abscorbico (vitamina C).
Among the other compounds described are the flavonoids cyanadin, quercetin and riboflavin, as well as niacin (Vitamin B3) and abscorbic acid (Vitamin C).
---
Es importante señalar que actualmente existe un interés farmacológico y terapéutico por el pigmento de estas flores, llamado anticianinas, que son pigmentos que se encuentran en las vacuolas del interior de las células vegetales, cuya función es dar varios tonos de color, desde el rojo, el púrpura o el azul a las hojas, flores y frutos.
It is important to note that there is currently a pharmacological and therapeutic interest in the pigment of these flowers, called anthocyanins, which are pigments found in the vacuoles inside the plant cells, whose function is to give various shades of color, from red, purple or blue to the leaves, flowers and fruit.
---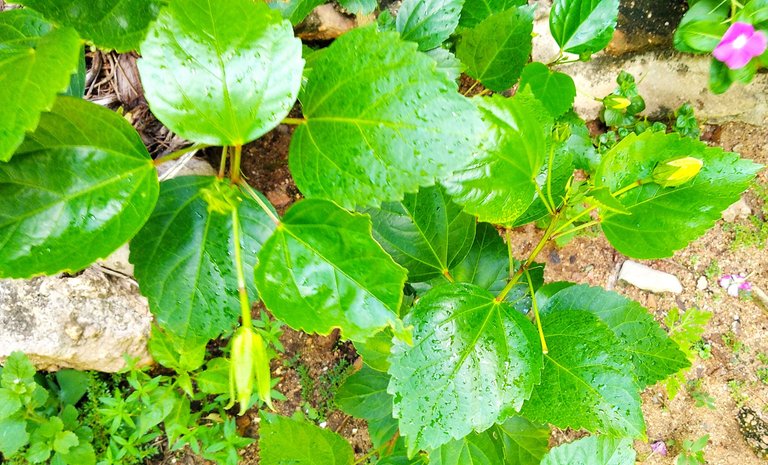 ---
Entre los diversos efectos sobre la salud, se ha descrito su actividad analgésica, antiinflamatoria, antipirética e hipotensora, incluso en ciertas regiones se utiliza el jarabe de flor de cayena para la gripe. Además de utilizarse en productos para el cuidado del cabello, como en la preparación de gel y champú.
Among the various health effects, its analgesic, anti-inflammatory, antipyretic and hypotensive activity has been described, even in certain regions cayenne flower syrup is used for flu. It is also used in hair care products, such as in the preparation of gel and shampoo.
---
Se han realizados distintos trabajos de investigación con ratas de laboratorio, estableciendo su actividad quimiopreventiva (anti-canceroso). En ratas con diabetes, el hibiscus, logró disminuir el nivel de glucosa en la sangre, colesterol total y de los triglicéridos. También, se determinó que el extracto acuoso de la hoja, actúa sobre las funciones renales en ratas hipertensivas, disminuyendo la retención de sal reduciendo la presión sanguínea.
Several research studies have been carried out with laboratory rats, establishing its chemopreventive (anti-cancer) activity. In rats with diabetes, hibiscus was able to reduce the level of glucose in the blood, total cholesterol and triglycerides. Also, it was determined that the aqueous extract of the leaf acts on renal functions in hypertensive rats, decreasing salt retention and reducing blood pressure.
---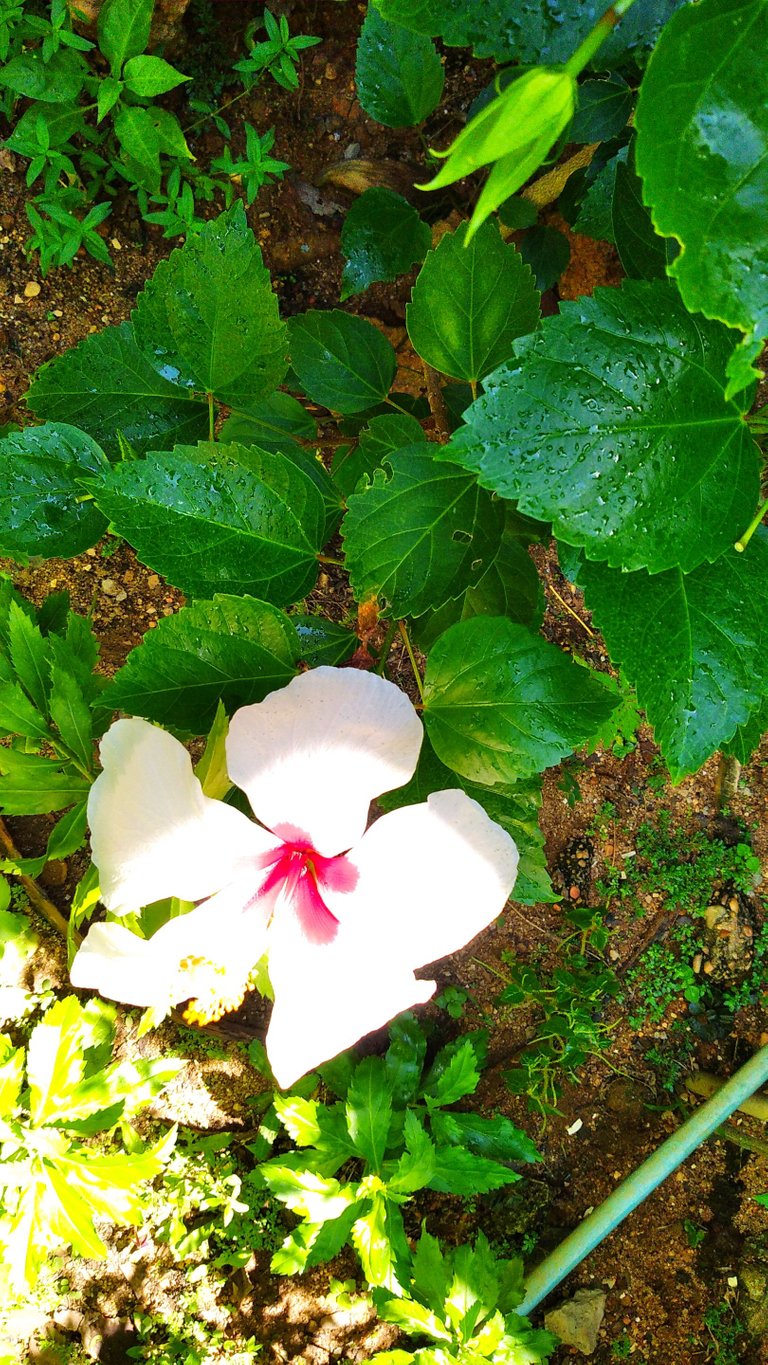 ---
Esto último complementó un estudio clínico realizado en 2004, en el que se comparaba el efecto del té de flores de hibisco con el del fármaco antihipertensivo captopril.
El resultado fue que el té de flor de hibisco, tenía una capacidad ligeramente mayor para reducir la hipertensión que el captopril
The latter complemented a 2004 clinical study comparing the effect of hibiscus flower tea with that of the antihypertensive drug captopril.
The result was that hibiscus flower tea had a slightly greater ability to reduce hypertension than captopril.
---
Todas estas características y propiedades descritas, nos permiten conocer todo lo que se esconde detrás de la belleza que reside en el color de sus pétalos y que nos permiten tener en cuenta para decorar nuestros jardines con la majestuosidad del Hibiscus.
All these characteristics and properties described, allow us to know everything that is hidden behind the beauty that lies in the color of its petals and that allow us to take into account in order to decorate our gardens with the majesty of the Hibiscus.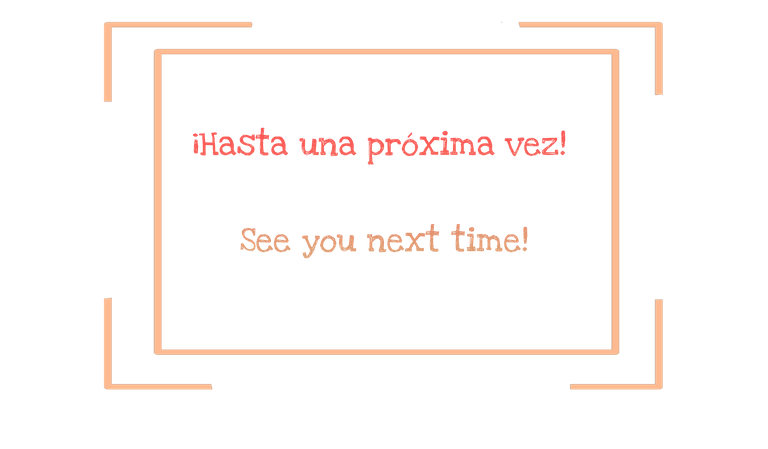 Referencias Bibliograficas / Bibliographic references:
Casquete G. 2017. Obtención de un Producto Deshidratado a Partir de la Flor de Hibiscus (Rosa sinensis) y Determinación de sus Componentes de Actividad Antioxidante. Disponible en: enlace
Jadhav V, Thorat R, Kadam V. 2009. Hibiscus rosa sinensis Linn – ''Rudrapuspa'' : A Review. Journal of Pharmacy Research 2 (7): 1168-1173. Disponible en: enlace
---
Las fotografías son de mi propiedad, capturadas con la cámara del celular Xiaomi Redmi 8.
The photos are my property, captured with the camera of the Xiaomi Redmi 8 cell phone.
---
Traducción realiza en la página web DeepL
Translated using the website DeepL
---
---