Welcome Dear Photography Lovers
Bienvenidos Queridos Amantes de la Fotografía
---
Saludos y bendiciones queridos amantes de la naturaleza, el día de hoy les traigo un curioso bichito que me encontré en mi pequeño jardín, era la primera vez que veía un animalito así, me impresiono mucho, porque me parece muy hermoso. Inicialmente, pensé que se trataba de un gusano, o algo así, pero, al investigar descubrí, que se trata de una oruga de mariposa, que tal. Para ser más exacta, el bello espécimen que les muestro en las imágenes, se trata de la oruga de una mariposa oriunda de Norteamérica y Suramérica conocida en el ámbito científico como Euptoieta Claudia.
Greetings and blessings dear nature lovers, today I bring you a curious little bug that I found in my small garden, it was the first time I saw an animal like this, I was very impressed, because I think it is very beautiful. Initially, I thought it was a worm, or something like that, but when I investigated, I discovered that it is a butterfly caterpillar. To be more exact, the beautiful specimen that I show you in the images, is the caterpillar of a butterfly native to North and South America known scientifically as Euptoieta Claudia.
---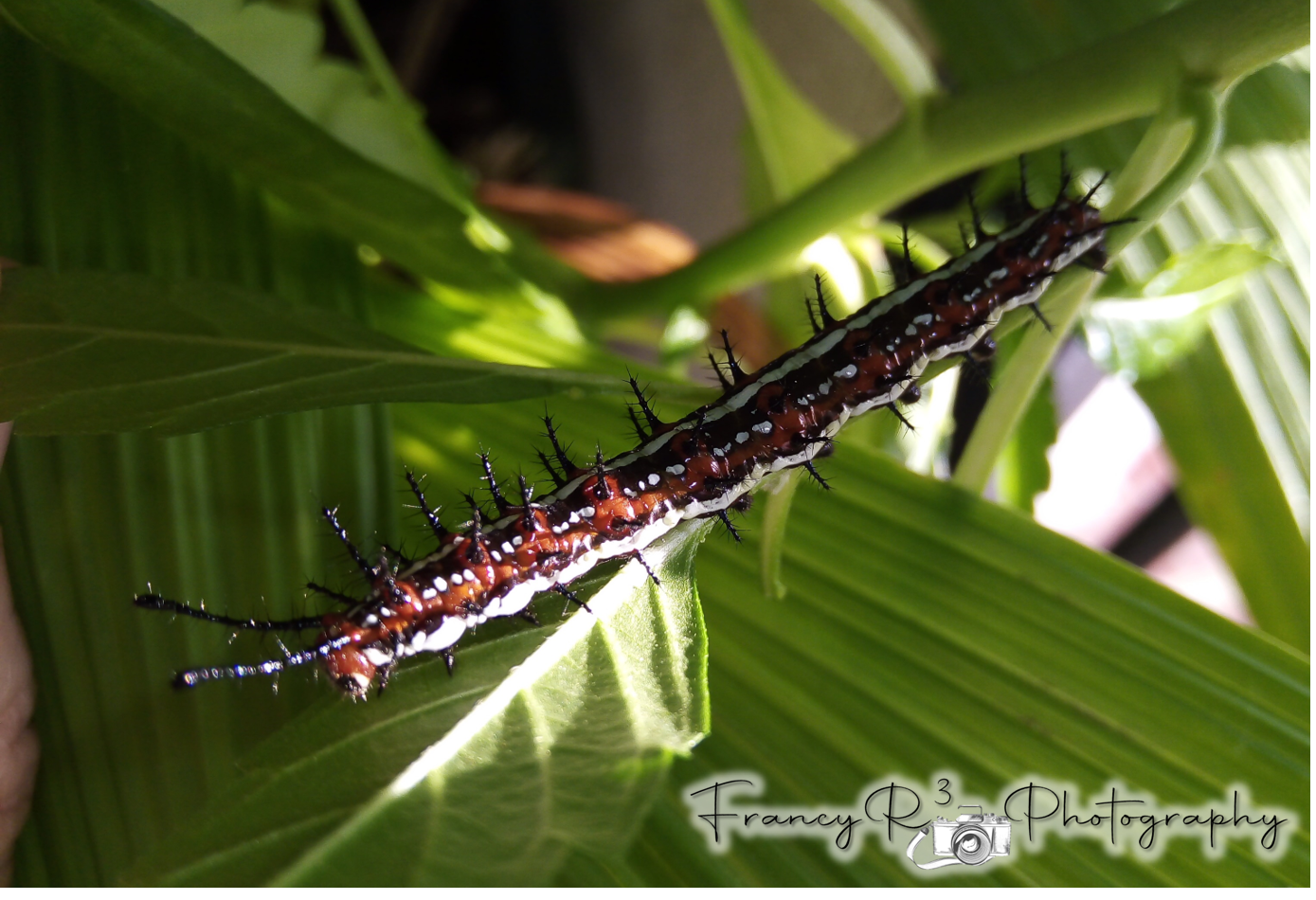 La mariposa Euptoieta Caludia, también conocida como Fritillaria Abigarrada u Organillo Oscuro, es una especie de costumbres nómada, perteneciente a la familia de las Nymphalidae. Por lo que logre descubrir durante mi investigación, los machos se caracterizan por buscar activamente a las hembras. Y en el mismo orden de ideas, también descubrí que las hembras de esta especie se reproducen de dos y tres veces al año.
The Euptoieta Caludia butterfly, also known as the Variegated Fritillaria or Dark Organpipe, is a species of nomadic habits, belonging to the Nymphalidae family. From what I was able to discover during my research, the males are characterized by actively searching for females. And in the same vein, I also discovered that the females of this species reproduce two or three times a year.


Por otro lado, la hembra de esta especie acostumbra colocar individualmente sus pequeños huevos de color entre verde claro y beis, en las hojas o tallos en una variedad significativa de plantas. Ahora, una vez que eclosionan los huevitos de las mariposas, es cuando entramos finalmente, a hablar del amiguito que encontré en mi jardín, y es necesario destacar, que este, corresponde específicamente a la etapa de larva, previa al proceso de metamorfosis, donde, finalmente se transforma en una mariposa.
On the other hand, the female of this species is accustomed to individually place their small light green to beige eggs on the leaves or stems of a significant variety of plants. Now, once the butterfly eggs hatch, is when we finally get to talk about the little friend I found in my garden, and it is necessary to emphasize that this one corresponds specifically to the larva stage, prior to the metamorphosis process, where it finally transforms into a butterfly.


Como pueden ver en las imágenes que les comparto, la oruga de esta especie posee un aspecto bastante espectacular. Esas hermosas rayas rojas y negras en su cilíndrico y blando cuerpo, contrastan maravillosamente con sus múltiples manchas blancas de forma circular. Por otro lado, las pequeñas y llamativas púas negras de su cuerpo, se distribuyen en filas de seis. Ahora, si detallan bien, se darán cuenta que, en su cabeza, tiene un par de púas, que se diferencian del resto, porque son más largas y adicionalmente, tienen forma de garrote. En otro orden de ideas, algo interesante y que nunca debemos olvidar, es que ese llamativo aspecto, normalmente, representa una señal de alerta. Busca persuadir a sus posibles depredadores, bien, podría tratarse de una oruga venenosa o tener un mal sabor, en todo caso, es mejor acercarse con cautela a ella.
As you can see in the images, I share with you, the caterpillar of this species looks quite spectacular. Those beautiful red and black stripes on its cylindrical and soft body contrast beautifully with its multiple white circular spots. On the other hand, the small, striking black spikes on its body are distributed in rows of six. Now, if you look closely, you will notice that, on its head, it has a pair of barbs, which differ from the rest, because they are longer and additionally, they are shaped like a club. In another order of ideas, something interesting and that we should never forget, is that this striking appearance, normally, represents a warning sign. It seeks to persuade its possible predators, well, it could be a poisonous caterpillar or have a bad taste, in any case, it is better to approach it with caution.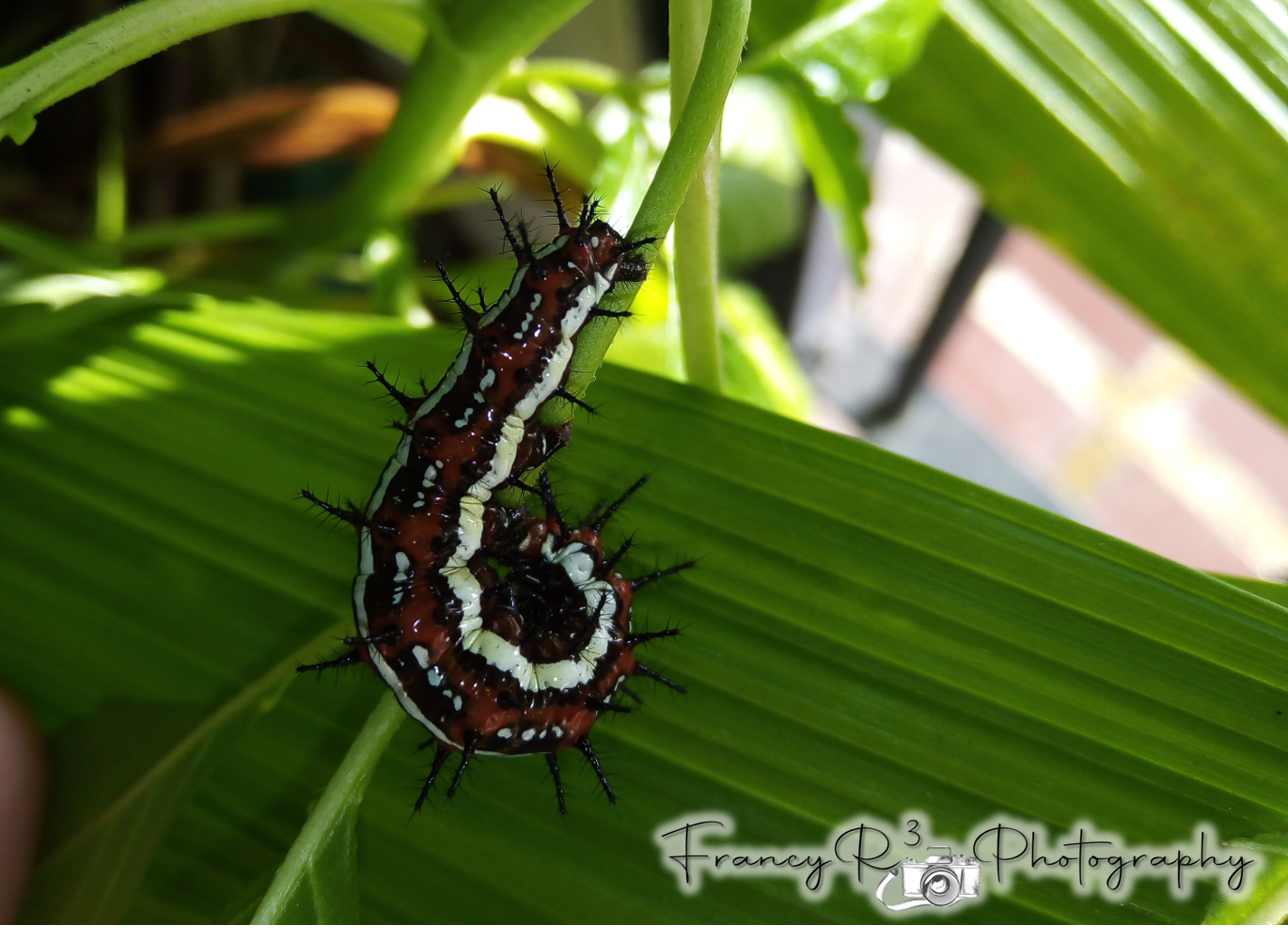 Salvo algunas excepciones, a nivel general, estos pequeños insectos basan su alimentación en tallos, hojas y de postre unas deliciosas flores, bien sea de un tipo en particular o de una diversa variedad de plantas, dependiendo de la especie. Cabe resaltar, que son pequeñas, pero sumamente voraces, lo que conlleva a un crecimiento significativamente acelerado, pasando por entre 4 y 5 mudas durante este período de vida. Su característico apetito insaciable por las plantas, podría llegar a convertirlas en plaga, en el caso de algunos cultivos en particular. Causando grandes daños en los cultivos, al alimentarse de las raíces, y nuevos brotes de las plantas.
With a few exceptions, in general, these small insects base their diet on stems, leaves and, for dessert, delicious flowers, either of a particular type or of a diverse variety of plants, depending on the species. It should be noted that they are small, but extremely voracious, which leads to a significantly accelerated growth, going through 4 to 5 molts during this period of life. Their characteristic insatiable appetite for plants could turn them into a pest in the case of some crops in particular. They cause great damage to crops by feeding on the roots and new shoots of plants.

Bueno, queridos lectores, llego el momento de despedirme, espero que les gustara la información y fotografías que compartí sobre esta linda oruga, especialmente los amigos @adalger, @bucipuci y a todo el equipo de trabajo de esta magnífica comunidad #amazingnature ya que, será mi entrada para el concurso de esta semana Amazing Nature Contest: FREE TOPIC - #2/2/22. Sin más nada que decirles, no me queda más que despedirme. Recuerden cuidarse mucho y cuidar a los suyos poniendo en prácticas las medidas de bioseguridad.
Well, dear readers, it's time to say goodbye, I hope you liked the information and pictures I shared about this cute caterpillar, especially friends @adalger, @bucipuci and the whole team of this magnificent community #amazingnature because it will be my entry for this week's contest Amazing Nature Contest: FREE TOPIC - #2/2/22. With nothing more to say, I have nothing left to say but goodbye. Remember to take good care of yourselves and your loved ones by implementing biosecurity measures.

Bibliographic References || Referencias Bibliográficas
https://en-m-wikipedia-org.translate.goog/wiki/Euptoieta_claudia?_x_tr_sl=en&_x_tr_tl=es&_x_tr_hl=es&x_tr_pto=sc
https://es.wikipedia.org/wiki/Oruga(larva)

Contenido y fotografías de mi propiedad intelectual
Información Técnica
| Cámara | Pentax * istDL |
| --- | --- |
| Lente | * Pentax 18-55 |
| Iluminación | Luz Natural |
| Locación | Barcelona, Estado Anzoátegui, Venezuela |
Content and photographs of my intellectual property
Technical information
| Camera | Pentax * istDL |
| --- | --- |
| Lens | * Pentax 18-55 |
| Lighting | Natural Light |
| Location | Barcelona, Anzoátegui State, Venezuela |
---