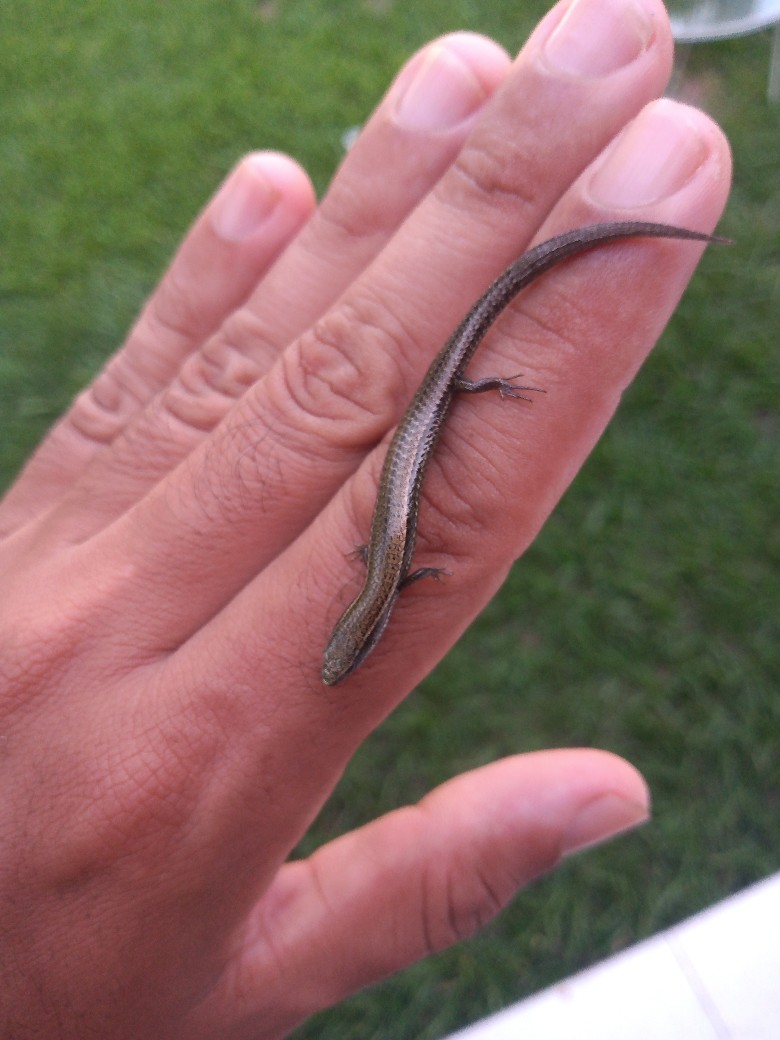 Greetings friends of #amazingnature today I want to share with all of you these beautiful images of a small and cute reptile that I managed to find just when I was making some arrangements in the garden of my house, at first I was surprised and I just approached him, I looked at him and decided to take him with my hands, he was harmless, his colors made him something attractive, a sensation.
It is a beautiful Marisora brachypoda, they are insectivorous, they live in lowlands and usually always climb a tree to get some sun. It is viviparous in terms of reproduction. Their offspring per litter ranges from two to seven. Its back is light brown, with a metallic appearance, which contrasts with the flanks that have dark chocolate and white stripes. Its approximate size is about 25 cm from head to tail tip. The length from the snout to the cloaca is approximately 6.2 cm to 9.1 cm for females and 5.6 to 9.1 cm for males. In general, males are always smaller than females.
Saludos amigos de #amazingnature hoy quiero compartir con todos ustedes estas hermosas imágenes de un pequeño y lindo reptil que logré encontrar justo cuando hacía algunos arreglos en el jardín de mi casa, al principio me sorprendí y solo me acerqué a él, lo miré y decidí tomarlo con mis manos, era inofensivo, sus colores lo hacían algo atractivo, una sensación.

Se trata de una linda Marisora brachypoda ellas son insectívoras, habitan en tierras bajas y por lo general siempre suben a un árbol para poner tomar algo de sol. Es vivípara en cuanto a la reproducción. Sus crías por camada oscila entre dos y siete. Su dorso es color marrón claro, con aspecto metálico, que contrasta con los flancos que poseen franjas color chocolate oscuro y blanco. Su tamaño aproximado es de casi 25 cm desde la cabeza al extremo de la cola. La longitud desde el hocico a la cloaca de 6.2 cm a 9.1 cm aproximado en el caso de las hembras y para losachos de 5.6 a 9.1 cm. Por lo general los machos siempre suelen ser más pequeños que las hembras.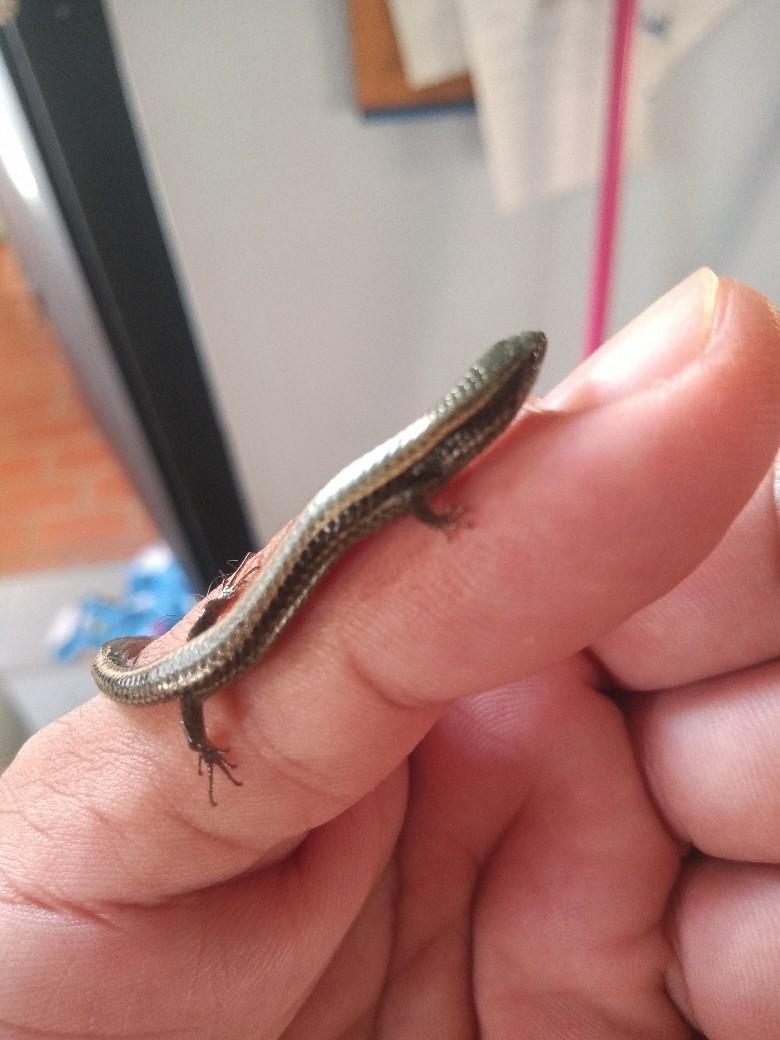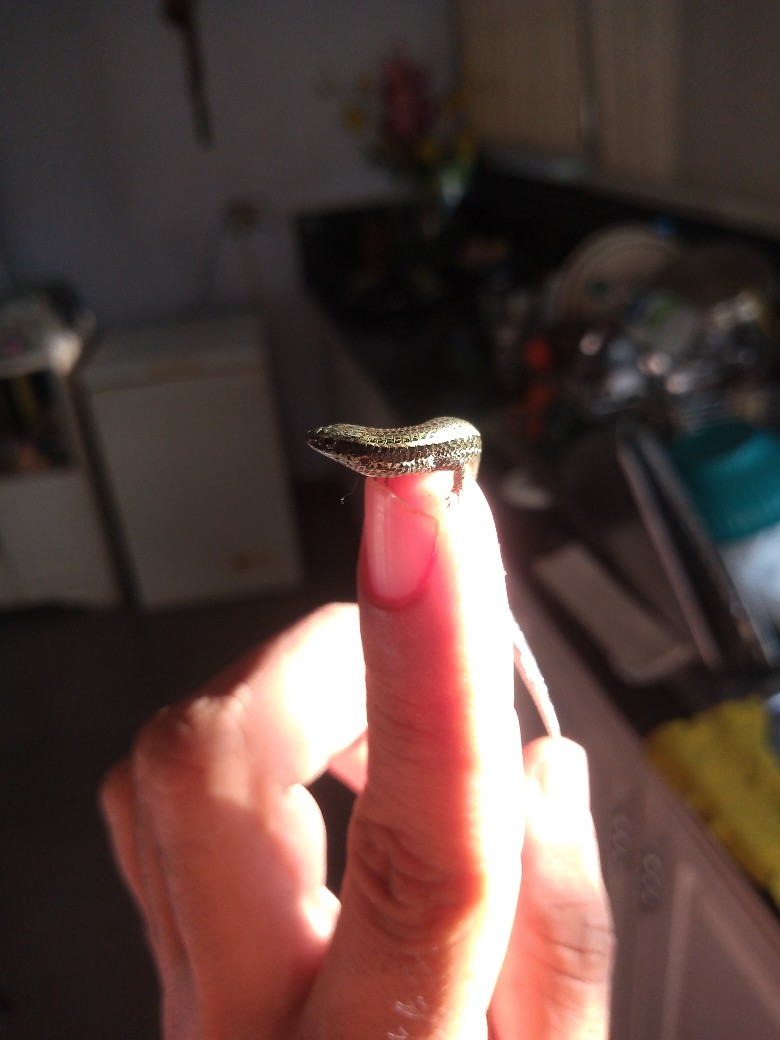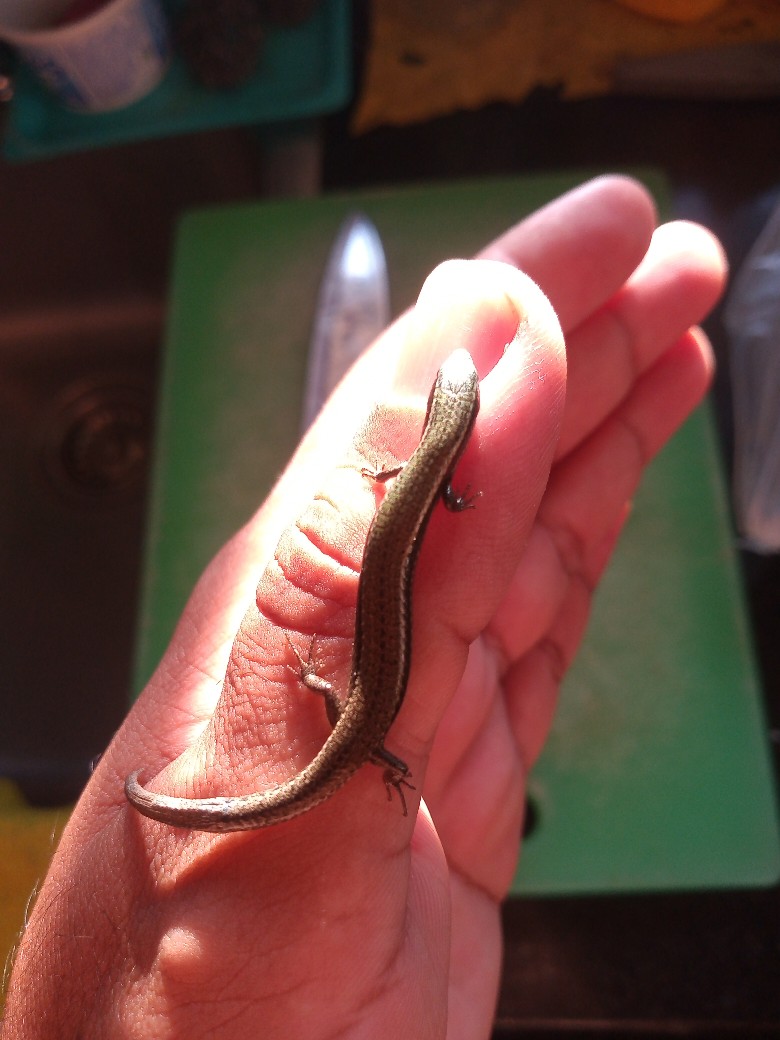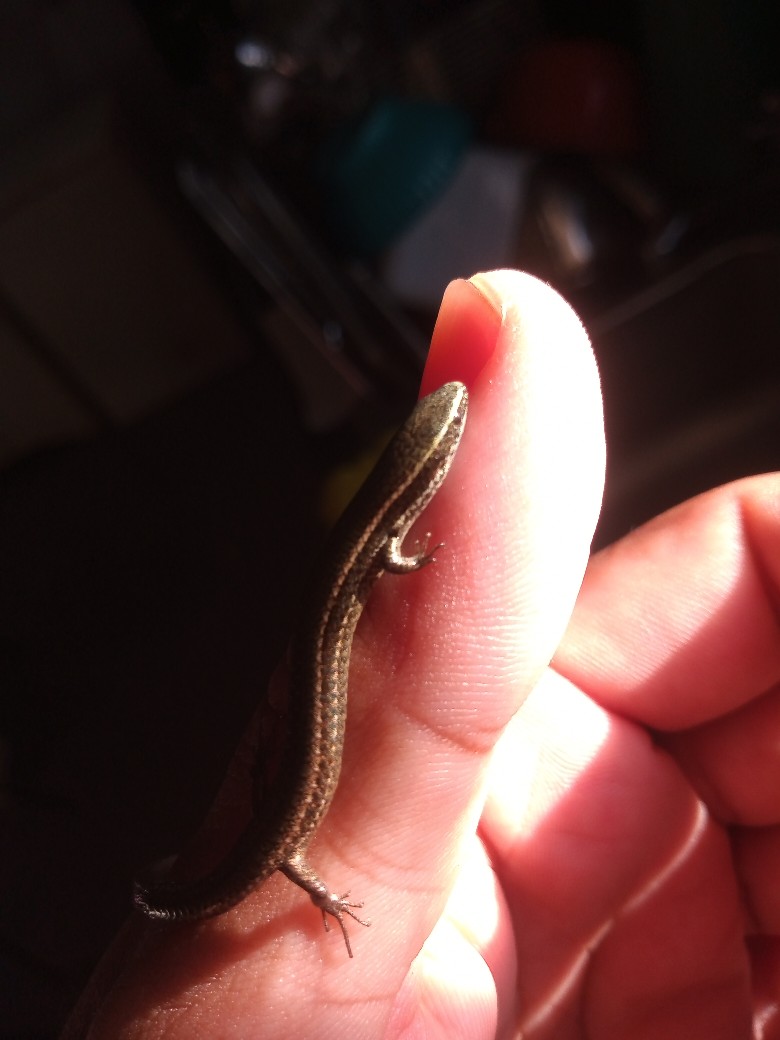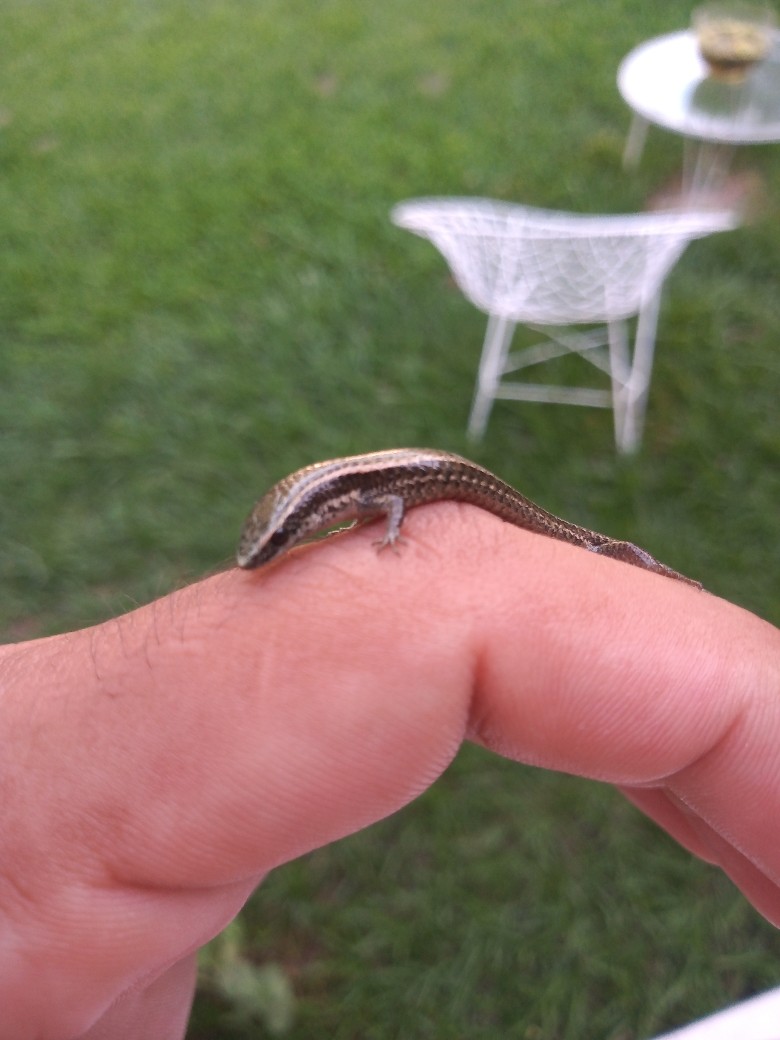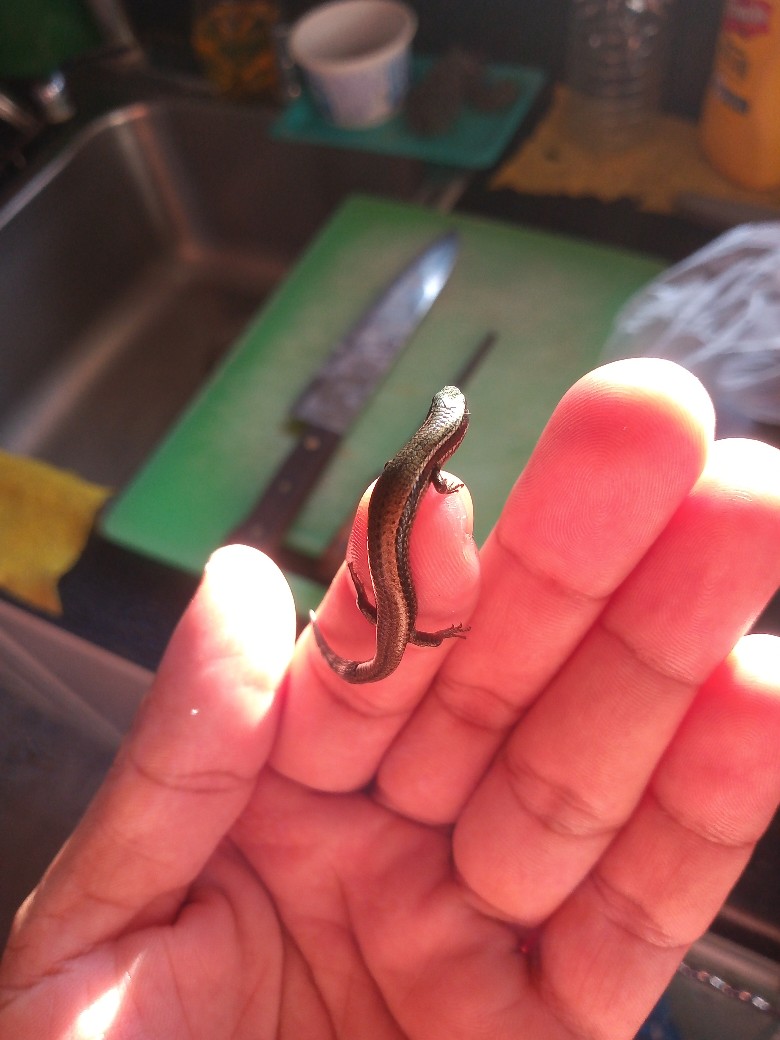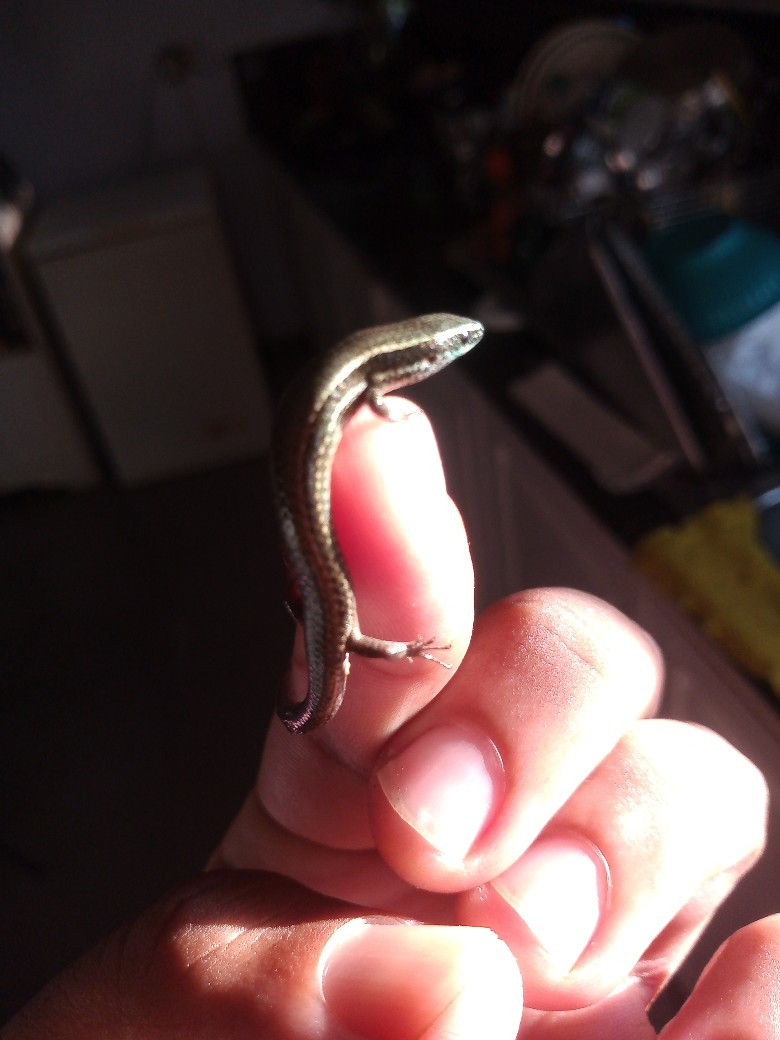 Many of these reptiles live underground, they make their caves and tunnels to move in the subway and thus be safe from predators, they also sniff the air as well as their prey with their tongue, they reach their prey and corner them and then eat them, their most prominent prey are insects and millipedes.
Muchos de estos reptiles viven bajo tierra, hacen sus cuevas y túneles para moverse en el subterráneo y así estar a salvo de los depredadores, también olfatean el aire así como a sus presas con la lengua, alcanzan a sus presas y las acorralan para luego comerlas, sus presas más destacadas son los insectos y los milpiés.

🙏Gracias por tu visita/ Thank you for your visit!👍
Fotos tomadas desde mi celular Motorola E6 plus
Banners realizado en Canva.
Photos taken from my Motorola E6 plus cell phone.
Banners and dividers made in Canva.