This is undoubtedly one of my favorite topics, horses, noble animals and faithful companions since I was a child I love these bestías and I like to investigate a little about them, this time I will talk about the Arabian Horse. Arabian horses have a slender appearance, they are elegant and this is noticeable when they walk because when they do it, they seem to float through the air. Some of the most outstanding characteristics of this specimen are their ears, since their shape is pointed and they are quite small in relation to the female's ears. Another important feature of these horses is their tail, which is positioned high up and has a long, level rear. It is a very fast and strong animal, it was used in ancient times to carry loads and can withstand the toughest conditions, and what tougher conditions than those of the desert! There are numerous legends of how this horse originated and the most popular is that it was created by none other than Allah himself and there is no doubt that he did it to perfection.
Thank you for stopping by to read me.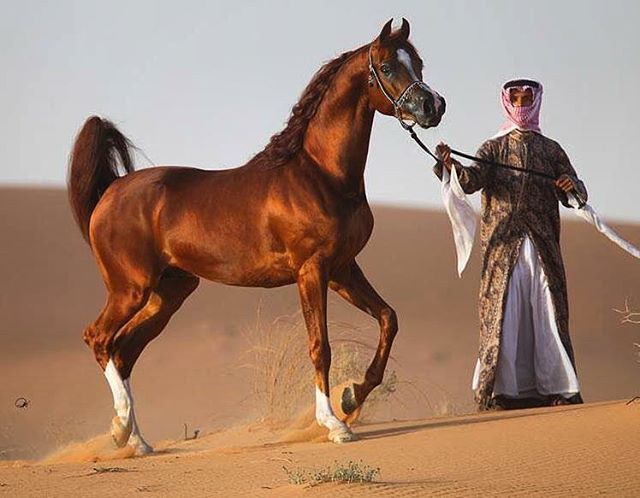 Link
Link
Este es sin duda uno de mi tema favoritos, los caballos, animales nobles y fieles compañeros desde pequeño amo a estas bestias y me gusta investigar un poco sobre ellas, en esta ocasión hablare sobre el Caballo Árabes. Los caballos Árabes tienen una apariencia esbelta, son elegantes y esto se le nota al caminar porque cuando lo hacen parece que flotaran por los aires. Algunas de las características más resaltantes de este ejemplar son sus orejas ya que su forma es puntiaguda y son bastante pequeñas con relación a las orejas de las hembras. Otro rasgo importante de destacar en estos caballos es su cola, esta se encuentra posicionada en lo alto ya que presenta un trasero nivelado y largo. Es un animal muy veloz y fuete, era usado en la antigüedad para realizar trabajos de carga y puede soportar las condiciones más duras ¡¡y que condiciones más duras que las del desierto!!existen numerosas leyendas de cómo se originó este caballo y las más popular es que fue creado nada más y nada menos que por el mismísimo Alá y no cabe duda que lo hizo a la perfección.
Gracias por detenerte a leerme.