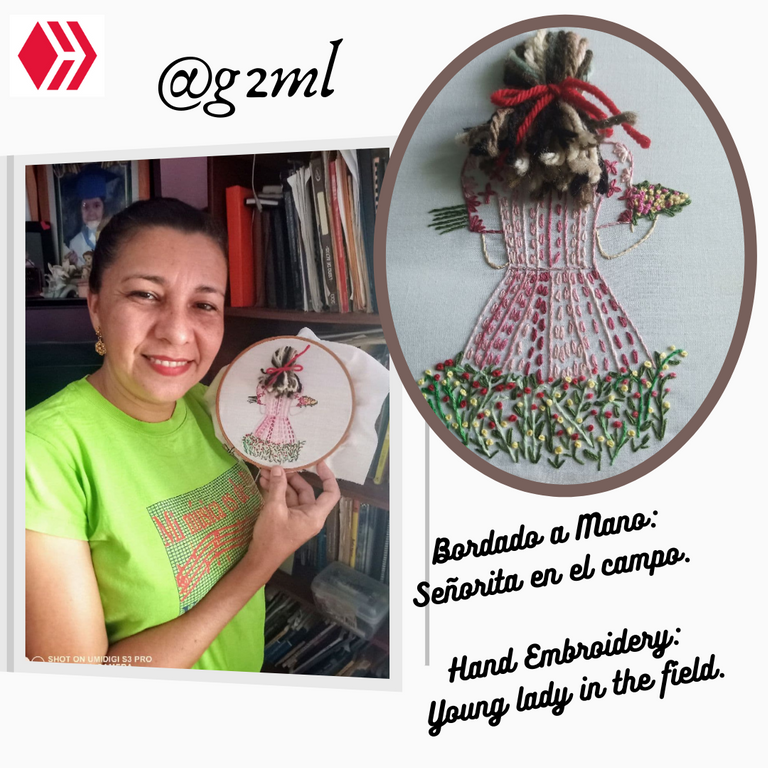 ---
Ella va llevando un ramo de flores con su cabello abundante y con su lazo rojo. Esta es una hermosa dama bordada a mano. Deseando que todos se encuentren bien, les quiero saludar y explicar cómo la hice. Me gustó mucho este tipo de bordado, y se pueden hacer infinidad de modelos. Con puntadas de bordado a mano muy simples se logra una decoración para algo especial.
She is carrying a bouquet of flowers with her abundant hair and red bow. This is a beautiful hand embroidered lady. Wishing you all well, I want to say hello and explain how I made it. I really liked this type of embroidery, and you can make an infinite number of models. With very simple hand embroidery stitches you can make a decoration for something special.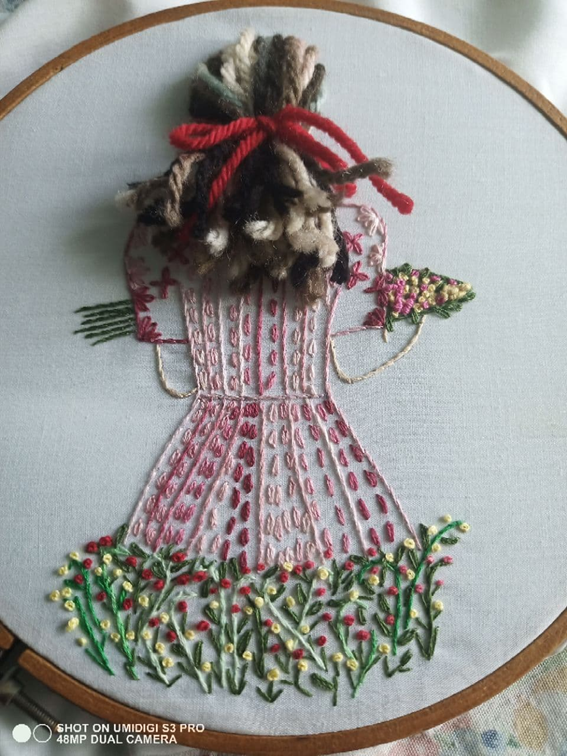 Materiales:
Tela blanca
Bastidor para bordar
Madejas de hilo en colores variados
Estambre
Tijera, agujas y aguja punta roma
Materials:
White fabric
Embroidery frame
Skeins of thread in assorted colors
Yarn
Scissors, needles and blunt-pointed needle

Pasos para la Elaboración:
Busqué una imagen y la dibujé de espaldas, la trasferí con papel carbón muy sutilmente sobre la tela blanca.
Steps for the Elaboration:
I looked for an image and drew it from the back, transferred it with carbon paper very subtly on the white fabric.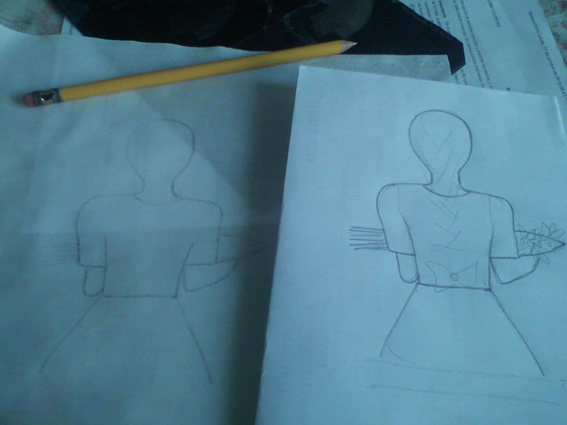 Luego empecé bordando con punto atrás toda la silueta del vestido en color vino tinto. Esta es una madeja que va de un color vino tinto oscuro hasta más claro.
Then I started embroidering with back stitch the whole silhouette of the dress in red wine color. This is a skein that goes from a dark to a lighter red wine color.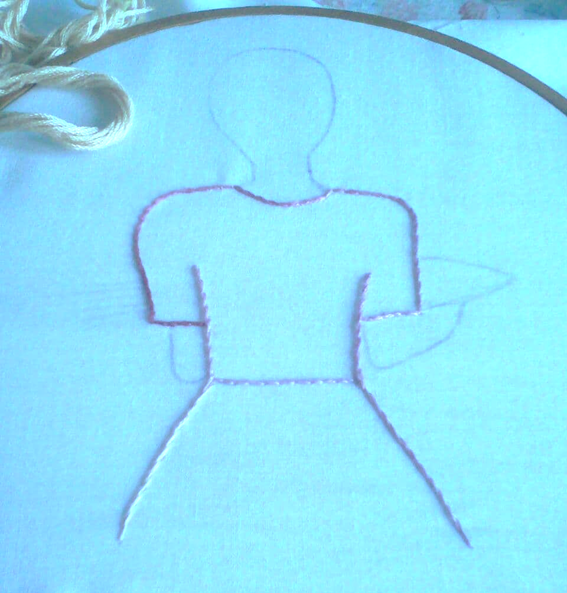 Luego de hacer este proceso, bordé con la misma puntada los brazos, cuello y la cabeza.
After doing this process, I embroidered the arms, neck and head with the same stitch.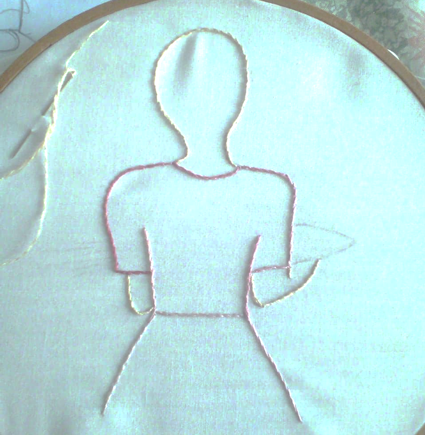 Luego hice un decorado en todo el vestido de la dama.
Then I made a decoration all over the lady's dress.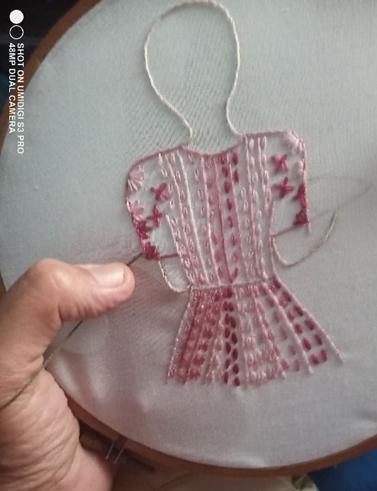 Con estambre fui bordando el cabello, con un alfiler sujeté para el largo que deseaba del cabello.
I embroidered the hair with yarn, and with a pin I attached it to the desired length of the hair.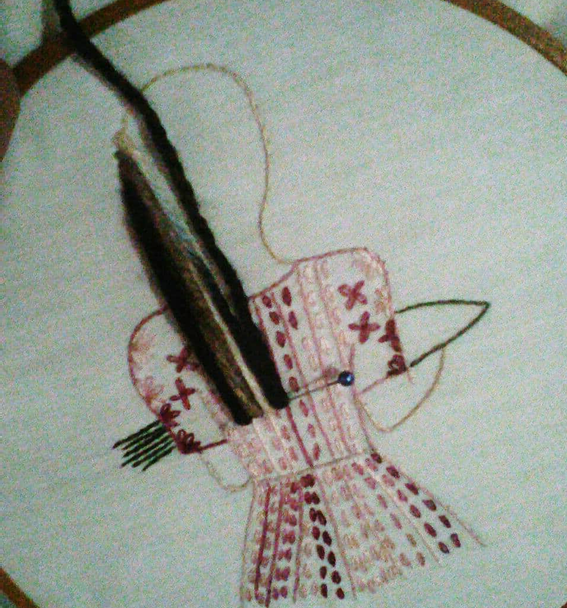 Cuando lo bordé todo, corté las puntas.
When I embroidered everything, I cut off the ends.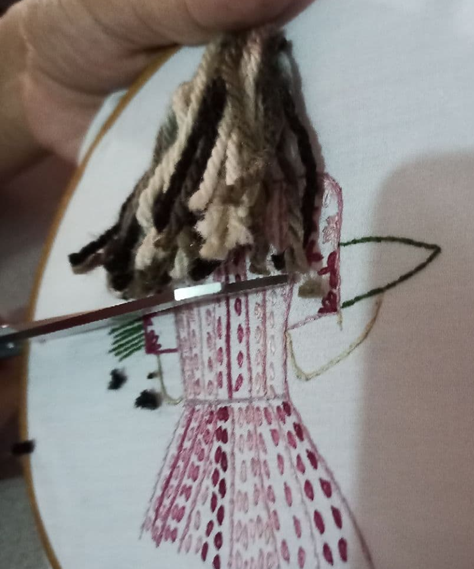 Le coloqué un lazo con estambre rojo y emparejé las puntas.
I tied a loop with red yarn and matched the ends.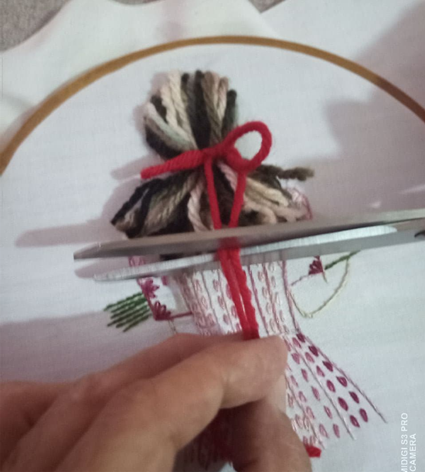 Luego terminé el pequeño ramo que lleva en las manos con pequeñas flores amarillas y fucsias.
Then I finished the small bouquet she is holding in her hands with small yellow and fuchsia flowers.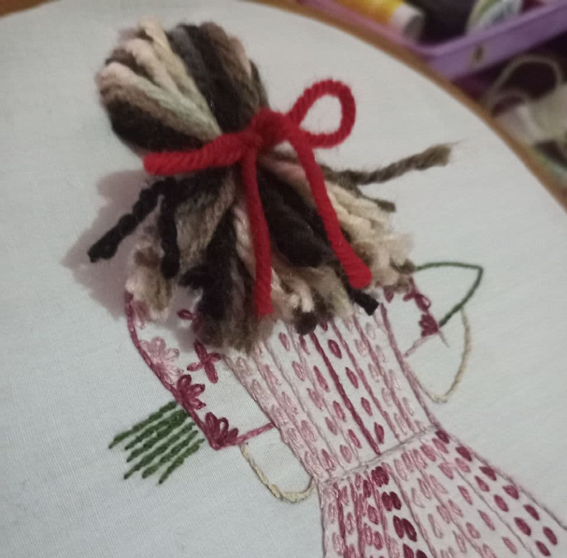 Bordé unas pequeñas flores rojas y amarillas con ramas verdes y hojas como un campo.
I embroidered small red and yellow flowers with green branches and leaves like a field.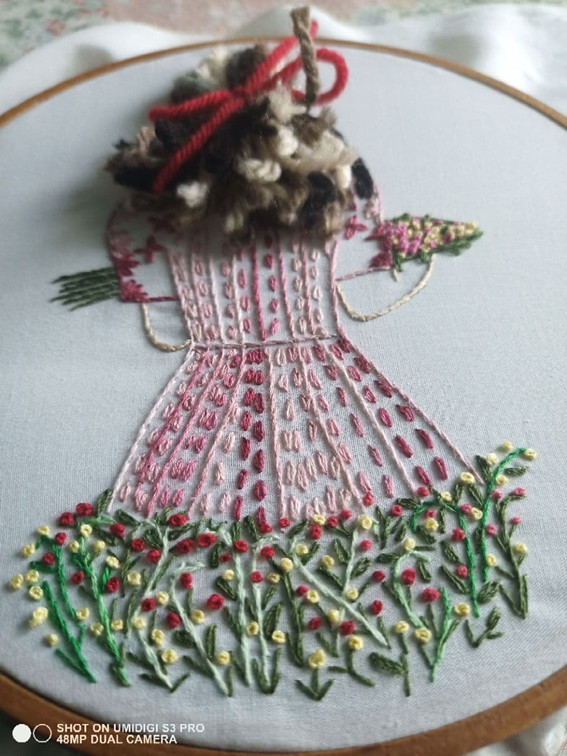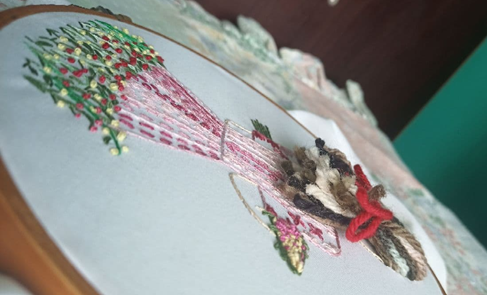 Espero que te haya gustado, hasta mi próxima publicación.
I hope you liked it, see you in my next post.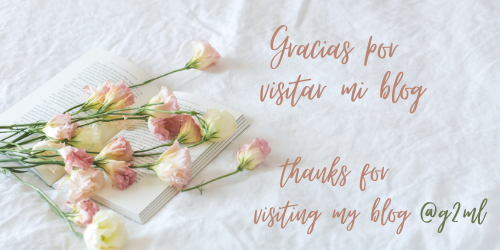 Las fotos son con el teléfono Umidigi, la de portada editada en Canva, el traductor usado es Deepl, y los bellos separadores de
@eve66
.
The photos are with the Umidigi phone, the cover photo edited in Canva, the translator used is Deepl, and the beautiful dividers by @eve66.