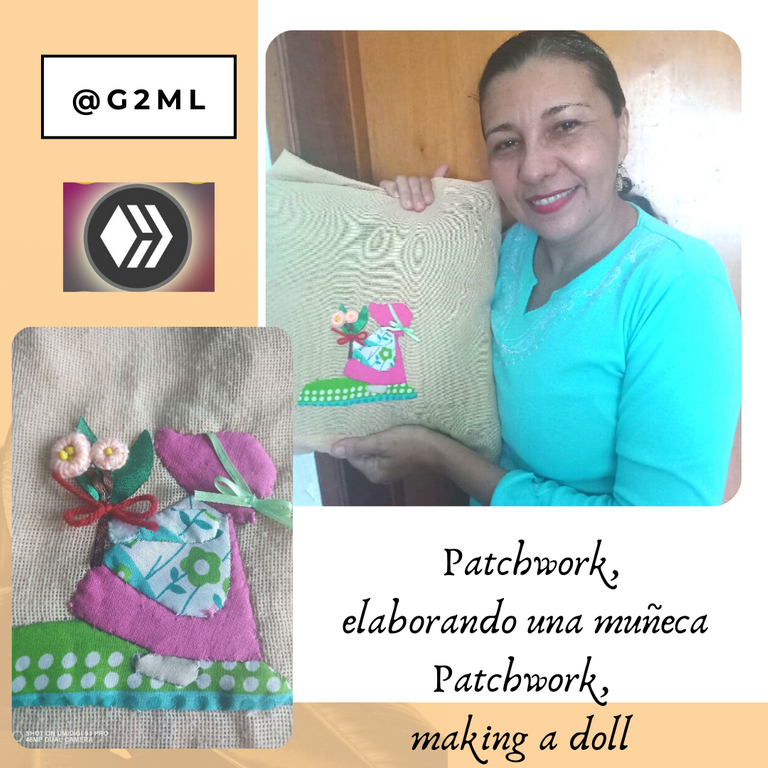 ---
Que gusto saludar hoy a toda esta comunidad laboriosa. Les presento este sencillo tutorial de cómo elaborar la técnica de patchwork. Esta se hace con retazos de tela y con ella elaborar decoraciones o nuevas prendas. Lo hice cosiendo a mano. Y les cuento que la disfruté mucho.
Tenía un cojín sin decorar, y con este pude hacer esta hermosa aplicación en esta técnica con la figura de una tierna muñeca. Aquí te muestro como lo hice.
What a pleasure to greet today to all this industrious community. I present this simple tutorial on how to make the patchwork technique. This is made with scraps of fabric and with it to make decorations or new garments. I did it sewing by hand. And I have to tell you that I enjoyed it very much.
I had an undecorated cushion, and with it I could make this beautiful application in this technique with the figure of a cute doll. Here I show you how I did it.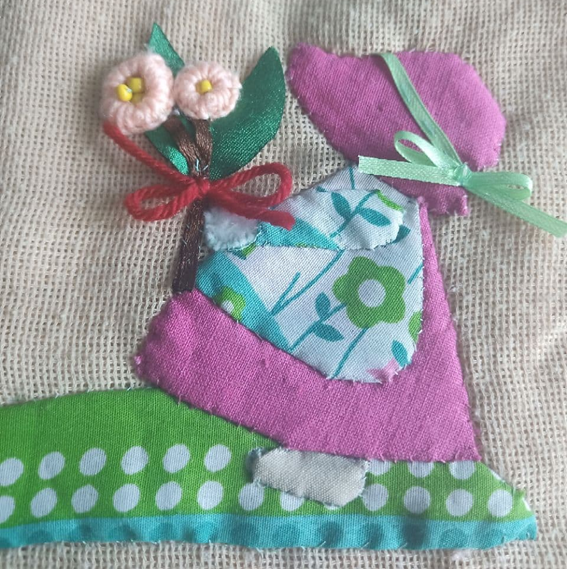 Materiales:
Retazos de telas
Hilo, aguja y tijera
Forro del cojín
Papel, papel carbón, lápiz
Cintas y flores pequeñas.
Materials:
Fabric scraps
Thread, needle and scissors
Cushion lining
Paper, carbon paper, pencil
Ribbons and small flowers.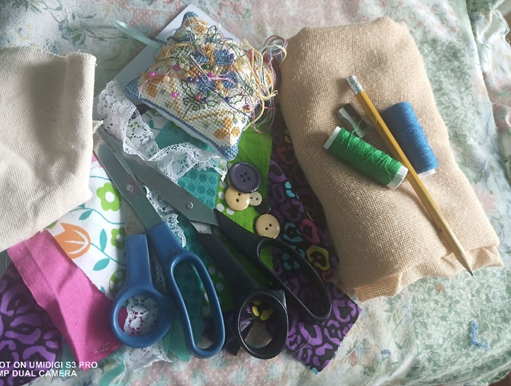 Pasos para la Elaboración:
En primer lugar busqué la aplicación, en mi caso usé esta linda muñeca.
Steps for the Elaboration:
First of all I looked for the applique, in my case I used this cute doll.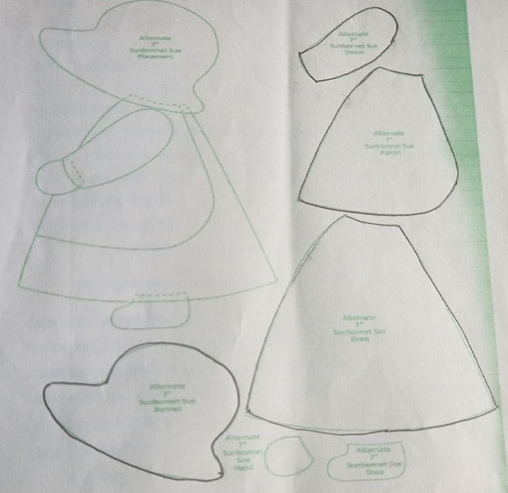 La trasferí de forma individual y corte sus piezas.
I transferred it individually and cut its pieces.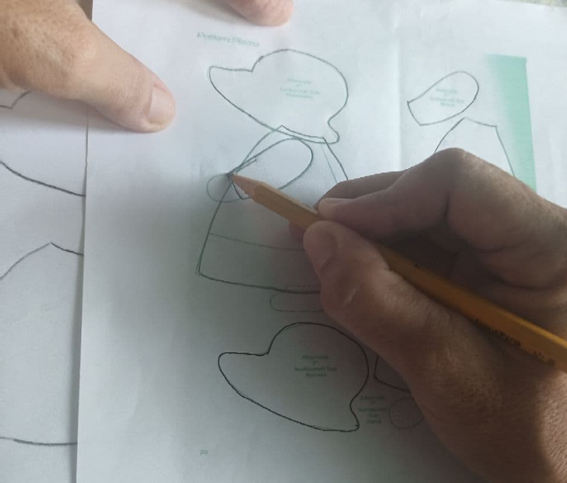 La trasferí con papel carbón suavemente a las telas elegidas. Recorté cada pieza dejando margen de costura.
I transferred it gently with carbon paper to the chosen fabrics. I cut out each piece leaving seam allowance.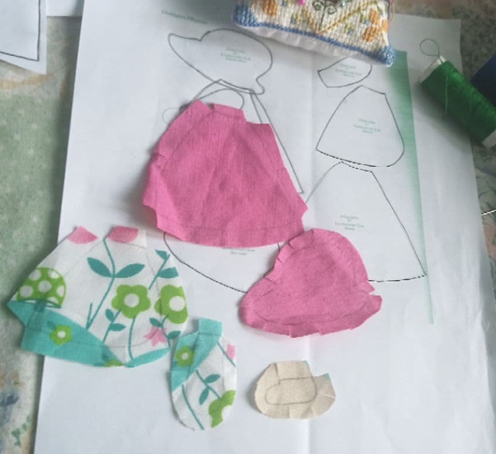 Empecé con el delantal de la muñeca cosiendo a mano con costura escondida.
I started with the doll's apron by hand sewing with hidden stitching.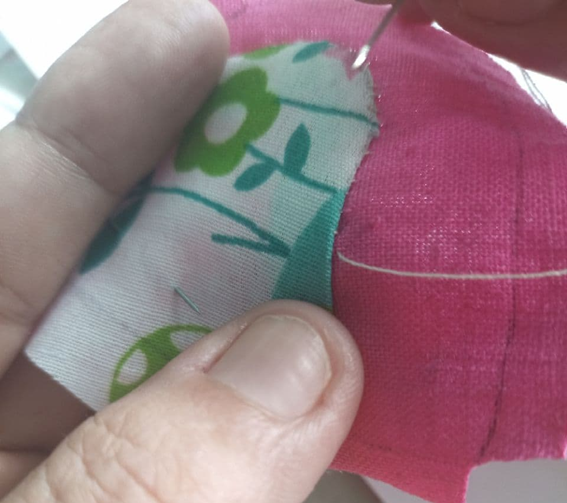 Hilvané el resto de las piezas para colocarlas mejor en el forro. Con un trozo de tela verde hice un espacio donde colocaría a la muñeca.
I basted the rest of the pieces to better place them in the lining. With a piece of green fabric I made a space where I would place the doll.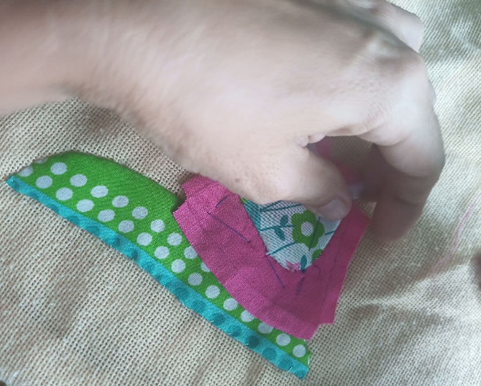 Con mucha paciencia se van añadiendo cada parte de la muñeca.
With a lot of patience, each part of the doll is added.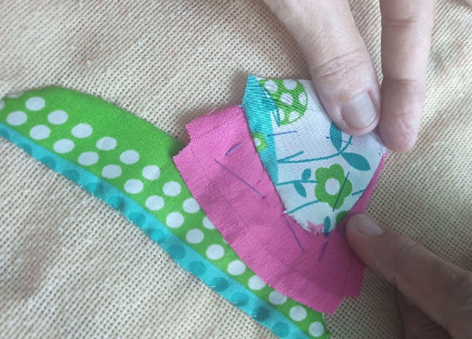 Se debe ir cosiendo y revisando que queden bien, asegurarlas con alfileres si es necesario.
They should be sewn and checked for fit and secured with pins if necessary.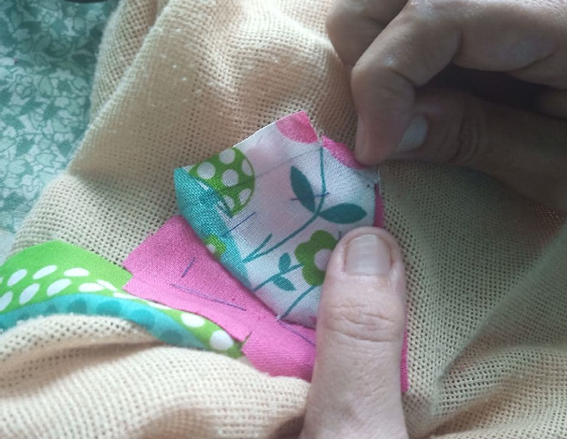 Luego que coloqué el sombrero le agregué un pequeño lazo para dar mejores detalles.
After I placed the hat I added a small bow to give better details.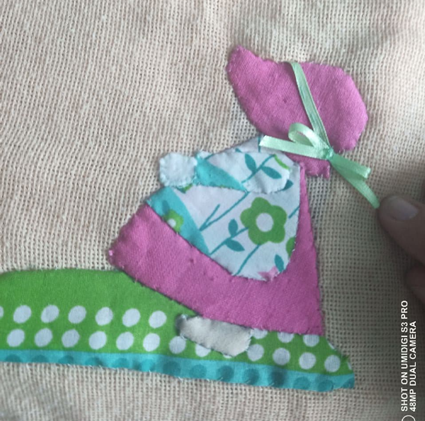 Luego fui añadiendo otros elementos como un ramo de flores, en este caso usé cinta marrón, una tela verde para las hojas y unas aplicaciones tejidas para las flores.
Then I added other elements such as a bouquet of flowers, in this case I used brown ribbon, a green fabric for the leaves and some woven appliqués for the flowers.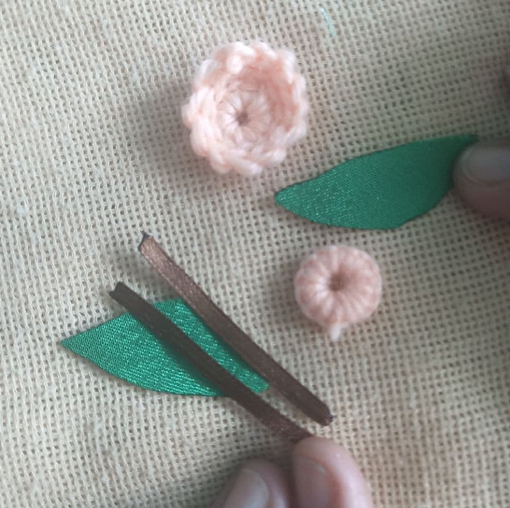 Las coloqué con mucho cuidado con un lazo de estambre rojo y unas piedritas amarillas dentro de las flores, para verse así.
I placed them very carefully with a red worsted ribbon and some yellow pebbles inside the flowers, to look like this.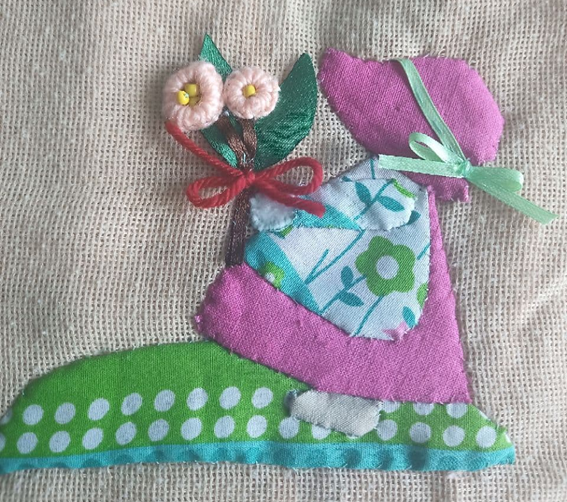 De verdad, me fascinó hacer esta aplicación con esta técnica, seguro probaré con otras publicaciones. Seguro también puedes hacerlo.
Really, I was fascinated to make this application with this technique, I will surely try with other publications. I'm sure you can do it too.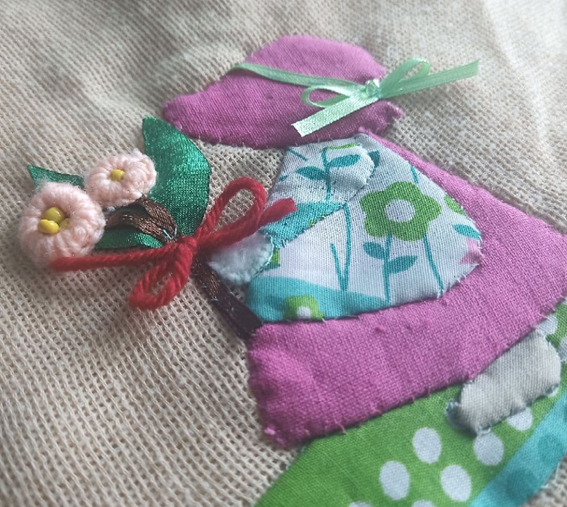 Así se ve mi cojín en la sala
This is what my cushion looks like in the living room.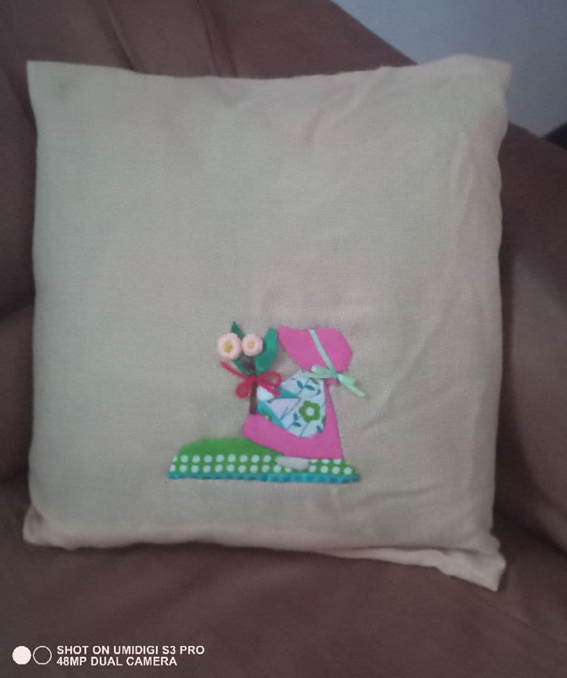 Hasta una próxima publicación.
Until a future publication.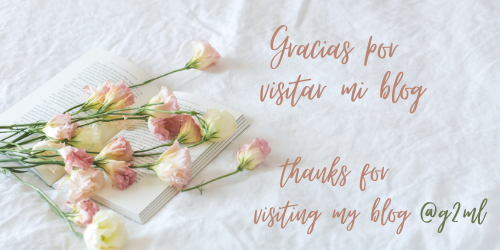 Todas las fotos son con el teléfono Umidigi, la foto de portada editada en Canva, el traductor usado es Deepl y los hermosos separadores de
@eve66
.
All photos are with Umidigi phone, cover photo edited in Canva, translator used is Deepl and beautiful dividers by @eve66.