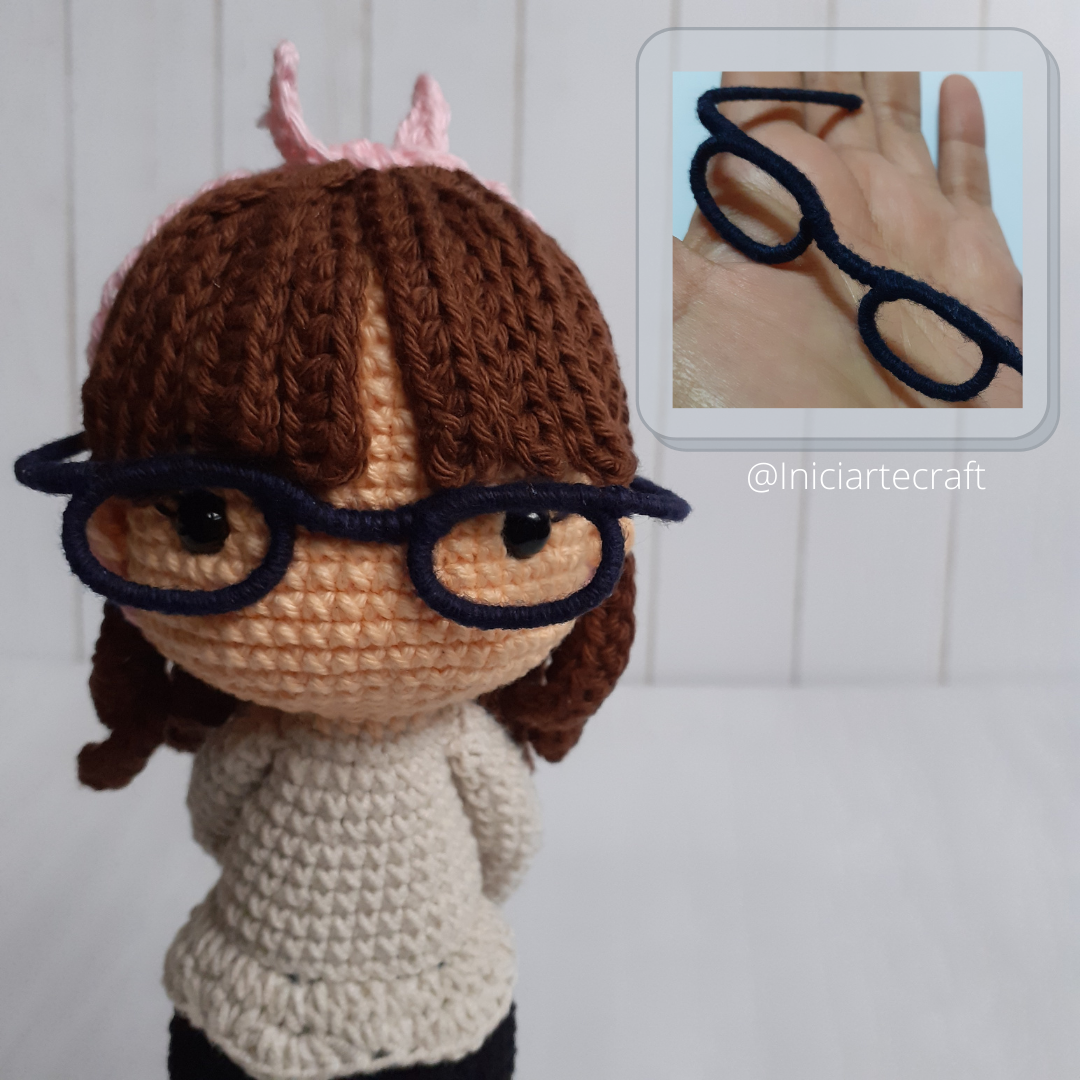 ¡Hola, espero la estén pasando muy bien!
Hi, I hope you are having a great time!
Antes miraba estos lentes y me parecían súper difíciles de realizar. No sé si soy yo, pero me gustan que las cosas sean útiles y duraderas. Menciono esto porque al inicio no encontraba un alambre que no se oxide con el tiempo. Luego, preguntando (a mi papá y hermano, jaja) y también investigando encontré el alambre "galvanizado". Este tipo de alambre no se oxida al reaccionar con el oxigeno (al aire libre). Convirtiéndolo en el material ideal para las articulaciones de los "amigurumis articulados" (generalmente muñecas/os). En casa tengo los de 2mm y 1mm de grosor. Y generalmente cuando tejo muñecos grandes (25 a 35cm) utilizo el de 2mm.
I used to look at these glasses and they seemed super difficult to make. I don't know if it's just me, but I like things to be useful and durable. I mention this because at first I couldn't find a wire that wouldn't rust over time. Then, by asking around (my dad and brother, haha) and also researching I found "galvanized" wire. This type of wire does not rust when it reacts with oxygen (in the open air). This makes it the ideal material for the joints of the "articulated amigurumis" (usually dolls). At home I have the 2mm and 1mm thick ones. And generally when I knit big dolls (25 to 35cm) I use the 2mm.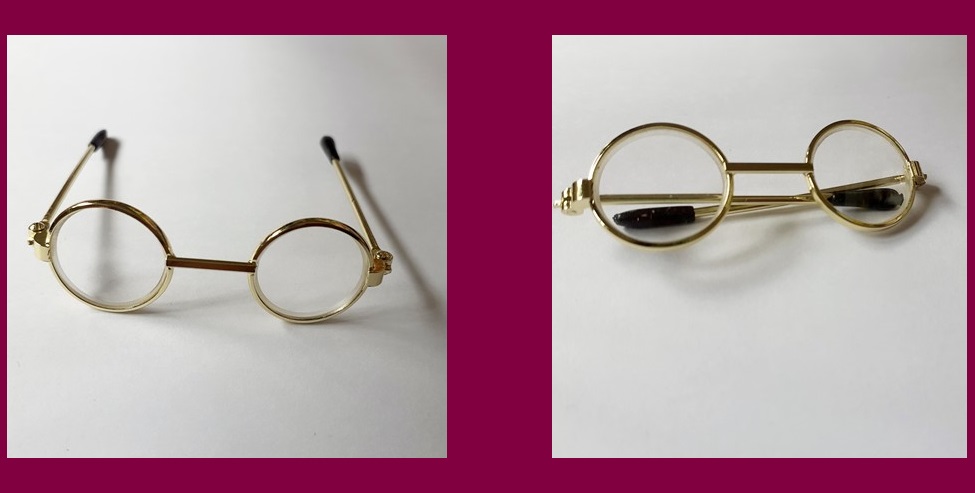 Con esto también aprendí que ya no volveré a comprar los lentes que hay en el mercado, porque es muy general y nadie se identifica con ellos. Pronto tejeré un amigurumi científico o buscaré un personaje que utilice ese tipo de lentes (jaja).
With this I also learned that I won't buy the glasses that are on the market anymore, because it's too general and nobody identifies with them. Soon I will knit a scientific amigurumi or I will look for a character that uses that kind of glasses (haha).
Materiales /materials:
Hilos de algodón (4 hebras o mas delgado) / Cotton thread (4 strands or thinner)
crochet (cualquier número) / any number
tijera / scissor
alambre galvanizado / galvanised wire
silicona fría / cold silicone
lapicero / pen
alicates de punta, plano y de corte / needle-nose, flat-nosed and cutting pliers
Proceso /process: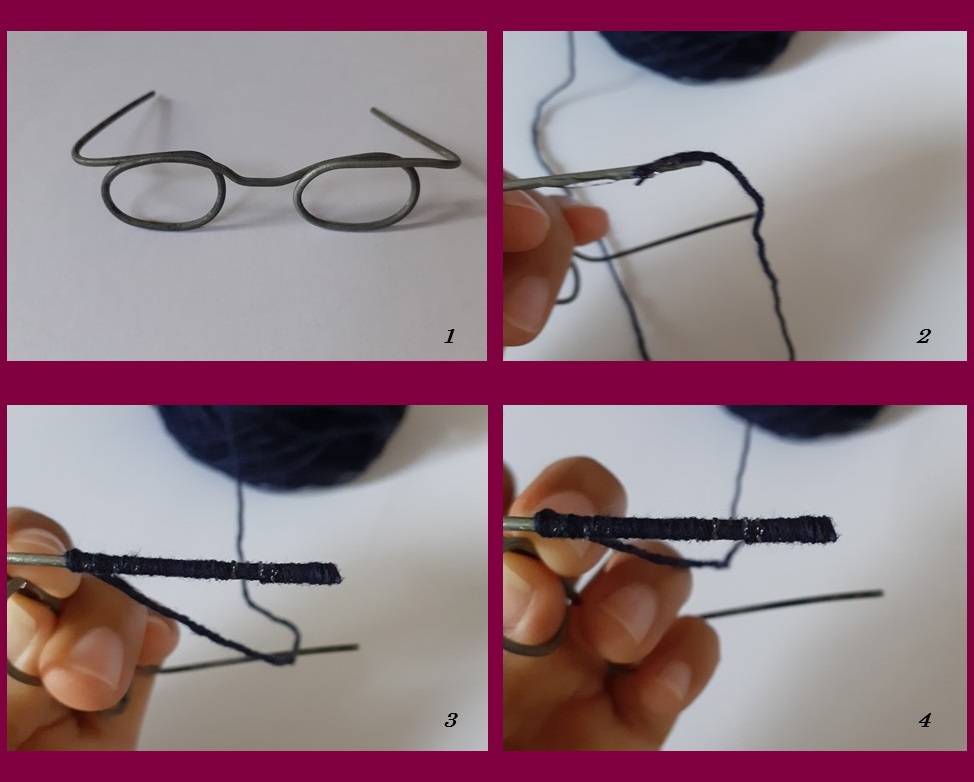 Esta vez utilicé el alambre galvanizado de 2mm. Eso sí, se requerirá alicates (de punta, plano y de corte) porque es algo duro. Para el doblez de los lentes, utilicé la forma circular de cualquier lapicero (fig. 1). Luego, con la ayuda de la silicona fría y el hilo, inicié a cubrir el alambre (fig. 2). Se tiene que cubrir lo más ajustado y que no se note el alambre o el exceso de silicona (fig. 3 y 4). Y eso fue lo que sucedió, recomiendo utilizar poca silicona (o cualquier pegamento) y expandirlo con los dedos por la superficie del alambre. Eso sí, de poco en poco, porque sino se seca muy rápido.
This time I used 2mm galvanised wire. However, you will need pliers (needle-nose, flat and cutting pliers) because it is a bit hard. To bend the lenses, I used the circular shape of any pencil (fig. 1). Then, with the help of the cold silicone and the thread, I started to cover the wire (fig. 2). You have to cover it as tightly as possible so that the wire or the excess silicone is not visible (fig. 3 and 4). And that's what happened, I recommend to use little silicone (or any glue) and spread it with your fingers over the surface of the wire. But use a little at a time, otherwise it dries very fast.
Esta es la parte más compleja. Aquí se deberá cortar el hilo (dejar una cantidad larga, de unos 30cm) para pasarlo por el orificio con la ayuda de un crochet (fig. 5). Así vamos cubriendo por la parte inferior hasta llegar al extremo final de los lentes (fig. 6). Aquí y por suerte, se terminó el hilo antes de iniciar (de regreso) a cubrir la parte superior de los lentes. Para esto, corté como 20centímetros de hilo y con la ayuda del crochet volví a cubrir los lentes (fig. 7 y 8).
This is the most complex part. Here the thread must be cut (leave a long amount, about 30cm) to pass through the hole with the help of a crochet hook (fig. 5). This way we cover the lower part until we reach the end of the glasses (fig. 6). Here, luckily, the thread is finished before I start (back) to cover the top of the glasses. For this, I cut about 20 centimetres of yarn and with the help of the crochet hook I covered the glasses again (fig. 7 and 8).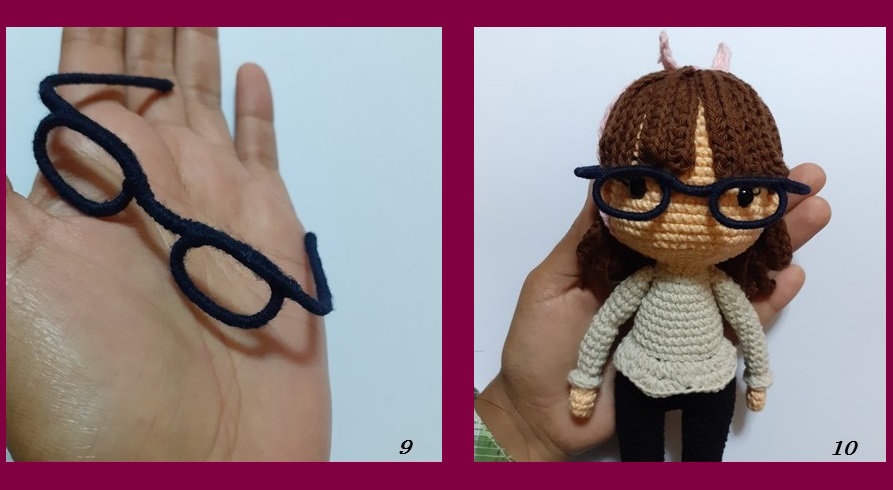 Para retirar el exceso de silicona que quedó en un inicio de los lentes. Echarle un poco de agua caliente a tibia y con una aguja o alfiler, retirar el exceso poco a poco.
To remove the excess silicone that was left at the beginning of the lenses. Pour some warm to lukewarm water on the lenses and with a needle or pin, remove the excess little by little.
¡Y eso es todo!,
¡…Hasta la próxima!
See you next time!
 Dato curioso: Ambos alambres los puedes encontrar en las librerías, tiendas de papelería, manualidades o arte / Both wires can be found in bookshops, stationery, craft or art shops.

---
►Encuéntranos en:
Instagram
Creary
Pinterest
Facebook