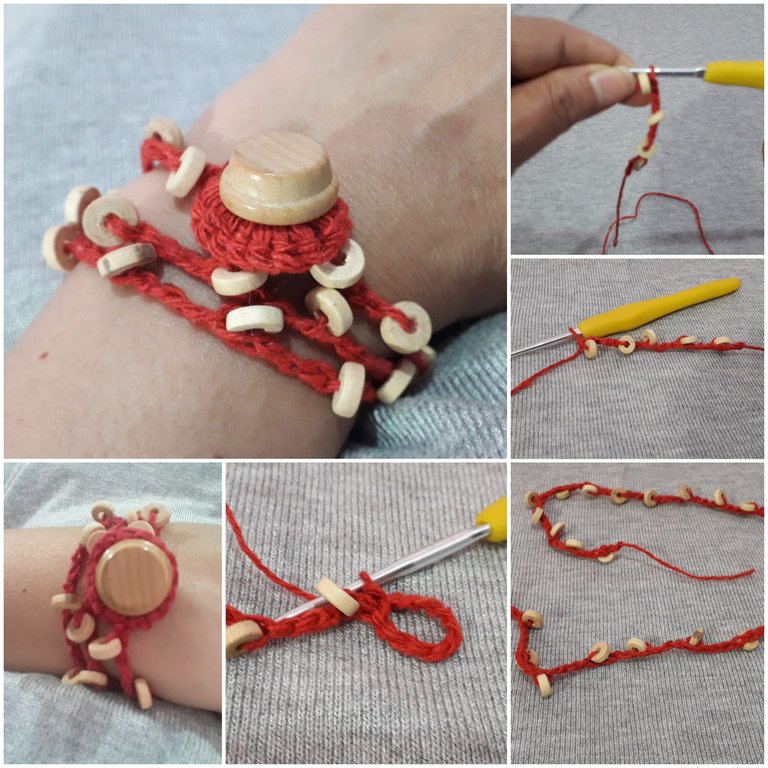 Hello everyone, I hope you are all well, have a nice weekend.
Hola a todos, espero estén muy bien, que puedan disfrutar de un buen fin de semana
Today I bring you the steps on how to make a woven bracelet, this time the bracelet is woven using chains in combination with beads, it is easy to do. This project is recommended for those who are taking their first steps in weaving, particularly in the crochet technique.
Hoy les traigo los pasos de cómo hacer una pulsera tejida, esta vez la pulsera se teje usando cadenetas en combinación con cuentas, es fácil de hacer. Este proyecto es recomendable para quienes están dando sus primeros pasos en el tejido, en particular en la técnica crochet.
| Materials | Materiales |
| --- | --- |
| Yarn in the desired color | Hilo en el color deseado |
| Scissors | Tijeras |
| Blunt yarn neddle | Aguja lanera |
| 2.5 mm crochet | Ganchillo de 2.5 mm |
| 1 button | 1 bottón |

| Abreviaturas | Abbreviations |
| --- | --- |
| Chain (ch) | Cadenetas (cad) |
| Slip stich (ss) | Punto deslizado (pd) |
| Single crochet (sc) | Punto bajo (pb) |
---
Steps / Pasos
With a needle pass the beads to the thread.
Con una aguja pasar las cuentas al hilo.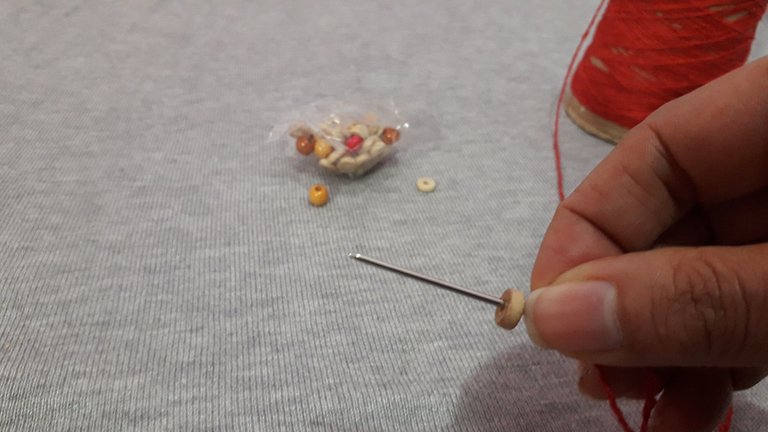 ---
After passing the bead through the needle, roll it onto the yarn.
Luego de pasar la cuenta por la aguja rodarla hacía el hilo.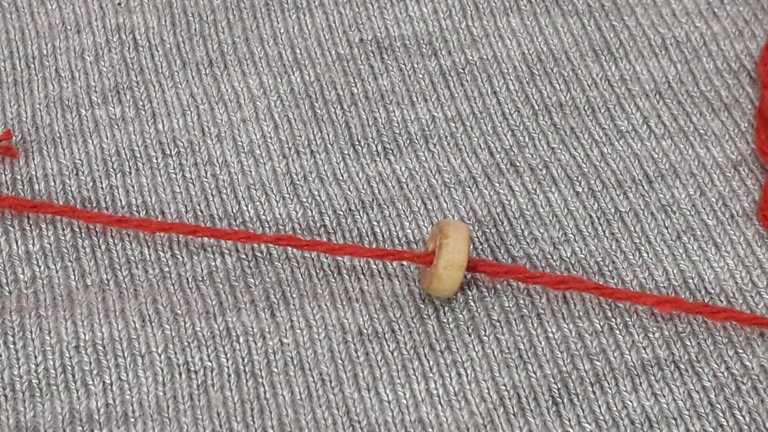 ---
Pass a number of beads that together do not exceed 15 centimeters of thread.
Pasar una cantidad de cuentas que juntas no superen 15 centímetros del hilo.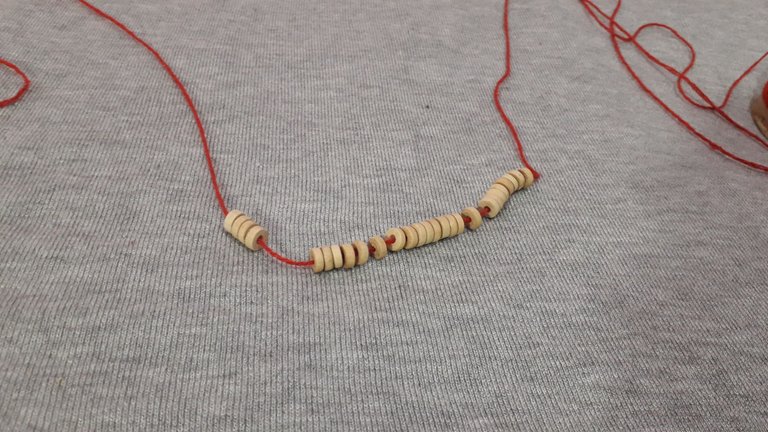 ---
Grab a bead.
Agarrar una cuenta.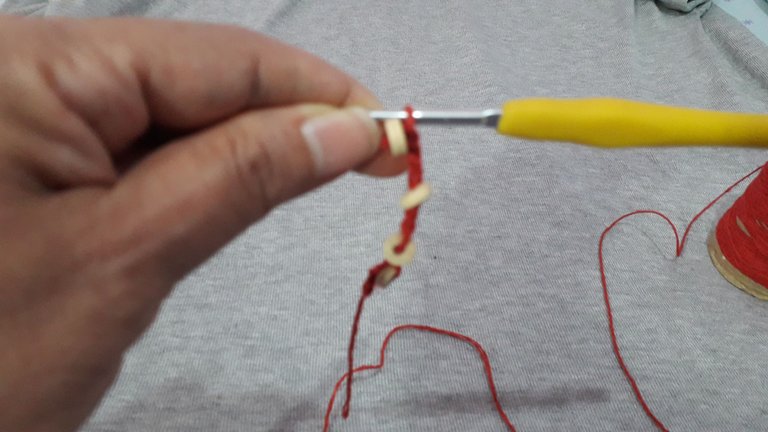 ---
Proceed to the start of the ch realization.
Proceder a dar inicio a la realización de la cad.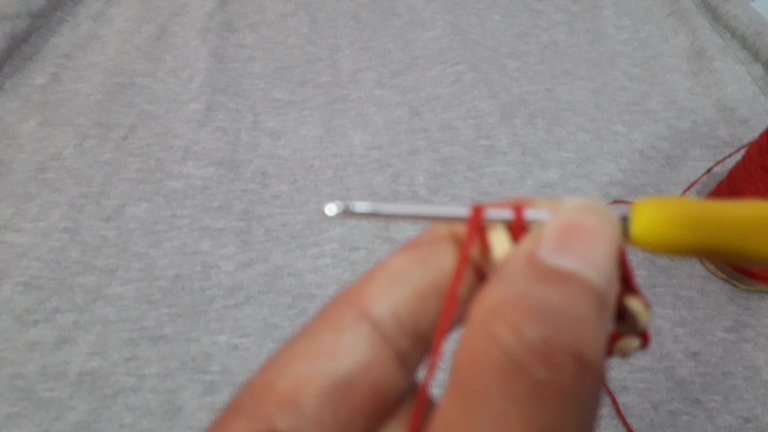 ---
Finish the ch stitch in such a way that the bead is embraced.
Finalizar la realización de la cad de tal forma quede abrazada la cuenta.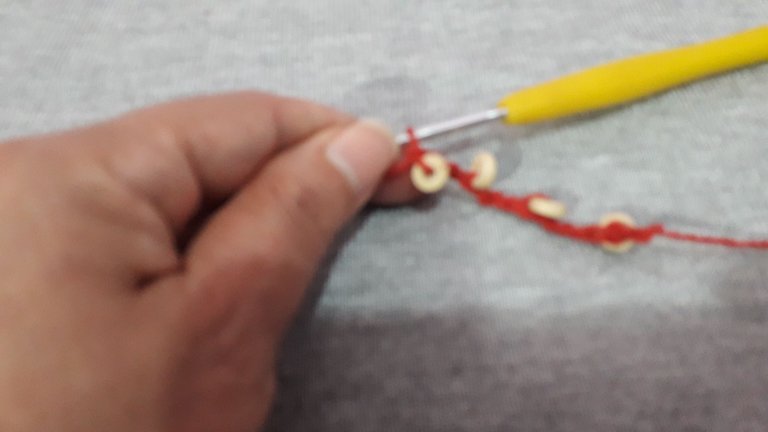 ---
Next, make three ch.
A continuación, realizar tres cad.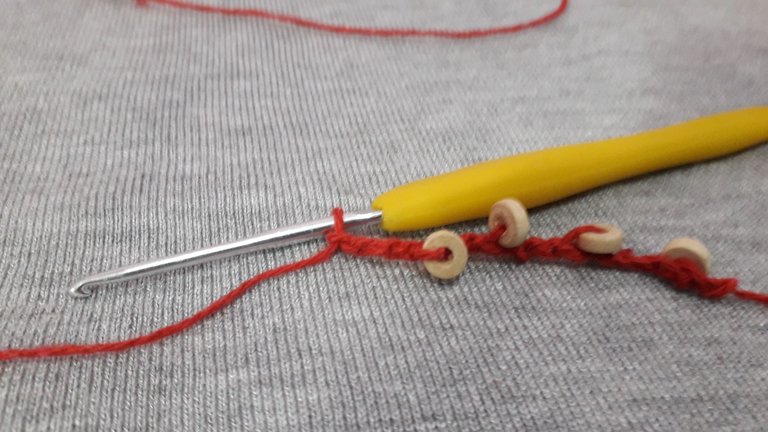 ---
Cast on the ch and embrace the bead. Repeat the sequence until you have completed 48 centimeters of ch.
Realizar la cad y abrazar a la cuenta. Repetir la secuencia hasta completar 48 centímetros de cad.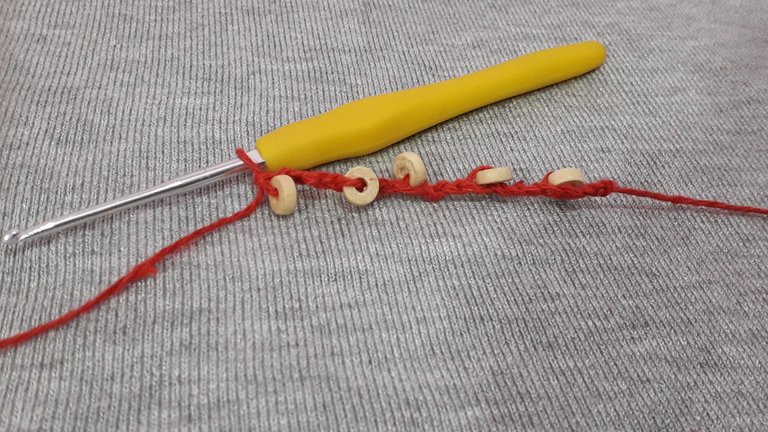 ---
It has reached 48 centimeters of cad.
Se ha llegado a los 48 centímetros de cad.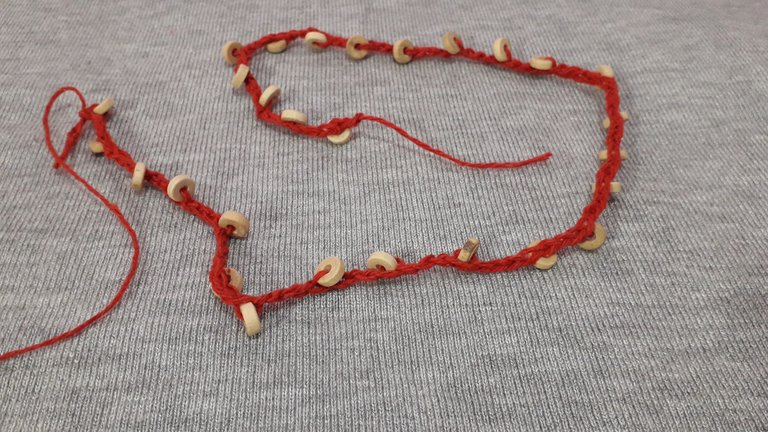 ---
Knit 10 ch.
Tejer 10 cad.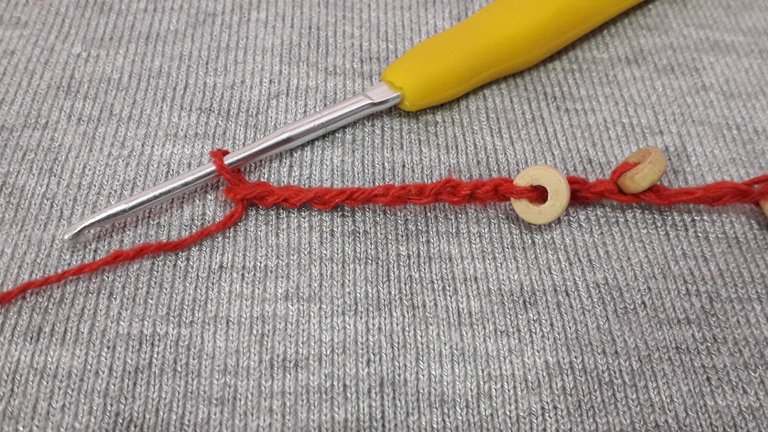 ---
Make a pd in the cad that embraces the last bead.
Hacer un pd en la cad que abraza la última cuenta.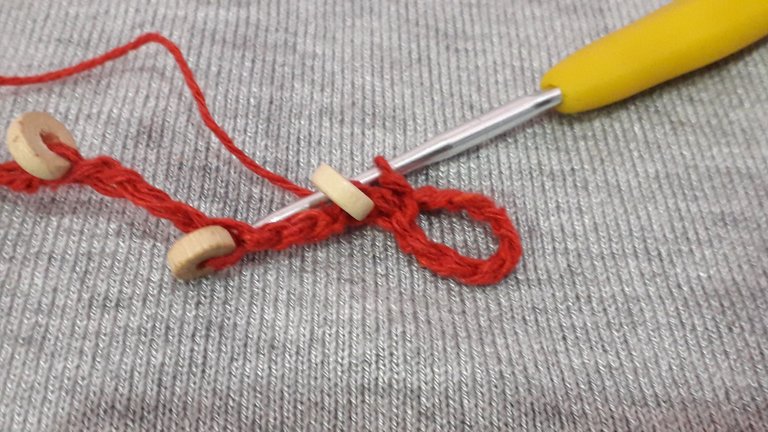 ---
Knit 15 sc in the ring that was formed.
Tejer 15 pb en el aro que se formó.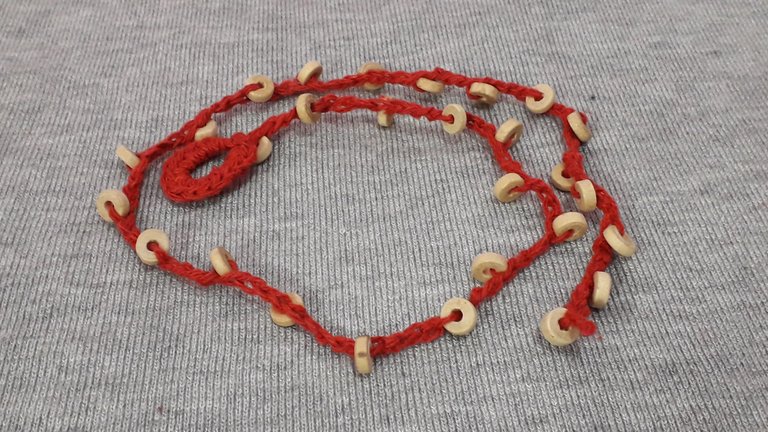 ---
Finally, glue a button on the end opposite to the hoop.
Finalmente pegar un botón en el extremo contrario al aro.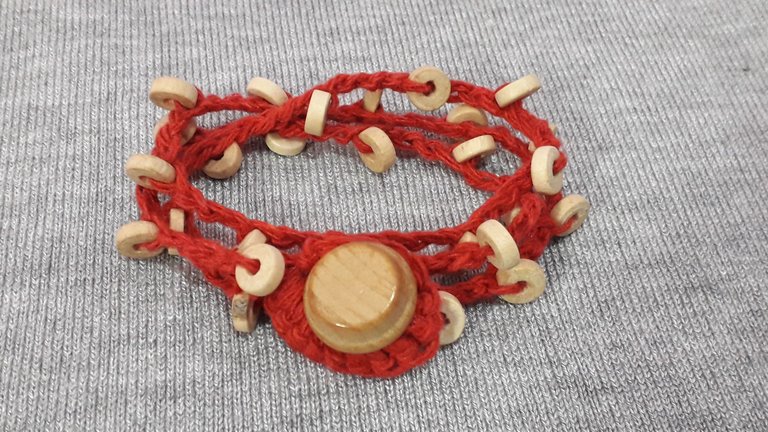 ---
Project completed / Proyecto completado
After completing the corresponding sequence, a beaded bracelet has been made, which can be worn with any outfit that matches the bracelet. This project is also an ideal option for gifts and can also be sold.
Luego de haber completado la secuencia correspondiente, se ha realizado una pulsera tejida con cuentas, la cual se puede lucir con cualquier outfit que haga juego con la pulsera. Este proyecto también es una opción ideal para obsequiar y también se pueden vender.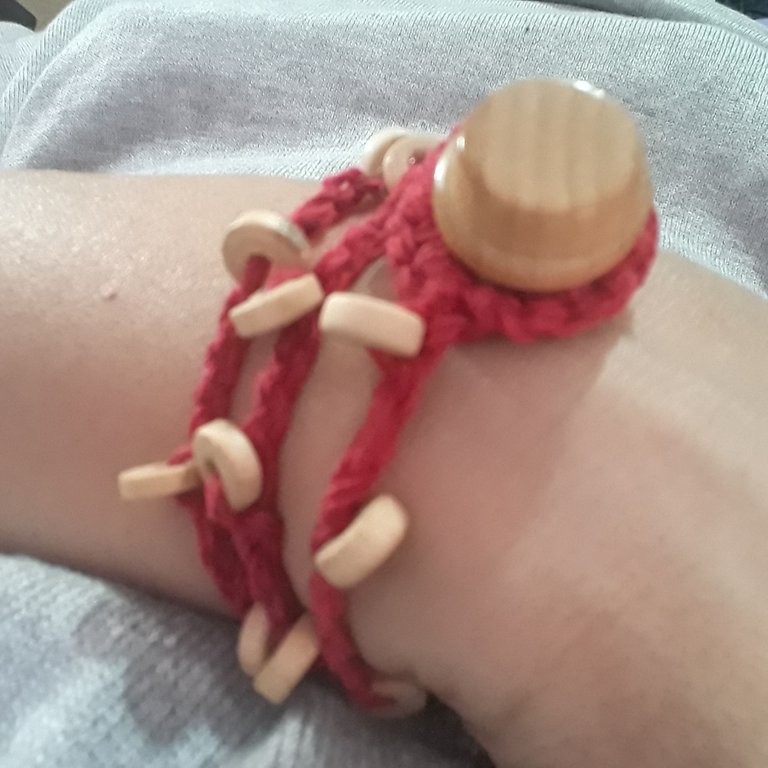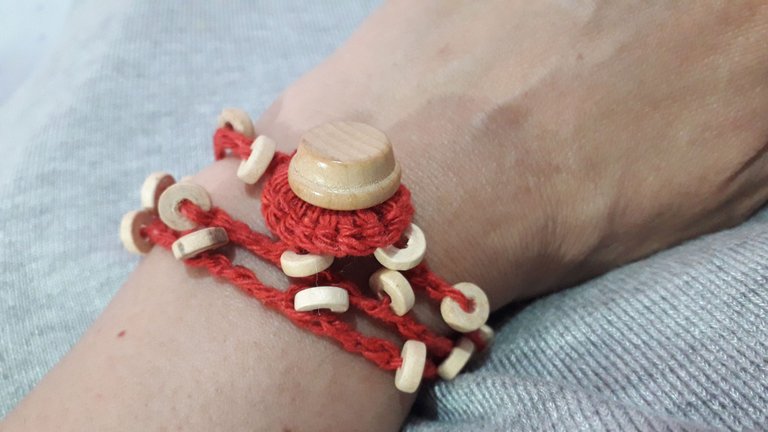 ---
Thank you for taking the time to read this publication. If there are any questions, please ask me in the comments section below.
Gracias por dedicar un espacio de su tiempo para leer la publicación. Si hay alguna pregunta, por favor pregúntame en la sección de comentarios a continuación.


Text and images: By @jicrochet
Texto e imágenes: Por @jicrochet