Hola amigos de hive ¿Cómo se encuentran?
Hello hive friends ¿how are you?
Hoy les mostraré un bralette que hice la semana pasada y que está muy fácil para aquellos que apenas estamos comenzando con la costura tengo que admitir que no me quedó del todo bien pero para eso estamos para aprender de los errores y tratar de explicarles para que no les pase lo mismo.
Today I will show you a bralette that I made last week and that is very easy for those of us who are just starting to sew, I have to admit that it did not fit me at all, but that is why we are here to learn from mistakes and try to explain them so that they do not the same thing happens to them.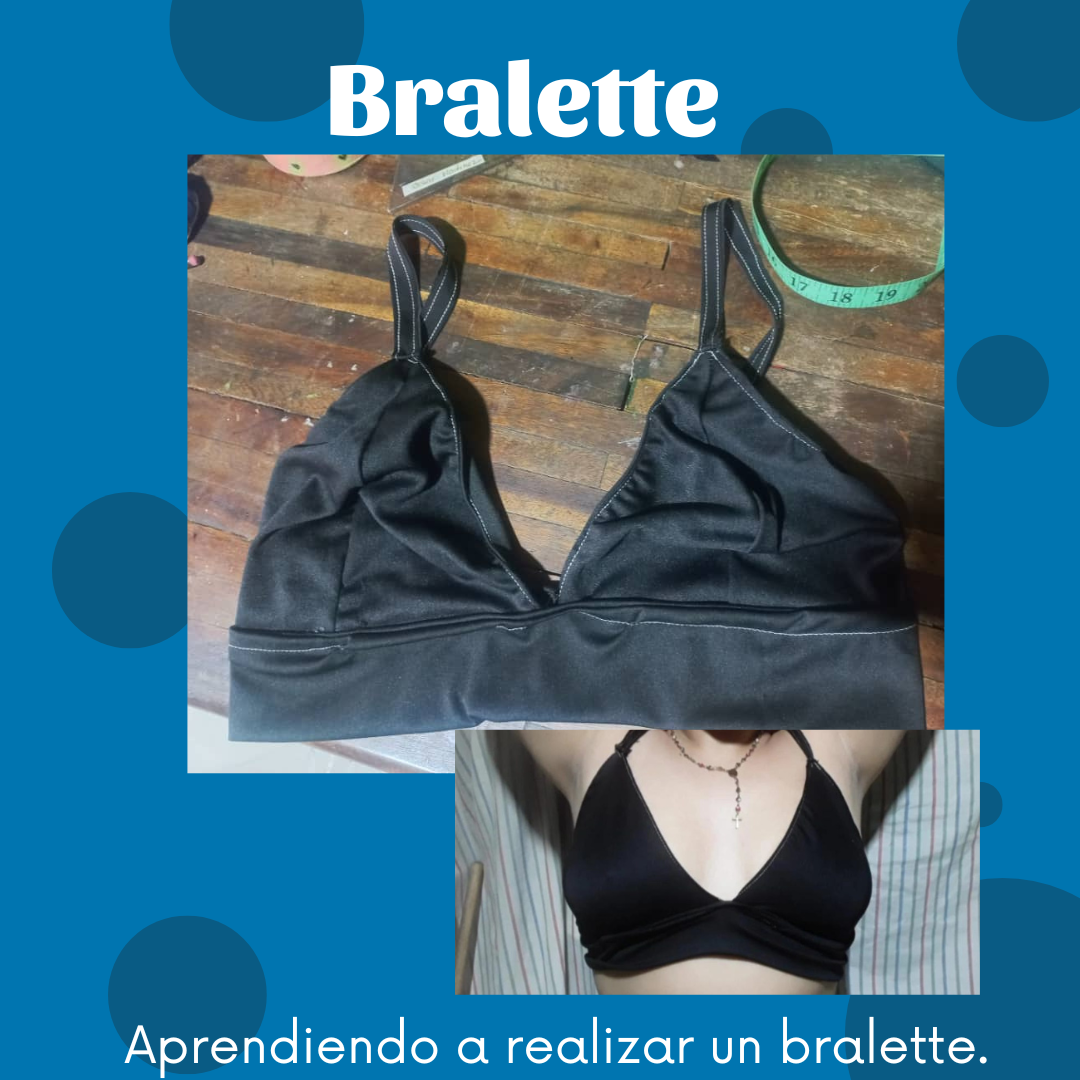 Creo que lo más importante es saber muy bien las medidas para poder realizar nuestro patrón, también debemos de tener en cuenta que si es una tela que estira debemos de quitarle el 10% al patrón ya que si no les pasara lo que me ocurrió a mi que me quedó grande.
I think that the most important thing is to know very well the measurements to be able to make our pattern, we must also take into account that if it is a fabric that stretches we must take 10% off the pattern, otherwise what happened to me would happen to my that was great.
Materiales a utilizar// Materials to use:
Tela.
Tijeras.
Hilo yo en este caso use el color que tenía puesto la maquina pero lo mejor es usar el color de la tela.
Elásticos.
Alfileres.
Fabric. -Scissors. -Thread in this case I used the color that the machine had on but it is best to use the color of the fabric. -Elastics. -pins.
---
---
Para comenzar debemos de hacer el patrón :
To start making the pattern:
El patrón es super fácil para comenzar debemos de medir desde la mitad de nuestro pecho hasta el pezón .
The pattern is super easy to start we must measure from the middle of our chest to the nipple.
A mi me da 9 cm esos 9 cm lo duplicaremos y haremos un cuadro.
It gives me 9 cm those 9 cm we will double it and we will make a painting.
Luego lo dividimos a la mitad ósea nos quedarían 4 cuadritos pequeños de 9x9.
Then we divide it in half, we would have 4 small 9x9 squares left.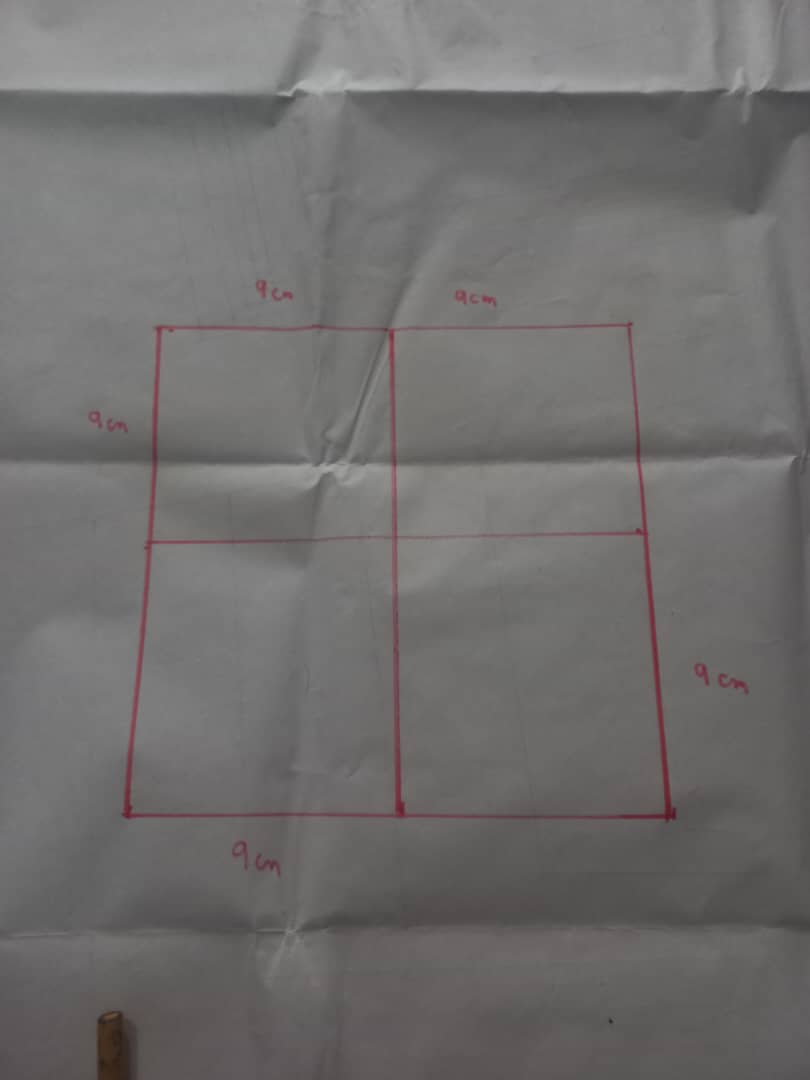 Después de esto con un compás y la medida que sacamos de 9 cm nos paramos a mitad del cuadrado y hacemos una circunferencia... yo la hice a mano alzada por que era solo para explicarles jajaja..
After this, with a compass and the measurement that we took of 9 cm, we stopped in the middle of the square and made a circle... I made it freehand because it was just to explain hahaha...
Aquí lo que hacemos es trazar esta línea y en el cuadro inferior derecho mediremos 2 cm hacia adentro y trazamos la semi curva.
Here what we do is draw this line and in the lower right box we will measure 2 cm inwards and draw the semi curve.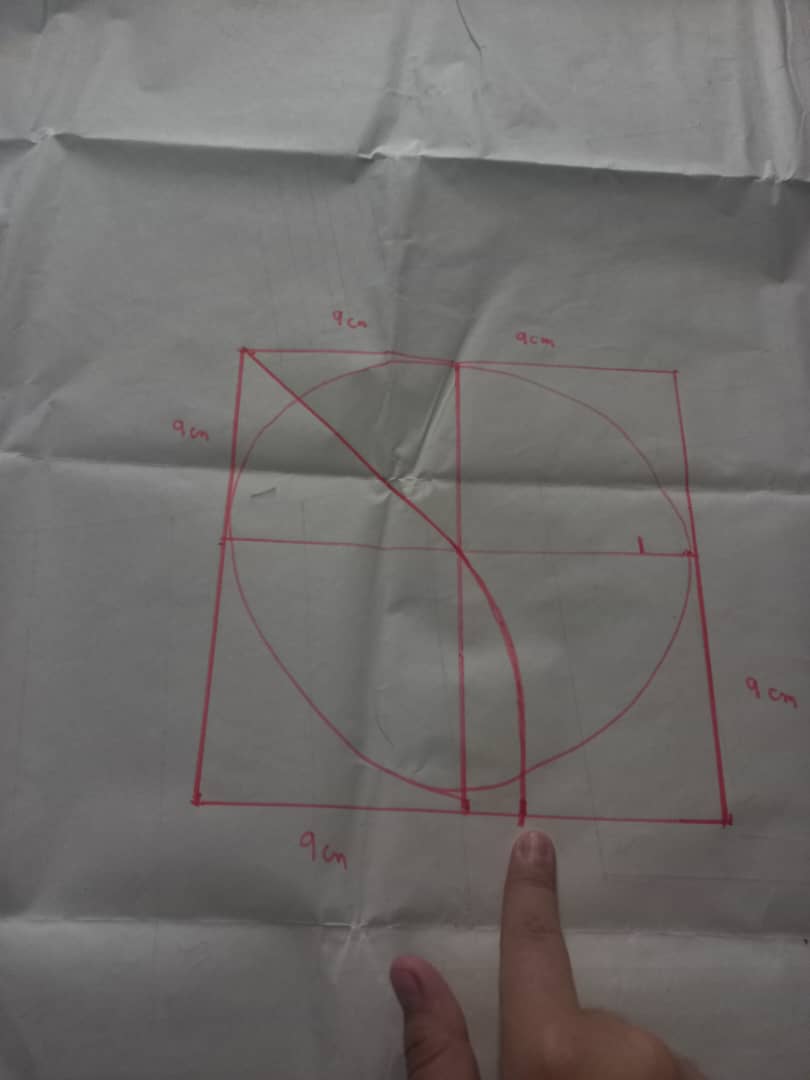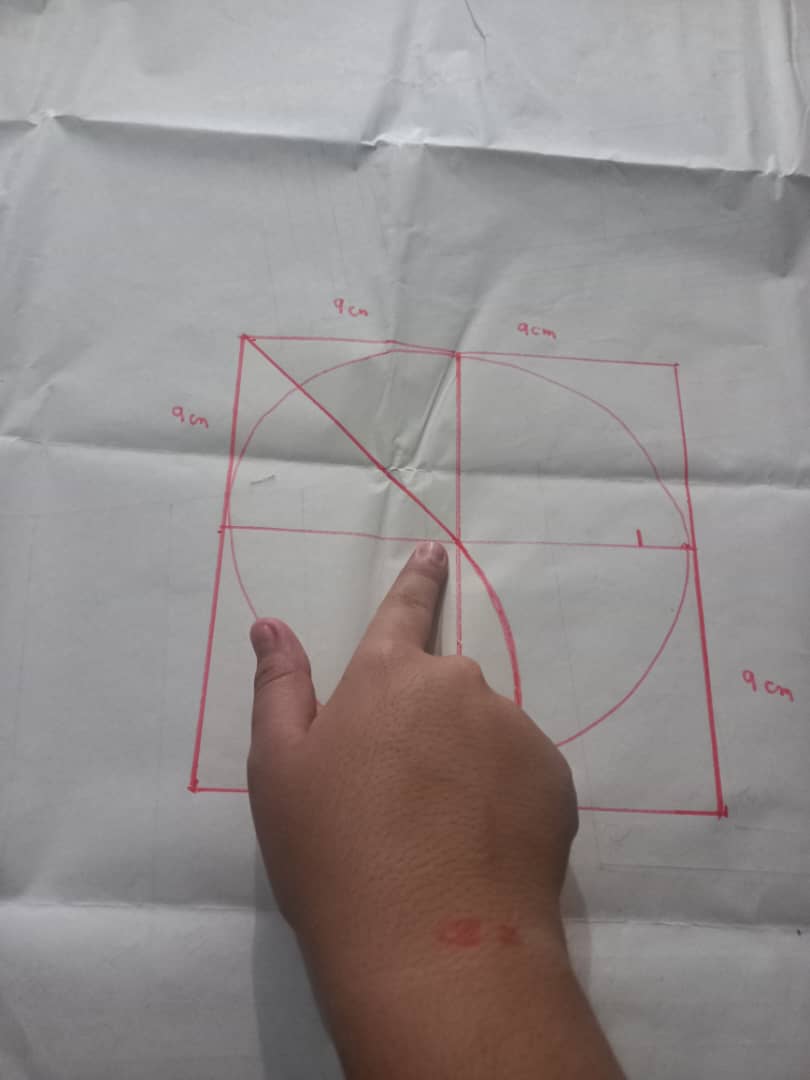 Y listo recortamos nuestro patrón, debemos de tener en cuenta 2 cosas el patrón lo usaremos tanto para la parte de adentro del busto como la de afuera es por eso que al patrón en la parte inferior medimos 1 cm hacia dentro y trazamos esta línea diagonal:
And ready we cut our pattern, we must take into account 2 things we will use the pattern for both the inside of the bust and the outside that is why we measure the pattern at the bottom 1 cm inwards and draw this diagonal line: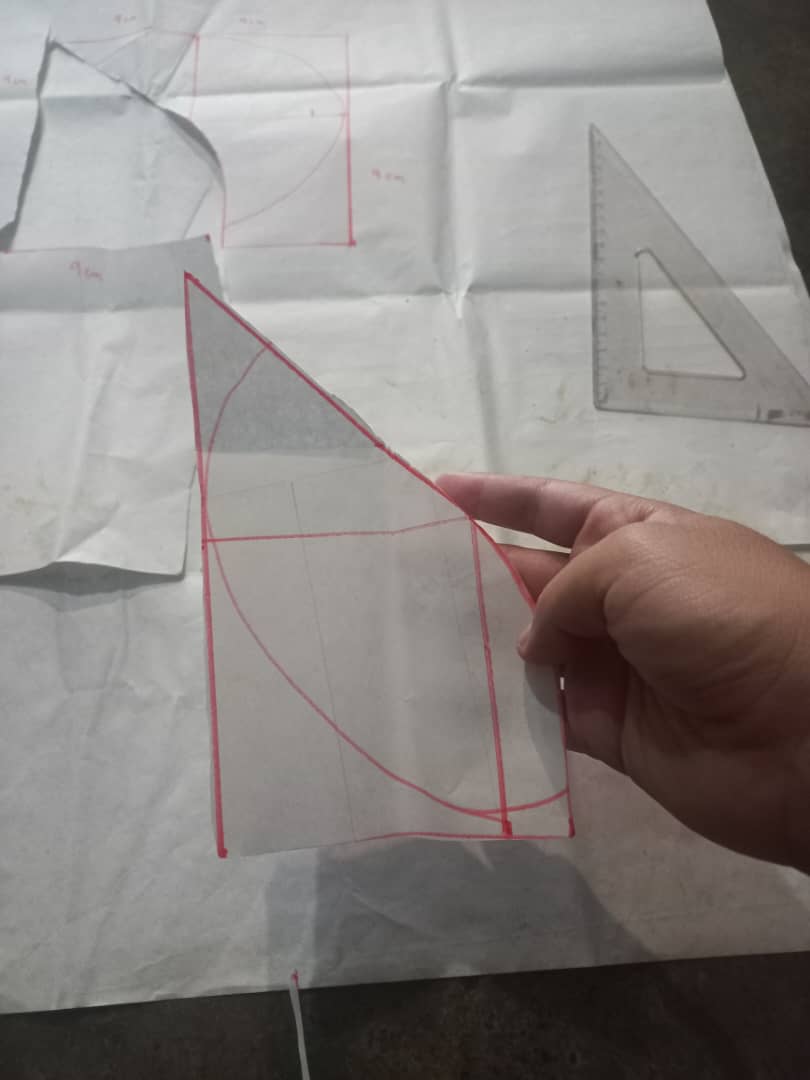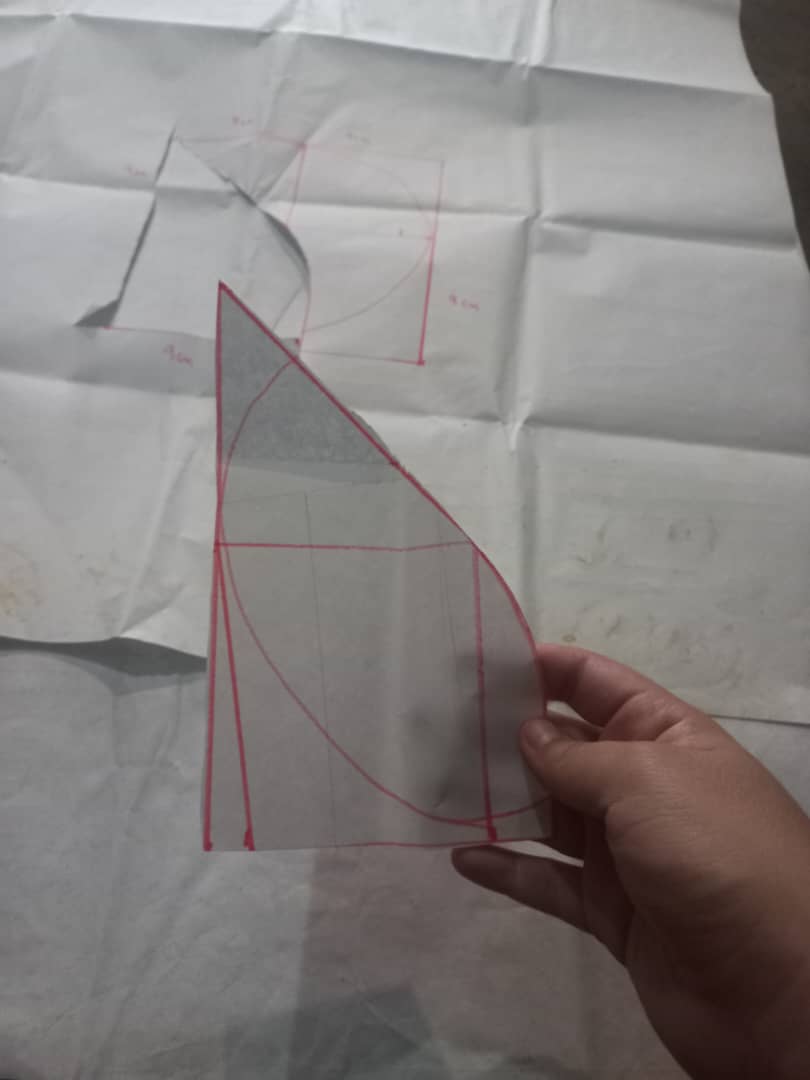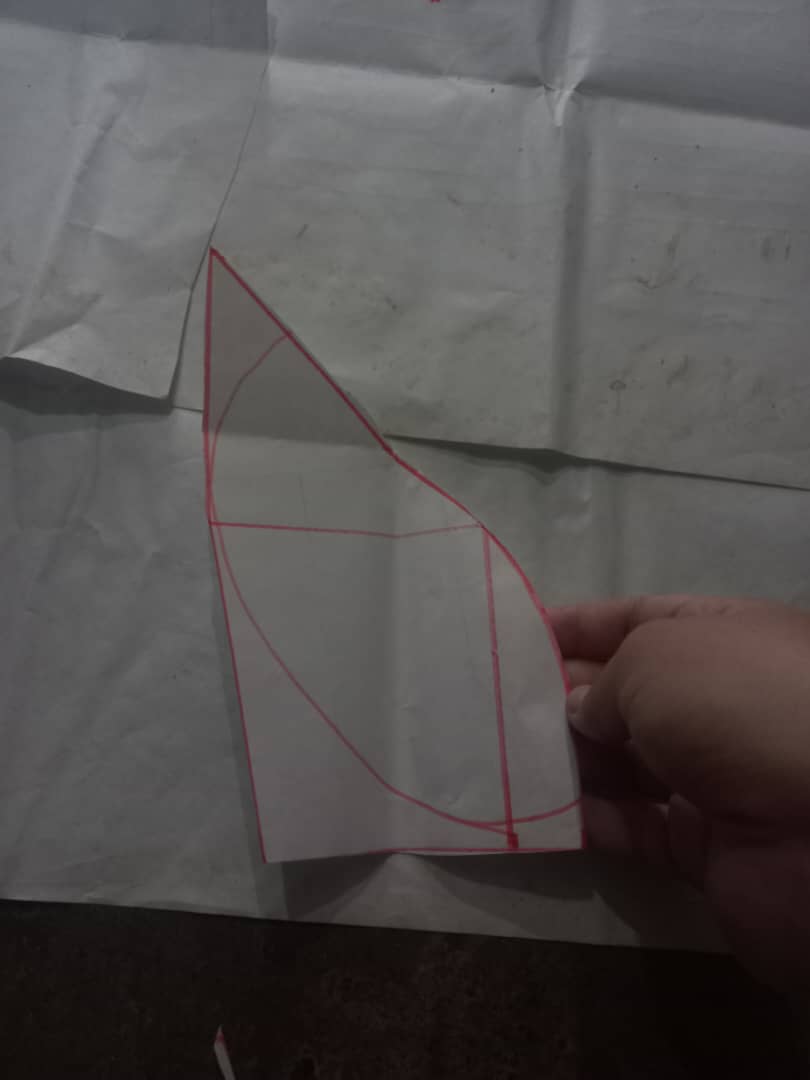 Ya tenemos nuestro patrón cabe aclarar que cuando no está doblada es para la parte de afuera del busto y cuando lo doblamos es para la parte de adentro del busto.
We already have our pattern, it should be clarified that when it is not folded it is for the outside of the bust and when we fold it it is for the inside of the bust.
---

Luego de haber tenido listo el patrón colocamos encima sin doblar nuestro patrón en la tela y lo recortamos dos veces.
After having the pattern ready, we place our pattern on the fabric on top without folding it and cut it twice.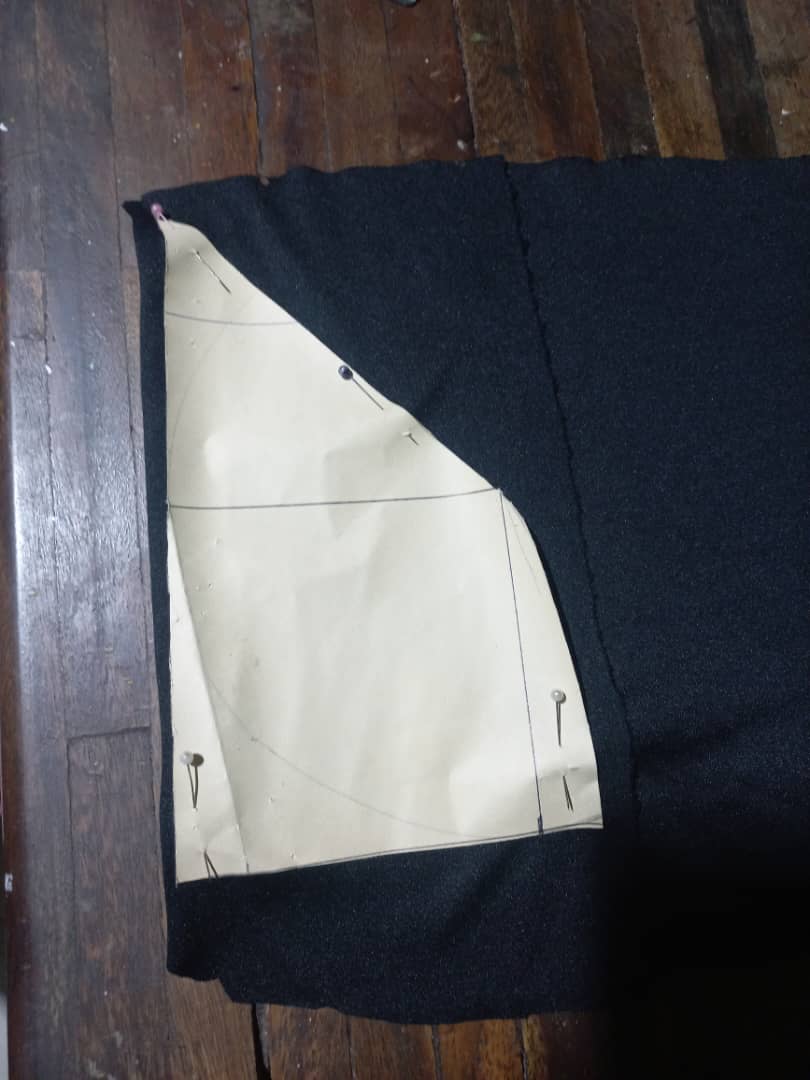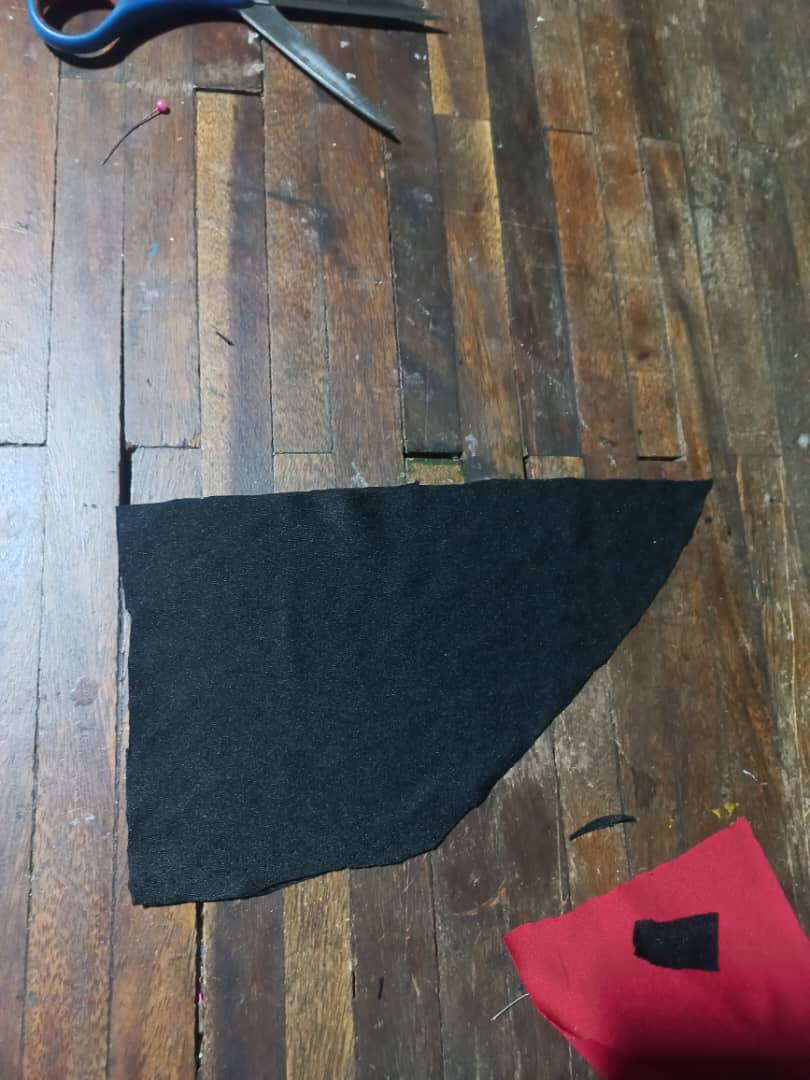 Y lo hacemos nuevamente dos veces pero doblando el patrón de esta forma:
And we do it again twice but folding the pattern like this: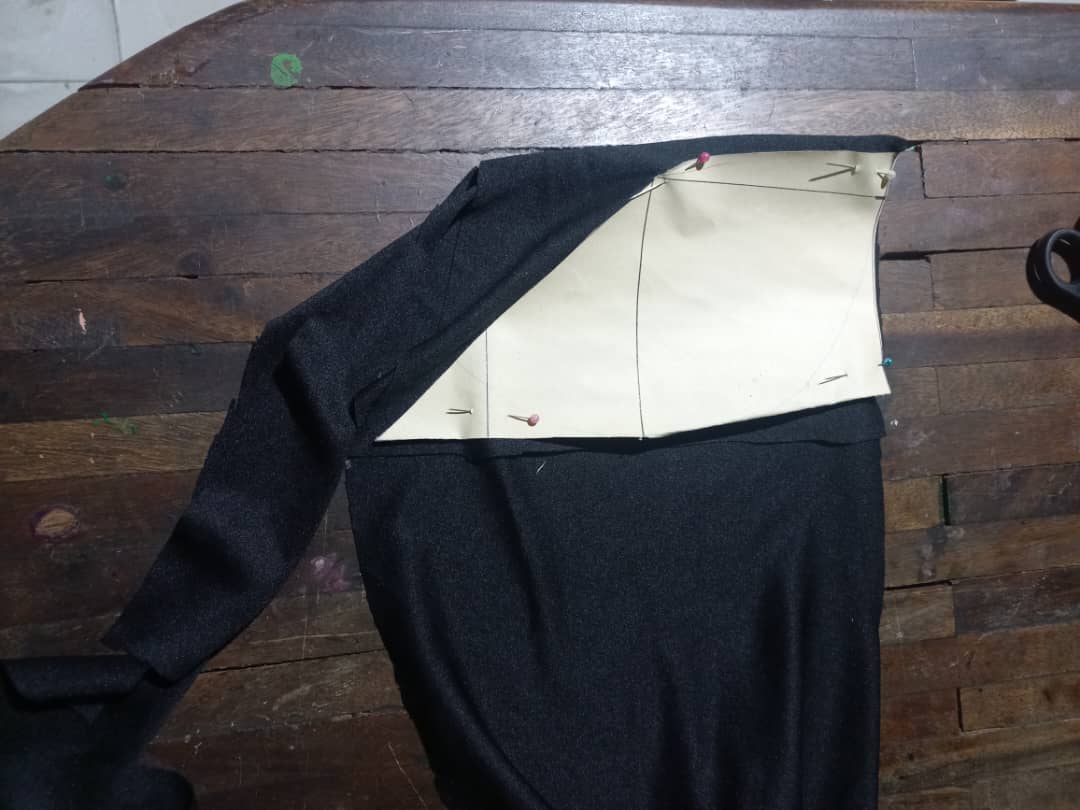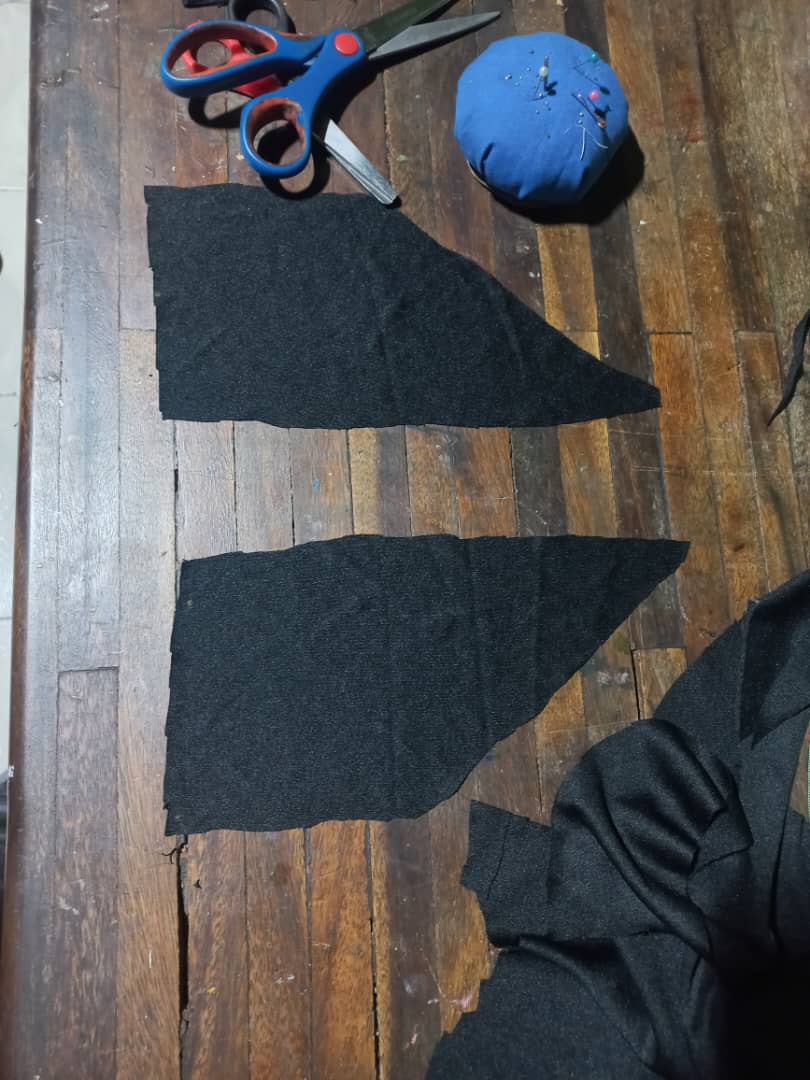 Luego de obtener nuestras dos piezas las debemos de coser por toda la orilla por donde estoy colocando mi dedo.
After obtaining our two pieces we must sew them along the edge where I am placing my finger.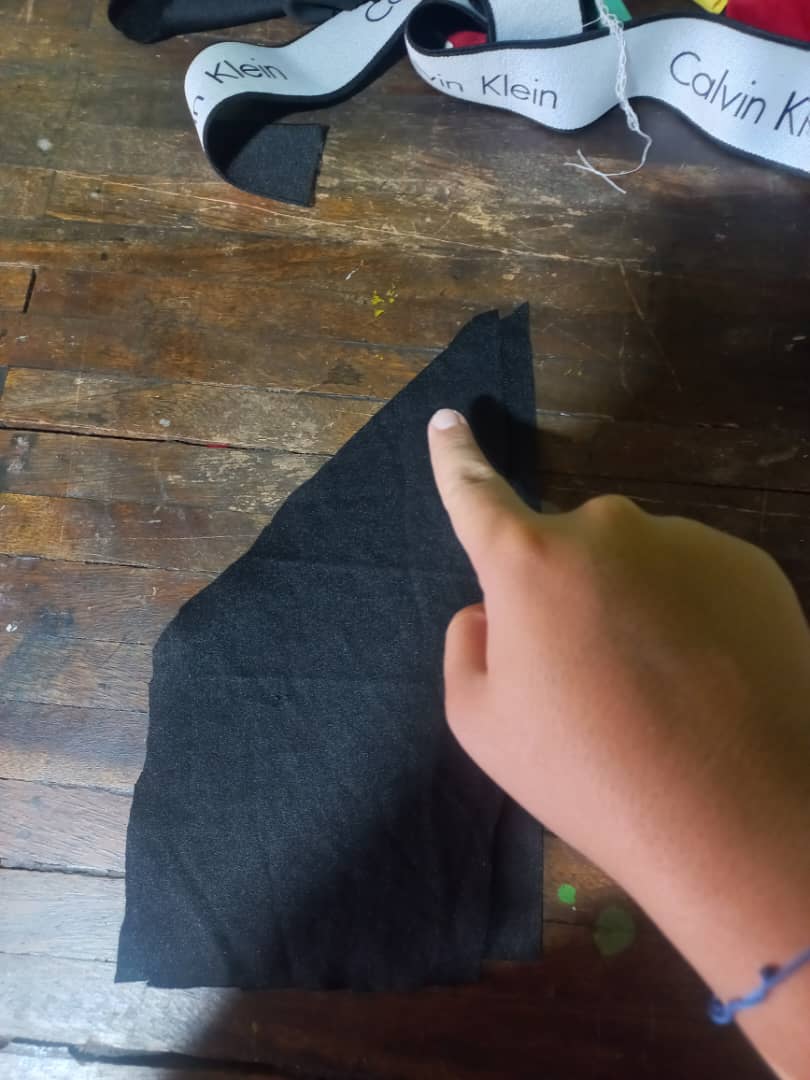 Nos quedaría algo así después de coser: Ojo se debe de coser en zic zac o con una overlock por que les puede pasar como a mi que como la cosí con costura sencilla al momento de colocarmelo se rompió la costura.
We would have something like this after sewing: Be careful, it should be sewn in zic zac or with an overlock because it can happen to me like I sewed it with a simple seam when I put it on, the seam broke.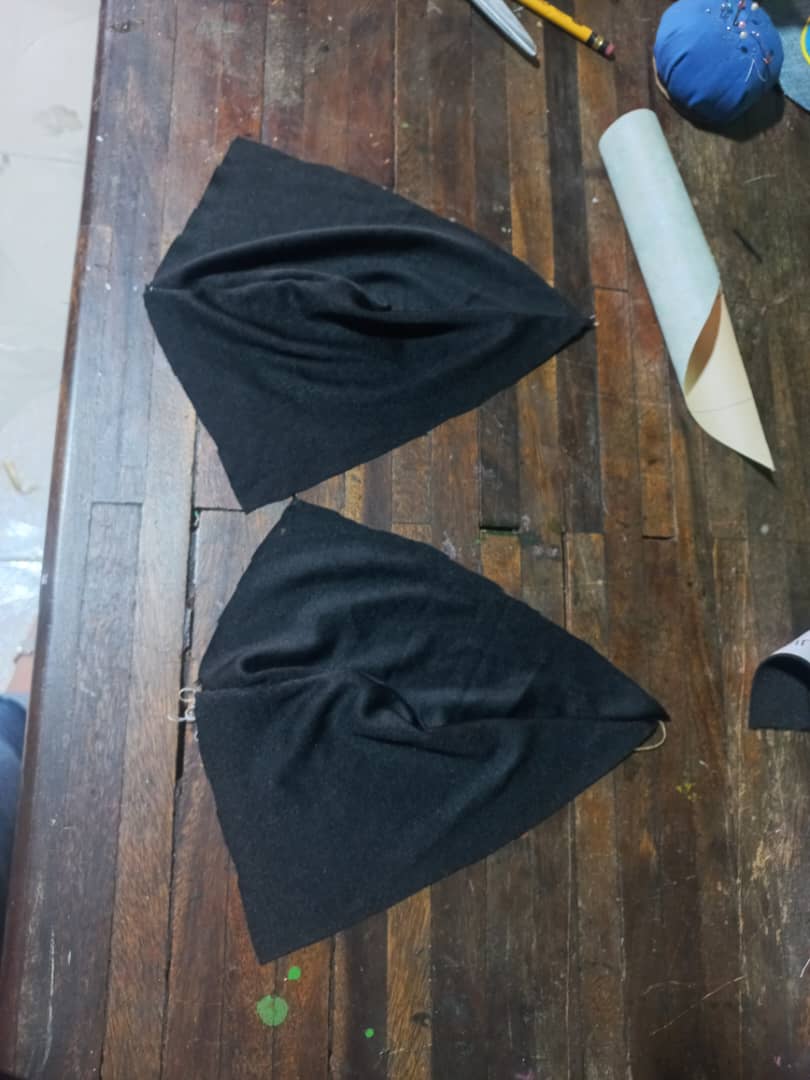 Después de obtener nuestras dos piezas como estoy utilizando una tela sin ningún decorativo como lo es este tipo de bralette:
After obtaining our two pieces, I am using a fabric without any decoration, such as this type of bralette: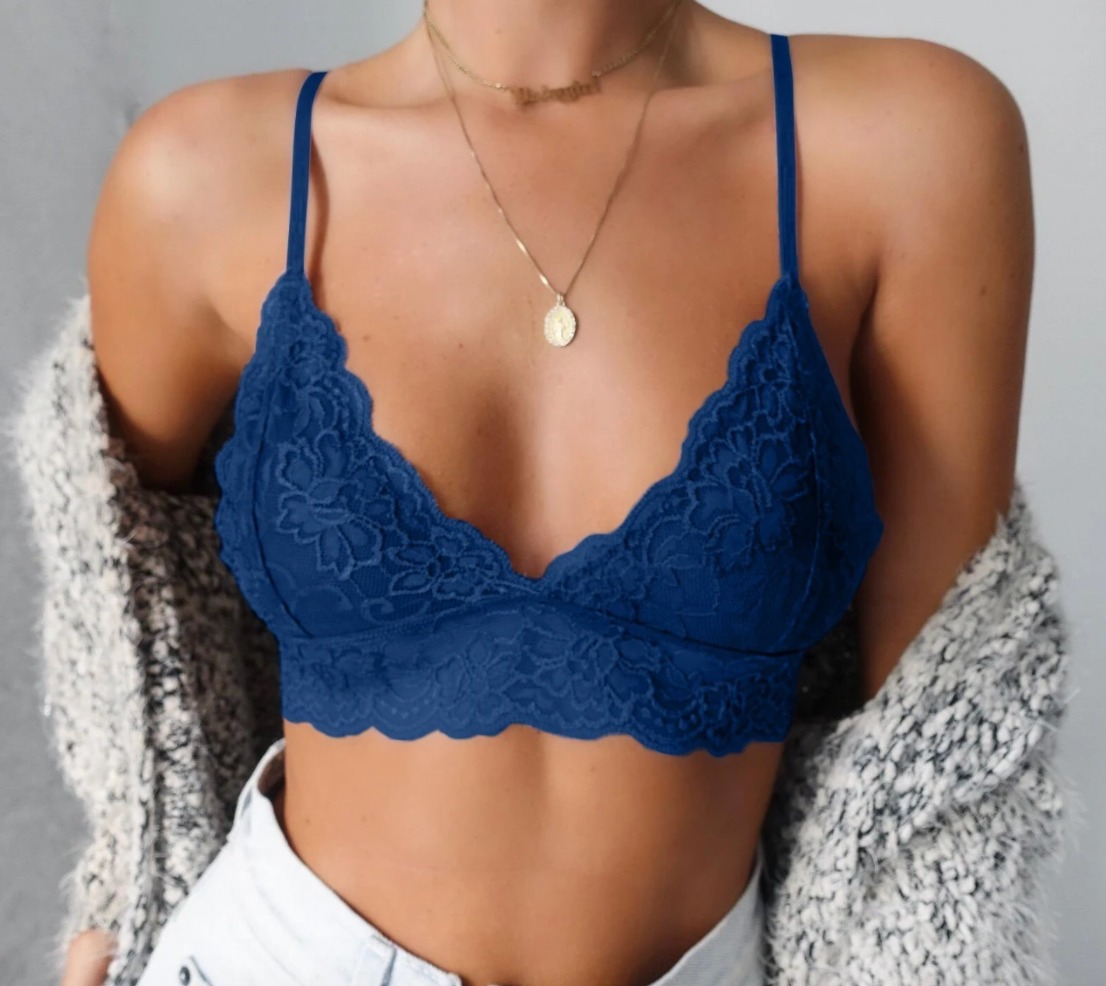 Tuve que hacerle un sesgo por toda la orilla de manera que no quedará sin forma, aunque es mejor solo hacerlo un poco más grande, doblar hacia dentro y coser.
I had to bias it all the way around the edge so it won't be out of shape, although it's better to just make it a bit bigger, fold in and sew.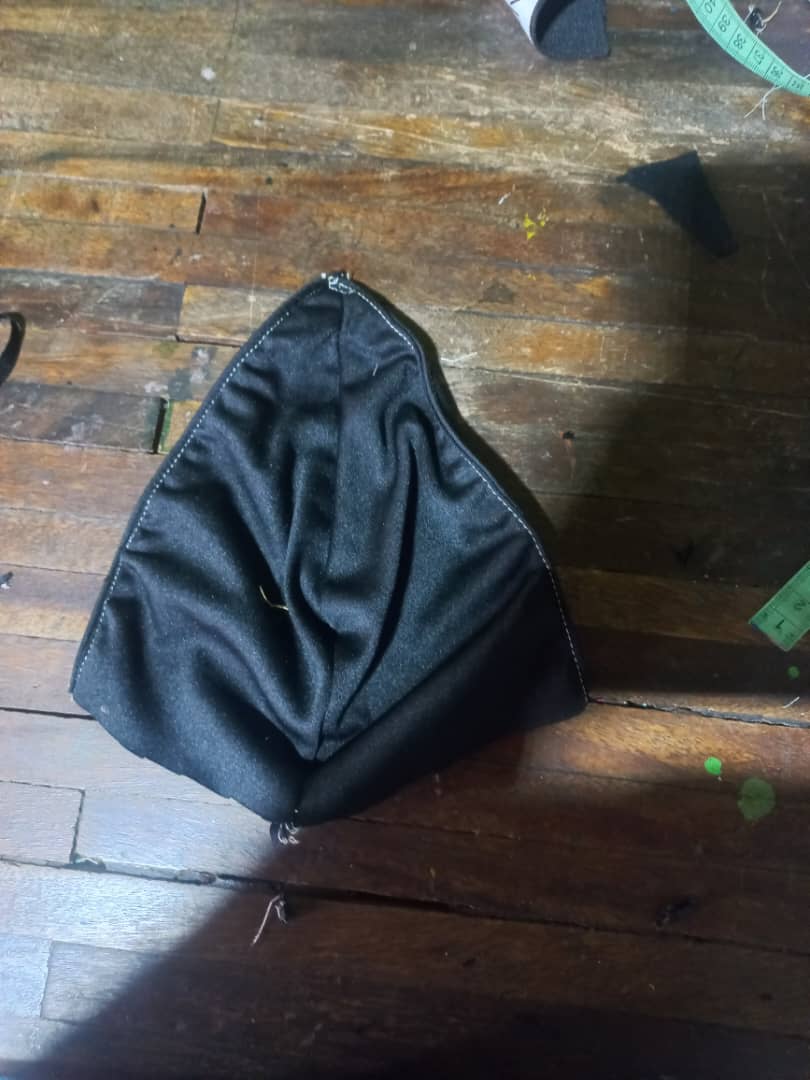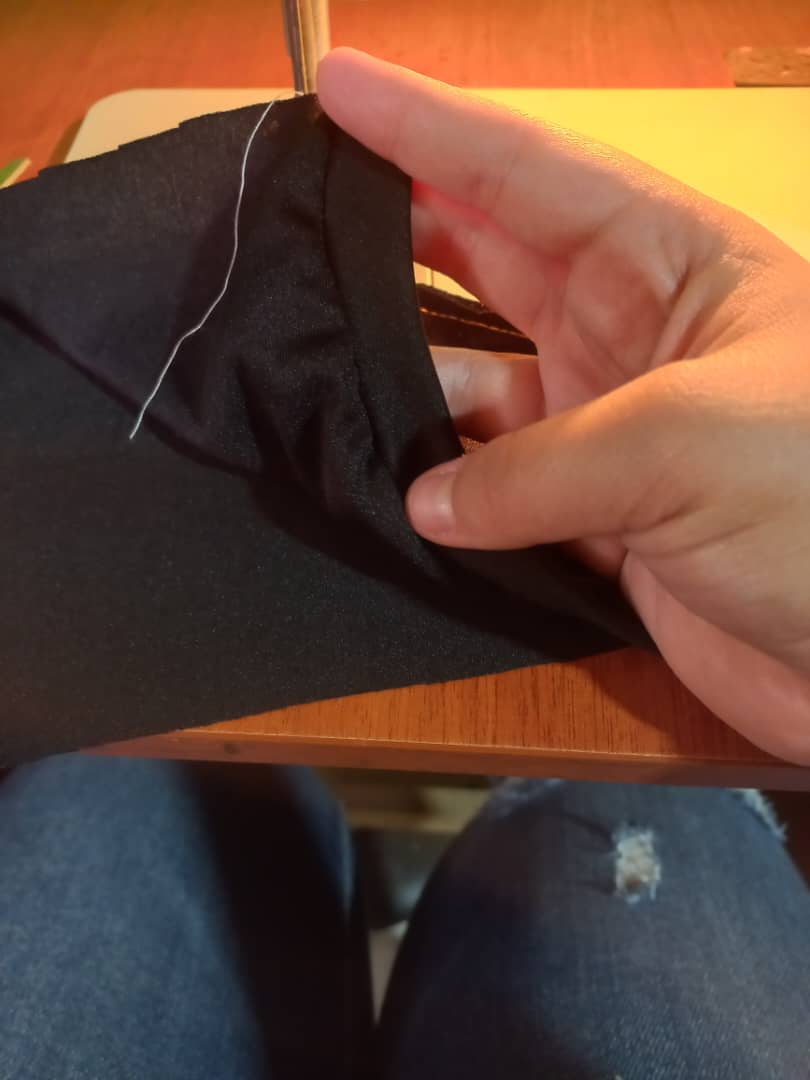 Luego de realizarle el sesgo tenemos que hacer la parte inferior de nuestro bralette para esta tenemos que medir debajo de nuestro busto por todo el cuerpo y como mi tela estira le quito el 10% a la medida que me da, para el ancho utilice 14 cm y lo doble a la mitad.
After making the bias we have to make the lower part of our bralette for this we have to measure under our bust all over the body and as my fabric stretches I take 10% off the measure it gives me, for the width I used 14 cm and fold it in half.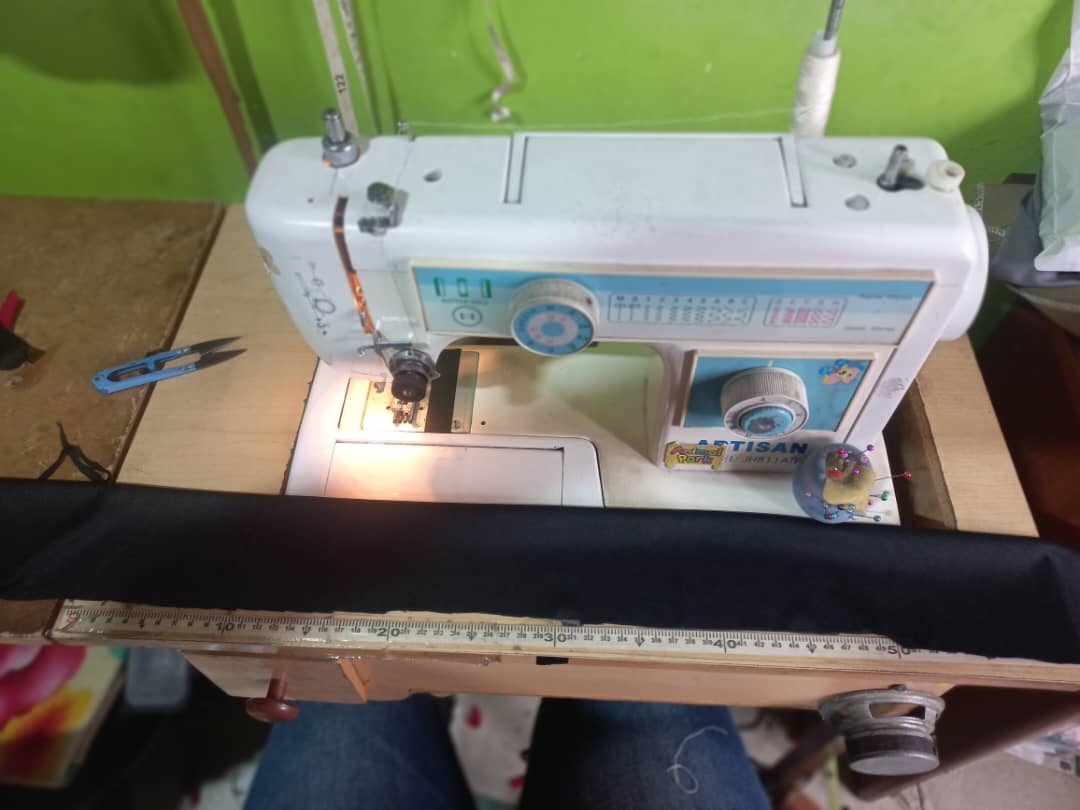 Como lo dije anteriormente lo doble a la mitad mirando frente con frente de la tela y con la overlock cosemos por toda la orilla.
As I said before, fold it in half looking front to front of the fabric and with the overlock we sew along the entire edge.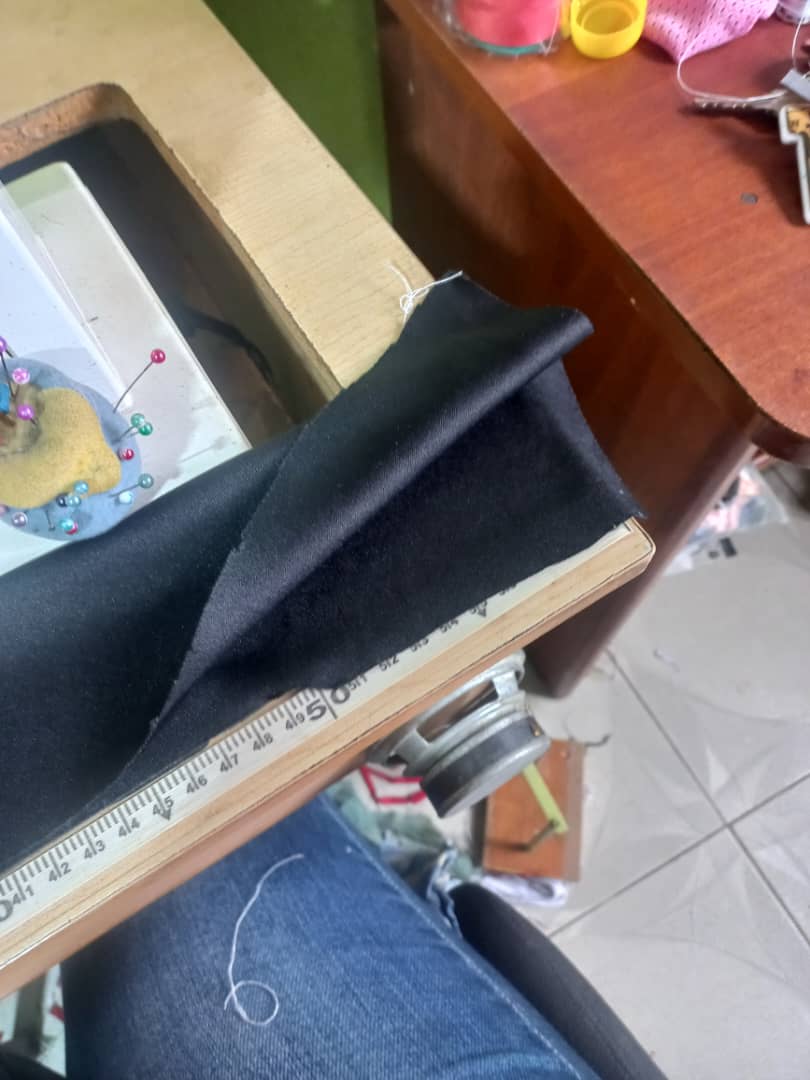 Con ayuda de un palito o un ganchito saco la parte de frente de la tela hacia afuera con el fin de que no se vea la costura que anteriormente hemos realizado.
With the help of a stick or a hook, I take the front part of the fabric out so that the seam that we have previously made is not visible.
Luego de esto debemos de unir la parte inferior con las dos partes superiores y para hacer esto primero con alfileres debemos de unirlas, para saber si nos queda bien no las probamos y vamos perfeccionando.
After this we must unite the lower part with the two upper parts and to do this first with pins we must unite them, to know if it fits us well we do not try them and we perfect them.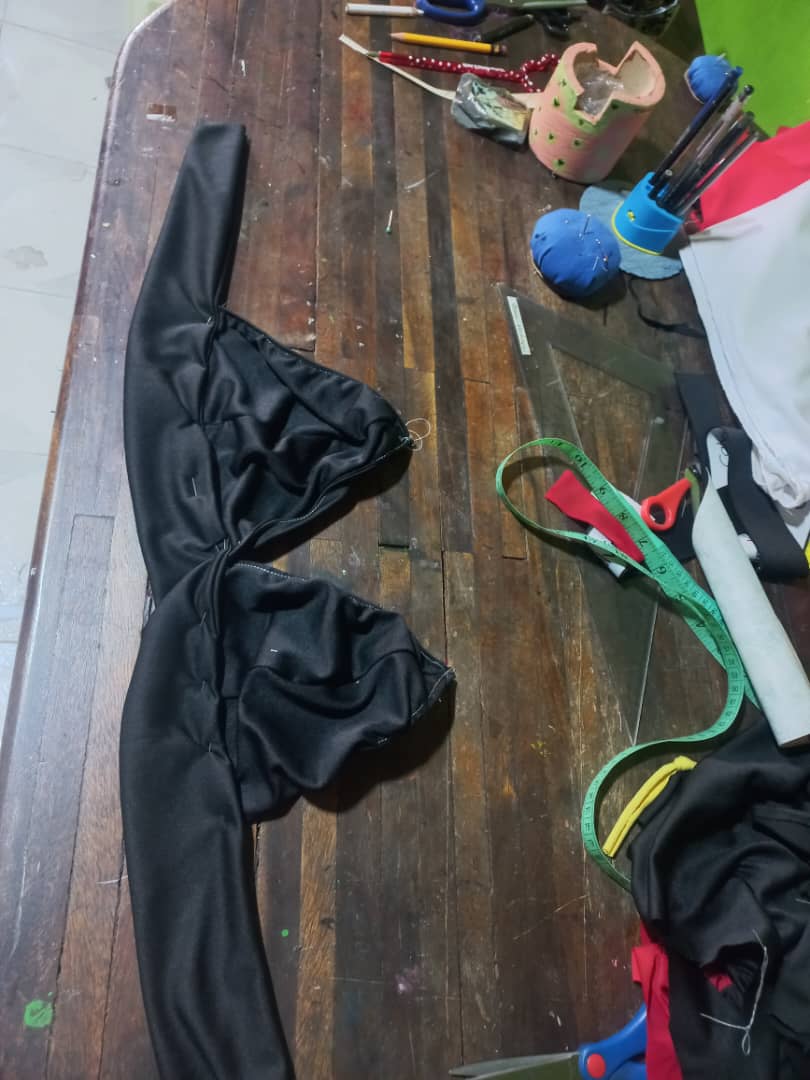 Lo debemos de coser por toda la orilla y este será el resultado:
We must sew it all over the edge and this will be the result: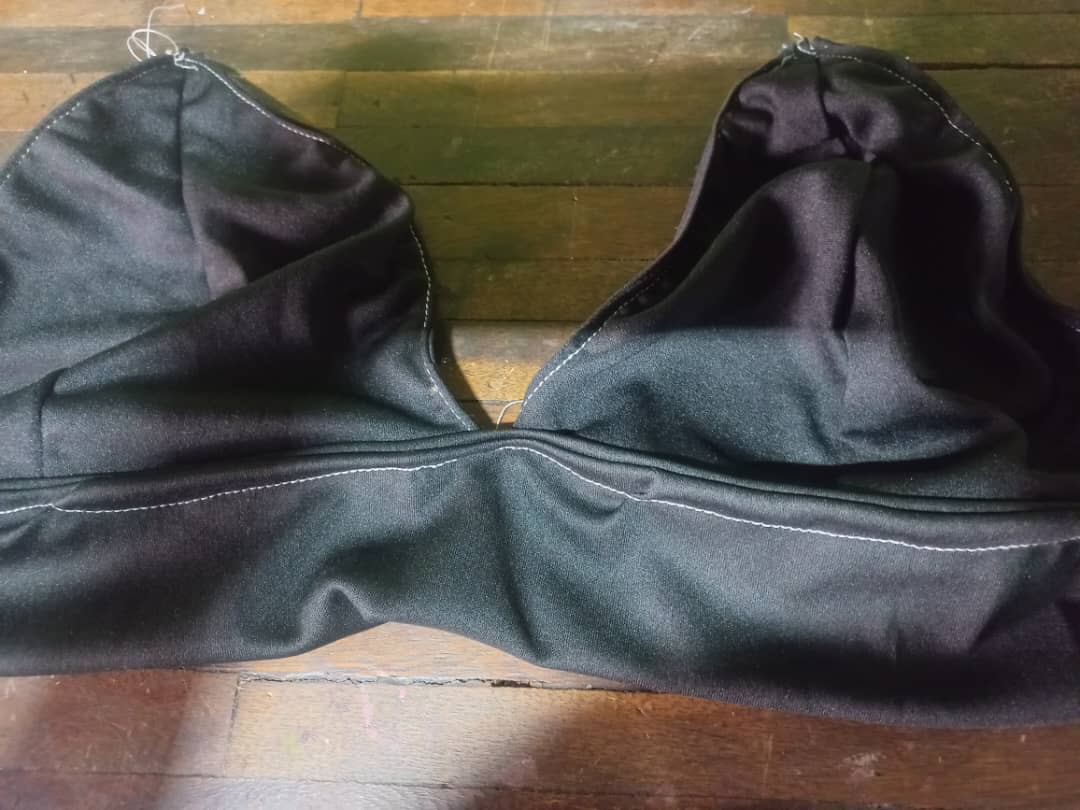 No los probamos nuevamente y vemos que todo esté bien, cosemos la parte de atrás de nuestro bralette por dentro para que no se vea la costura. También puedes usar los ganchos que se utilizan para los sujetadores.
We don't try them again and see if everything is ok, we sew the back of our bralette inside so the seam doesn't show. You can also use the hooks that are used for fasteners.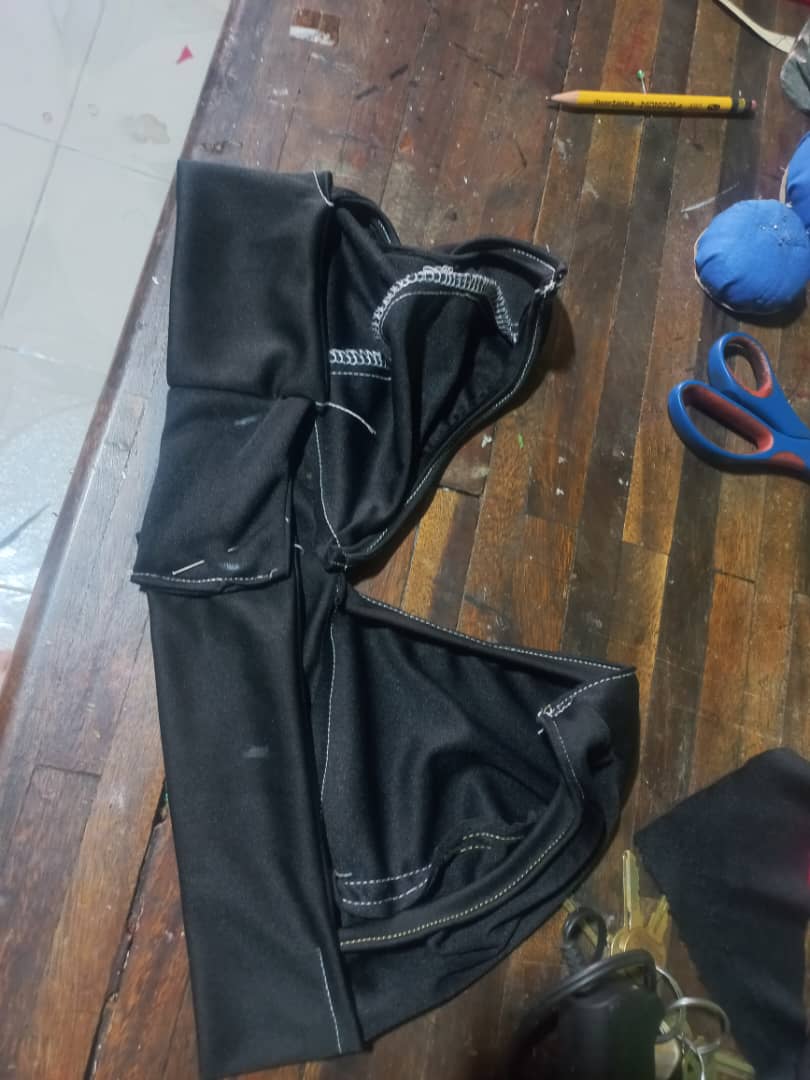 Para los tirantes lo que debemos hacer es probárselo de nuevo y colocar las tiras desde la punta del bralette hasta la parte de atrás, como la tela estira mi recomendación es quitarle el 10% a la medida que de.
For the straps, what we have to do is try it on again and place the straps from the tip of the bralette to the back, he emphasized how the fabric stretches, my recommendation is to remove 10% from the measure it gives.
Luego para coser fijamos primero donde queremos nuestros tirantes en la parte de atrás, yo lo que hice fue buscar el centro del bralette y de ahí medí 6 cm a la derecha, 6 cm a la izquierda y ahí coloque las tiras con alfileres.
Then to sew we first set where we want our straps in the back, what I did was find the center of the bralette and from there I measured 6 cm to the right, 6 cm to the left and there I pinned the straps.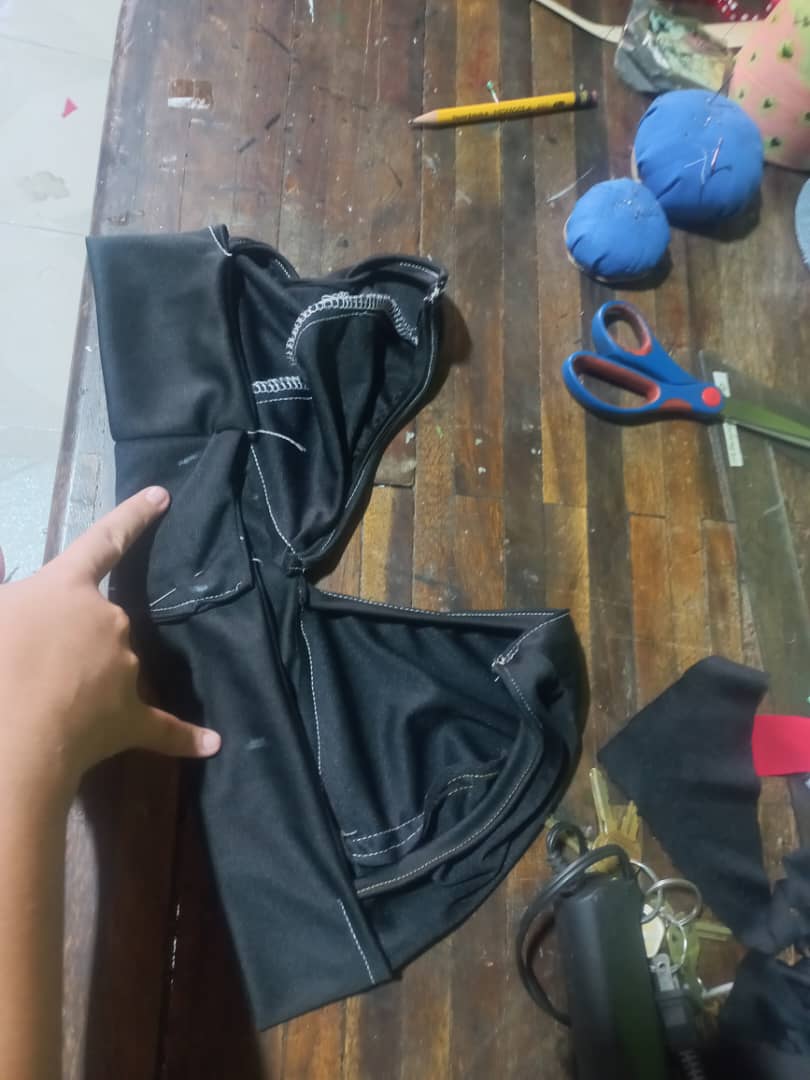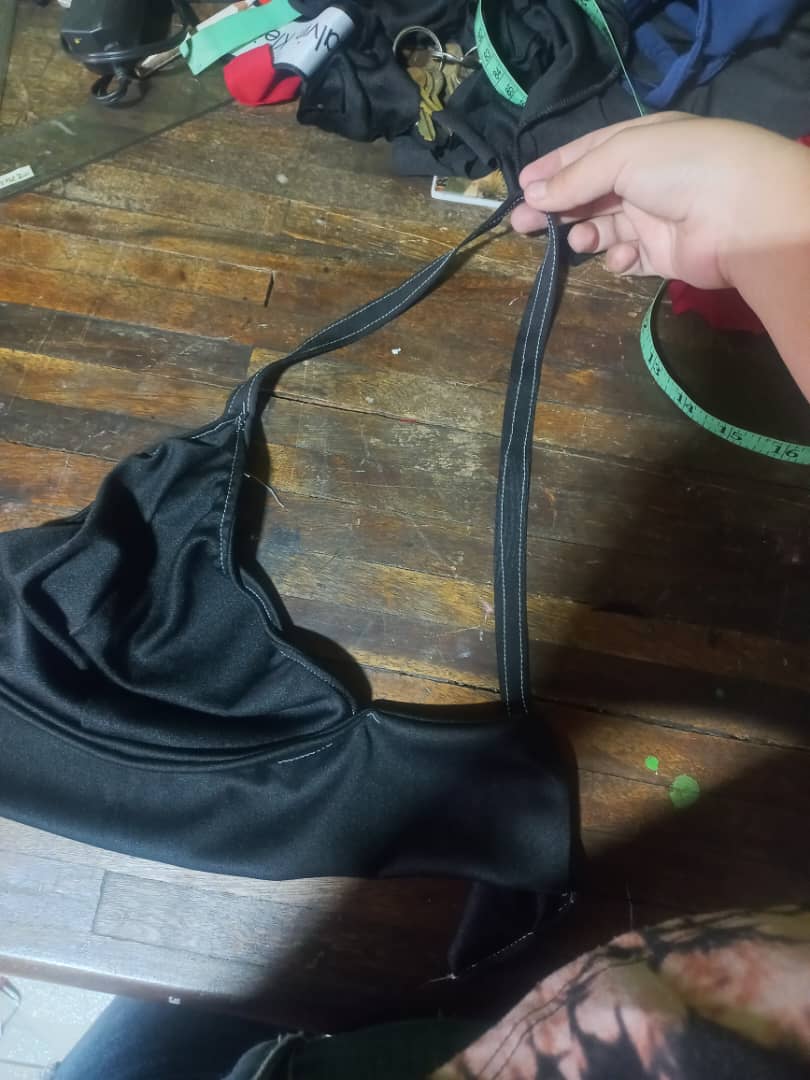 Para coser nuestros tirantes con una costura sencilla cosemos hacia adelante y hacia atrás varias veces hasta ver que quede totalmente sujeto.
To sew our straps with a simple seam, we sew forwards and backwards several times until we see that it is completely attached.


Y listo tenemos un nuevo bralette también puedes agregarles más tirantes o lo puedes hacer más largo te aseguro que se veria genial es cuestión de imaginación.
And ready we have a new bralette you can also add more straps or you can make it longer I assure you it would look great it's a matter of imagination.
Este es el resultado de esta práctica que hice tuve muchos errores que para el próximo que haga acomodare hasta llegar perfección o bueno hasta donde me sienta satisfecha.
This is the result of this practice that I did, I had many errors that for the next one I will adjust until I reach perfection or well, as far as I feel satisfied.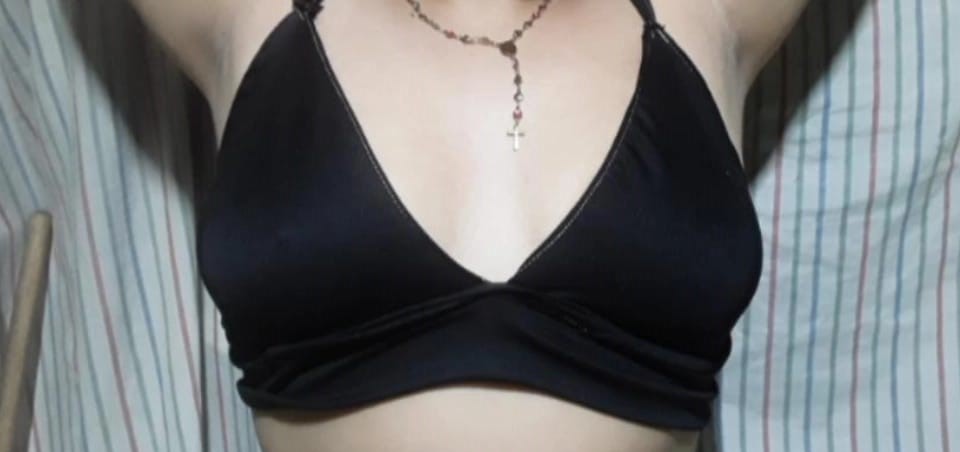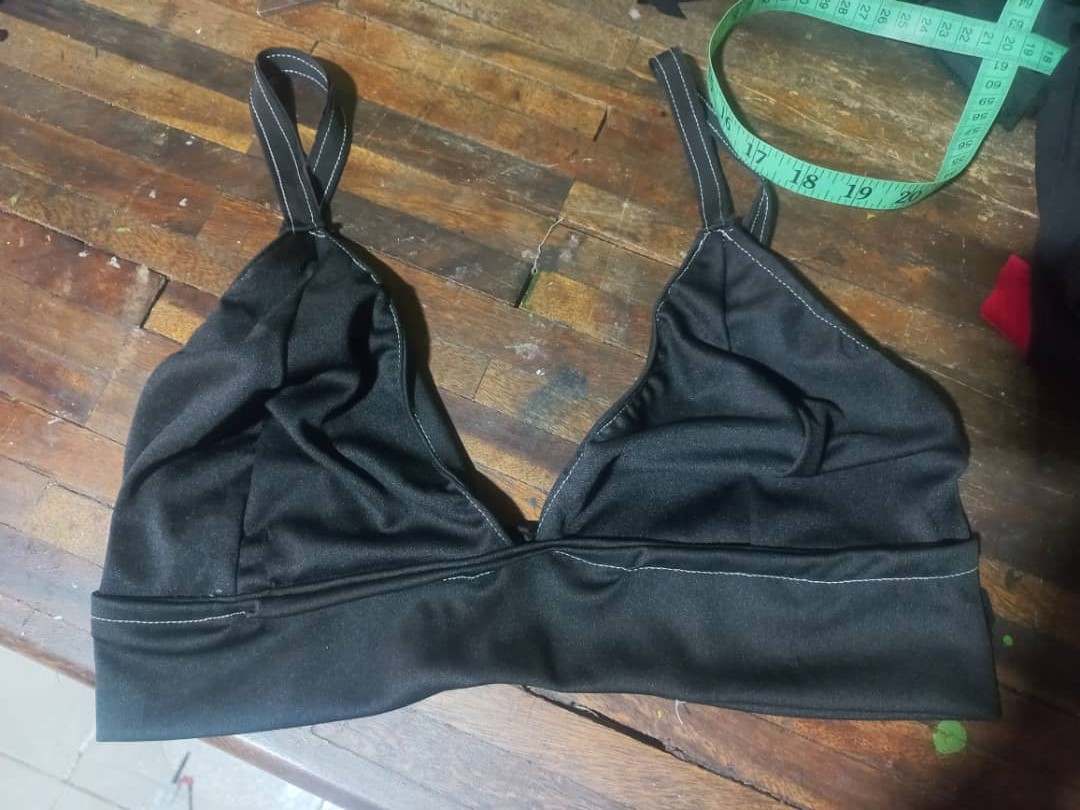 Espero les guste y lo puedan hacer en casa amigos gracias por estar aquí enseñándome y apoyando. Besos y abrazos desde la distancia💙.
I hope you like it and you can do it at home, friends, thanks for being here teaching me and supporting me. Kisses and hugs from a distance💙.

Todas las fotos fueron tomadas por mi persona//All photos were taken by me.
La presentación y el separador lo hice en canva//I did the presentation and the separator in canva.