Suky by Adrienne Fong
Ich muss gestehen, im Moment ist mir nicht sehr nach Stricken: Es hat gedauert diesen Socken fertig zu bekommen. Gut, das mag auch daran liegen, dass es Garn mit hohem Merinoanteil ist. Das macht das schön kuschelig, aber auch sehr warm beim Stricken. Nichts, womit man im Sommer arbeiten möchte.
I have to admit that I don't feel much like knitting at the moment: it took me a while to get this sock finished. Well, that may also be because it's yarn with a high merino content. That makes it nice and cozy, but also very warm while knitting. Nothing to work with in summer.
Aber hier ist er, der Socken nach der letzten Anleitung der verstorbenen Adrienne Fong. Der Engel im Muster ist nicht mehr ganz so gut zu erkennen, aber mir gefällt die Anleitung sehr. Ich will ja dieses Jahr noch einige fingerlose Handschuhe nach Sockenanleitungen stricken - schau'n mer mal ;)
But here it is, the sock after the last pattern of the late Adrienne Fong. The angel in the pattern is not so easy to recognize, but I like the pattern very much. This year I plan to knit some fingerless gloves following sock patterns - let's wait and see ;)
Sommergarn / Yarn for the Summer
Ja, Merino ist nicht das Material für den Sommer. Gut, Kaschmir oder Mohair wäre noch schlimmer, aber das habe ich ja gar nicht, denn ich bin allergisch gegen Ziegenhaar. Schönes Garn für den Sommer ist Baumwolle, oder auch Leinen, Hanf oder Seide, aber das ist wesentlich teurer. Ich habe mir natürlich, weil ich ja gaaar nichts aus Baumwolle habe, neues Garn zugelegt. Zu meiner Entschuldigung muss ich sagen, es war sehr reduziert.
Yes, merino is not the best material for the summer. Well, cashmere or mohair would be even worse, but I have nothing of that in my stash because I'm allergic to goat hair. Nice yarn for the summer is cotton, or linen, hemp or silk, but that's much more expensive. Of course I bought new yarn recently, because I have nothing made of cotton. Well, nearly nothing...To my excuse: the price was quite low.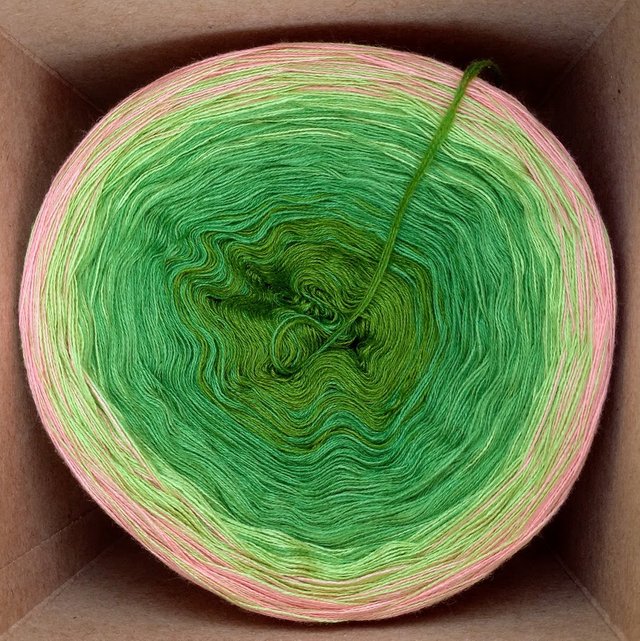 Man sieht den üblichen langsamen Farbverlauf dieser Bobbel. Es ist ein vierfädiges Garn, die aber nicht wie bei Sockengarn fest miteinander verdreht sind, sondern lose nebeneinander herlaufen. Der Farbverlauf entsteht dadurch, dass erst eins von diesen vier Einzelfäden durch einen andersfarbigen ersetzt wird, dann nach einiger Zeit der zweite und so weiter - dadurch entstehen schöne Schattierungen und weiche Farbverläufe. Es ist auch ein großes Knäuel, 250g mit einem Kilometer Lauflänge. Daraus wird wohl ein Tuch werden, was für eines weiß ich noch nicht genau, und vermutlich gehäkelt, denn ich habe in letzter Zeit nur gestrickt.
You can see the usual slow colour gradient of these bobbles. It is a four-strand yarn, but they are not twisted tightly together like sock yarn, but run loosely next to each other. The colour gradient is created by first replacing one of these four single threads with a different coloured one, then after some time the second and so on - creating beautiful shades and soft colour gradients. It is also a big ball, 250g with a length of one kilometre. It will probably turn into a shawl, which one I don't know yet, and probably crocheted, because I've only been knitting lately.
---
---
5% der Einnahmen dieses Posts gehen automatisch an @needleworkmonday, unseren Gemeinschaftsaccount.
5% of this post's rewards automatically go to @needleworkmonday, our community account.