Can I say WHOA!! 😲
Here we are in the second year of our annual Needlework Your Barbie contest and we have once again been blown away!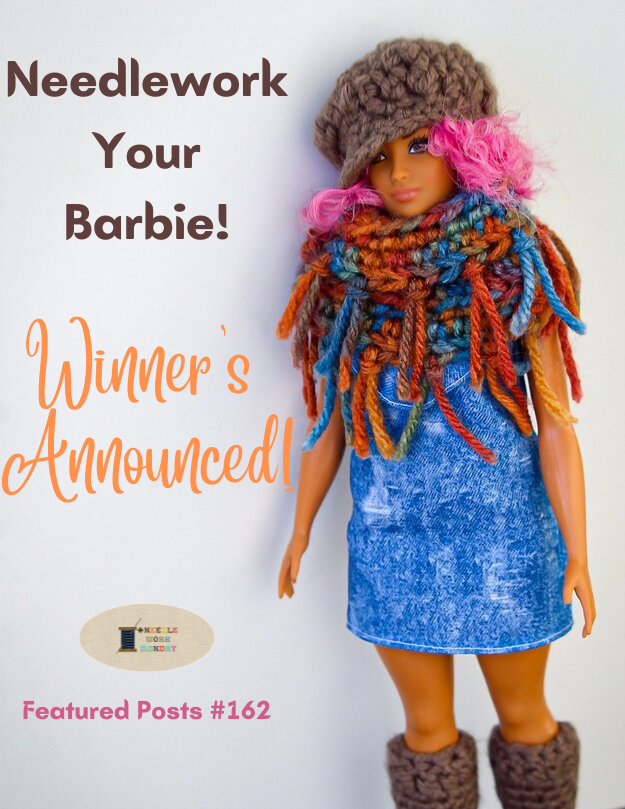 photo credit: @crosheille
This year we had a total of 32 entries! Whoo Hoo!! Kudos to you needleworkers for stepping up in participation! Thank you to each and everyone of you that joined in the fun. 😃
I must admit it was a very tough competition this year. There were certain factors @marblely and I judged on that helped us narrow down the final winners.
We were looking at:
• the final presentation of the finished product (photos, position of Barbie, how well the items are displayed)
• materials used and how creative they were distributed
• story/inspiration behind the project
• the accessories (the details and relevancy )
• originality
• complexity/difficulty level


🪡🪡🪡🪡🪡🪡🪡🪡🪡🪡🪡🪡🪡🪡🪡🪡
Here are the Results for this year's 2021 Needlework Your Barbie Contest…
🪡🪡🪡🪡🪡🪡🪡🪡🪡🪡🪡🪡🪡🪡🪡🪡


5th Place
by @suezoe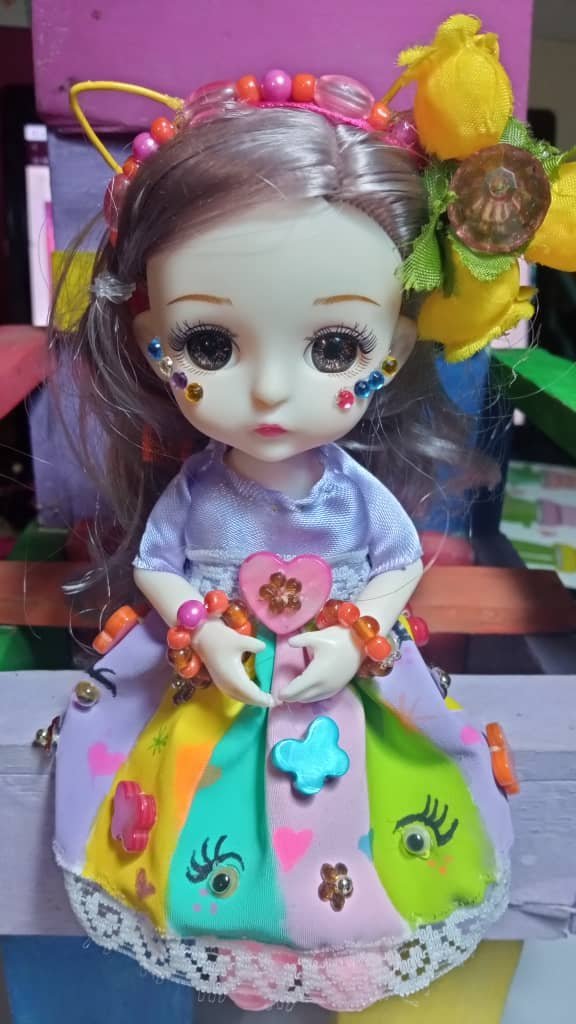 @Suezoe immediately shared with us why she chose this style of dress for her doll. She expressed her love and appreciation for the subculture called Lolita from Japan. She used the resources she had available to make this creative and decorative adornment. She beautifully painted the fabric the pastel colors she wanted. Then she gathered up necessary supplies to continue adding character and originality to the outfit.
She didn't stop there but decided to make some beautiful bracelets and a darling headpiece to finish the look. The creativity in her entry linked her love for this culture and it was really fun and enjoyable to read.
Rewarded 4.68 HP & 4.92 HBD
4th Place - WE HAD A TIE
by @jonalyn2020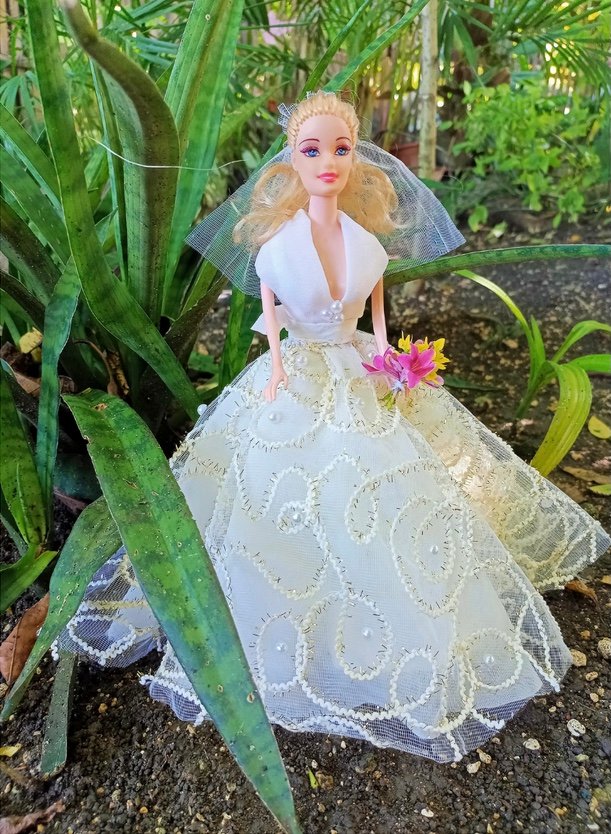 This stunning and elegant wedding dress was definitely a show stopper! @Jonalyn2020 shared with us some thoughts from her childhood and how she's always dreamed of making a ball gown. The beautiful materials she used added classiness to the dress.
Something else that really caught our eye were the beautiful accessories she added. Making the gorgeous veil and bouquet out of real pretty flowers just took this another step up and really showed the effort and care she put into the final look.
Rewarded 7.02 HP & HBD 7.41
AND
by @kattycrochet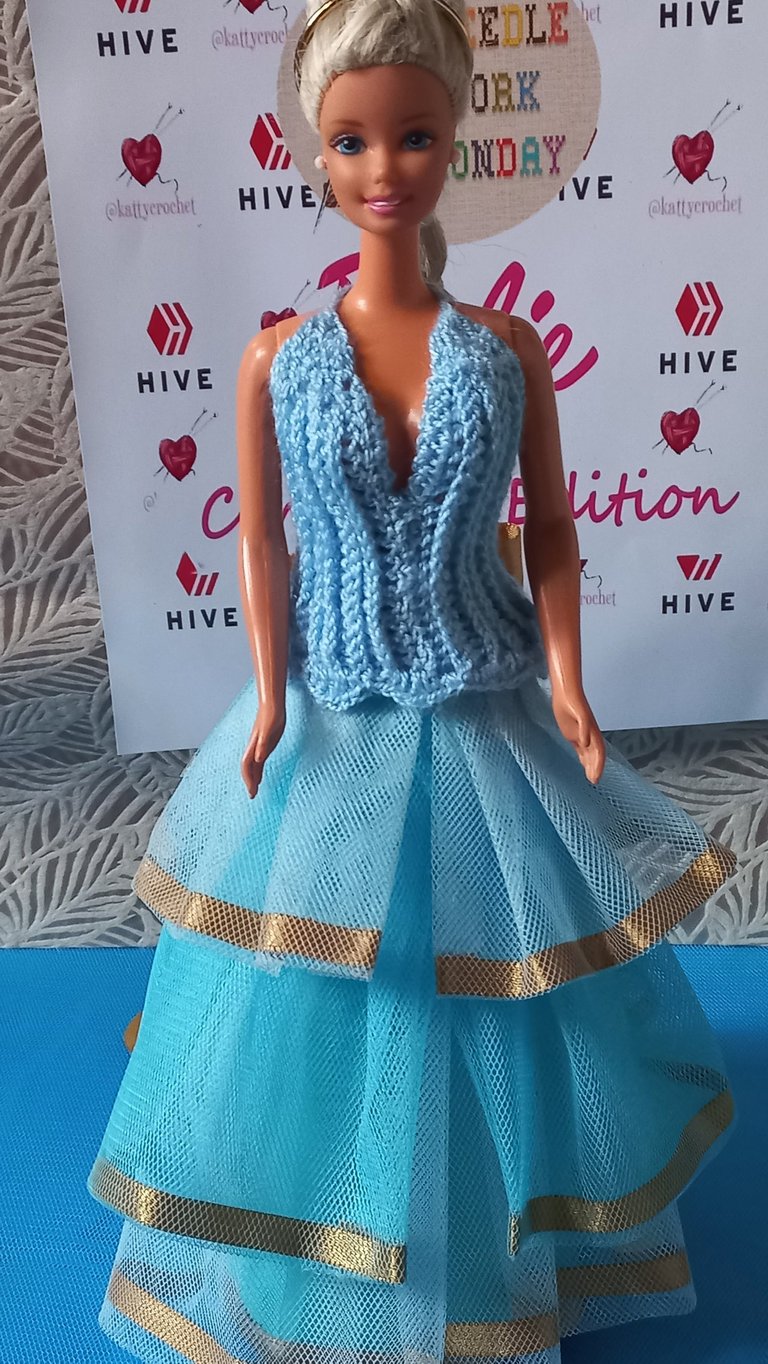 The story in this entry captured our hearts. We learned that @kattycrochet has always dreamed of making her daughter's Quinceañera dress. Unfortunately due to certain situations there is no sewing machine available to see this through. She decided to use this opportunity to make a dress for her doll that replicates the one she wanted to make for her daughter.
She wonderfully created this crochet designed tulle dress, added beautiful gold ribbon to it and truly made the princess look that she saw for her daughter. She intentionally made it blue since that's the color her daughter prefers. The love of a mother is so inspiring. This Barbies final look including hair and poise is remarkable.
Rewarded 7.02 HP & 7.41 HBD
3rd Place
by @carolinacardoza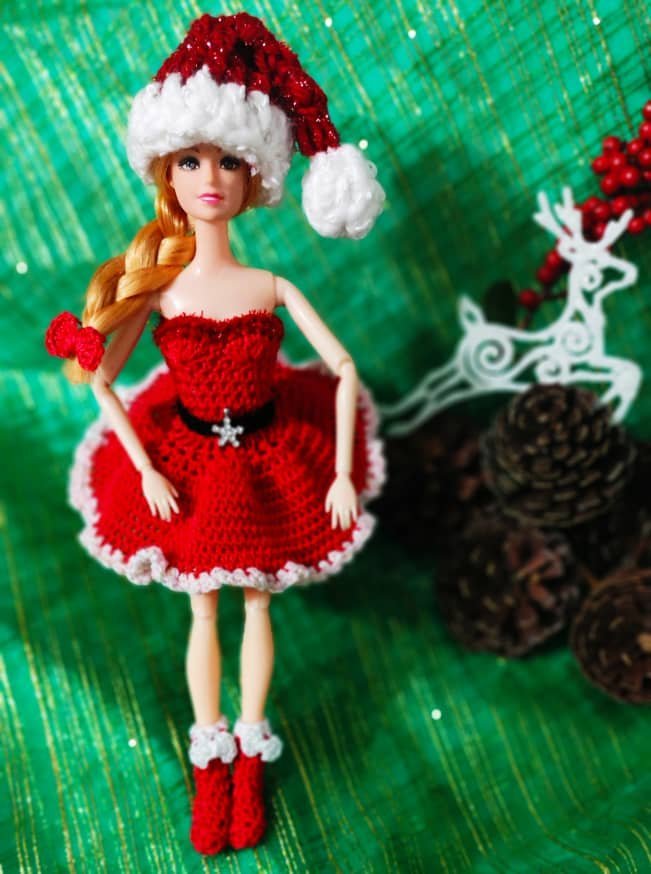 Can we just start with the professional photos that drew us in? If you weren't ready for Christmas surely you'd be after visiting this entry. @Carolinacardoza's love for the Nutcracker birthed this idea of making a Christmas Barbie to go with the tin soldier she wanted to get. She even threw in an extra piece and made a bathrobe for her Barbie so she could help present the materials used.
To go along with this dazzling dress she made the cutest little hat, shoes and bows that are very splendid. I loved the beautiful background for her photos and the different poses to show off her ensemble.
Rewarded 9.36 HP & 9.88 HBD
2nd Place
by @creacioneslelys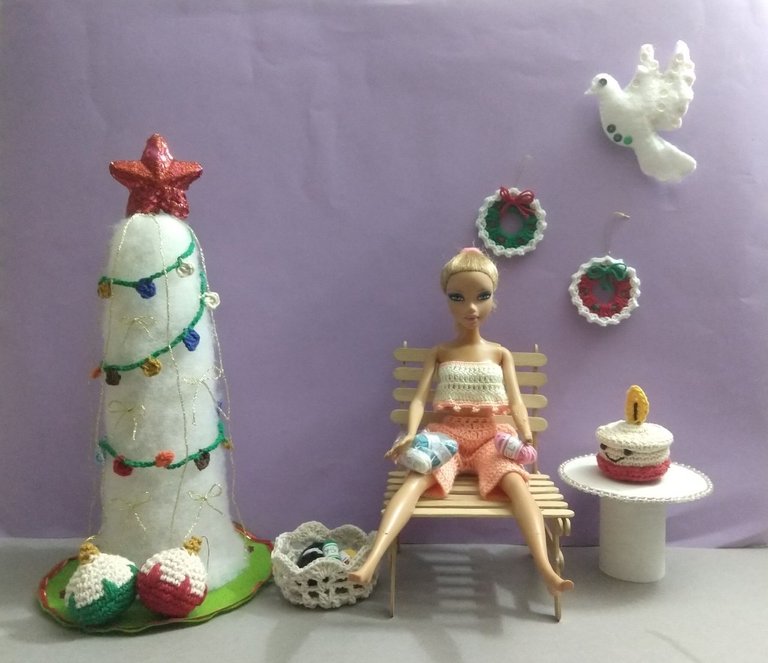 I think the community can agree that @creacioneslelys is the prop queen of NeedleWorkMonday or as @marblely put it 'master of props'! We are always wowed with the tiny detailed items she includes in her showcases. The cute and cozy chic outfit was just right for the scenes she created.
We loved how she let Barbie tell her own story by being involved with the decision making and putting up her own decorations and decking the tree. The photoshoot was fun and engaging and the overall look of her presentation was spectacular.
Rewarded 11.70 HP & 12.35 HBD
⭐️⭐️⭐️⭐️⭐️⭐️⭐️⭐️⭐️⭐️⭐️⭐️⭐️⭐️
1st Place
⭐️⭐️⭐️⭐️⭐️⭐️⭐️⭐️⭐️⭐️⭐️⭐️⭐️⭐️
by @tibaire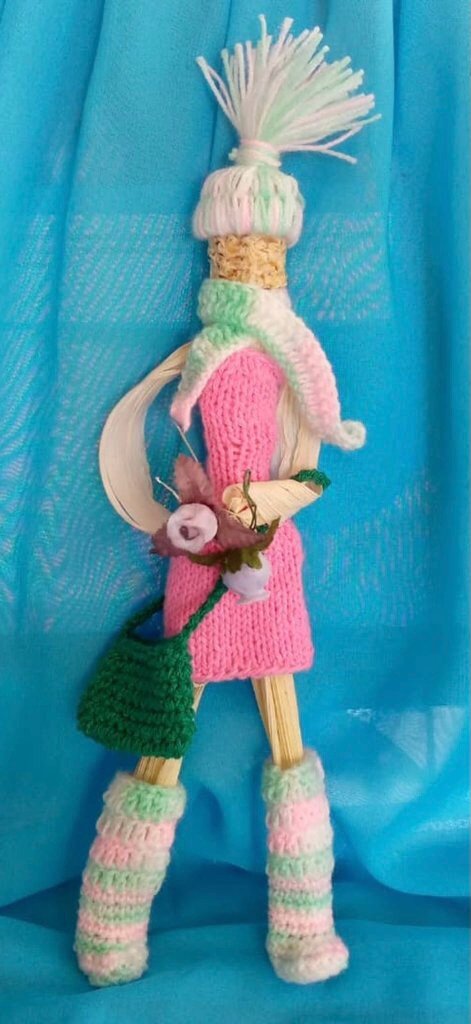 Where do I begin with this one? @Tibaire has a way of bringing us all together in a sentimental way. @Marblely stated "she had me at grandma."
Sharing with us how her grandmother didn't have dolls while growing up because it was not affordable was the first thing that reeled me in. Then as she continues sharing you learn that her grandmother found a way to still have dolls to play with…by making them herself from corn cob.
What you see in this entry is @tibaire reimagining and recreating this look of a doll that her late grandmother used to make. This was definitely a treat to see as I would have never expected such a creation as this.
From working hard to get the materials ready and just right, to putting them together in a way that resembles a doll, from knitting all of the outfit pieces and accessories this by far was the best entry we read! This was such a memorable, emotional and inspirational post for many who read it. Just take a look at the comment section on her post and see for yourself.
What a delightful tribute to her grandmother and a special keepsake for her this is!
Rewarded 14.04 HP & 14.82 HBD
Congratulations to All the Winners!
We also chose 3 other entries whom we felt did a superb job and deserved recognition. They will each receive a 3 HBD bonus reward from us (the administrators)!


by @adonisr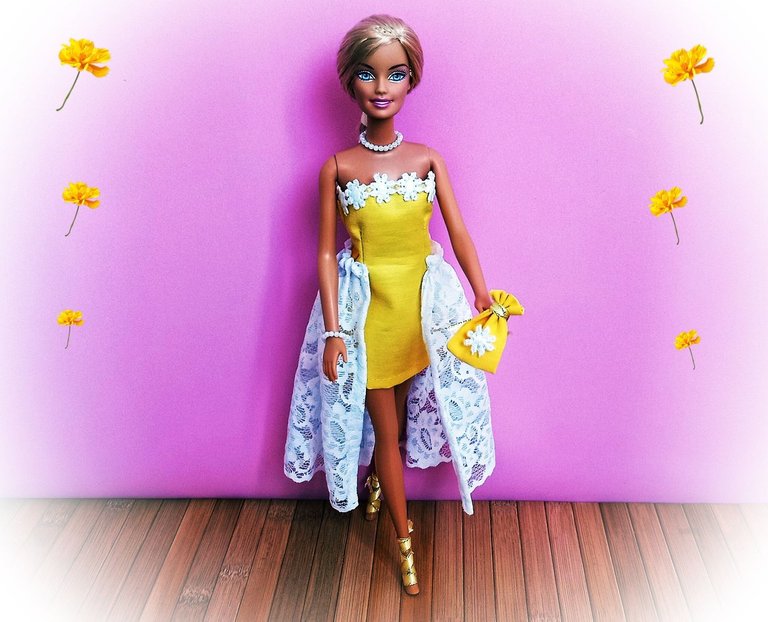 This was another nice read. @Adonisr told us that Barbie's body was sore from being packed up for so long so she wanted to to treat her to a spa day. She made her the cutest little towel and bandanna and placed her in a peaceful setting surrounded by plants and rocks. This was such a nice touch.
She got the inspiration to create her own design from her mother whom also made dresses. The dress is so attractive and appealing and we thought the photos were red carpet quality. I loved her hairpiece and matching footwear along with the flower bag.


by @herkeepsake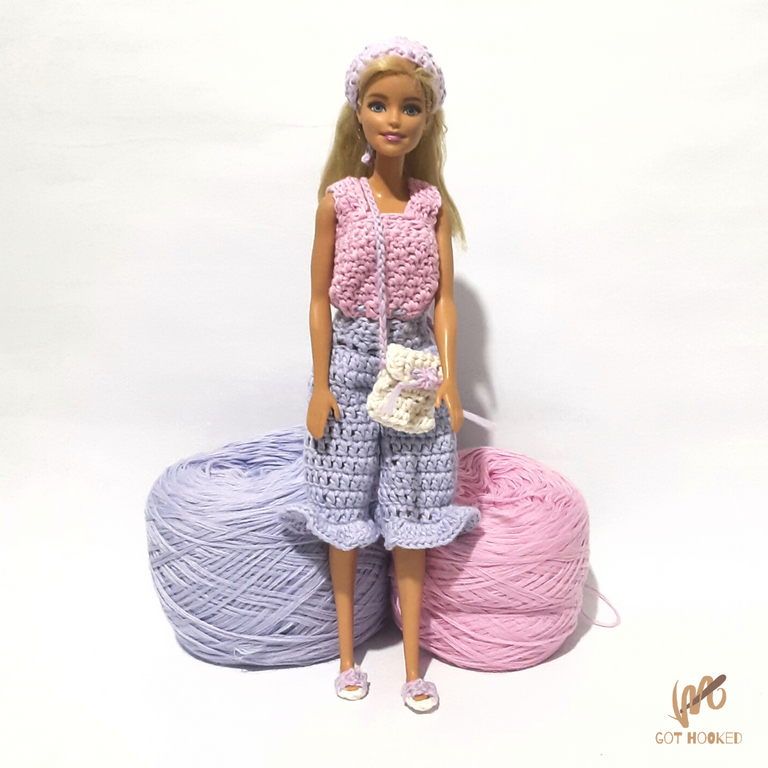 The collaboration between @herkeepsake and her 3-yr old niece was full of sweetness. She used her nieces ideas to help narrow down her final style and color selections.
The pastel colors used for this tiny outfit were very pleasant. The ruffles on her capris down to the stylish bandanna earned this post some extra rewards. Even though she wasn't sure how to crochet footwear her flip flops turned out so cute. The photoshoot at the end was a joy to view.


by @irenenavarroart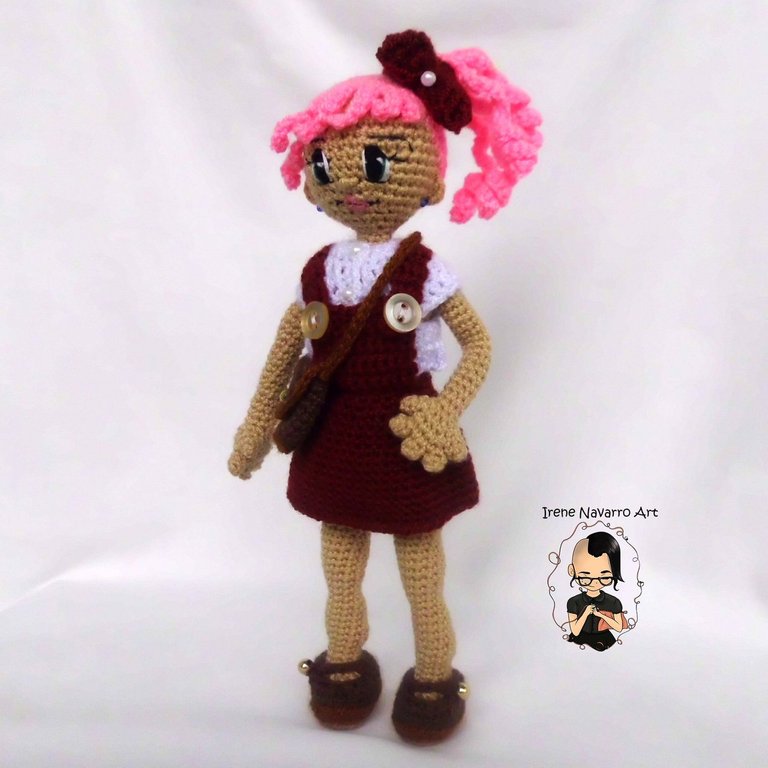 Here is another entry where a doll was used that was made by the author. It was neat to see how @irenenavarroart chose to dress her amigurumi doll.
We enjoyed the photo process of making her clothing and all of the details that when in each piece, especially the accessories with added beads and buttons. The layers of clothing were fabulous and charmingly executed.


You will be receiving your bonus rewards soon! 😃
Thank you for stopping by to view our featured posts for this week. Please stop by their posts and show them some love with a read, a comment and an upvote for sharing their handmade creations.
To see more needle arts, please check out the the NeedleWorkMonday Community and check back here with @needleworkmonday every Wednesday / Thursday for the weekly Curation posts!!
If you are a needlework artist we'd love to have you join us to share your work and inspire the Hive blockchain to give a craft a try.

Please Subscribe and Post from the NeedleWorkMonday Community for a chance to be featured and upvoted (please follow the posting guidelines in our updated FAQs)! On Mondays, please ensure that you include the #needleworkmonday tag and on other days, please use the #needlework tag (without the word Monday attached).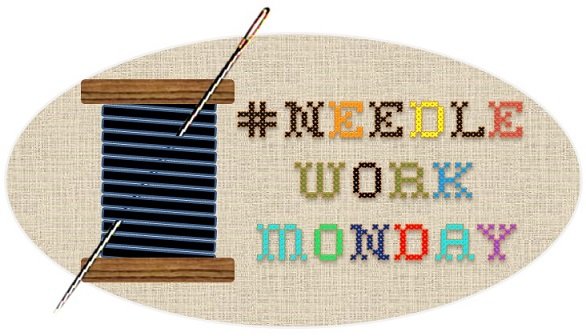 NeedleWorkMonday Founder:
Administrator:
Community Builders:
Today's curation is written by @crosheille with the help of @marblely