✦ In my moments of insecurity, the universe sends angels in a mysterious way ✦

🇪🇸 ~ ¡Hola a todos! ☕ 💖 Espero se encuentren bien y tengan un grandioso día, yo me encuentro mucho mejor después de algunos días enferma (el magnesio es mi nuevo mejor amigo) 🥰 👏
He tenido tiempo de seguir organizando las fotos y material de los eventos de los últimos meses y para este NeedleworkMonday quiero compartir el final de la experiencia del todo lo que fue la adaptación de mi nuevo Cosplay.
🇺🇸 ~ Hello everyone! ☕ 💖 I hope you are well and have a great day, I am feeling much better after a few days of being sick (magnesium is my new best friend) 🥰 👏
I've had time to continue organizing the photos and material from the last months events and for this NeedleworkMonday I want to share the end of the experience of the whole what was the adaptation of my new Cosplay.
---
✦ I watched many videos of this type, character biography style because honestly for me it is impossible to start projects if I am not excited about the character, and the power failures in the city do not allow me to watch the anime again with tranquility ✦
---
---
• JAPANESE PRIESTESS COSTUME (MIKO) •
« How is a "Hakama" actually composed? »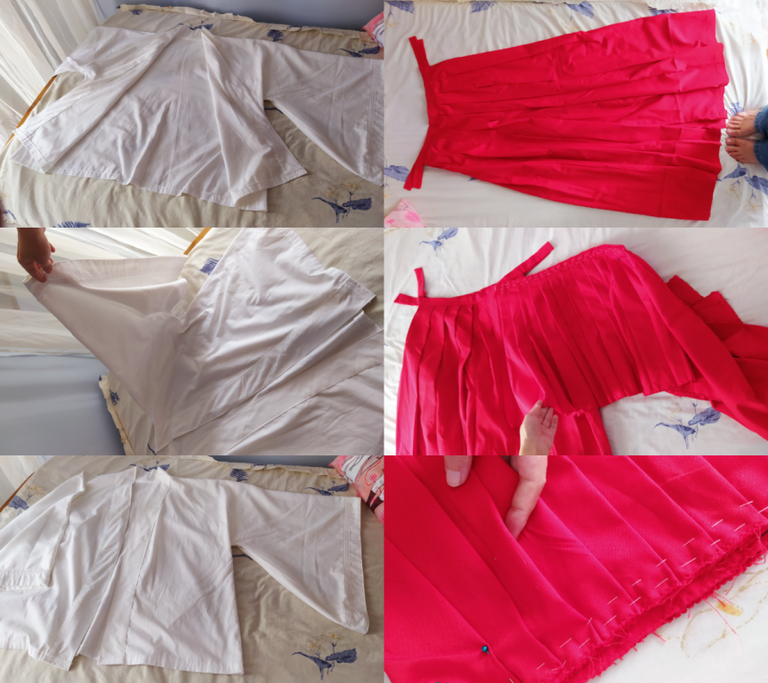 ✦ Before starting the alterations I washed the suit several times, especially the upper part that needed to be bleached and had some stains, makeup residues and sweat from the last person I lent the suit to. I remember we tried to bleach it at the time with bleach but it didn't work hahaha, this time I was able to remove all the stains ✦

---
Las partes de el atuendo tradicional para "Mikos" esta compuesto de muchas piezas, pero a efectos prácticos, los diseñadores extranjeros simplifican estas prendas.
Cabe destacar que leí un articulo que me pareció muy bonito donde la perspectiva del oriundo japonés era apoyar el re-diseño de las prendas tradicionales japonesas con la finalidad de que perduren en el tiempo, es decir, al ser mas fáciles de usar, no es necesario descontinuarlas. Me pareció una perspectiva muy hermosa y acertada.
Pero aún teniendo eso en cuenta y el tratarse de una figura tan solemne, los trajes de "Miko" deben ser tratados y utilizados con respeto. Y estuve muy de acuerdo con eso.
The parts of the traditional attire for "Mikos" is composed of many pieces, but for practical purposes, foreign designers simplify these garments.
It is worth noting that I read an article that I found very nice where the perspective of the Japanese native was to support the re-design of traditional Japanese garments in order to make them last over time, that is, being easier to use, it is not necessary to discontinue them. I thought it was a very beautiful and accurate perspective.
But even taking that into account and being such a solemn figure, "Miko" costumes should be treated and used with respect. And I was very much in agreement with that.
---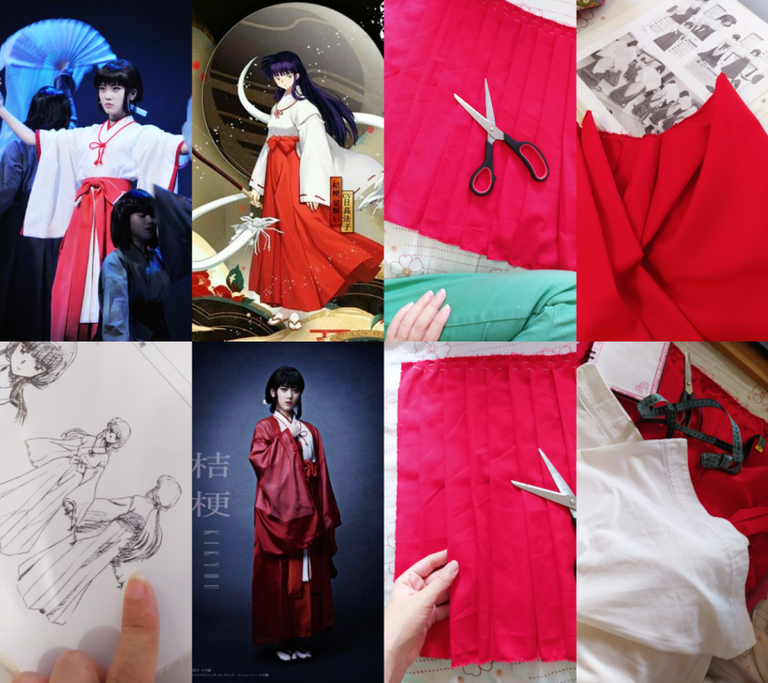 ✦ Referencia 1 - Referencia 2 - Referencia 3 ✦

---
El principal "arreglo" que necesitaba hacer era la pretina de la parte inferior, para eso descosí con cuidado las pequeñas cintas con las que se ataba esta prenda por la cintura, sujetando todo primero con alfileres pequeños.
Una dificultad extra que tuve, haciendo una pausa, es el cómo elaboraría una nueva/pretina/cinturón de mas de 2 metros de largo si no conseguía primero una tela idéntica al material original de esta "Hakama".
The main "fix" I needed to do was the waistband at the bottom, for that I carefully unpicked the small ribbons with which this garment was tied at the waist, fastening everything first with small pins.
An extra difficulty I had, pausing, is how I would make a new waistband/pretina/belt over 2 meters long if I didn't first get a fabric identical to the original material of this "Hakama".
---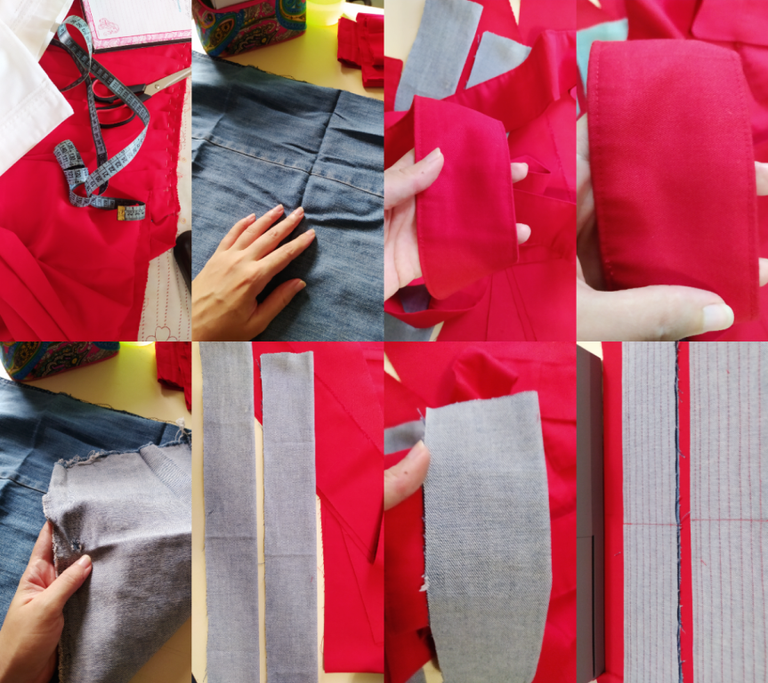 ✦ The section of jean fabric that goes inside the waistband is 50 centimeters in the back and 40 centimeters for the front section ✦

---
Como mencione en notas anteriores, la tela necesaria y casi idéntica la conseguí reciclando otro proyecto a medio terminar.
Y para darle rigidez utilicé como entretela un jean que guardé hace muchos años como material de reciclaje.
As I mentioned in previous notes, I got the necessary and almost identical fabric from recycling another half-finished project.
And to give it stiffness I used a jean I saved many years ago as a recycled material as an interlining.
---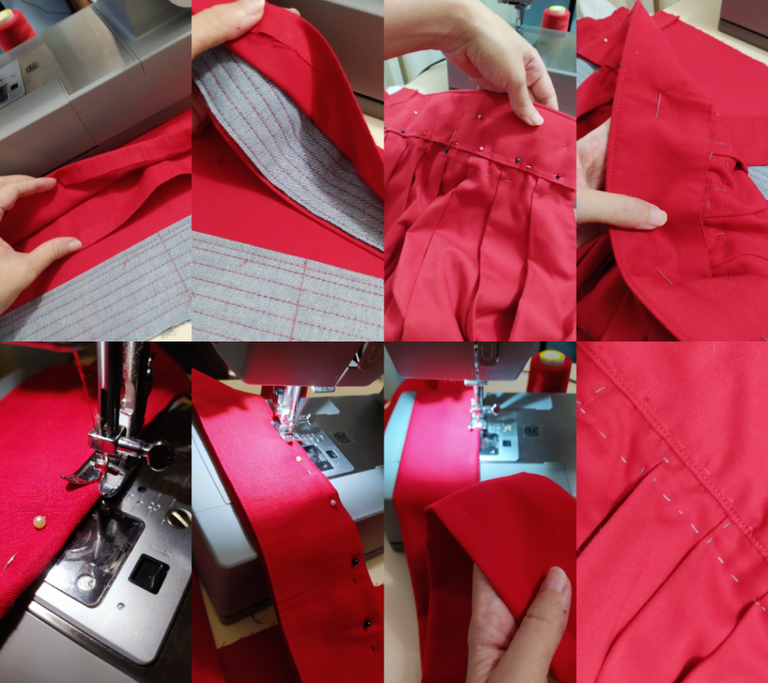 ✦ This video is PURE GOLD and there you can appreciate all the pieces that compose a Miko's outfit correctly ✦

---
El ancho de la nueva pretina es de 7 centímetros, quería hacerla mas ancha pero no quería ser exagerada, además no cuento con el material para hacer la pieza interna del conjunto que hace que tu cintura se vea cuadrada (Datehime).
Después de coser todo a mano, pase la prenda con una puntada pequeña y muy ajustada en la máquina de coser. La Hakama pesa un poco y yo me muevo mucho, así que quise evitar posibles rasgaduras con una puntada pequeña e hilo de buena calidad.
The width of the new waistband is 7 centimeters, I wanted to make it wider but I didn't want to go overboard, plus I don't have the material to make the inside piece of the set that makes your waist look square (Datehime).
After sewing everything by hand, pass the garment with a small and very tight stitch on the sewing machine. The Hakama is a bit heavy and I move around a lot, so I wanted to avoid possible rips with a small stitch and good quality thread.
---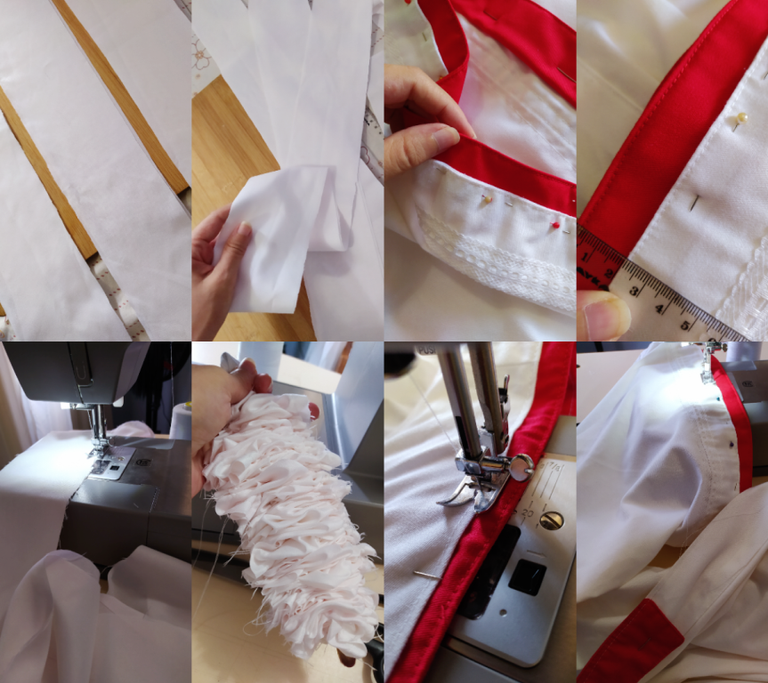 ✦ The width of the new red borders was 5 cm, 2.5 inside and 2.5 outside, very nice! ✦

---
Finalmente cuando la parte inferior estuvo lista, elaboré unos bordes rojos con la tela sobrante (que fue muy contadita); al principio trate de coserlos con la máquina de coser pero no me gusto cómo se veía, así que recurrí a la vieja confiable y cosí todo a mano con puntada invisible.
Finally, when the bottom part was ready, I made some red borders with the leftover fabric (which was very small); at first I tried to sew them with the sewing machine but I didn't like the way it looked, so I resorted to the old reliable and sewed everything by hand with invisible stitch.
---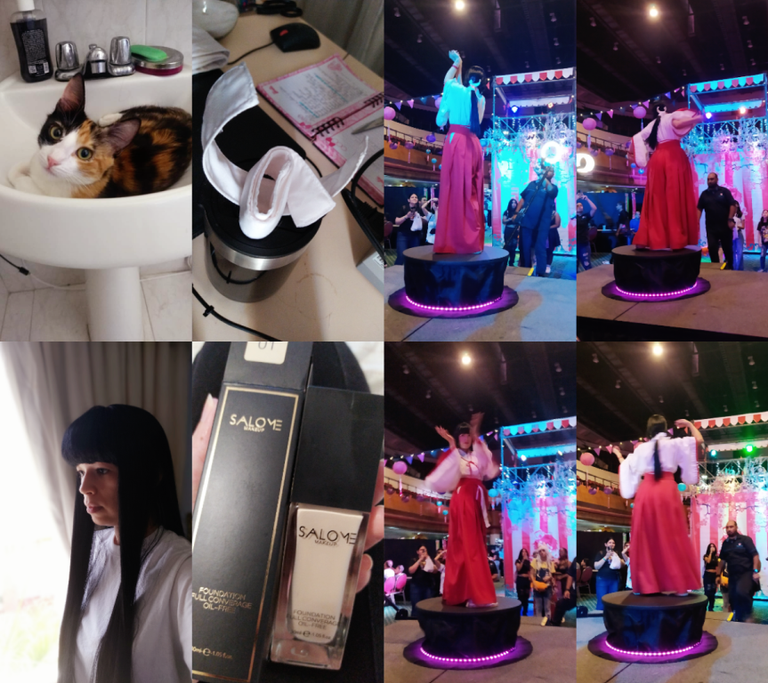 ✦ I couldn't take pictures of how I made the hair piece because I was too busy talking to @Vanuzza, and also admiring the beauty that Luna, the calico kitty that I rescued a few months ago and that Van decided to adopt, has become ✦

---
Días previos al evento donde quería estrenar este Cosplay me dedique a estilizar la peluca. También compre maquillaje nuevo porque las bases que tenía me hacían ver la piel muy extraña.
El plan fue un poco diferente a lo acostumbrado, y el día previo me quede en casa de @Vanuzza para salir en grupo al día siguiente.
Days before the event where I wanted to debut this Cosplay I dedicated myself to stylize the wig. I also bought new makeup because the foundations I had were making my skin look very strange.
The plan was a little different than usual, and the day before I stayed at @Vanuzza house to go out as a group the next day.
---
« 𝔽𝕀ℕ𝔸𝕃 ℝ𝔼𝕊𝕌𝕃𝕋 »


Hace mucho tiempo que no sentía este tipo de alegría particular, he querido retomar este aspecto de mi vida (ser Cosplayer) poco a poco pero desde mi comeback, muchas hermosas oportunidades han tocado a mi puerta, a muchas he dicho que no, y a contadas he dicho sí, pero han sido lo bastante grandes e importantes como para modificar todas mi agenda desde finales de 2021.
It's been a long time since I felt this particular kind of joy, I have wanted to resume this aspect of my life (being a Cosplayer) little by little but since my comeback, many beautiful opportunities have knocked on my door, to many I have said no, and to few I have said yes, but they have been big and important enough to modify all my agenda since the end of 2021.
Pero aceptar oportunidades, es realmente asumir un compromiso que debes atender con responsabilidad, entonces la diversión queda un poco de lado y en mi caso, algo de esta alegría se ve sacrificada porque mi preocupación por hacer bien las cosas y que todos estén felices y satisfechos es muy grande.
But accepting opportunities, is really taking on a commitment that you must attend to responsibly, then the fun is a little aside and in my case, some of this joy is sacrificed because my concern for doing things well and for everyone to be happy and satisfied is very great.


Después de esta aventura no creo aceptar mas contrataciones como Cosplayer en lo que queda de 2023, quiero dedicarme a proyectos nuevos, quiero coser con tranquilidad y retomar lo que me propuse el año pasado.
After this adventure I don't think I'll be accepting any more Cosplayer contracts for the rest of 2023, I want to dedicate myself to new projects, I want to sew with peace of mind and resume what I set out to do last year.
De este proyecto aprendí mucho, recordé lo mucho que me gustan los atuendos de corte oriental y lo elegantes que son. Recibí muchos comentarios muy bonitos sobre lo real del look completo, es mas de lo que esperaba; lo que resta de 2023 tratare de pasarla tranquila ya gusto, asistiendo a 2 o 3 eventos mas, pero por diversión únicamente 💕
From this project I learned a lot, I remembered how much I like oriental outfits and how elegant they are. I received a lot of very nice comments about how real the whole look is, it's more than I expected; the rest of 2023 I will try to spend it quietly and tastefully, attending 2 or 3 more events, but for fun only 💕
---
---









🍓 All texts and images by @Tesmoforia ✦ Translation: Deepl ✨
🚨 ¡Please do not take, edit or republish my material without my permission! 🚨
💌 ¿Do you wish to contact me? [email protected] 💌
🌙 Banner, signature and separators by Keili Lares

⚜ 𝙰𝚕𝚕 𝚁𝚒𝚐𝚑𝚝𝚜 𝚁𝚎𝚜𝚎𝚛𝚟𝚎𝚍 / © 𝚃𝙴𝚂𝙼𝙾𝙵𝙾𝚁𝙸𝙰 - 𝟸𝟶𝟷𝟾/𝟸𝟶𝟸3 ⚜