Saludos amigos, deseándoles un excelente inicio de semana. Mi proyecto de hoy consiste en Cómo hacer un lindo cuadro de una trapecista columpiándose. Es un cuadro muy lindo y fácil de hacer, ideal para decorar la habitación de nuestras niñas.
Greetings friends, wishing you an excellent start to the week. My project today is How to make a nice painting of a swinging trapeze artist. It is a very cute and easy to make painting, ideal to decorate our girls' room.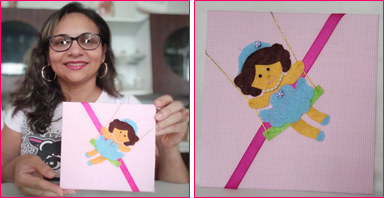 Para elaborar este cuadro el material es mínimo, ya que utilizaremos retazos de fieltro y tela.
To make this painting, the material is minimal, since we will use pieces of felt and fabric.


Paso a paso:
Lo primero que haremos es dibujar y recortar el patrón de la trapecista.
Step by Step:
The first thing we will do is draw and cut out the trapeze artist's pattern.

Luego recortamos cada una de las piezas de la trapecista en el color del fieltro que corresponda.
Then we cut out each of the pieces of the trapeze artist in the corresponding felt color.

Para decorar el vestido y la diadema colocamos una cuenta en forma de flor. Para hacer los ojos utilizaremos dos mostacillas de color azul. Para la nariz y la boca haremos una pequeña costura de color dorado y rosado respectivamente.
To decorate the dress and the headband we put a bead in the shape of a flower. To make the eyes we will use two blue beads. For the nose and mouth we will make a small seam of gold and pink respectively.

Para el cuadro forramos el cartón con la tela y nos aseguramos que quede bien ajustado luego colocamos la cinta de forma transversal para darle profundidad al cuadro.
For the painting, we cover the cardboard with the fabric and make sure that it is well adjusted, then we place the tape crosswise to give the painting depth.
Luego empezamos a pegar con el silicón en el cartón forrado cada una de las piezas de la trapecista.
Then we began to glue each of the trapeze artist's pieces with the silicone on the lined cardboard

Pegamos las perlas continuas alrededor del cuello de la trapecista. Para culminar nuestro cuadro con el hilo dorado elaboramos las cuerdas del columpio.
We glue the continuous pearls around the neck of the trapeze artist. To complete our painting with the golden thread we made the ropes of the swing.

Asi de hermoso queda nuestro cuadro de la trapecista.




This is how beautiful our painting of the trapeze artist is.