Hola familia de Hive, reciban un cordial saludo,espero se encuentren todos bien. En esta oportunidad les traigo un pequeño regalo de mí para todas las madres que utilizan esta maravillosa plataforma llamada Hive. Ya se acerca el dia de las madres, Hive no podía quedarse atrás en homenajear a esas lindas, bellas y hermosas mujeres, que día a día luchan por sacarnos adelante. Mujeres que nos brindan su amor incondicional, las que nos motivan cada vez que estamos tristes, las que comparten momentos inolvidables... En fin, ellas son nuestras superheroínas por eso en este día de las madres consientelas como se lo merecen.
Hello Hive family, receive a warm greeting, I hope you are all well. This time I bring you a little gift from me to all the mothers who use this wonderful platform called Hive. Mother's Day is approaching, Hive could not stay behind in honoring those cute, beautiful and beautiful women, who every day struggle to get us ahead. Women who give us their unconditional love, who motivate us every time we are sad, who share unforgettable moments.... In short, they are our superheroines, so this Mother's Day, pamper them as they deserve.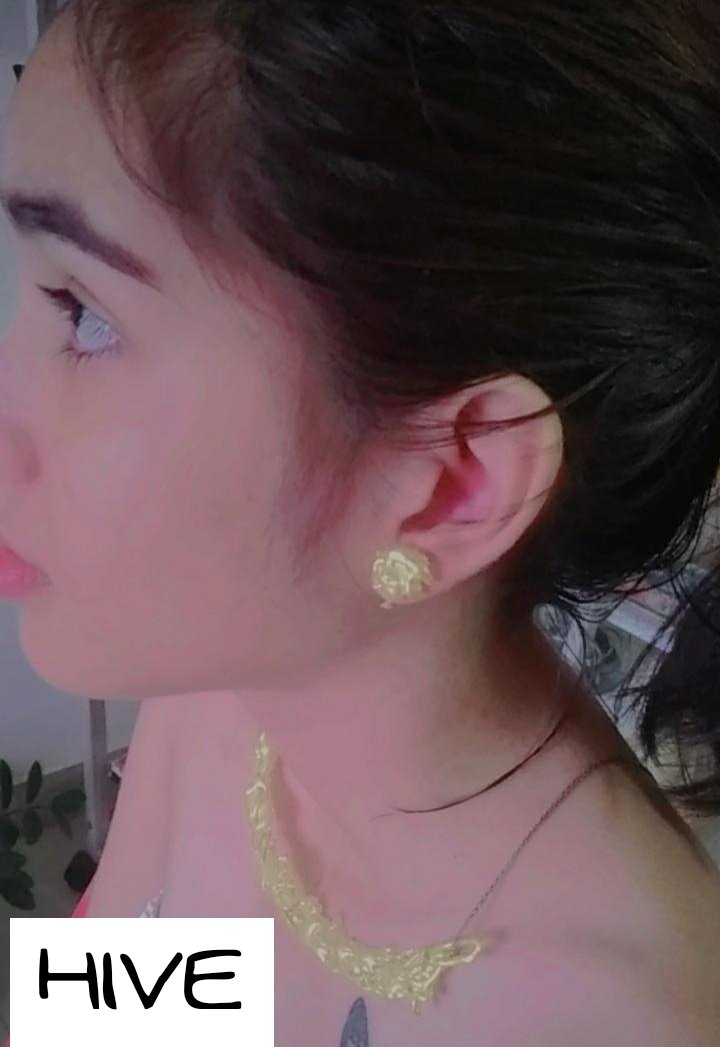 La comunidad de Hive se prepara para celebrar en grande ese día. Sorprendelas con este collar y zarcillos muy fácil de hacer y además es muy bonito y delicado.
The Hive community is getting ready to celebrate this day in a big way. Surprise them with this necklace and earrings very easy to make and it is also very pretty and delicate.
Materiales a utilizar:
Materials to be used:
Silicón en barra, crema de cuerpo o vaselina, vidrio, un cuchillo o espátula (para despegar el silicón del vidrio), pintura al frio y pincel.
Silicone stick, body cream or Vaseline, glass, a knife or spatula (to remove the silicone from the glass), cold paint and brush.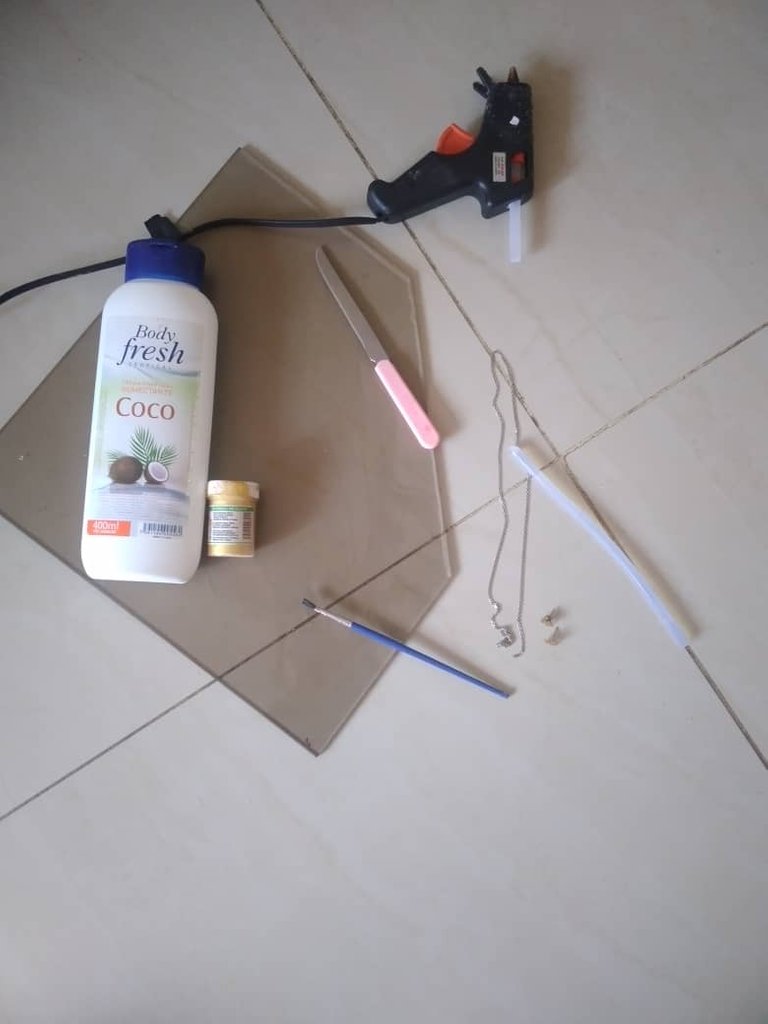 Manos a la obra con la delicada confección de joyas (zarcillos y collar) regalo especial desde Hive para todas esas hermosas madres que hacen vida en dicha plataforma.
Hands to work with the delicate confection of jewelry (earrings and necklace) special gift from Hive for all those beautiful mothers who make life on this platform.
Paso a paso.
Step by step.
Primeramente le colocamos al vidrio seleccionado crema de cuerpo o vaselina, esto es para despegar con mayor facilidad lo elaborado. Después empezamos a definir la silueta, forma que queremos darle al collar.
First we put body cream or petroleum jelly on the selected glass, this is to make it easier to remove the elaborate. Then we start to define the silhouette, the shape we want to give to the necklace.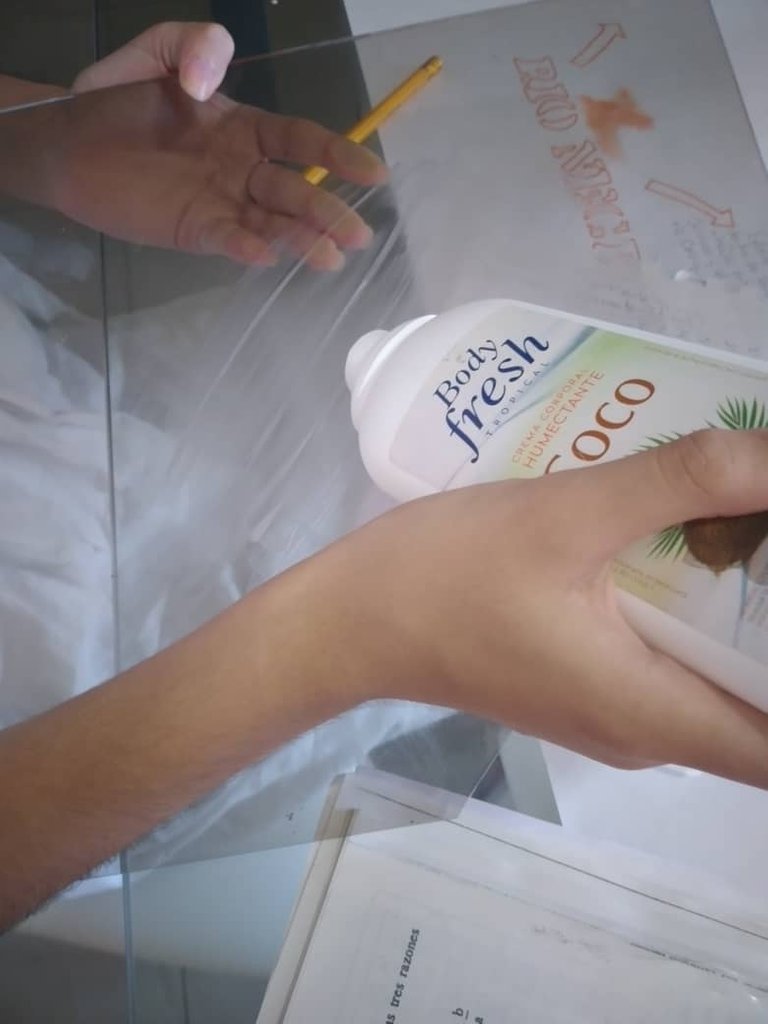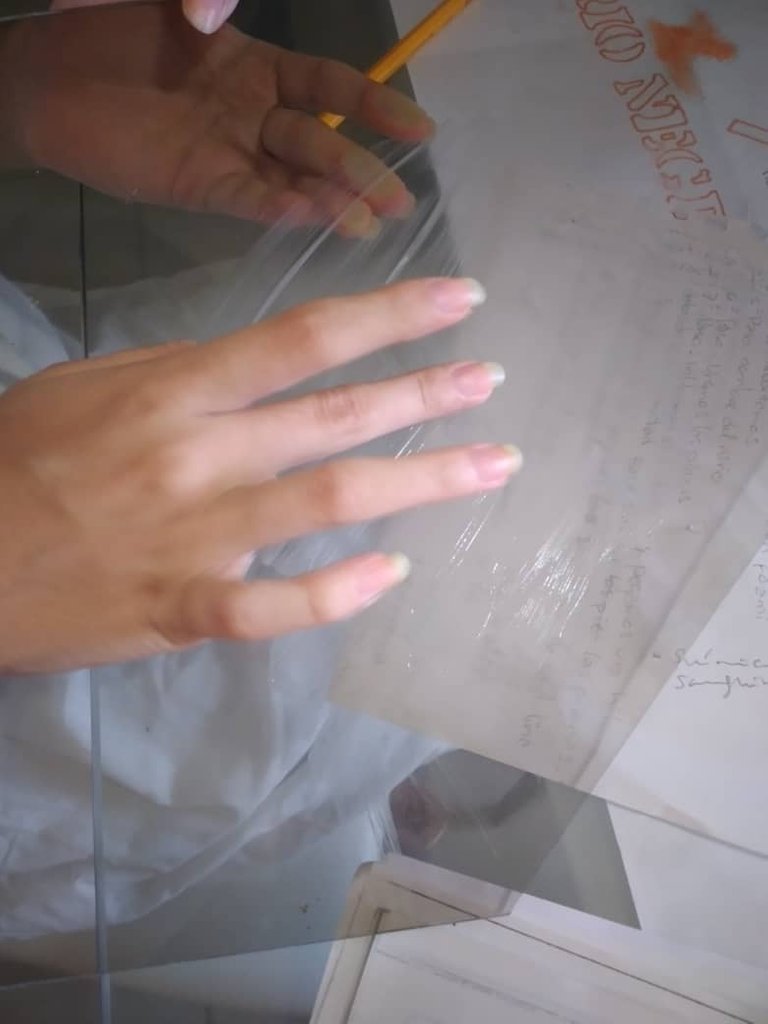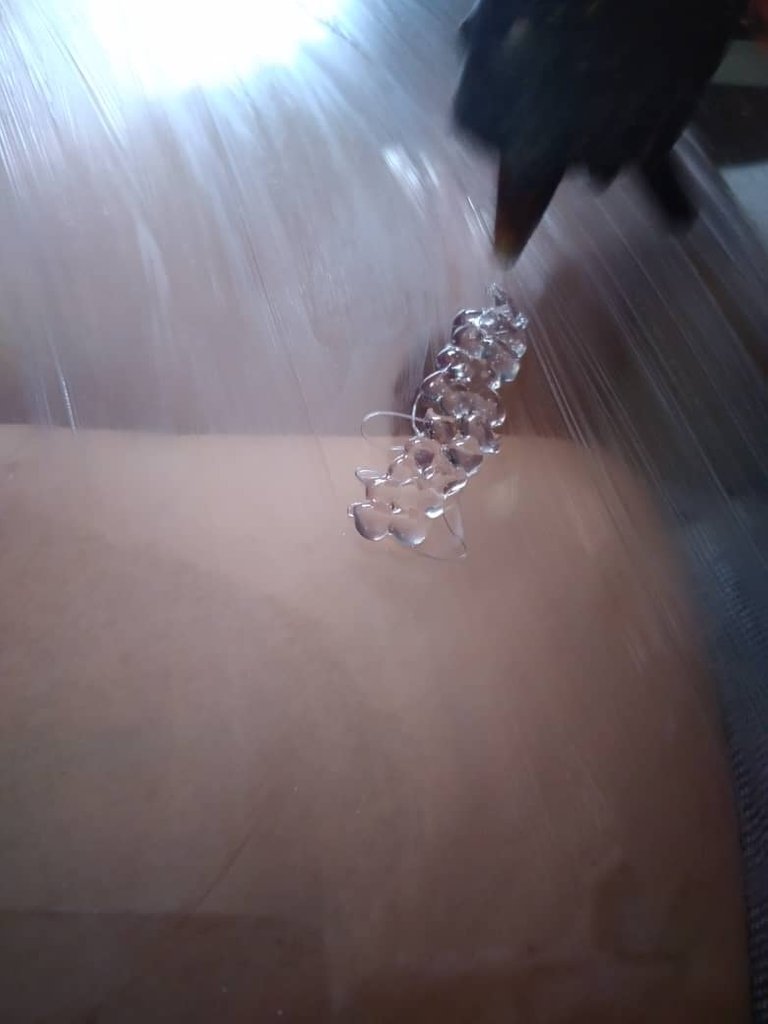 Luego procedemos a despegar con un cuchillo de manera cuidadosa la forma obtenida del collar.
Then we proceed to carefully peel off with a knife the shape obtained from the necklace.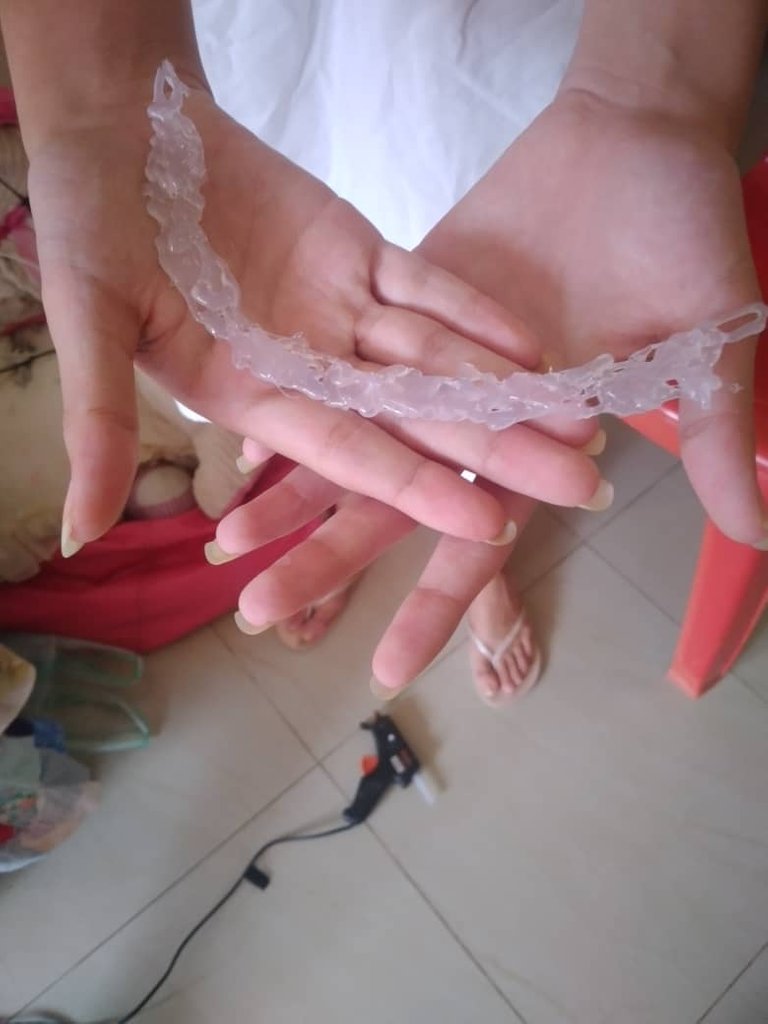 Seguidamente tomamos nuevamente el vidrio y le volvemos a aplicar crema de cuerpo o vaselina como se lo indicamos anteriormente, para ahora hacer la silueta de los zarcillos (se retira con sumo cuidado los zarcillos del vidrio con ayuda del cuchillo).
Then we take the glass again and apply body cream or Vaseline as previously indicated, to now make the silhouette of the tendrils (carefully remove the tendrils from the glass with the help of the knife).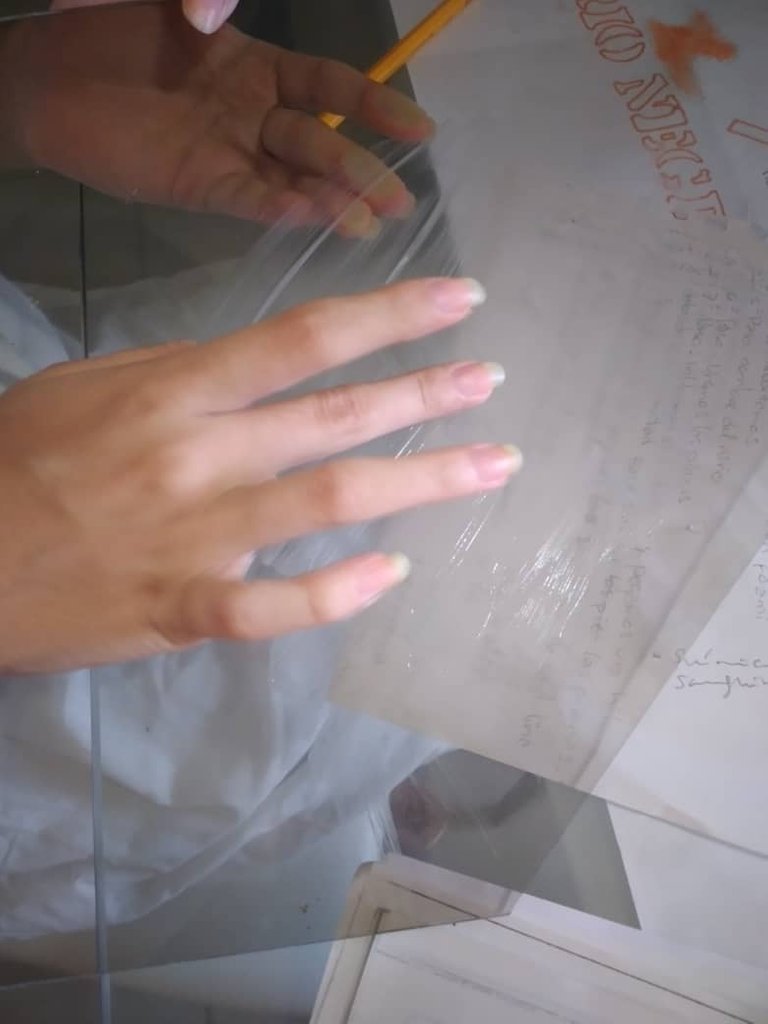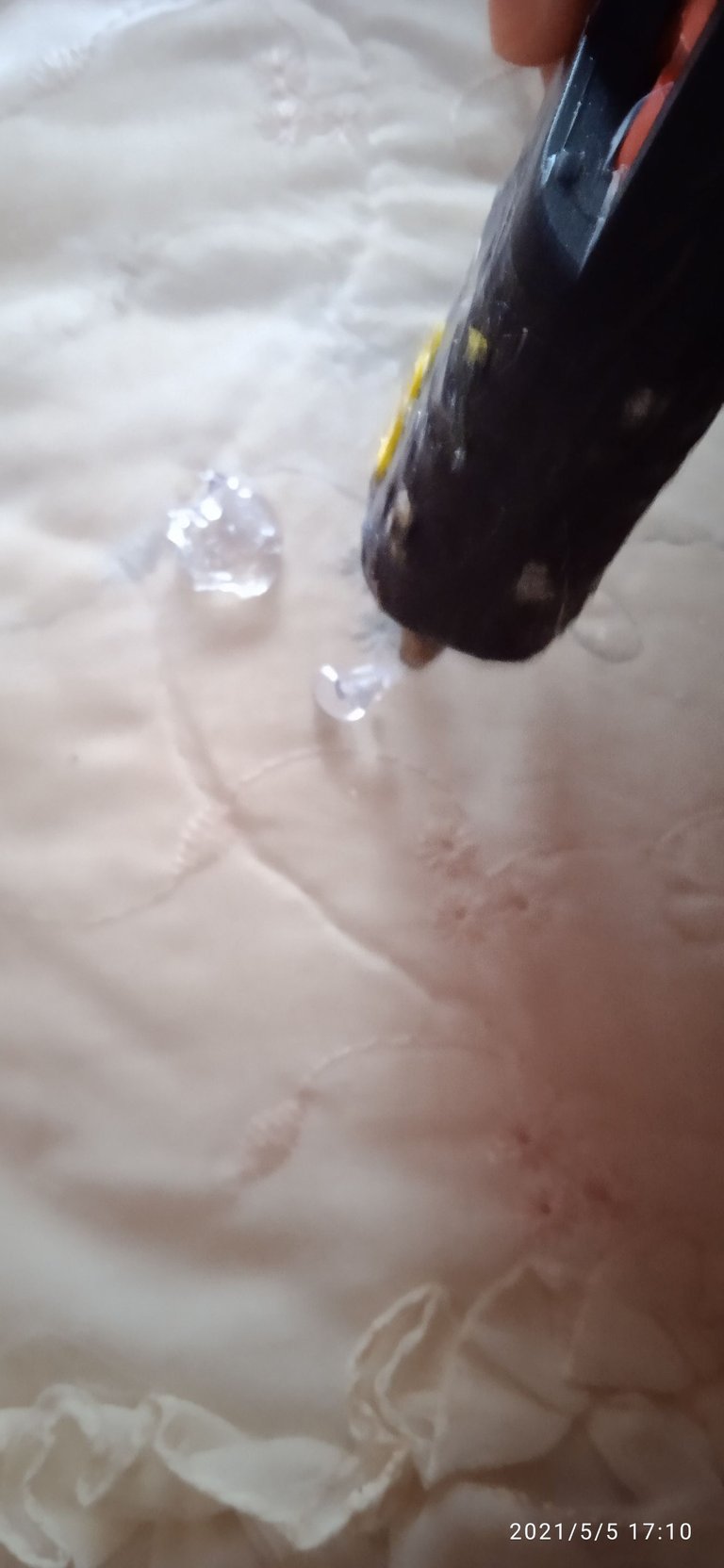 Aquí, es momento de activar la creatividad para pintar, decorar el collar y los zarcillos. Dejamos secar un rato la pintura aplicada (color de su preferencia).
Here, it is time to activate your creativity to paint, decorate the necklace and the tendrils. Let the paint dry for a while (color of your choice).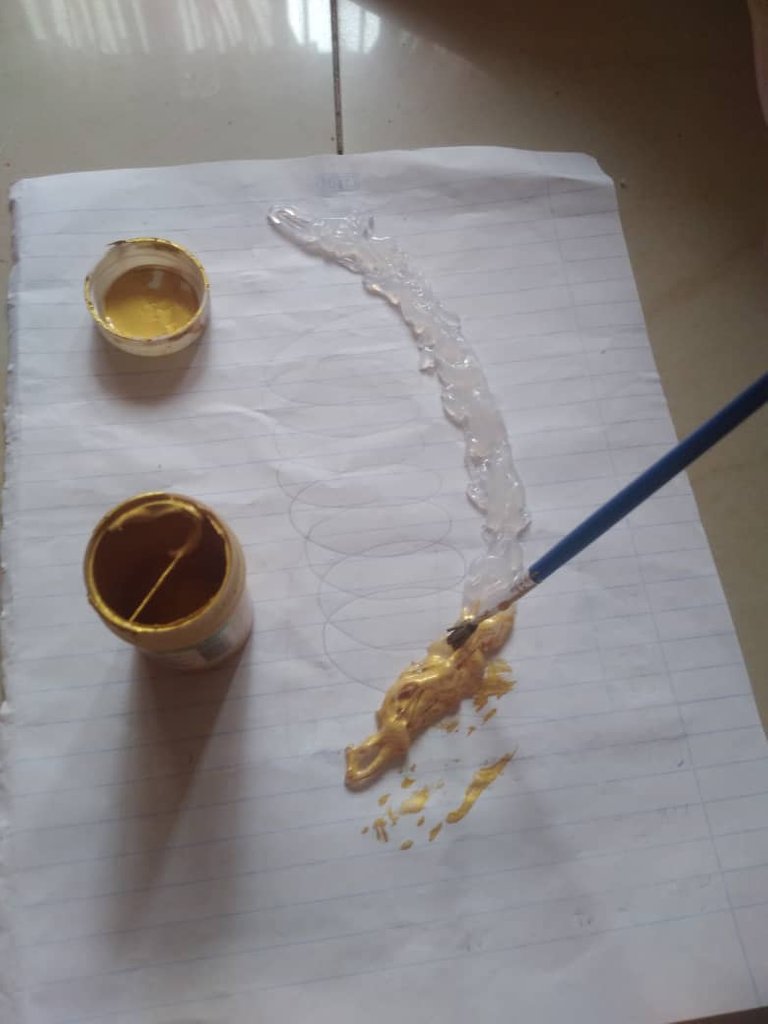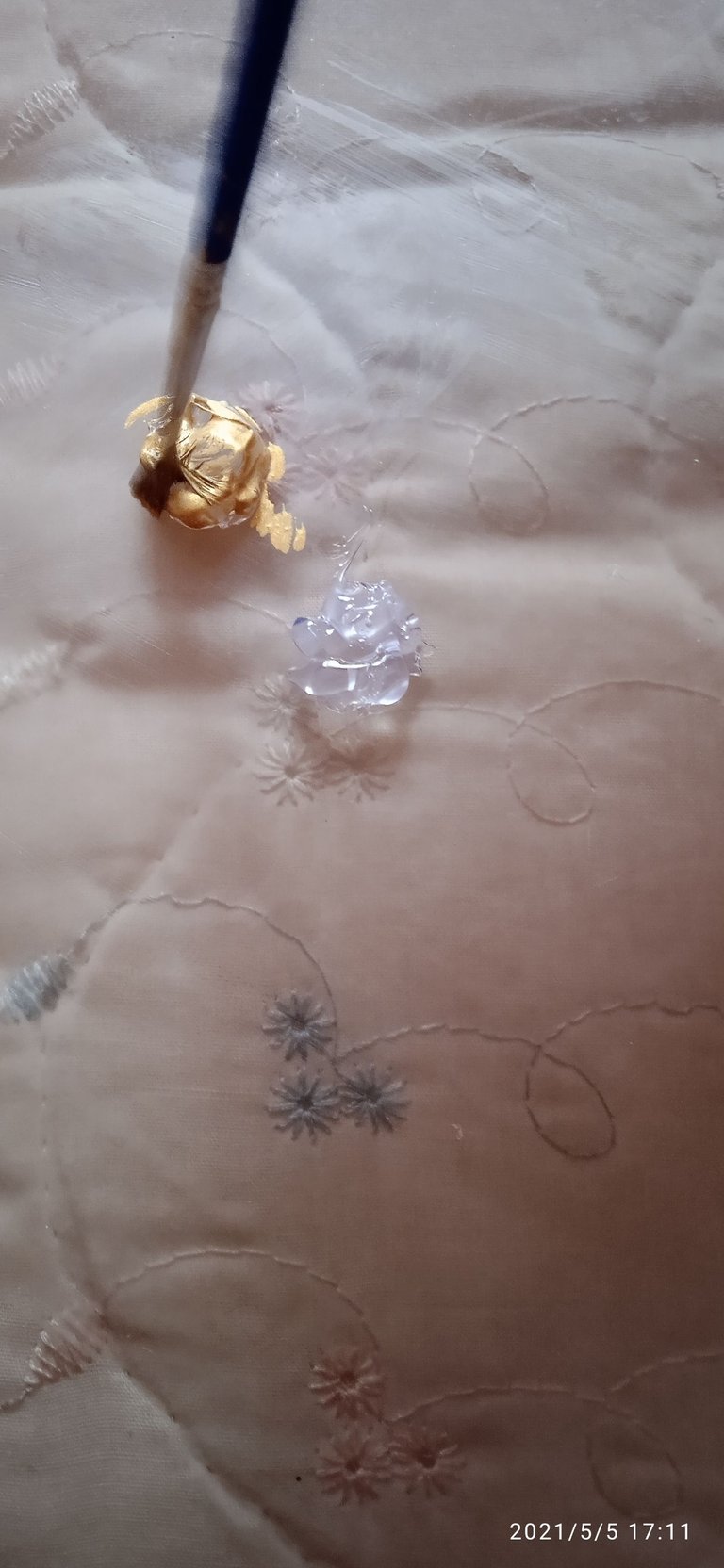 Por último le colocamos al collar un sujetador para que así pueda lucirlo. Y de la misma manera, lo hacemos a continuación con los aretes, agarramos la silueta de los mismos y los pegamos a unos zarcillos en este caso elegimos unos pegados a la oreja (también pueden ser largos). Tal cual como se lo mostramos en la imagen a continuación.
Finally we attach a bra to the necklace so that she can show it off. And in the same way we do it next with the earrings, we take the silhouette of the earrings and we stick them to some earrings, in this case we choose some earrings attached to the ear (they can also be long). As shown in the image below.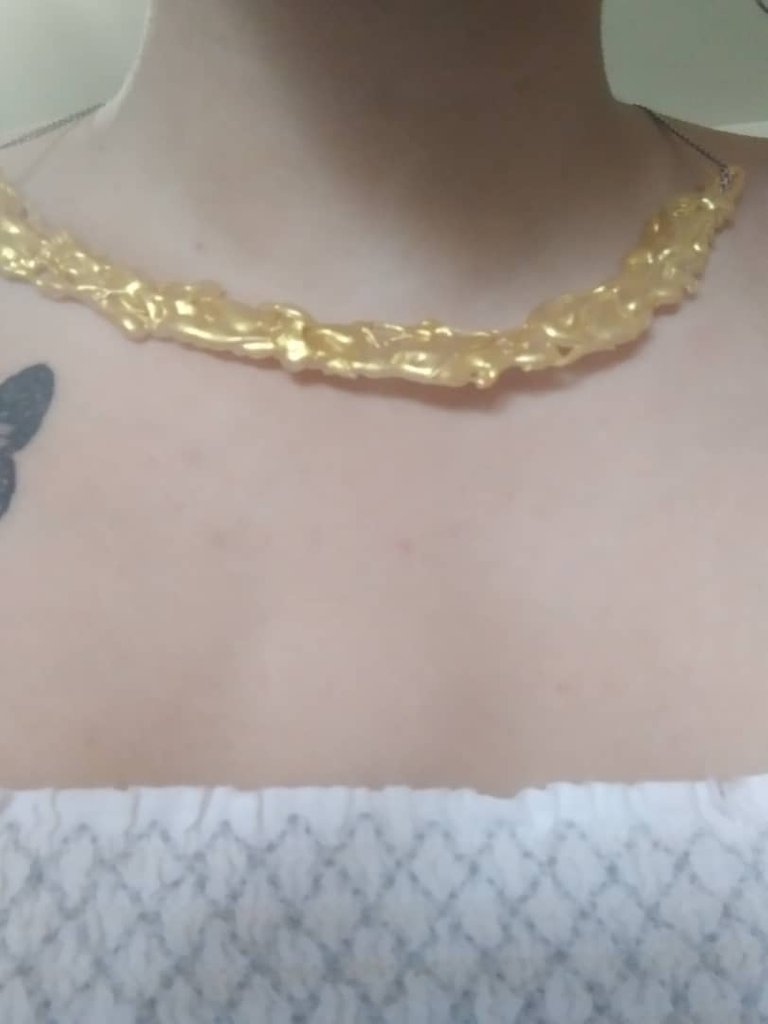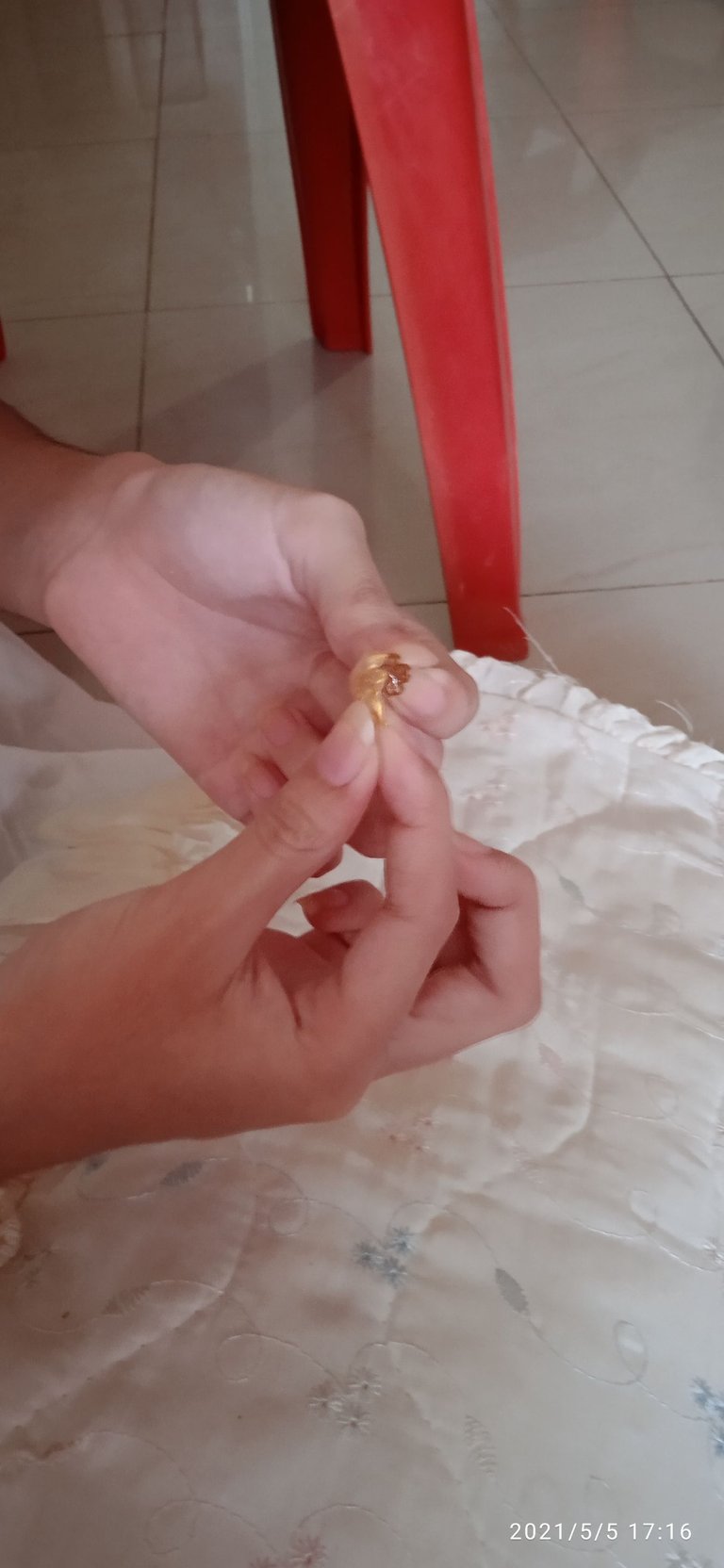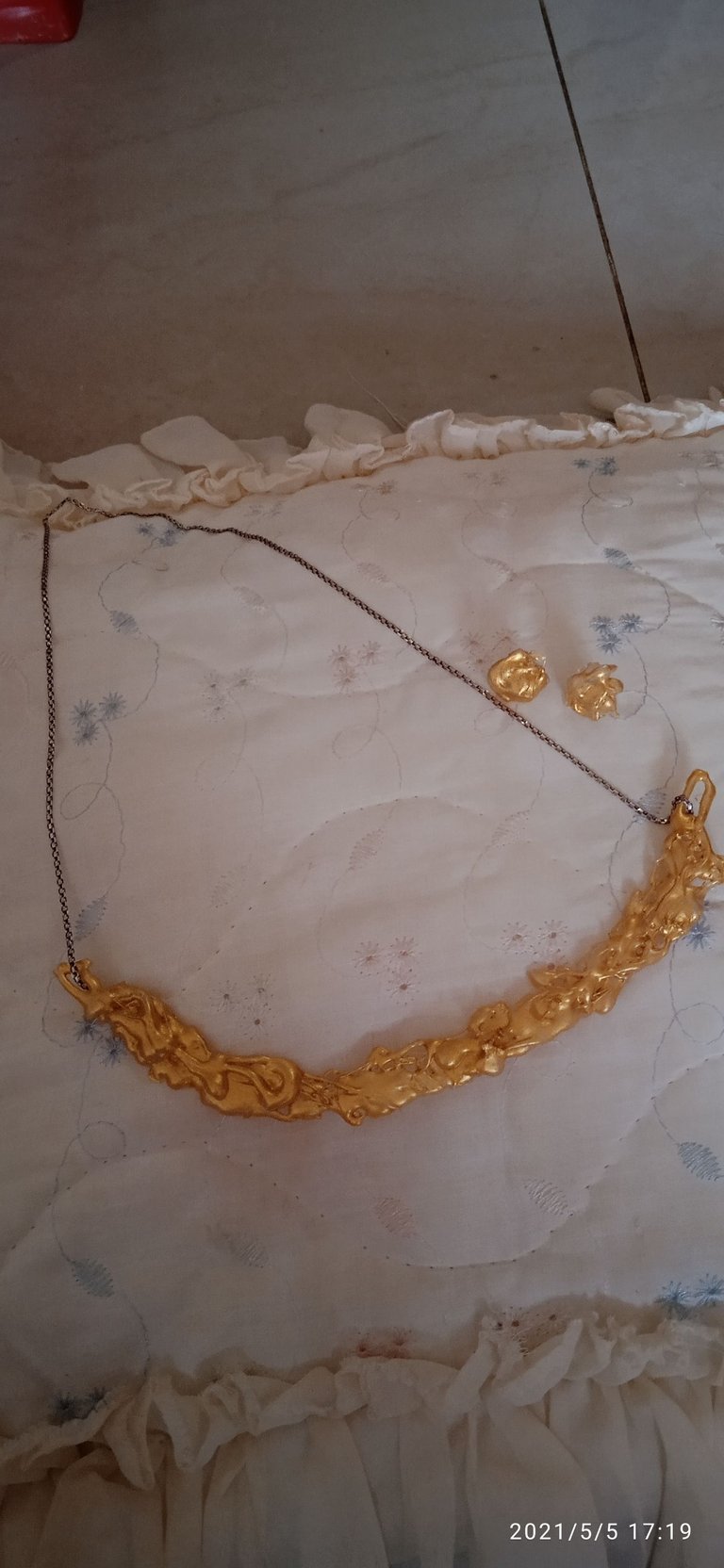 Saludos familia de Hive y en especial a las madres porque este detalle va dedicado a todas y cada una de ellas. A preparar su mejor traje para lucir este lindo y delicado detalle que les regala Hive a todas esa bellas y hermosa mujeres que hacen vida en las diferentes comunidades en honor a la celebración del Día de las MADRES.
Greetings Hive family and especially to the mothers because this detail is dedicated to each and every one of them. Prepare your best outfit to wear this nice and delicate detail that Hive gives to all those beautiful and beautiful women who make life in the different communities in honor of the celebration of Mothers' Day.
Estas fotos son de mi propia autoría Milangelys.
These photos are of my own authorship Milangelys.
Traducido con www.DeepL.com/translator (versión gratuita).
Translated with www.DeepL.com/Translator (free version)