Hello, Hive Community, today I will present you, some Beautiful Christmas Candles, made with recyclable material, which are used to decorate this Christmas and are a wonderful detail, cheap and easy to make.
These Beautiful Candles were made with a roll of Toalet (or toilet paper), cardboard, Foami, cardboard, cold paint and silicone, resulting, with these few materials, a fabulous Christmas ornament to decorate our home, to complement its design. Christmas flowers, leftover from previous years, were used to highlight the candles.
The elaboration of crafts, with recyclable material, I have found it extremely fascinating, because it awakens in us, creativity and imagination, leads us to create objects, designed to our liking, with the desired colors, desired figures, that is, this world of designing and making, with useful materials, let your imagination and creativity grow.
Next, he presented the materials and steps for its elaboration:
.
.
Hola, Comunidad de Hive, el día de hoy les presentaré,, unas Hermosas Velas Navideñas, elaboradas con material reciclable, las cuales sirven para decorar en estas Navidades y resultan un maravilloso detalle, económico y fácil de realizar.
Esta Hermosas Velas, fueron elaboradas con rollo de papel Toalet (o sanitario), cartón, Foami, cartulinas, pintura en frío y silicón, resultando, con estos pocos materiales, un fabuloso, adorno navideño, para decorar nuestro hogar, para complementar su diseño, se utilizaron flores de navidad, sobrantes de años anteriores, que resaltaron las velas.
La elaboración de manualidades, con material reciclable, me ha parecido sumamente fascinante, porque despierta en nosotros, la creatividad y la imaginación, nos lleva a crear objetos, diseñados a nuestro gusto, con los colores deseados, figuras deseadas, es decir, este mundo de diseñar y hacer, con materiales de provecho, deja crecer la imaginación y la creatividad.
A continuación, les presentó, los materiales y pasos para su elaboración:
---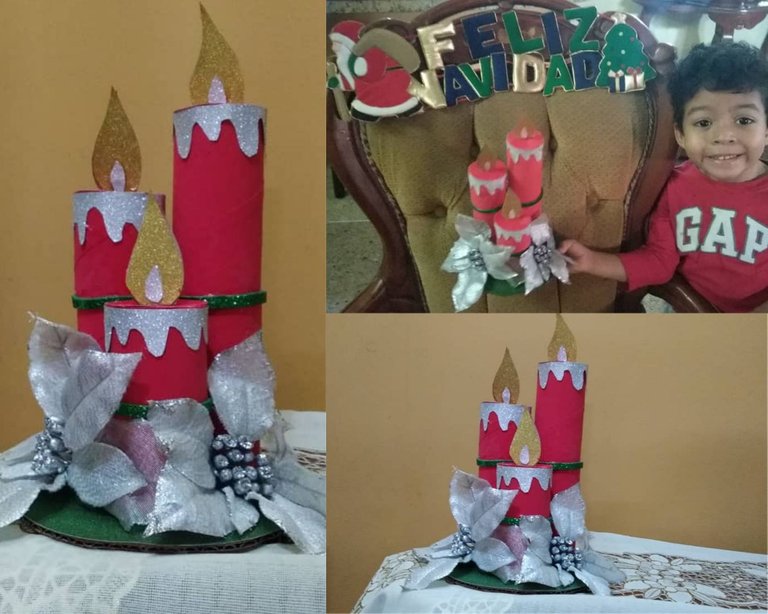 ---

Materials:
• 5 rolls of toilet paper (or toilet paper)
• Red and green foam
• Silver, gold, green and red cardstock
• Cold paint, christmas red color
• Brush
• Liquid silicone
• 1 piece of cardboard
• Scissor
• Pencil
• Marker
• Christmas flowers (or other leftover decorations, from previous years, of your choice)
Materiales:
• 5 rollos de papel toalet ( o sanitario)
• Foami rojo y verde
• Cartulina plateada, dorada, verde y roja
• Pintura en frio, color rojo navidad
• Pincel
• Silicón liquido
• 1 retazo de cartón
• Tijera
• Lápiz
• Marcador
• Flores de navidad ( u otros adornos sobrantes, de años anteriores, de su gusto)
---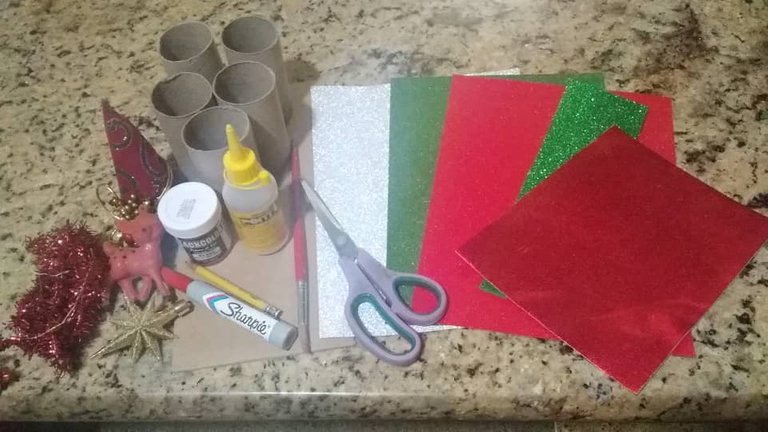 ---

Step 1:
Cut the rolls, of different sizes, leaving 1 the same and the other 2 gluing them with silicone, joining two of the same size and another cutting half of the other and stick them, so that there are 3 different sizes.
Paso 1:
Recortar los rollos, de diferentes tamaños, dejando 1 igual y los otros 2 pegándolos con silicón, uniendo dos de igual tamaño y otro recortando la mitad del otro y pegarlos, de manera, que queden, 3 tamaños diferentes.
---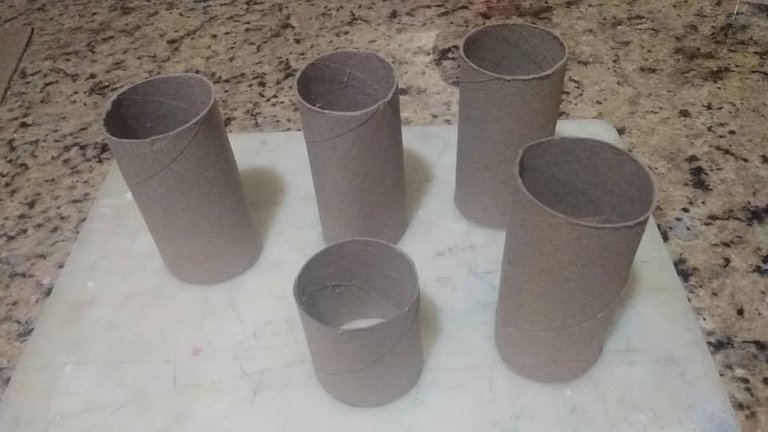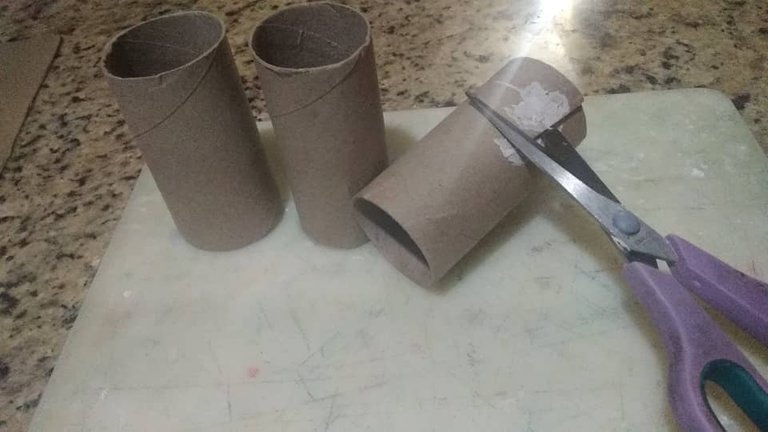 ---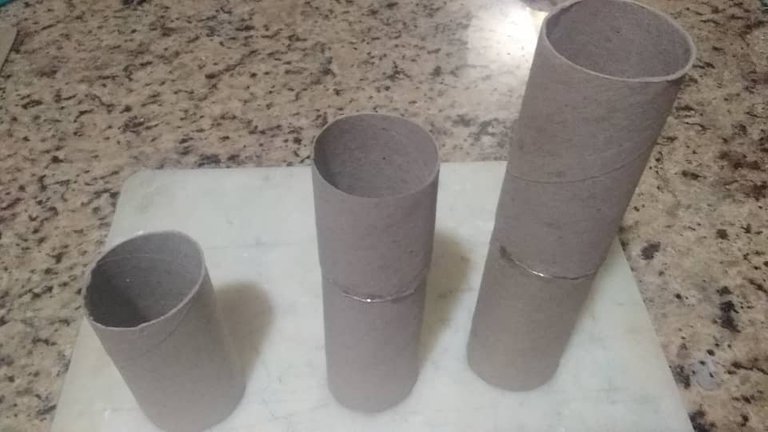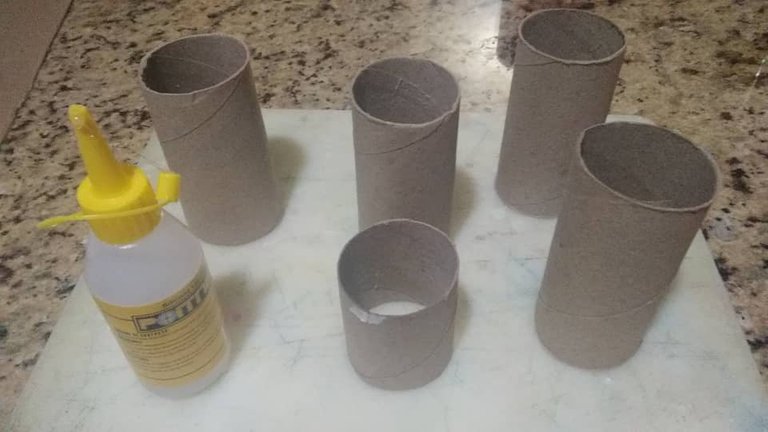 ---

Step 2:
Then, having the 3 sizes, made and glued with silicone, paint them red, with cold paint (or the color of your preference). Let dry. (You can use tempera or line the rolls, if you wish.)
Paso 2:
Luego, al tener los 3 tamaños, elaborados y pegados con silicón, pintarlos de rojo, con pintura en frio (o el color de su preferencia). Dejar secar. (Puede utilizar tempera o forrar los rollos, si así lo desea).
---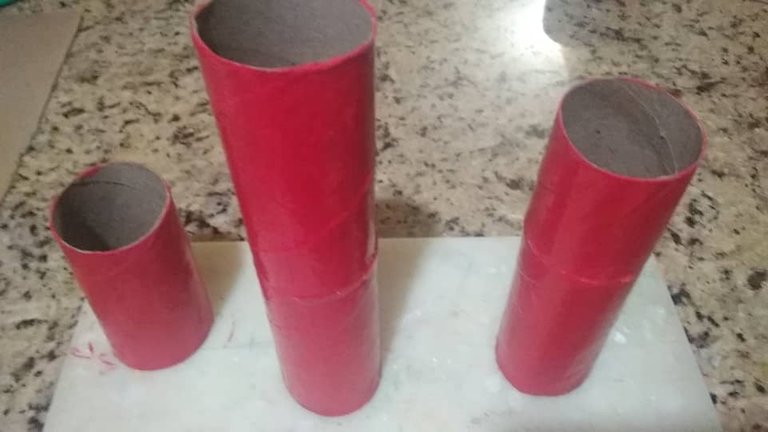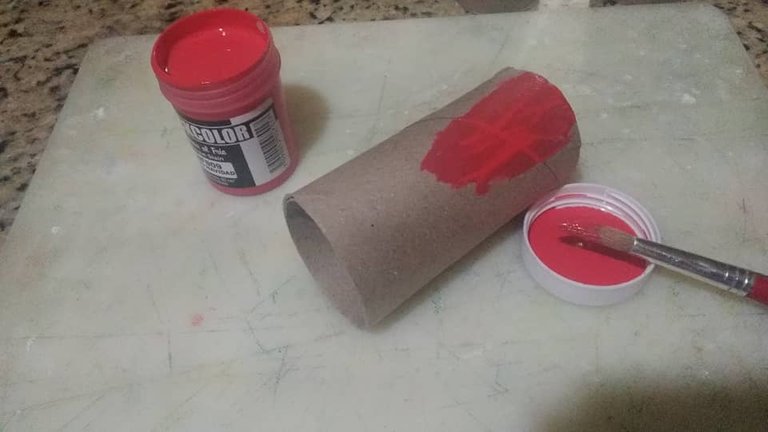 ---

Step 3:
With the measure, from the circle of the roll, measure and cut, with frosted red cardboard, what will be, the upper cover of each candle, and glue it with silicone.
Paso 3:
Con la medida, del círculo del rollo, medir y cortar, con cartulina roja escarchada, lo que será, la tapa superior de cada vela, y pegarla con silicón.
---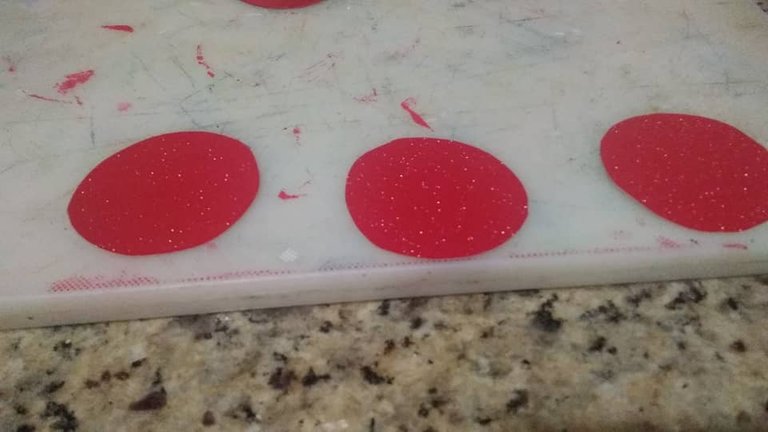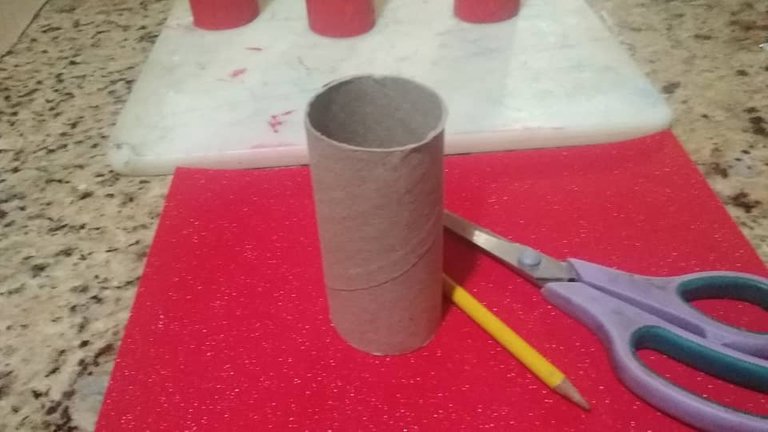 ---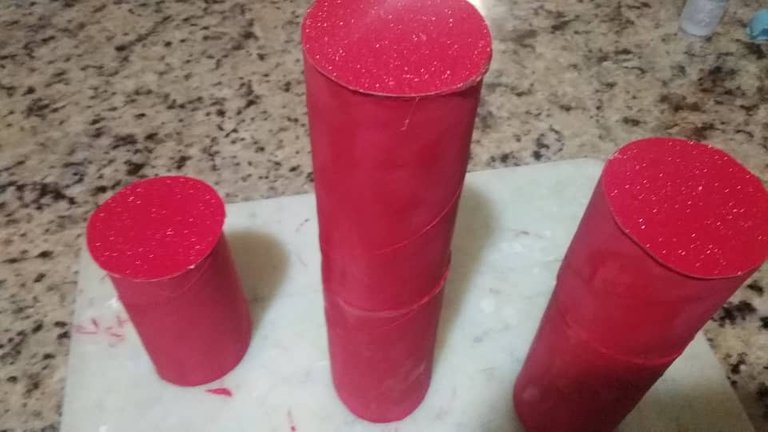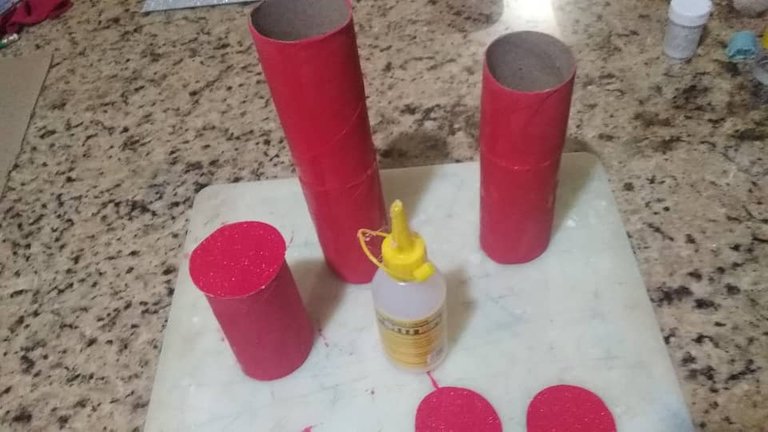 ---

Step 4:
With silver cardboard, draw and cut out, the shape of the sperm drop and glue with silicone around the edge of the upper part, of the candle and with golden cardboard, draw and cut out, the shape of the wick, cut into a scrap of cardboard, the shape of the wick and glue both with silicone, to give it more strength, then, glue the wick, with silicone, on the upper part of the candle, cut a small wick with silver cardboard and glue it with silicone to the golden wick. A frosted green foam headband was glued around the joint of the rolls to cover their joints.
Paso 4:
Con cartulina plateada, dibujar y recortar, la forma de la caída de la esperma y pegar con silicón alrededor del borde de la parte superior, de la vela y con cartulina dorada, dibujar y recortar, la forma de la mecha, recortar en un retazo de cartón, la forma de la mecha y pegar ambos con silicón, para darle más fortaleza, luego, pegar la mecha, con silicón, en la parte superior de la vela, recortar con cartulina plateada , una mechita pequeña y pegarla con silicón a la mecha dorada. Se le pego, un cintillo de foami verde escarchado alrededor, de la unión de los rollos para tapar las uniones de los mismos.
---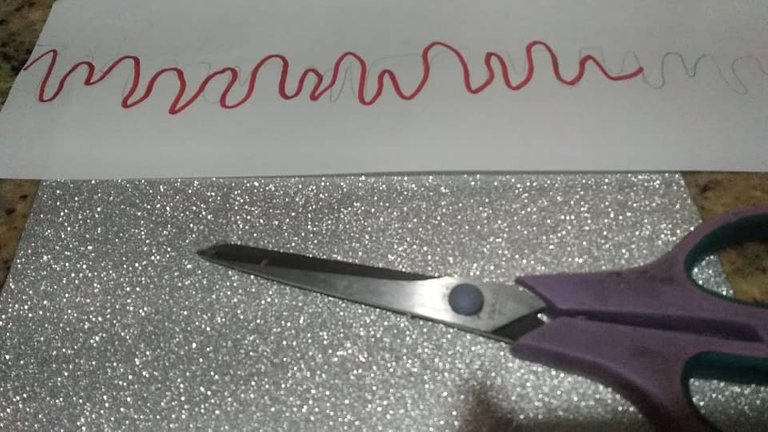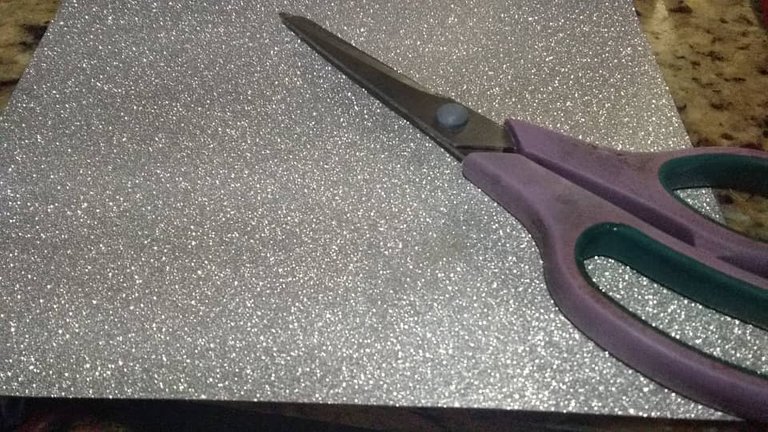 ---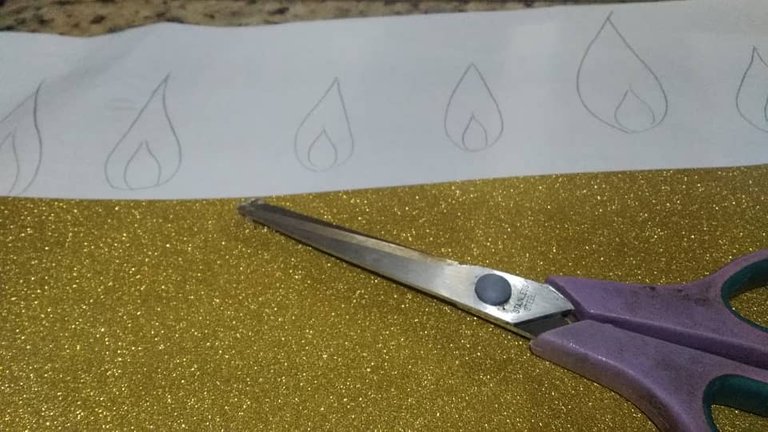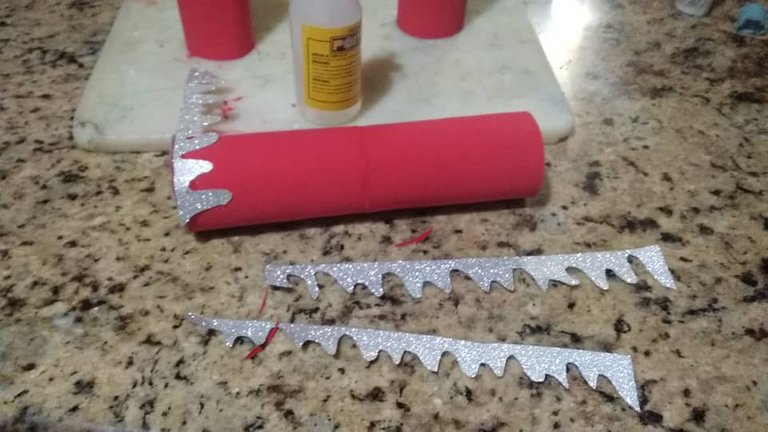 ---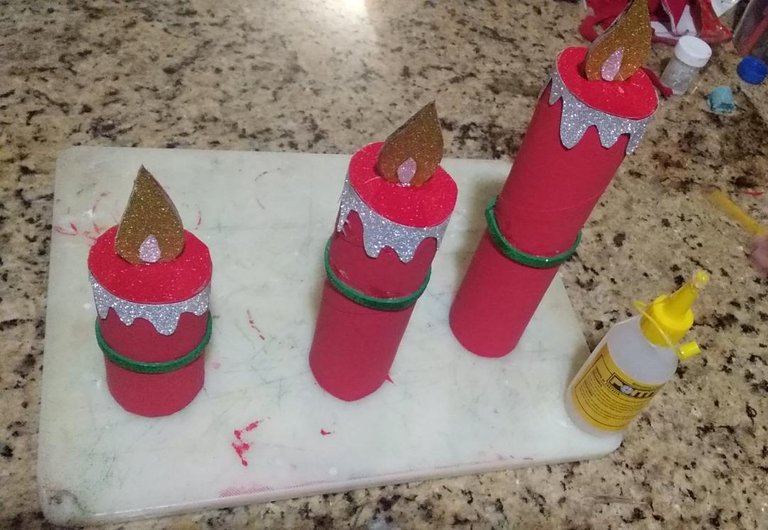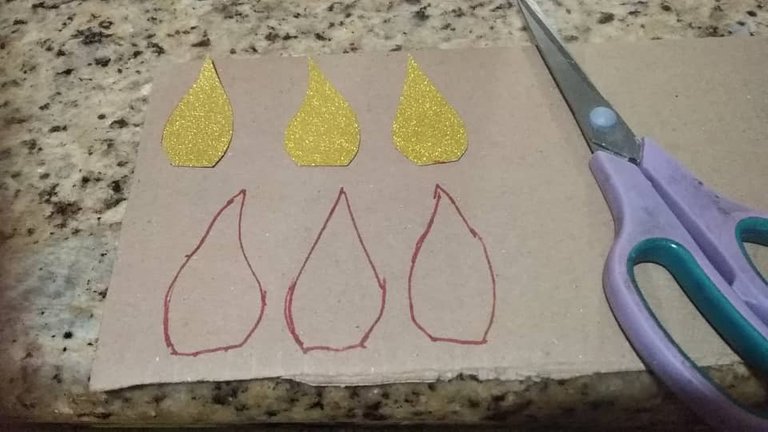 ---

Fifth step:
In a piece of cardboard, cut a circle and cover it with green frosted cardboard (or of your choice), then, join the candles, on that base, as follows, the two large ones at the back and in the front in the middle, the small candle.
Quinto Paso:
En un retazo de cartón, cortar un círculo y forrarlo con cartulina escarchada verde (o de su gusto), luego, unir las velas, sobre esa base, de la siguiente manera, las dos grandes atrás y en la parte delantera en el medio, la vela pequeña.
---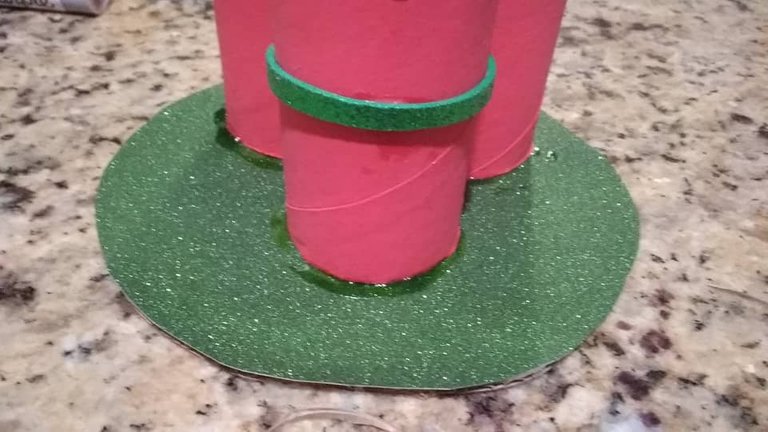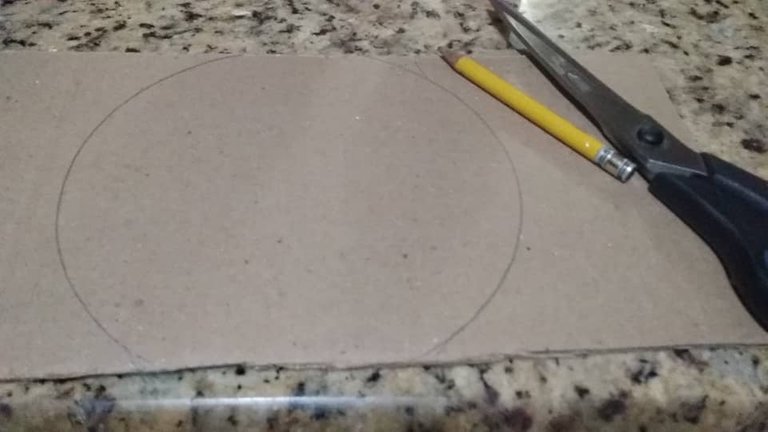 ---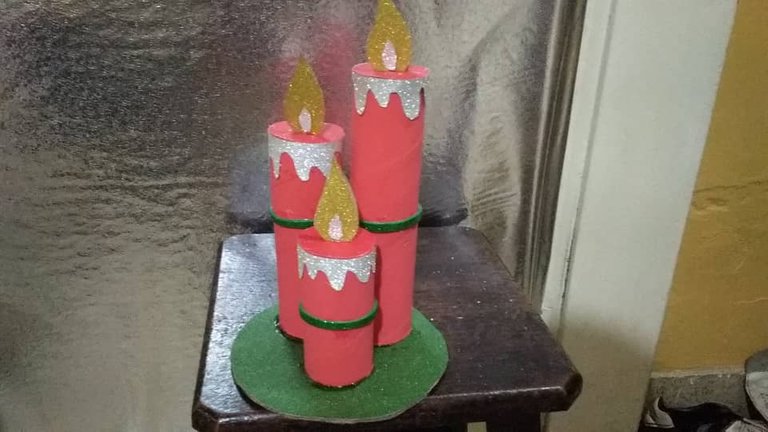 ---
Then, complete the design, in my case, with the silver Christmas flowers (you can use the ornament you have). And so, the Beautiful Christmas Candles would be made, with recyclable material, creating a beautiful ornament for this Christmas.
Luego, completar el diseño, en mi caso, con las flores de navidad plateada (usted, puede utilizar el adorno que tenga). Y así, quedarían elaboradas las Hermosas Velas Navideñas, con material reciclable, creando un bello adorno, para estas navidades.
---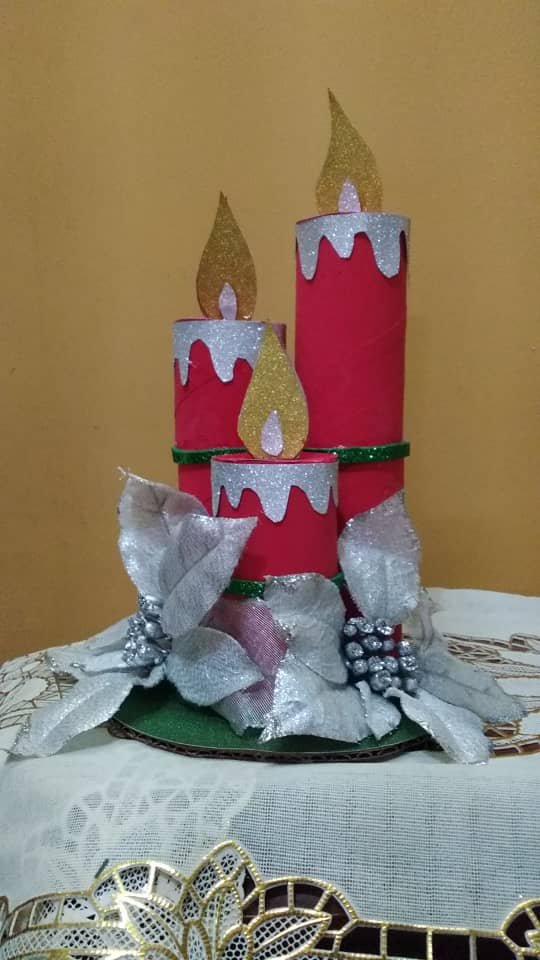 ---

Waiting, you have liked, this beautiful Christmas detail, easy to make, using imagination and creativity, with details of your preference. This ornament would serve as a centerpiece in any event that you carry out and it would be something, very beautiful, eye-catching, being super economical.
Thank you for taking the time to read my post. Greetings
Esperando, les haya agradado, este hermoso detalle navideño, fácil de elaborar, utilizando la imaginación y creatividad, con detalles de su preferencia. Este adorno, serviría, como centro de mesa en cualquier evento que usted realice y sería algo, muy bonito, llamativo siendo súper económico.
Gracias, por tomar de su tiempo, en leer mi post. Saludos
---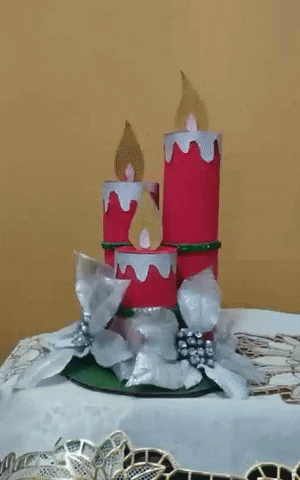 ---

Until next time / Hasta la Próxima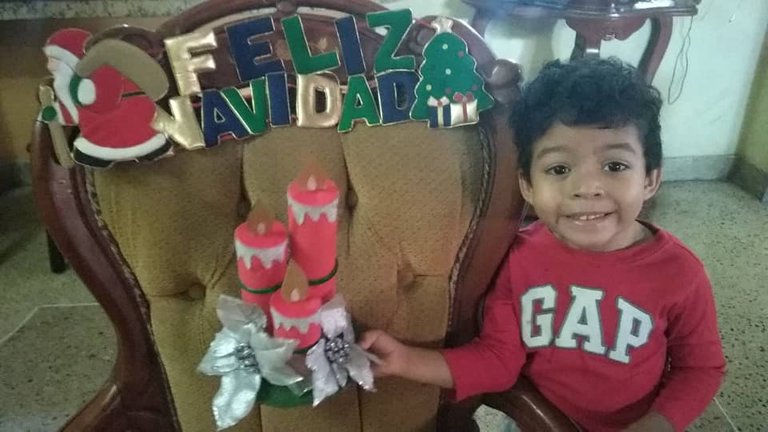 ❤️ All photos are my property taken with my Redmi Go smartphone
❤️ All separators are my property, free to use.
❤️ English it is not my native language, I help myself with translators to make these posts
❤️ ❤️ ❤️ ❤️ ❤️ ❤️
❤️ Todas las fotos son de mi propiedad tomadas con mi celular inteligente Redmi Go
❤️ Todos los separadores son de mi propiedad, libres de uso
❤️ El ingles no es mi idioma natal, me ayudo de traductores para realizar estos post