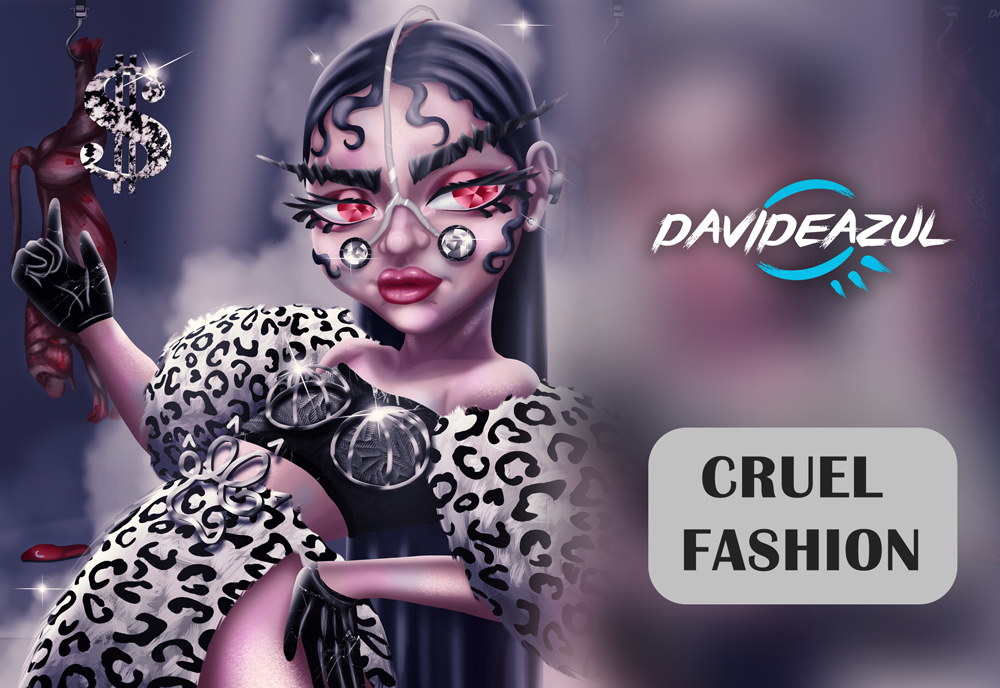 CRUEL FASHION 👠



Mmm... this is a test that ideas tend to change while drawing haha. This was the initial sketch, but little by little I am changing a few things.
| | |
| --- | --- |
| As a premise, he had planned to capture the cruel part of fashion. That dark side of the moon that no one sees or reflects. | So I decided to take the idea of animal skins used in the fashion industry. A delicate subject, but a good one to ponder. |
I decided to do a fashion runway, which would show the skins of animals slaughtered for those clothes.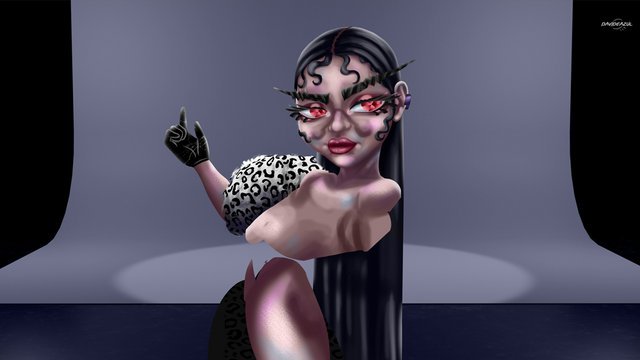 In total there would be 3 illustrations, the first represented: the jaguar. The second: minks and the third: crocodiles.
This model would wear jaguar skin sleeves and skirts. It would be a combination of something retro with current fashion, so I added both elements that acted as accessories on the body that denoted this idea.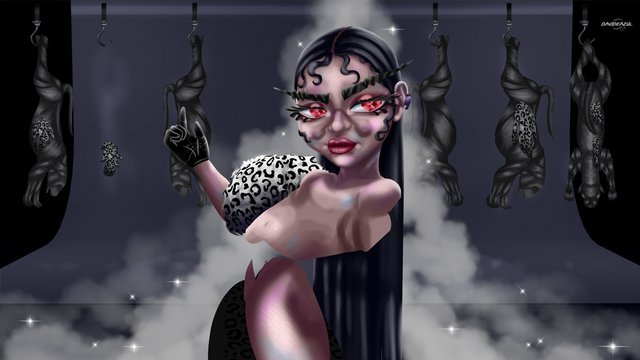 Then the composition was left like this: I wanted to put the animals that were sacrificed to obtain their skins on the back, sour, lifeless, bloody and with parts of the skins still on the body.
The first the viewer looks at is the character who wears the skin, then his gaze would focus on the background and the animals. This is how you would understand the concept behind this illustration.


ILLUSTRATION FINISHED!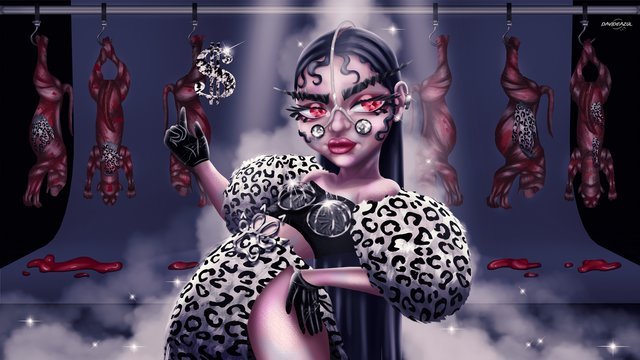 DURATION: 13 hours
PROGRAM: Photoshop ♥
In a world where Vanity is all that matters, the rest stops making sense.
How far can you go to wear the most extravagant?
The number of animals that are slaughtered for their furs for the fashion market is so absurdly high, do you really think it will look better on you than on the animal? Is cruelty justified by ostentatious fashion? This fur is only useful for the animal; better options always existed.
So... is it a fashion catwalk or a bloody catwalk?
I HOPE YOU LIKED MY WORK! See you in a next post ♥

THIS ILLUSTRATION IS AVAILABLE ON WITHFND (FOUNDATION)!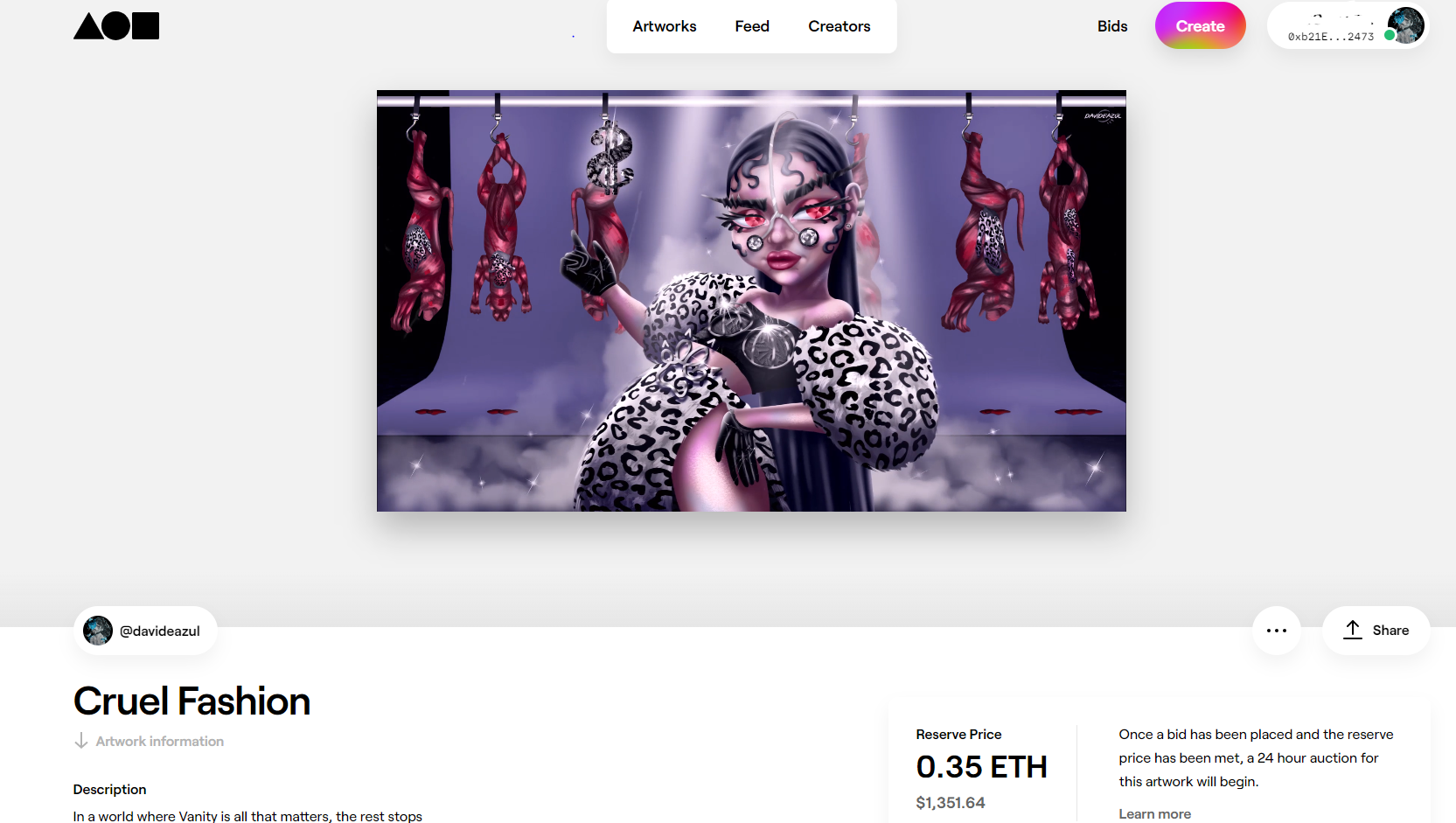 Click to buy this NFT

My social networks:
HAVE A GOOD DAY / AFTERNOON / NIGHT. SEE YOU IN THE NEXT ILLUSTRATION!

PUBLICACIÓN EN ESPAÑOL:
---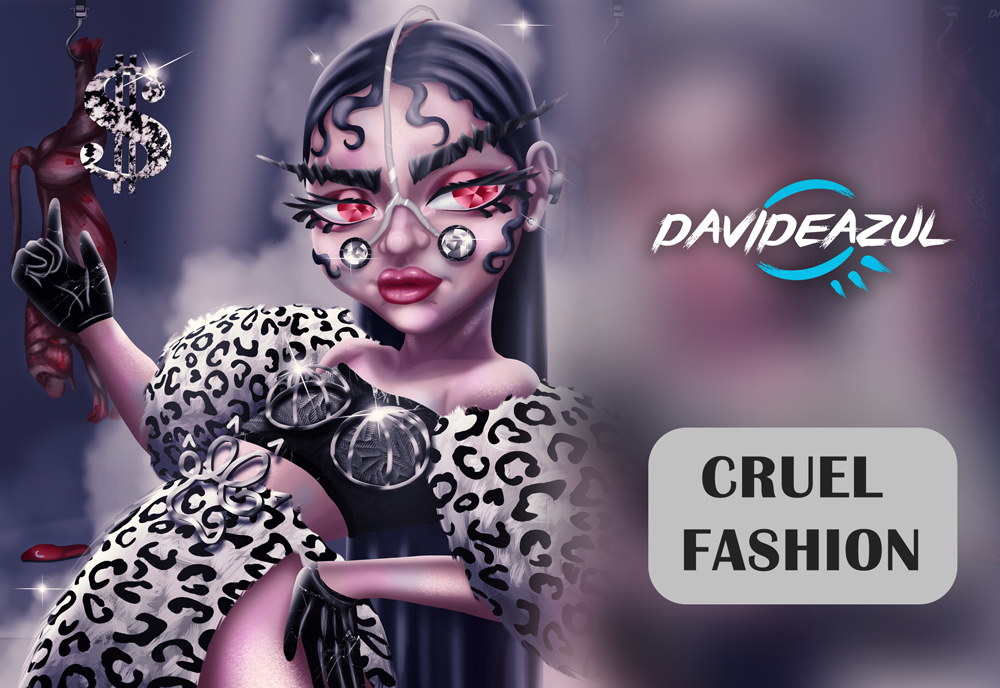 MODA CRUEL 👠



Mmm... esta es una prueba que las ideas suelen cambiar mientras se dibujan jaja. Este era el boceto inicial, pero poco a poco voy cambiando algunas cositas.
| | |
| --- | --- |
| Como premisa, tenía pensado plasmar la parte cruel de la moda. Ese lado oscuro de la luna que nadie ve o reflexiona. | Así que decidí tomar la idea de las pieles de animales utilizadas en la industria de la moda. Un tema delicado, pero bueno para reflexionar. |
Decidí hacer una pasarela de moda, los cuales exhibirían pieles de animales sacrificados para esa ropa.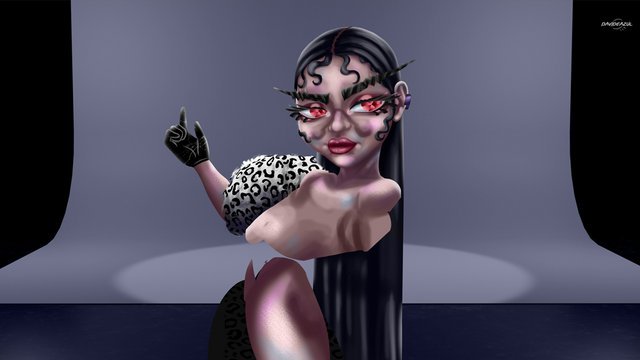 En total serían 3 ilustraciones, la primera representaba: el jaguar. El segundo: los visones y el tercero: los cocodrilos.
Esta modelo vestiría unas mangas y faldas con piel de jaguar. Sería una combinación entre algo retro con moda actual, así que agregué ambos elementos que actuaban como accesorios en el cuerpo que denotaran esta idea.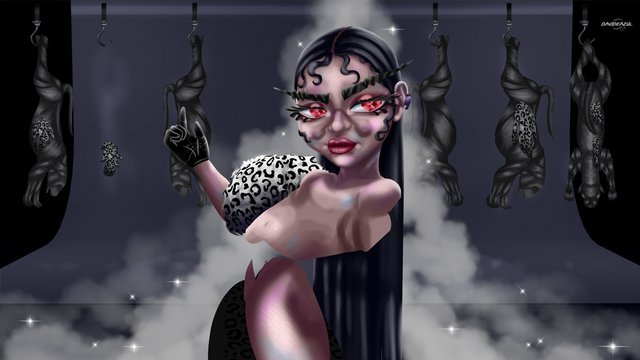 Luego la composición fue quedando así: quería poner los animales que fueron sacrificados para obtener sus pieles en la parte de atrás, guindados, sin vida, sangrientos y con partes de pieles aún en el cuerpo.
La primero que el espectador mira es al personaje que viste la piel, luego su mirada se enfocaría en el fondo y en los animales. Así entendería el concepto detrás de esta ilustración.

ILUSTRACIÓN TERMINADA!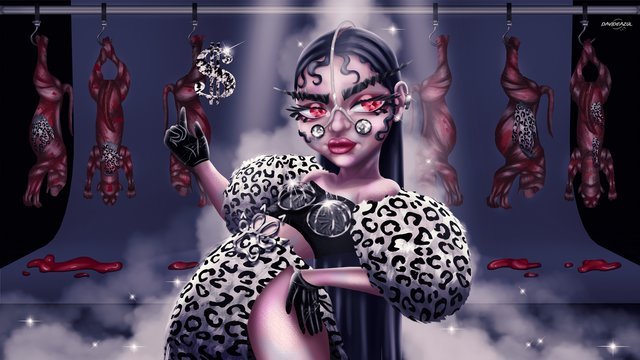 DURACIÓN: 13 horas
PROGRAMA: Photoshop ♥
En un mundo donde la vanidad es lo único que importa, el resto deja de tener sentido.
¿Hasta dónde puedes llegar para lucir lo más extravagante?
El número de animales que son sacrificados por sus pieles para el mercado de la moda es tan absurdamente alto, ¿de verdad crees que quedará mejor en ti que en el animal? ¿Se justifica la crueldad por la moda ostentosa? Este pelaje solo es útil para el animal; siempre existieron mejores opciones.
Entonces... ¿es una pasarela de moda o una pasarela sangrienta?
¡ESPERO QUE TE HAYA GUSTADO MI TRABAJO! Nos vemos en una próxima publicación.

ESTA ILUSTRACIÓN SE ENCUENTRA DISPONIBLE EN WITHFND (FOUNDATION)!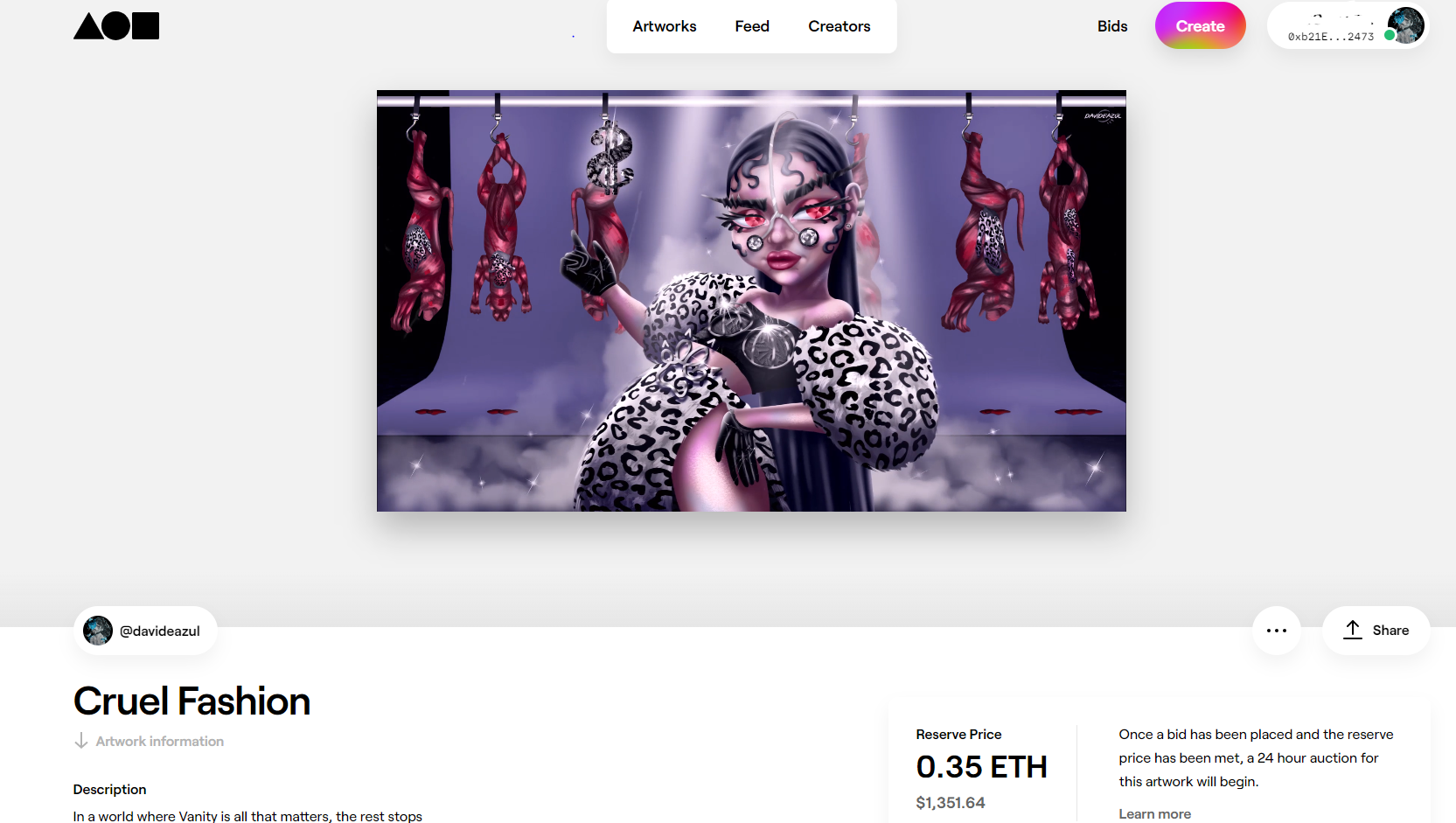 Click para comprar este NFT

Mis redes sociales:
QUE TENGAS UN BUEN DIA / TARDE / NOCHE. ¡NOS VEMOS EN LA PRÓXIMA ILUSTRACIÓN!